This unseasonal sixty degree and sunny February day in New York was the most opportune time to go on an adventure to the Finger Lakes As it was a week day, everyone else was at work but I wasn't going to miss the opportunity for an adventure. The drive from Rochester to Ithaca wasn't long. And once I got off the thruway, the drive was beautiful. It brought me on windy country roads on a scenic byway overlooking Cayuga Lake. I took every opportunity I could to pull over to enjoy the lake.  It seems I wasn't the only person soaking up the beautiful weather. There were couples taking strolls, fisherman on the water and birdwatchers viewing the water fowl from afar.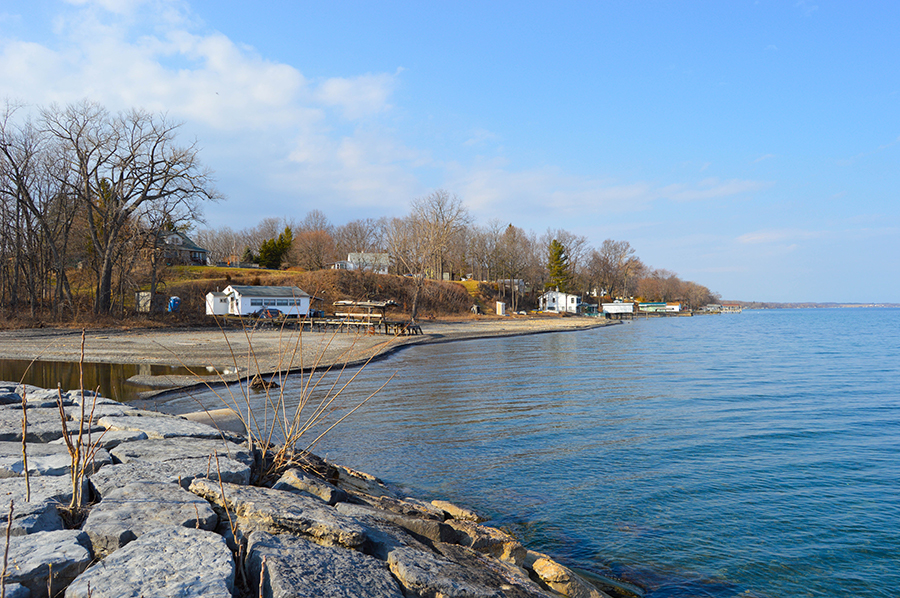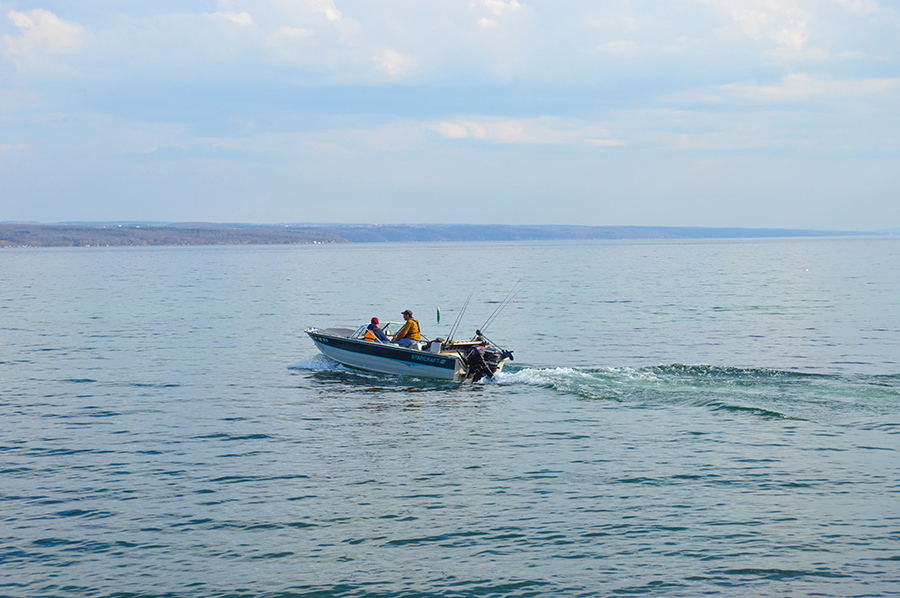 My next stop was Toughannock Falls State Park. I pulled into the park entrance for the scenic overlook. Here there was a clear view of the waterfall from above. You didn't have to walk more than a few feet from the parking lot to get this enchanting birds eye view of Toughannock Falls. Seeing the waterfall from above enticed me to get a closer look. I started walking towards a path, thinking it was the right way but soon realized the path I was on was the long trail and I wasn't about that. I quickly turned around to actually look at the trail map which was conveniently located next to the scenic overlook.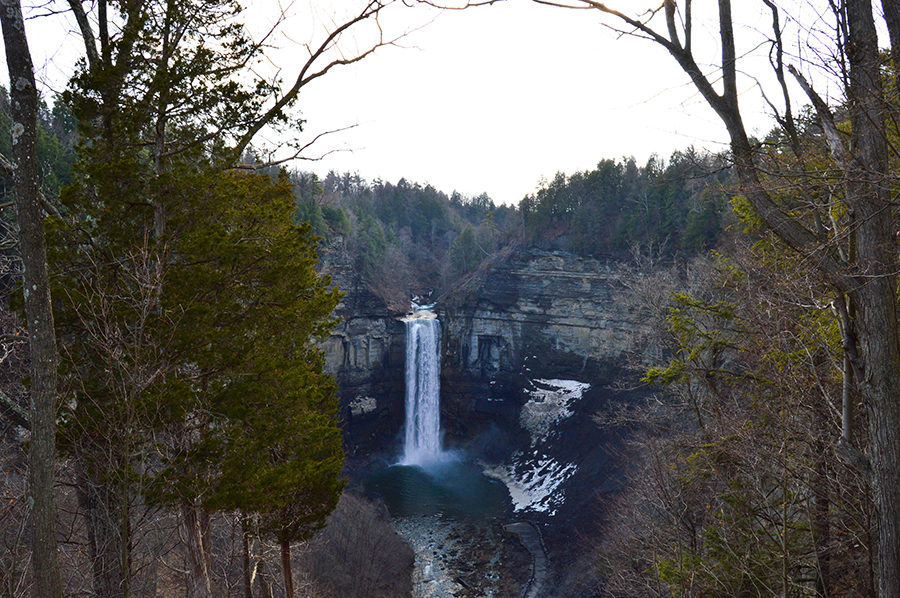 The beginning of the gorge trail started at the next parking lot over. Now this was it! The trail was an easy .75 mile hike along the gorge. In no time, I was facing the waterfall once again. I have seen a fair amount of waterfalls but this one might have topped them all. The narrow waterfall looked like something you would find in an enchanted forest. The only thing that reminded me I was in New York was the cool mist from the waterfall and the snow still lingering around.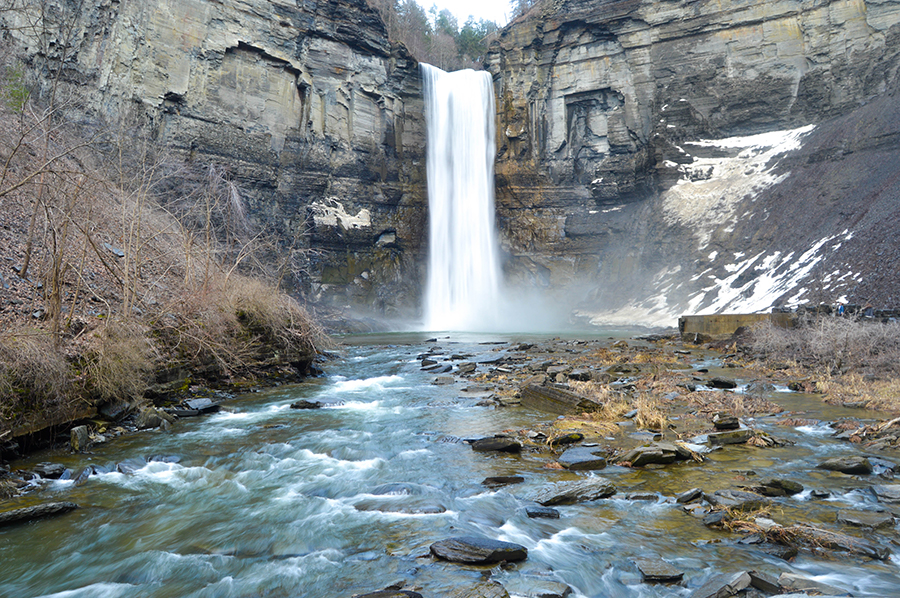 I walked around to get a closer look and took in the waterfall from every angle. And I stayed for a while, watching as people came and left, mesmerized by the falls. I was so amazed that next thing I knew over an hour had passed that I stood staring at Toughannock Falls. It had taken my breath away and all my worries had seemed to vanish in the moment. I gave the waterfall a final look before continuing on my way to Ithaca.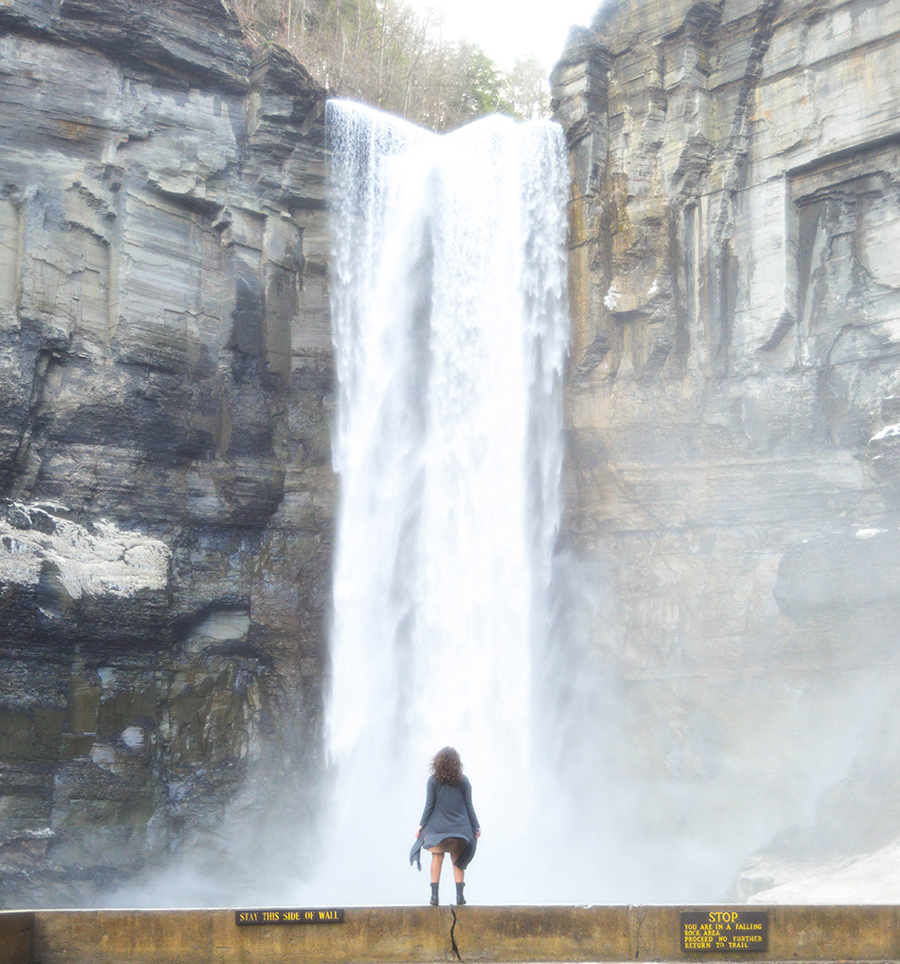 I checked into my oh-so-charming hotel, La Tourelle in Ithaca, New York. It's location outside the city provided me with the relaxation I was after. Taking a bubble bath in the jacuzzi tub was all I had on my mind. But before I could settle into the hotel for the night, I headed into town for dinner.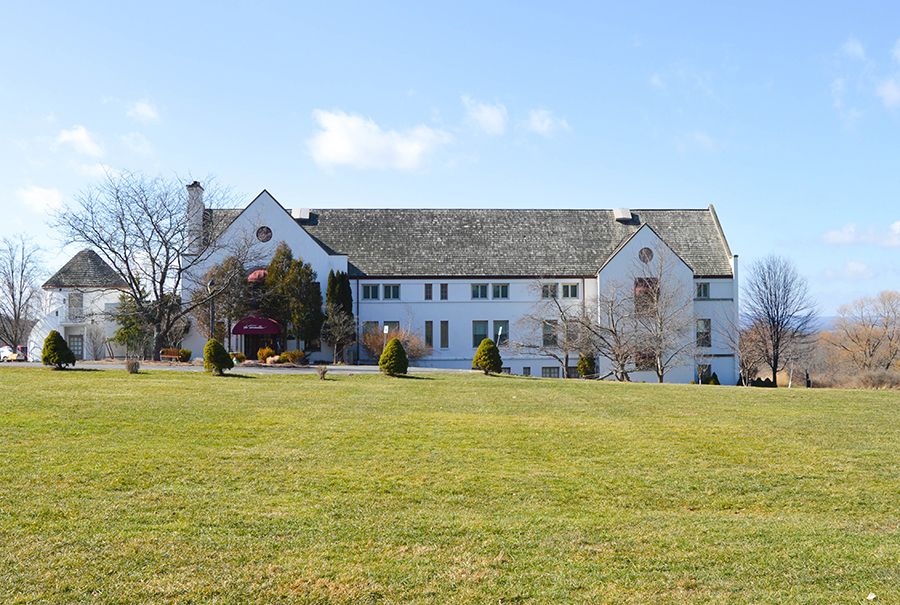 I spent a relaxing morning at La Tourelle Resort and Spa then I was off to chase more waterfalls. There is a trail from La Tourelle to Buttermilk Falls but I decided to drive to the actual park entrance. Of course, I drove past the park and ended up having to do a u-turn on a steep hill. Mind you, Ithaca is one of those places where you have to use your break more than your gas pedal.
I was happy once I made it to the park so I could get out of the car and enjoy the beautiful day. There are several waterfalls in Buttermilk Falls State Park, the most popular are the waterfalls cascading into swimmable basins in Lower Buttermilk Falls. I however didn't make it to the Lower Falls. Rather, I wandered through the Upper Falls. I still saw several pretty waterfalls but perhaps I should start reading trail maps before I go venturing through State Parks.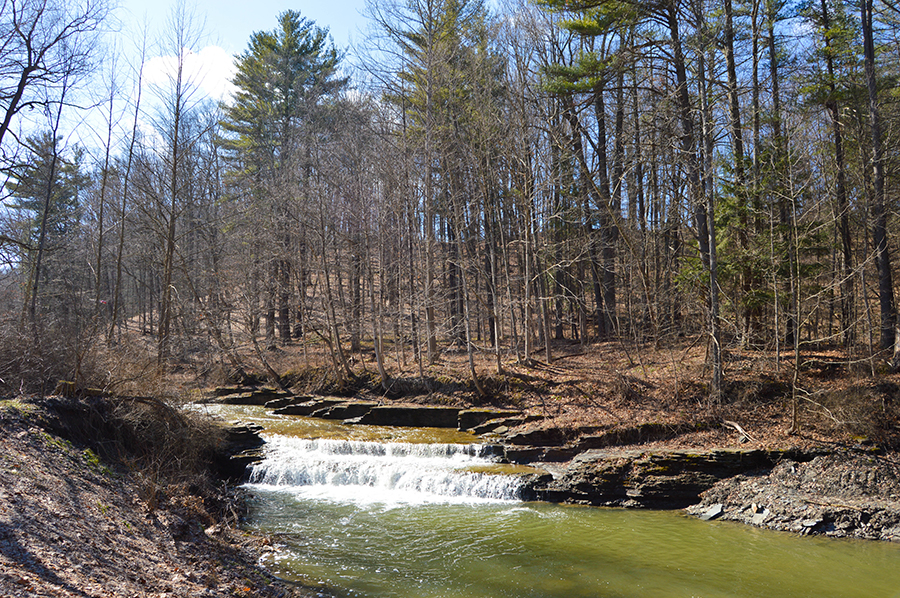 To break up my search of waterfalls, I made a stop in Ithaca Commons, the cutest shopping area ever! The area had a Main Street USA vibe to it down to the colorful buildings to the small barber shop. There were hot dog vendors, people making balloon animals and children chasing bubbles. I felt like I was in a fake town in an amusement park. It was so charming! This was a great spot for shopping and grabbing a bite to eat.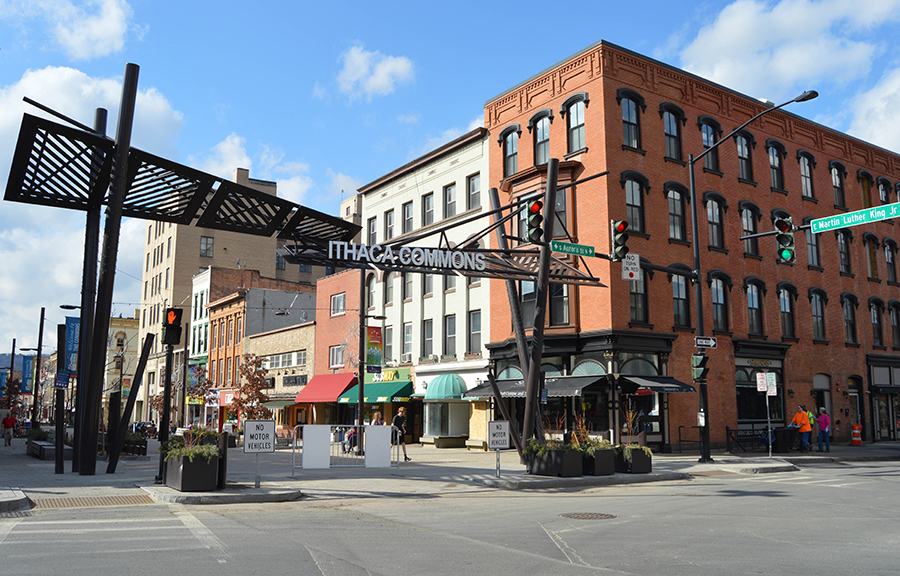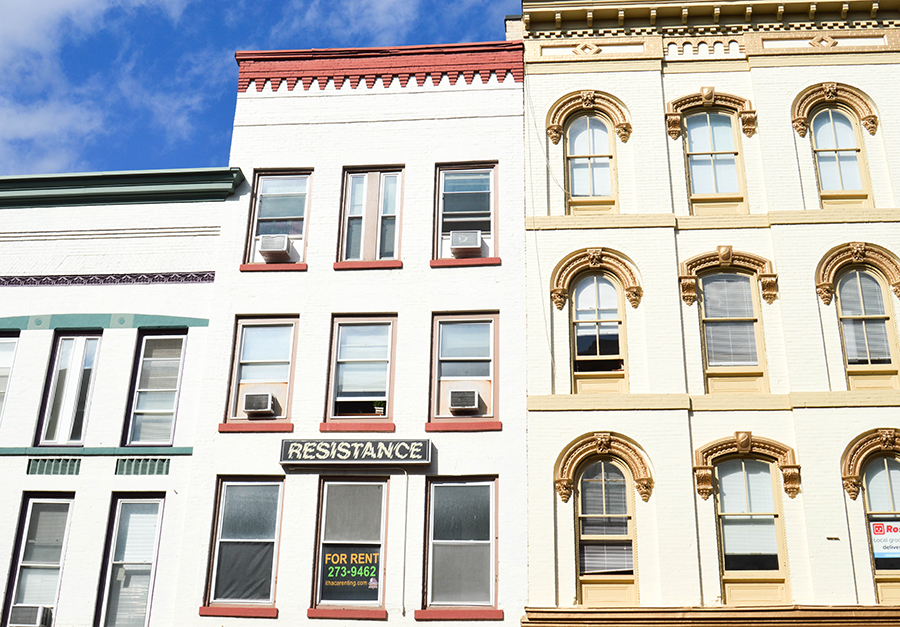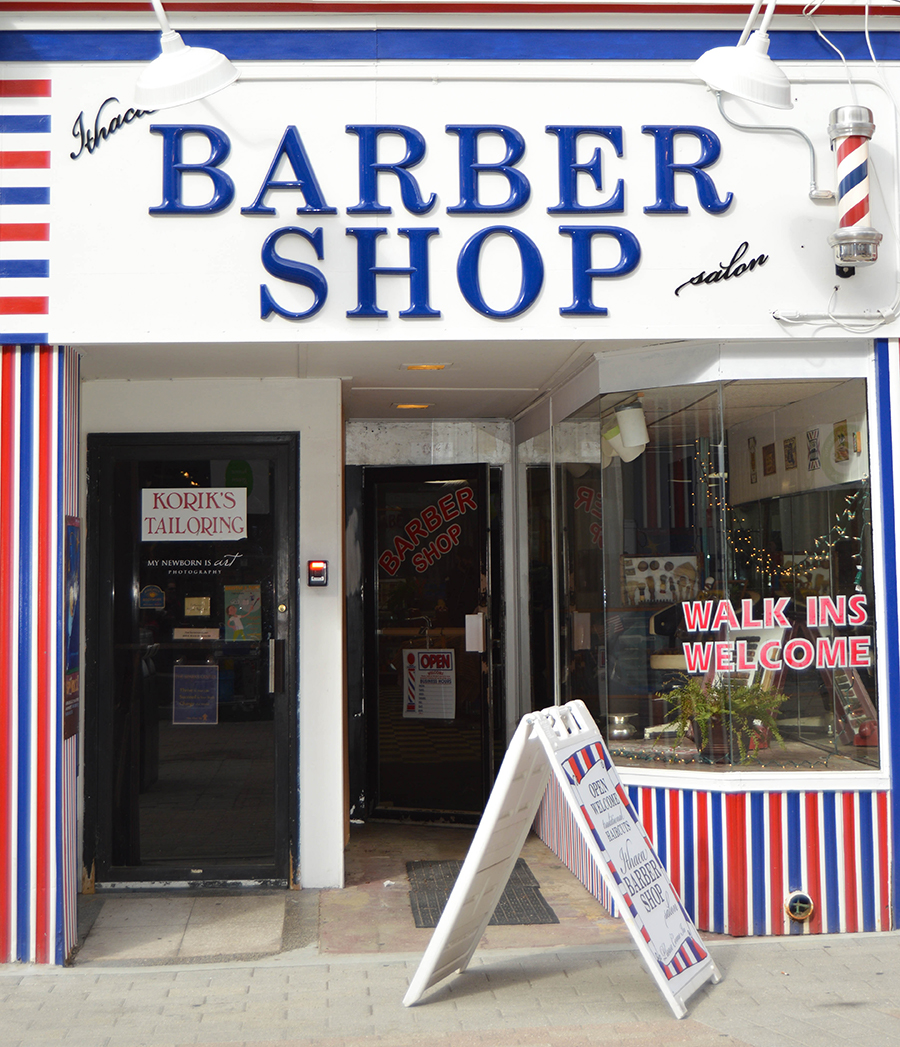 I wasn't quite done with waterfalls just yet so I headed to Ithaca Falls, a large waterfall in the center of town. I walked as closed as I could until the mist of the Waterfall was too much. Yet I had to be careful because the waterfall was located in a falling rock zone. Getting hit in the head by a rock would've been a real damper to an otherwise amazing couple of days. Luckily no rocks fell and I was able to simply enjoy the view.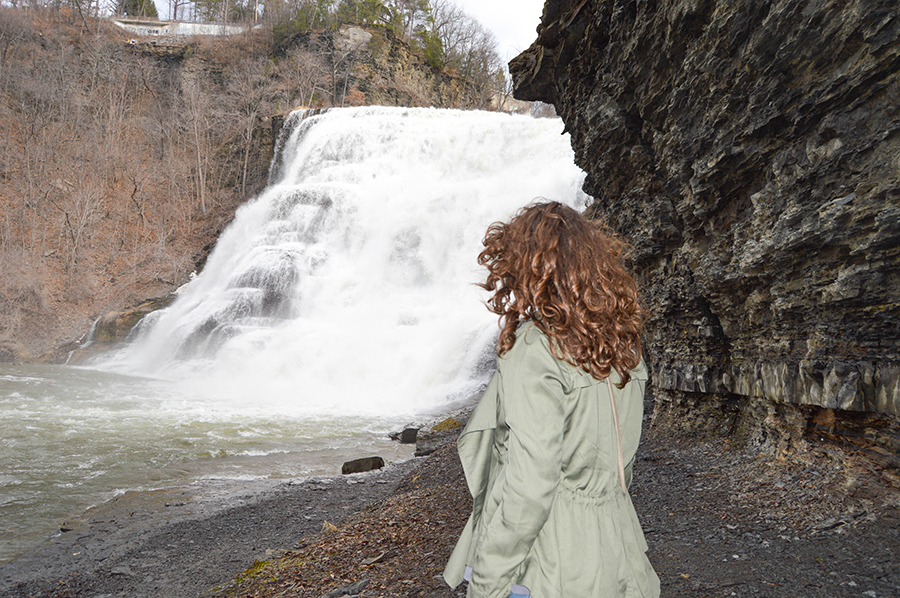 Come Join My Journey was welcomed to La Tourelle Resort and Spa as a guest, however, our opinion is as always our own.