2020 was an unexpected year for travel… and life in general. This year grounded us (for the most part) and seriously limited travel. There were so many places I planned to visit in 2020! For obvious reasons, 90% of the places didn't end up happening. Borders closed. Trips got pushed back, postponed, and canceled outright. This year, finding adventure close to home became a necessity to fuel my wanderlust. While I didn't travel as extensively as in prior years, I am more appreciative than ever for the places I did get to visit. The fact that I visited enough destinations this year to actually compile this list is shocking to me. Mind you, almost every destination I visited this year made it to this list. But, they certainly belong here!
The destinations that made it to this list are more meaningful than ever to me. This list includes my last trip before the world shut down, close-to-home gems, and road trips that were everything I needed and more. Lastly, my one and only international trip of the year made the list. Traveling outside the country isn't something I foresaw for 2020, but I truly felt like I was able to travel smartly and social distance for the most part. But WOW did I need that trip! It was so nice to briefly step outside my comfort zone, connect with some travel friends, and not be in the United States for a hot minute.
While I am so grateful for the destinations I got to visit this year, let's hope we all can travel more in 2021.
P.S. I ordered these by when I visited these destinations, not by my favorites!
Las Vegas, Nevada
This was my second trip to Las Vegas, if you know me, you'll know that I'm not the typical "Vegas Person". I don't really care for gambling and I'm not an avid clubber. So what brought me back for a second time? Las Vegas was the starting point for a Northern Arizona road trip and I had such a great time. The weather in February was perfect for wandering the Vegas Strip and checking out all the over-the-top hotels. I even gambled away $5 for experience's sake. I didn't hit the jackpot, but we did get some free drinks out of it.
I loved this trip to Las Vegas for so many reasons. First, it was the last place I visited while the world was still "normal". And I loved that while I'm not the typical Vegas person, I found ways to experience this destination that was enjoyable for me. I explored the beautiful hotels, enjoyed free entertainment, visited the unique Neon Museum, and checked out Seven Magic Mountains.
Read More: Things to do in Las Vegas Besides Gambling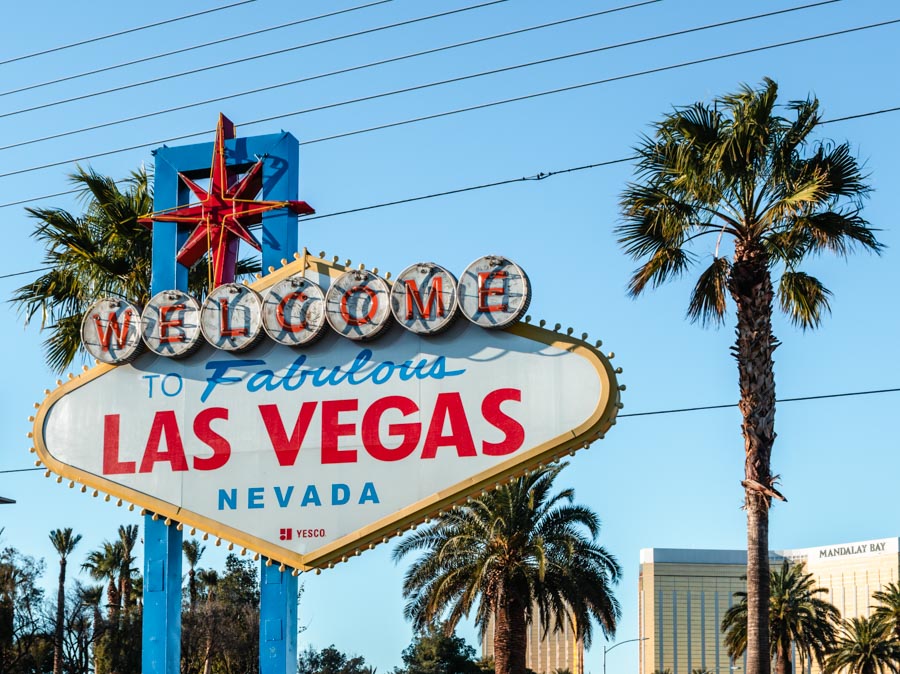 Northern Arizona
Part of me wanted to split up the destinations I visited in Arizona and add them all individually to this list because they were all AMAZING! However, while I saw so many incredible destinations in Northern Arizona, this was a 5-day road trip. The road trip through this region was so amazing, yet I don't think I could necessarily speak for all the destinations individually due to the limited time I spent in each spot. But we certainly packed in a lot into these 5 days.
Northern Arizona has some of the most beautiful and unique landscapes I have ever seen. Every spot that we visited took my breath away. Our first stop was at the Grand Canyon and it blew away my expectations. I promise the Grand Canyon is in no way overrated! Then we made our way to Page where we visited Antelope Canyon and Horseshoe Bend, took a quick detour to Monument Valley before visiting Canyon de Chelly, Petrified Forest National Park, and finally ending our trip with Flagstaff and Sedona. We saw a lot in 5 days! And this is just the highlight reel.
I am so thankful for this trip. Northern Arizona wasn't necessarily high on my bucket list before this trip, yet it was by far one of my favorite places I've ever visited. And I can't wait to spend more time in each of these destinations in the future.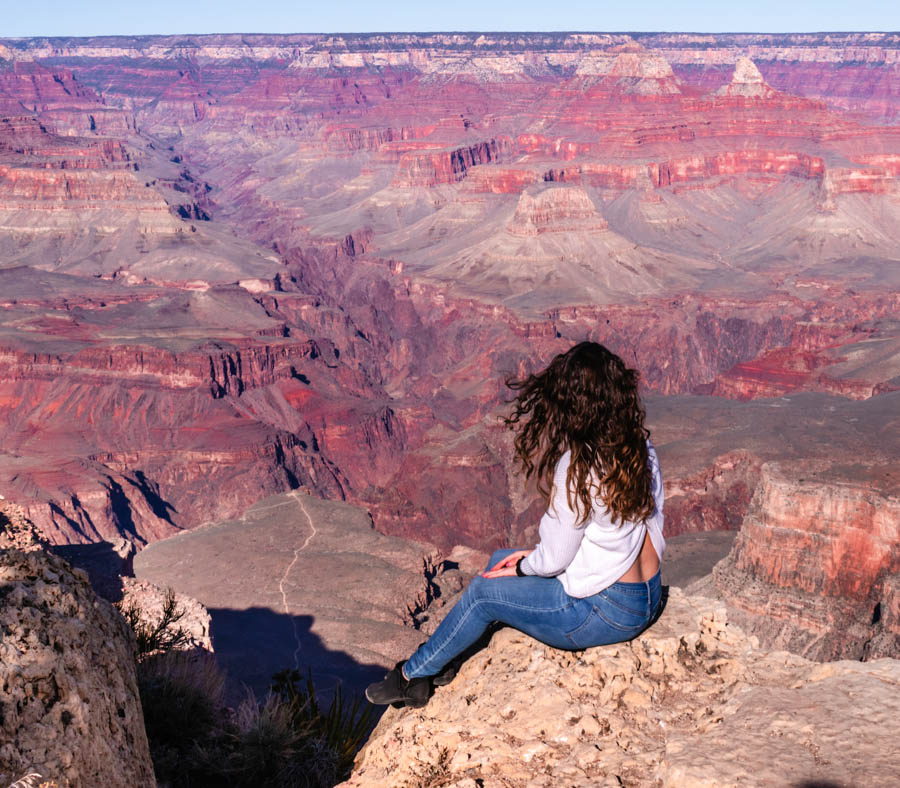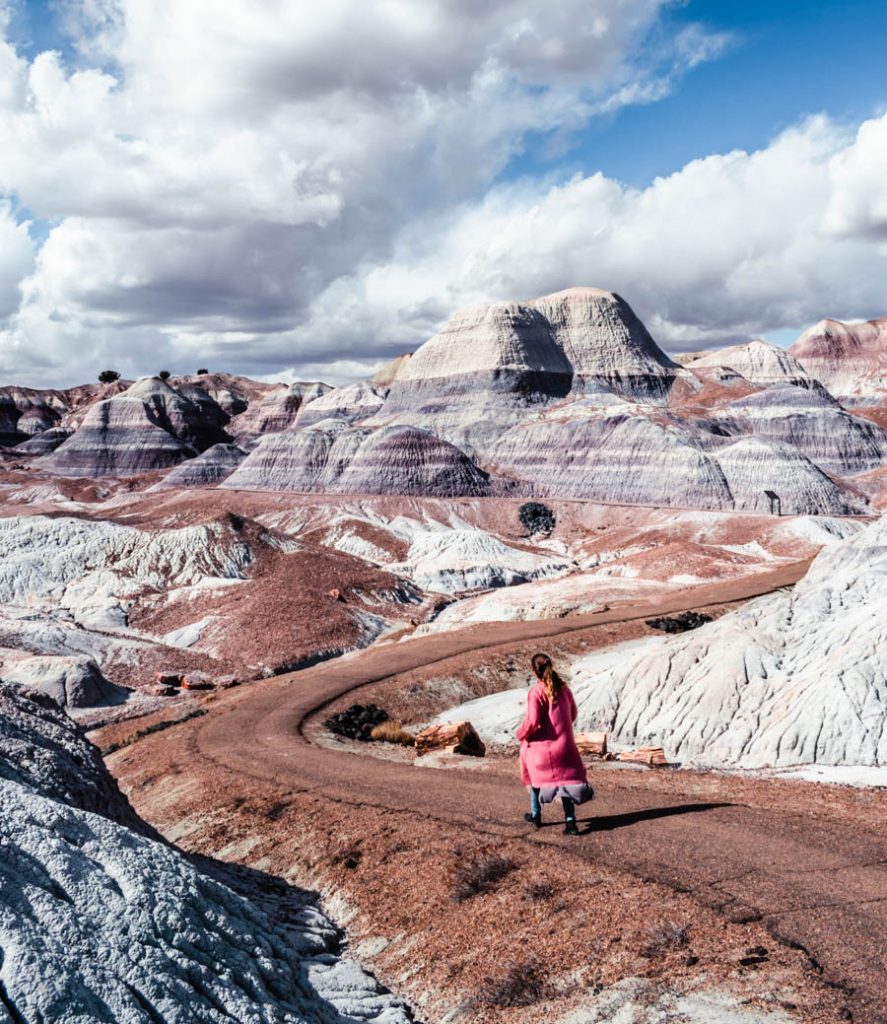 Ithaca, New York
This was not my first trip to Ithaca, New York. I visited a few years ago in January and have been wanting to plan a return trip back ever since. Well…I went back to Ithaca three times in 2020! And each time, I had a unique and wonderful experience. I went in the spring, summer, and fall. So now I can confidentially say, Ithaca is worth a visit year-round.
Two of my three trips stand out for me because they were both epic bucket list experiences. Over the summer, I went swimming in waterfalls at two of the State Parks in Ithaca; Robert H Treman State Park and Buttermilk Falls State Park. Add swimming here to your bucket list! The second trip that stood out was my glamping trip during the fall. I've always wanted to go glamping, so I was so excited to get to experience this at this wonderful destination close to home.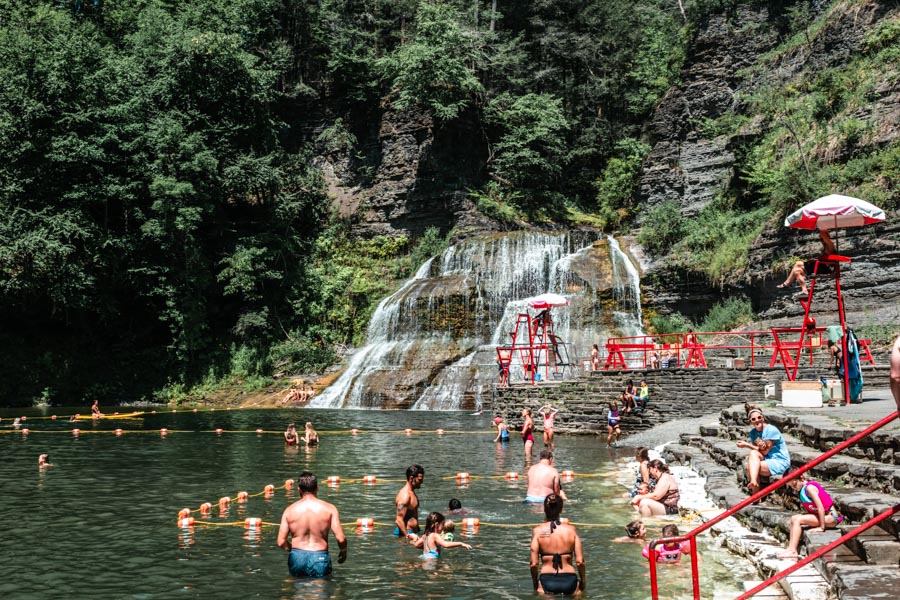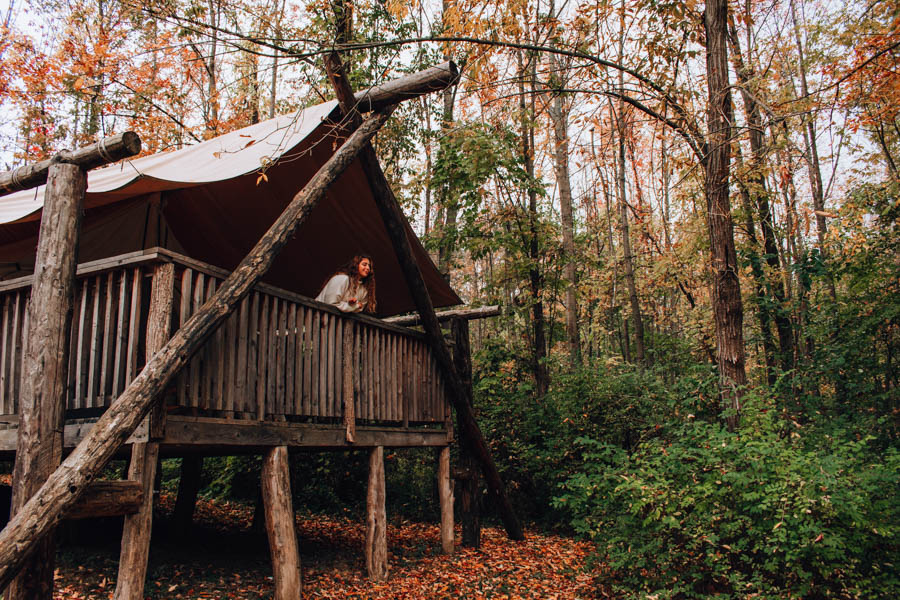 Newport, Rhode Island
I just love Newport, Rhode Island! It is such a vibe. It's the perfect spot for a beach getaway; there are beautiful beaches, a really pretty town, and fun things to do! After months of not traveling far from home, it was amazing to get in my car and take a road trip to a different state.
We spent days lounging at the beach, drinking frozen lemonade and searching for shells. And the evenings wandering around Newport, checking out the massive luxurious yachts and eating yummy seafood. We didn't tour the mansions on this trip, but we got amazing views of the most iconic Newport Mansions from the Cliff Walk.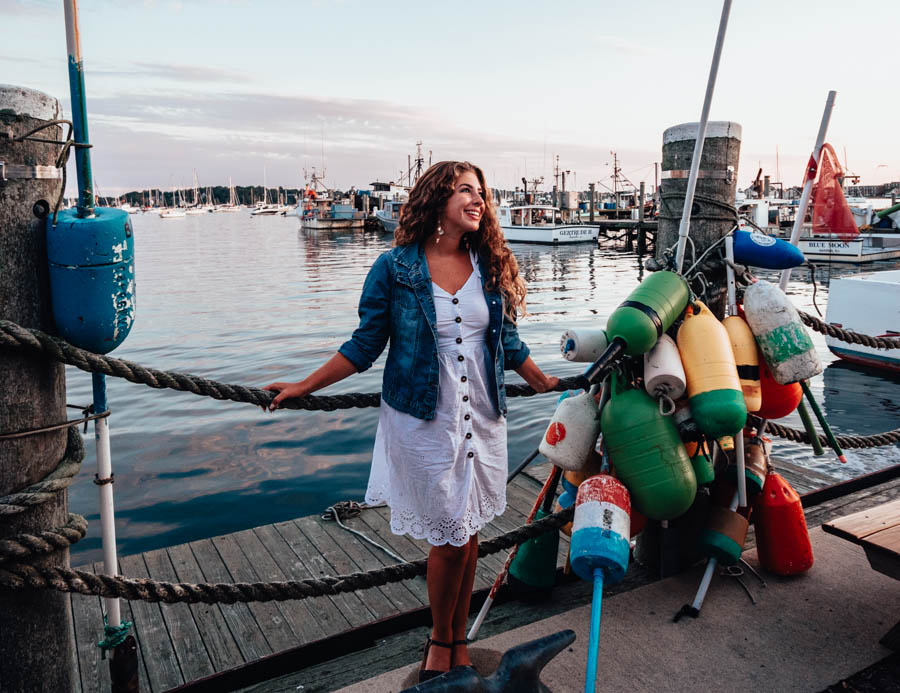 New York City
We took a little road trip to New York City this fall and it was such a cool experience to be able to see this usually crowded city quiet. We wandered around the quiet city street, relaxed in parks, and experienced the new outdoor dining. It was one of my most memorable trips to New York City. It was a bit weird and sad to see the usually bustling tourist attractions without many people, but it was always really nice to experience this city at a slower pace.
I can't wait for travel to pick back up again and for the tourists to return (safely) to NYC, but for now, it's nice that New Yorkers can enjoy their city. And I'm so lucky to live in New York State to be able to experience "the city that never sleeps" taking some much-needed rest.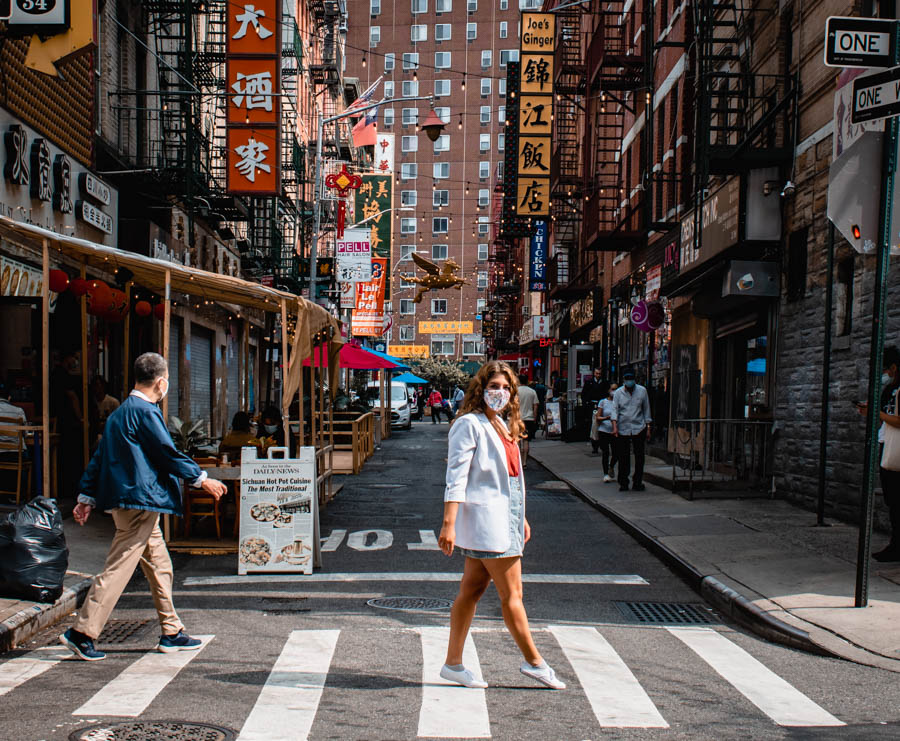 Tulum, Mexico
I can't even believe I'm able to add a different country to my 2020 list! My trip to Mexico was supposed to be in June but it got pushed back to November. I honestly didn't think this trip would happen at all this year. This trip was to visit an amazing all-inclusive resort in Playa del Carmen. But I ended up extending my trip by a week in order to visit Tulum. And I'm so glad I did! I spent four nights in Tulum and initially thought this would be too long. But actually, I didn't feel like it was enough time.
I rode my bike through downpouring rain, ate smoothie bowls, explored cenotes, visited ancient ruins, swam in the Gulf of Mexico, had meals with wonderful travel friends, and even stayed in a bungalow on the beach. It was a very full yet still relaxing few days in Tulum. This is a destination that was so much fun to discover and I could easily see myself returning to.