Sampling Pure Vermont Maple Syrup is an activity you must do while on a trip to Vermont. And there is no better place to do so than at Sugarbush Farm. Sugarbush Farm is a popular maple syrup farm in Woodstock, Vermont. This farm has great maple syrup you can sample and purchase, delicious maple products, and much more. Visiting this maple syrup farm is an incredible experience.
Sugarbush Farm sits on a sprawling property covered in maple trees that turn an explosive shade of red in the Fall. While Sugarbush Farm is situated under 5 miles from the town of Woodstock, the drive is stunning, bringing you along winding country roads. Minimally, come to Sugarbush to see this idyllic farm. But after sampling the maple syrup, chances are you will leave with at least one maple-flavored goodie.
Visiting Sugarbush Farm in Woodstock, VT
Here is some practical information for visiting Sugarbush Farm.
Where is Sugarbush Farm
Sugarbush Farm is located in Woodstock, Vermont. The farm is situated approximately 5 miles from the town center of Woodstock. The drive from town is pretty direct; however, expect to drive along narrow country roads.
Sugarbush Farm Hours
Sugarbush Farm is open daily from 9 a.m. to 5 p.m., including weekends and most holidays. (They are closed on Thanksgiving and Christmas).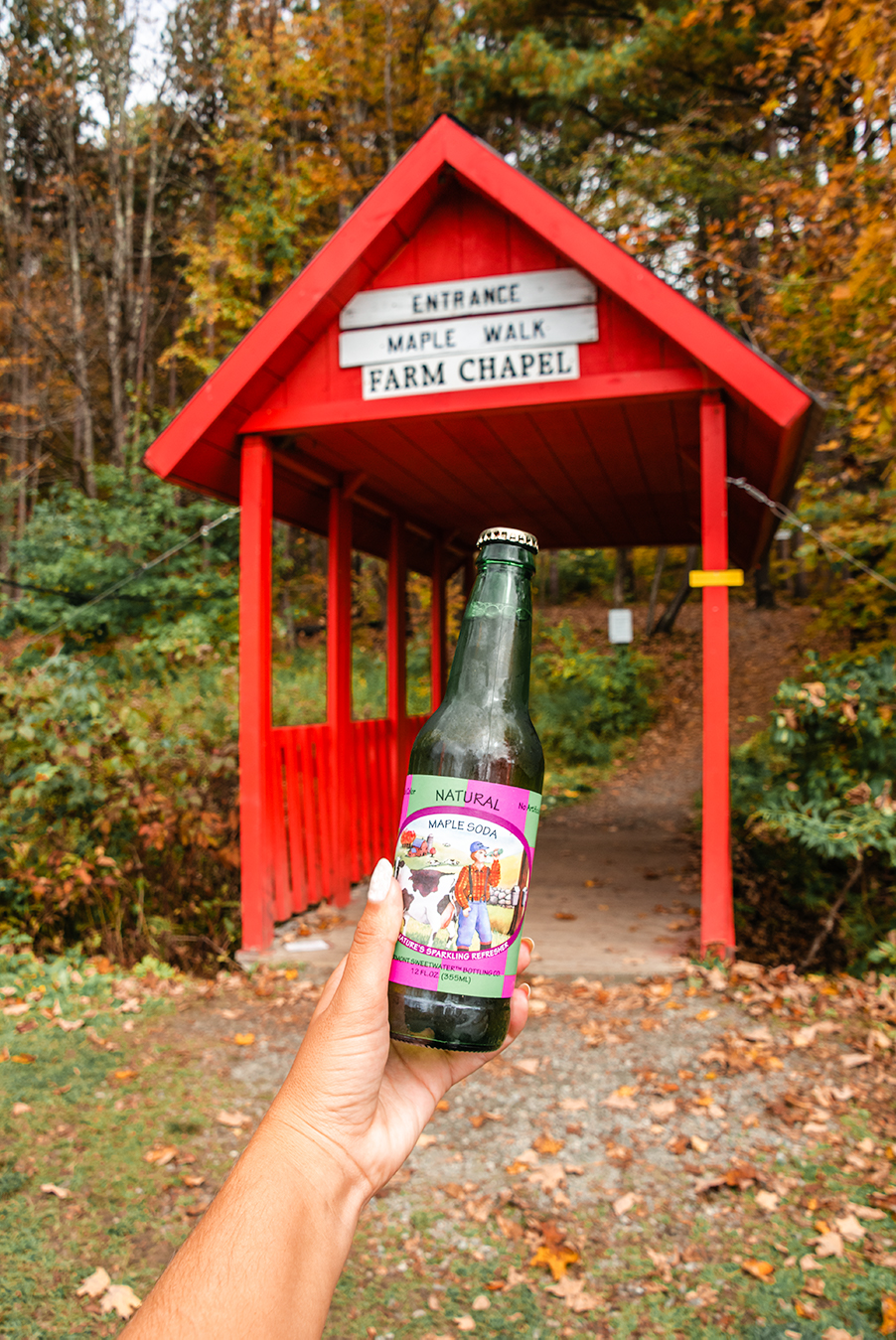 Things to do at Sugarbush Farm
Sample Maple Syrup and Cheese
Before browsing the shop, you must stop into the tasting room for free samples of Sugarbush's cheese and maple syrup. Here you will have the option to sample a couple of cheeses they pulled and the four grades of maple syrup Sugarbush sells.
Think again if you think you will sample the maple syrup and not buy anything. While there are zero obligations to purchase anything after the free sample, you will surely want to bring a bottle home. The maple syrup at Sugarbush is some of the best I have ever had. After trying the samples, it was nearly impossible not to purchase a bottle of syrup to bring home. Sampling the maple syrup was helpful for deciding which grade to buy. The grades include Golden, Amber, Dark, or Very Dark; the darker the coloring, the more maple flavor the syrup has.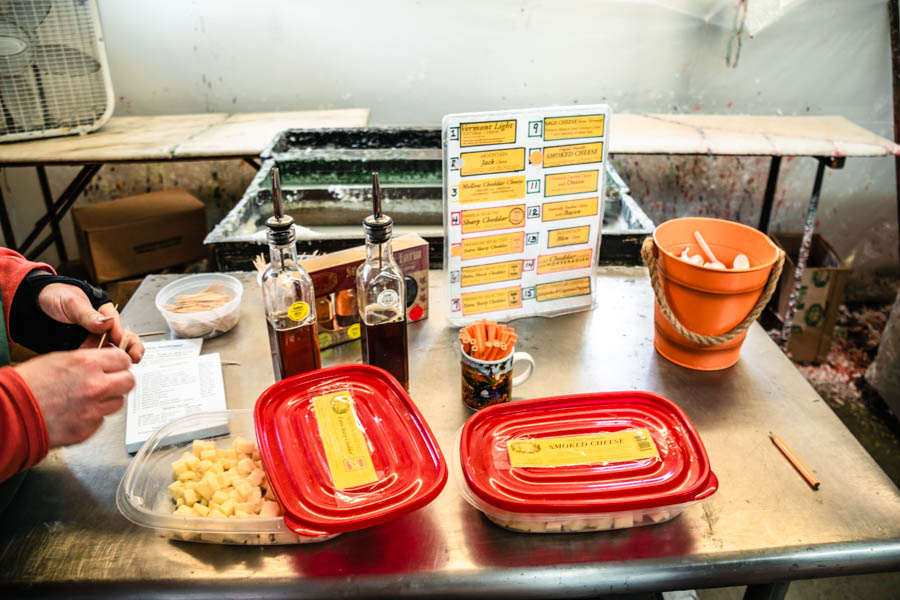 Browse the Shop for Maple Flavored Everything
The shop at Sugarbush Farm is spread throughout three farmhouse rooms. There are so many incredible local goods to browse through, including items from Sugarhouse Farm. If you're looking to bring home a bottle of pure Vermont Maple Syrup, there are plenty of different-sized bottles. Additionally, Sugarbush Farm has each grade of maple syrup available for purchase.
In addition to maple syrup, plenty of other maple-flavored products are available at the store. There's maple fudge, hard candies, and even maple soda. Honestly, I don't know how you could leave this shop without buying at least one maple-flavored goodie.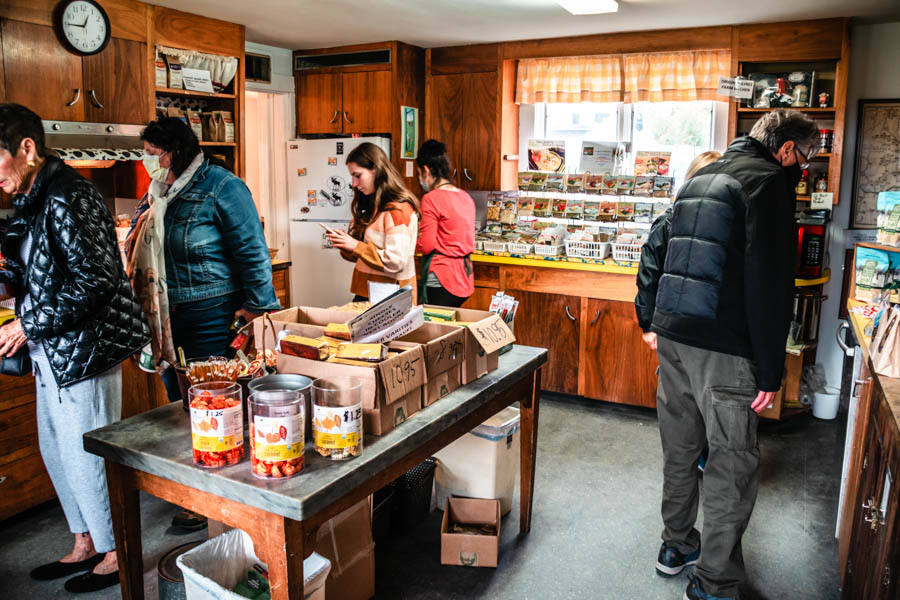 Learn about Tapping Maple Trees at the Sugarhouse
Head to the Sugarhouse to learn about the process of tapping maple trees and creating maple syrup. You can take a self-guided tour to learn all about the inner-working of a maple farm. It is interesting and makes you appreciate the delicious maple nectar even more.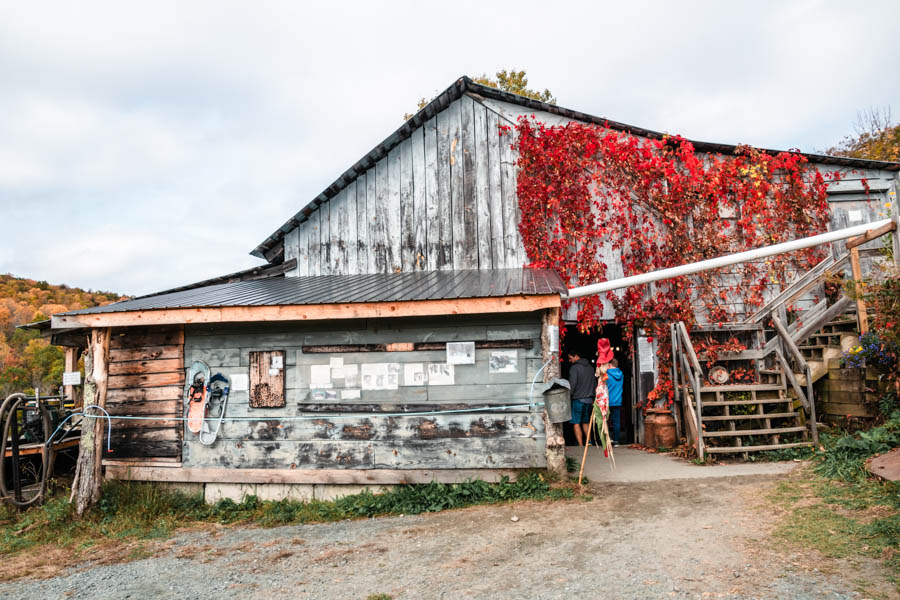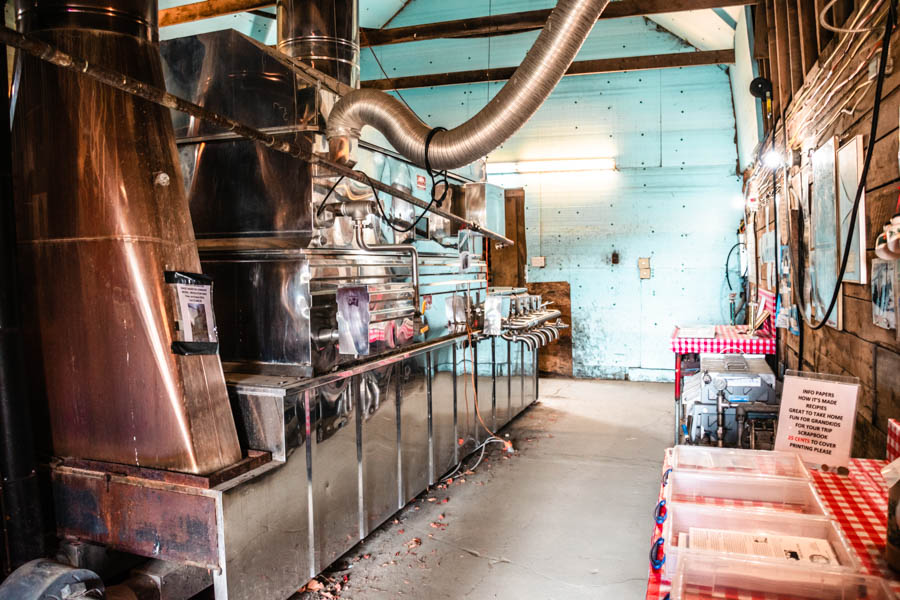 Walk the Nature Trail to the Chapel
A short nature trail at Sugarbush Farm leads to a tiny chapel in the woods. The trail starts just behind the parking lot and leads through the maple woods, which are especially beautiful in the Fall. After a quick walk, you will arrive at the most adorable white chapel in the woods.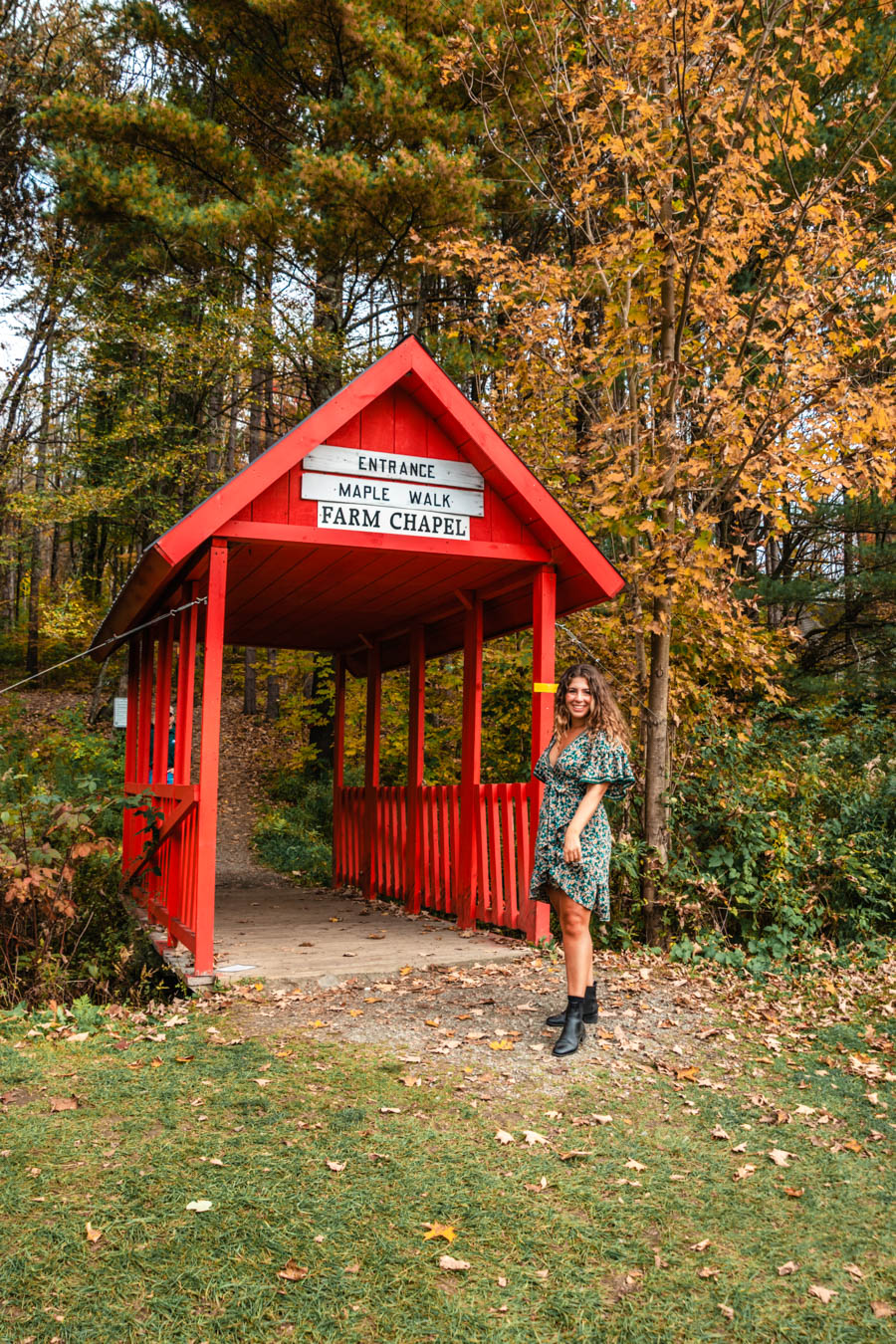 Meet the Farm Animals
There are plenty of cute farm animals at Sugarbush Farm. Visitors to the farm can see and pet the animals during the warmer months. If you are an animal lover, be sure to say hello to the horses and goats during your visit.
 

 

 

View this post on Instagram

 

 
Enjoy the View
The view from Sugarbush Farm is incredible. You can take in the sweeping view of the surrounding area from the farm. It is well worth coming to Sugarbush to enjoy the stunning natural surroundings, especially in the Fall. There is a picnic area that you are free to use. Consider buying some Vermont cheese and crackers to snack on from the shop.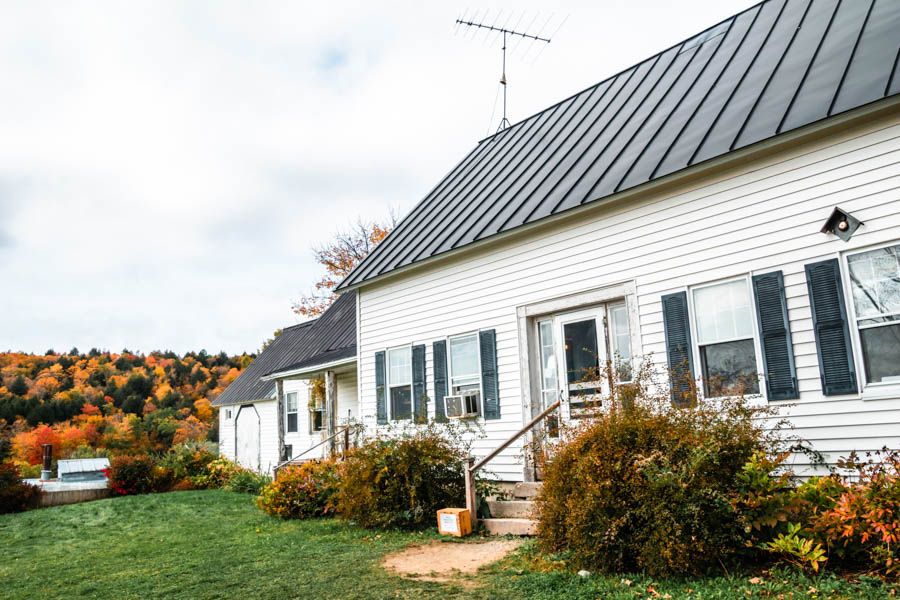 Sugarbush Farm in Woodstock, VT: Wrap-up
Visiting Sugarbush Farm is one of the best things to do in Woodstock, especially during the Fall months. Whether you want to pick up a bottle of Pure Vermont Maple Syrup, learn about maple syrup production or take in the sweeping view from the farm, there are many reasons to visit this maple syrup farm in Woodstock, Vermont.
Save this Post for Later on Pinterest