At first glance, Tulum may seem like your typical beach vacation spot. While there are pristine beaches and the beautiful Caribbean Sea, Tulum is so much more than just a beach destination. There are so many things to do in Tulum, areas to discover, and food to indulge in. Chances are you won't be able to see and do everything on one trip to Tulum while still enjoying the slowed beach pace. After spending four days in Tulum, I just began to scratch the surface. I left wanting more and knowing Tulum is a destination where you can constantly discover something new. That being said, after extensive research and four wonderful days in Tulum, I have created the ultimate Tulum itinerary for first-time visitors. This Tulum itinerary is perfect for 3 to 4 days in Tulum.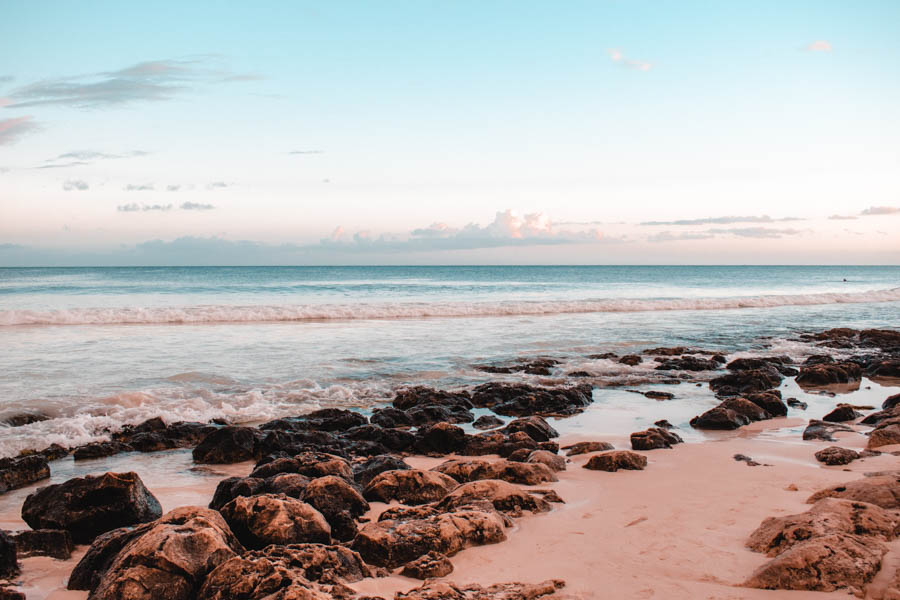 The Ultimate Tulum Itinerary: 3 to 4 Days in Tulum
Typically when I travel, I have a much more packed itinerary. I try to see and do everything there is in a destination. Yet, I truly felt like this was the perfect balance of activities to still enjoy some necessary R&R. This Tulum itinerary is ideal for first-time visitors who want to get a sampling of what Tulum has to offer.
Day 1- Arrive in Tulum
Upon arrival in Tulum, you will need to get your bearings before you jump into any activities. In order to get to Tulum, you will need to fly into the Cancun Airport. Most flights to Cancun from the U.S. don't arrive until the afternoon, so by the time you get to Tulum, it will already be mid-day. While you won't have much time for activities on your first day, you can get the lay of the land and grab a delicious dinner.
Rent a Bike
After checking into your hotel, head to Ola Bike to rent a bike for your stay in Tulum. Biking is one of the best ways to get around Tulum, so you will want to make sure to get a bike as soon as you arrive.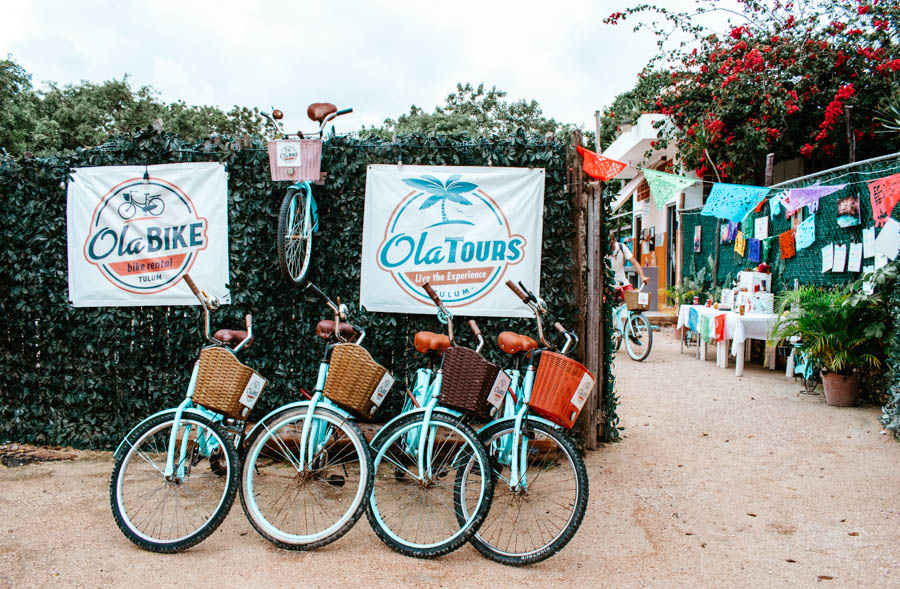 The first thing I wanted to see upon arrival in Tulum was the beach. If you're a beach lover, I suggest taking a bike ride to the public beach via the bike path on main road 109. Time permitting, you can go for a quick swim in the turquoise water or go for a walk along the beach.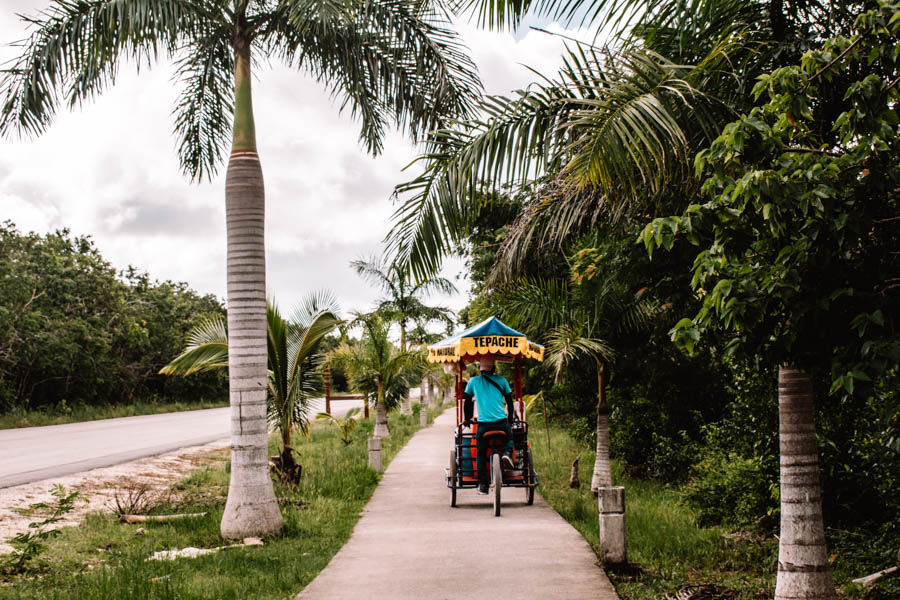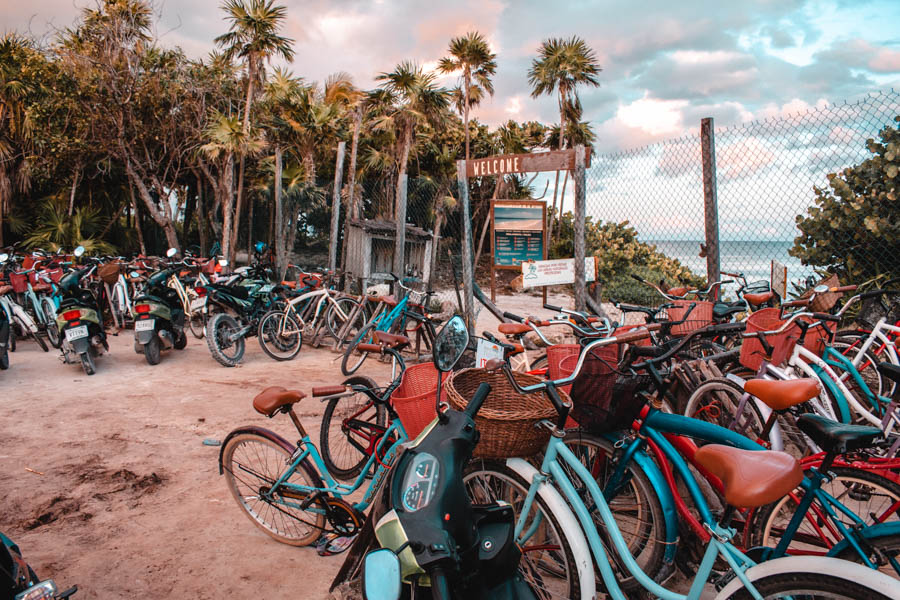 Dinner in Town
To end your first day in Tulum, grab dinner and drinks in town. Stop by the infamous Batey for mojitos and live music in Tulum town. This will be one of the best mojitos of your life, as they are pressing sugarcane in-house. If you're feeling peckish, order some of their light snacks to go alongside your mojito.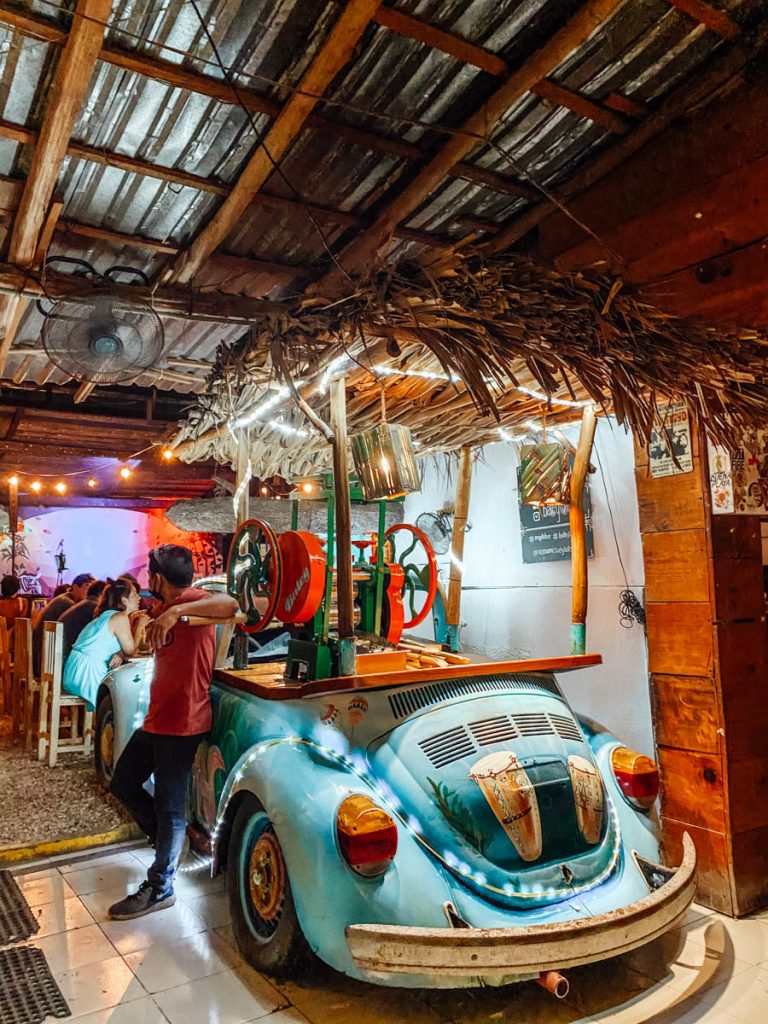 Taco Stands
Before or after your drinks, stop by one of the many taco stands in Tulum to get a cheap, delicious late-night meal. My personal favorite is the Al Pastor, which is pork with pineapple.
Day 2 – Cenote Hopping
Mexico's Yucatán Peninsula is known for its' cenotes, which are underground chambers or caves containing water. Essentially they are natural swimming holes that are a must-see when in this region of Mexico. There are various cenotes in Tulum, yet I choose two that were easily accessible by bicycle. If you have a rental car or prefer a guided tour, you may opt to visit more cenotes. However, I thought visiting two was perfect as I was able to stay and truly enjoy swimming in each cenote. Visiting on your own allows you to spend more time at each cenote, while tours allow you to see more. So it truly depends on if you want to see as many cenotes as possible or spend leisurely time swimming.
Gran Cenote
Get your day started early at Gran Cenote, which is approximately a 15-minute bike ride from Tulum Town and one of the most popular cenotes in Tulum. Gran Cenote can get quite busy during the day when tour groups start to arrive so you will want to arrive near the opening time to avoid the crowds, at 8:00 a.m. With crystal clear water, caves to explore, turtles, and ample area to swim around, it is no surprise that Gran Cenote is so touristy. It is well worth a visit.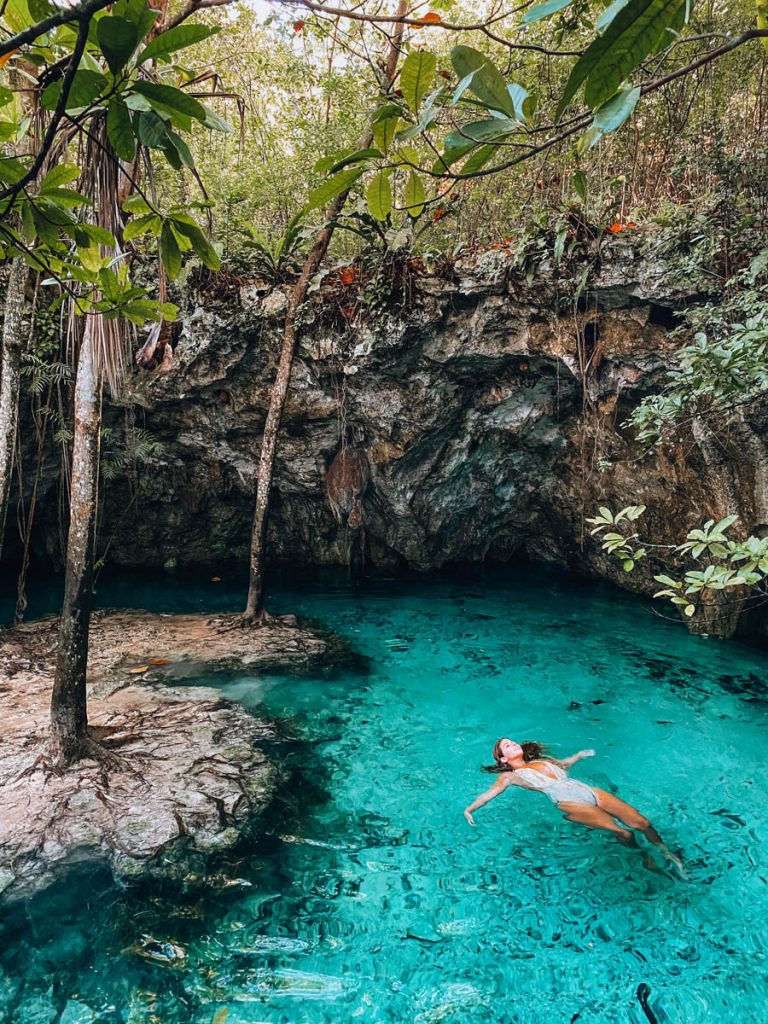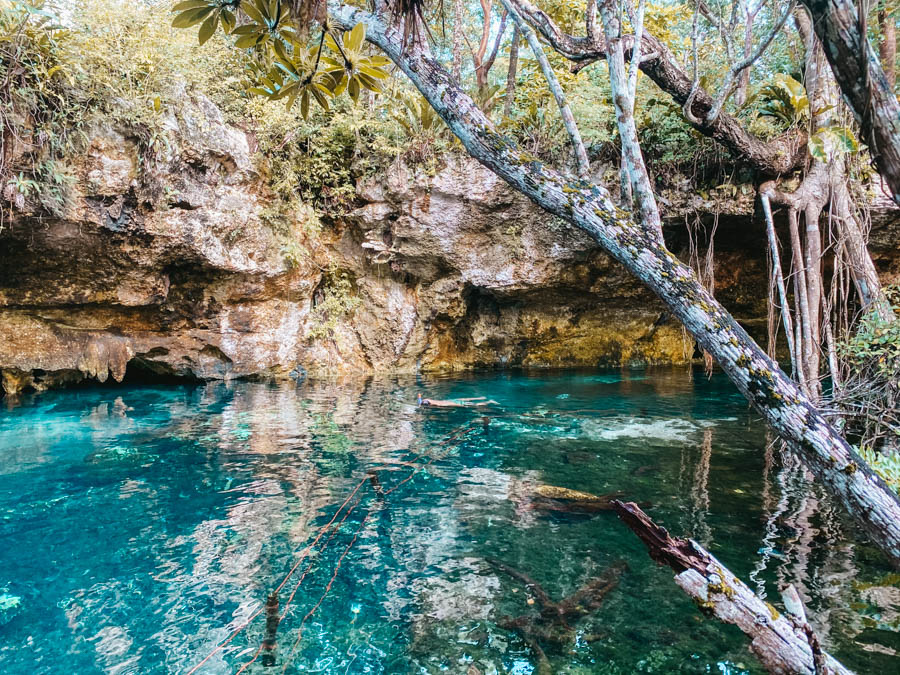 Cenote Calavera
After checking out Gran Cenote, riding back towards town, stop at the Cenote Calavera. The entrance to Cenote Calavera is a small hole in the ground leading to the cenote, with several even tinnier entrance holes. This cenote appears small at first, yet there is plenty of swimming area in the caves (if you're brave). This cenote has a depth of 50 ft, so it is fun to jump into and swim around.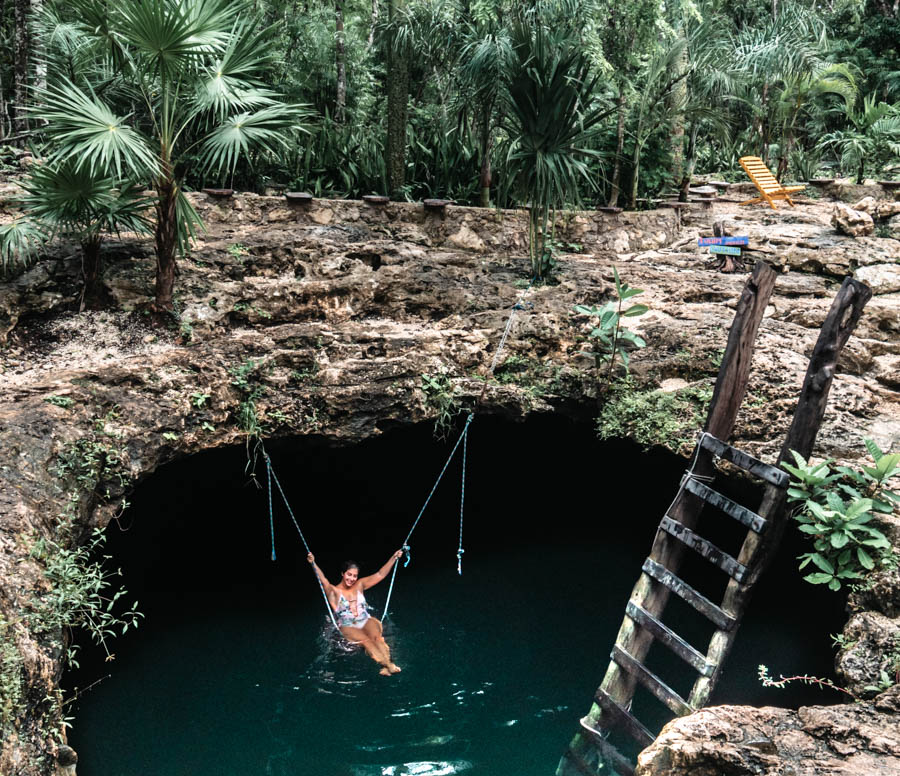 Food Truck Park – Palma Central
With a full day of exploring cenotes, you will bound to have worked up an appetite. For dinner, head to Palma Central, which is a food truck park in Tulum town. Palma Central has tons of food trucks with all different types of cuisine. If you're looking for a sampling of different foods, you can get a few dishes from different food trucks. There is an enjoyable, relaxed atmosphere here.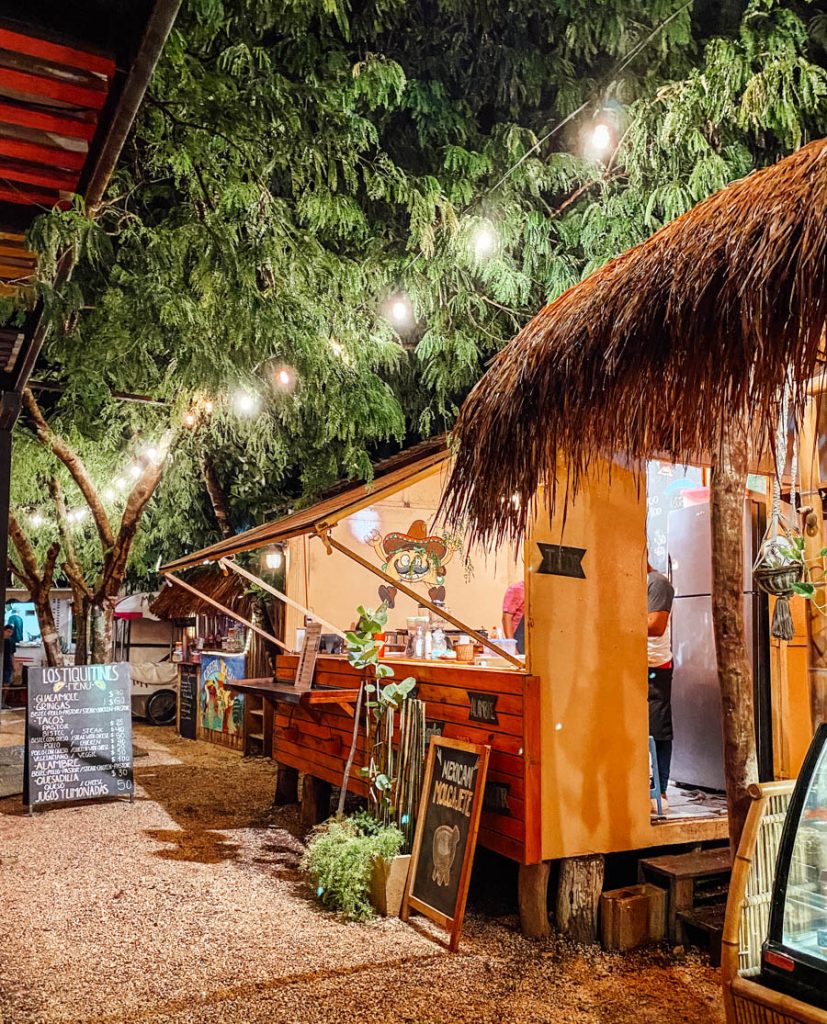 Day 3 – Tulum Ruins + Beach Day
It's time to spend an entire day seaside. There will be plenty of rest and relaxation, swimming in the Caribbean Sea, and a visit to the Tulum Ruins.
Tulum Ruins
After sunrise from your beach bungalow and breakfast, head down Beach Road to the Tulum Ruins. The Tulum Ruins are one of the most visited archeological sites in Mexico. It is easy to see why, as the Tulum Ruins are located facing the Caribbean. Spend some time exploring these seaside ruins and learning a bit about the Mayan civilization. There is even a beach at the Tulum Ruins, so be sure to bring your bathing suit. There's nothing quite like going for a swim with views of ancient ruins.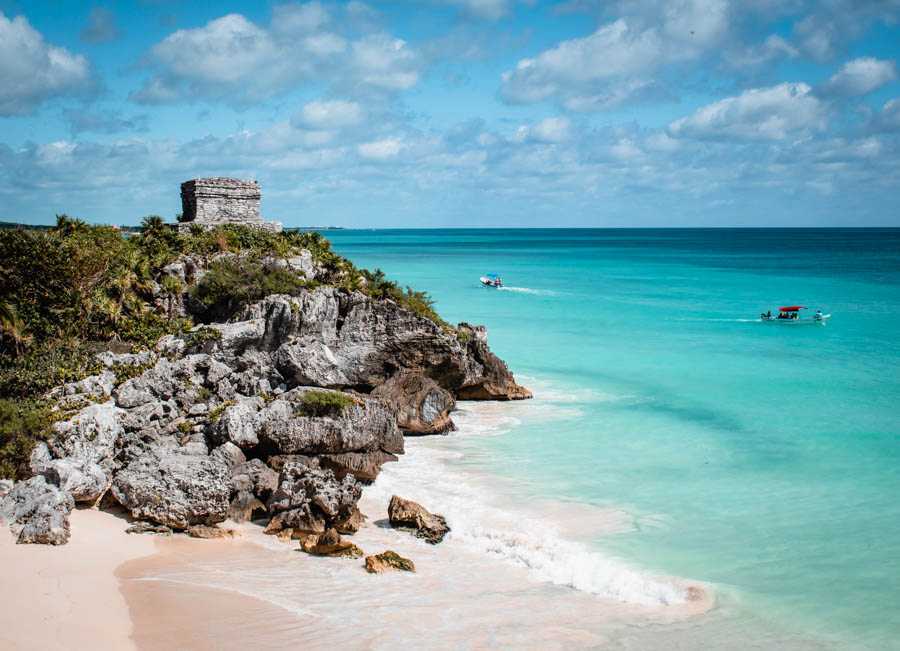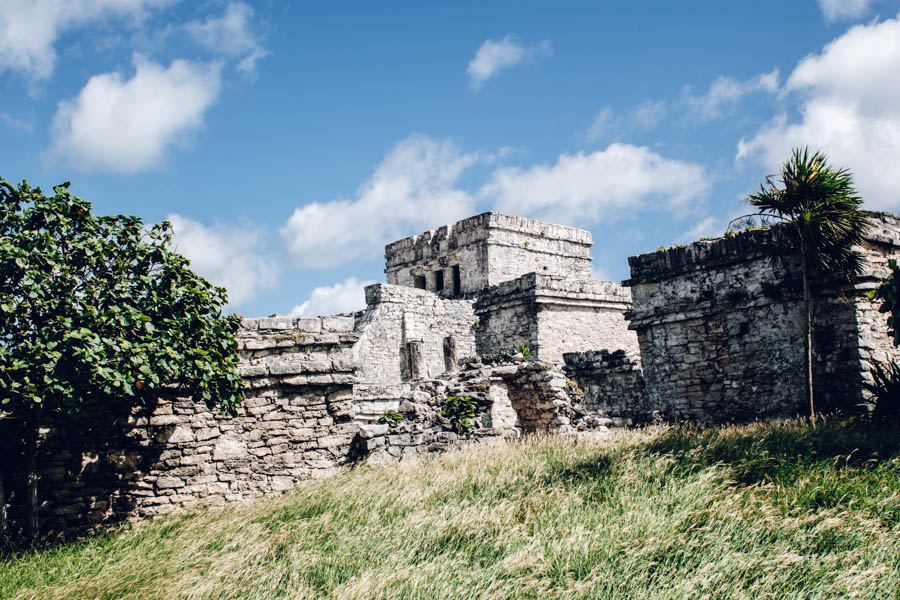 Beach Time
Now that you got a bit of culture out of your trip, devote the rest of your day to enjoying the beach. Tulum has such a beautiful coastline, that it would be almost criminal not to appreciate it. If you're staying at a hotel on the beach (which I highly suggest for a least a couple of nights), spend some time at your hotel's beach. Grab a cabana or lounge chairs, order tropical drinks, and spend the entire day swimming.
Staying at Diamante K proved to be the perfect spot, as I was able to spend time relaxing at the small private beach on property and walk the short distance to the public beach, where the waves were bigger and there was more excitement.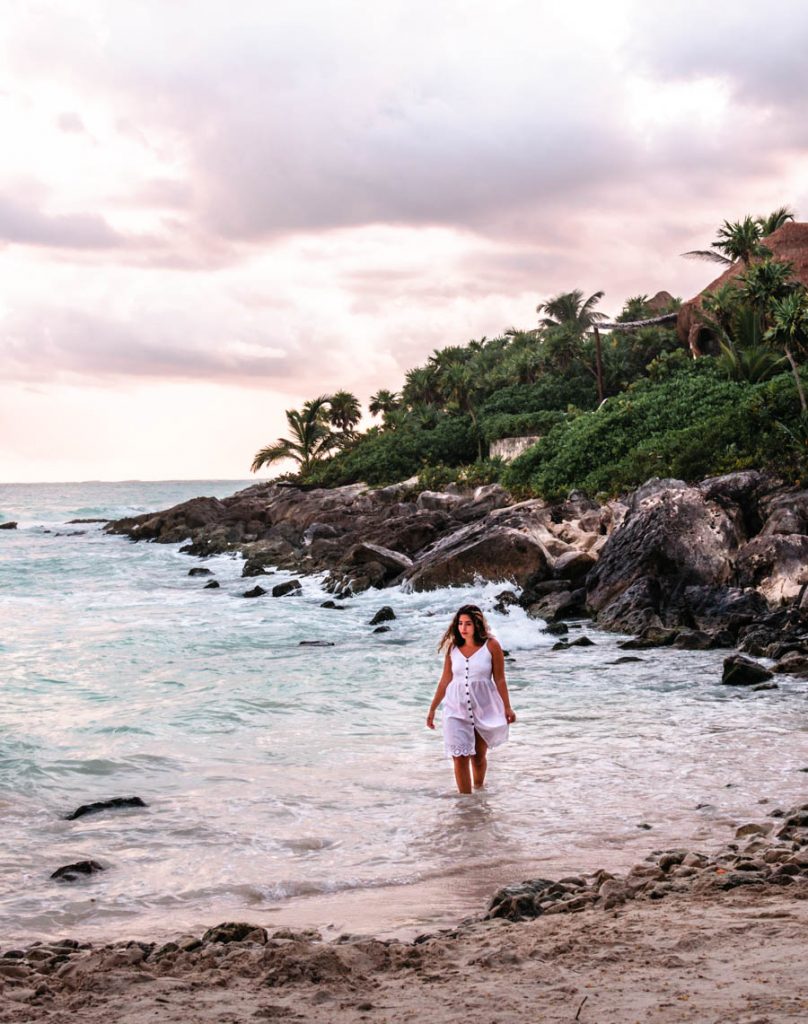 Alternatively, if you are not staying on the beach road, the public beach is just a bike ride away from Tulum town. The public beach is beautiful, so you cannot go wrong by visiting. Or, spend your day at one of the many beach clubs in Tulum.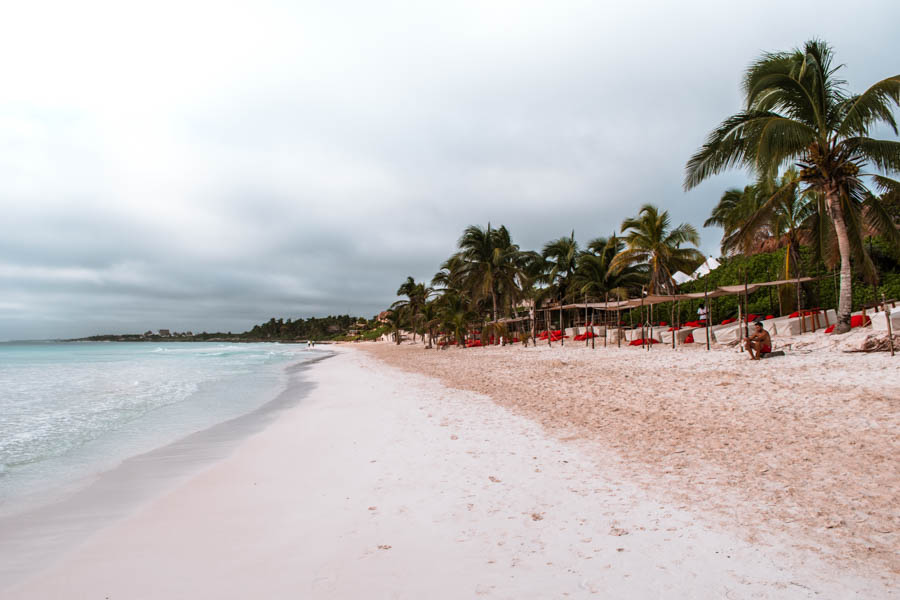 Dinner at the Beach
Of course, you must have dinner at the beach! I ended up having dinner at Diamante K, yet I've heard so many good things about Mezzanine, which is a Thai restaurant in Tulum.
Day 4 –  Depart Tulum or Beach Club
If you're departing Tulum, wake up early to enjoy the last few hours at your beachside hotel before heading to the airport or your next destination in Mexico.
If you still have one more full day in Tulum, spend it at a beach club. Beach clubs are such a huge part of the Tulum experience and a great addition to any Tulum itinerary. Here you can enjoy the beach, access to lounge chairs and cabanas, and experience the lively beach energy from these clubs. Most beach clubs in Tulum have a minimum spend at their restaurants and bars which allows you to have access to the amenities. Two popular beach clubs are Papaya Playa Project or Ziggy's Beach Club.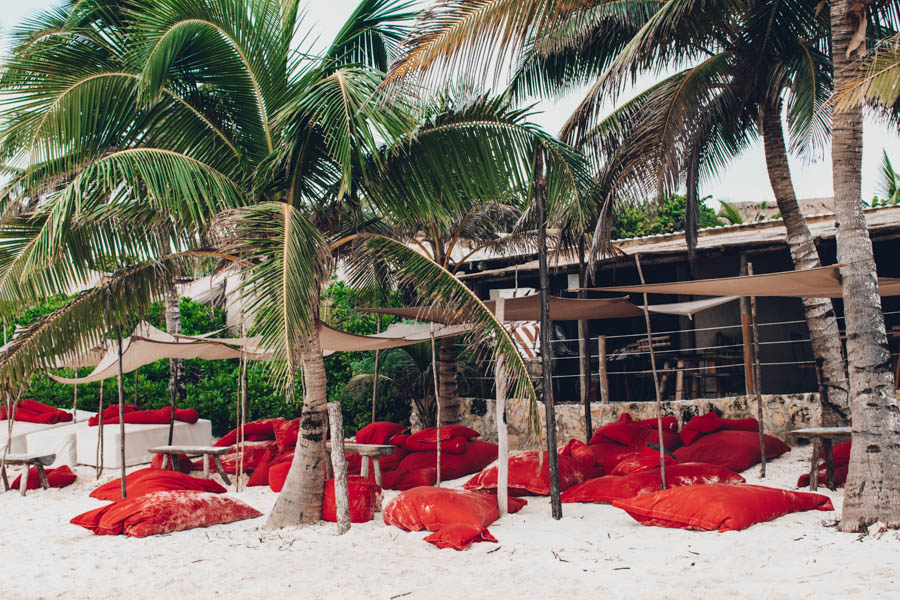 Tulum Itinerary: Where to Stay in Tulum
There are two main areas in Tulum, Tulum Town and Tulum Beach (Hotel Zone). Both areas have their benefits. Tulum Town is more affordable, and nearby plenty of restaurants and bars. While Tulum Beach is pricier, you are staying on the beach, which is a perk in itself. I opted to stay two nights in town and two nights at the beach in order to get the best of both worlds. Either of these areas can be a good base for this Tulum itinerary. These are the hotels I stayed at during my stay:
Zendero Tulum- Tulum Town
Zendero Tulum is the perfect spot if you're looking for a nice, budget-friendly place to stay in Tulum Town. This hotel has nice rooms, complimentary breakfast, and a small rooftop pool. It's also in a nice central location, making it easy to bike anywhere in Tulum and even walk to restaurants and cafes.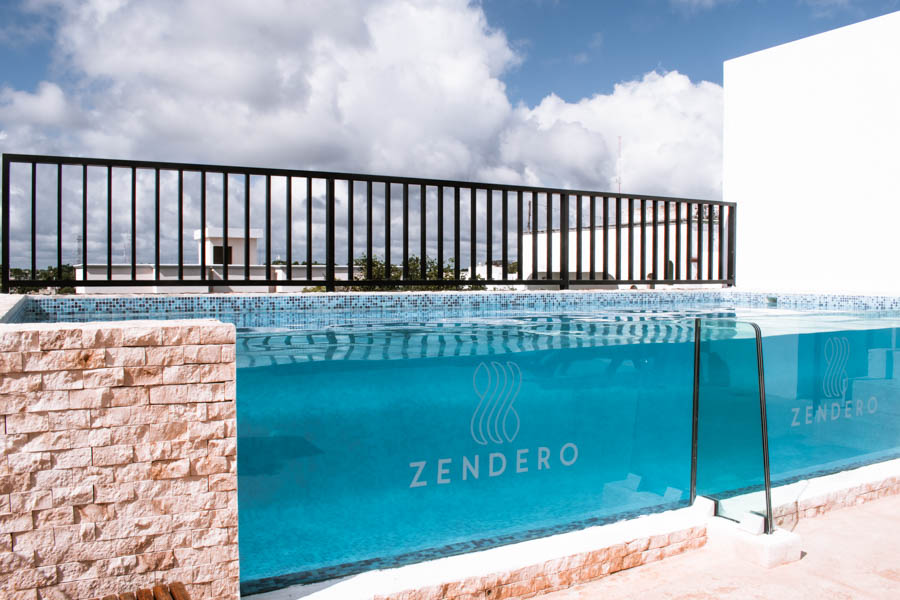 Diamante K -Tulum Beach 
Diamante K is a boutique hotel located on the beach, it actually has a small private cove-like beach at the hotel and is a 5-minute walk from the public beach. This hotel gives off that boho Tulum beach vibes and is a fantastic spot to spend a couple of nights on the beach. Read all about my stay at Diamante K here.

Getting to Tulum
There isn't an airport in Tulum, so you will have to fly into Cancun and transfer to Tulum. The Cancun International Airport is the closest airport to Tulum and the best place to fly into. The Cancun Airpot (CUN) is located approximately 1.5 hours by car from Tulum. Depending on your budget and timeframe there are various ways to get from Cancun to Tulum.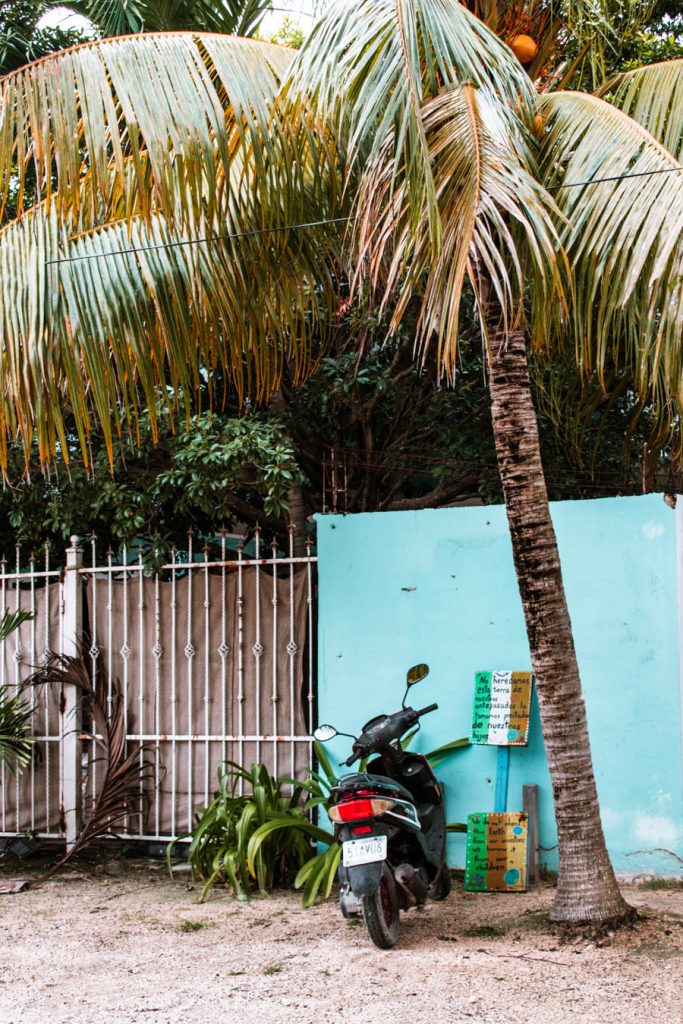 Renting a Car
If you're planning on using a car for day trips around Tulum, renting a car at the Cancun Airport is your best option. It is one of the quickest and most affordable ways to travel.
Taxi / Private Transfer
Taking a taxi or private transfer is the easiest way to get from Cancun to Tulum. And depending on the size of your group, the cost may be comparable to taking the bus. I paid $60 for a taxi from Tulum to Cancun, which I thought was fairly reasonable. Usually, I would have taken the bus, but I wanted the quickest and best option for social distancing. A Taxi ride takes 1.5 hours, getting you to Tulum quickly.
ADO Bus
The ADO Bus is the public bus that goes from the Cancun Airport to the bus station located in Tulum town. Tickets cost approximately $10 each way, so this is definitely the best budget option. However, once you get to the bus station in Tulum, you will need to take a taxi to your accommodation.
Getting Around Tulum
Unless you have a rental car and are using that to get around, the best way to get around Tulum is by bike or taxi. Unless you are planning on lounging at the beach during your entire visit, you will need a way to get around to see everything on this Tulum itinerary.
By Bike
I highly recommend renting a bicycle while in Tulum. This is such an affordable, fun, and quick way to get around. Things to do in Tulum are fairly spaced out, so you will not be able to get by with walking everyone. However, biking is the perfect way to do everything on this Tulum itinerary. Tulum is a very bike-friendly place, there are plenty of bike paths that can get you through town and to the beach. Ola Bike Tulum is a great rental company in town.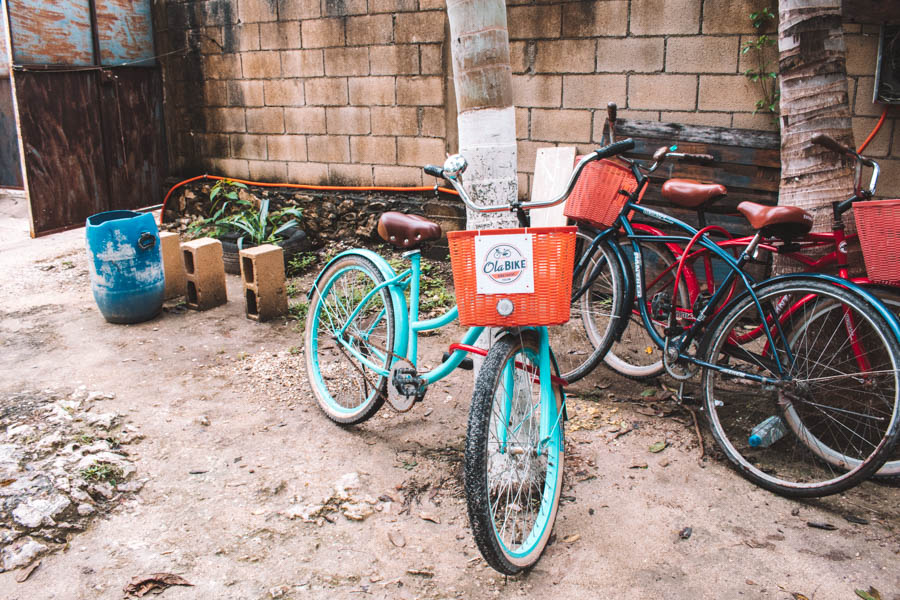 By Taxi
Chances are you will need to take a taxi at some point during your stay, whether it is from town to the beach, to your hotel, or back from dinner in the evening. Taking a taxi in Tulum can be pricey if you're not savvy and aware of what the cost should be. For example, from Tulum town to the beach, you should expect to pay around 100 to 150 pesos. Negotiate the price beforehand so you don't get ripped off. 
Save This Post For Later On Pinterest