I used to think Christmas was celebrated the same way all over the world. I thought that everyone hung their stocking and waited for Santa to leave presents under their Christmas tree. Then I went to Barcelona. This was my first time experiencing Christmas in Europe. I've seen countless photos of Christmas markets in Europe and assumed that the ones in Barcelona would be similar. But I was not prepared for some of the stark differences of the Barcelona Christmas Market.
It is important to note that the Christmas Markets in Spain are not the typical German-style Christmas Markets you will find elsewhere in Europe. These markets are fairly small in scale, have no rides or food stalls. Yet, don't let that deter you from visiting the Barcelona Christmas Markets. The best part about the Christmas Markets in Barcelona is that they are authentic to the region, celebrating Spanish and Catalan traditions. Here is the Barcelona Christmas Market Guide including the best markets to visit and Catalonian Christmas traditions such as Tió de Nadal, the Catalonian version of Santa.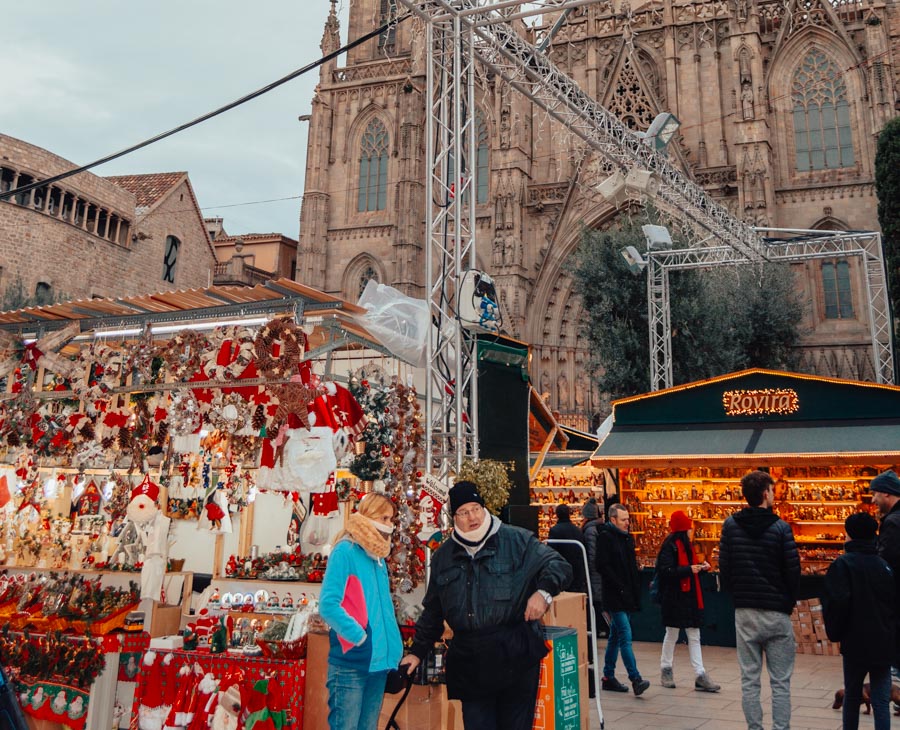 Barcelona Christmas Market Overview 
Barcelona Christmas Markets 2019 Dates
The official Barcelona Christmas markets 2019 dates are from November 29, 2019 to December 23, 2019. 
Barcelona Christmas Markets Hours 
There are two major Christmas markets in Barcelona. Keep in mind that the hours of these markets are different. Here are the hours of the Barcelona Christmas Markets:
Fira de Santa Llúcia 
Hours: 10.30am to 8.30pm, and until 9.30pm on weekends.
Fira de Nadal a la Sagrada Familia
Hours: 10 am to 10pm every day.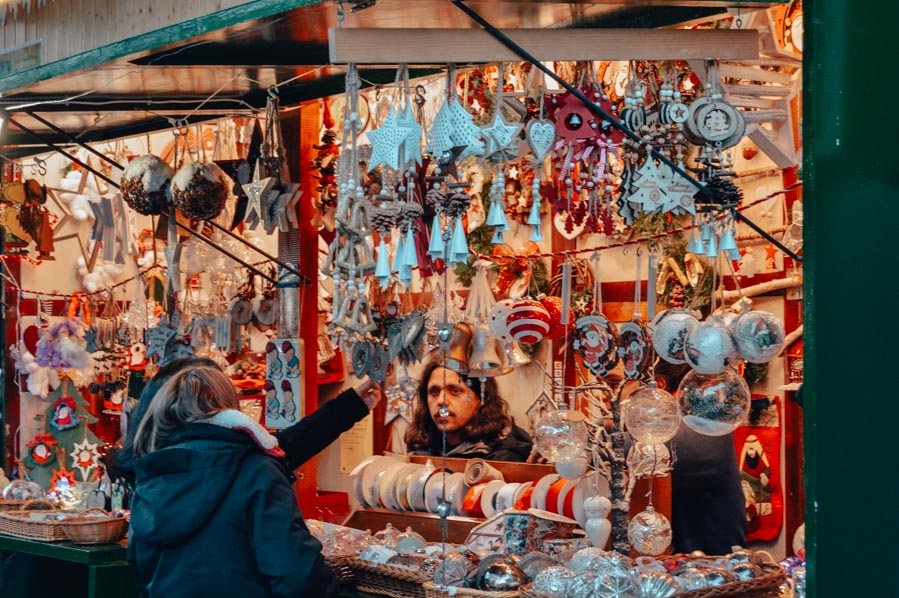 Tió de Nadal
Before delving into the Christmas Markets in Barcelona, it's imoprtant to know about the Catalonian Christmas tradition of Tió de Nadal. Prior to my trip to Barcelona I had never heard of Tió de Nadal and now I can't imagine life without knowing about this unique Christmas tradition. 
Tió de Nadal is Catalan for Christmas Log. Tió de Nada is the Catalan version of Santa Clause and brings presents to the children of Catalonia. Each Tió has a smiley face, red hat and a blanket draped over it. 
Beginning on the Feast of the Immaculate Conception, December 8th, the children feed and take care of their Tió. On Christmas, the Tió is placed into the fire and the children beat the log with a stick in order to make it defecate. They beat a log to make it poop out presents. (This is not a joke!) After thoroughly beating the log, the children are sent to pray for the log to poop out lots of presents for them. 
Barcelona Christmas Market Locations   
No better place to celebrate Christmas-time in Europe than at a Christmas market. While the Christmas Markets in Barcelona are not as big as some of the more famous markets throughout Europe, they are still certainly worth a visit. There are several Barcelona Christmas Markets held each year. The two main Barcelona Christmas Markets are located in must-see spots in the city so there is no way you should miss them. 
Fira de Santa Llúcia Christmas Market
Fira de Santa Lucia is the oldest Christmas market in Barcelona dating back to the 18th Century. Its' location outside the Barcelona Cathedral is an ideal spot in the city. Its central location in the Gothic Quarter makes this market easily accessible.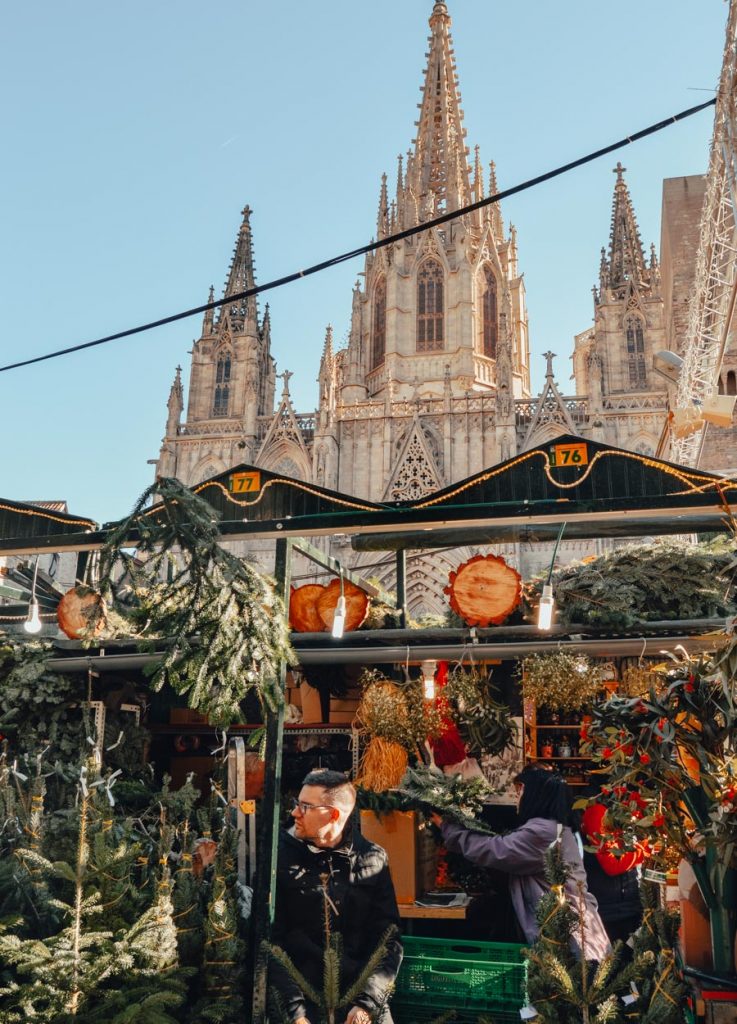 Fira de Santa Llúcia Christmas Market has all the Barcelona Christmas basics including gifts, nativity scenes and Tió de Nadal. It seemed like every other stand sold everyone's favorite little log, Tió de Nadal.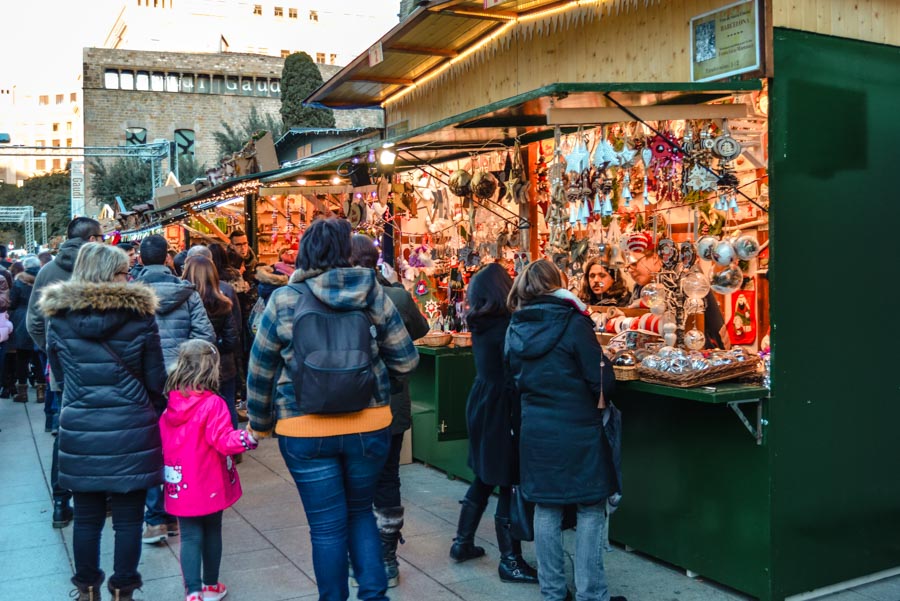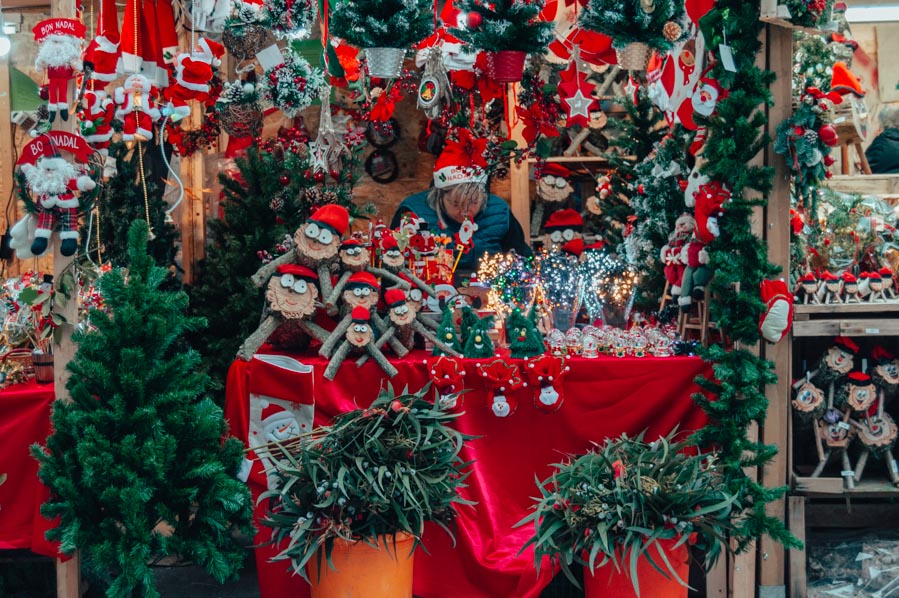 Aside from the wonderful array of artisan gifts and decorations, this Christmas market has a  great atmosphere. Christmas music played throughout the market, leaving everyone in good spirits. And the stands were set up in a close clusters, making it easy to maneuver around the market.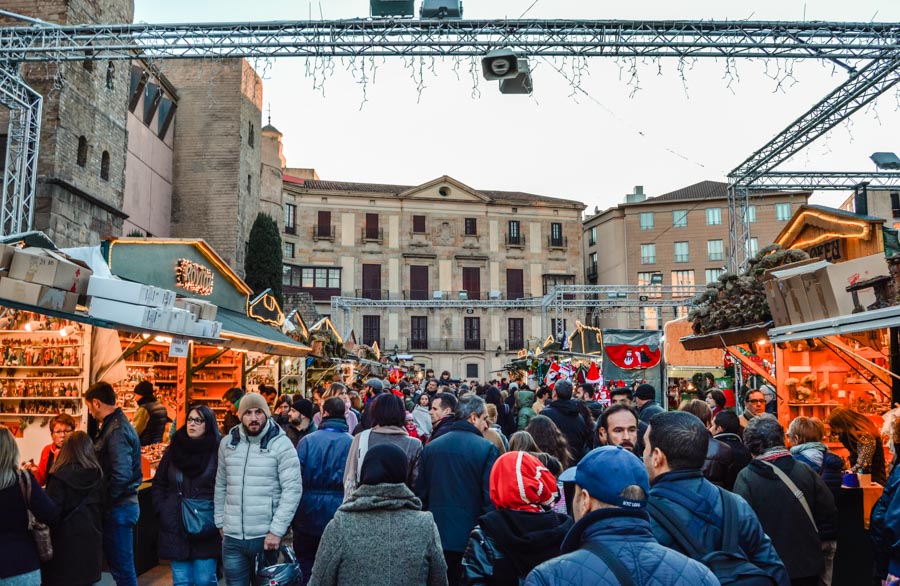 The best part of the Fira de Santa Llúcia Christmas Market was the stage set up, where children line up to see Tió de Nadal. I watched as the kids joyously beat the log with a stick, singing merrily. Once they were done, an assistant went under the blanket to retrieve the candy that Tió de Nadal defecated. (I'm not making this stuff up).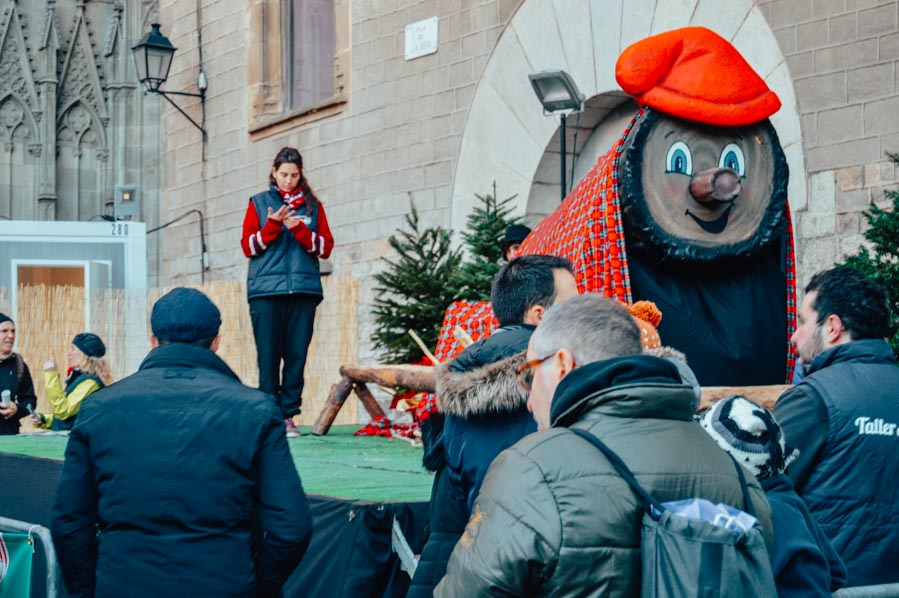 Fira de Nadal a la Sagrada Familia
This market located in the gardens outside the Sagrada Familia can not be missed on a Christmas-time visit to Barcelona. Fira de Nadal a la Sagrada Familia allows you to get some Christmas cheer while viewing Gaudí's masterpiece. This Barcelona Christmas Market has similar products to the Fira de Santa Llúcia Christmas Market. Yet this market is all about the nativity scenes. In Catalonia and elsewhere is Spain, they go all out on their nativity scenes. Here you can find figurines, moss and hay to create an extravagant nativity scene.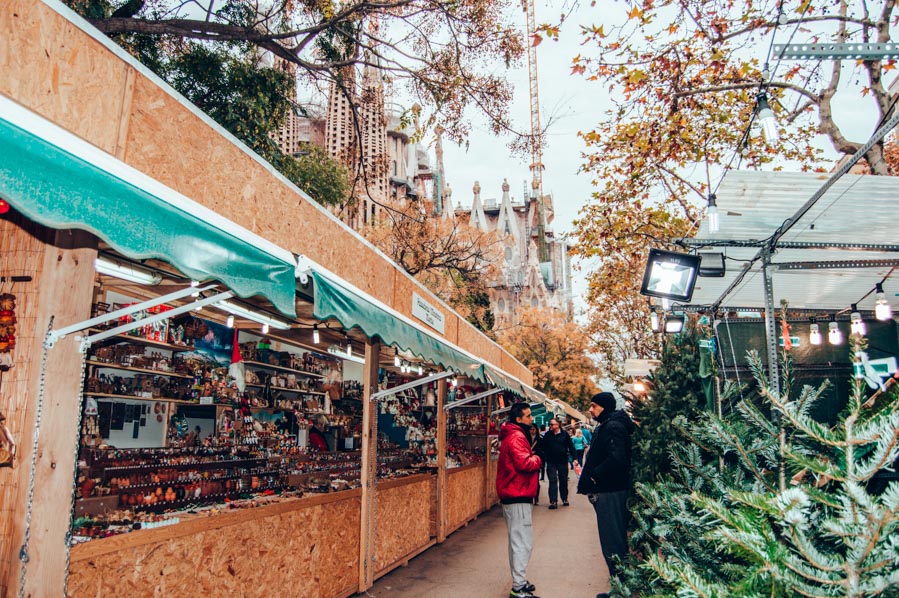 Aside from nativity scenes, there are plenty of other decorations including Christmas Trees, ornaments, Tió de Nadal and even Santa Clause. This Christmas Market is a bit more spaced out than the Fira de Santa Llúcia Christmas Market yet has equal charm.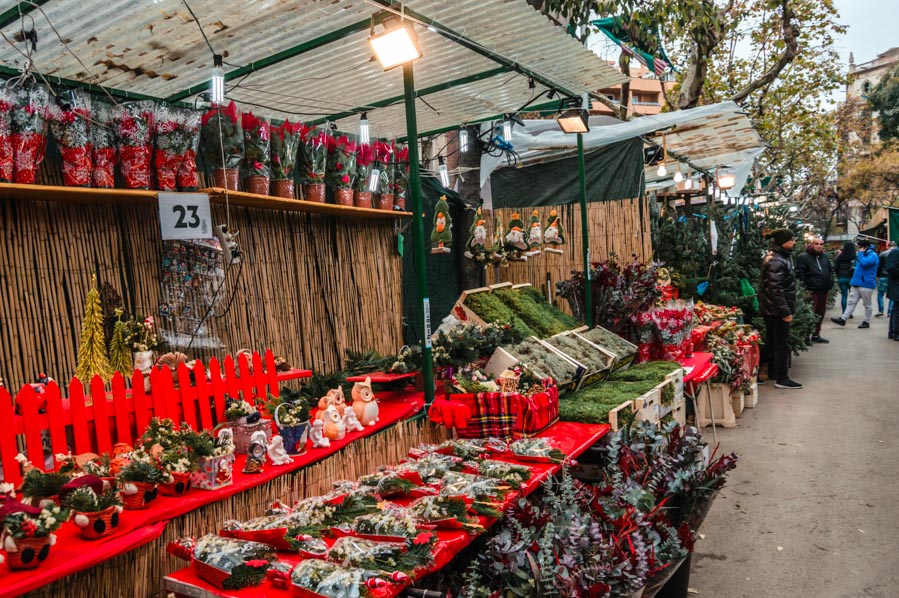 What to Buy at Barcelona Christmas Market
If you're looking to come home with some unique items, the Barcelona Christmas Market is the place to go. There are a wide array of vendors selling various decorative items including some you can only find in Catalonia. 
Tió de Nadal
The Christmas Markets in Barcelona are full of stands selling Tió de Nadal, the Catalan Christmas log that poops out gifts. How could you go home without getting one of these logs? They are sold in all different sizes and make for a perfect souvenir that will be a reminder of this bizarre Christmas tradition.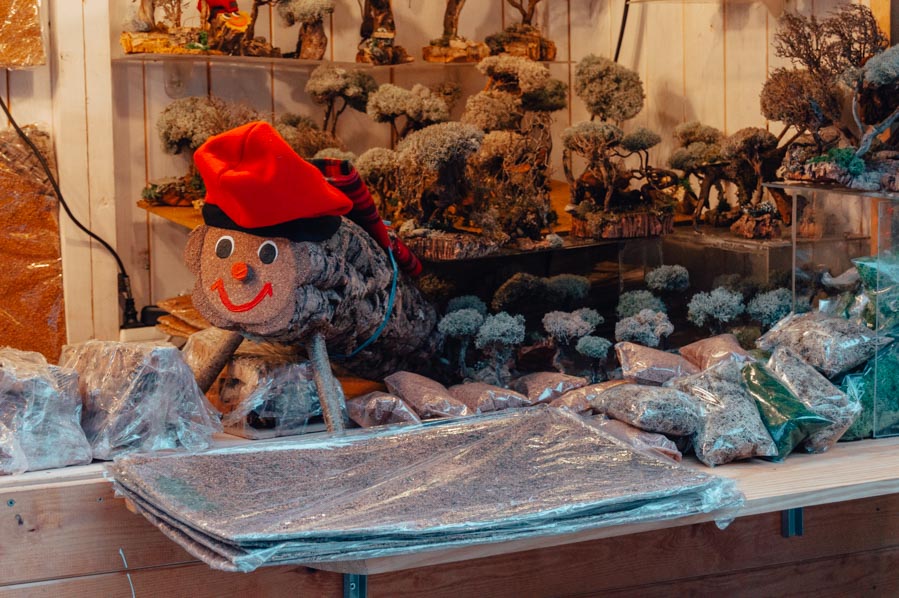 The Caganer
This is another "only-in-Catalonia" Christmas tradition. The Caganer is a nativity scene figurine that drops his pants to poop in front of baby Jesus. This is not seen as offensive in Catalan culture. And I think it makes the funniest addition to a Nativity Scene.  

Nativity Scenes
If you are interested in traditional nativity scenes, the Barcelona Christmas Markets are the place to shop. In addition to the hilarious Caganer, there is everything available to decorate your perfect nativity scene.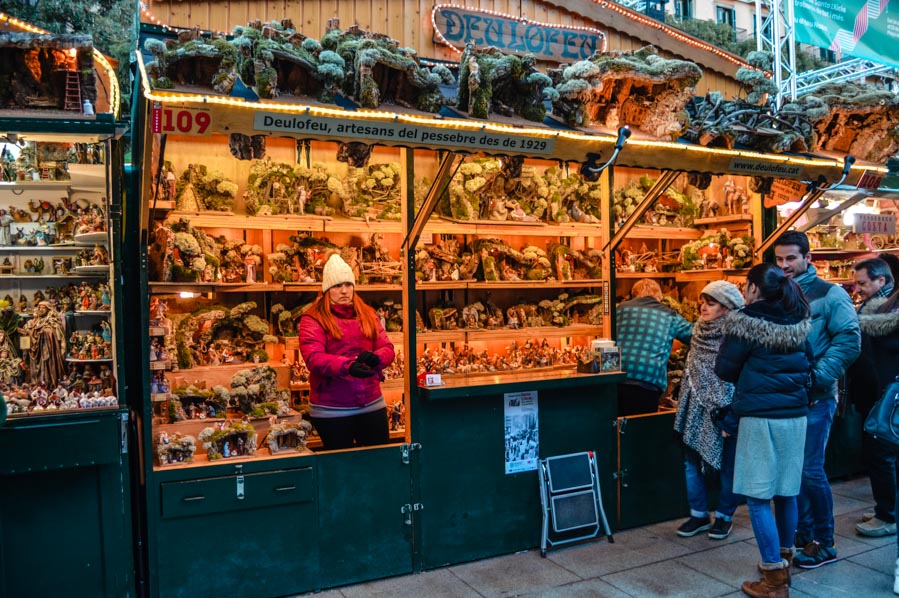 Other Things to do in Barcelona at Christmas Time
Christmas Lights and Holiday Shopping on Passeig de Gracia
The Christmas lights in Barcelona are wonderful! Twinkling lights are strung in almost every street in Barcelona. The best place to see the Christmas lights is the Plaza de Catalunya and along the Passeig de Gracia. The lights are neon, bright and beautiful. It is a sight to see. Enjoy some shopping in this bustling shopping district while taking in the Christmas lights.