Looking for the best things to do in Rochester NY? This guide has you covered!
Rochester, New York is the third-largest city in New York State and is brimming with culture, history, foodie spots, and stunning natural landscapes. There are so many things to do in Rochester NY to suit any kind of traveler. 
Whether you are sipping on a cold beer from Genesee Brewing (or one of the plethora of craft brewers in Rochester), stepping back in history at the Susan B. Anthony House or allowing your inner child to frolic through the Strong Museum of Play, you are bound to have an amazing time in Rochester, New York.
Rochester has always held a special place in my heart. It brings back fond memories of visiting the Strong Museum of Play as a child, the year I lived in Rochester after graduating college, and the many friends I have who live in this city. After spending plenty of time in Rochester, I've had a chance to really get to know this city. Yet, my most recent visit to Rochester allowed me to see the city from a tourist's perspective. And wow, there are so many incredible things to do in Rochester NY! If you're looking for what to do in Rochester, New York, there are no shortage of places to see and Rochester tourist attractions.
Rochester is the perfect destination for a day trip, weekend getaway, or even a week-long trip. Yet, three days in Rochester allowed me to cover plenty of ground and see the top Rochester tourist attractions.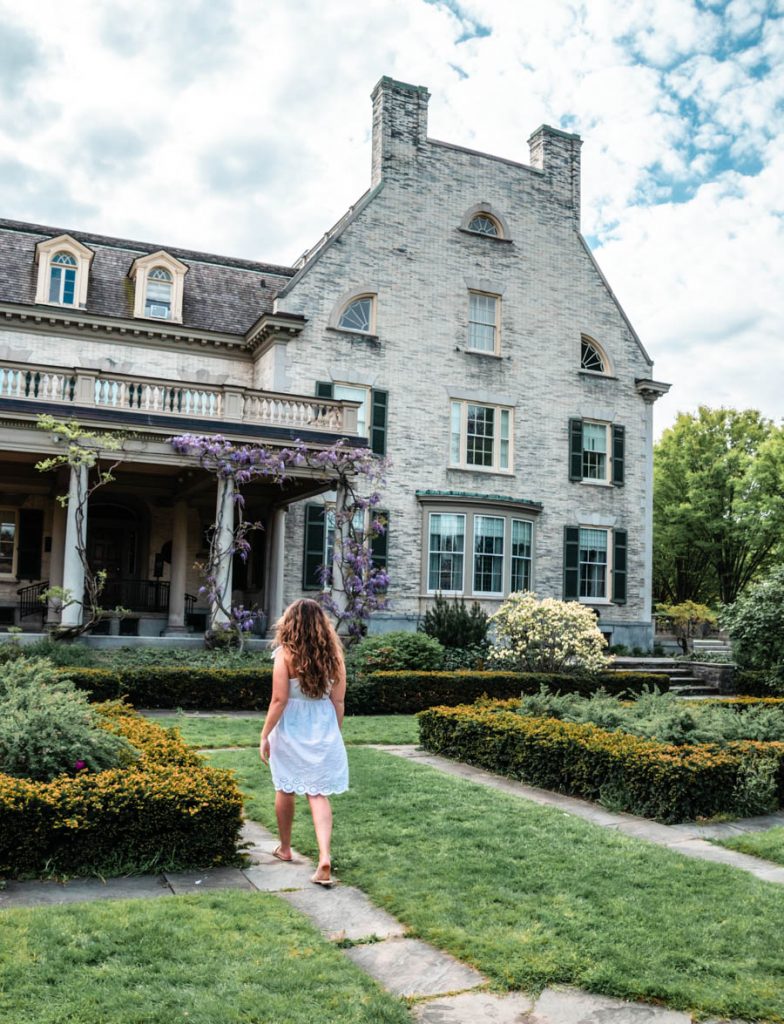 Best Things to do in Rochester NY
With so many incredible things to do in Rochester, New York, it is hard to narrow it down. After a weekend in Rochester and the various other things I've done on other visits, I have compiled a list of the best things to do in Rochester NY. This list will be a great place to get started for planning your trip to Rochester. 
Visit the Memorial Art Gallery
Visiting the Memorial Art Gallery is one of the best things to do in Rochester NY. This art museum showcases a wide range of art, spanning 5,000 years of art history. The permanent collection is extensive and there are always temporary traveling exhibits to see. With the traveling exhibits and rotating permanent collections, there is always something new to see. The best part about this museum is that there is something for everyone, whether you prefer contemporary pieces or Ancient Art. This is especially great for people who are new to art, as you get a taste of various styles and can find what you most like.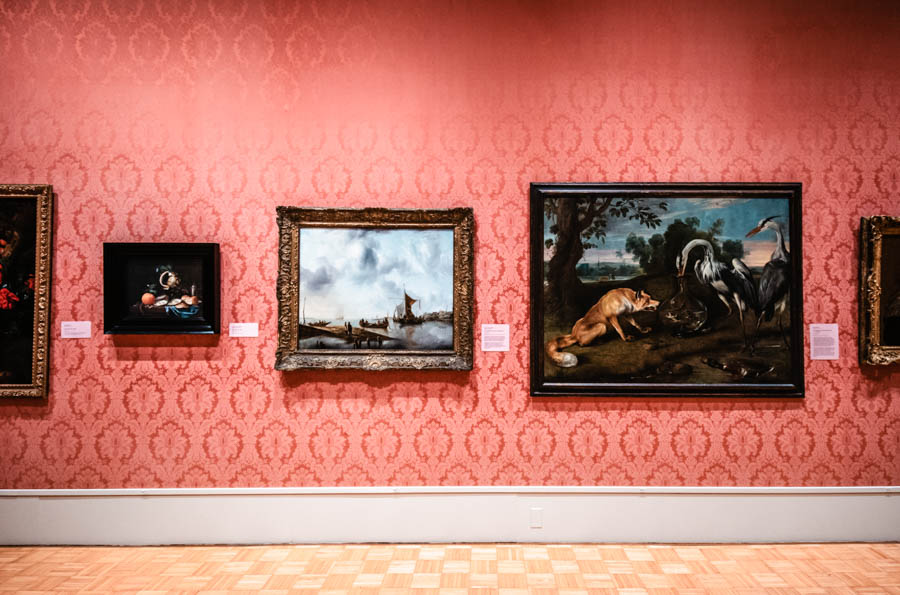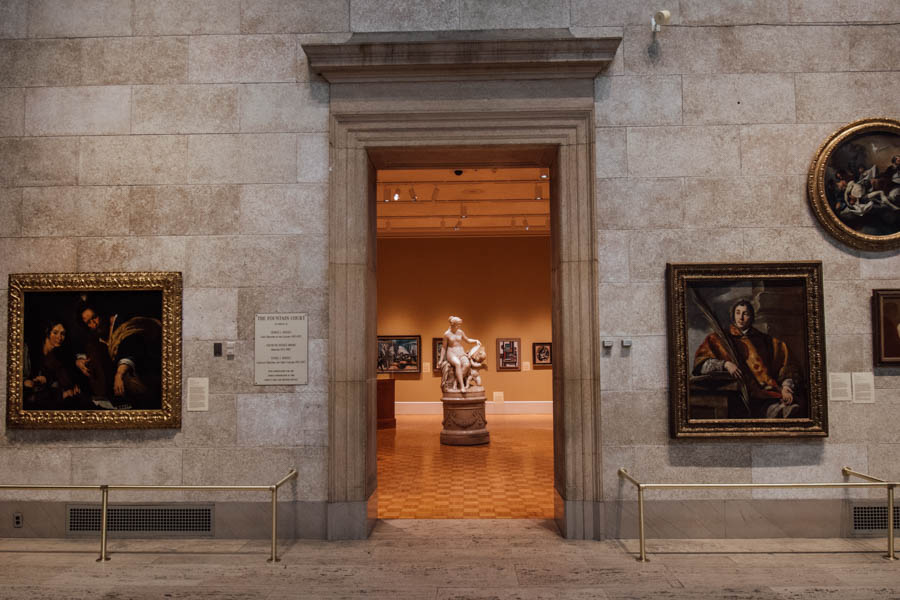 Not only does the Memorial Art Gallery, MAG, host an incredible collection, but it is also architecturally beautiful. If you don't have time to explore inside the Memorial Art Gallery, you still need to walk by to check out the exterior of this Italian Renaissance-style building. Yet for a real treat, head to the second floor to the Memorial Art Gallery's Fountain Court. This is the most beautiful room at the gallery and features an Italian Baroque Organ.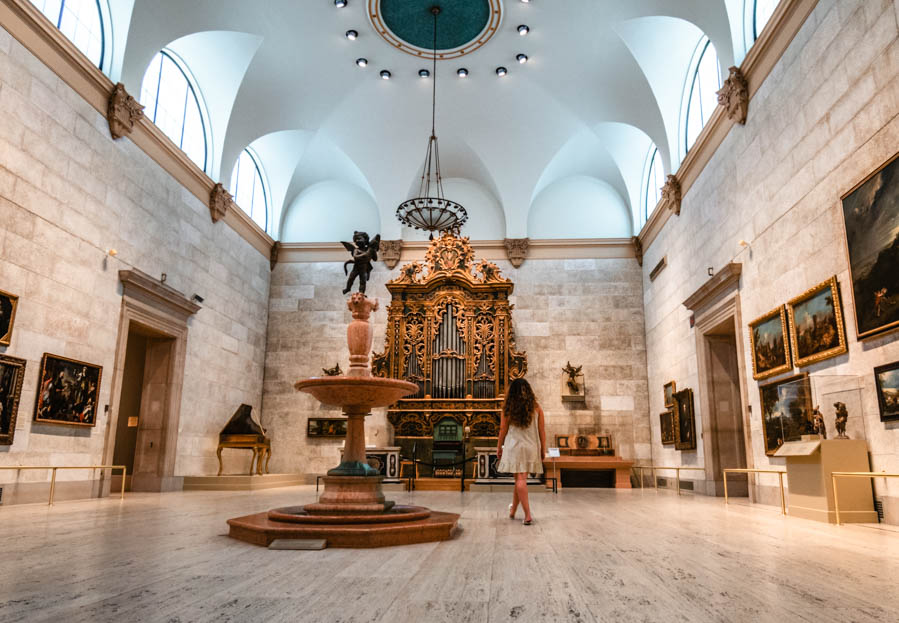 Outside of the Memorial Art Gallery, you will find the Centennial Sculpture Park. The Centennial Sculpture Park includes sculptures scattered around a 14-acre campus. The sculptures outside the Memorial Art Gallery are very whimsical and such a great addition to the public art you can check out around the Neighborhood of the Arts. You can get the brochure and map of the Centennial Sculpture Park here.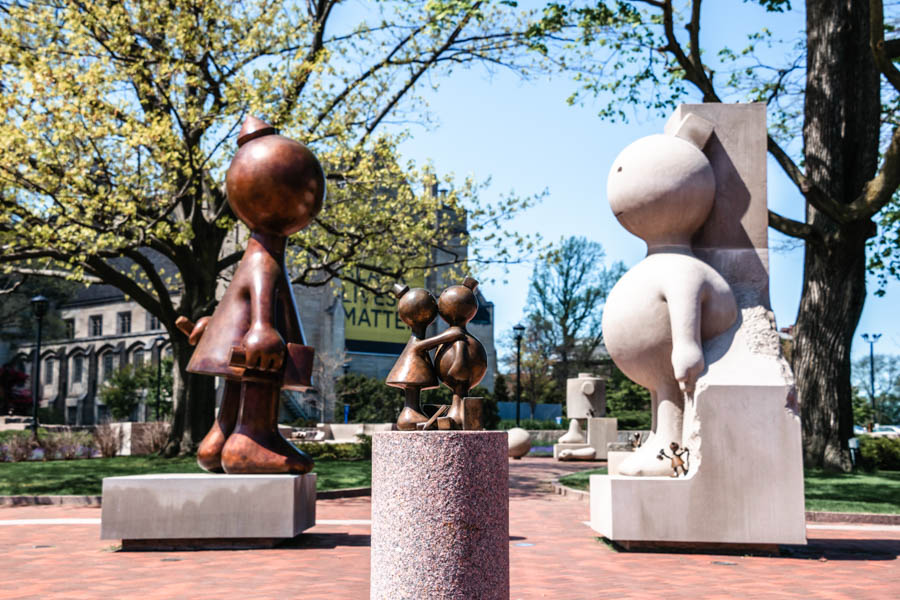 Explore NOTA- Neighborhood of the Arts
The Neighborhood of the Arts, NOTA, is a vibrant neighborhood in Rochester, New York. NOTA is known for its public art and wide array of art studios and galleries. Rochester is a pretty trendy city, yet this neighborhood definitely takes the cake. This neighborhood is most notable for the Memorial Art Gallery, the ArtWalk, and Village Gate Square.
To best experience this neighborhood, walk along the main section of the ArtWalk along University Ave starting from the Memorial Art Gallery. This stretch of the ArtWalk starts at the Memorial Art Gallery to the George Eastman Museum. The ArtWalk showcases public art such as sculptures, artistic benches, and mosaic lamp posts.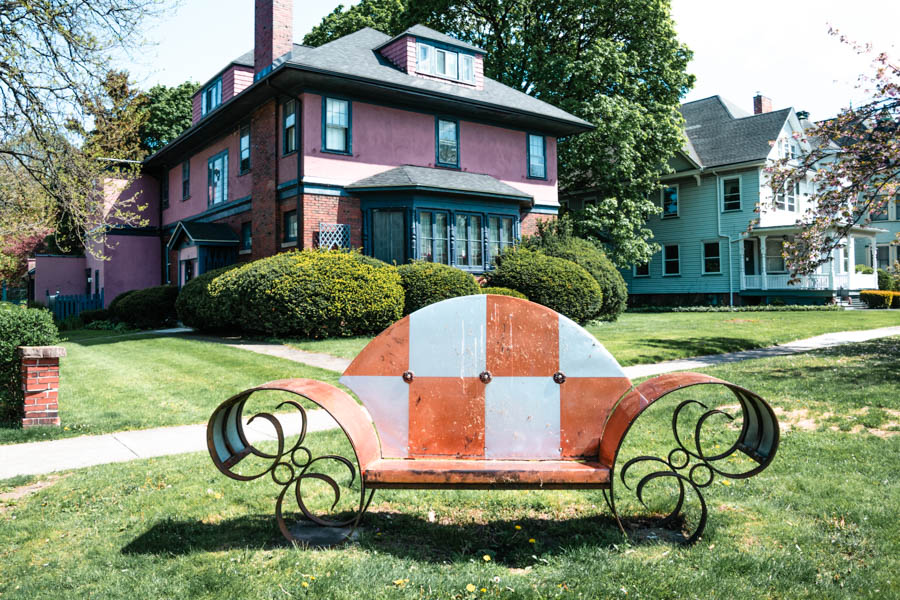 In addition to the public art, there are great cafes and art galleries to stop at on University Ave. Make sure to do this walk at a leisurely pace so you don't miss out on the artwork.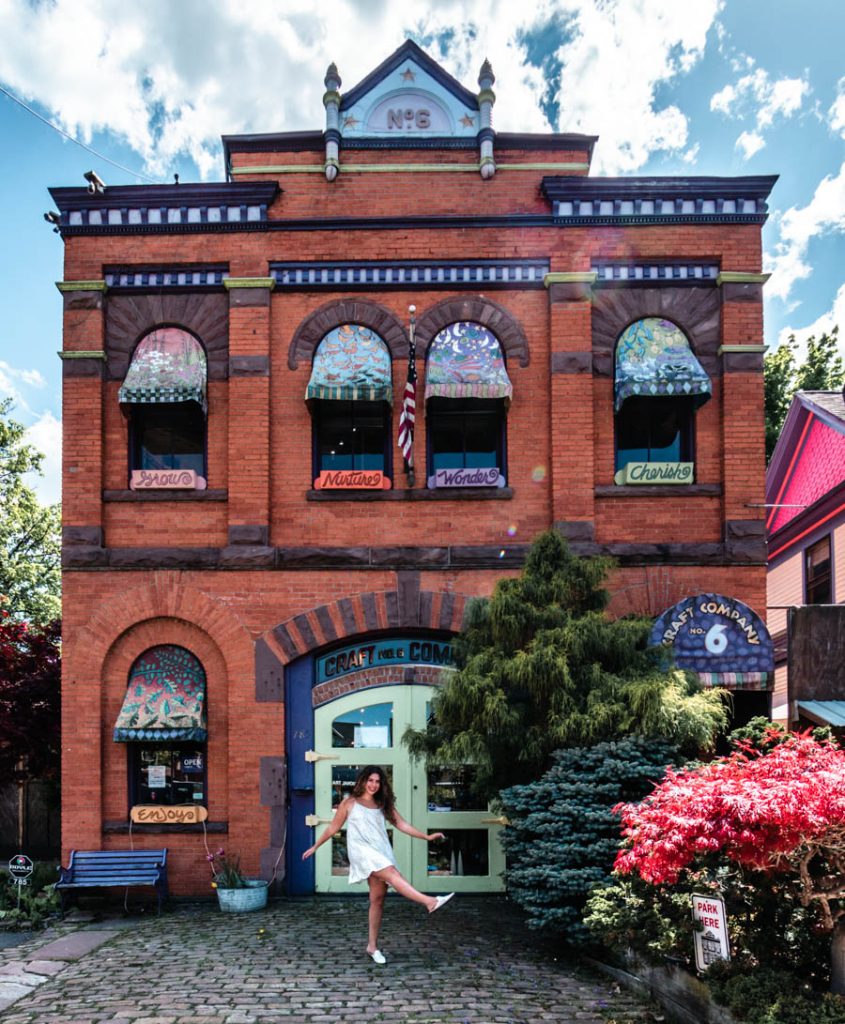 Village Gate Square, located within the NOTA, is one of my favorite spots to stop in Rochester. Village Gate Square is a multi-purpose space with retail, arts, and entertainment. There is plenty of artwork to check out both outside and inside Village Gate. In addition to the shops and art, there are plenty of incredible restaurants to dine at.
Walk Along Park Ave
Visiting Park Ave is one of the best things to do in Rochester. This street is lined with specialty shops, cafes, bars, and restaurants. Park Ave is perhaps the best neighborhood in Rochester for a stroll. Park Ave is a gorgeous tree-lined street, and the neighborhood's mix of retail and residential spaces, the street is always bustling with activity. The sidewalk patios at the cafes and bars are the perfect place to stop for a drink and people-watch. Or, while walking down the street, pop into one of the small pocket-sized neighborhood parks. I had the chance to live in the Park Ave neighborhood while living in Rochester, so I got to know it well. From breakfast to late-night drinks, there is never a bad time to check out this neighborhood.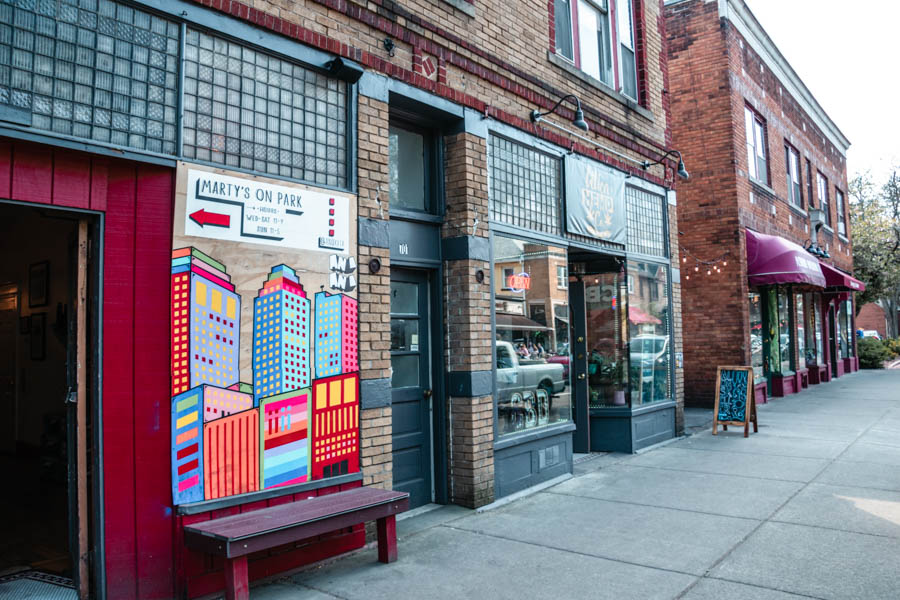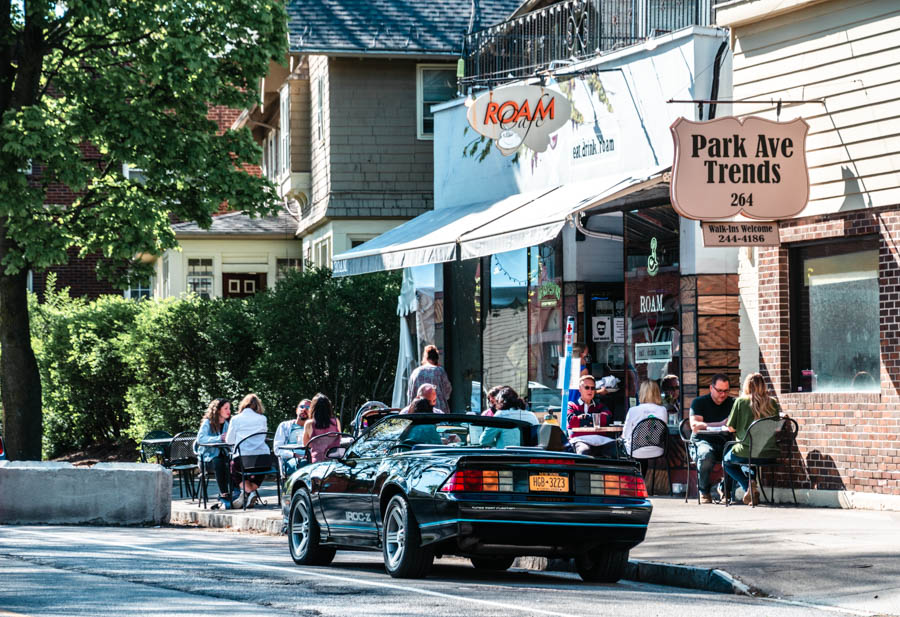 Aside from my endless recommendations for where to eat and drink on Park Ave, one thing you can not miss is visiting Parkleigh. Parkleigh is an adorable gift shop on Park Ave. This shop is perfect for browsing, yet trust me, you will end up leaving with something. This shop has cards, books, houseware, jewelry, chocolates, and so many more eclectic finds.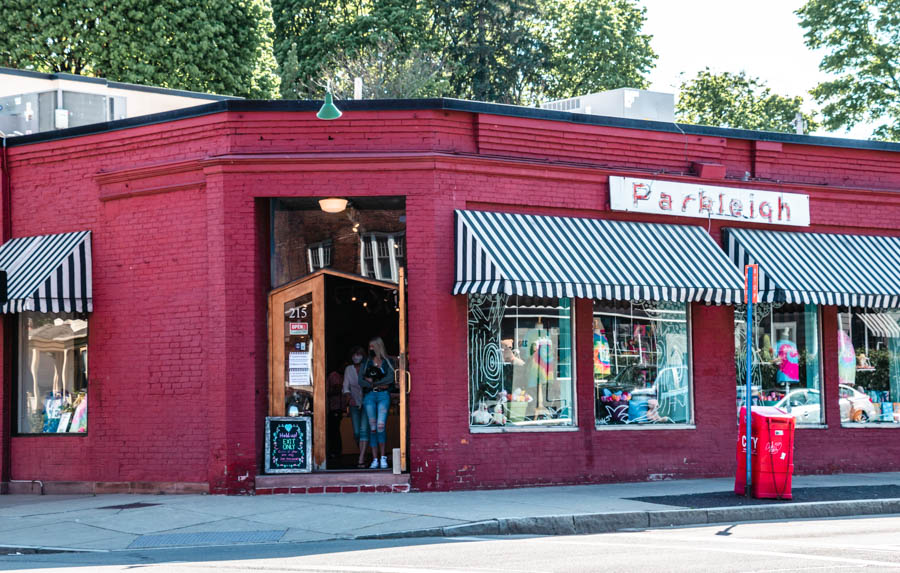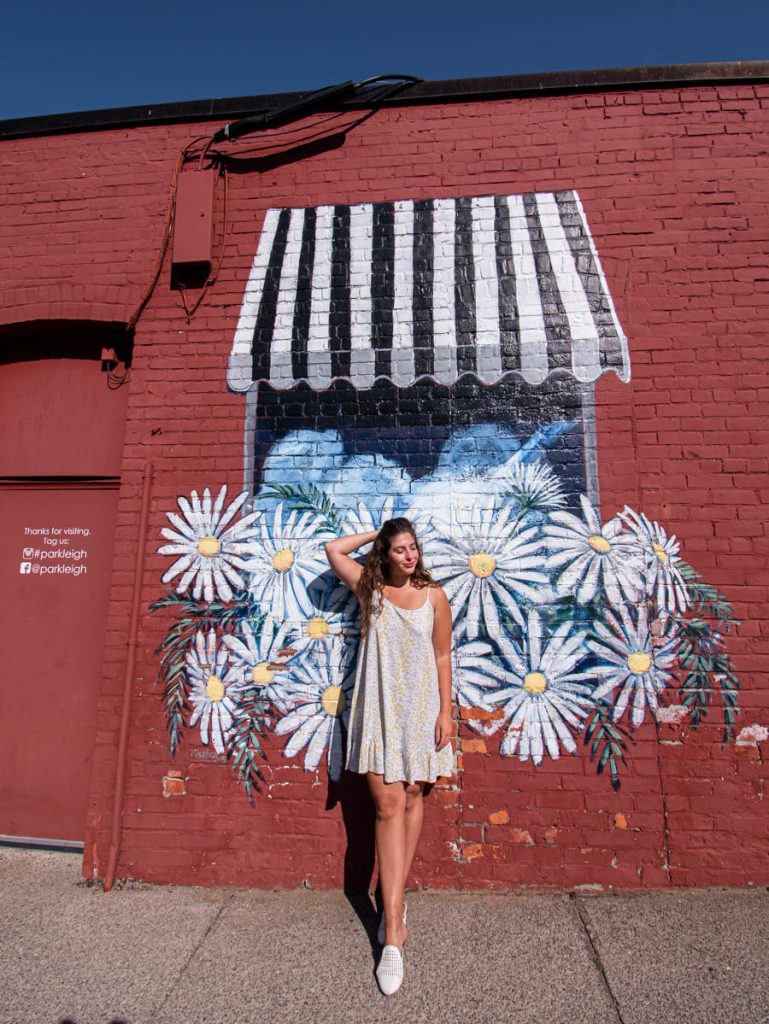 Learn About Photography at the George Eastman Museum
The George Eastman Museum is a photography museum and includes a Colonial Revival-style mansion that was built in 1905 and stunning grounds. Often referred to as the George Eastman House, as it was the home of the founder of the Eastman Kodak Company, George Eastman. Visiting the George Eastman Museum is hands down one of the best things to do in Rochester NY. From strolling the grounds, seeing the extravagant mansion, and checking out the photography galleries, this museum could keep you occupied for hours.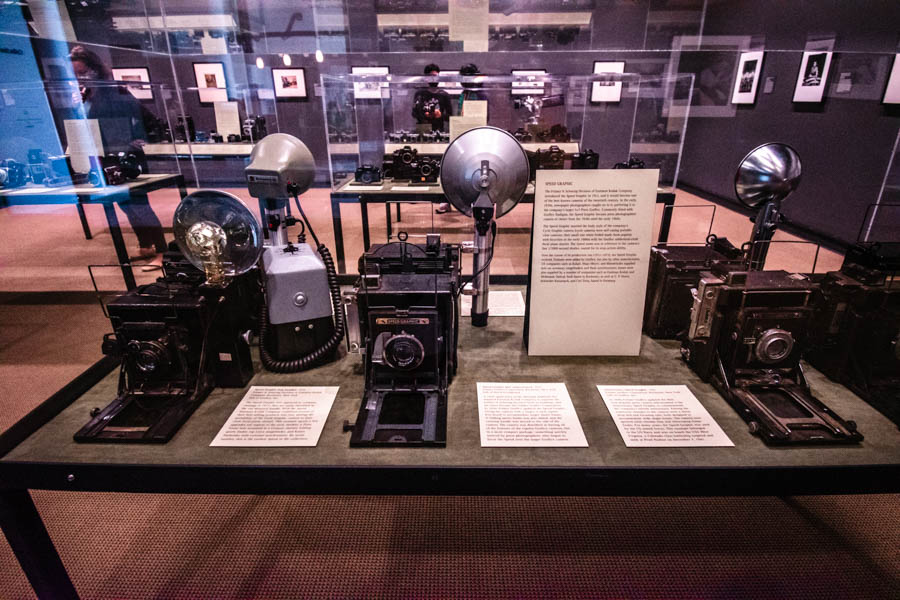 When visiting the George Eastman Museum, there is a free audio tour accessible through your own device. Listening to this audio guide is a great way to better understand the significance of George Eastman and the Eastman Kodak Company.  This audio guide will allow you to have a more meaningful experience visiting the George Eastman Museum. While this mansion is absolutely stunning, it is helpful to have a better insight into the significance of each room.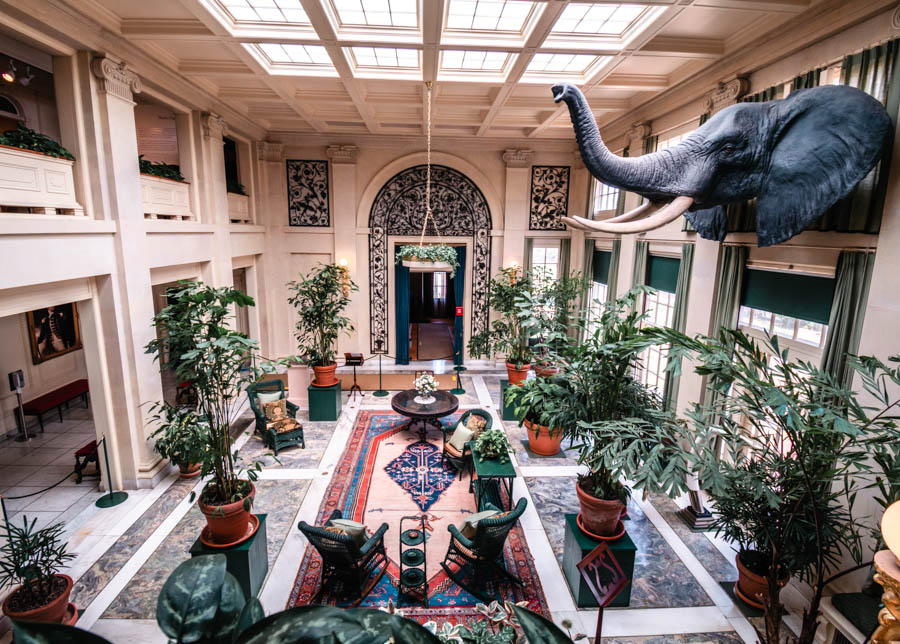 The gardens are one of the best parts of this museum. Even if you do not wish to visit the interior of the George Eastman Museum (or don't have time), you must visit the gardens. Strolling through the gardens of the George Eastman Museum is one of the best things to do in Rochester NY. The gardens are free to visit and are one of the most beautiful I have ever seen in New York.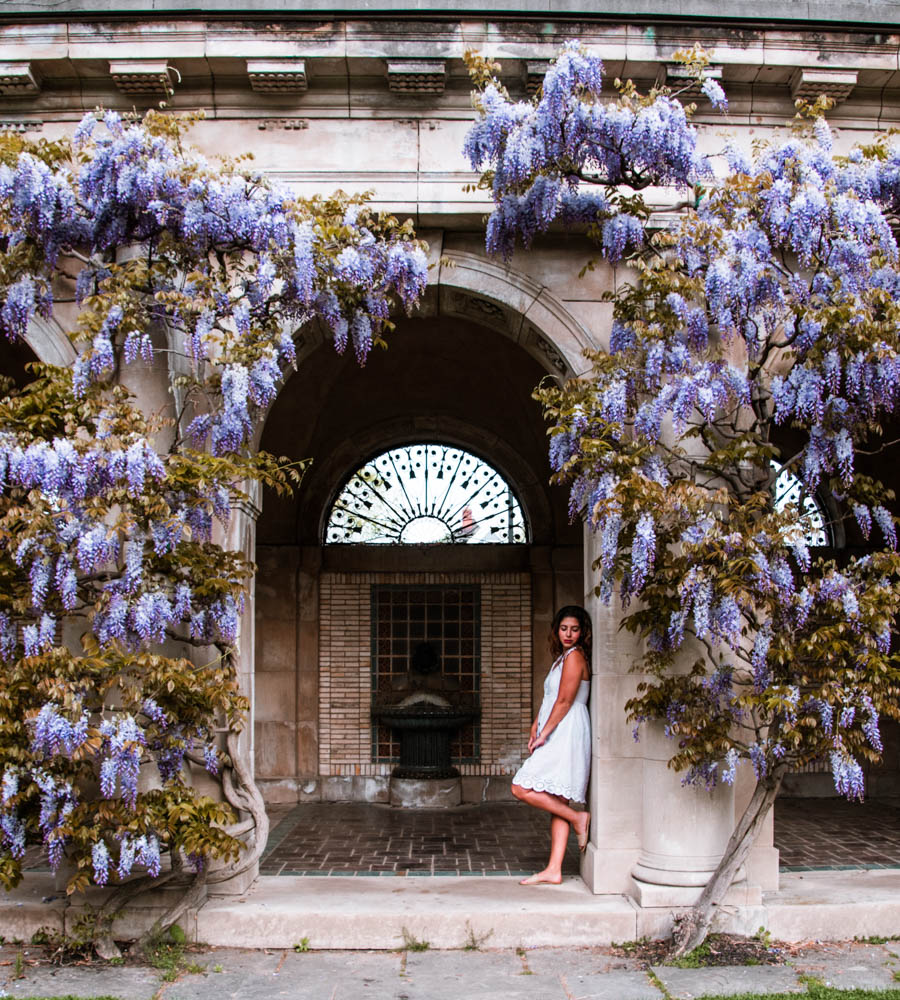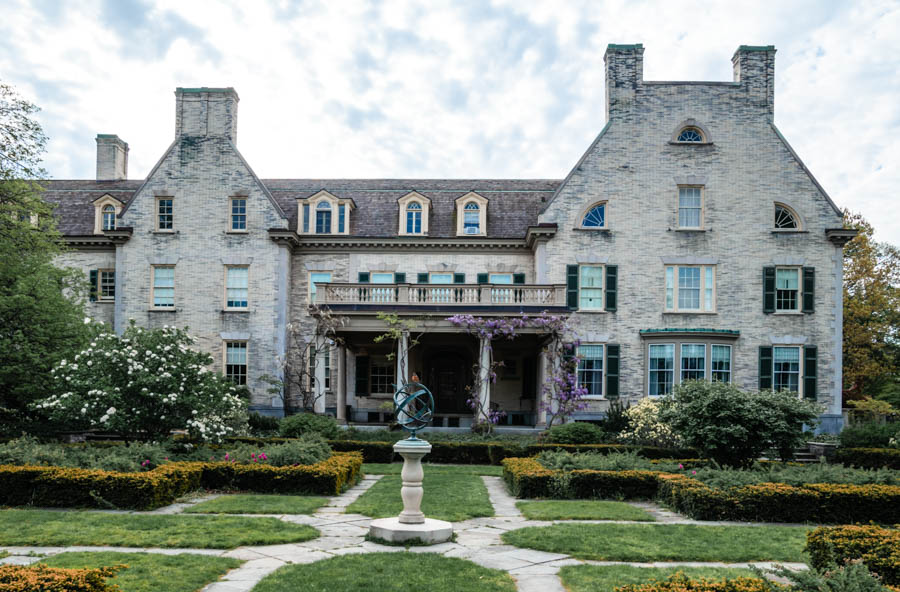 See Spring Blooms and the Lamberton Conservatory at Highland Park
There is so much to see and do in Highland Park, a stunning 150-acre park in Rochester. Highland Park was designed by Frederick Law Olmstead, who was the designer of Central Park in NYC. Highland Park has an arboretum, containing over 1,200 lilac shrubs. The lilacs at Highland Park attract visitors from around the world. There is even an annual Lilac Festival held in Highland Park to celebrate the bloom. If you can plan your visit during the lilac bloom, you will be rewarded with one of the most incredible spring blooms. Yet, all spring there is something bound to be blooming at Highland Park. Taking a walk through Highland Park is a great thing to do in Rochester NY.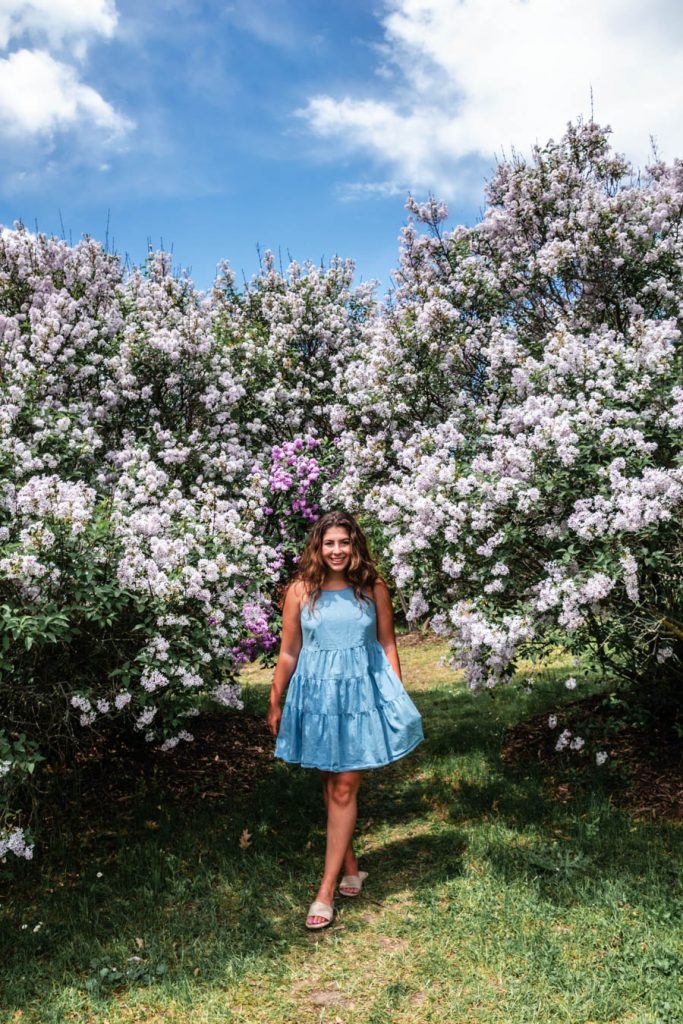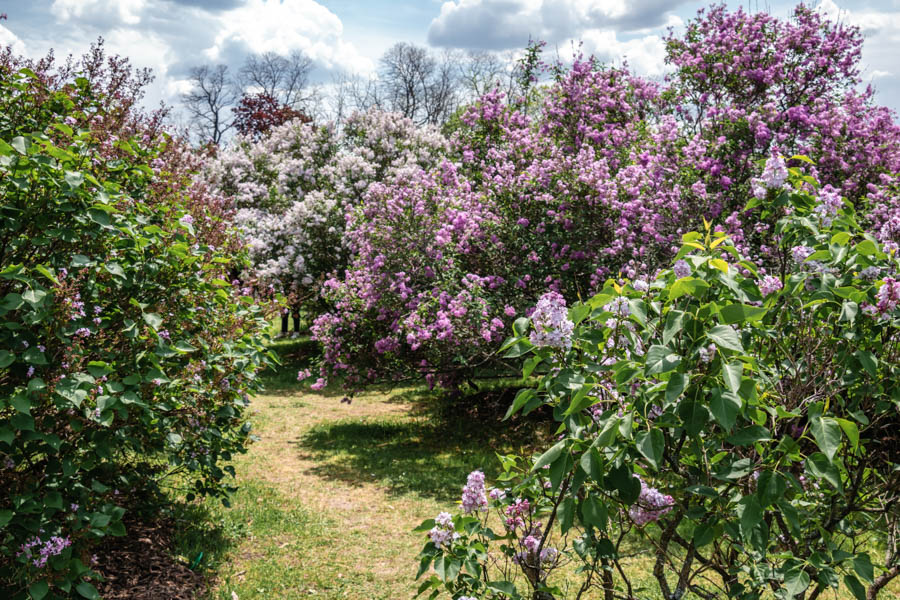 Lamberton Conservatory
A visit to the Lamberton Conservatory is a must while in Highland Park. This conservatory is seemingly small in size, yet has a wide range of plants that could otherwise not survive in Rochester NY such as exotic tropical plants and desert cactus. Within the glass walls of this beautiful conservatory, you will find yourself mesmerized by unique plants you may have never seen before.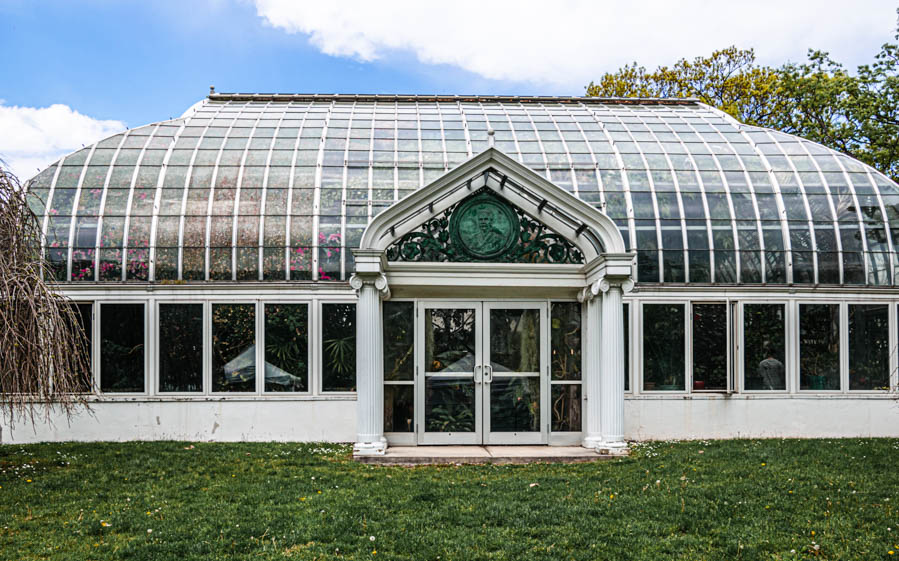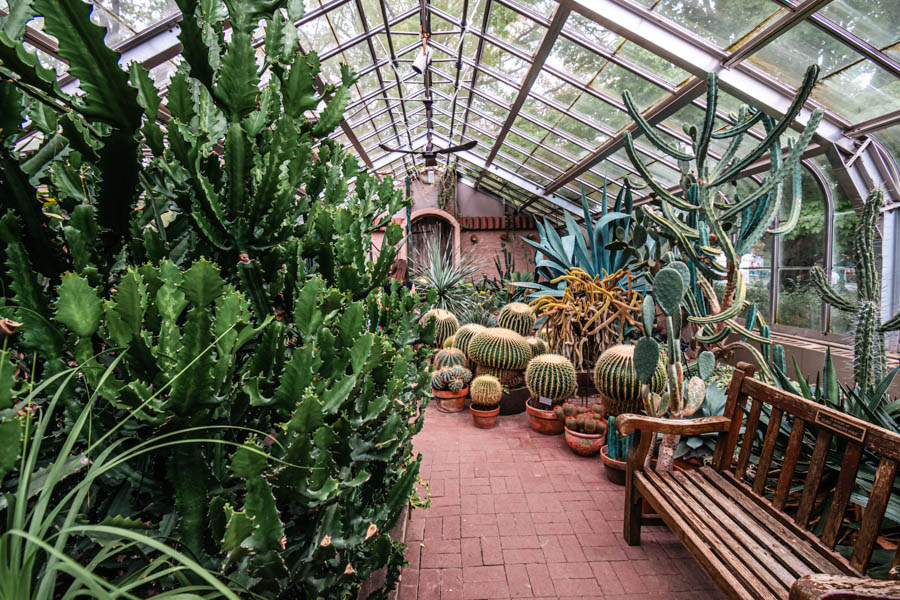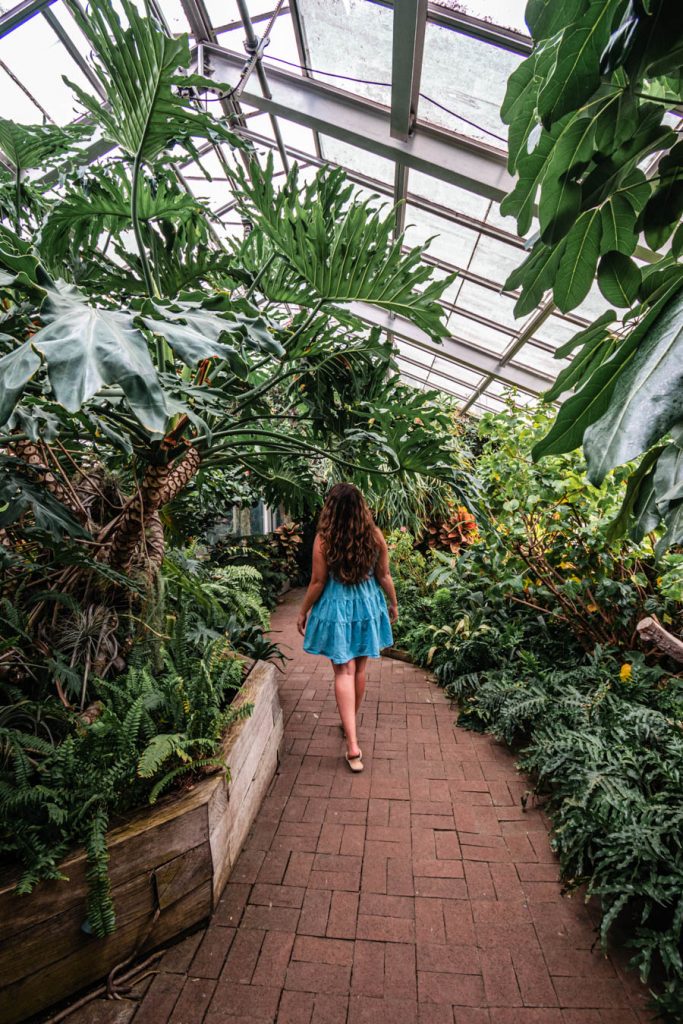 Warner Castle and more!
In addition to the spectacular flora and fauna around Highland Park, this park also offers so much more. Be sure to walk over to Warner Castle and the Sunken Gardens (yes, there is a castle in Rochester!), check out the Greater Rochester Vietnam Memorial, and catch a summertime concert at the John Dunbar Memorial Pavilion, Highland Bowl.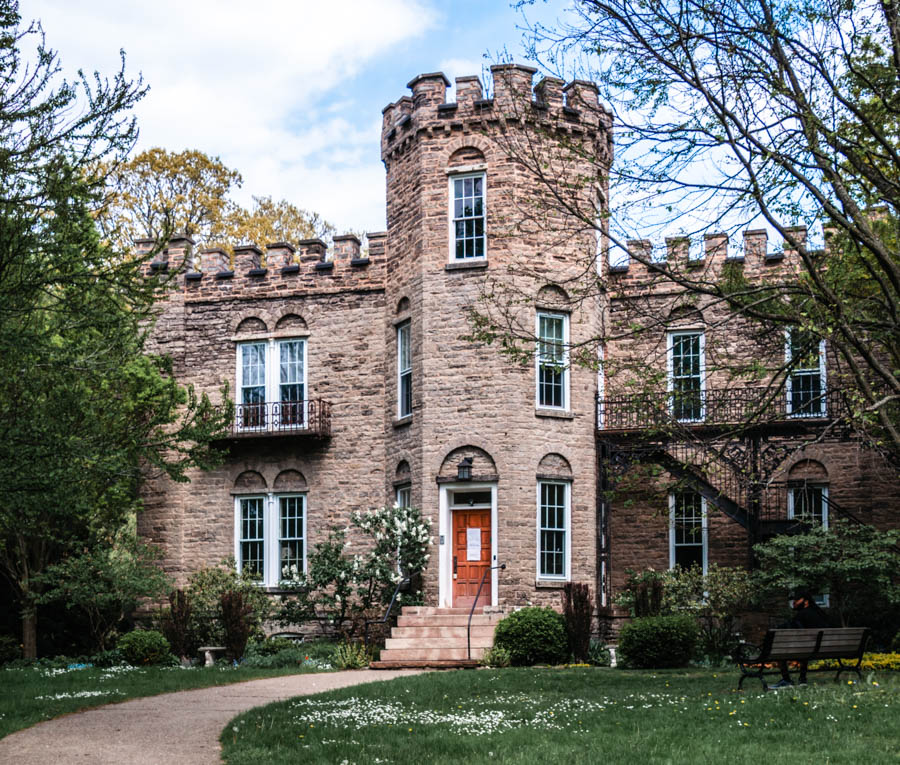 See High Falls, a Waterfall in the City
High Falls is one of three waterfalls of the Genesee River that flows through the city of Rochester. This waterfall is quite impressive, with a 96 ft drop. Yet, what makes High Falls even more unique is its location. Seeing a waterfall this large in the middle of a city is amazing.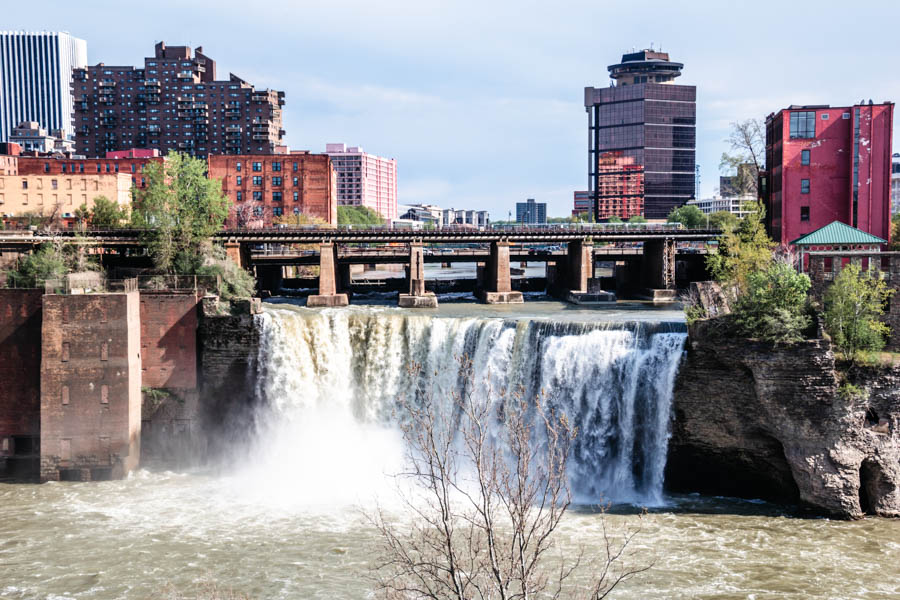 The historic buildings in this area make for an even more unique spot. If you linger for a little while, you can even see a train pass over High Falls. This area has a very gritty, industrial vibe. And I say gritty in the best possible way!
For the best views of High Falls, check out High Falls Terrace Park or walk along the Pont de Rennes Bridge. The Bridge is my favorite viewpoint as it offers a front-on view of High Falls.
Located at the end of the Pont de Rennes Bridge is Genesee Brew House, which provides views of High Falls from the upper terrace. I highly recommend grabbing a bite to eat or a drink here, not only is it one of the most iconic things to do in Rochester, but you also have one of the best views in Rochester. 
Have a Beer at Genesee Brew House
Rochester is home to Genesee Brewing Company, one of the largest and oldest breweries in the United States. While there are plenty of great craft breweries in Rochester, Genesee Brew House deserves a section of its own. Situated along the Genesee River, with views of High Falls, a visit to Genesee Brew House is worthwhile for both beer lovers and non-beer lovers alike.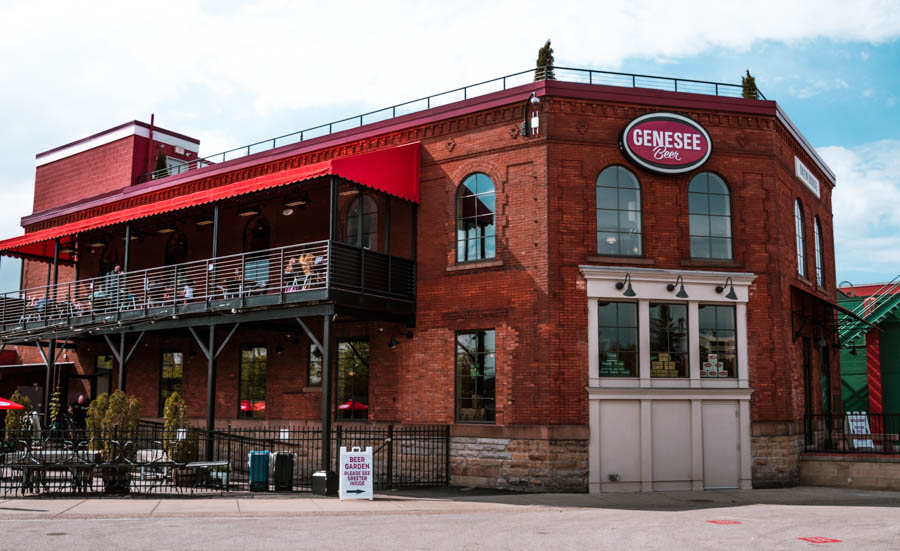 There are a plethora of activities at Genesee Brew House including taking a brewery tour, trying a tasting flight, and browsing the store for Genesee Brewing memorabilia. After visiting Genesee Brew House, you will discover that Genesee Brewing is much more than the Genesee Cream Ale.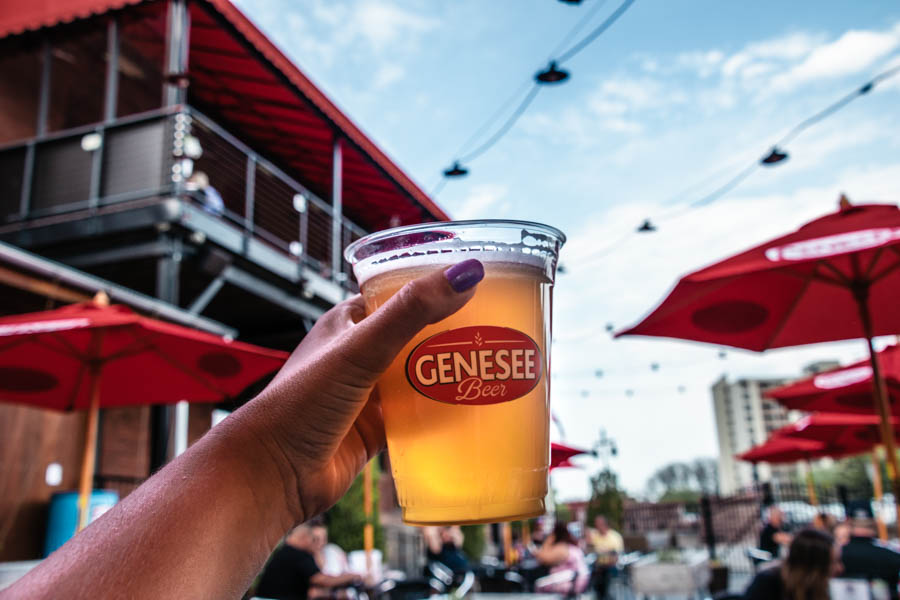 I highly recommend grabbing a bite to eat at Genesee Brew House. Be sure to request a table on the upper terrace, where you will have views of High Falls. Yet, even from the ground floor patio, you at least get to hear the sound of the rushing waterfall, adding to the atmosphere. 
Browse the Rochester Public Market +  Market District
The Rochester Public Market is run by the City of Rochester and showcases all types of vendors from Rochester and surrounding areas in New York. There are indoor and outdoor areas of the market where you can browse for fruits and vegetables, flowers, wines, jams, and pickles. There are over 300 vendors at the Rochester Public Market, making for plenty of shopping opportunities. The Rochester Public Market is one of the best farmers' markets in New York State, and one of the best things to do in Rochester NY.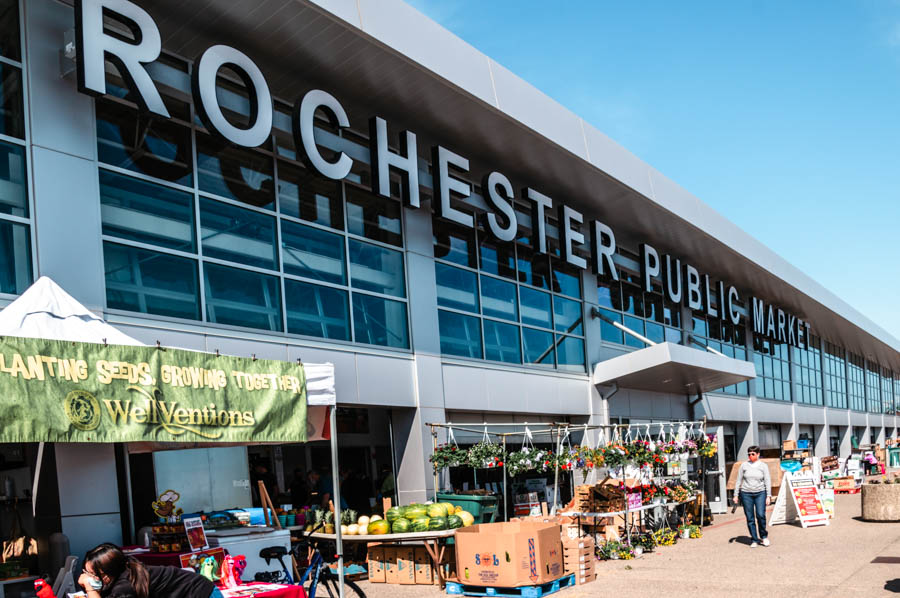 The Rochester Public Market is open 3 days a week, Tuesdays, Thursdays, and Saturdays year-round. If you will be in Rochester on one of those days, certainly plan to stop at the Public Market. 
In addition to the range of market vendors, there are food stalls and cafes within the Rochester Public Market and in the Market District. Even if you don't plan on buying produce, walking through the Rochester Public Market is a great way to spend a morning in Rochester.
Here are some stalls you must visit:
Dukes Donuts

–

No fuss, traditional, delicious donuts! There are two flavors, apple cider cinnamon, and the raised donut.

The Chai Guy– If you love chai, you must order a chair latte from The Chai Guy! It will be one of the best chai lattes you ever have in your life (trust me!).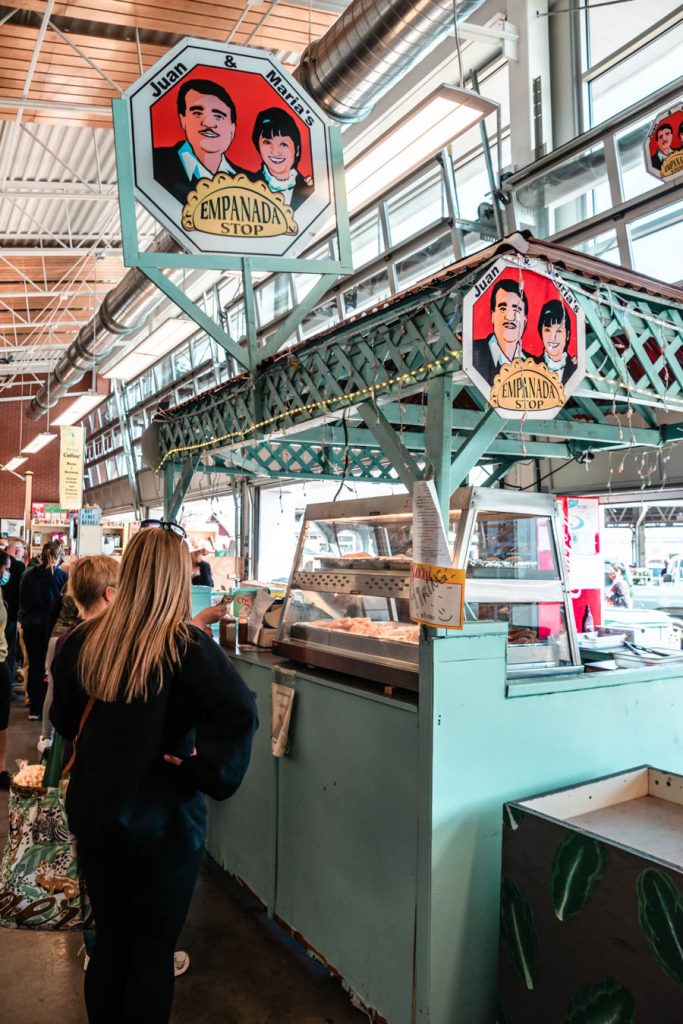 The Public Market District does not only comprise the Rochester Public Market though. The surrounding areas that make up the Public Market District have some great retail and dining experiences. Railroad Street is where you will find most of the best spots in the district. There are home shops, breweries, distilleries, and restaurants here.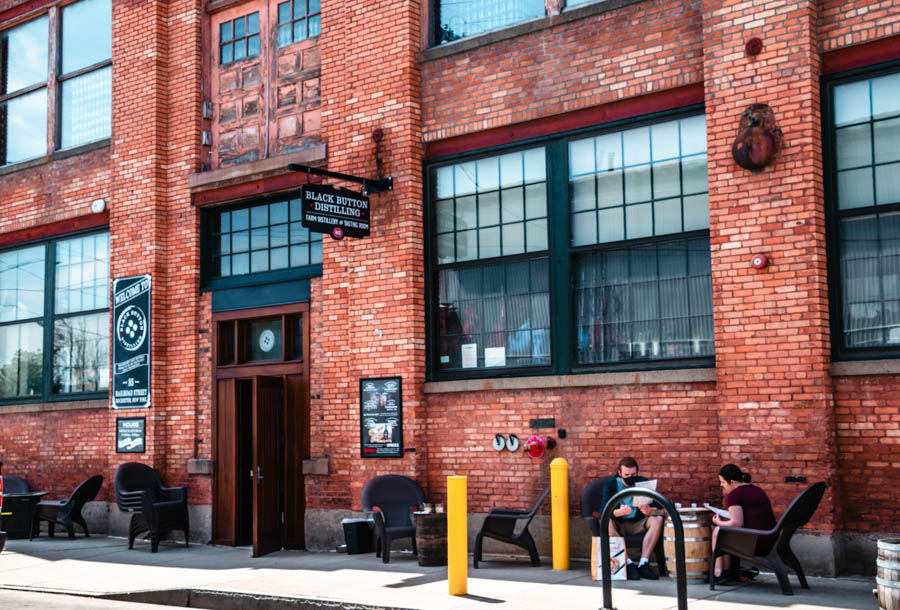 Here are some of the best places to check out:
Black Button Distilling – This is the first small batch distillery to open in Rochester since Prohibition. Be sure to try Black Button's Burban Cream. Also, Black Button has incredible Bloody Marys!

 

Rohrbach Beer Hall – Rohrbach is Rochester's first craft brewery. A must-visit!
Boxcar Donuts – Some of the most decadent and delicious donuts. They also serve specialty coffee, The Chair Guy Chai, and cocktails.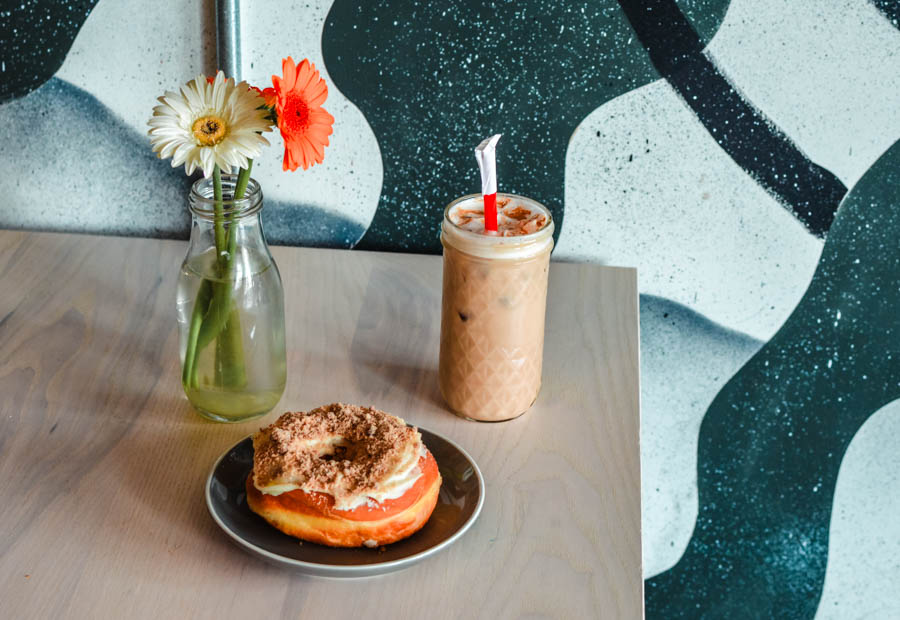 Have Lunch at Mercantile on Main
Mercantile on Main is Rochester's first food hall and is one of the newest things to do in Rochester NY. This is a great foodie spot and meeting place in Rochester. There are currently seven vendors at Mercantile on Main including food vendors, a bar, and a cafe. There is a good variety of food vendors to choose from, so there is something for everyone to enjoy.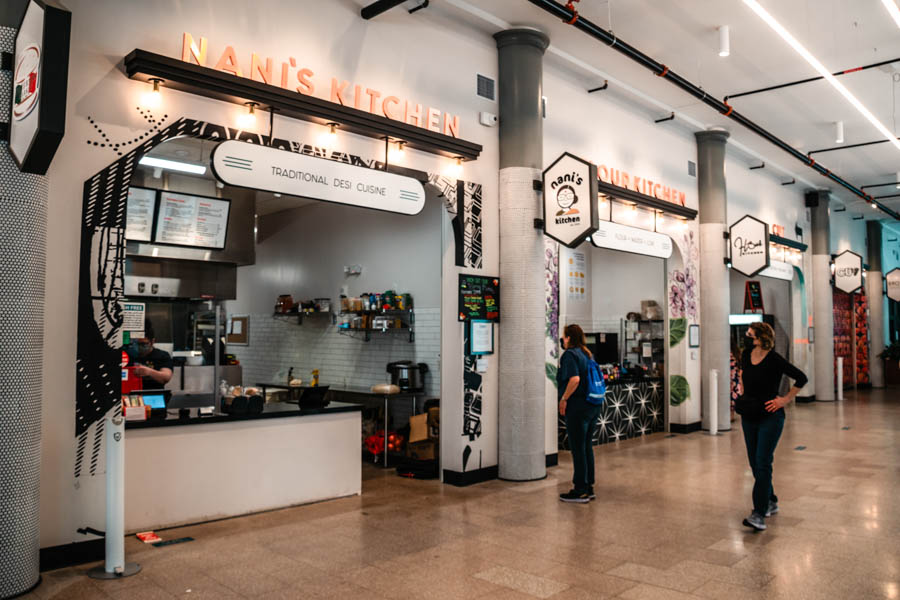 Located in the Sibley Square on East Main Street in Downtown Rochester, Mercantile on Main is a great spot to visit if you're interested in food halls or looking for a spot to stop for lunch while exploring Rochester, this is a great spot to visit. If you're in Downtown Rochester, be sure to stop by for a coffee or a cocktail at the very least.


Brunch and Bowl at Radio Social
Radio Social is a trendy bowling alley, restaurant, bar, and music venue located in Rochester's historic Stromberg-Carlson warehouse. This trendy space has made bowling cool again. Everything about Radio Social is an experience, it is not a dingy neighborhood bowling alley most of us are accustomed to. The retro design elements, open-concept space, and large windows give Radio Social a unique look. The first time I stepped inside Radio Social, I was blown away by the bright, bold colors and youthful atmosphere.
Whether you are grabbing brunch and bowling or grabbing cocktails for an evening out, you are sure to have a memorable experience at Radio Social. I've been twice already and I would without a doubt drive from Buffalo to Rochester just to go bowling at Radio Social. It is that cool!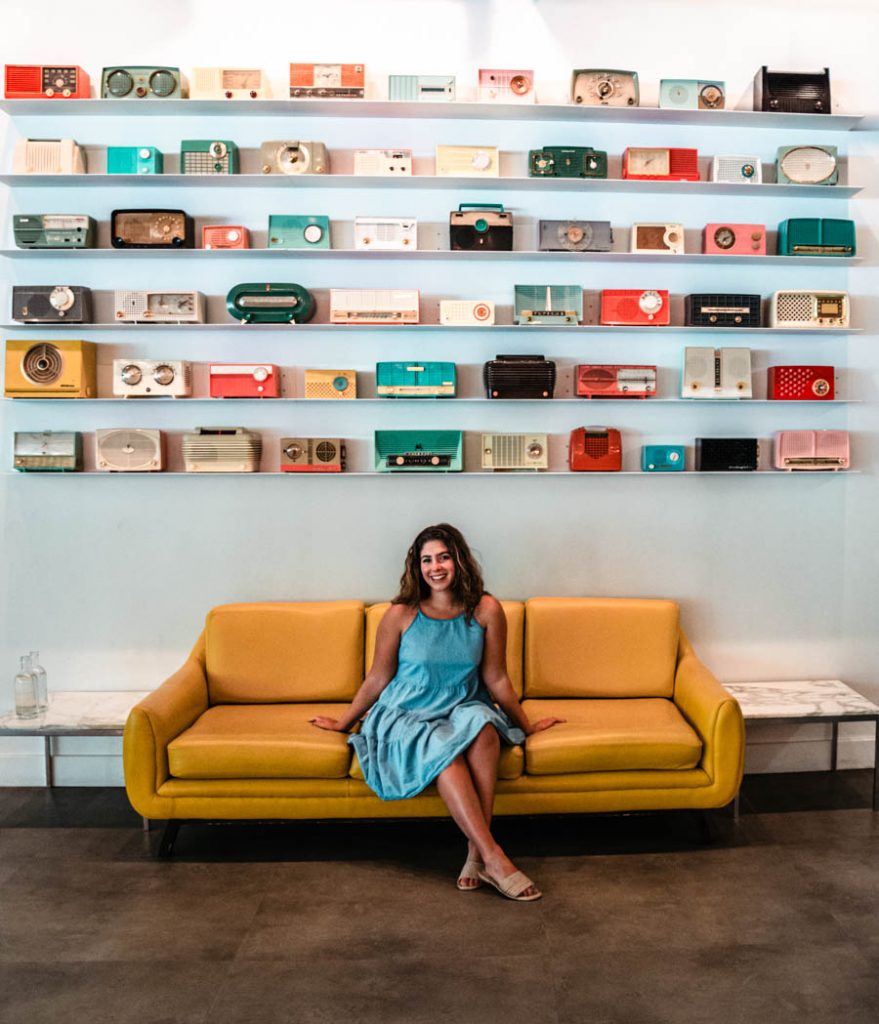 This 42,000 square foot space features 34 bowling lanes. The lanes are priced per hour, rather than per person per game. So you are renting your lane for 1 to 2 hours and get to bowl at your leisure. In addition to bowling, there are lounge areas, live music, and indoor and seasonal outdoor games. While Radio Social is certainly family-friendly, it feels more like a social club than a standard bowling alley in the evenings. 
Stroll Along the Erie Canal
One of my favorite things to do in Rochester is visiting the Erie Canal in the nearby town of Pittsford, which is a suburb of Rochester. Pittsford is a historic Erie Canal village, and it is perhaps the cutest village along the Erie Canal. There are plenty of shops and restaurants situated along the Erie Canal in Pittsford.
The best way to experience Pittsford is to take in the relaxing atmosphere of the Erie Canal. Go for a morning walk along the canal, or an afternoon bike ride. You will see birds splashing in the water, and boats slowly floating down the canal.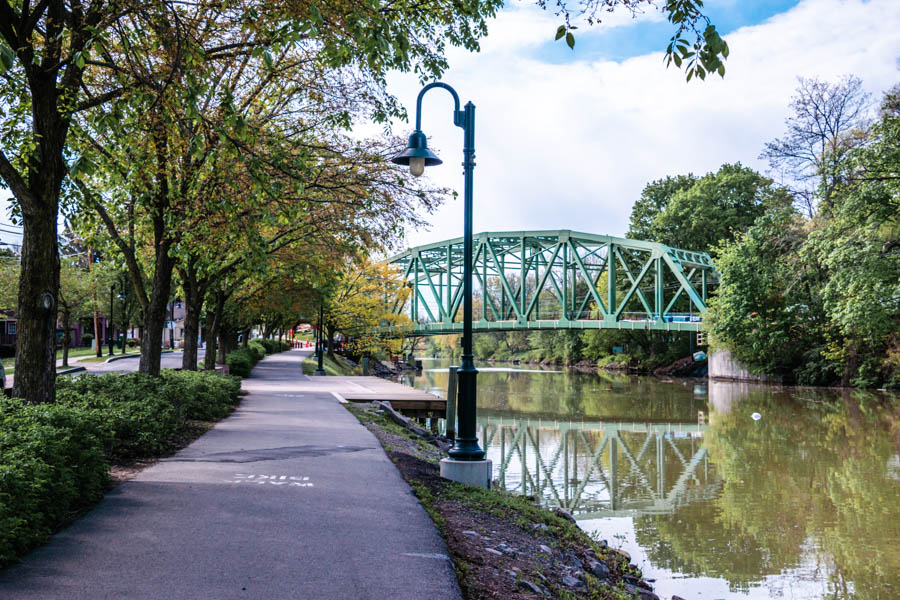 Be sure to grab coffee and pastries (for breakfast) or an ice cream treat from Pittsford Farm Dairy & Bakery for your walk along the Erie Canal.
Another great way to experience the Erie Canal is with a Canal Cruise on the Sam Patch. Sam Patch is a replica of a packet boat that cruises down the Erie Canal. This is a great thing to do in Rochester in the summer months.
Have a Flight at a Craft Brewery 
The craft beer scene in Rochester is incredible. There are so many breweries to grab a pint or a flight with friends. Stopping at one of these breweries is a great thing to do in Rochester amid all the sightseeing. You can expect great beer, an inviting atmosphere and sometimes live music.
Here are some of the top brewery recommendations:
Rohrbach Beer Hall – If you are going to visit one craft brewery while in Rochester, it has to be Rohrbach. Rohrbach Beer Hall is Rochester's first craft brewery, established in 1991. Head to Rohrbach Beer Hall on Railroad Street to indulge in craft beer accompanied by wood fire pizza or soft pretzels. If you visit early in the day, you can even try one of Rohrbach's beermosas. The orange juice and hoppy IPA created such a unique and delicious balance.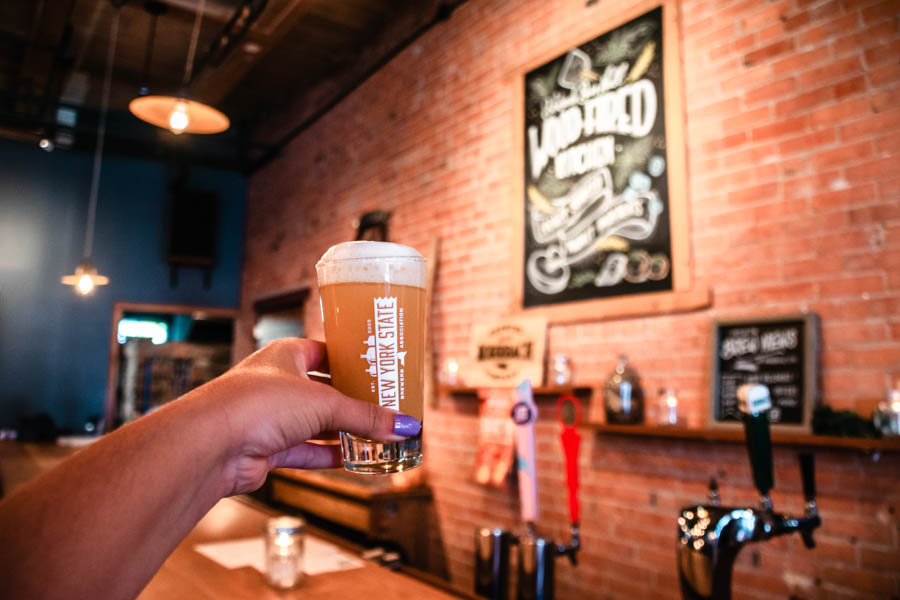 Sager Beer Works– Sage Beer Works is a cozy brewery in Rochester. The atmosphere of Sager Beer Works feels like the perfect neighborhood hang-out. Friends and families lingered on the patio, sipping on pints.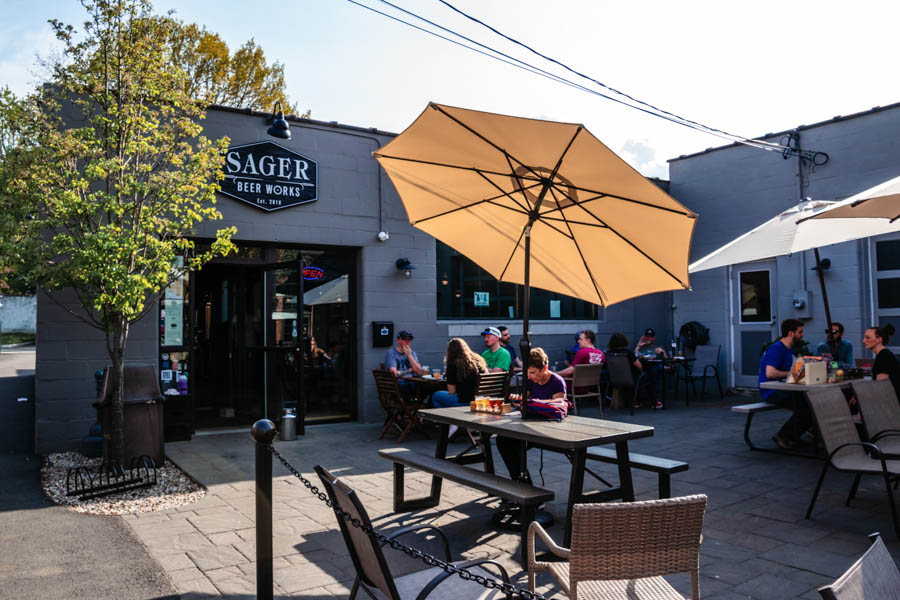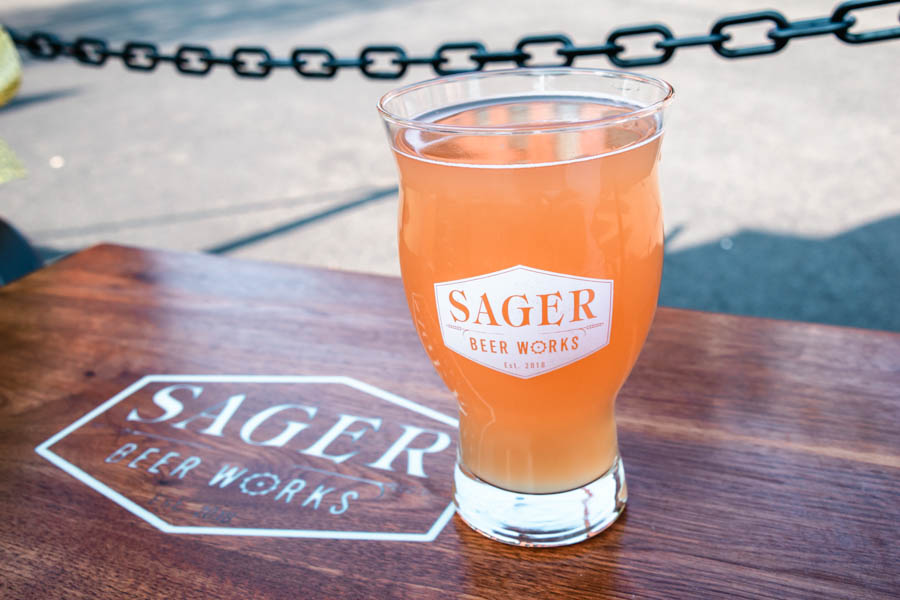 If you're visiting with a large group and love visiting breweries, you may want to consider doing the Rochester Pedal Tour. This is a fun way to check out the top breweries in the city!
Visit an Urban Winery, Living Roots Wine & Co
If you are a wine enthusiast, you absolutely must visit Living Roots Wine & Co. Living Roots Wine & Co. is an urban winery located in Rochester NY. Visiting this winery is one of the most unique things to do in Rochester NY. The winery's founders grew up in Rochester and Adeline and decided to create a winery in both locations.
You can stop by Living Roots to visit the winery and try some wine in the tasting room. The Finger Lakes wine production focuses on whites, while in South Australia the focus is reds. There are various flight pairings to try the FLX whites, the Australian reds, or a mix of both.
The tasting room at Living Roots is such a beautiful space, the space is decorated with tan leather and plenty of plants. The choices of the interior design make you feel like you have been transported from the city and are out in nature. It is the perfect atmosphere for sipping on wine and enjoying a cheese platter.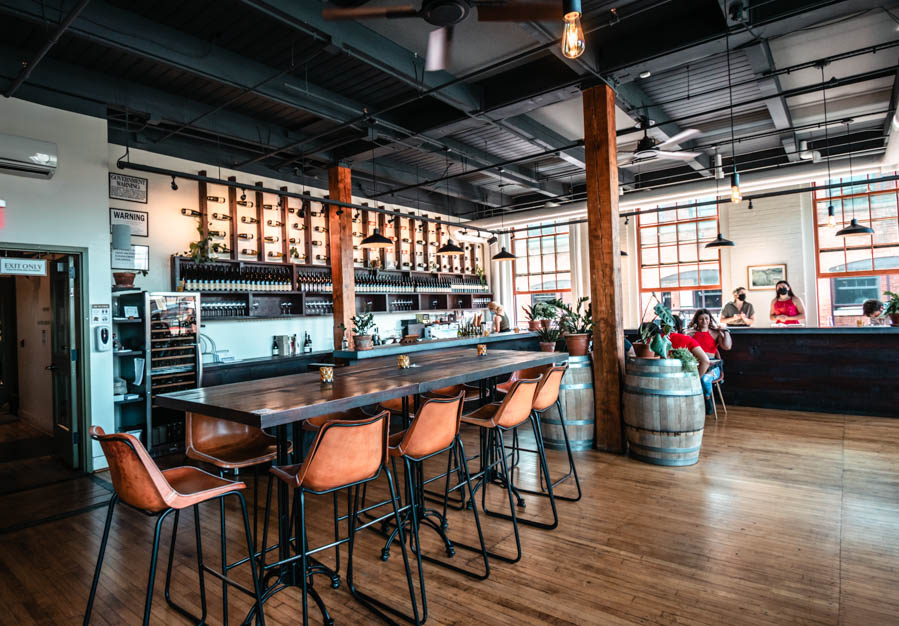 Have Fun at The Strong National Museum of Play
One of the most fun things to do in Rochester NY is visiting the Strong Museum of Play. This New York museum is dedicated to all things fun and play. Yet, you do not need to be a kid to enjoy visiting the Strong Museum of Play.
The interactive exhibits tend to be a big hit with kids. There is a Wegmans Super Kids Market and the famous 123 Sesame Street stoop that kids love! Yet there are also plenty of fun activities for kids at heart. The Pinball Playfields, eGameRevolution, and Toy Hall of Fame will make any adult feel nostalgic and ready to play in the museum.
Within the museum, there is an indoor butterfly garden, Dancing Wings Butterfly Garden. You can walk around hundreds of colorful butterflies in this lush tropical environment. If you want to attract more butterflies to you, be sure to wear brightly colored clothing. 
See the Best Murals in Rochester
There is street art almost everywhere in the city of Rochester. You don't have to look very hard and you will come across various murals across the city. You could spend an entire day searching for murals in Rochester. There is street art in parks, buildings, and even in an old subway tunnel. Personally, I enjoyed viewing the murals that added a pop of color in areas I was already exploring. There are so many murals you can view, without going out of your way to see.
Here are some of the best spots to see street art while visiting Rochester:

I'd Rather Be in Rochester Mural:

This mural can be found in the parking lot behind Parkleigh and is one of the most well-known murals in the city. This is a great spot to stop for a quick photo spot while exploring Park Ave. There are also several flower box murals painted on the side of Parkleigh.



Public Market District:

While walking around the Rochester Public Market, be sure to keep your eyes peeled for murals. There are so many incredible murals to see in this neighborhood. The most concentrated areas to find murals are by the parking lots.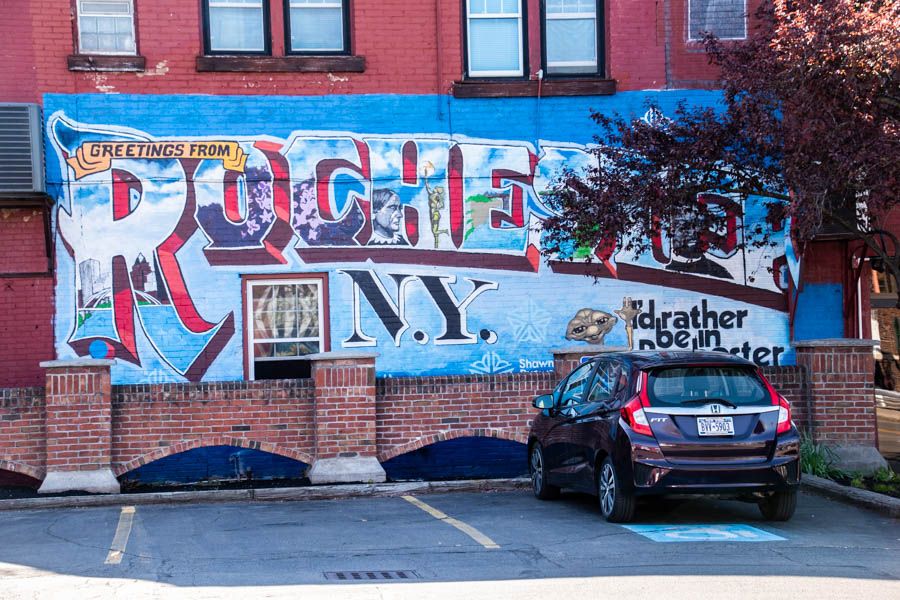 Learn about the Women's Rights Movement at the Susan B. Anthony Museum & House
History buffs cannot miss a visit to the Susan B Anthony House while visiting Rochester. Rochester was Susan B. Anthony's home for 40 years and was a pivotal location in the Women's Rights Movement. Visiting Susan B. Anthony Museum & House is a great way to learn more about the Women's Rights Movement and this important piece of history that has shaped Rochester and the United States as a whole.
Susan B. Anthony Museum & House is also part of the Heritage Trail, a self-guided walking tour highlighting points of historical significance in Rochester.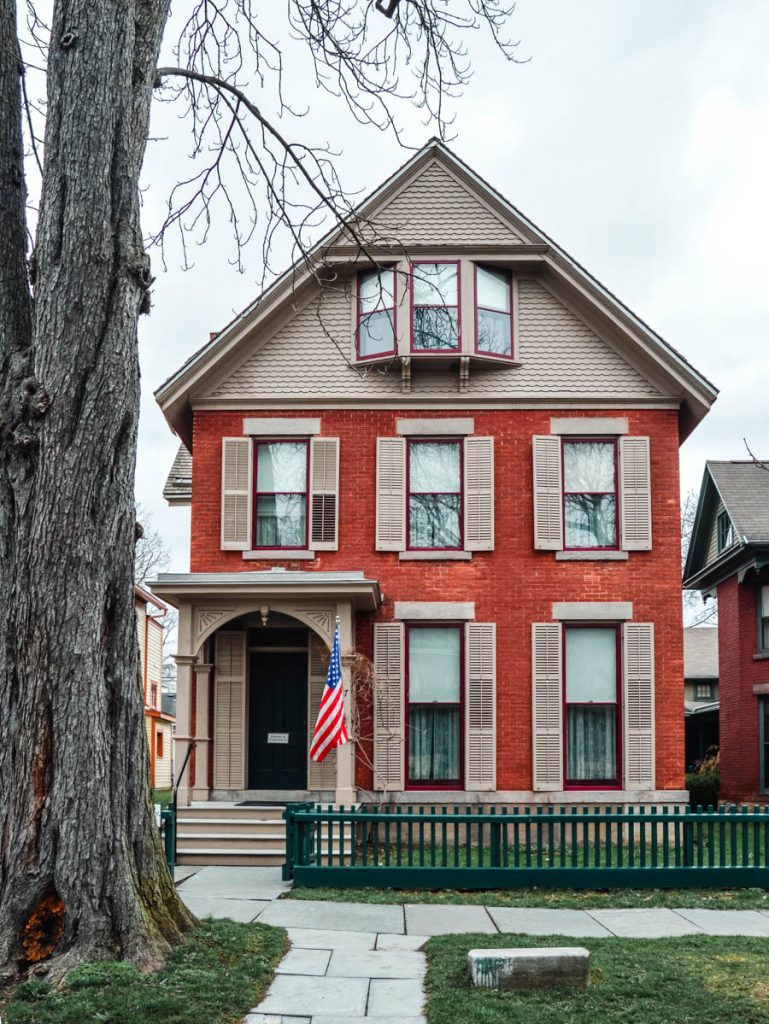 Walk Through Mount Hope Cemetery
Visiting Mount Hope Cemetery is one of the coolest things to do in Rochester NY. I know what you're thinking, why should I visit a cemetery? But hear me out!  Located adjacent to Highland Park, this cemetery is first and foremost beautiful. With stone Gothic Revival Style chapels, a stunning cast-iron fountain, and rows upon rows of mausoleums and tombstones, Mount Hope Cemetery is beautiful, albeit in a slightly spooky way.
Mount Hope Cemetery holds a lot of historical significance as well. It is the burial spot for both Susan B. Anthony and Frederick Douglas. Many people visit this cemetery to pay their respects to these iconic figures in history. There are even guided tours available if you want to learn more about the cemetery. However, there is a map in the cemetery and it is easy to find significant burial spots.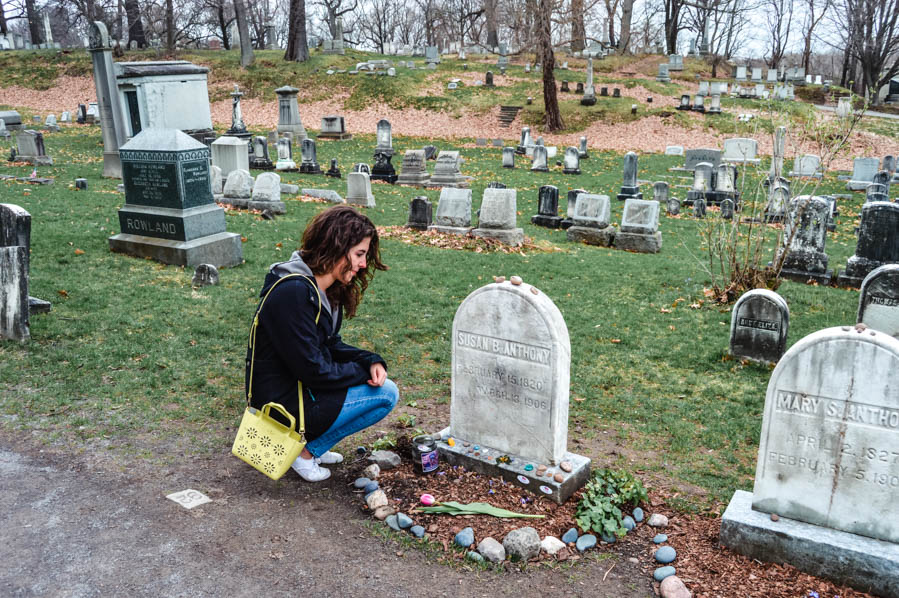 Have a Beach Day at Ontario Beach Park + Port of Rochester
Visiting Ontario Beach Park is one of the top things to do in Rochester NY, especially in the summer months. On a hot day, the Ontario Beach Park is the perfect place to enjoy a swim in one of the Great Lakes. This beach is really nice and has tons of amenities.
At Ontario Beach Park, you can also enjoy water activities, fishing, or take a stroll along the pier. One of the best activities at Ontario Beach Park, aside from swimming, is to take a walk to the Rochester Harbor Lighthouse, at the end of the pier that juts out into Lake Ontario.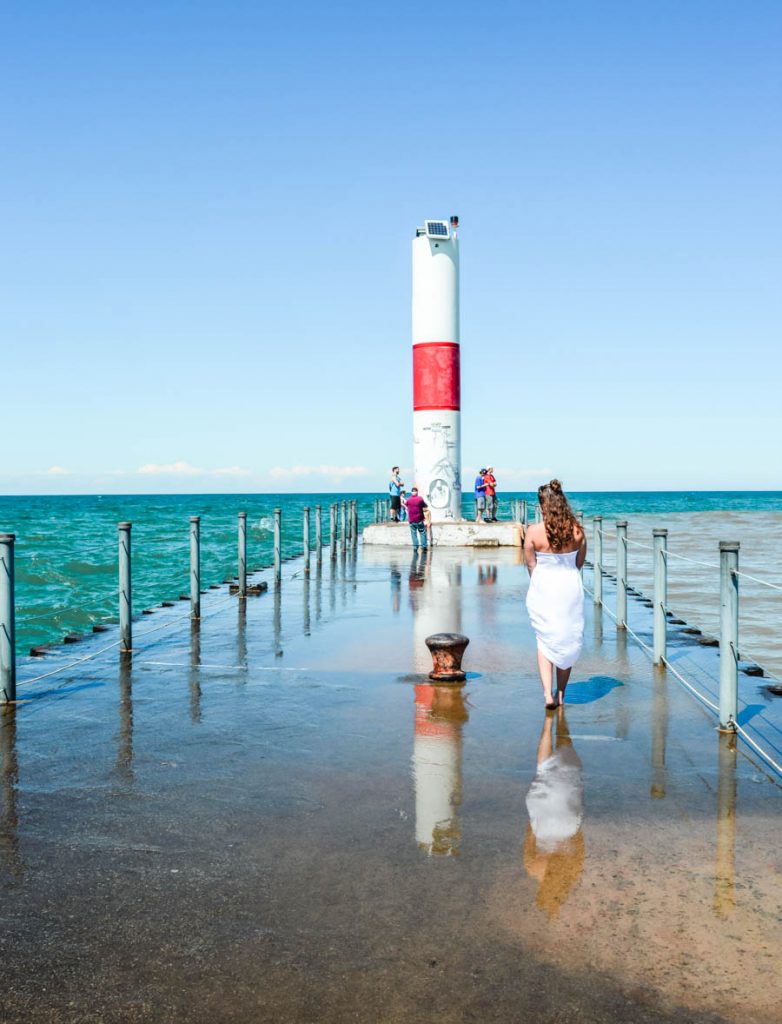 The Port of Rochester is located next to Ontario Beach Park and is a great spot to walk around. This port is really nice and you will see yachts from all over docked here. You can also grab an ice cream from Abbott's Frozen Custard, a well-known ice cream franchise founded in Rochester. With your ice cream and the boats docked, you will feel like you're in a true vacation destination.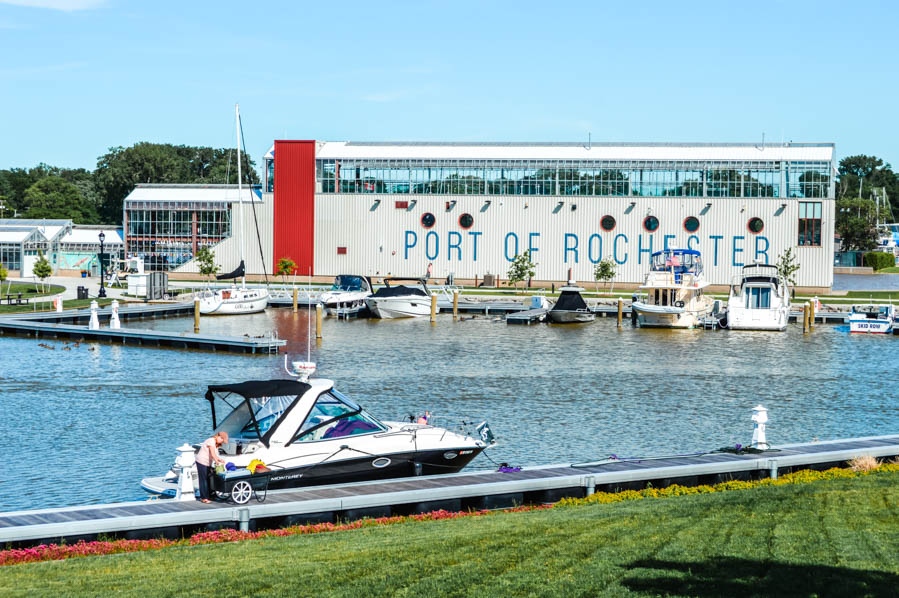 Enjoy Nature at Turning Point Park
Turning Point Park is the perfect way to connect with nature while in Rochester, New York. This park covers 275 wooded acres and features a boardwalk that extends into the Genesee River. While there is also a land-based trail, the boardwalk is definitely the spot you need to check out. From the boardwalk, you will see waterfowl and get gorgeous views of the river.
The trail at Turning Point Park continues onto the Genesee Riverway Trail. If you're doing the trail by bike and feeling ambitious, you can even ride all the way to Ontario Beach Park.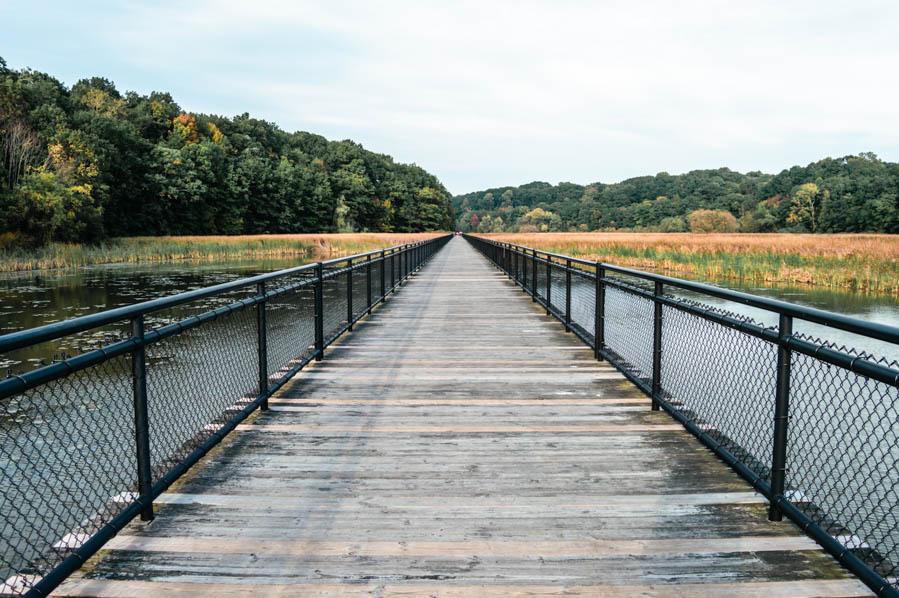 Where to Stay in Rochester NY
The best hotel to base yourself at while visiting Rochester is the Strathallen. The Strathallen is a DoubleTree by Hilton Hotel and an iconic spot in Rochester. This hotel is in the most ideal neighborhood for visiting Rochester and has restaurants frequented by both guests of the hotel and locals alike.
The Strathallen is located on East Avenue within the Neighborhood of the Arts. This property is within walking distance to great restaurants and bars as well as top-rated tourist attractions including the George Eastman House, the Memorial Art Gallery, and the Rochester Museum and Science Center.
Some of the highlights of this property, aside from the incredible location, are the garden facing East Avenue and the Strath Rooftop, where you can get 360-degree views of Rochester.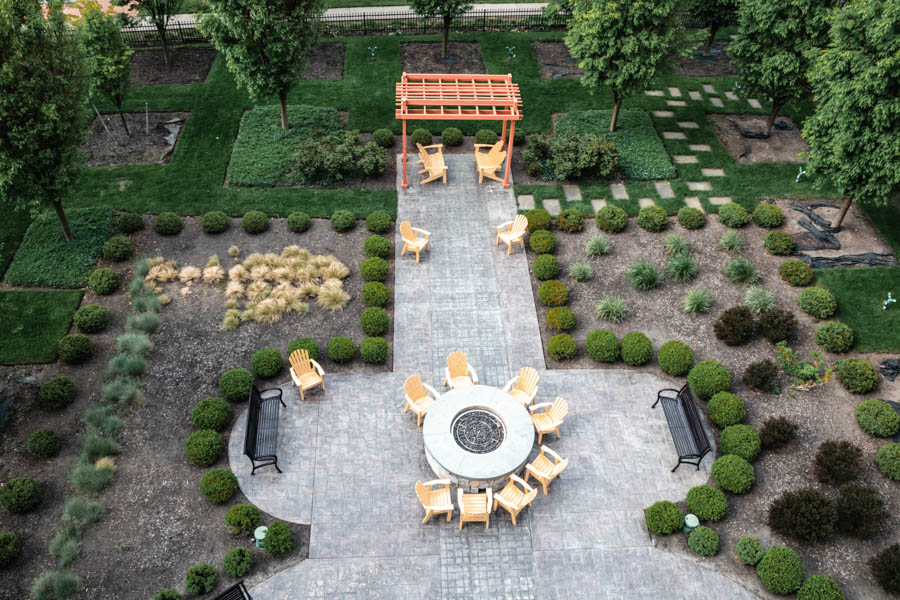 Where to Eat in Rochester NY
There are so many amazing spots to eat in Rochester, New York from charming diners, brewpubs, cafes, and more. I would highly suggest eating at both Mercantile on Main and the Rochester Public Market when visiting Rochester. Both of these options allow you to experience some of the best things to do in Rochester NY, while also grabbing a bite to eat. The casual atmospheres of both of these locations are great for lunch, as they don't take up a large portion of your time that you could be exploring.
Here are some other top suggestions for places to eat in Rochester.
Bitter Honey
Bitter Honey is located in the Public Market District and is such a cool spot to eat. The menu includes creative tacos and Mexican snacks. Think elevated Mexican street food. Everything on the menu is delicious! If you dine here, you must split and order nachos for the table (or for yourself). The nachos were one of the highlights of the meal. And the cocktail menu is superb! Bitter Honey specializes in mezcal cocktails and they are some of the best cocktails I've ever had.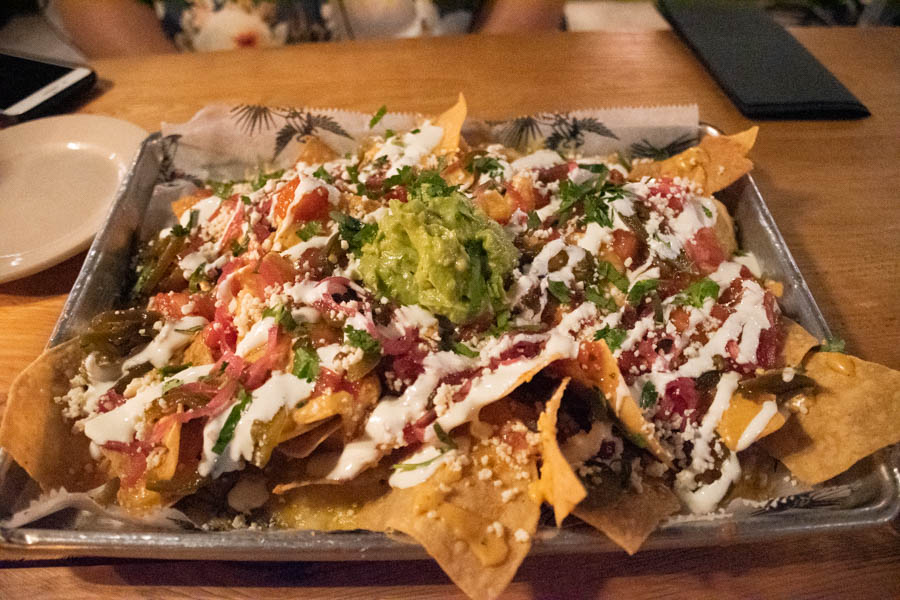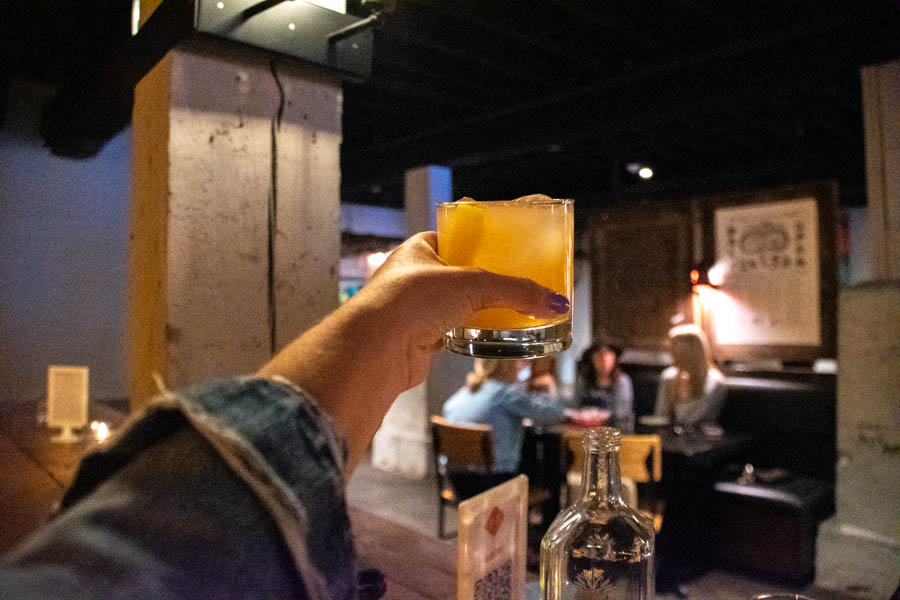 Ophira @ Radio Social 
Ophira at Radio Social is one of the best brunch spots in Rochester, not only because of its fun and unique atmosphere but also from its incredible menu. If you are in Rochester for the weekend, make reservations for Sunday Brunch at Ophira. Ophira is a Middle Eastern kitchen at Radio Social, where you can mind Middle Eastern dishes as well as decadent breakfast options such as pancakes. Don't forget to order a mimosa, because what is brunch without cocktails.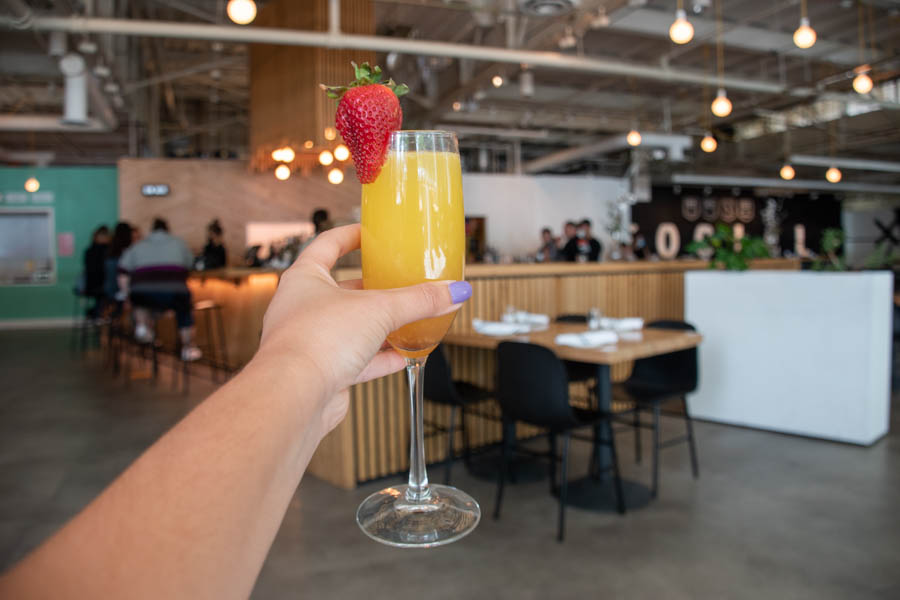 Native Eatery and Bar
Native Eatery and Bar is a chic downtown restaurant in Rochester. The floor-to-ceiling windows open up onto the patio in the warmer months, to create this connected indoor/outdoor space. In addition to the wonderful ambiance, Native Eatery and Bar has a great menu including small plates perfect for sharing.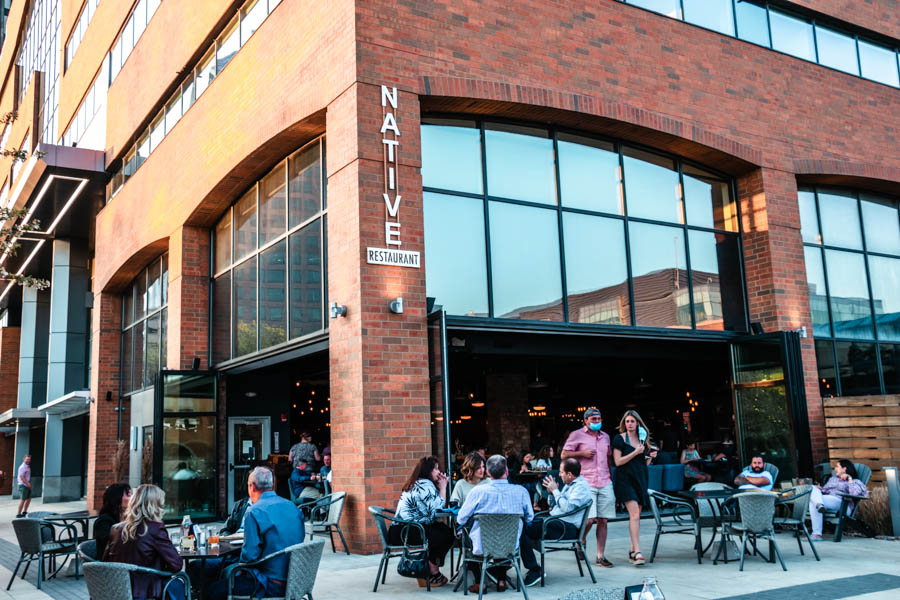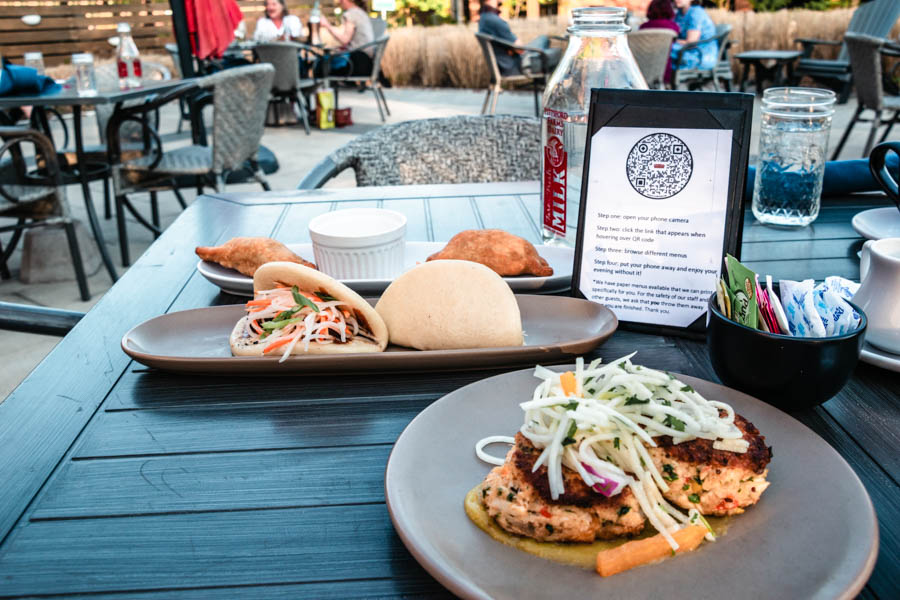 Genesee Brew House
Genesee Brew House is one of the most iconic spots in Rochester. In addition to the great beer on tap, Genesee Brew House's menu includes items that pair perfectly with beer including mac and cheese, burgers, and soft pretzels. The food here is really good, and you can even get a view of High Falls from the outside patio.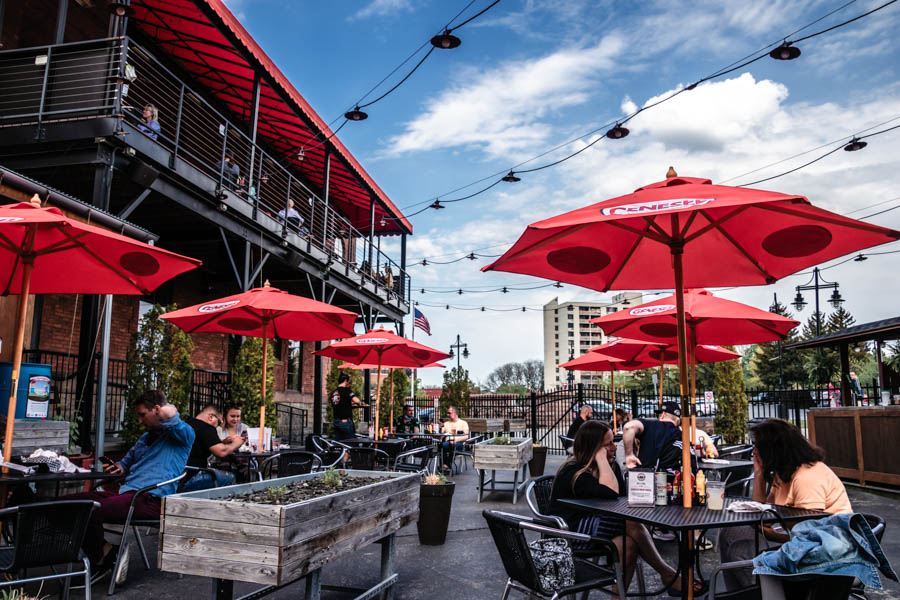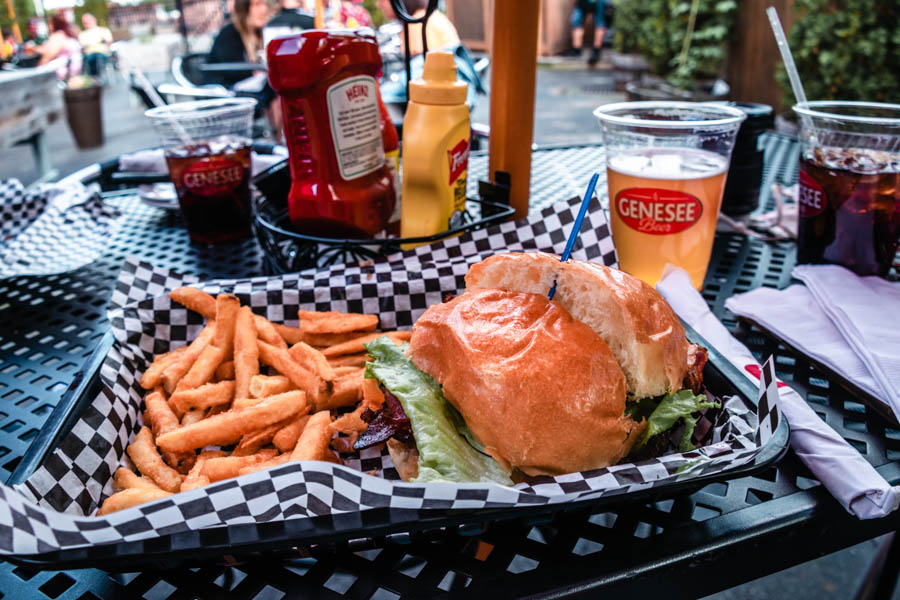 Brown Hound Downtown
If you are visiting the Memorial Art Gallery, definitely consider dining at Brown Hound Downtown. Located within the Memorial Art Gallery, Brown Hound Downtown is the perfect spot to grab a bite to eat before exploring the museum. In the summertime, opt for a table outside, which overlooks Centennial Sculpture Park.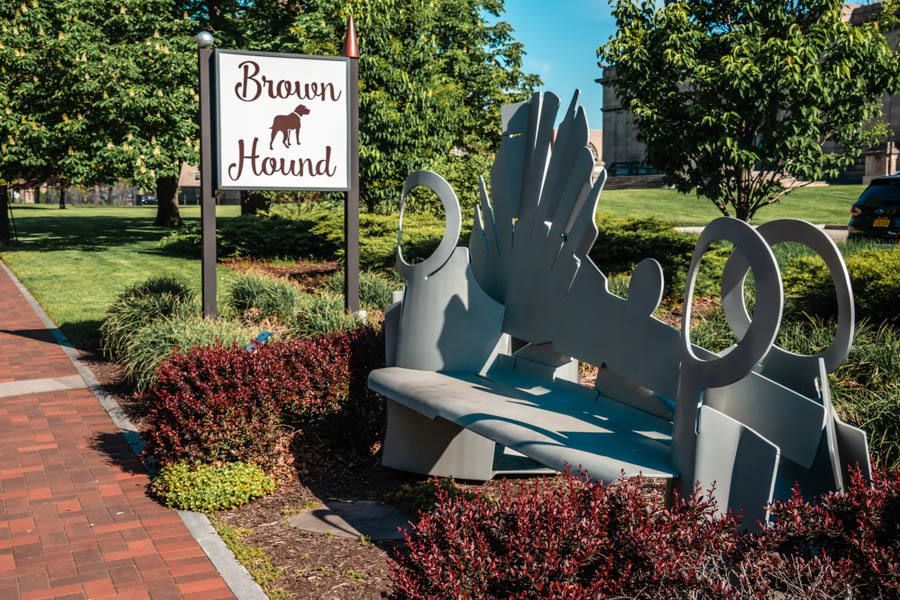 When to Visit Rochester for the Best Things to Do
The best time to visit Rochester for sightseeing is in the Spring and Fall. During these seasons, the weather is mild and perfect for exploring.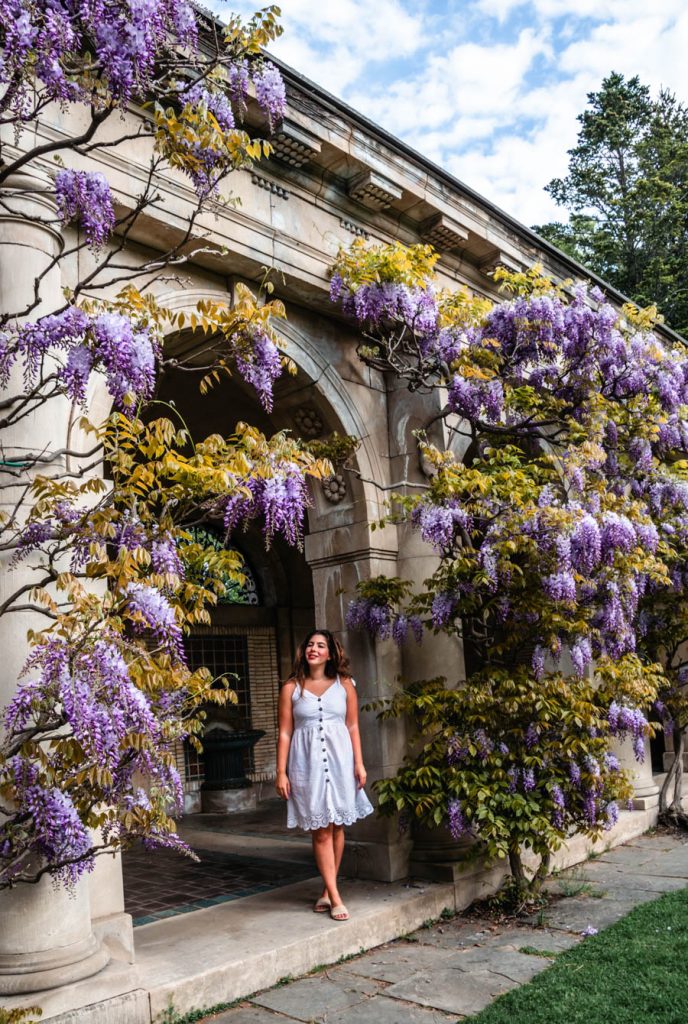 Spring: Spring in Rochester is definitely one of the best times to visit. Rochester is known as the flower city, and the city is in bloom in spring. There are plenty of places to see spring flowers, and the flowering trees make walking through Rochester an even better experience.
Summer: While there are more crowds and hotter temps in summer, it is never overly crowded or scorching in Rochester. While more mild temps are more pleasant for walking around all day, summer is still a great time to visit Rochester. In the summer, you will also have the opportunity to attend summer festivals and spend a hot afternoon at the beach. 
Winter: While I would suggest visiting when the weather is a bit nicer, don't write off a winter visit to Rochester. With plenty of indoor museums, attractions, and breweries to warm up in, winter is actually a great time to visit Rochester. Just pack a warm coat for walking around.
How Much Time Do you need to in Rochester, New York
The length of time you need to visit Rochester, New York is dependent on a few factors. If you just want to see the major sites and walk around the city, you can visit them on a day trip. You will need to arrive in Rochester early though to make the most of your day, and you will not be able to see and do everything on this list. But, if the only time you can carve out to visit Rochester is one day, it is still worth visiting!
That being said, to experience Rochester fully, you will want to spend a full weekend here. I would recommend spending two to three nights in Rochester, this will allow you to get the most out of your visit. If you want to visit all the attractions and have time to relax in breweries, cafes, or restaurants, three nights in Rochester is the ideal amount of time for visiting. Two nights allowed me to cover quite a bit of ground, yet there were a few spots I didn't have time to visit in this time frame.
If you are visiting during a festival, allow extra time so you can experience the festival and have time to explore Rochester. 
Things to do in Rochester NY Wrap Up
There are so many incredible things to do in Rochester NY. I am sure this will be an ever-growing list as I experience new activities in Rochester. Let me know in the comments if there is anything you would add to this list!
Save This Post For Later On Pinterest


Come Join My Journey was hosted by Visit Rochester, however, my opinions are as always my own.