Did you know there is a castle in Rochester, New York? Hidden in plain sight, in Highland Park is a fairytale-like castle that looks like it belongs in the Scottish lowlands rather than the city of Rochester. Warner Castle in Rochester NY is one of the most beautiful and underrated spots in the city. I'd go so far as to say that many Rochestarians don't even know it is there. 
After visiting Warner Castle on various occasions and never seeing more than a handful of people, it is apparent that this is a hidden gem. Even during the Lilac Festival when most of Highland Park is jam-packed with festival-goers, Warner Castle is a secluded spot to retreat away from the crowds.
Warner Castle is one of the most beautiful castles to visit in New York State and is such a gem in Monroe County.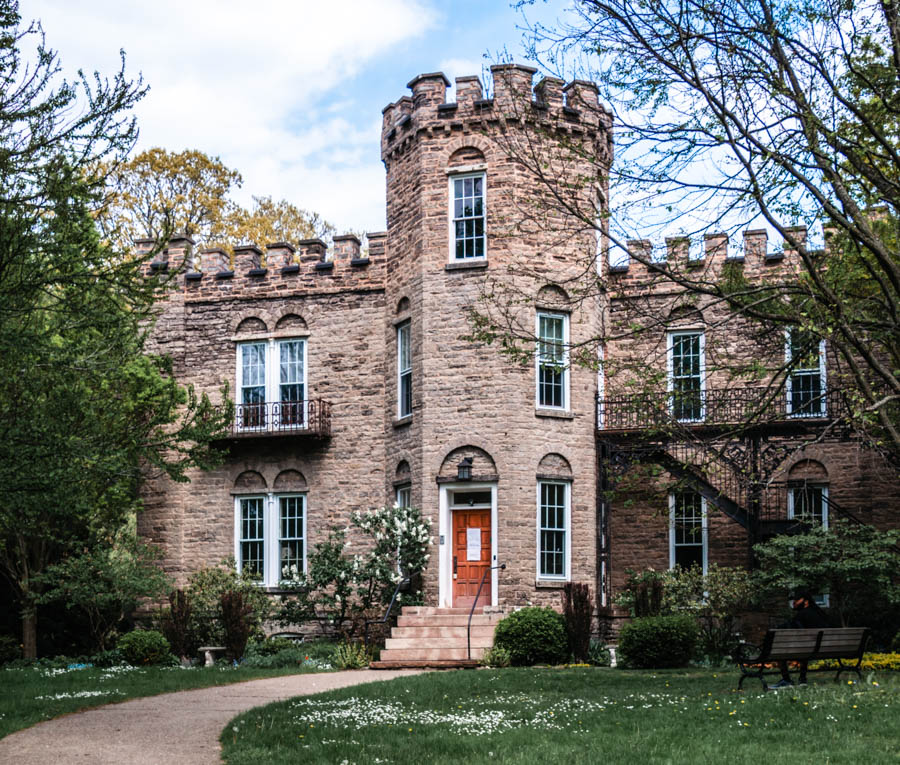 About Warner Castle
Warner Castle was originally built in 1854 by Horatio Gates Warner, an attorney, businessman, and newspaper publisher from Rochester. Warner Castle is a small-scale replica of a Scottish Castle. It was built to resemble the castles of the Clan Douglas, which was one of Scotland's most powerful families of the Scottish Lowlands. Horatio Gates Warner was inspired to build this replica castle after a visit to Scotland.
Warner Castle served as a private residence until 1951 when the city of Rochester purchased the castle and its gardens. Until 2017, Warner Castle was home to the Rochester Civic Garden Center. Today, Warner Castle is occupied by the Landmark Society of Western New York. Yet, the grounds and gardens are open to the public.
Currently, you can not visit the interior of this castle in Rochester NY. If you want to see a glimpse inside Warner Castle, the Landmark Society has a great video virtual tour you can check out here. 
With its' unique history and beautiful exterior, Warner Castle is certainly worth a stop when you are visiting Rochester. Actually, if you want to have a fairytale moment and plan a trip to Rochester around seeing Warner Castle, you should! There are plenty of great things to do in Rochester after you check out the castle.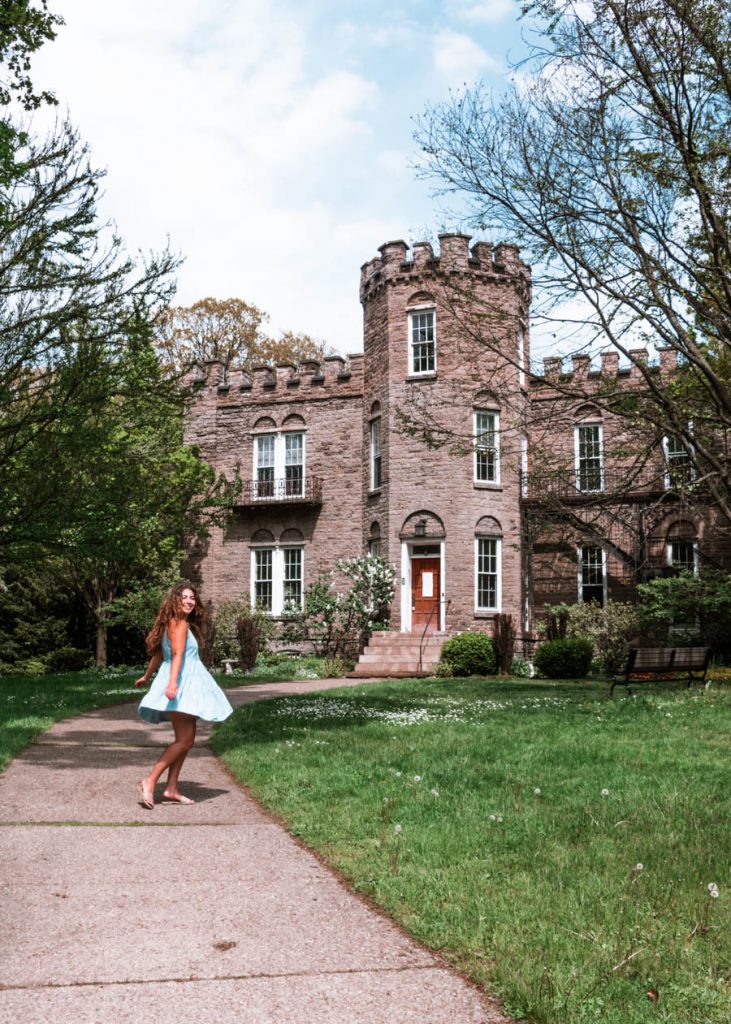 Walking around this small castle feels like you have been transported to Scotland momentarily. There are flowers planted around Warner Castle, making strolling around the castle even more enjoyable.
Be sure to walk to the backside of Warner Castle where you will see a small garden planted in a courtyard. And venture further into the grounds to see Warner Castle's Sunken Gardens.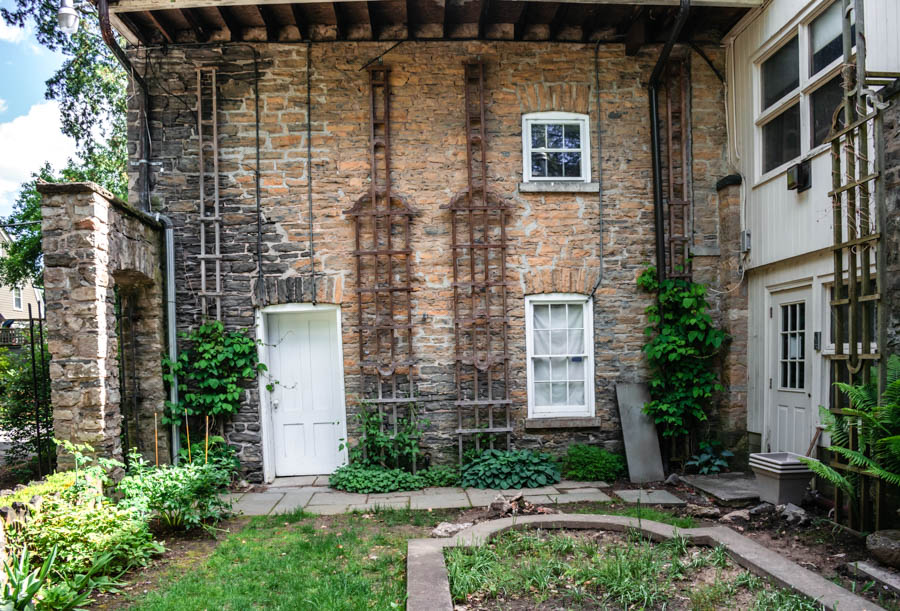 Sunken Garden Rochester NY
Located on the grounds behind Warner Castle is the Sunken Garden. These gardens were added to the grounds of Warner Castle in the 1930s, as a way to refurbish the grounds. The Sunken Garden adds such a wonderful element to the castle.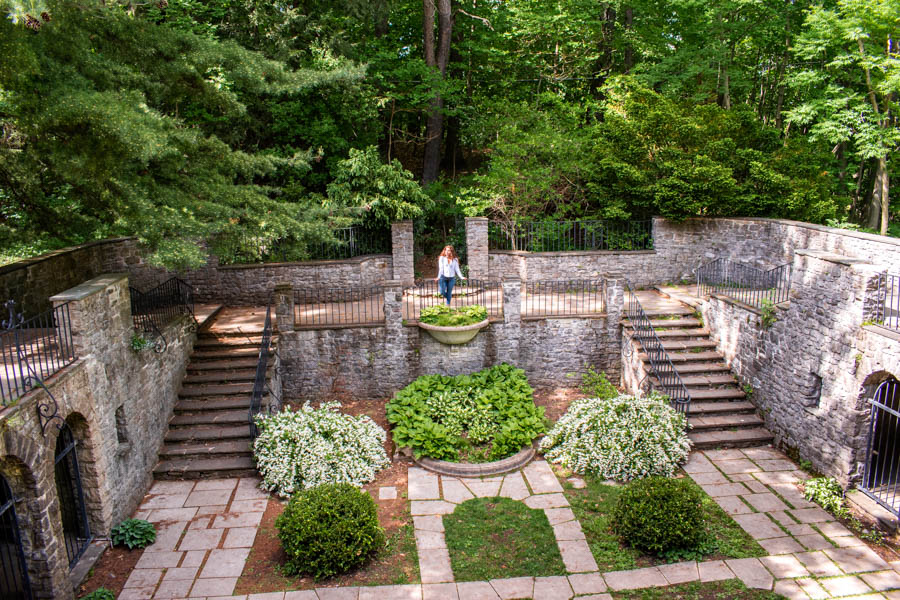 The Sunken Gardens are one of the most peaceful spots in Rochester. This garden is beautiful year-round, the stone steps and iron gates are unique to see even when the garden isn't in bloom. Yet, of course, the best time to see the Sunken Garden at Warner Castle is in the spring and summer, when the garden is in bloom.  
Where is Warner Castle
If you've never been to Warner Castle, you may be thinking it's located in an isolated part of Highland Park. Yet, it is actually very easy to get to. Warner Castle is located off Reservoir Ave near the corner of Mt Hope Avenue, just a 5 minute (.3 mile) walk from the Lamberton Conservatory. Chances are, if you've come to the Lilac Festival in Highland Park, you've been just down the road from Warner Castle without even knowing it.
While Warner Castle is off a major road of the park, it isn't visible from the street. So unless you know Warner Castle is there, or you see the small sign at the entrance, you probably would never stumble upon this castle in Rochester NY. 
This portion of Reservoir Ave where Warner Castle is located is very residential. At first glance, it doesn't seem that Highland Park continues behind the homes.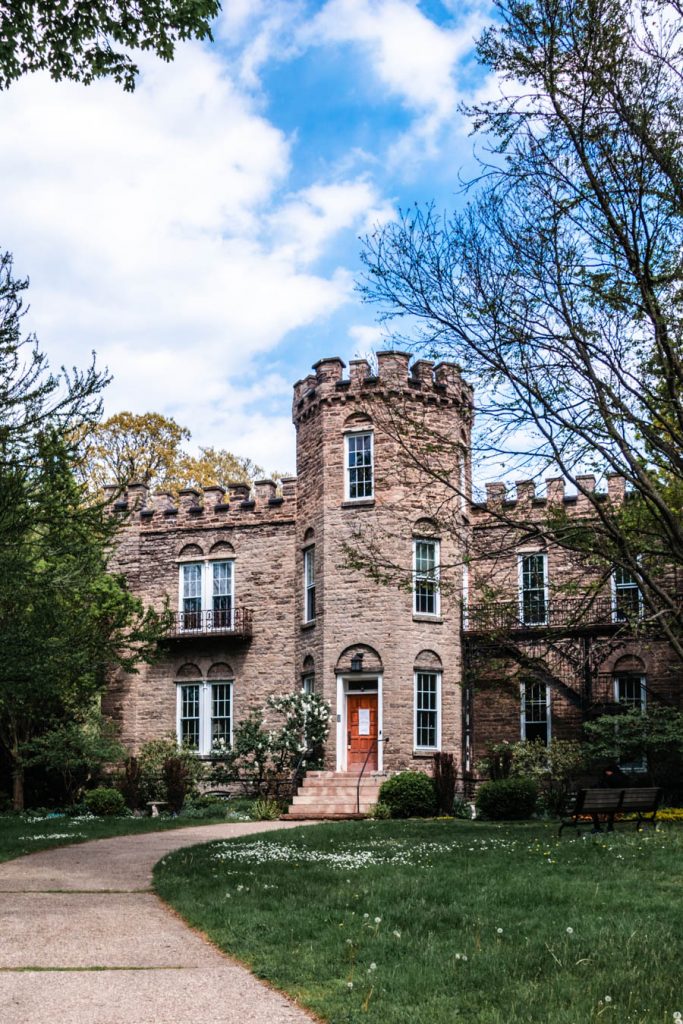 Parking + Getting to Warner Castle in Rochester 
There are a few options to getting to Warner Castle. It is very easily accessible and can be reached by car or on foot from other areas in Highland Park.
Warner Castle Parking Lot 
There is a small parking lot for Warner Castle. The parking lot is free and usually has spots available. This lot will put you directly in front of the castle.
Walking Along Reservoir Ave
If you are coming from Highland Park, you can walk down Reservoir Ave to get to Warner Castle. This is an easy 5-minute walk. You will pass by homes to get to the entrance to Warner Castle.
Through Highland Park 
Alternatively, you can walk through Highland Park. If you continue walking through the park, past the Highland Bowl, you will find the Sunken Gardens that are located behind Warner Castle. I wouldn't suggest walking this way, just because I find it to be much more rewarding to approach Warner Castle from the front. Yet, after you've looked at Warner Castle and the Sunken Gardens, you can walk back this way.
Warner Castle in Rochester NY Wrap Up
Visiting Warner Castle is one of the most unique things to do in Rochester. It is well worth a visit while you are visiting Rochester, NY. A visit to Warner Castle doesn't occupy much time, so be sure to plan other activities in Rochester in addition to stopping at Warner Castle. And if you're worried that you won't have time to visit Warner Castle during your visit, trust me, you do. If you added in a visit to Highland Park or Mt. Hope Cemetery, you can easily swing by Warner Castle.
For help planning your trip to Rochester, check the guide to The Best Things to do in Rochester NY. Based on your interest in visiting Warner Castle, I highly suggest visiting the Lamberton Conservatory and the George Eastman House.
Save This Post For Later On Pinterest