Corning, New York is the perfect getaway in the southern Finger Lakes. Home to the Corning Museum of Glass, Corning attracts visitors from around the world. While the Corning Museum of Glass is reason enough to plan a trip, it is not the only reason to visit Corning NY. Corning has a lot to offer in both its history of glass making and its technological advancements in the field via Corning Incorporated. Yet, Corning is more than just glass. There is so much to discover in this small city on the Chemung River. There is no shortage of things to do in Corning NY from Corning's charming Gaffer District, experiencing glass blowing at the Corning Museum of Glass and even a visit to a Smithsonian affiliated museum.
Corning, New York is one of the first destinations I visited in the Finger Lakes and it left me craving more. It doesn't have the lakes, wineries, or waterfalls this region is associated with, yet that's what makes it so unique. Corning has a hip city vibe, with small-town charm and world-class museums. Visiting Corning allows you to experience a different side of the Finger Lakes. If you're looking for what to do in Corning NY, this guide covers it!
About Corning
Known as America's crystal city, Corning was put on the map from innovation in glass technology. Corning has been at the forefront of all things to do with glass technology. In this small city in New York, plenty of glass advancements were made. This is where the light bulbs for Thomas Edison were made, the home to pyrex, and where the glass on your phone screen came from (gorilla glass). Every day, you are surrounded by glass technology that was developed in Corning.
Now you can experience glass first hand at the Corning Museum of Glass, or by wandering through the Gaffer District. In glassblowing, Gaffer means master glassblower. Everywhere you turn in Corning, you will be reminded that this is a city known for its glass.
Where is Corning NY
Corning is a small city in Steuben County, New York, which is located in the Southern portion of the Finger Lakes region. While Corning is in the Finger Lakes region, it is not directly on a lake. Rather, it is situated on the banks of the Chemung River. 
Distances to Corning from nearby cities:
Rochester NY – 106 miles (1h 37m)

Syracuse NY – 98 miles (2h 4m)

Scranton PA – 132 miles (2h 5m)

Buffalo NY – 125 miles (2h 15m)

Albany NY – 212 miles (3h 16m)

New York, NY – 249 miles (4h 16m)

Philadelphia, PA – 255 miles (4h)
When to Visit Corning
As many of the top things to do in Corning, New York are indoors, there is no bad time to visit Corning. Rain or shine, and any season of the year, Corning can be enjoyed year-round. Just be sure to bring weather-appropriate clothing for strolling through the historic Gaffer District. Corning is perhaps one of the best places in the Finger Lakes to visit year-round. The museums and shops are always open, so you won't miss out on doing anything if you visit during the low season.
However, if you plan to spend time exploring other parts of the region on your visit, such as nearby Keuka Lake, experiencing the Finger Lakes Wine Country, or hiking at some of the Finger Lakes waterfalls, you should visit between late spring to early fall.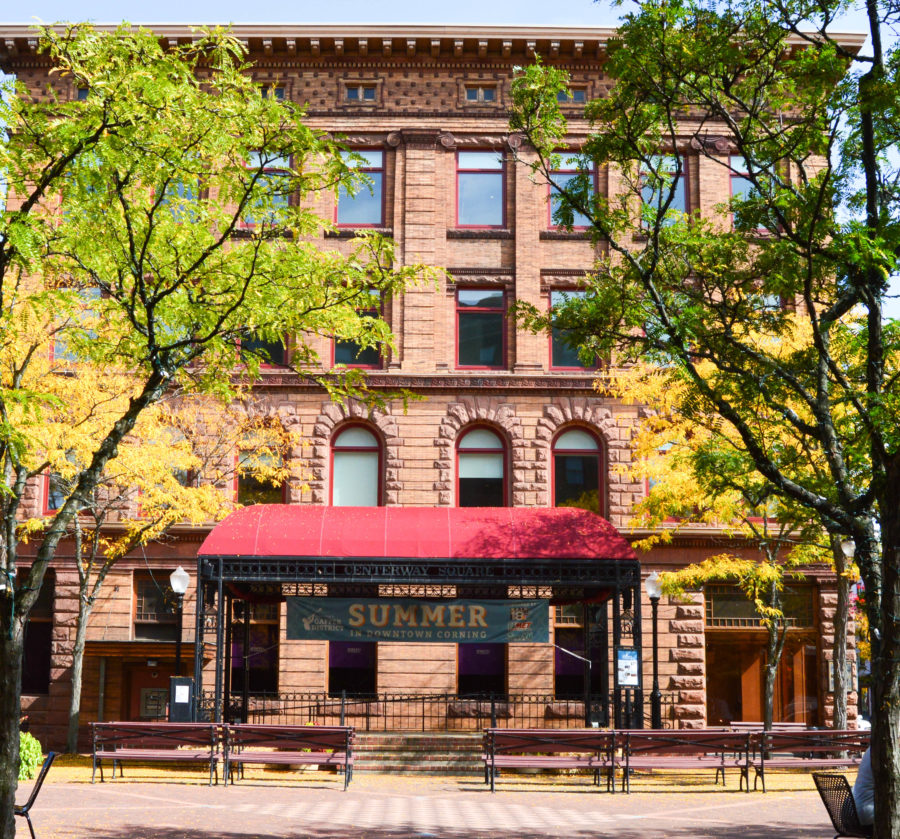 Top Things to Do in Corning NY
In order to see all the sites below, I recommend spending 2 days in Corning. This will allow you to see everything, without being rushed. However, if you want to spend a full day at one of the nearby lakes, you should plan for 3 days in Corning. If your time is limited, you can visit The Corning Museum of Glass and the Gaffer District on a day trip, or a road trip pitstop. 
Explore the Gaffer District + Town of Corning
We spent quite a bit of time in the Gaffer District while in Corning. The Historical Gaffer District is the downtown area of Corning; it includes a pretty tree-lined street lined with shops, galleries, and restaurants. I spent hours meandering down Market Street, popping in and out of the shops. It seemed that every storefront in Corning had a story to tell. I kept stopping along my walk to appreciate the small details in the facades. Visiting the Gaffer District is one of the best things to do in Corning NY. Depending on how much time you have in Corning, you could do a quick walk or spend an entire afternoon exploring the Gaffer District.
There are over 50 local shops in Corning Gaffer District, meaning you have plenty of shopping ahead of you. I recommend wandering through the district, popping into any stores that catch your eye.
Here are a few recommended shops that you should not miss:
Bacalles Glass Shop 

Crystal City Olive Oil

Dish & Co.
For a full list of the stores in Corning's Gaffer District, click here.
Take a Walking Tour
To learn more about the Historic Gaffer District, there is a self-guided walking tour that highlights the area's history and architecture. The tour begins at the Centerway Square clock tower, however, you can begin at any of the 19 landmarks in the Gaffer District.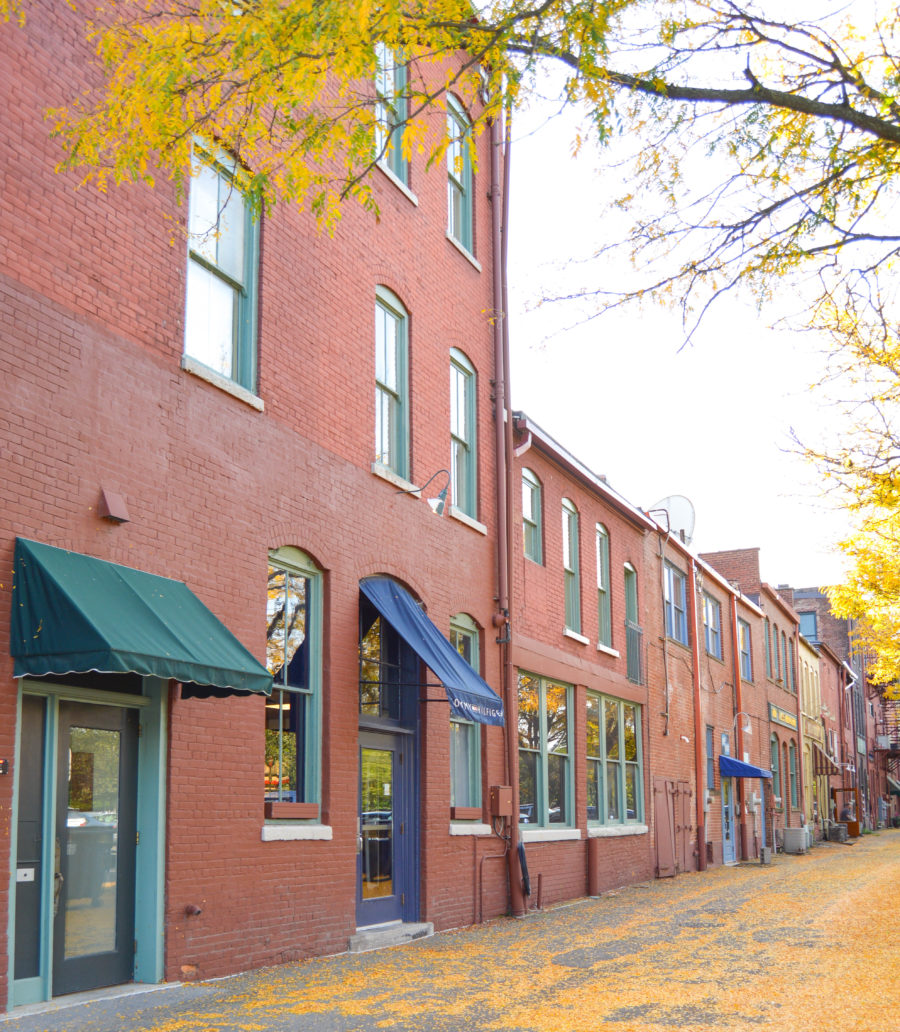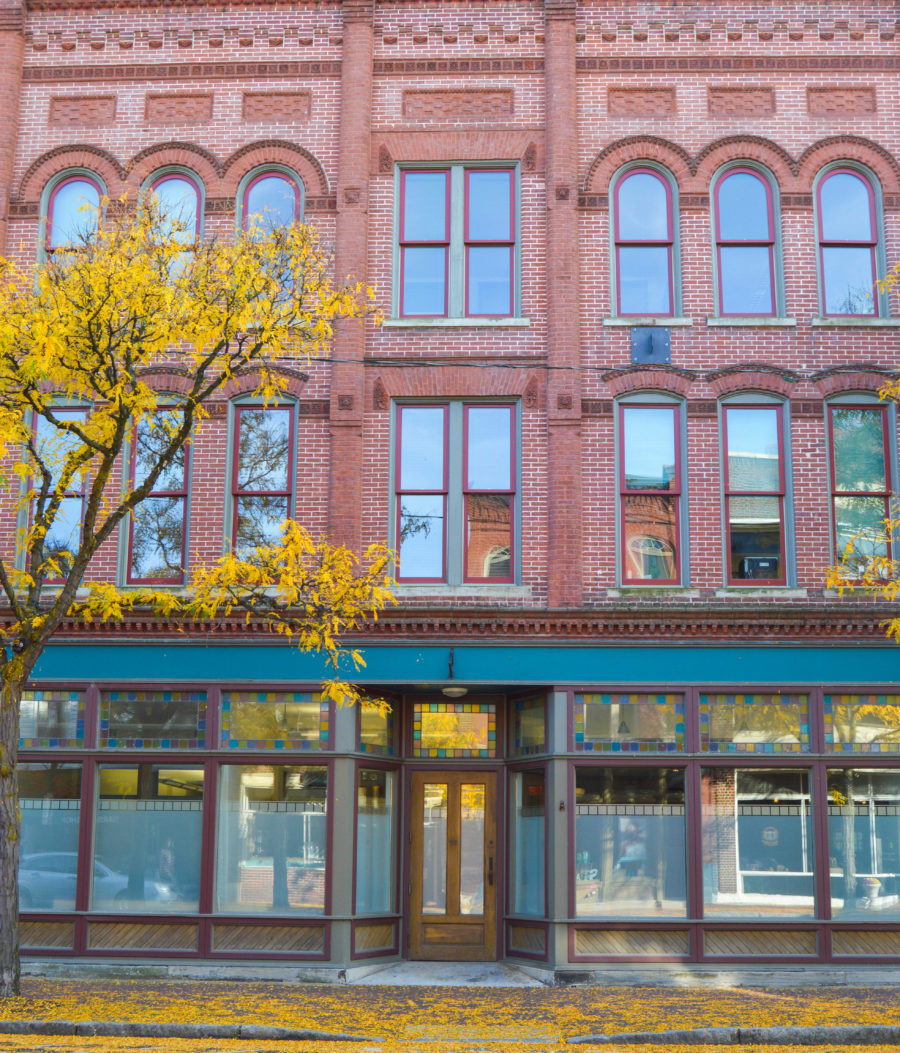 Stop by Centerway Square
After checking out all the shops in Corning, be sure to stop by Centerway Square. Everyone seems to congregate in Centerway Square by the clock tower. It serves as a great meeting point in the Gaffer District. I enjoyed sitting in the square, people watching and appreciating all the greenery around me. There are plenty of tables to sit at, so this also makes a great spot to bring takeout from a local restaurant or a picnic.
During the summer months, they even have concerts on the stage at Centerway Square.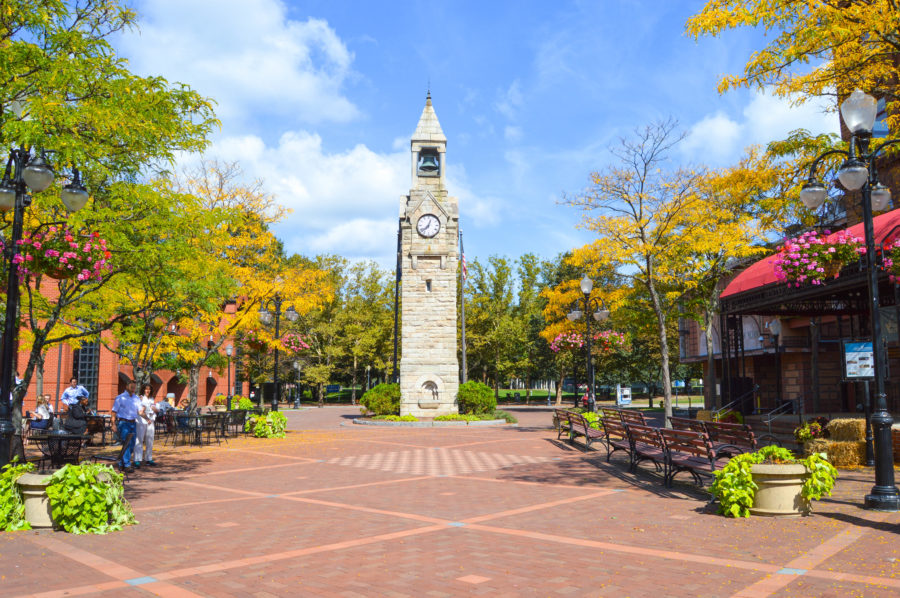 Visit the Corning Museum of Glass
The Corning Museum of Glass is one of my favorite museums I have ever been to. Something about this museum made me feel light and happy. Perhaps it's the way the sun basks the museum with natural light. Whatever the reason, I have a newfound affection for glass from my visit to this museum. The Corning Museum of Glass should be #1 on your list of things to do in Corning. 
Allow plenty of time to visit the Corning Museum of Glass. We were there for about 4 hours but I could have stayed longer. Yet 4 hours is enough time to check out the exhibits, watch the glass blowing demonstration, and partake in the make your own glass experience.
Advanced tickets are required for the Corning Museum of Glass. Get your ticket here!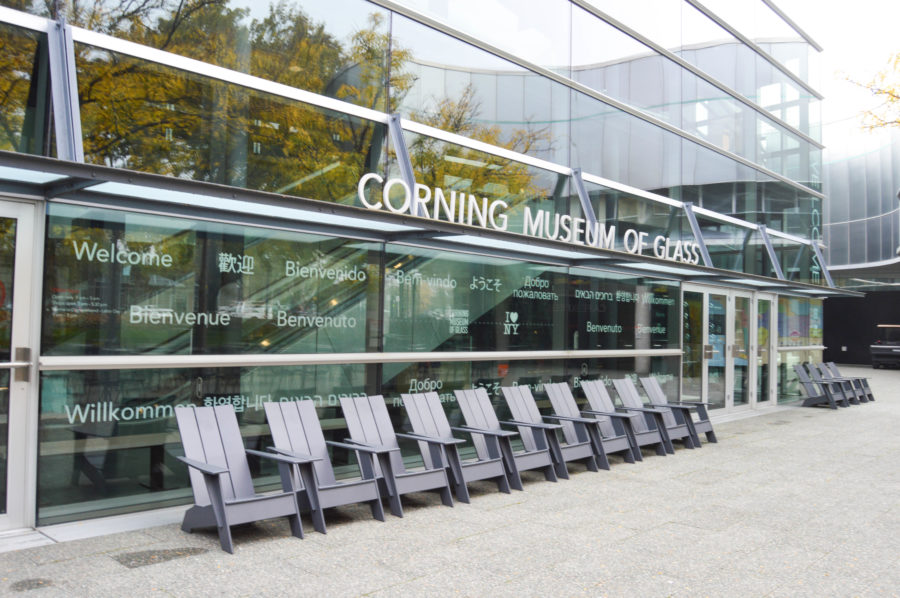 Stroll through the Exhibits 
Stroll through the contemporary exhibits, where the artistry of glass is being re-imagined. And take your time to appreciate the history of glassmaking in the glass collection galleries. Here you can see the history of glass, dating back 3,500 years. There is so much glass art to see, including a Chihuly piece in the lobby of the museum.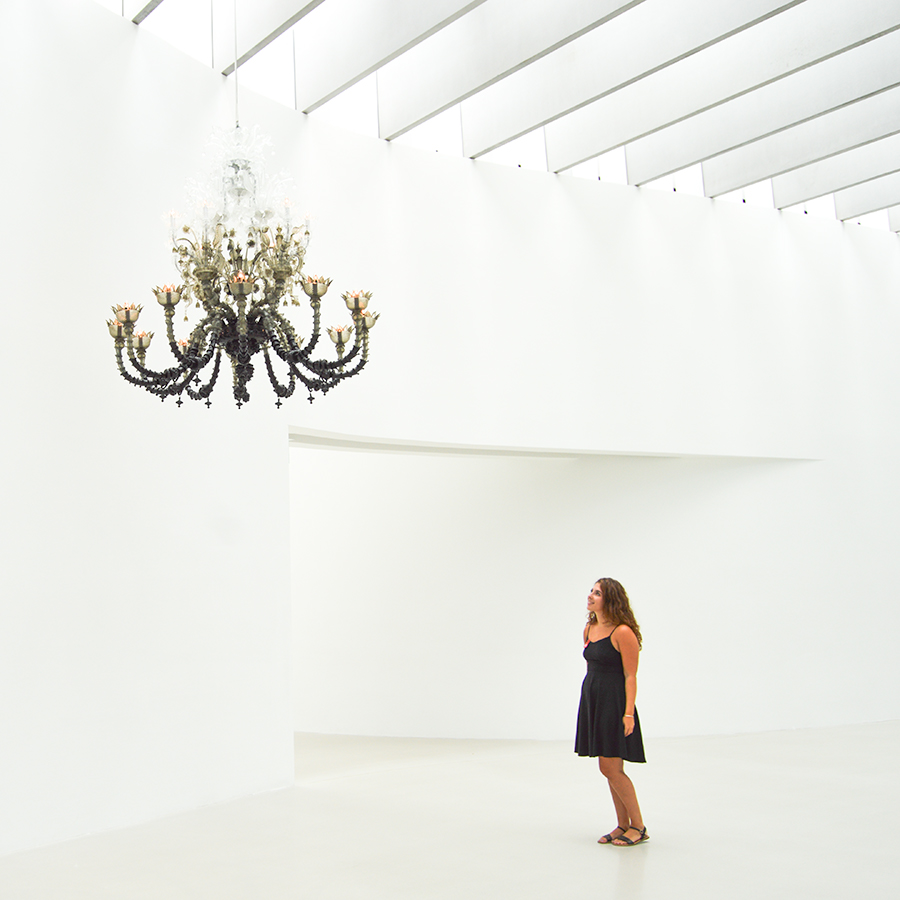 Watch the Glass Blowing Demonstration
After checking out the museum, head to a live glass blowing demonstration. Watching the live glass blowing demonstration was amazing! The demonstration made me appreciate glass blowing even more, and gave a glimpse at what glassmakers do in the glass studio.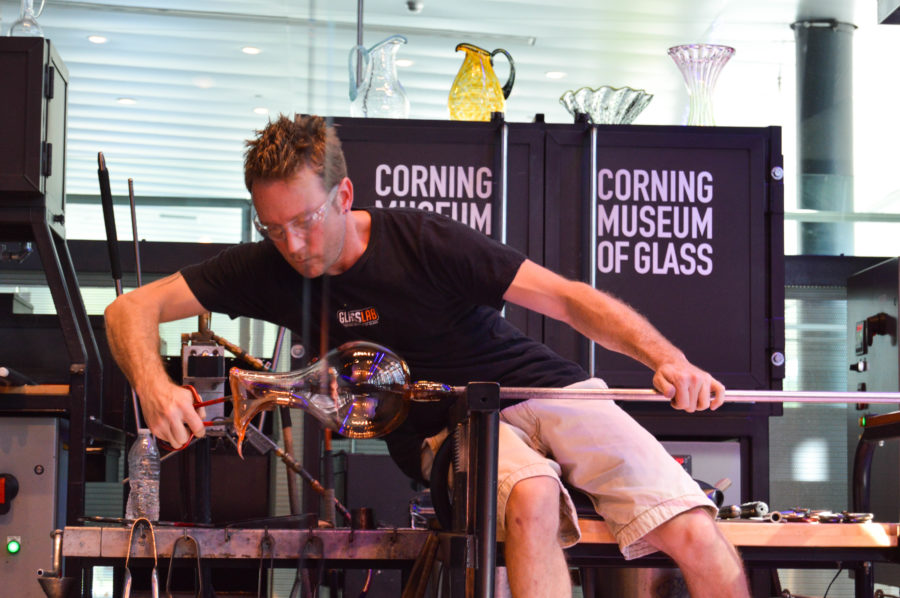 Make your own Glass
For a unique perspective of glass blowing, you can even make your own glass in the studio. You get to choose your project and assist in the creation of it. This is such a fun and interactive way to experience the Corning Museum of Glass. Doing the glass blowing experience was one of my favorite things to do in Corning NY, so be sure to include this in your Corning itinerary. Doing the make your own glass experience is an additional charge, yet it is worth it!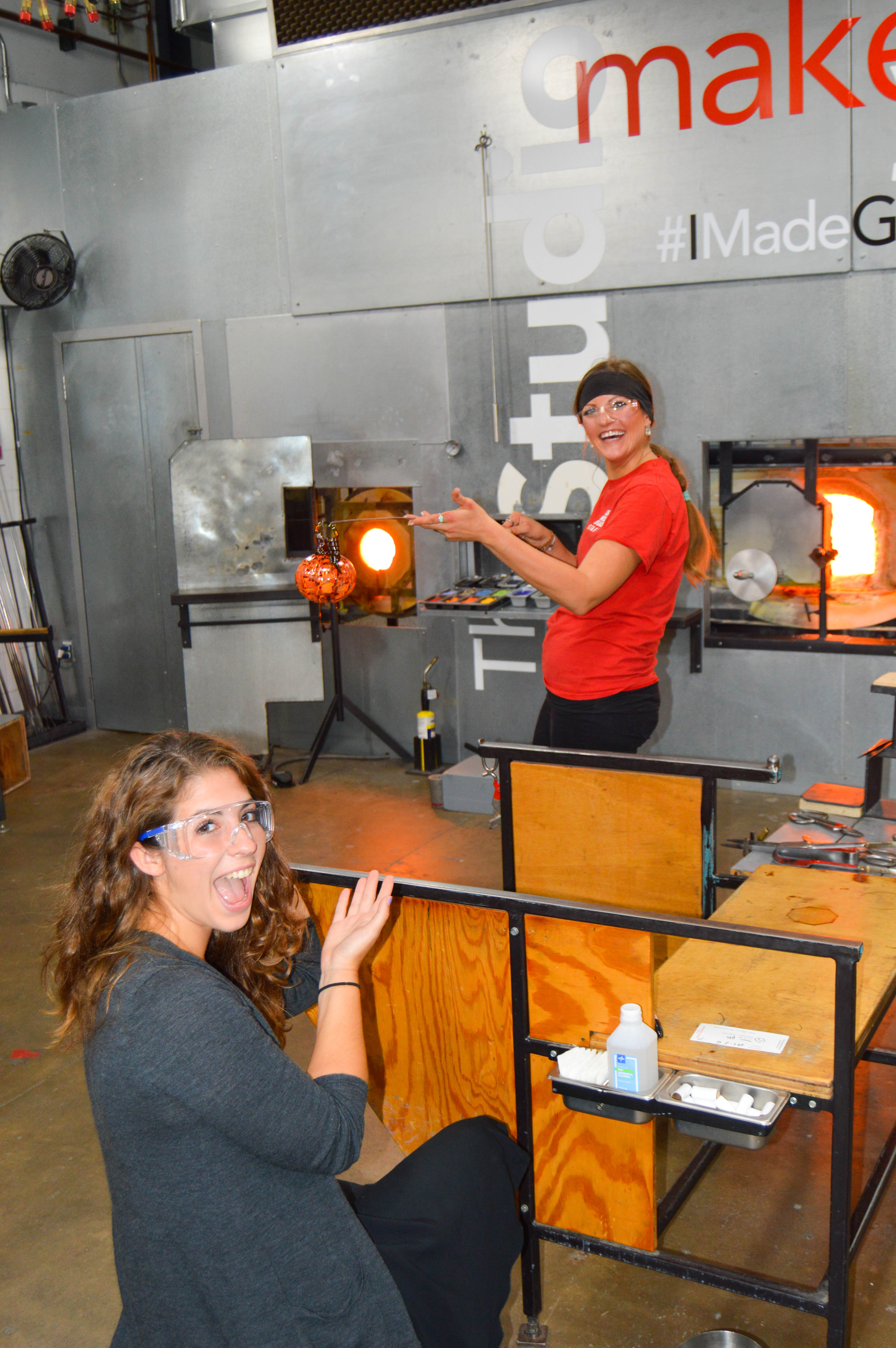 P.S.  you can save money by combining your trip to the Corning Museum of Glass with the Rockwell Museum for a discounted price. Making things even more convenient, a free shuttle brings you back and forth from the two museums every 15 minutes.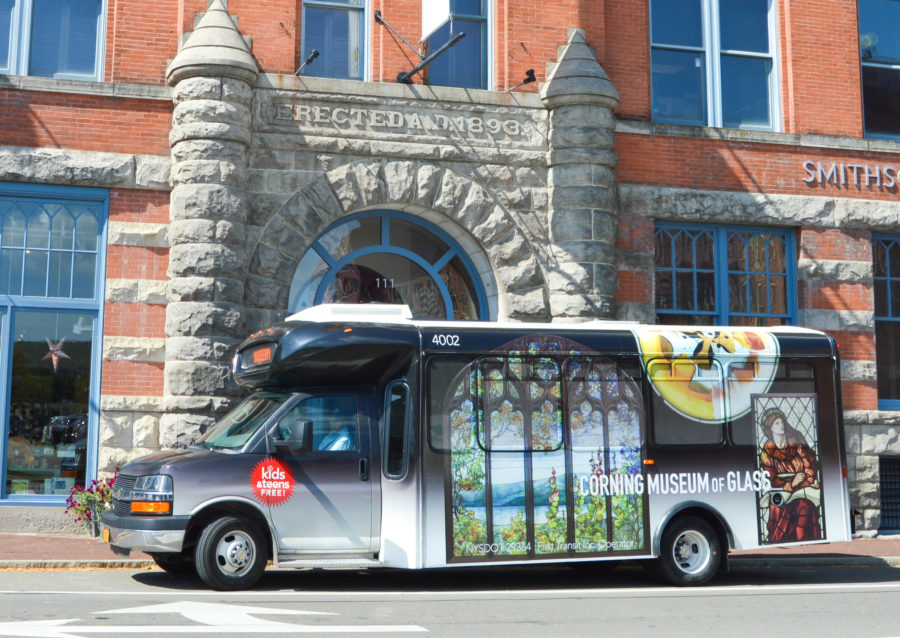 Check out a Smithsonian Museum – Rockwell Museum
The Rockwell Museum is the only Smithsonian affiliate in New York State, outside of New York City. While the Rockwell Museum is small in size, its collection is impressive. The museum features art depicting the American experience. It was interesting to see how different artists depict America; some are realistic depictions, others are greatly romanticized.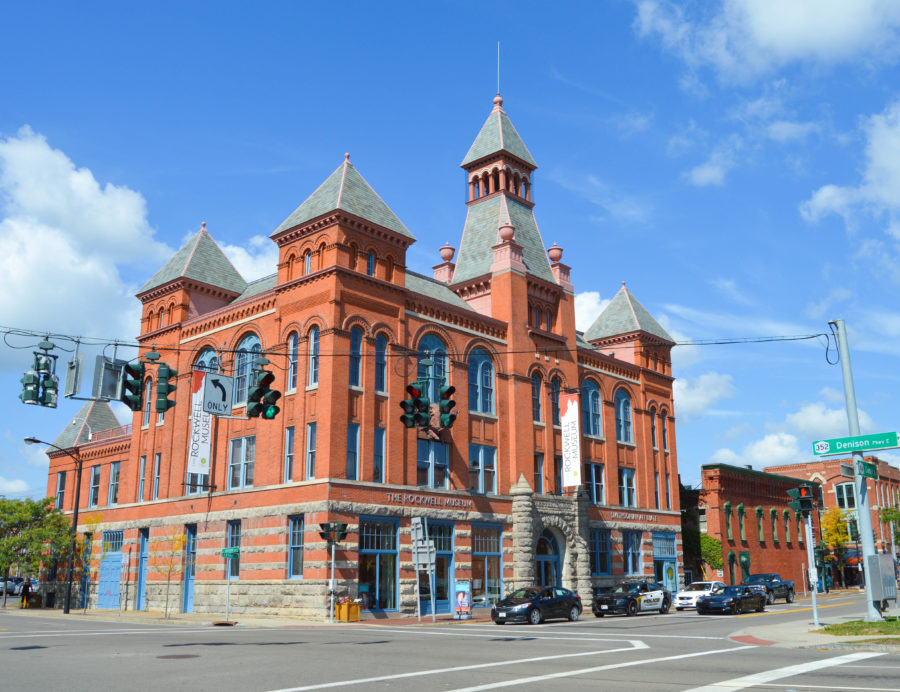 I really appreciated the sense of community at the Rockwell Museum. The Rockwell Museum has community activities to promote further education of the arts such as the Alley Art Project. The museum even gave the community a chance to give a name to the Buffalo on the exterior of the building. After a community vote, the name chosen for the Buffalo was Artemus. Artemus stands for "Art is a Must".  The precedent that this name sets is how important art is. The Rockwell Museum goes the extra step to ensure that children are learning about art. They even design a scavenger hunt to keep children excited about the museum. Visiting the Rockwell Museum is a great thing to do in Corning for art lovers.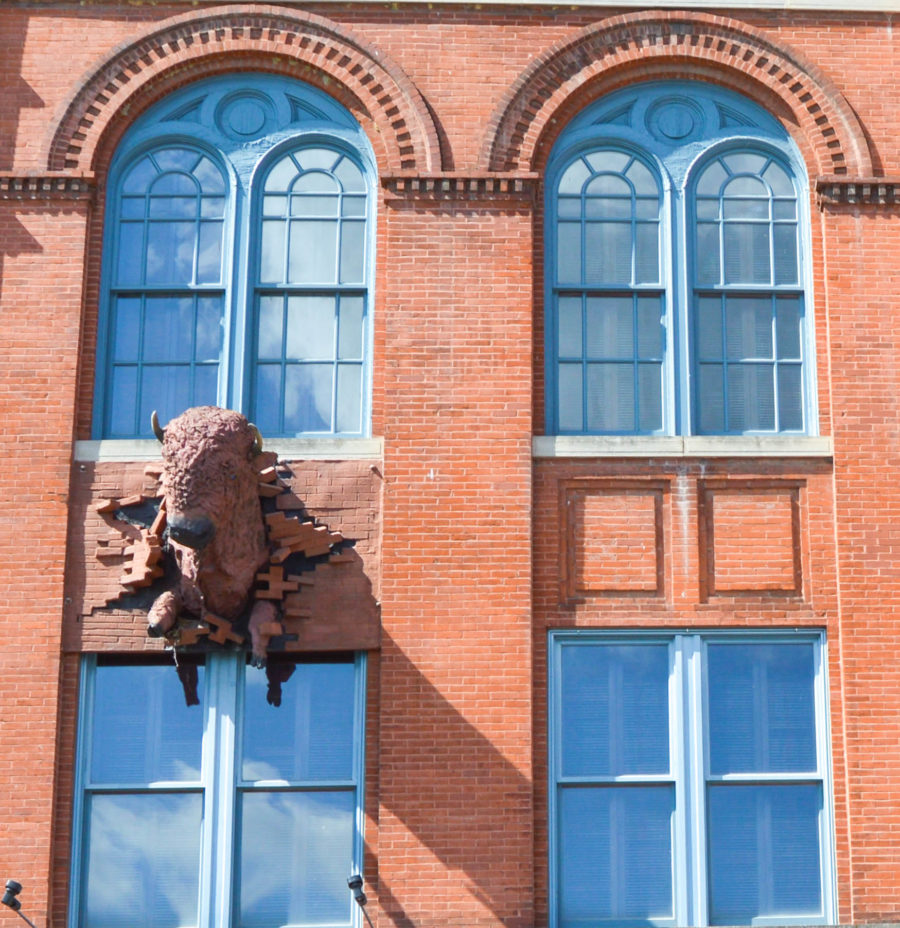 Go Mural Hunting
The murals in Corning are part of an Alley Art Project through the Rockwell Museum. The Rockwell Museum partnered with local high school students to create murals inspired by the artwork at the museum. You can even see some of the murals from the upper deck of the Rockwell Museum. I took to the alleys in search of some of the murals. While there are murals scattered around Corning, many are located right in the Gaffer District. The murals added some vibrance to the otherwise drab alleyways.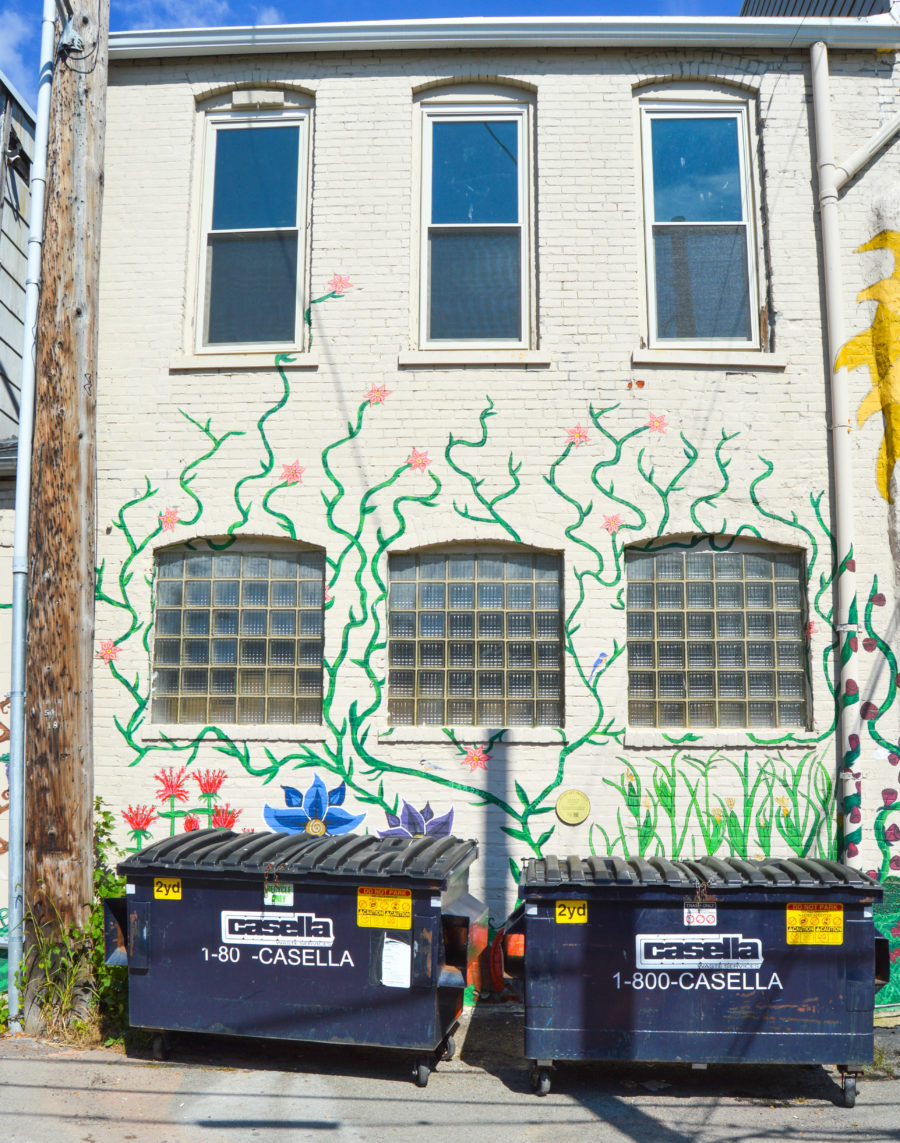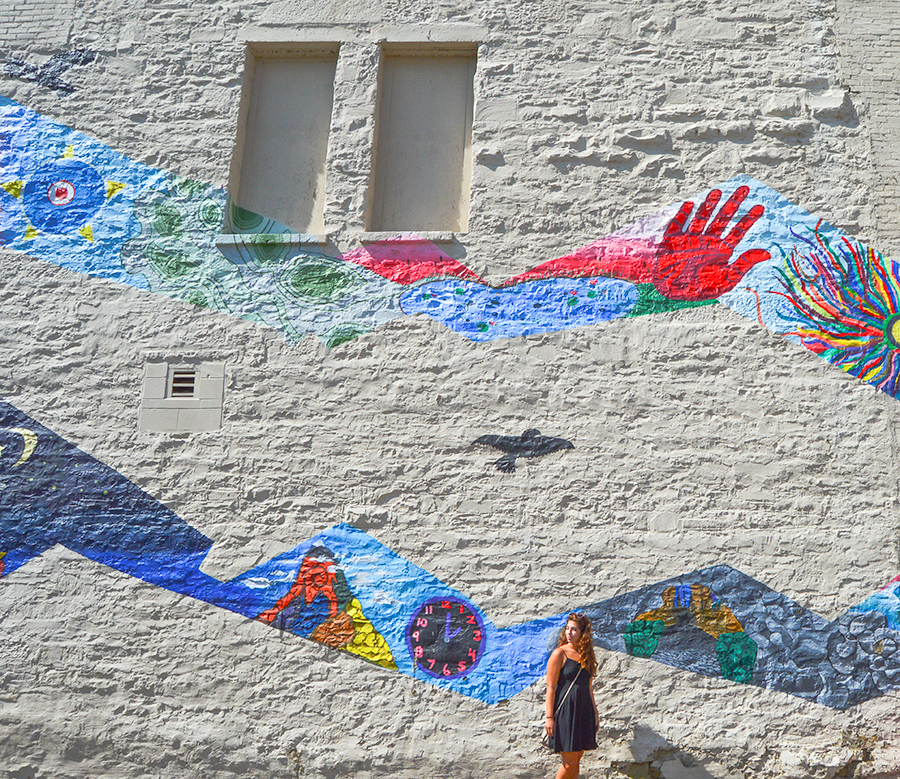 Relax in Centennial Park 
Between museum hopping and strolling through the Gaffer District, take some time to relax in Centennial Park. Centennial Park, overlooking the Chemung River is a nice place to have a picnic or take a walk. Visiting Centennial Park is a great thing to do in Corning as it allows you to appreciate the landscape of the Southern Finger Lakes. Spending some time in Centennial Park is a great outdoor thing to do in Corning.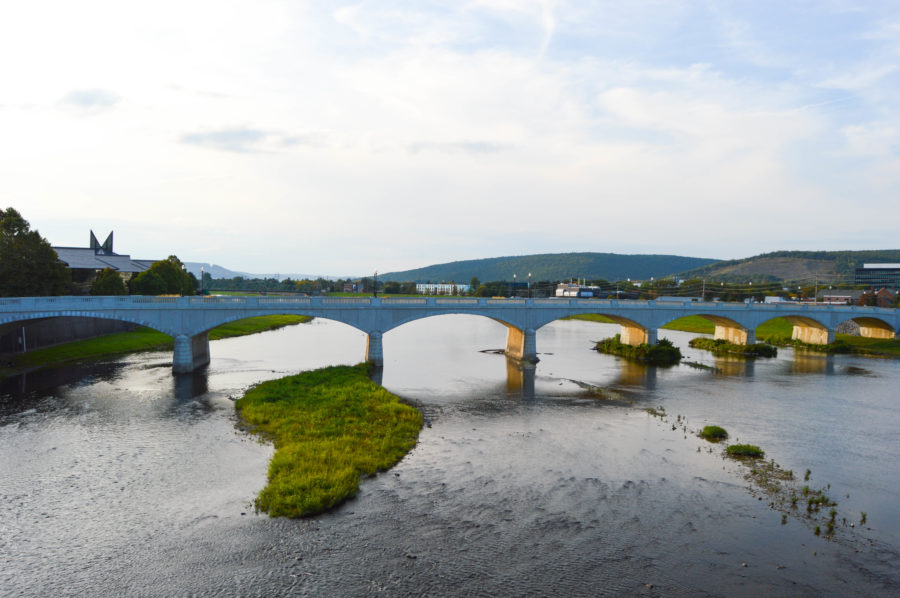 Happy Hour at Market Street Brewing Company
Great beer and great people can be found at Market Street Brewing Company. Upon entering the brewery, I noticed that Market Street Brewing Company had a combination of both "cool brewery" and "neighborhood hang out" type of vibe.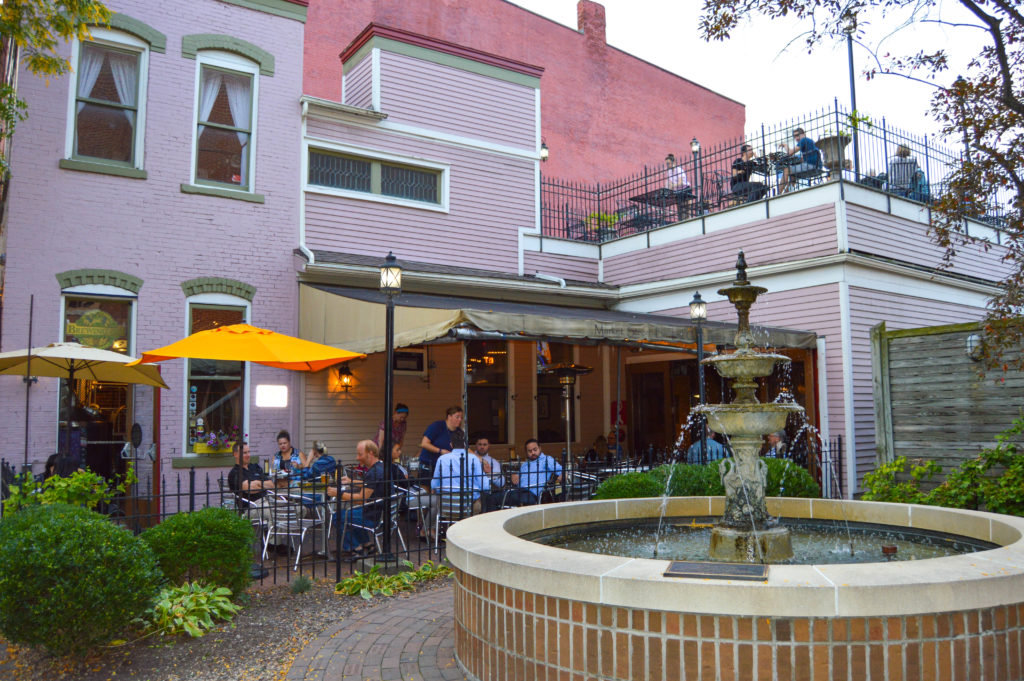 We got flights to sample the various beers from Market Street Brewing Company. My favorites include the Blackberry Lager and the Wrought Iron Red Ale. The Blackberry Lager is a light beer with notes of blackberry, and the Wrought Iron Red Ale has a full yet smooth flavor. Typically I am not an IPA drinker yet the Wheelhouse IPA was pleasantly surprising. The Wheelhouse IPA didn't linger on the tongue or have an aftertaste that I tend to experience with IPAs.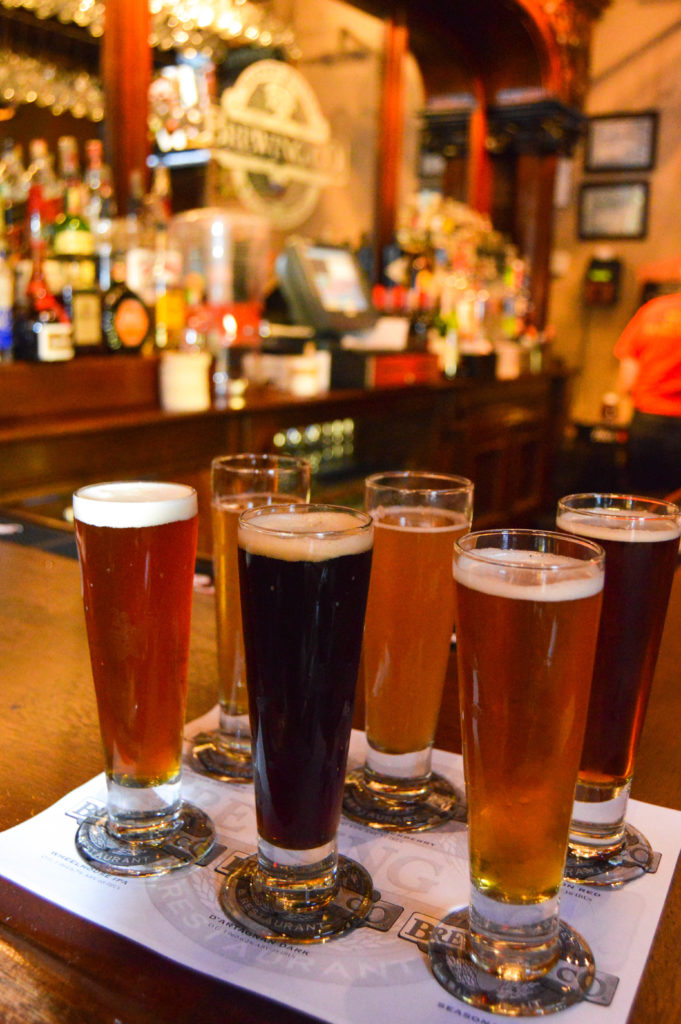 If you are looking to visit more breweries, here are some others in Corning, New York:
View Little Joe Tower
Little Joe Tower is the symbol of Corning. The tower was originally used to create glass thermometer tubes, using gravity. The hot glass was pulled 196 feet up the tower, then it was cut and cooled to length. Now, however, Little Joe Tower stands as a landmark of Corning. The gaffer illustrated on the side of the tower symbolizes Corning's glass-making status. The best view of Little Joe Tower can be found across the pedestrian bridge.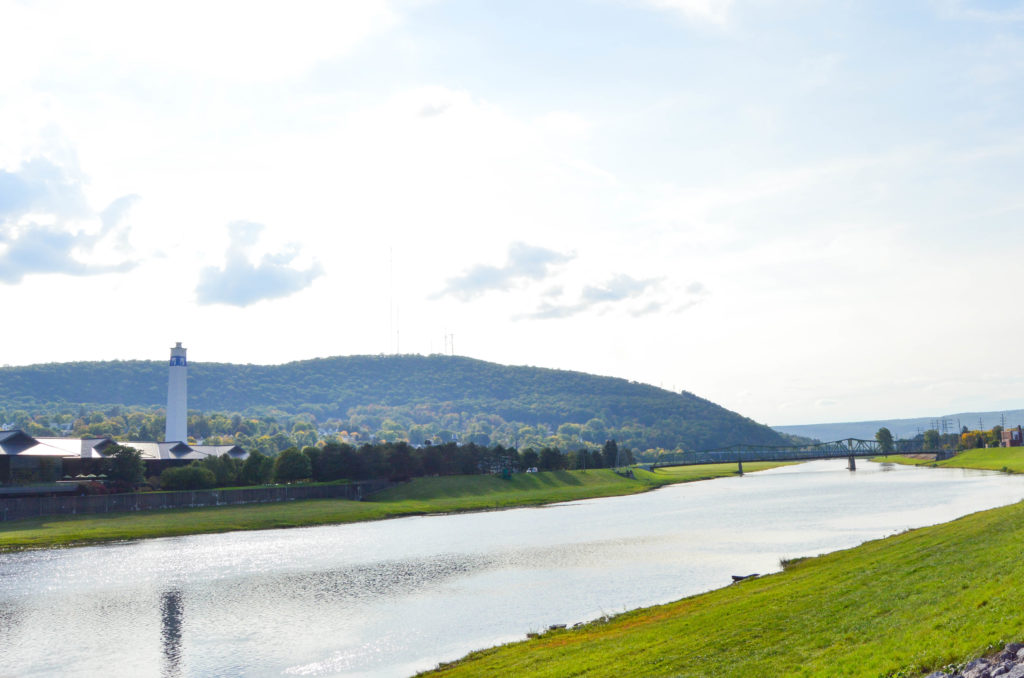 Head to Keuka Lake
While visiting Corning, New York, you may want to plan for some extra time in the area to spend an afternoon or day on the lake. I loved visiting Keuka Lake during my visit to Corning. It only takes about 35 minutes to get to Keuka Lake from Corning, making it an easy addition to your trip. Once at Keuka Lake, you can partake in water activities, such as paddleboarding and kayaking. This is one of the best things to do near Corning NY.
There are so many things to do on Keuka Lake, including visiting wineries and even taking a seaplane over the lake. You could definitely plan a whole day on the lake, or add a night in the town of Hammondsport, so you have more time to enjoy the lake activities.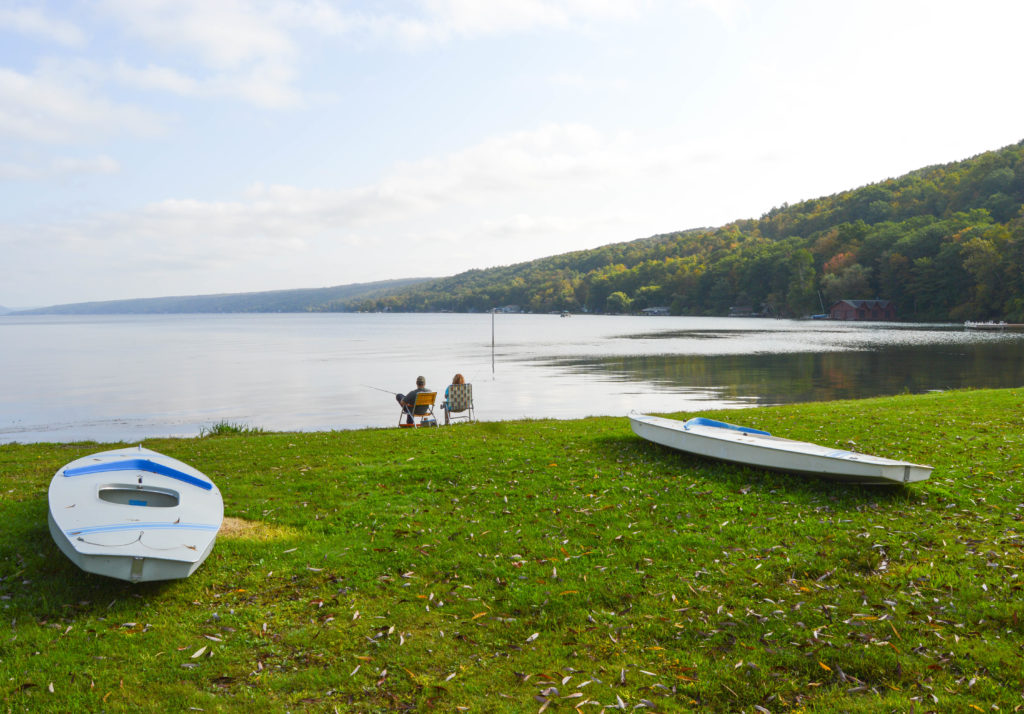 Other Things to do in Corning New York
If you have extra time and are looking for some more activities in Corning, check out these additional things to do in Corning. 
Go Hiking at Spencer Crest Nature Center 
You don't need to venture far from Corning to enjoy the great outdoors. The Spencer Crest Nature Center is located within the Greater Corning area, less than a 10-minute drive from downtown Corning. This park offers 7 miles of trails for activities such as hiking, snowshoeing, and x-country skiing. The Spencer Crest Nature Center is one of the best outdoor activities in Corning.
Step Back in Time at the Heritage Village
Visiting the Heritage Village of the Southern Finger Lakes is one of the more unique activities in Corning. Your visit to the Heritage Village allows you to step back in time and learn about life during the 1800s in the Finger Lakes. While I did not have a chance to visit during my trip, the Heritage Village seems like a great, hands-on way to learn more about the history of the region. 
Where to Eat in Corning
Corning is one of those places where the "where to eat" column is as long as the "things to do" column. While there is a lot to do in Corning, a big part of my trip was the food! There are so many amazing places to eat, drink and devour in the Historical Gaffer District. After eating and drinking my way through this small city, I can say that Corning has a great food scene.
Market Street Coffee & Tea
The first thing I searched for when I arrived in Corning was coffee. Coffee tends to be on the top of my list. I first stopped into Market Street Coffee & Tea, the air lingered with the scent of freshly roasted coffee beans. Market Street Coffee & Tea offered freshly brewed self-served coffee. This is a no-frills type of coffee shop.
Soul Full Cup Coffeehouse 
Down Market Street is Soul Full Cup Coffeehouse. The charming name and exterior beckoned me into the cafe. There was a wide array of types and flavors of coffee. I ended up with the iced-chai latte, perfect for the warm Fall day. Soul Full Cup has a cool and cozy atmosphere, perfect for an afternoon hang-out spot.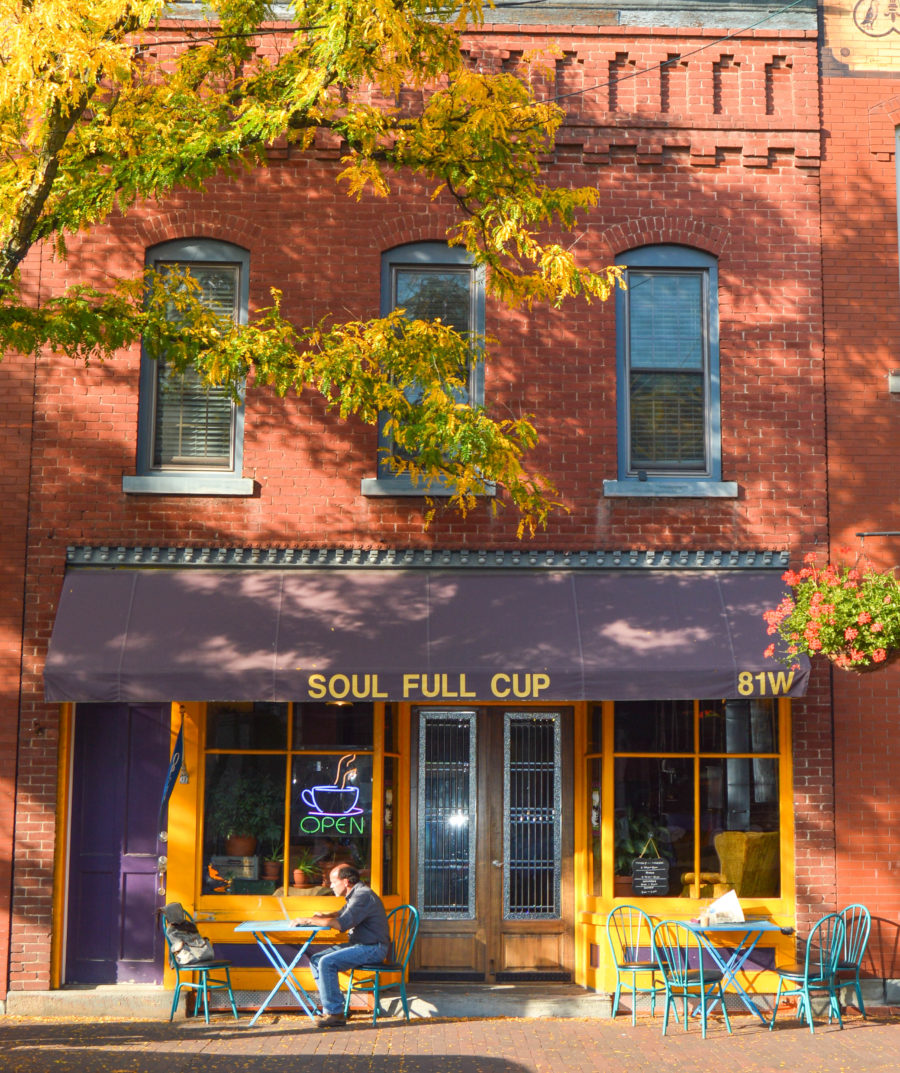 Hand + Foot
The ambiance at Hand + Foot was very hospitable with its cozy corners adorned with velvet furniture, high top tables, and exposed brick elements.  I loved the community table set up, it made for a very inclusive and cozy atmosphere.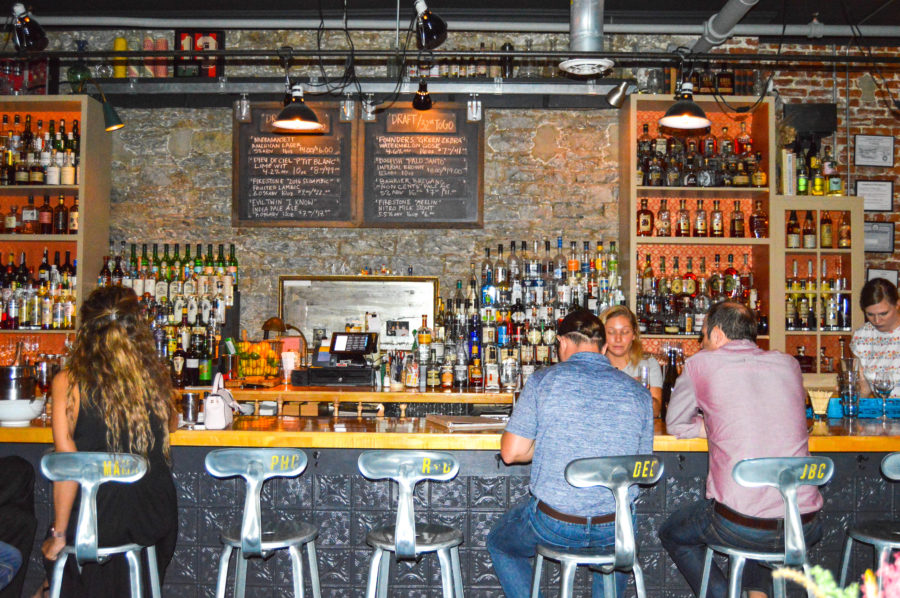 We had a chance to talk with the owner, who told us a little back story on the restaurant. He told us that the name came from the card game "Hand + Foot" that his family played growing up. The game fostered a sense of community within his family which he wanted to extend to his restaurant.
I appreciated passion in the quality of food sold at Hand + Foot. They believe in sourcing the best ingredients, whether they be local or far-flung. The menu is a reflection of the high-quality ingredients. Hand + Foot has a seasonal menu that is subject to change. We started off with the pretzel, the artichoke, and tostones. The pretzel has local sharp cheddar melted over it and is the perfect comfort meal. I felt that the artichoke was almost too beautiful to eat. The tostones with their chili-garlic aioli were my favorite thing I ate at Hand + Foot.  The flavor-packed a punch!  For my main dish, I choose the poke with seared ahi tuna and watermelon radish. It was a refreshing entrée after our dense appetizers.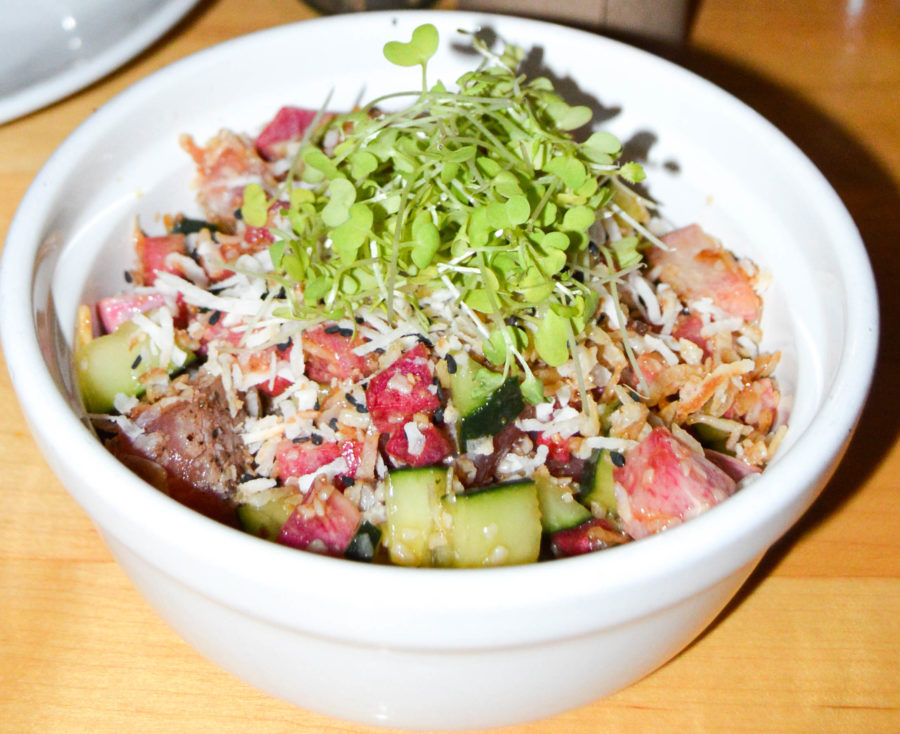 The Cellar
The Cellar is the perfect place for those looking for upscale food without an uptight atmosphere. I was surprised by how casual the atmosphere felt for a place with such a comprehensive menu. With 40 varieties of wine by the glass and over 100 by the bottle, The Cellar is a good spot to stop for tapas and drinks. However, I focused my attention on the food rather than the drinks. Everything was so good that we had no issues clearing our cheese board and the calamari appetizer. In addition to our standard cheese, we even tried some vegan cheese. I went for the Day Boat Sea Scallops for my entrée. The scallops came with cornbread and creamed corn which was a unique, home-style take on scallops. This is one of the best restaurants in Corning.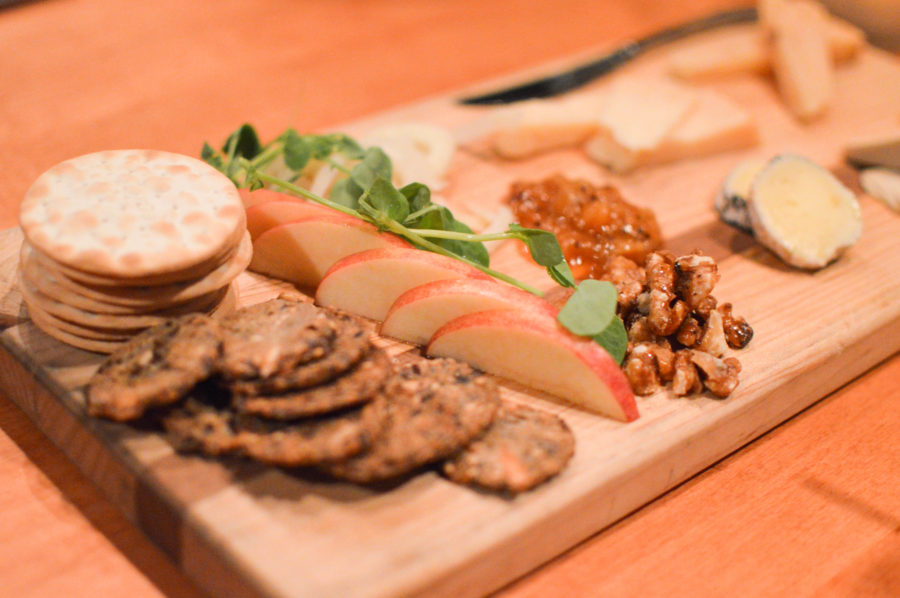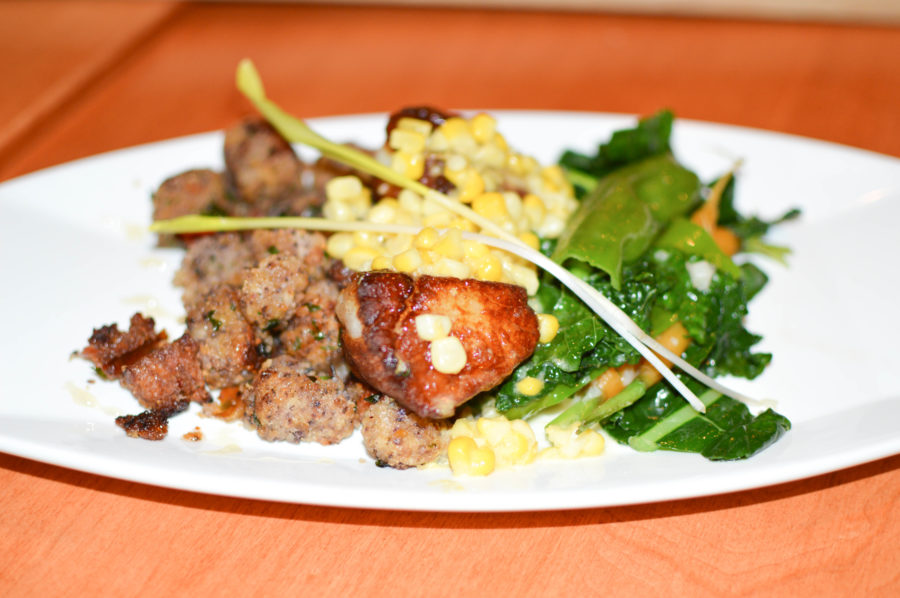 Dippity Do Dahs
After hearing that Dippity Do Dahs sells handcrafted ice cream, I was sold. We all but ran down Market Street after dinner to make it to Dippity Do Dahs before it closed for the evening. There are so many flavors that narrowing down your selection is no easy feat. Everything looked so good! Aside from the signature flavors, Dippity Do Dahs has specialty flavors that are inspired by the seasons. I had a tough time deciding between a classic or a Fall flavor. Finally, I settled on the Chocolate Explosion.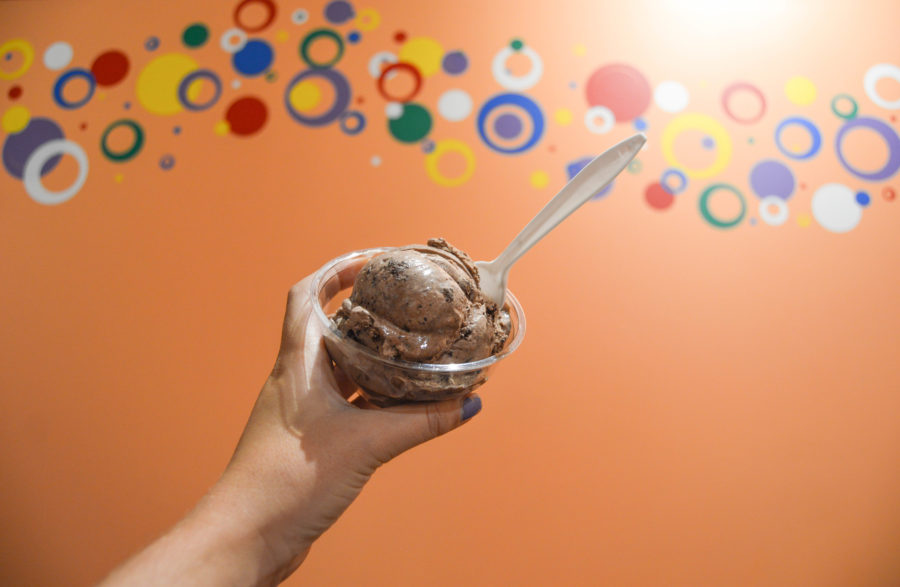 Corning NY Hotels
If you're spending the night in Corning (which I totally recommend), check out these hotels!
Hilton Garden Inn Corning Downtown
The Hilton Garden Inn Corning Downtown is the top-rated hotel in Corning, and for good reason. This hotel is in a prime location, within a short walk from the Corning Museum of Glass.
Radisson Hotel Corning
The Radisson Hotel Corning is located at the edge of the Gaffer District, making it walkable to all the shops and restaurants in Corning. This is an ideal hotel, location-wise if you want to be easily able to walk for meals.
Things to do in Corning NY Wrap Up
Corning is certainly a worthwhile place to travel to in New York. While there are various things to do in Corning if you can only do one thing on your visit, be sure to go to the Corning Museum of Glass. Doing the glassblowing was by far one of my favorite activities in Corning!
Depending on where you are visiting Corning from, you can plan a day trip or weekend getaway. Yet, I would recommend planning a longer trip in the Finger Lakes to explore nearby gems such as Watkins Glen State Park and visiting the Finger Lakes wine region.
Come Join My Journey was hosted by Corning and the Southern Finger Lakes, however, my opinions are as always my own.
Originally published: Oct 4, 2017, has since been updated