Nashville is one of the best destinations in the US for a girls getaway. This city is a well-known bachelorette party destination. Yet, you don't need to be in a party mood to visit music city with your girls. A Nashville girls weekend is just what you need if you are looking for some quality time with your friends in a popular US destination. This Nashville itinerary will ensure that you have the best weekend getaway.
Nashville Itinerary: Girls Weekend
Day 1: Friday
Upon arrival in Nashville, you should get a taste of what music city is all about. Spend some time in Downtown Nashville to soak in the music and bar scene.
Printers Alley
Stroll through Printers Alley, which is a historic spot in Nashville. Printers Alley was once home to the printing and publishing industry in Nashville. Now, this small street is home to some of the best nightlife in the city. Printers Alley makes a great photo spot to showcase that you are on a Nashville girls weekend getaway.
Broadway
Nashville's Broadway Street is the place to go if you are looking to have the iconic Nashville experience. Here you will find Honkey-Tonk bars and great live music. Head to Acme Feed & Seed to take in the excitement from the rooftop bar. The rooftop bar at Acme Feed & Seed offers an incredible view and is a great way to commemorate the start of your Nashville girls getaway. Depending on when you arrive in Nashville, you may be ready for dinner and Acme Feed & Seed has a wonderful menu as well. If you and your friends are ready for a wild night out, you may consider staying out on Broadway for the rest of the evening.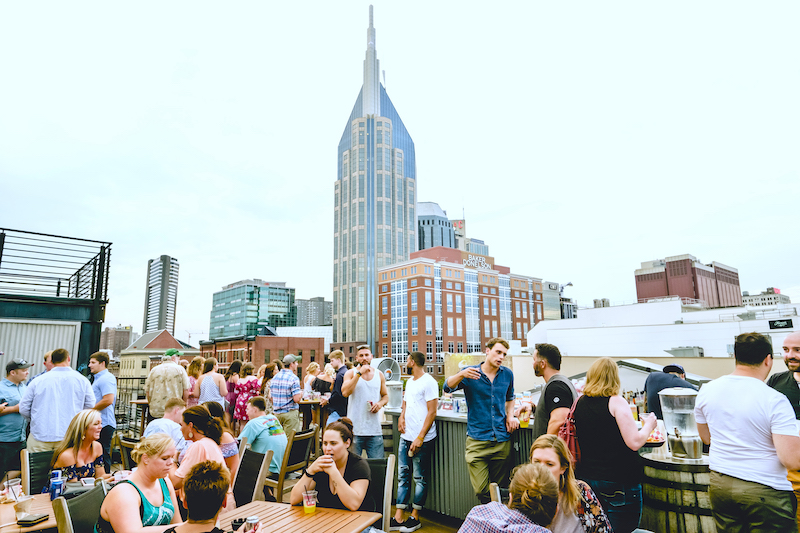 Pinewood Social
If you're looking for a more low-key girls getaway, head to Pinewood Social after checking out Broadway Street. Pinewood Social is a trendy bowling alley meets restaurant in Nashville and is the perfect spot to spend quality time with your friends.
Day 2: Saturday
For the first full day in Nashville, you will want to spend some time checking out some of the major tourist spots in the city.
Liberty Common
You don't want to start your day on an empty stomach. Head over for brunch at Liberty Common or one of the other great brunch spots in Nashville. Keep in mind, you will need reservations for most restaurants in Nashville. If you don't get a reservation, be prepared to wait in line. Liberty Common is a great spot to get brunch on a Nashville girls getaway. This restaurant is best described as a French Bistro with a Southern flair. The interior is decorated beautifully and is extremely Instagrammable. And the food is delicious. Try a Southern classic, such as chicken biscuits or go for some French pastries.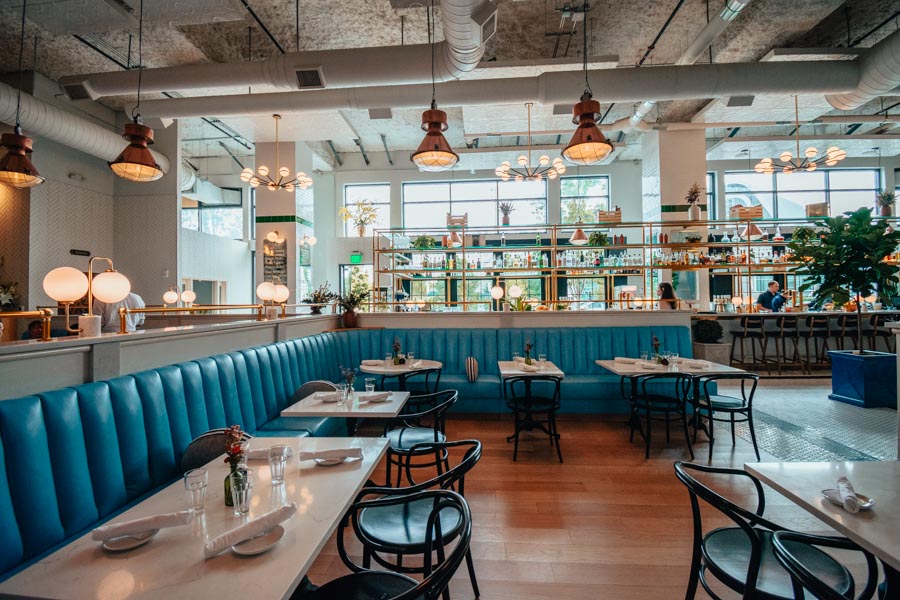 The Gultch
Head over to the Gultch, and upscale neighborhood in Nashville with is home to the very insta-famous "what lifts you mural". This is a great spot to get some fun photos in Nashville. There are a few other great murals in this are that are worthy checking out too!

Parthenon
Spend some time in Centennial Park, where you will find the Parthenon. The Parthenon in Nashville is a full scale replica of the original one in Athens. This is a great spot to spend some relaxing time in the park with your friends and to see one of the most unique spots in Nashville.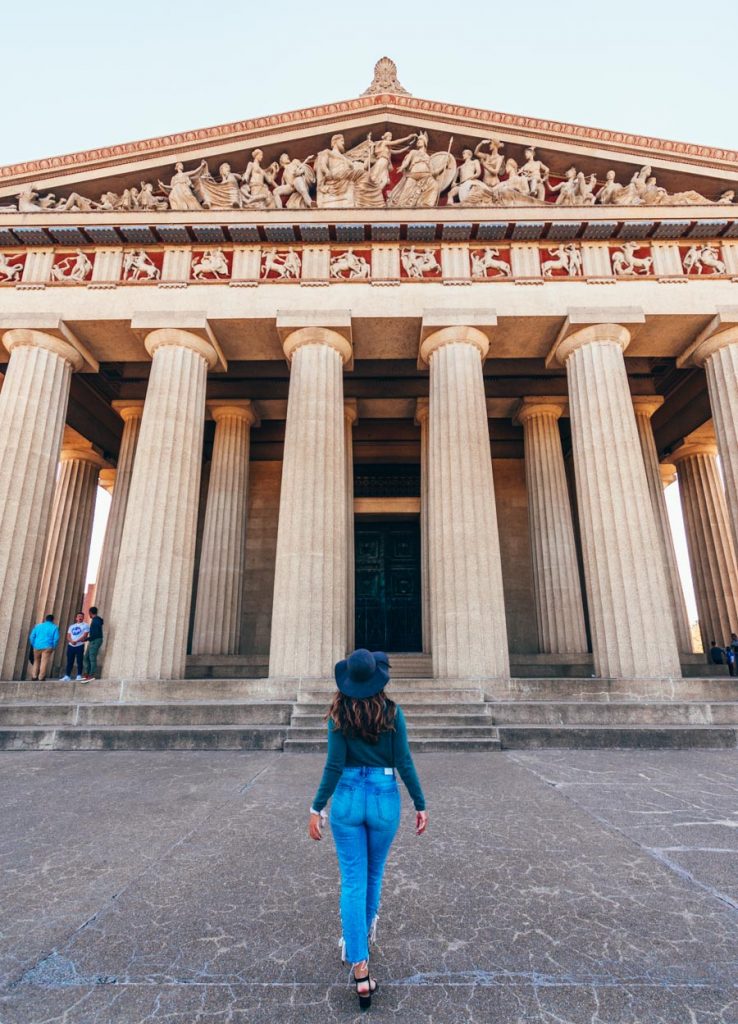 Gaylord Opryland Resort & Convention Center
Yes, the next stop on your girls' getaway to Nashville itinerary is a hotel. Yet, the Opryland Resort and Convention Center isn't any ordinary hotel. The Opryland Resort is located next to the Grand Ole Opry and is massive. Walking through the beautiful atriums feels like you are walking through a Disney park. The Opryland Resort features a canal that flows around the atrium, waterfalls, and an adorable shopping and dining area. Tip: You can find free parking at the Opry Mills Mall parking lot near the Regal Cinemas entrance.
You can even check out the nearby Grand Ole Opry and take the Grand Ole Opry Backstage Tour, which is one of the best museums in Nashville.
John Seigenthaler Pedestrian Bridge
Head over to Cumberland Park, a riverside park in Nashville. The park itself has an incredible view, yet for the best view in Nashville, walk along the John Seigenthaler Pedestrian Bridge. Make sure to arrive at the Pedestrian Bridge around sunset, as this is one of the best sunset spots in Nashville. There's nothing better than a great sunset spot to soak in your trip.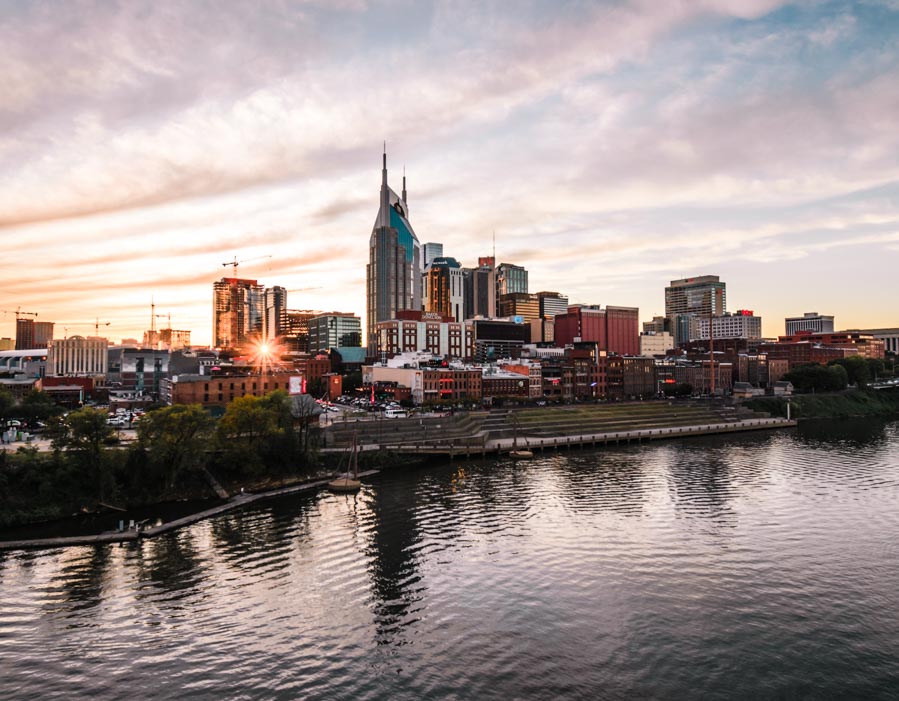 Dinner at SILO
After a long day of exploring, you deserve a delicious dinner. SILO is the perfect spot to come on a Nashville girls' weekend. This upscale Southern bistro has a fantastic menu, including a list of small sharable plates. These small plates are perfect for sharing with a group of friends as they allow you to try a little of everything. SILO has a sophisticated ambiance with an affordable menu. It is the type of restaurant that makes you feel like you are treating yourself without blowing your budget.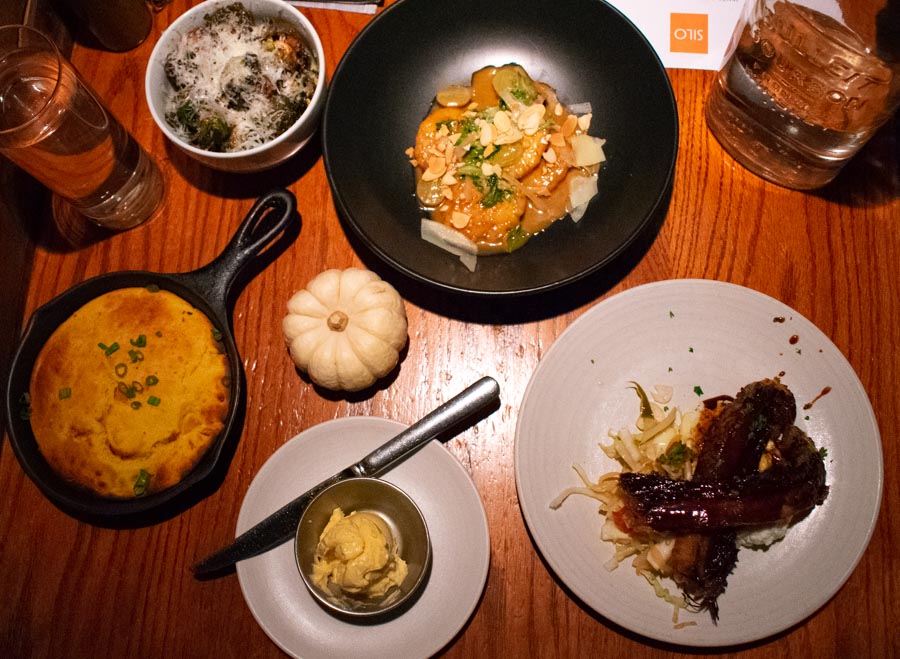 Day 3: Sunday
Spend your last day in Nashville having a proper girls' day, including checking out the most photo-worthy spots and eating food so delicious it will leave you drooling to come back to music city.
Five Daughters Bakery
Start your day off on a sweet note with donuts from Five Daughters Bakery. This donut shop, located in the trendy 12 South neighborhood of Nashville is extremely popular. There will be a line as soon at it opens, yet trust me, it is worth the wait.
12 South
Spend some time walking around the 12 South neighborhood, which is full of cute shops and Instagrammable murals. Here you will find some well-known shops including Draper James and White's Mercantile. Keep an eye out for iconic murals such as the "I Believe in Nashville" mural. For a full list of the best spots in 12 South, check out the Most Photo Worthy Spots in Nashville post!
Nashville Farmers Market
Nothing says girls' weekend more than a farmers market. The Nashville Farmers Market is a really great spot to check out. Outside there are vendors selling fresh produce and hand-crafted goods. Step inside the Market House, where you will find various restaurants and shops. Spend some time checking out the various stalls. This is an ideal spot to have lunch with a group because there are plenty of types of restaurants to choose from and food court-style seating.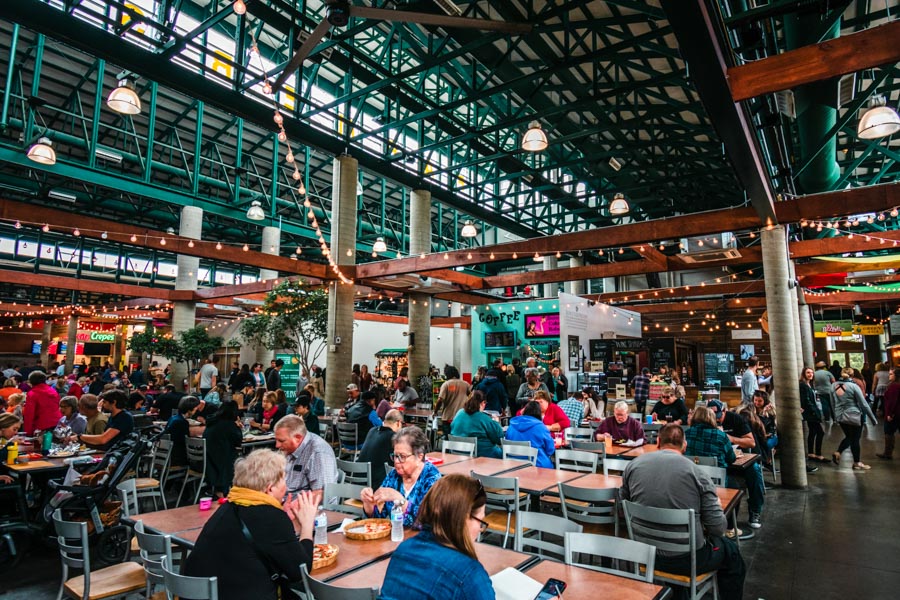 Depart Nashville / Extra Time in Nashville
After a fun Nashville girls weekend, it's probably time to hit the road or head to the airport. Alternatively, if you're spending one more night in Nashville, there a plenty other ways to spend your last day. If you are a Country Music fan, consider checking out the Country Music Hall of Fame. Other ways to spend your time include more mural hopping, hanging out in a cute cafe such a Cafe Roze or checking out the bar/music scene downtown. After a busy weekend, you may be looking for a relaxed dinner spot. Head to Five Points Pizza, which is the best pizza place in Nashville and a great spot to go with friends.
Mural Hunting
Cafe Roze
Five Points Pizza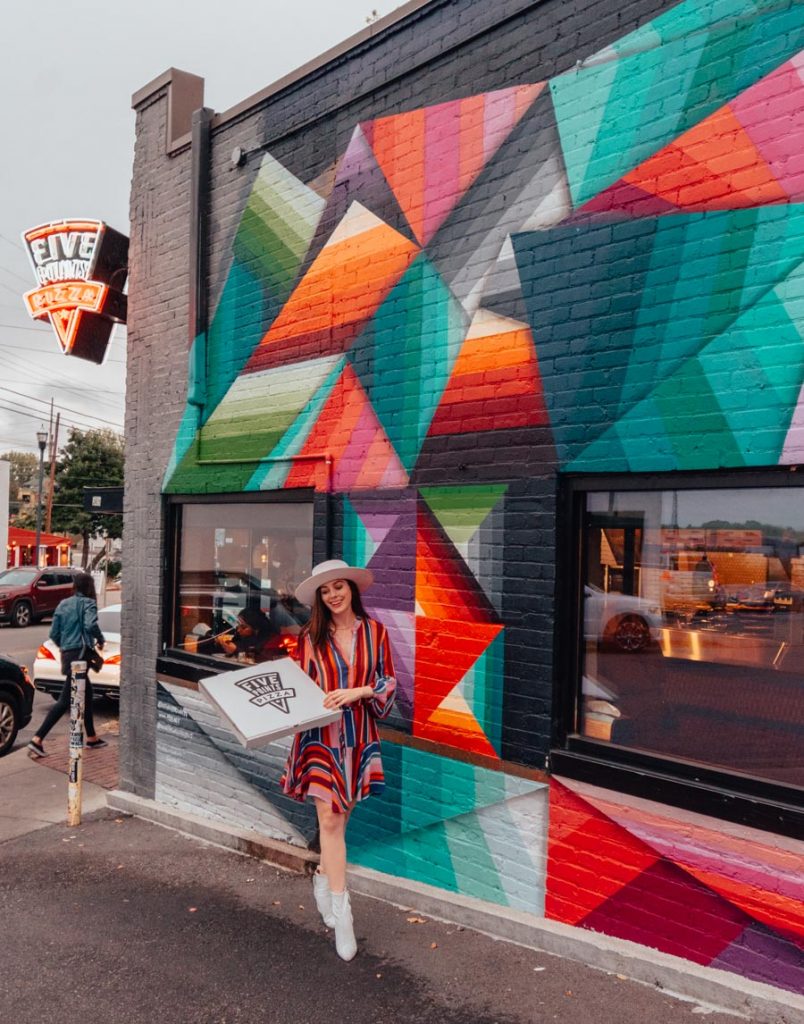 Nashville Girlfriend Getaway – Where to Stay 
There are plenty of fantastic hotels to stay in Nashville. To make the most of your time, book a hotel in Downtown Nashville.
Hilton Nashville Downtown
The Hilton Nashville Downtown is located in the heart of Broadway Street. This is the perfect place to stay if your group is planning to check out the honkey tonk bars on Broadway. Book now!
Moxy Nashville Downtown
The Moxy Nashville Downtown is a great budget alternative to the Hilton. This hotel is located just steps off Broadway Street. Book now!
Union Station Hotel Nashville, Autograph Collection
The Union Station Hotel Nashville is one of the most unique places to stay in Nashville. This hotel is located in a former train station. While this hotel is located on Broadway Street, it is further away from the bar scene, making it a quieter spot to stay. Book now!
Gaylord Opryland Resort & Convention Center
While Gaylord Opryland Resort & Convention Center is not located in Downtown Nashville, it is certainly worth including. This resort is a destination in itself and a great place to stay, especially if you are interested in country music. The Gaylord Opryland Resort is located next to the Grand Ole Opry. Book now!