Olcott NY has been one of my favorite little local getaways for years. Of all the towns I've visited along the Great Lakes in New York, Olcott by far has the most beachy vibe. This small town on Lake Ontario is full of charm. From colorful shops to a vintage amusement park, Olcott NY has everything you could want for a fun summer getaway.
---
You May Also Be Interested In:
Niagara Falls: Cave of the Winds
---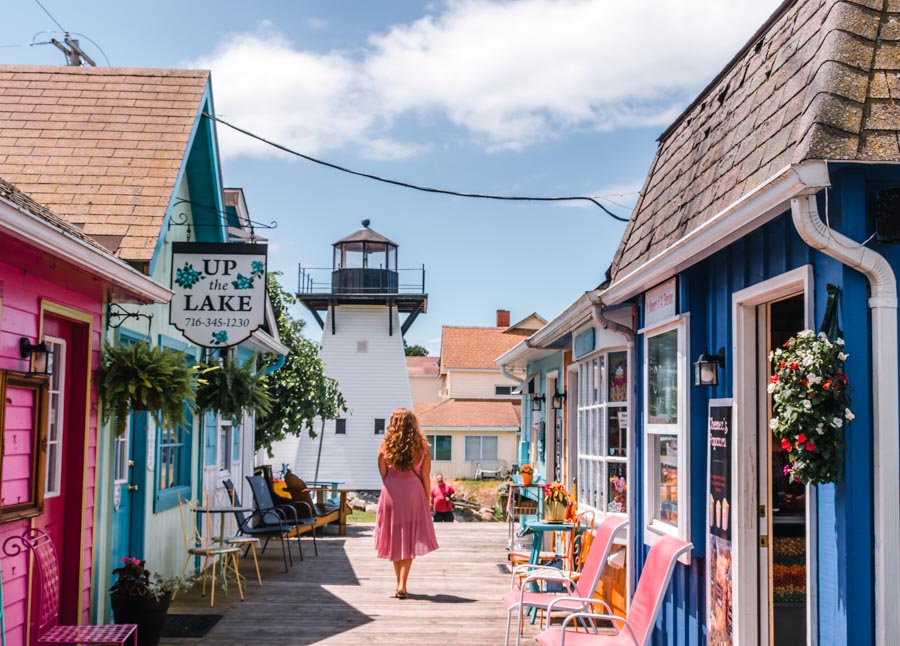 Where is Olcott
Olcott is a small hamlet of Newfane, New York situated along Lake Ontario in the Buffalo-Niagara Region. Its location makes Olcott a great day trip destination. Olcott is located within an hour's drive from Niagara Falls, Buffalo, and Rochester.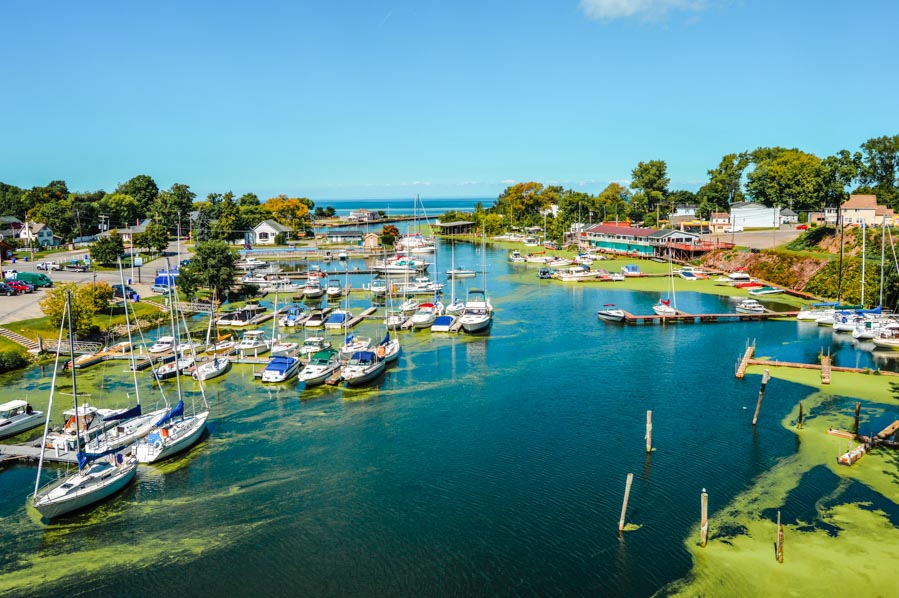 When to Visit Olcott
The best time to visit Olcott, NY is in the summer and during the weekends in early fall. The Lakeview Village Shoppes are open daily from Labor Day to Memorial Day and on weekends in September and October. Also, most of the events and entertainment are only available is during the summer months. 
There's not much to do in Olcott during winter and early spring, as not everything is open. And it can be quite cold to walk around during these months as the water temperature of Lake Ontario creates a blistering cold breeze.
That being said, I have visited during the spring. While not everything is open and it can be quite breezy, it was a nice spot to walk around without any crowds. Additionally, spring is a prime time to visit if you want to take photos of Olcott.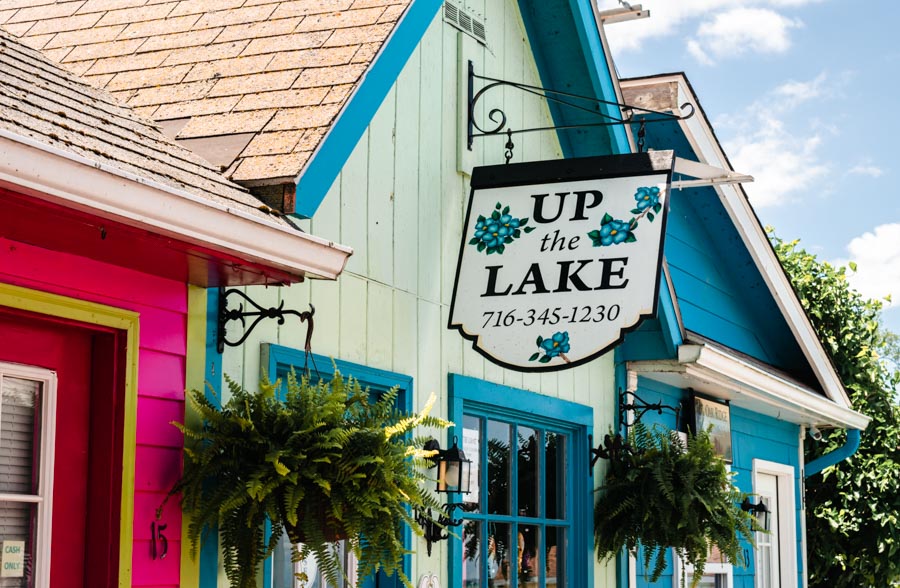 Points of Interest in Olcott NY
Olcott is less of a place to visit sites and more of an atmospheric destination. The best thing to do in Olcott is to simply soak in the charming lakeside atmosphere. While there are a few key points of interest in Olcott, prepare yourself for a day of relaxingly meandering through town and soaking up beachside views of Lake Ontario. That being said, don't miss these top things to do in Olcott,  New York:
Olcott Beach
Olcott is commonly referred to as Olcott Beach. And for good reason! The beach is what gives this town its allure. Yet you don't have to spend time lounging on the beach or swimming to enjoy Olcott's charm. However, be sure to spend some time checking out Olcott Beach; whether you are walking along the pebbled covered sand, spending an afternoon swimming, or taking in the views from the lakeside park.
In recent years, Olcott Beach has actually been closed for swimming quite often due to high water levels. Rather than planning a beach day in Olcott Beach, NY, intend to spend your afternoon enjoying the lake views and atmosphere.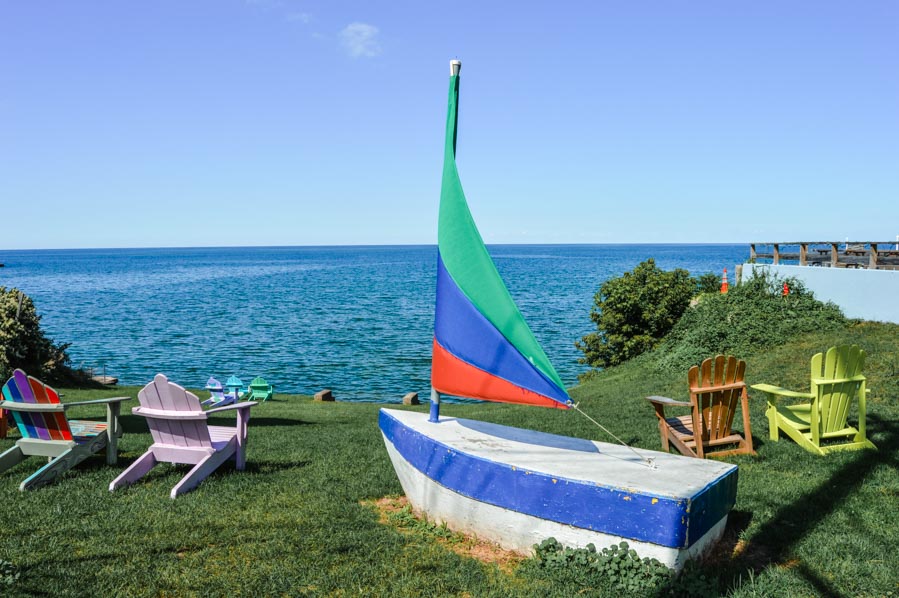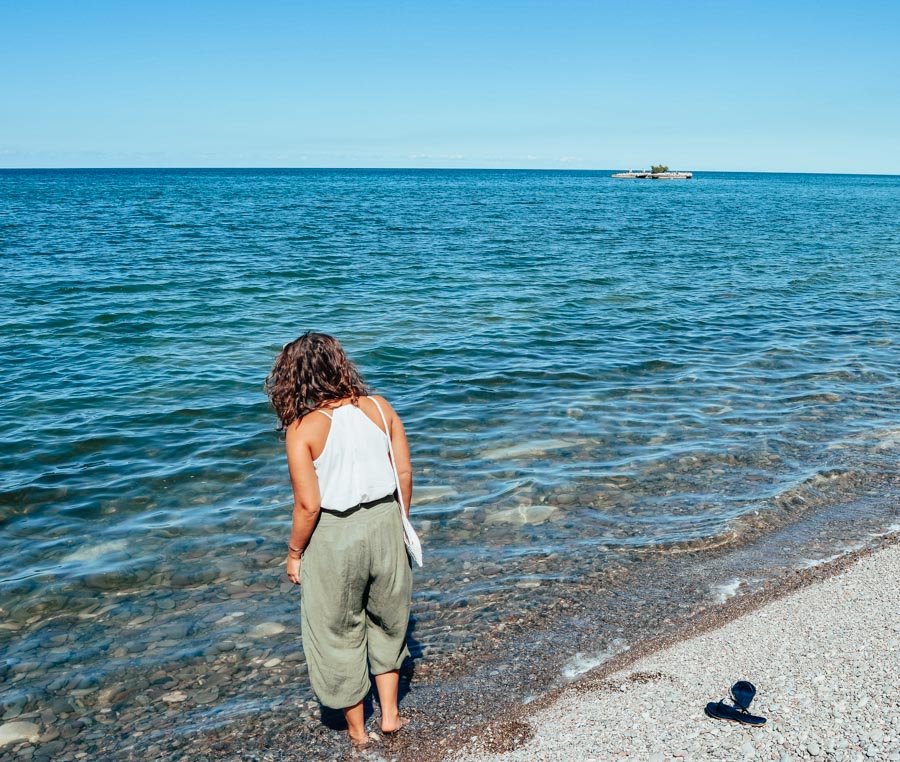 Olcott Beach Lighthouse is a tiny lighthouse located at the end of Olcott Pier. This lighthouse will be one of the first things you see when arriving in Olcott. It's located directly in front of the parking area and quite literally can not be missed.
While currently there is no practical use of this lighthouse, it is an exact replica of the original lighthouse that was built and in use in 1873.  The original Olcott Lighthouse was actually one of the first lighthouses in this area of Southern Lake Ontario.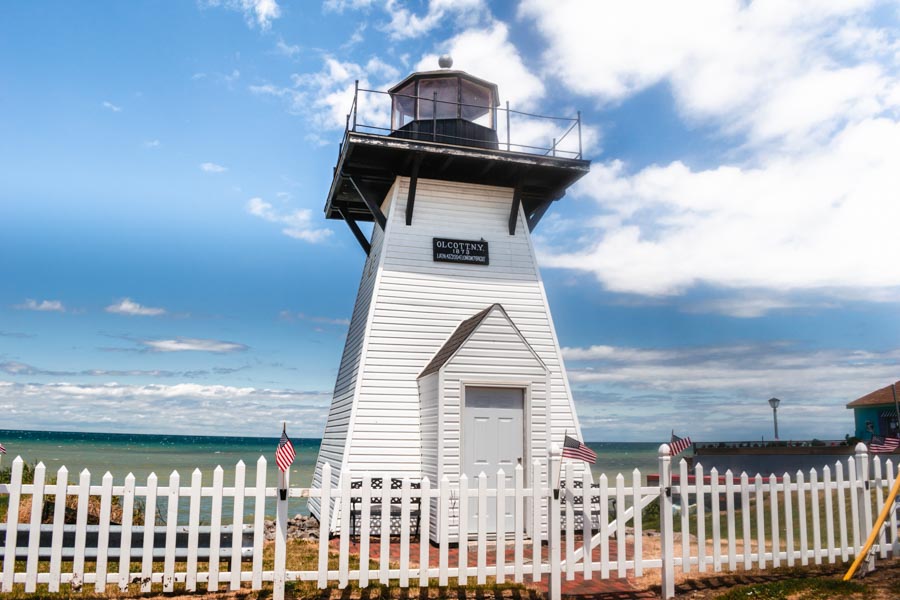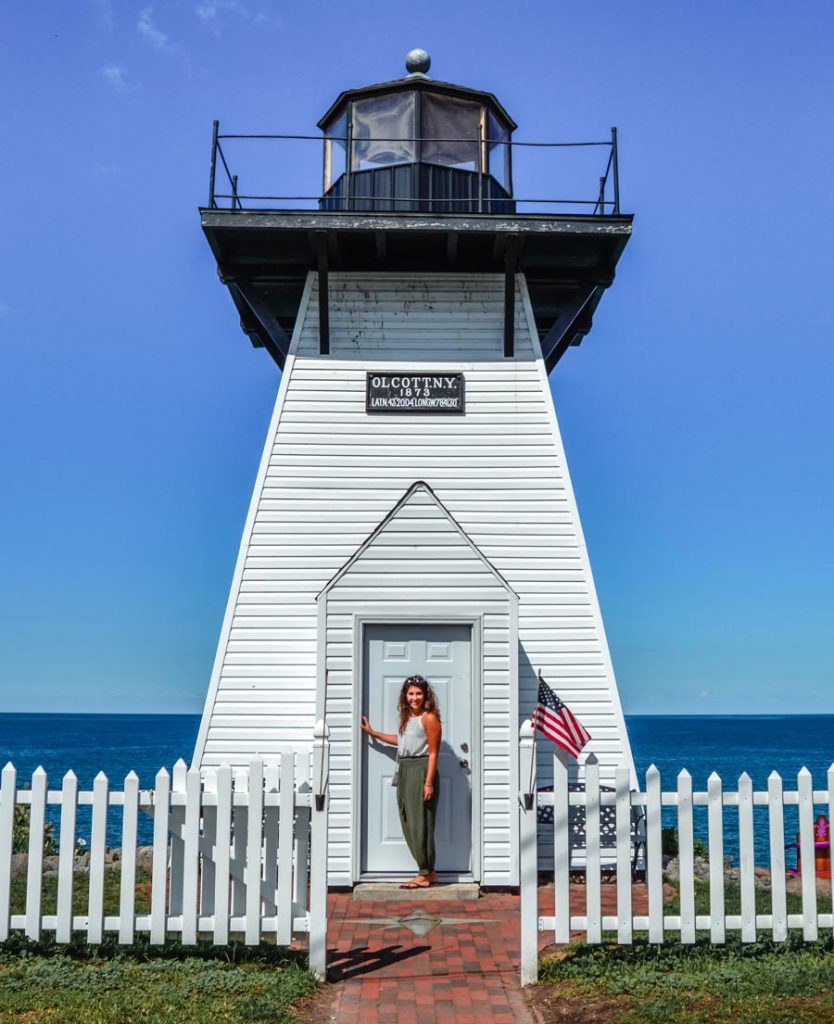 Lakeview Village Shoppes
Strolling around the Lakeview Village Shoppes is one of the best things to do in Olcott, New York. These shops are in colorful cottages that line the Olcott Pier. Not only is this spot picturesque, but the shops are also perfect for window shopping. You may even find something special to bring home with you. The stores range from beach-like souvenirs, an antique shop, a jewelry shop, and more.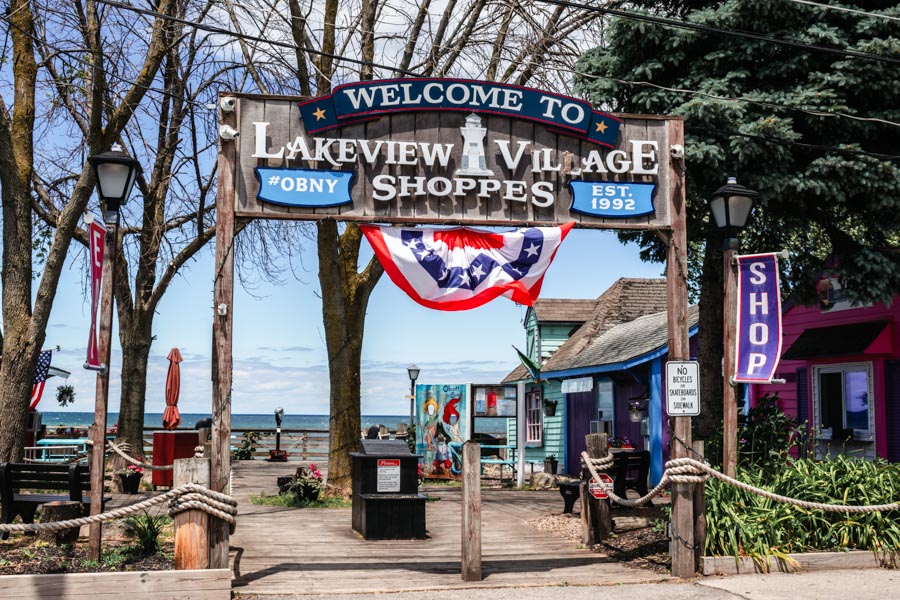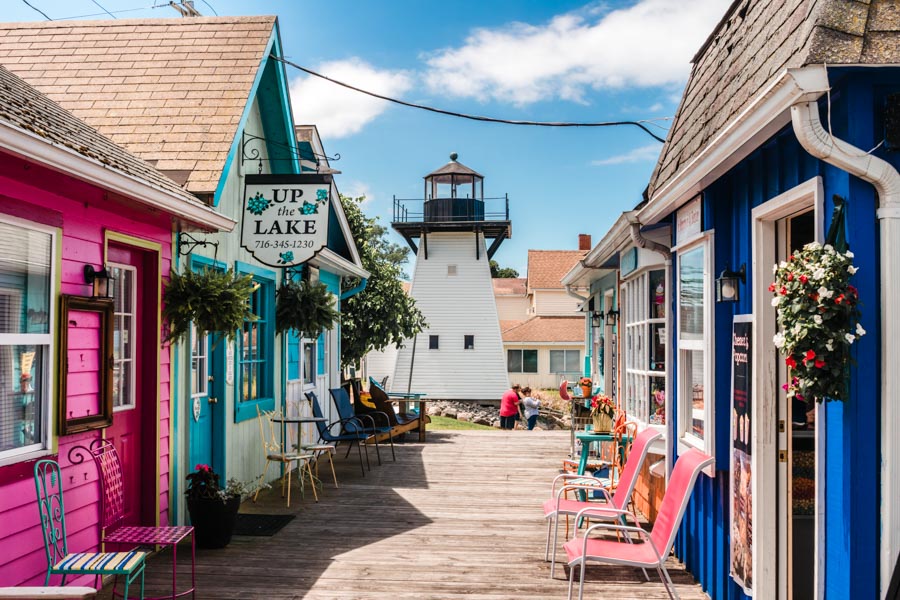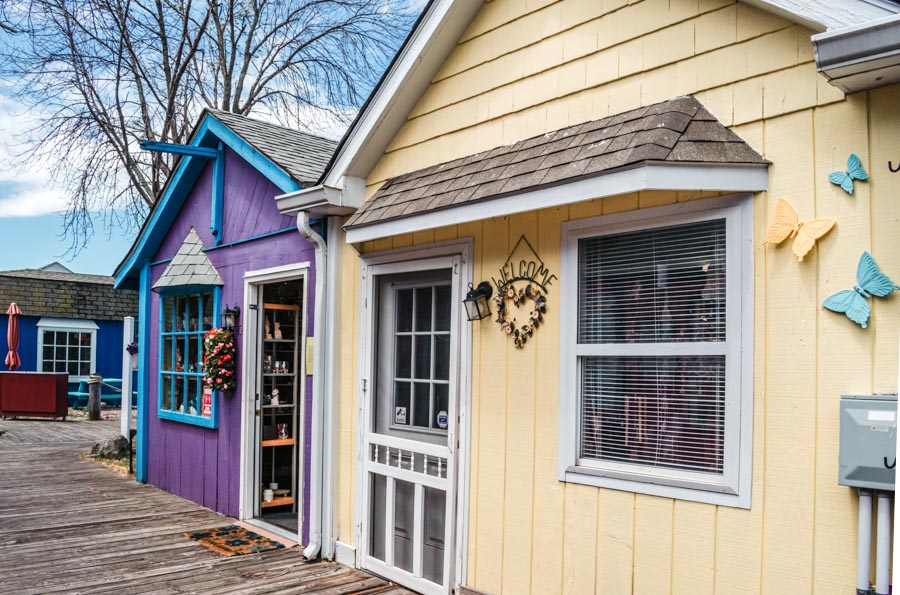 The best part about the Lakeview Village Shoppes is its location. The shops are located on the pier with views of Lake Ontario. With vibrantly painted Adirondack chairs, lake views and cute cut-outs for photo opts, this spot makes you feel like you're in a true vacation destination.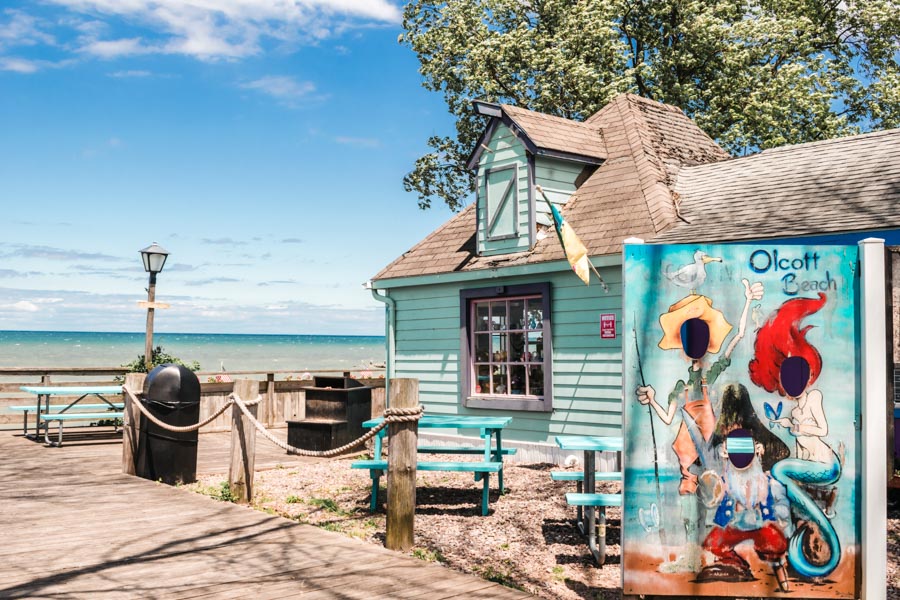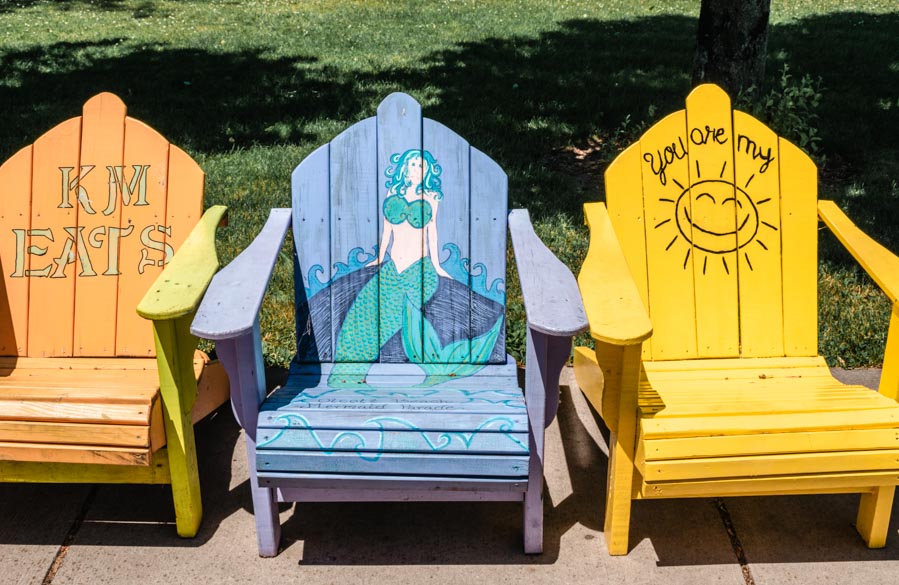 If you get hungry or need a little treat, stop at Lakeside Ice Cream in the shopping area. Here you can get creamy Perrys Ice Cream and standard quick eats such as hotdogs and hamburgers.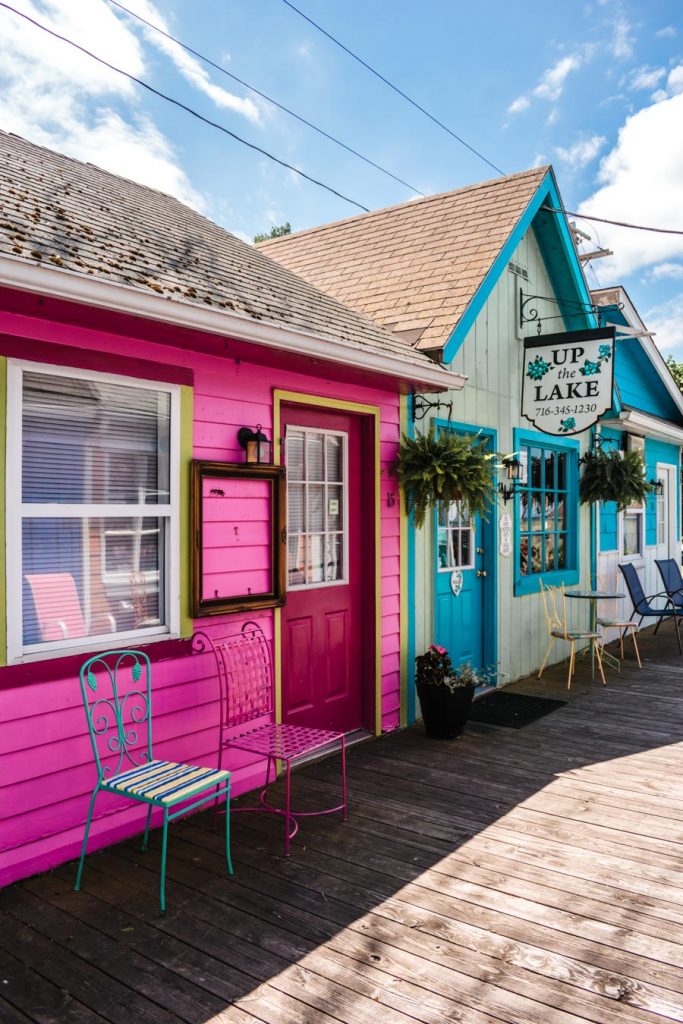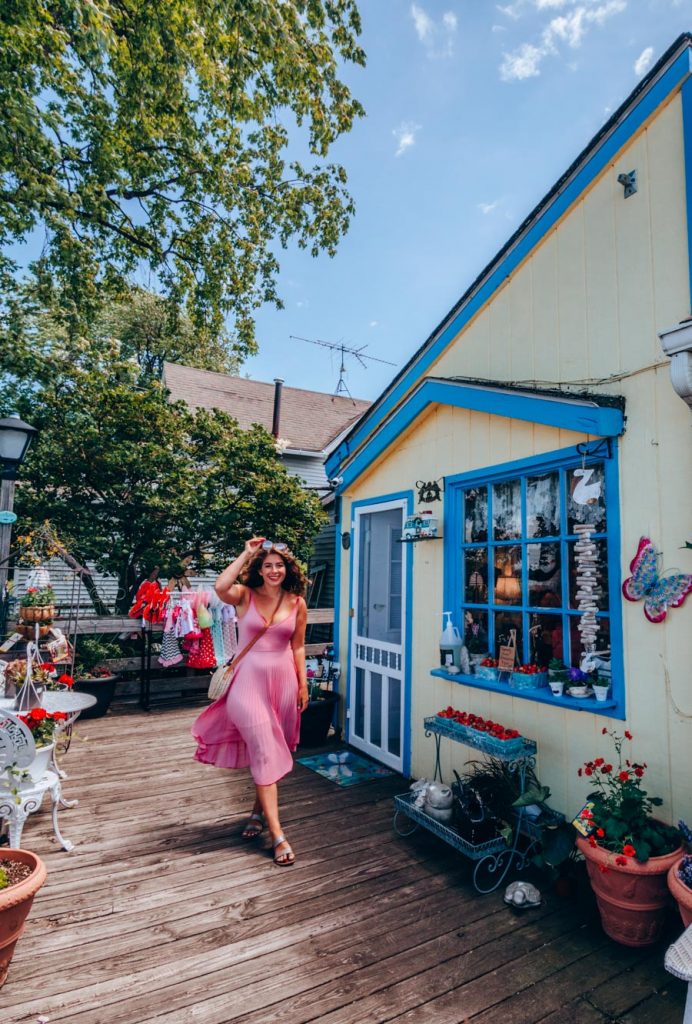 Olcott Beach Carousel Park
Olcott Beach Carousel Park is one of the most unique things to do in Olcott. This park is located just steps away from Olcott Beach and is full of vintage amusement park rides and games. Adults will love this park for its nostalgic atmosphere and children will of course enjoy going the rides.
Next time I visit, I think I'll have to take a ride on the vintage Hershell-Spillman Carousel or try my hand at some skee ball.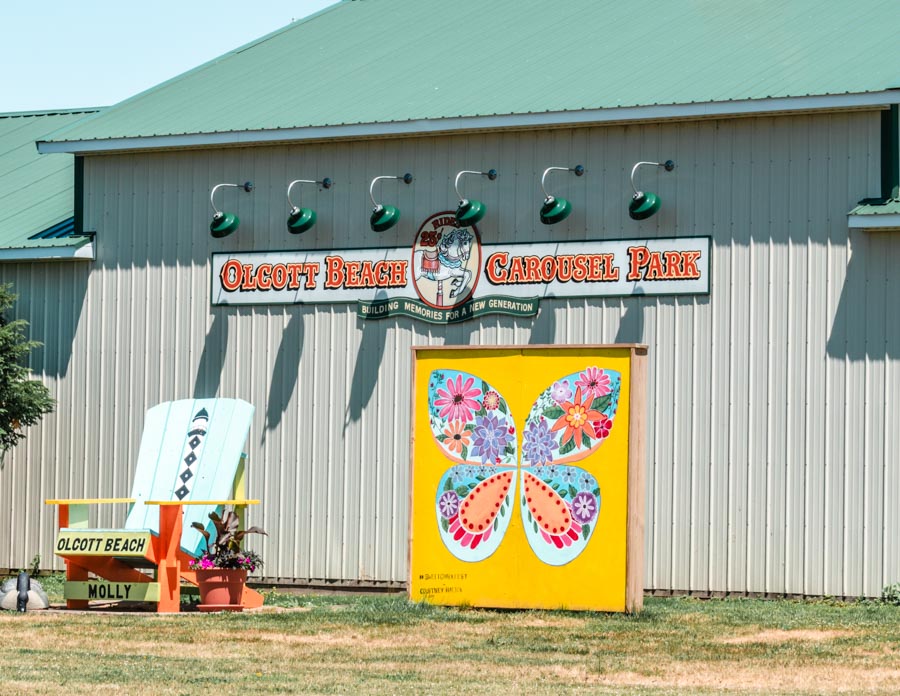 Bye's Popcorn
Bye's Popcorn is a staple of Olcott, NY. This popcorn shop is located just 3 minutes down the road from the waterfront and is well worth a stop for a delicious and traditional snack while visiting Olcott. Bye's Popcorn has been serving gourmet popcorn since 1923. There is nothing quite like eating delicious caramel corn while exploring this lakeside town.
Niagara County Krull Park
This is not your standard park. Niagara County Krull Park is located next to Lake Ontario, offering beautiful lake views. This is a great spot to walk around or to stop for a picnic. The park is surrounded by an epic looking rock wall, that gives it very castle-like vibes. This park makes the perfect backdrop for the Pirate Festival that happens yearly in Olcott.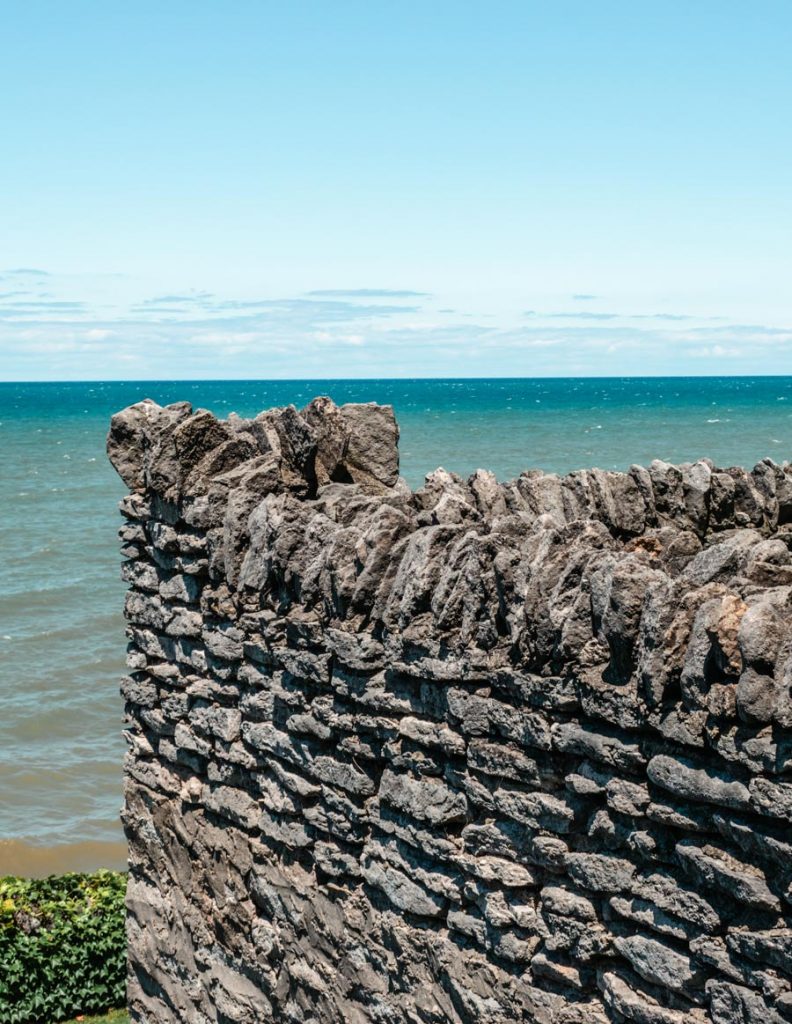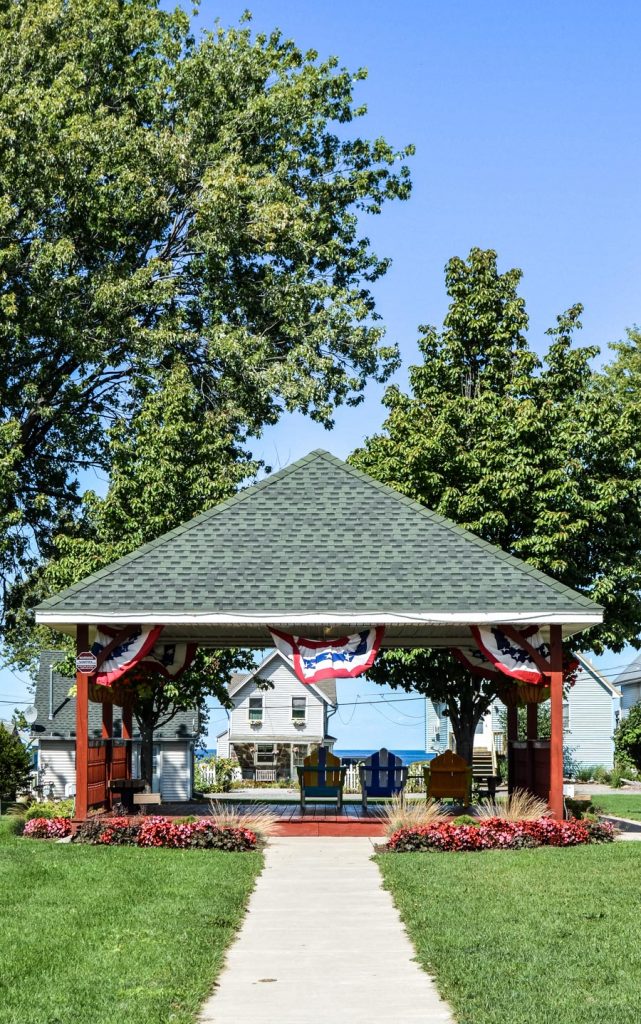 Where to Eat in Olcott
Olcott is one of those destinations where you don't need to eat out to amplify your experience. On the contrary, I think grabbing a casual bite to eat by the Lakeside Village Shoppes or brining a picnic (or takeout from a local restaurant) to eat at Niagara County Krull Park overlooking Lake Ontario is the best way to spend your time.
Lakeside Ice Cream
Lakeside Ice Cream is located on the Olcott Pier in the Lakeside Village Shoppes. This is the perfect casual spot to grab a bit to eat and an ice cream treat. Additionally, there are plenty of picnic tables available to eat at. This is a great stop if you're only in Olcott for a short time as it's quick and casual and won't eat up much time. 
Park Place Restaurant
This is the quintessential American diner and is a great spot to stop at for a causal and good meal. If you arrive early in Olcott, stop by Park Place Restaurant for a delicious breakfast. Keep in mind, this spot is only open for breakfast and lunch. It is a no-frills, small town, greasy American diner, in the best way possible. Plus, once when I was there a local started telling us all about the strawberries he was selling up the road. Does it get more charming than that? 
Like this post? Pin now, read later!