Central Park offers a retreat from the hustle and bustle of New York City. It allows tourists and locals alike a place to escape and breathe in the fresh air, unwind and relax and truly soak in the city. With 840 acres of park, there are plenty of places to do this. Yet, one spot stands out above the rest, where tranquility seems at its peak upon a rowboat on Central Park Lake. Row boating in Central Park is one of the best ways to experience this iconic park. 
Row boating in Central Park allows you to get a unique vantage point of this sprawling park and have a memorable experience in New York City. Further, this experience will enable you to escape the crowds. While Central Park isn't nearly as crowded as Times Square, you will discover that the lookout points around Central Park Lake often get very busy, especially in the summer months. Being out on the lake allows you to experience the park's beauty with its Manhattan skyline views from the comfort of your rowboat.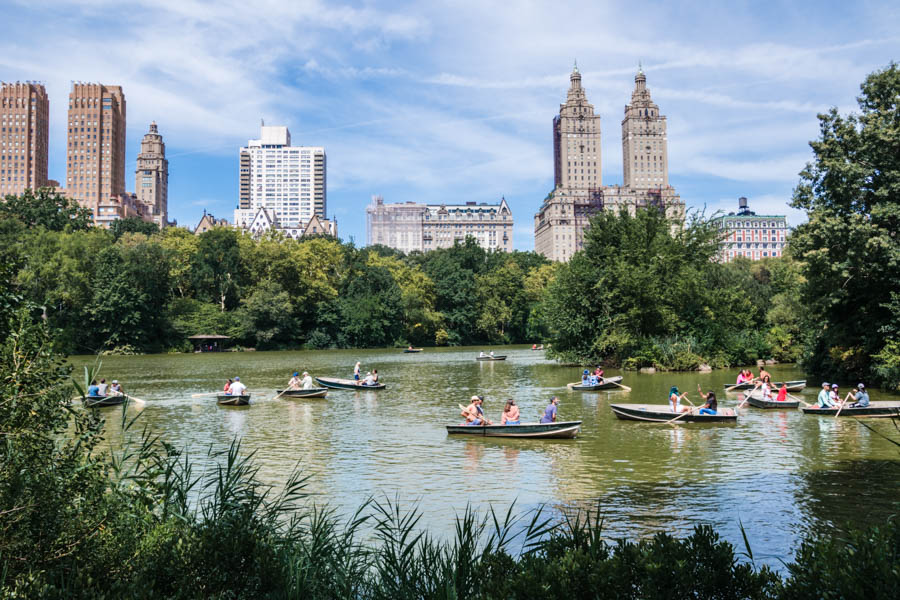 Where to Rent a Rowboat in Central Park
If you are looking for where to rent a rowboat in Central Park, you will want to venture to Loeb Boathouse on Central Park Lake. Rowboat rentals are available at the kiosk at Loeb Boathouse. This is the exact location on Google Maps.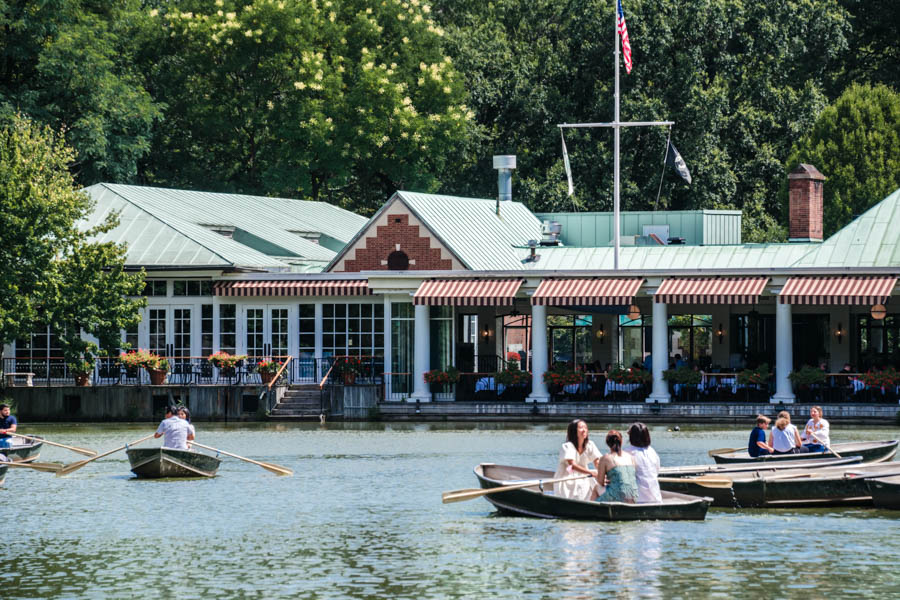 Price:  $20 per hour
Address: East 72nd &, Center Drive, New York, NY 10024
Opening Hours: 10 am to dusk 
Cost of Row Boating in Central Park
Rowboat rentals in Central Park are $20 per hour and $5 per every additional 15 minutes past the hour. The rentals are cash only, so you will need to bring cash with you to Central Park. 
There is additionally a $20 deposit for a Central Park rowboat rental. That means that you will need to pay $40 cash upfront to rent your boat and receive $20 back as long as you return your boat within the hour.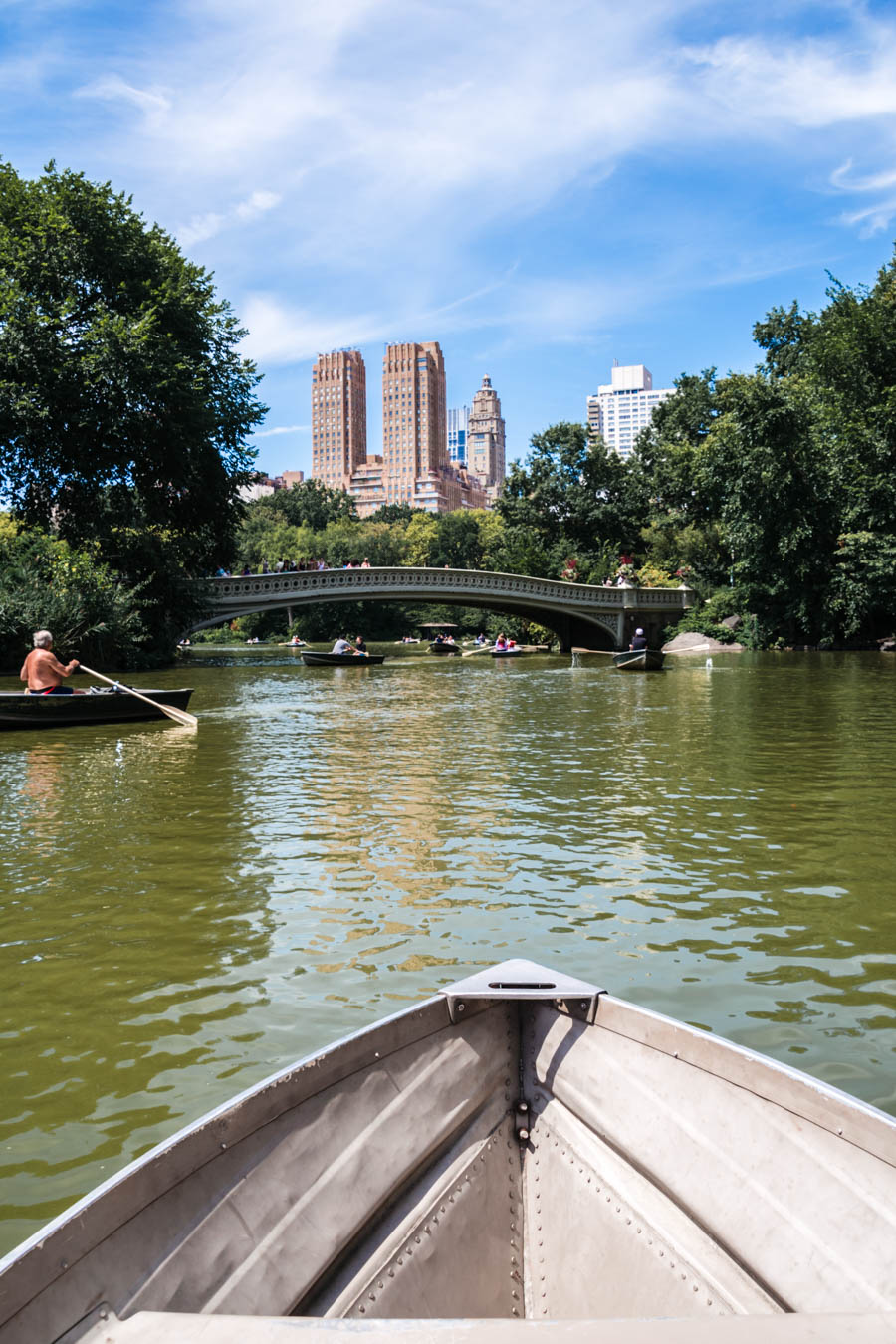 About the Central Park Row Boats
Central Park rowboats are available to rent from Loeb Boathouse. Loeb Boathouse owns 100 rowboats, which all seat up to four people. This may seem like a lot of boats, yet, they can easily all be occupied on a nice day in Spring or Summer. 
FUN FACT: Row boats have been available in Central Park Lake for over 150 years! 


When Can you Row a Boat in Central Park?
Renting a rowboat in Central Park is a seasonal activity, available from April to November. It is also weather permitting, so rowboats are not necessarily available daily. If there is heavy rain or even potential snow, you can expect that row boating is not on that day.
Rentals are available from 10 a.m. until dusk daily (again, weather permitting).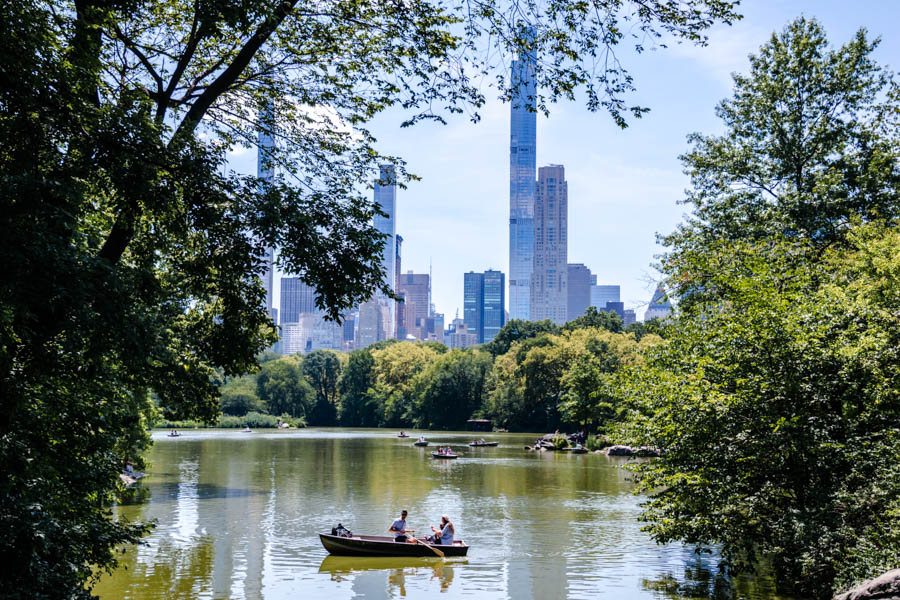 Row Boating in Central Park Experience
I could not imagine a better thing to do in Central Park than renting a rowboat from Loeb Boathouse. The experience is relaxing and fun and offers a unique vantage point of Central Park.
Once you arrive at the kiosk, you will pay $40 cash for your rental, including the $20 deposit. Be sure to hold on to your receipt, as it has a timestamp indicating when you rented your boat. This is how they keep track of how long you had your rental.
To make the most of your time, head quickly to one of the rowboats available. After getting into your boat, the attendant will push your boat into the lake. You are free to row around Central Park Lake as you please during your allotted time. The lake is relatively large, so you will have plenty of areas to row. If you can, try to explore the entire lake by boat. If you have experience rowing, you can quickly navigate the water. Central Park Lake offers views of Bethesda Fountain, Bow Bridge, and views of the El Dorado building in the distance.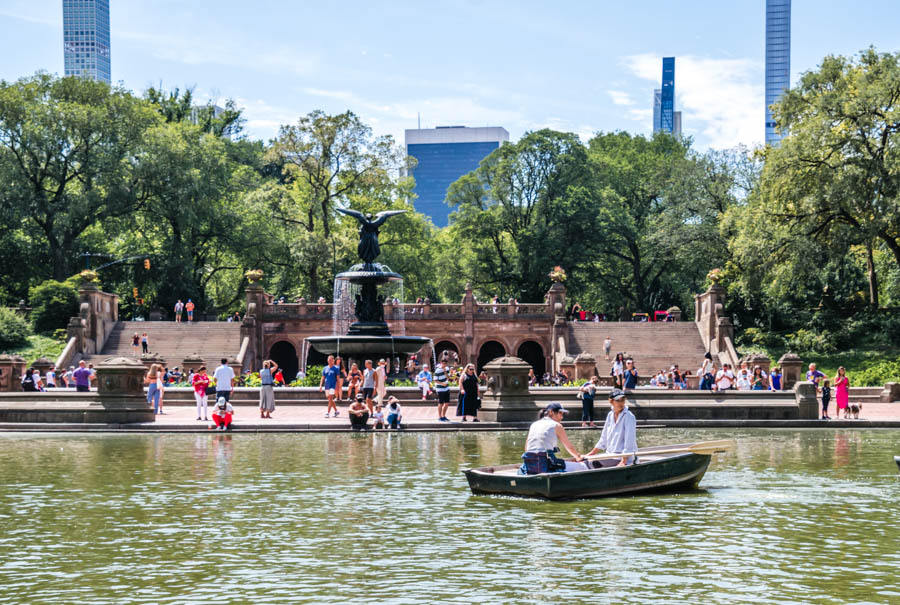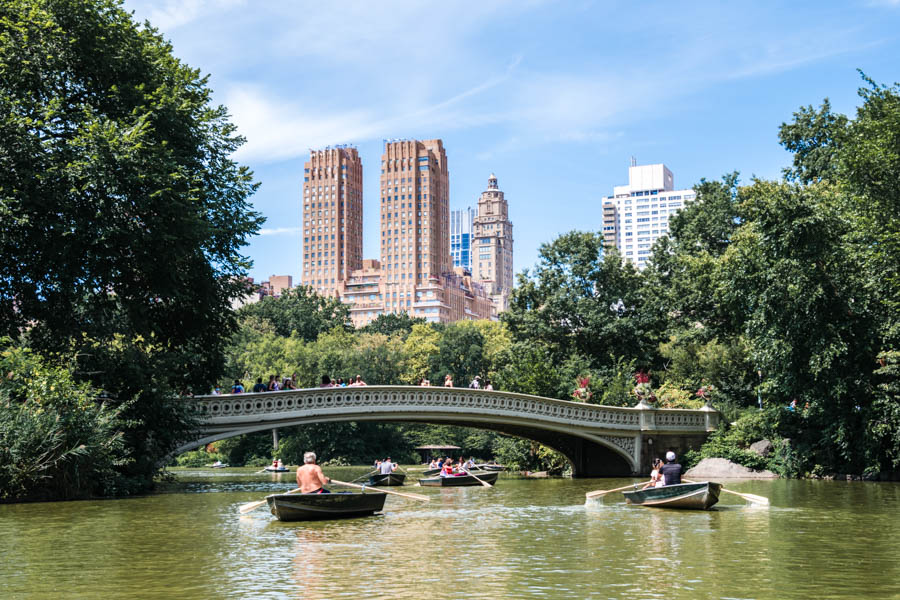 Yet, for those with less experience (like myself), try not to stress out. Row boating in Central Park is a fun experience; I found myself laughing the entire time at my lack of rowing skills. And it doesn't take much effort to row to Bow Bridge, one of the best photo ops in Central Park.
While this may seem like a refreshing activity on a hot day, that is not necessarily the case. The seats on the rowboats are metal and get extremely hot during the summer. I was melting under the sun, especially with the added exertion of rowing. Consider going earlier in the day during the summer or in the afternoon on a not that hot day.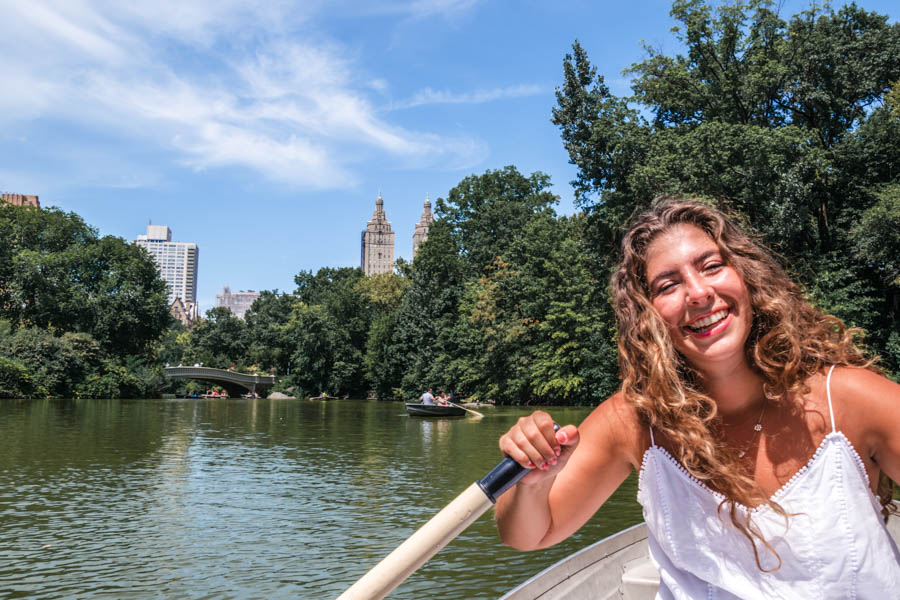 As the warm sun kisses your shoulders as you glide across the smooth water of Central Park Lake, the crowds lingering around Bethesda Fountain and on Bow Bridge seem like a faint murmur in the distance. Rowing in Central Park is a relaxing activity that allows you to escape the city's hustle while still enjoying one of the best tourist spots in NYC.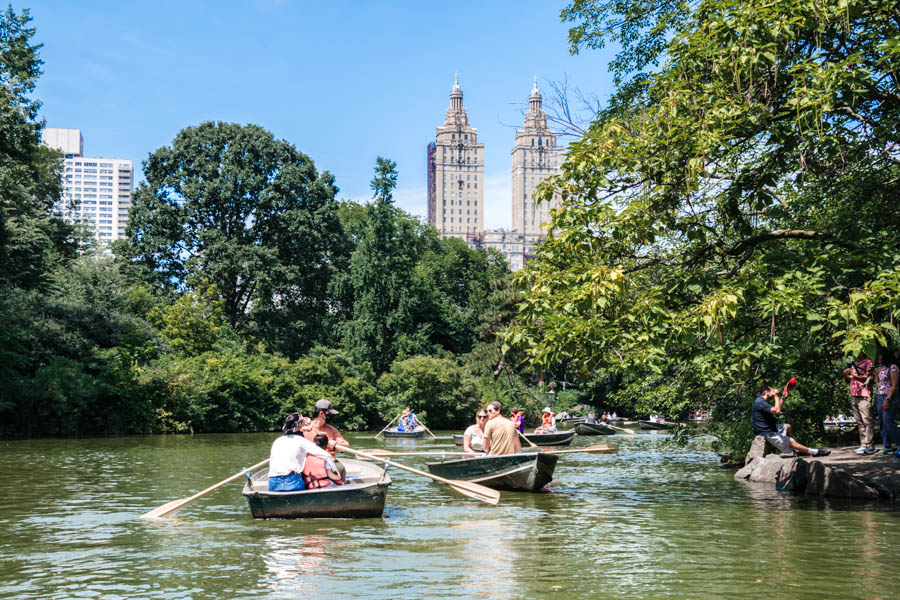 Renting a Row Boat in Central Park: Wrap-up
This wraps up the guide to row boating in Central Park. Rowing in is genuinely one of the best things to do in Central Park and a great activity when visiting New York City. Renting a rowboat in Central Park is a relaxing and fun activity. Additionally, it is one of the more affordable activities to do in New York City, as you are renting the entire boat and not paying per person. If you want to experience being on a boat on Central Park Lake without doing the work yourself, consider hiring a gondola. 
Save this Post for Later on Pinterest