Eagle Cliff Falls is a truly stunning waterfall in Montour Falls, New York. Set between two rock walls, flows the 40-foot high Eagle Cliff Falls. This is by far one of the most underrated waterfalls I have visited in New York. Eagle Cliff Falls in Havana Glen Park is a hidden gem of the Finger Lakes region. This waterfall is rarely listed as one of the "best waterfalls in New York". Yet, it is for that very reason why you must visit Eagle Cliff Falls! Just because it is not as well known in the region, does not mean it is any less beautiful. This beautiful waterfall makes a great addition to your itinerary while exploring nearby Watkins Glen.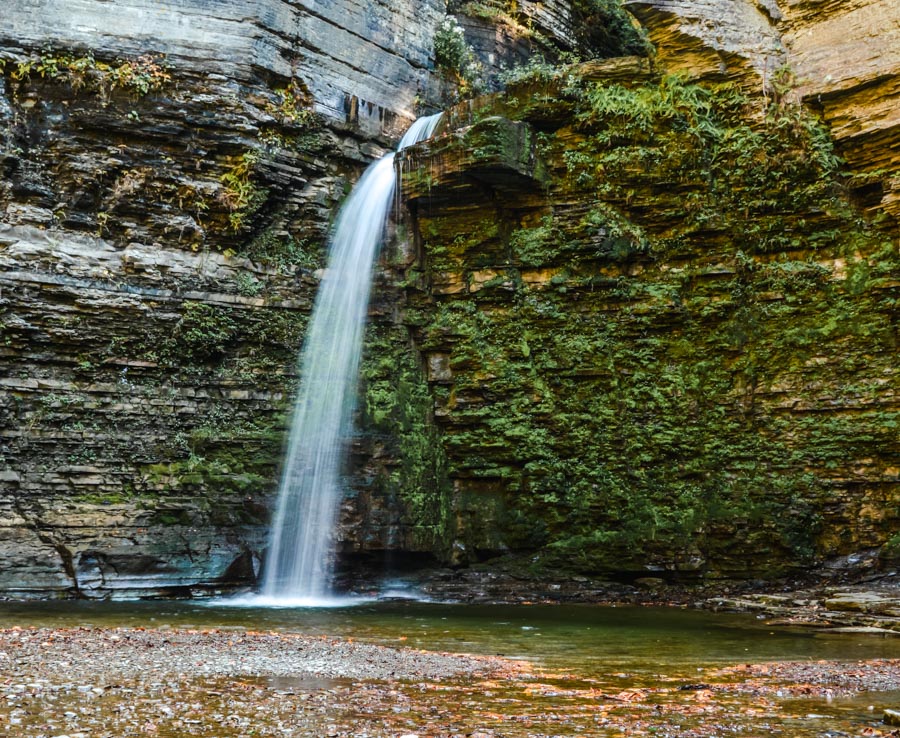 You May Also Be Interested In:
Watkins Glen State Park: Hiking the Gorge Trail
Where is Havana Glen Park
Havana Glen Park is located in Montour Falls, New York in the Southern Finger Lakes. This small park in this small village of New York is located only 10 minutes from nearby Watkins Glen, which is one of the most popular state parks in New York. Havana Glen Park is located just off of St. Catherine Street (Route 14) and is a very easy detour from Watkins Glen.
Visiting Eagle Cliff Falls
Entry
Upon arrival at Havana Glen Park, you will need to pay a small entry fee of $2 for parking. I thought this was a reasonable rate for parking. While the park is fairly small, I spent almost an hour at Eagle Cliff Falls, so I was certainly able to get my money's worth for parking. However, If you want to make the most of your day, there are other facilities at Havana Glen Park. On a hot day, you can even splash around under the waterfall to cool off!
Hike 
Once you enter Havana Glen Park, Eagle Cliff Falls is an easy walk from the parking lot. Start off at the trailhead, located adjacent to the stream, and make your way to Eagle Cliff Falls. The trail is relatively easy and only takes approximately 5 minutes to get from the parking lot to Eagle Cliff Falls.
The hike includes a set of stairs and a narrow walkway with a railing, to keep you on the trail. However, even with these obstacles, the trail is short and easy. Along the walk, you will see rock walls to one side and pass several small waterfalls. 
Eagle Cliff Falls
Following the small waterfalls upstream, you will enter a clearing with views of Eagle Cliff Falls. The trail ends at McClure Creek at the base of the waterfall. Eagle Cliff Falls is an incredible waterfall to behold. This 40-foot high waterfall is certainly not the largest, tallest, or most popular waterfall in New York, or even the Finger Lakes region. Yet, there is something special about Eagle Cliff Falls. The waterfall flows in a perfect stream centered in the almost amphitheater-like setting of the rock walls.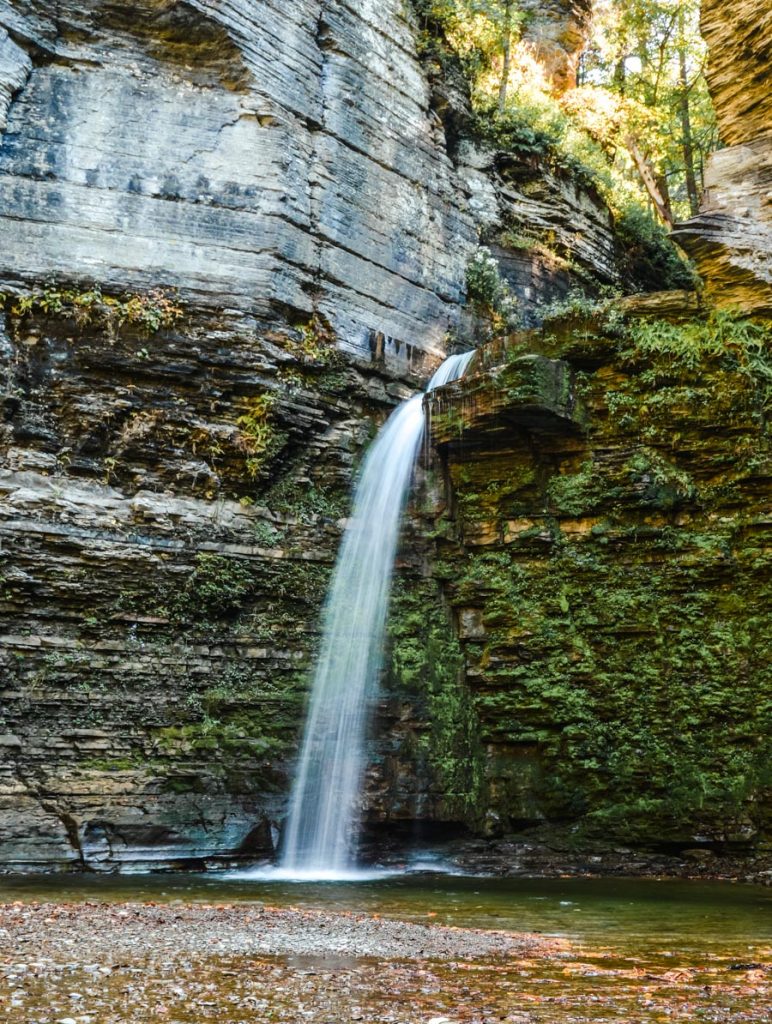 From the creek, you can get an incredible view of Eagle Cliff Falls. And you won't get wet at all. However, if you want to get different views of the waterfall, prepare to get a little wet. Visiting in September, I did not go underneath the waterfall, yet I walked through the cool and refreshing water to get a closer look. 
Be sure to bring your swimsuit on a hot day. While the water is not deep enough to swim, you can go for a dip and cool off under the waterfall.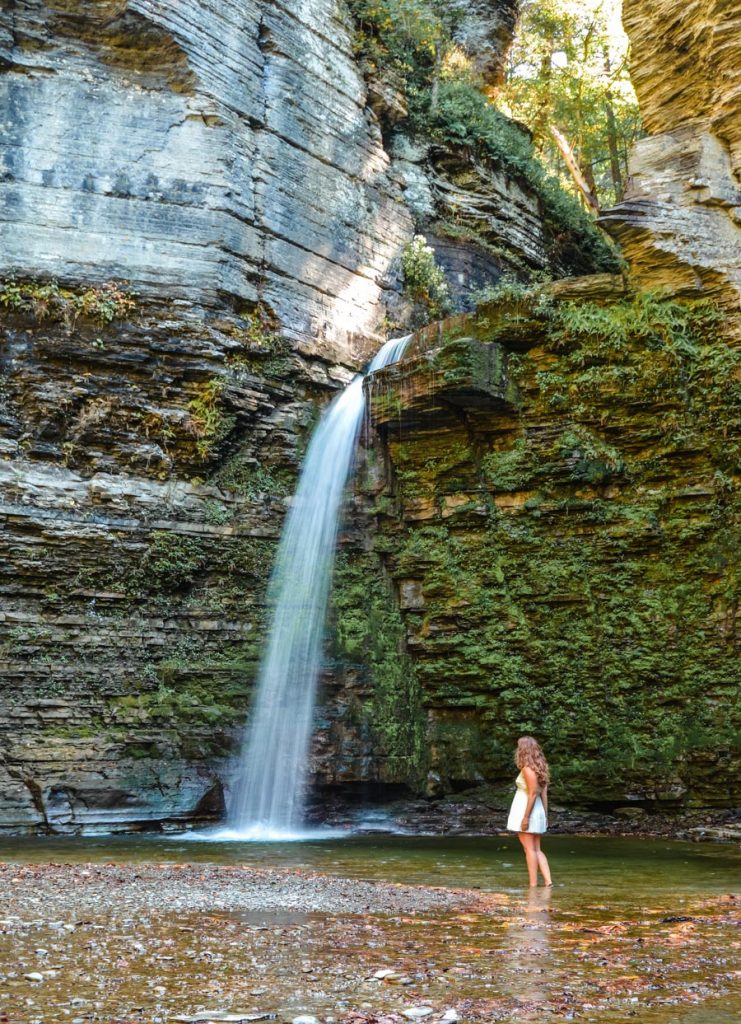 Things to do near Eagle Cliff Falls
Visit Watkins Glen State Park
Be sure to check out nearby Watkins Glen State Park, before or after visiting Havana Glen Park. This is a must-visit in the region and allows you to spend a full day waterfall hopping. 
Read More: Watkins Glen State Park: Hiking the Gorge Trail
Seneca Lake
Spend some time relaxing near Seneca Lake. There are plenty of ways to enjoy the lake, whether you are hanging out at Seneca Harbor, at a winery with views of the lake, or on a boat cruise.