Old San Juan is full of colorful cobblestone streets, each one more photogenic than the last. Wandering through the capital of Puerto Rico, it is easy to find photo worthy spots. Yet, there is one street that stands out above the rest, the insta-famous Umbrella Street San Juan. For the past year, this street has been one of the most popular photo spots in Old San Juan.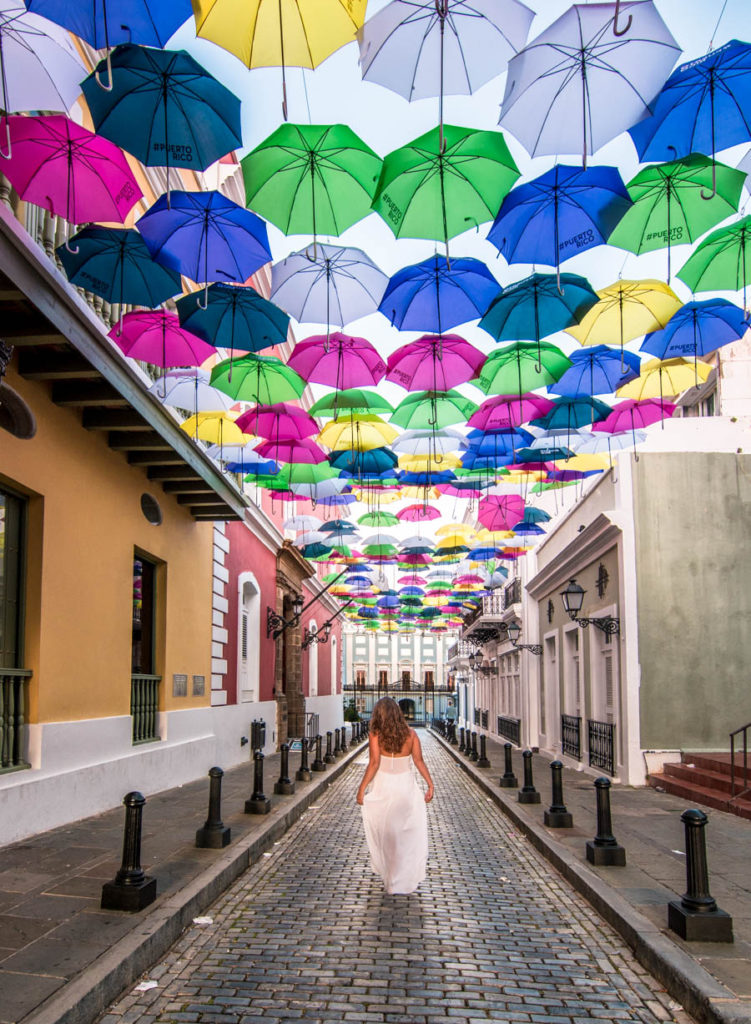 Where to Find the Umbrella Street San Juan
The Umbrella Street in San Juan can be found on Fortaleza Street. Within the walled city of Old San Juan, there are plenty of vibrant streets. Yet, Fortaleza Street is easily recognizable for its display of umbrellas creating a canopy across the street. Calle Fortaleza, or Fortaleza Street is a main street in Old San Juan, that cuts across most of the area. Sadly, the entire length of the street is not covered in umbrellas. To find the portion that is considered the Umbrella Street San Juan, you must walk down toward La Fortaleza, the residence of the Governor of Puerto Rico. This portion of the street is closed to traffic, making it the perfect spot to take photos.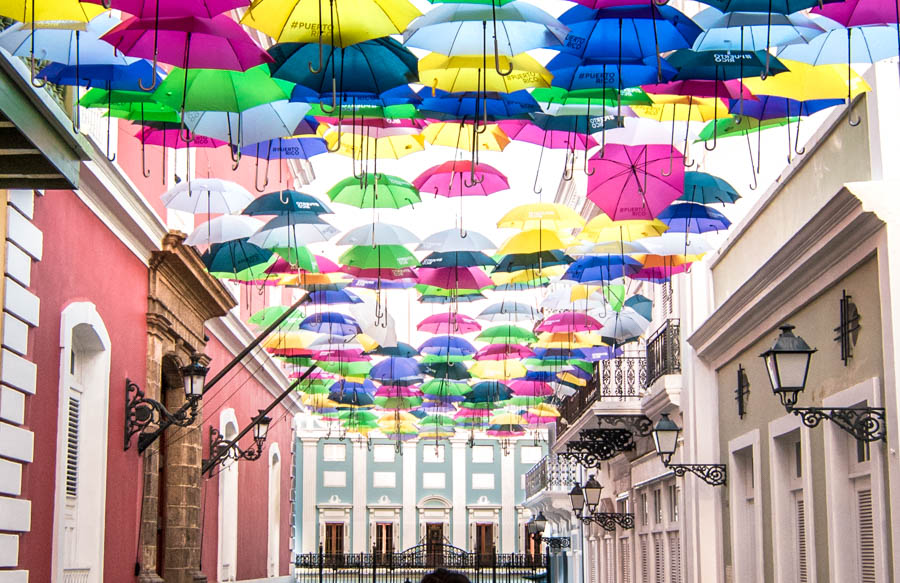 Will There Be Umbrellas When I Visit? 
The umbrellas of Fortaleza Street have been around since last Summer, so chances are they will still be there when you visit. However, the umbrella colors have changed throughout the year from a rainbow of colorful umbrellas to all pink. Before the addition of the umbrellas, La Fortaleza Street had colorful kites. The best way to know if the umbrellas are there is to check the latest Trip Advisor reviews or the location tag on Instagram.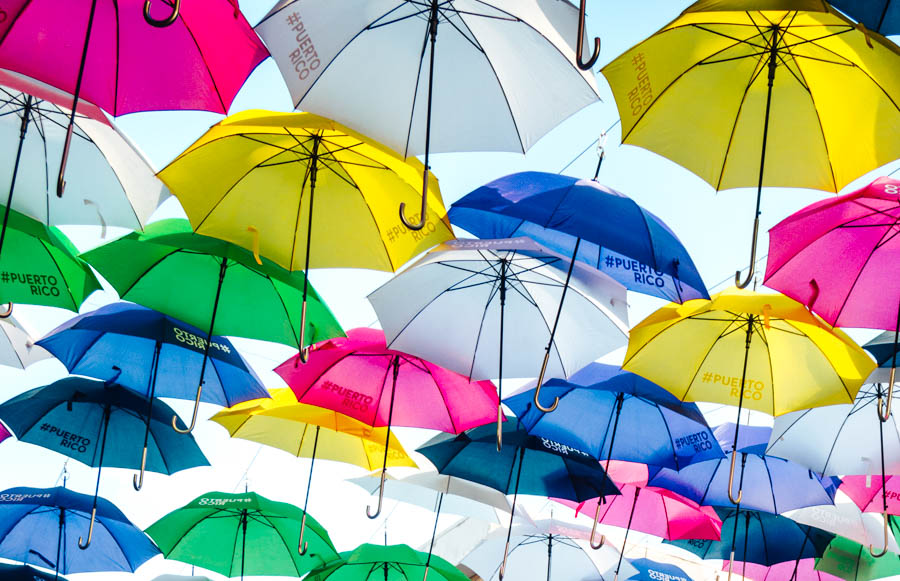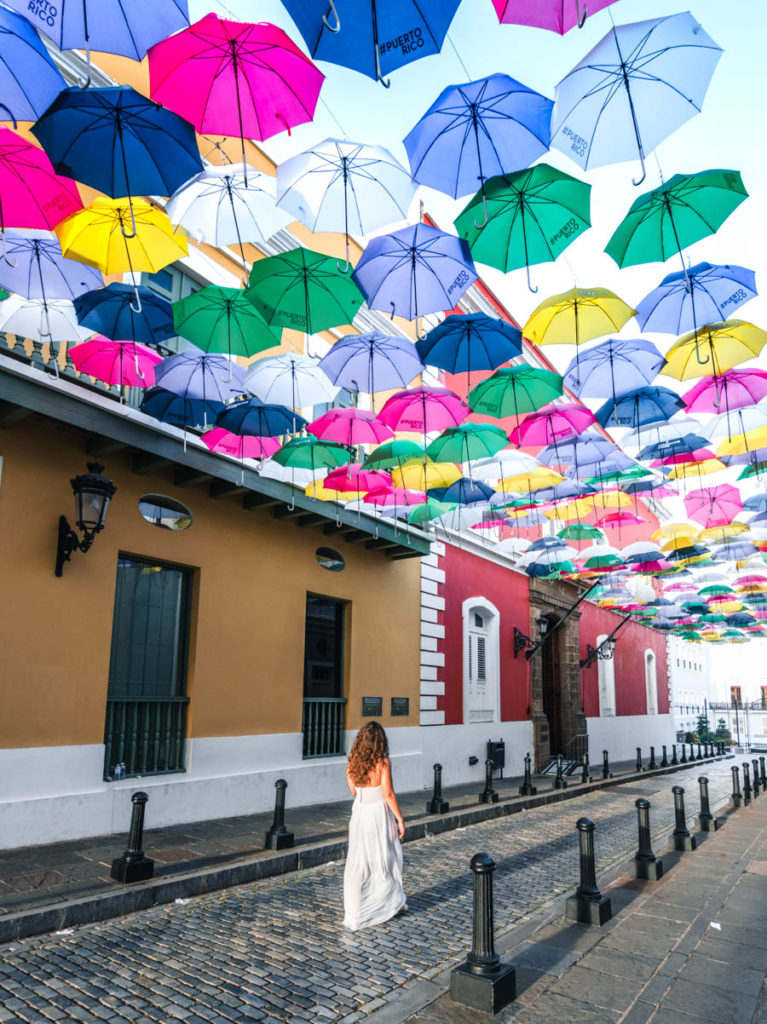 Importance of Fortaleza Street
Fortaleza Street leads to La Fortaleza, the official residence of the Governor of Puerto Rico. This fortress is considered a UNESCO World Heritage Site and is must-see when in San Juan. Visiting Fortaleza Street should be on you Old San Juan itinerary. While the Umbrella Street in San Juan has gained recent popularity, there is more to this street than the Umbrellas. Fortaleza Street is one of the most high trafficked streets in San Juan. There are plenty of restaurants and shops to visit after checking out the umbrellas.