The Caloura Hotel Resort is the ideal oceanfront hotel in Sao Miguel island in the Azores. Checking into this property felt like stepping into an oasis. The Azores, which is a Portuguese island chain in the Atlantic Ocean, feels untouched and looks impossibly lush. Caloura Hotel Resort perfectly embodies the essence of the Azores.  This hotel is a breath of fresh air, luxurious yet affordable and has stunning views of the coastline. Staying at Caloura Hotel Resort allows you to feel disconnected, while still actually being connected.  If you are looking for an oceanfront hotel on Sao Miguel island, this is the best place to stay.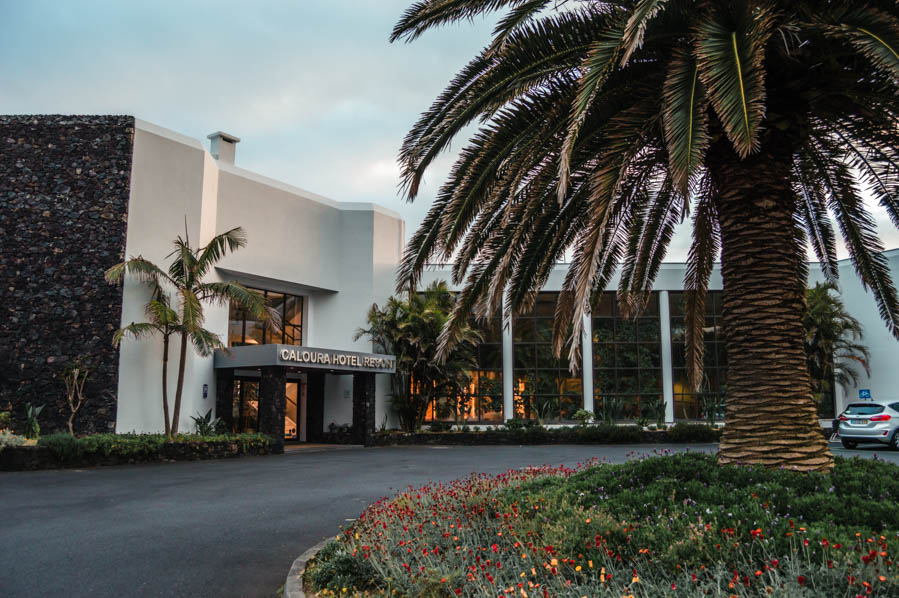 Book your stay now at Caloura Hotel Resort
The Location: Oceanfront Hotel in Sao Miguel
This oceanfront hotel in Sao Miguel is located in the town of Caloura on Sao Miguel Island. Caloura is centrally located on the island, making is the perfect base for exploring. From Caloura, you can easily get to all the popular sites in Sao Miguel.
In addition to its central location, Caloura is a great town to explore. Caloura has a vibrant town center, amazing costal views  and some great seaside restaurants.
Grounds/ Amenities
The grounds are perhaps the best reason for booking your stay at Caloura Hotel Resort. Lush greenery covers the grounds, making you feel like you are in a tropical oasis.
The lobby has floor to ceiling windows, allowing you to enjoy the lush landscape from inside. This is the perfect spot to relax on a rainy afternoon, as you can still enjoy the beautiful views.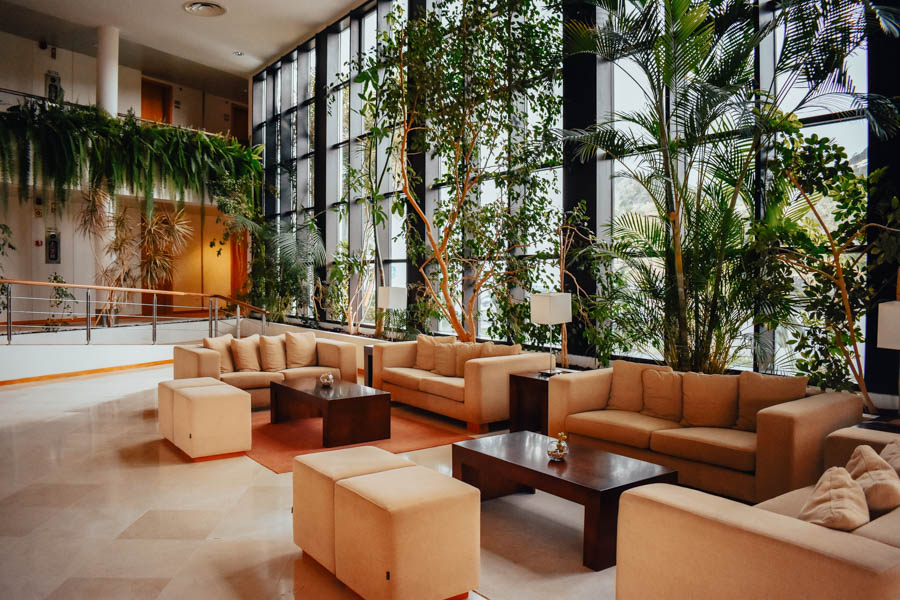 There is a pool on property with stunning views of the Atlantic. This is an ideal spot to relax in the Summer months in Sao Miguel. This hotel has everything you may need for your comfort and fitness including a sauna, tennis courts and a gym.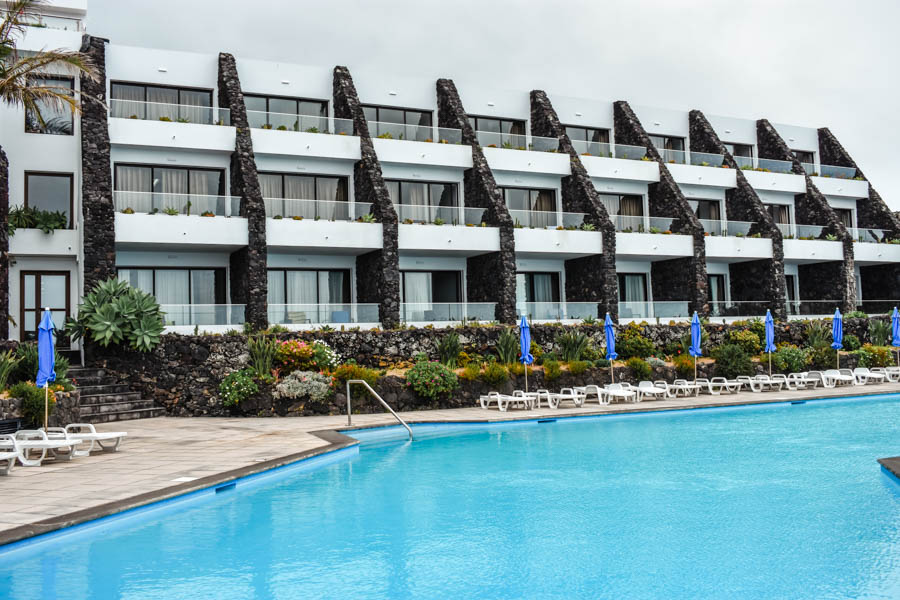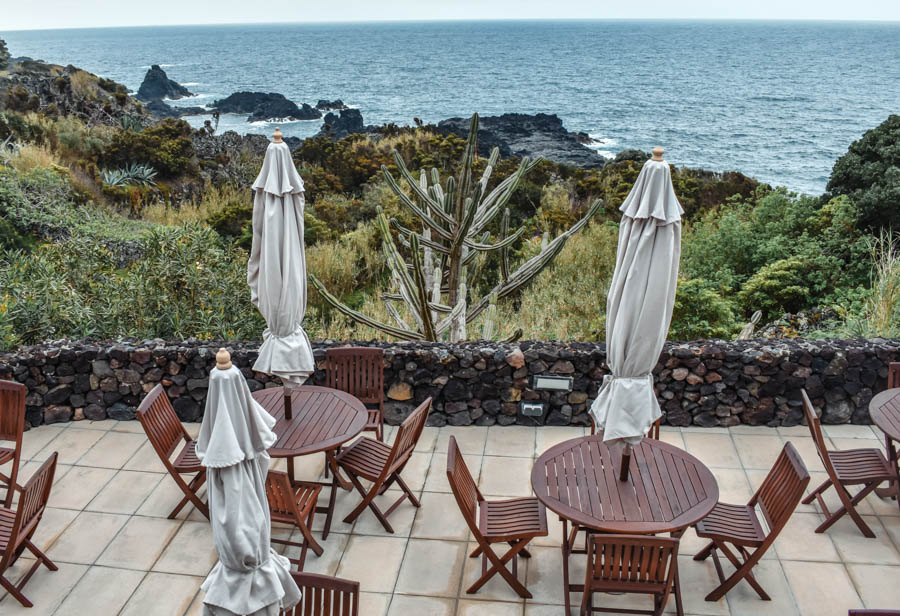 One of the most unique features at Caloura Hotel Resort is the ocean access. Guests have access to a walking path that takes you directly to the sea. The walking path itself is a labyrinth of basalt stone walls and vegetation.  The path ultimately leads to the Ocean. Here you will find natural swimming pools surrounded by volcanic rocks.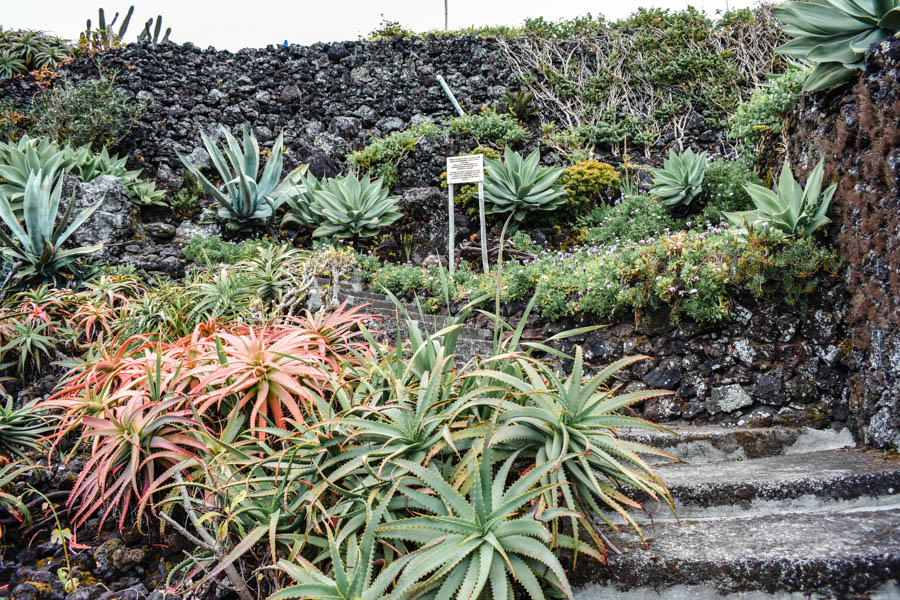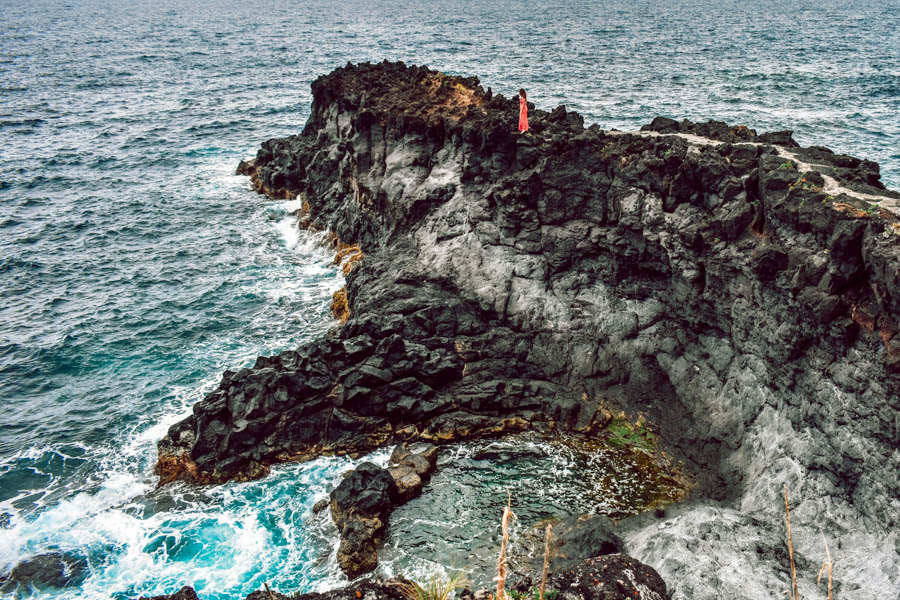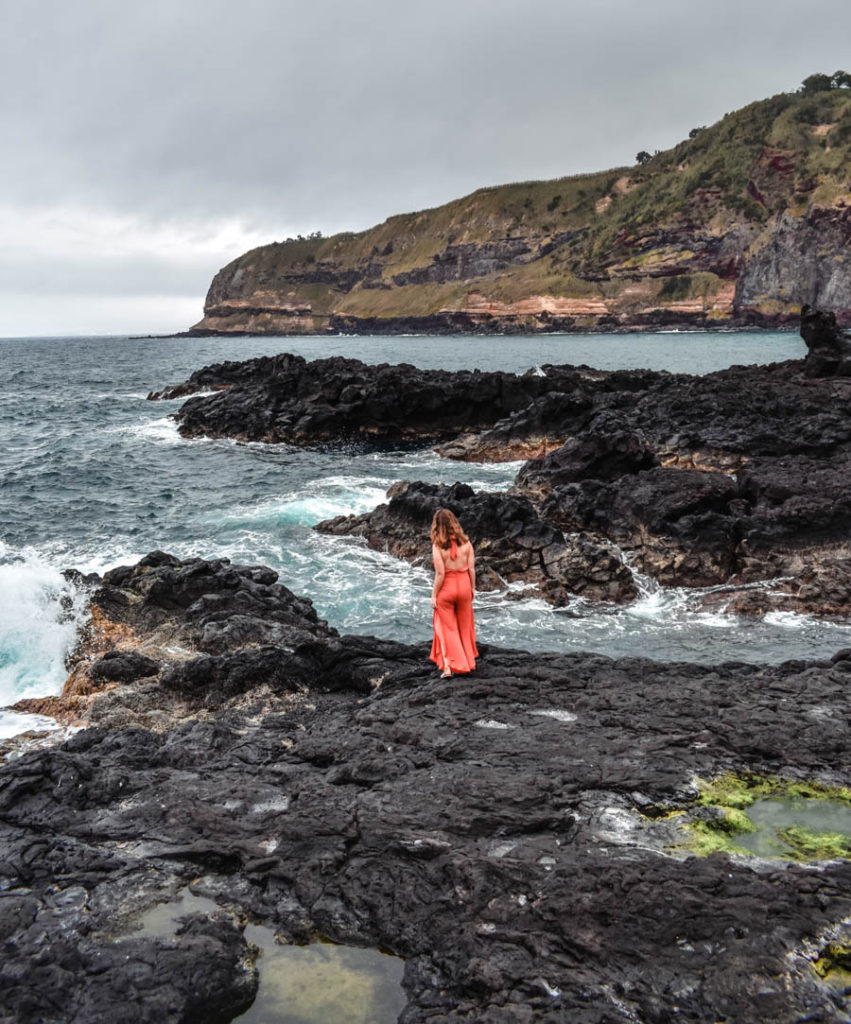 Book your stay now at Caloura Hotel Resort!
The Rooms
The rooms at Caloura Hotel resort are spacious and airy, decorated mostly in white with pops of aquamarine. These decorative and design elements makes this hotel the perfect place to unwind.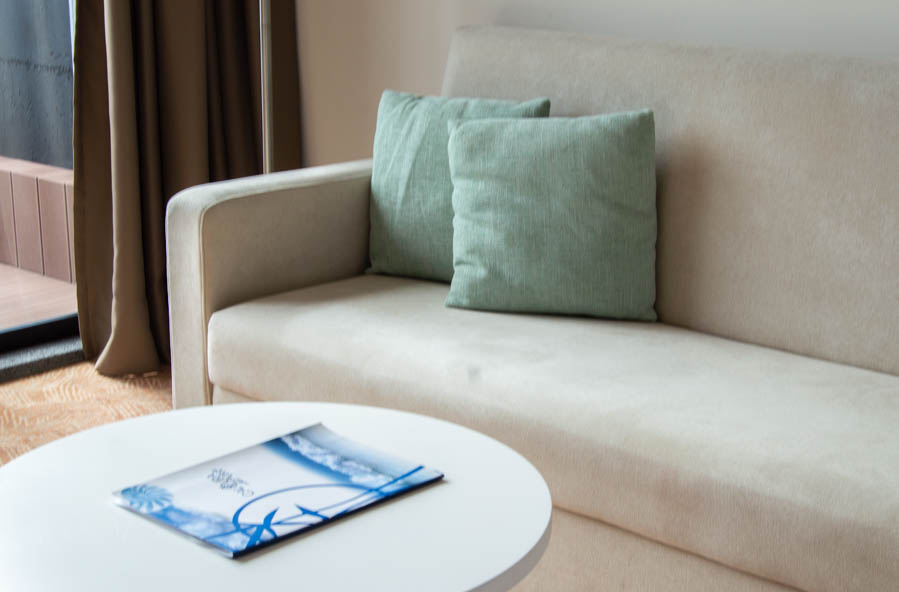 The standard rooms are extremely spacious and have everything you need for a comfortable stay. Yet, a suite is a great option if you are looking for extra space and additional amenities such as a kitchenette.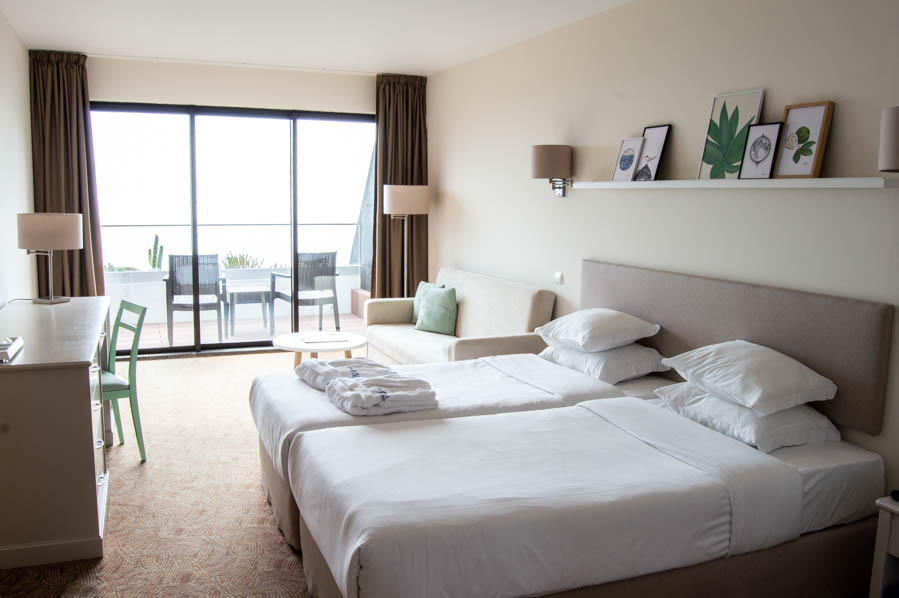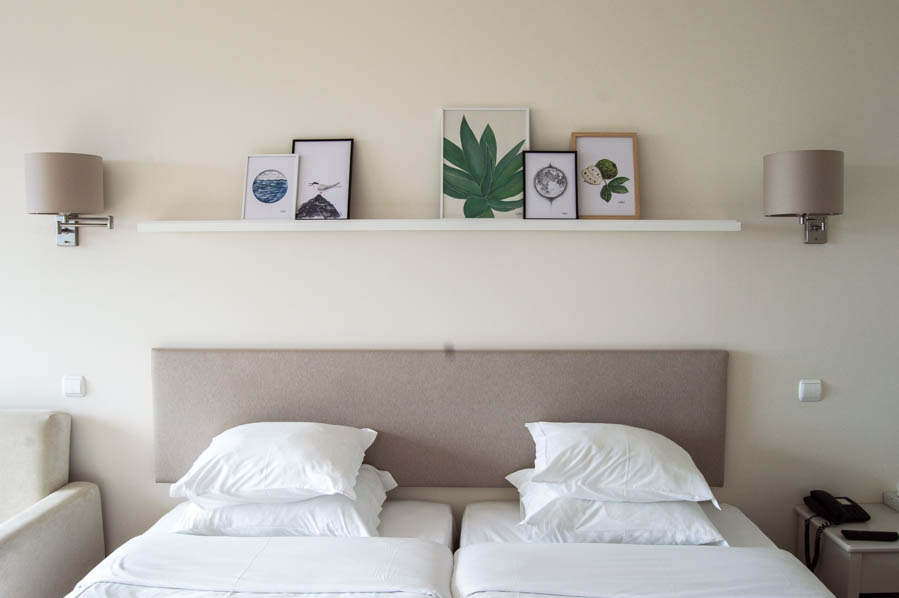 One of the most noteworthy aspects is that each room is Oceanfront. There are 80 spacious rooms at Caloura Hotel Resort, all with Ocean views. This means no matter where you are staying in the hotel, you will have a view of the Atlantic. Each room has a private balcony or terrace, where you are able to enjoy the views.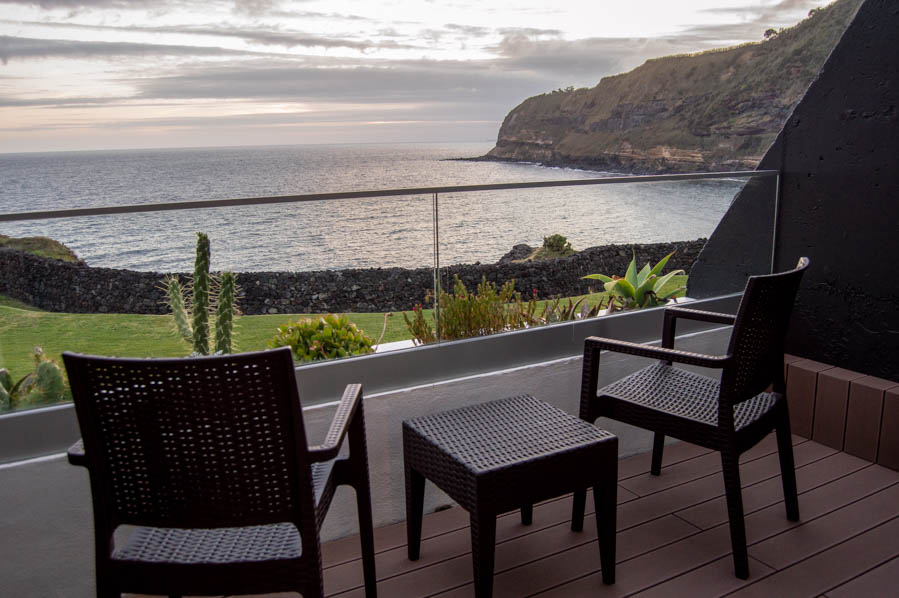 The Cuisine
Breakfast is included with your accommodation, which is a huge perk. The breakfast spread  includes everything from fresh fruit, meats and cheeses as well as hot breakfast items. Breakfast is served at Barrocas do Mar Restaurant, which has incredible views of the Ocean. Lunch and dinner services are available at Barracas do Mar Restaurant as well.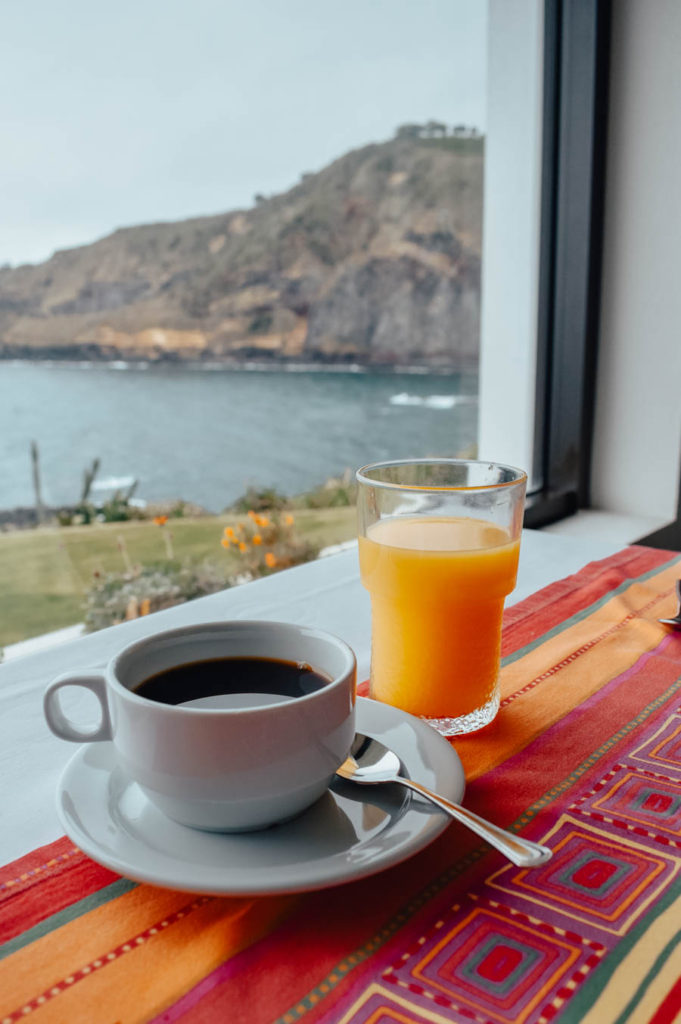 Come Join My Journey was welcomed to Caloura Hotel Resort as a guest, however, my opinion is as always my own.