When visiting Cape Ann, Massachusetts you will discover the four towns of this region. The towns of Cape Ann MA include three coastal communities, Manchester-by-the-Sea, Gloucester, and Rockport, and one inland town, Essex. Each has a unique atmosphere and respective things to do. One thing that each of these towns has in common, in addition to location, is their seafaring history.
In order to experience each destination, you can stop in each town with a drive along the Essex Scenic Coastal Byway, or visit the towns at your leisure during your trip to Cape Ann. Find out what makes each of these towns so irresistible and well worth a visit while you were in Cape Ann. After seeing how charming these towns are, you will want to plan a trip to Cape Ann. This is your guide to where to visit in Cape Ann.
The Most Charming Towns of Cape Ann MA
Manchester-by-the-Sea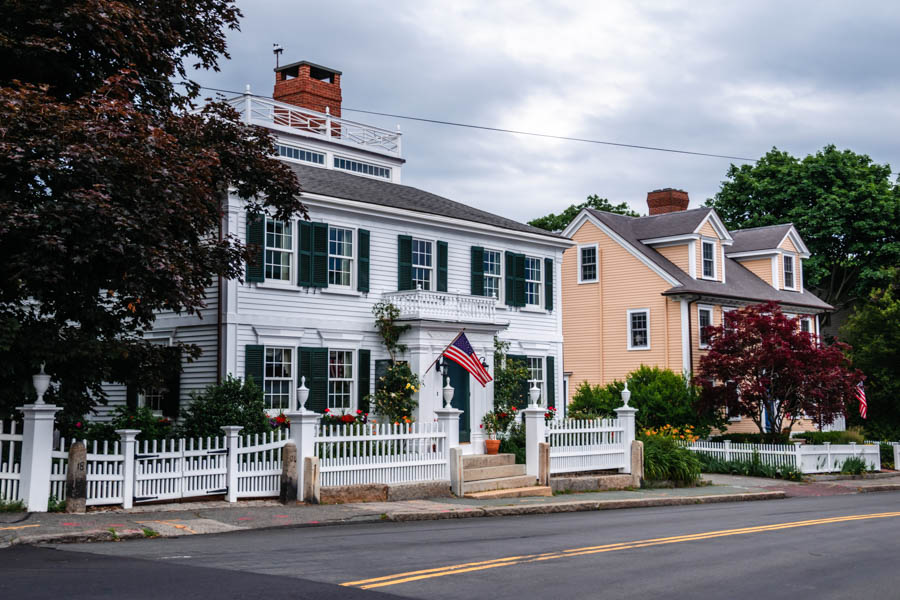 Manchester-by-the-Sea is a cozy town in Cape Ann MA with a history as a fishing village. Here you can find scenic beaches, such as Singing Beach and meander by the harbor. The town is adorable, with elegant shops and summer cottages. This Cape Ann town seems to be less touristy than the others, yet is the perfect place to base yourself during a summer getaway.
While in Manchester-by-the-Sea, you can get out on the water with sailing lessons from Frayed Knot Sailing Charters, crossing off a major bucket list experience. If you'd prefer to stay on dry land, you can take in the views of the coastline below from the Coolidge Reservation.
Gloucester
Gloucester is actually a city, but it has a small-town charm. As it is the only city in Cape Ann, Gloucester is where you will find the most activities, attractions, and accommodations. Some of the best things to do in Gloucester can be found by the water including the Gloucester HarborWalk, Stage Fort Park, and the Maritime Museum. Some of the best beaches in Cape Ann can be found in Gloucester, making it the perfect area to spend some time in the sun.
While in Gloucester you can have some unique experiences such as visiting a world-class art museum, the Cape Ann Museum, a medieval castle, Hammond Castle, and going on a whale-watching cruise with Cape Ann Whale Watch.
Rockport
Rockport is the most picturesque of the towns in Cape Ann, Massachusetts. It is noted by Bearskin Neck, which is a strip of land that juts out into the water with restaurants, specialty shops, galleries, and cottages. Walking through the town of Rockport feels as if you are in a movie set (this was actually the filming location of the movie The Proposal). It is hands down one of the prettiest towns in Massachusetts. While on Bearskin Neck, be sure to check out the iconic Motif no.1 and check out the boats dotting Rockport Harbor.
In addition to the pure charm, there are beautiful beaches and a thriving art scene. Rockport is an artist community with over 30 art galleries in town. 
Essex
Essex is often referred to as the "Antique Capital of America" and is a great place to go antique shopping. There is an array of antique shops throughout this town, carrying some impressive treasures. Antiquing in Essex is a great way to spend some time in Cape Ann, yet it isn't the only thing to do there.
While it is the only inland town of Cape Ann, the Essex River flows through the town, so you are still nearby water. The town center is surrounded by marshland, giving it a unique look. There are restaurants and breweries overlooking the Essex River and the marshes. Another way to experience the waterways in Essex is with a scenic boat ride along the river, via Essex River Cruises.
Cape Ann Towns Wrap Wrap Up
That wraps up the guide to the charming towns of Cape Ann, Massachusetts. While visiting this region, you will want to plan time to visit each town, as each has something distinct to offer. For more information about Cape Ann, check out the guide to the best things to do in Cape Ann MA.
Save This Post For Later On Pinterest
Come Join My Journey was hosted by North of Boston, however, my opinions are as always my own.