Checking into Hotel El Convento , a Small Luxury Hotel of the World in Old San Juan felt like stepping back in time. You can feel the history walking through this Spanish Colonial hotel in Old San Juan.  The butter-yellow exterior beckoned me in and its' meticulously designed interior left me exploring each corner of this boutique hotel for hours. Physical key in hand (the only hotel in San Juan offering physical keys), I was ready to explore Old San Juan with Hotel El Convento as my home base.
You can see prices or book Hotel El Convento here, or read more reviews and see other booking site deals here on Trip Advisor. 
---
You may also be interested in:
The Most Photo Worthy Spots in San Juan
---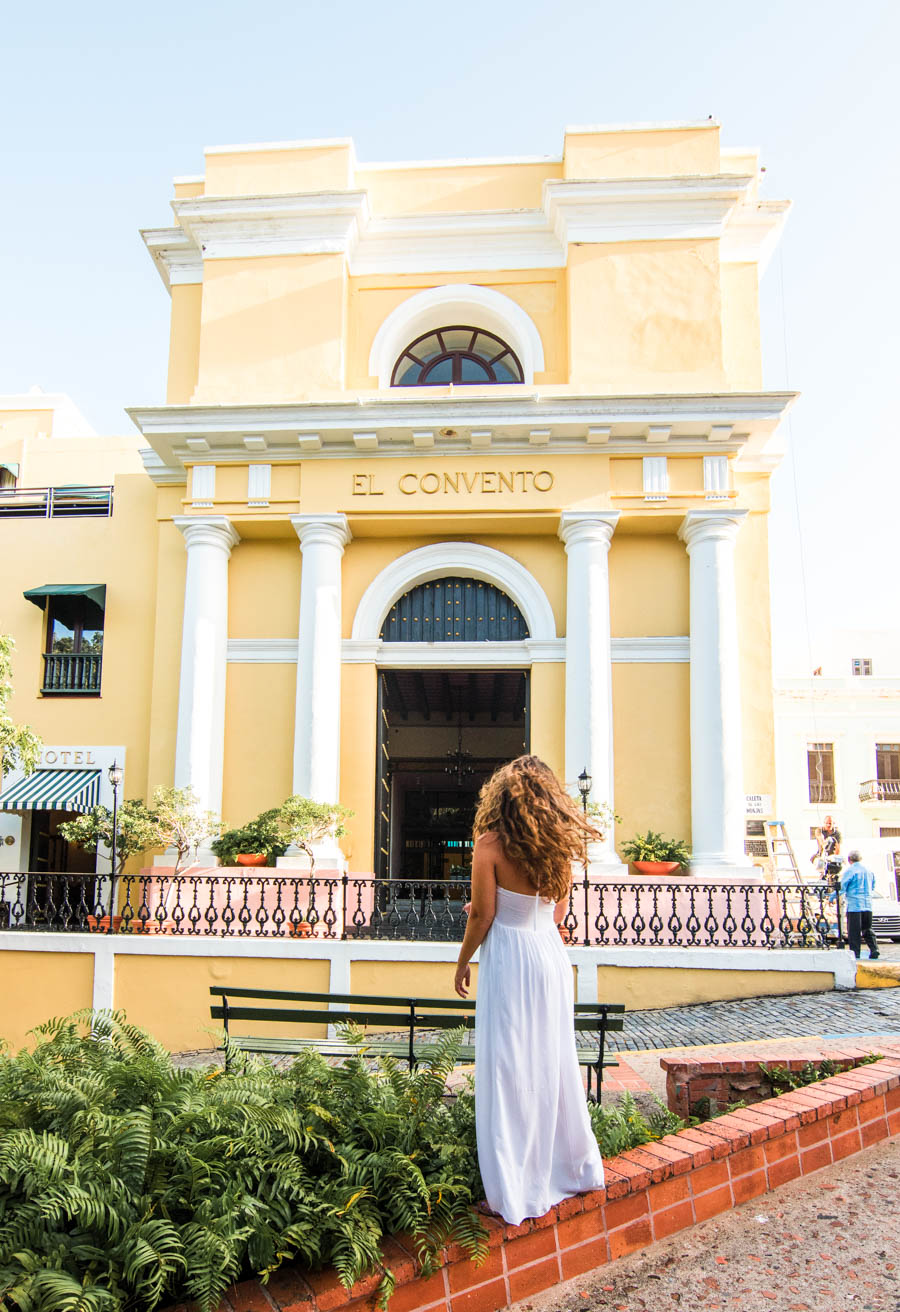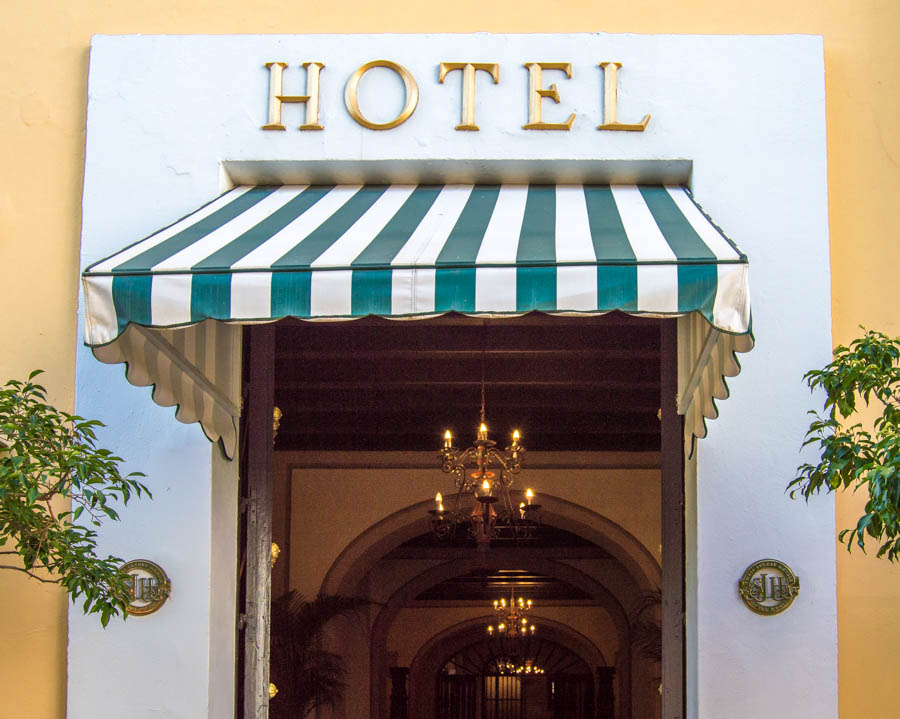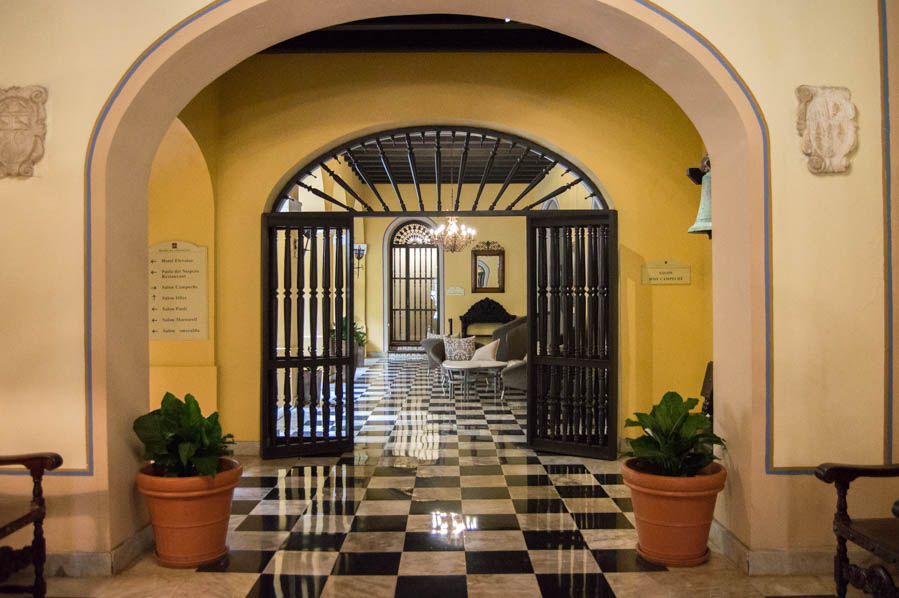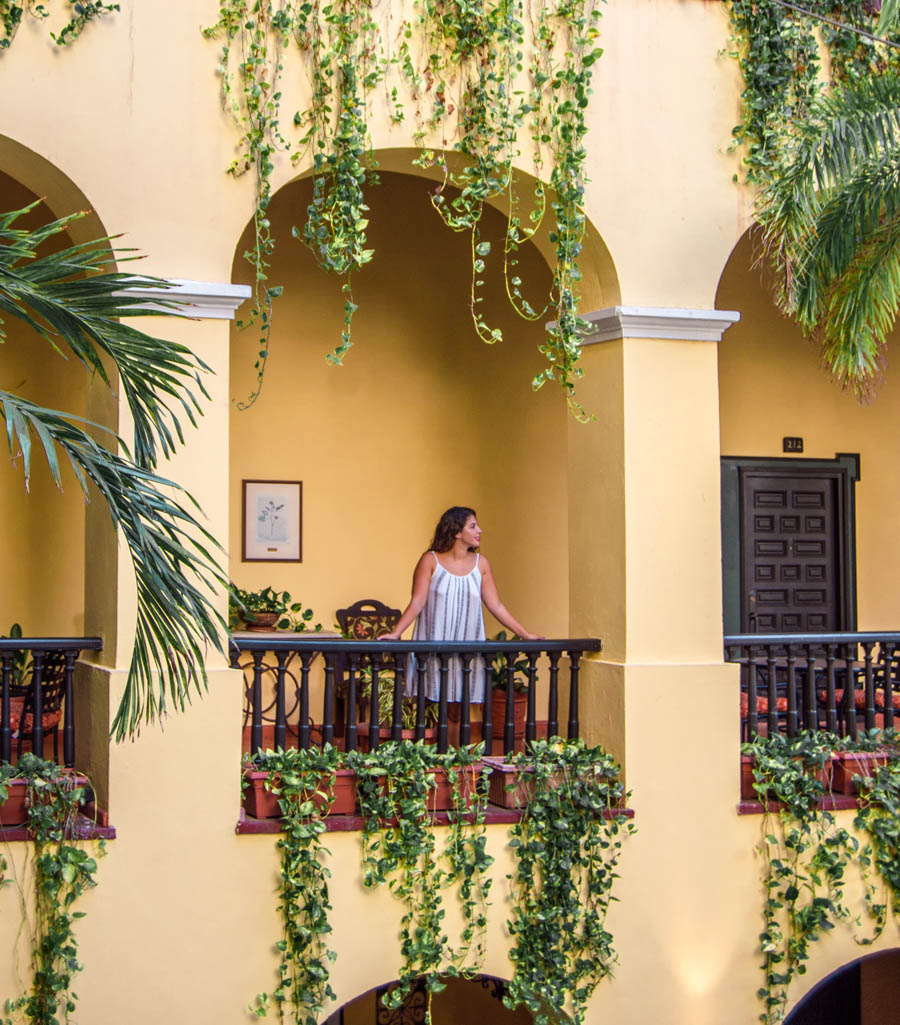 The History
Hotel El Convento has a long and vibrant history. As its name suggests, this hotel was formerly a convent. A wealthy widow donated her money for the construction of the convent, which officially opened in 1651. The convent closed in 1903, not reopening until 1962. At this time, El Convento hotel was born. The hotel was renovated and renamed in the 1990s as the Hotel El Convento we known today. Its' long history is apparent walking through the halls of Hotel El Convento. Each inch of this hotel is full of historical charm. It is easy to see how this hotel attracts so many weddings a year!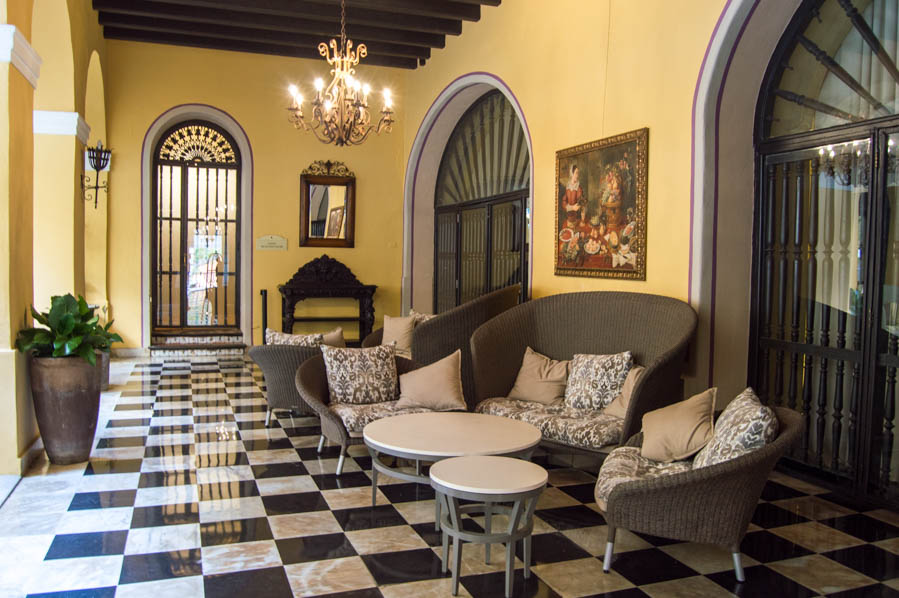 The Location
Hotel El Convento is located in the heart of Old San Juan. I couldn't have thought of a better place to stay to explore this vibrant, walled city. While Old San Juan is extremely walkable, there are a few notable spots that are only steps away from the hotel.
The hotel is located in the Plaza de la Cathedral, a lively plaza home to The Cathedral Metropolitana Basílica de San Juan Bautista. This is the oldest cathedral in the Americas! It's no wonder why this cathedral shares a plaza with this former convent.
I was pleased to see that the hotel is located on one of the most photogenic streets, Caleta de las Monjas. Walking down Caleta de as Monjas will bring you passed the most charming alleyway behind the hotel. This charming alley is adorned with cobblestone steps and white iron furnishing.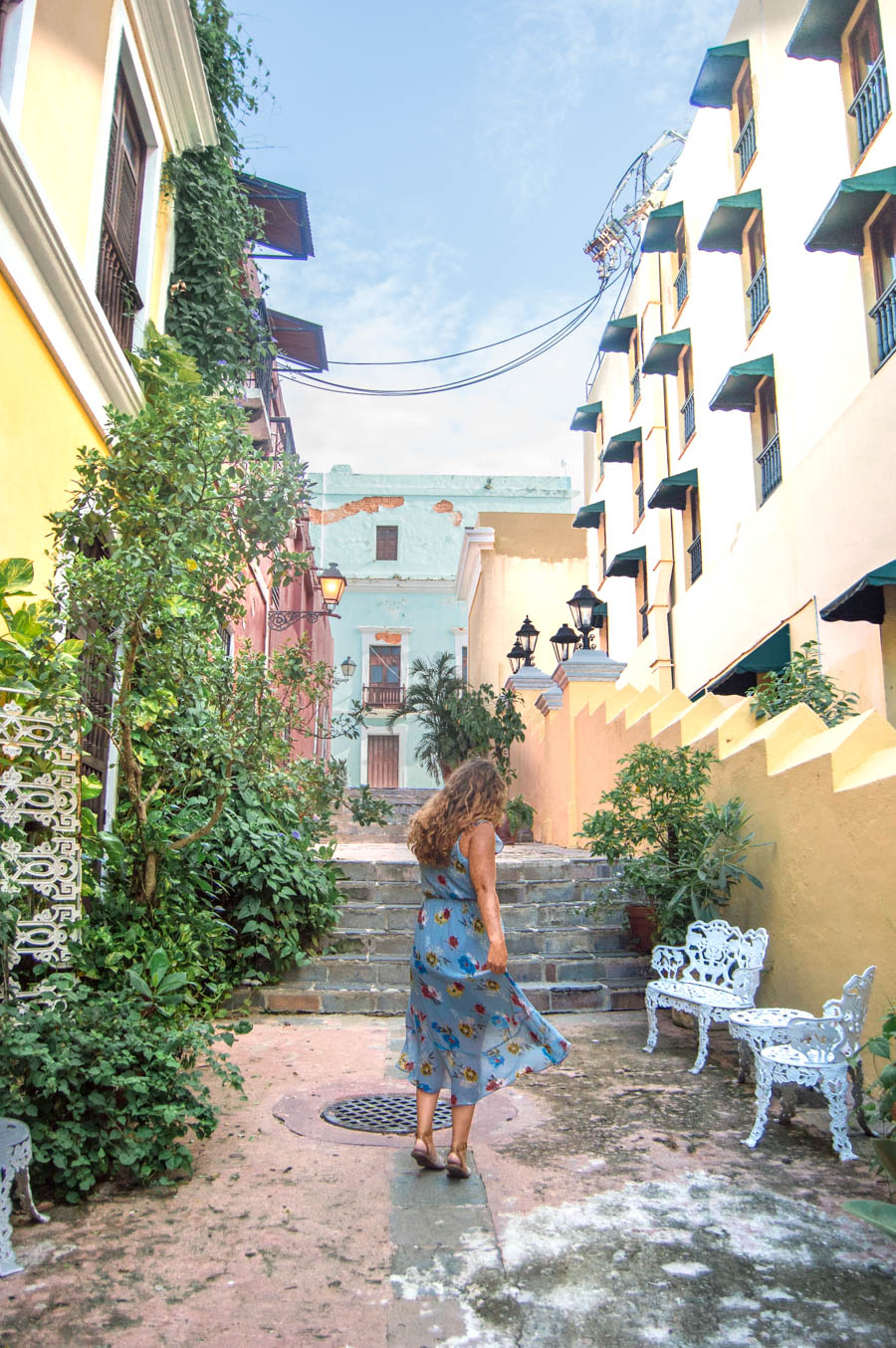 Caleta de San Juan weaves down toward the water to Plazuela La Rogativa. Plazuela La Rogativa has sweeping views of the coast as well as fortified walls.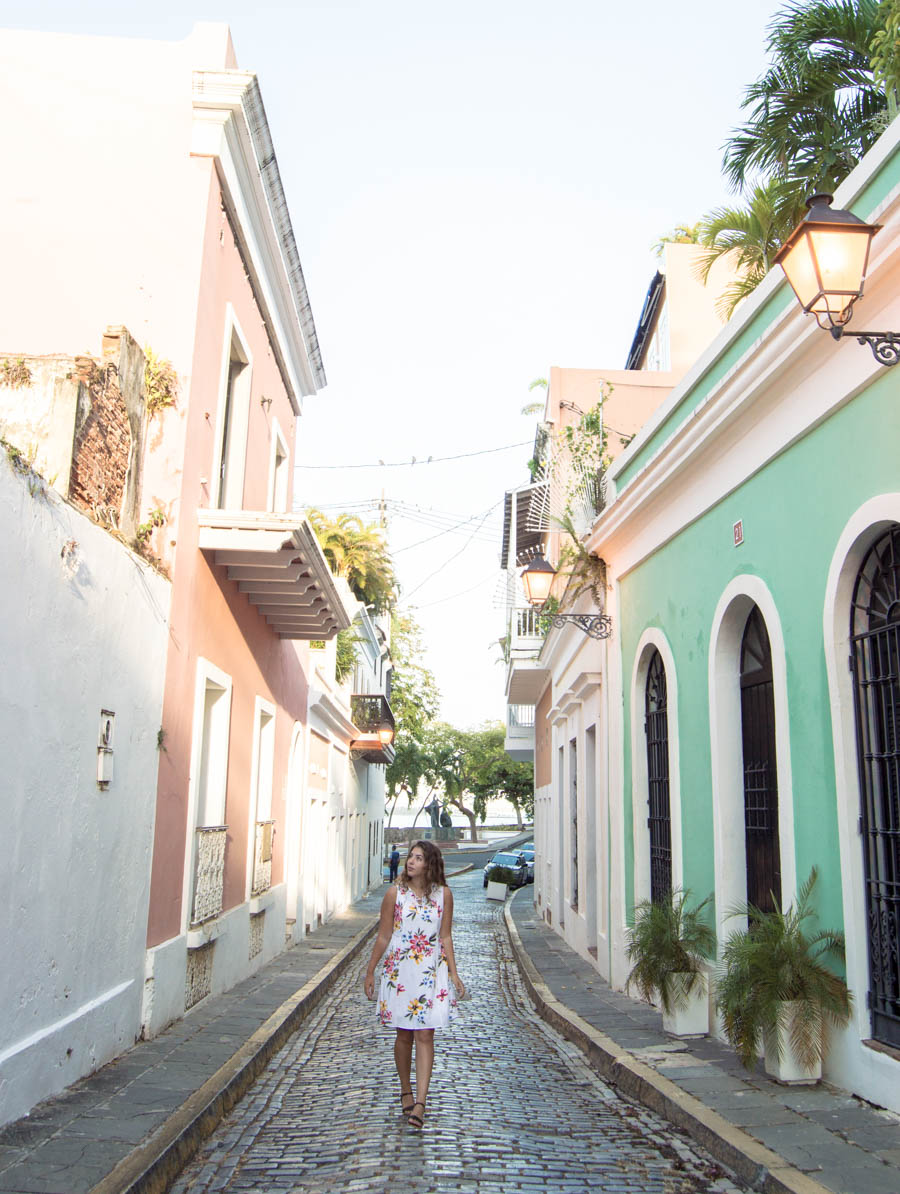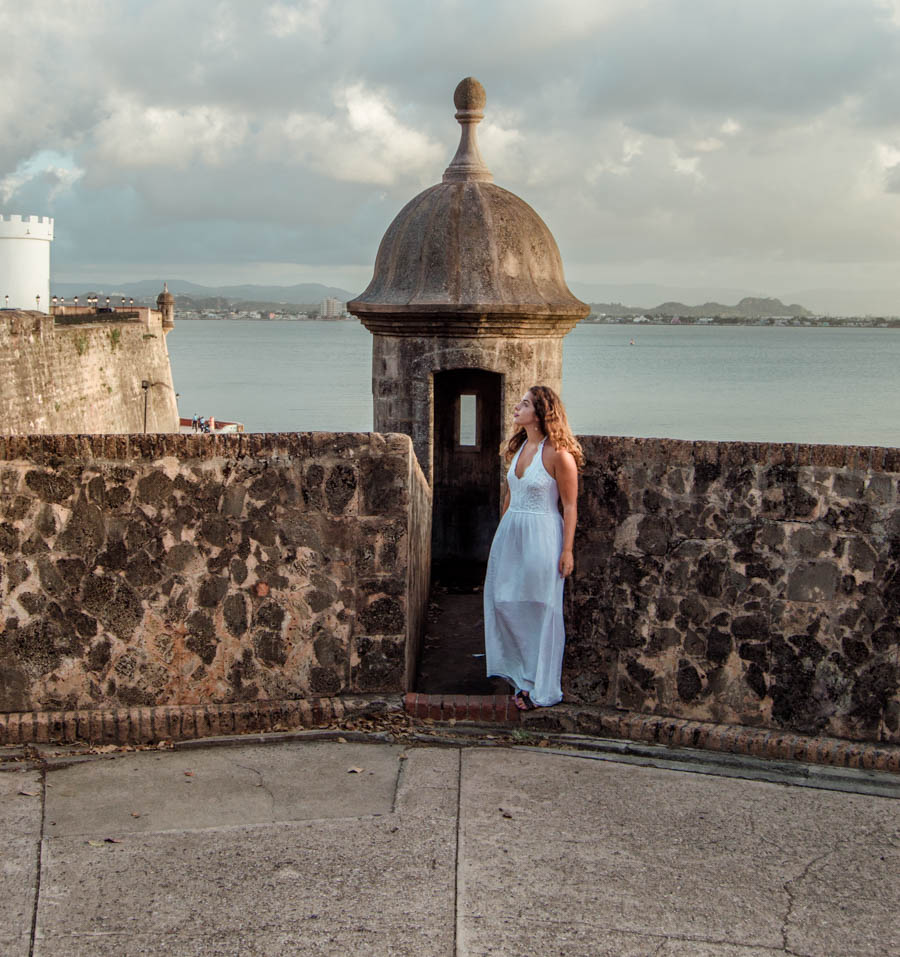 The Rooms
I felt like a Spanish princess in our Double Vista Room, with the Juliette Balcony overlooking the plaza and cathedral. The room felt spacious with the high ceilings. I adored the details, which echoed the design from the rest of the hotel; from the wrought iron headboards to the black and white tiled floor. With only 58 rooms, each room on the property will make you feel like you're a special guest. While Hotel Convento has a historic feel, the rooms have all the modern necessities. This is one of the most uniquely beautiful hotels I have ever stayed in. I did not feel like I was in a hotel at all, but rather an old-world home that I had the honor of staying at. 
If you decide to stay at Hotel El Convento, I would recommend

reserving your room on Booking.com

. Booking.com is great because you don't have to pay upfront and you can cancel without a fee.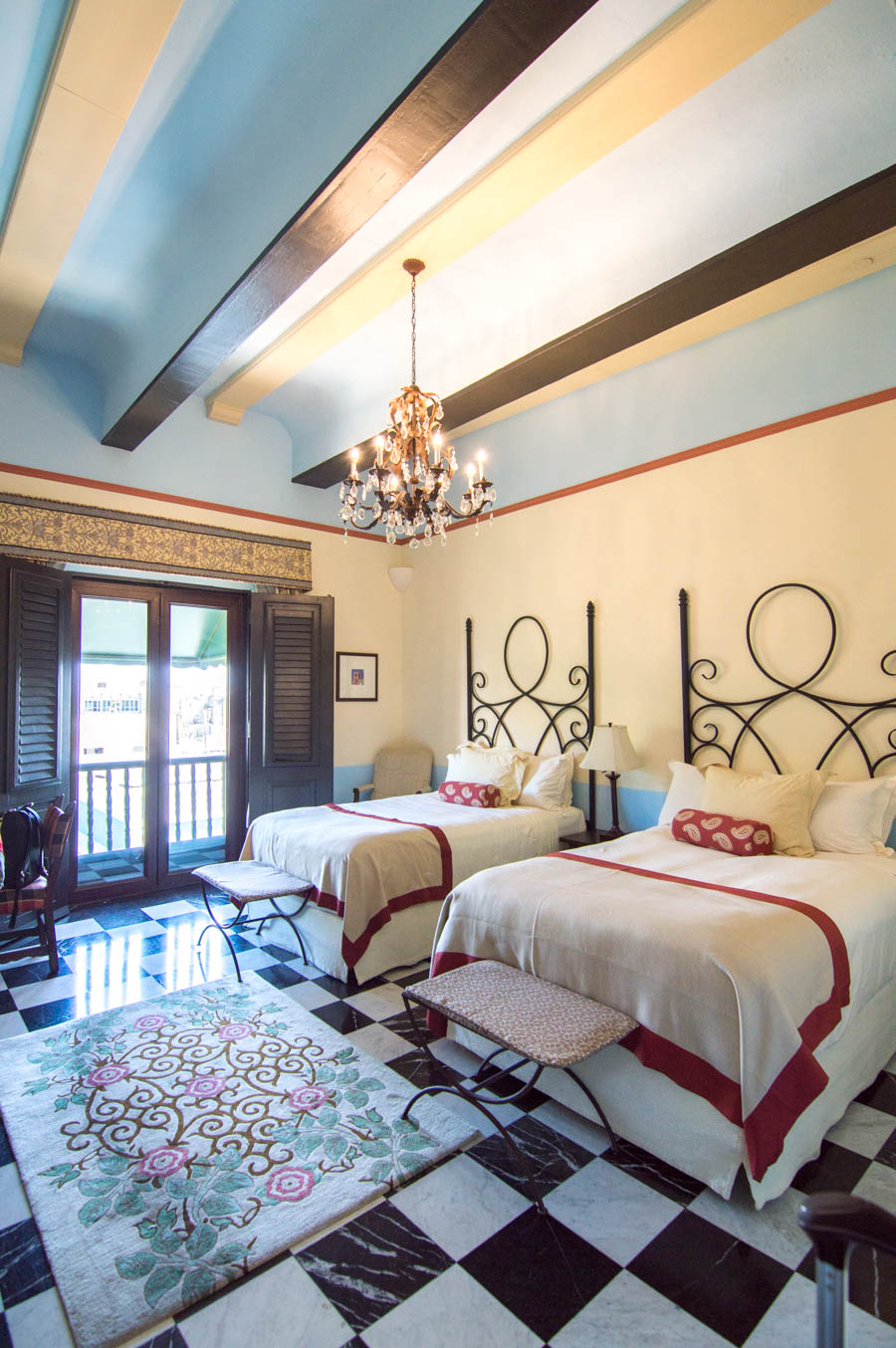 The Cuisine
There are two restaurants at Hotel El Convento including Patio del Nispero and El Picoteo serving a variety of food from gourmet delicacies to Spanish tapas. The food is fresh and flavorful thanks to the herb and vegetable garden on the property. 
I had the delight of lunching at Patio del Níspero, the restaurant on property at Hotel El Convento. I indulged in burger sliders, a gourmet truffle flatbread, and homemade strawberry sorbet. Lunch was absolutely delightful! Yet, I've heard that dinner here is even better!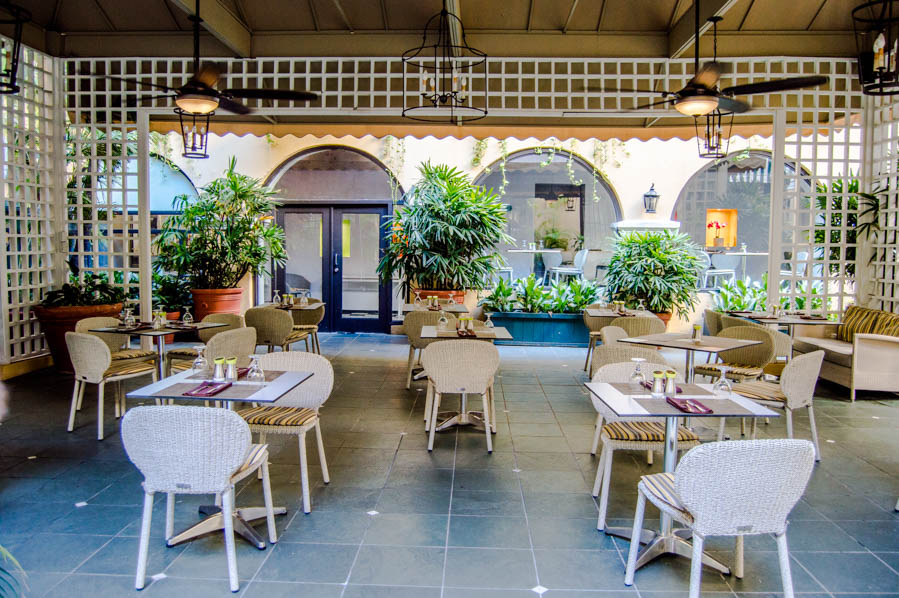 The best part about Patio del Níspero is its' location in the courtyard. Everything about this hotel has an old Spanish vibe and the courtyard is no exception. We sat under the canopy which shaded us from the hot sun. Don't miss the opportunity to grab a mojito in the courtyard. Try a unique flavor such as mango or guava!
The Amenities
Everything about this property felt like a luxury in itself, yet there were a few amenities that really stood out!
I was so impressed to see that Hotel El Convento offers turn-down service. Something about returning to your hotel room in the evening with the curtains drawn, bed untucked, and delicious chocolates on your pillow feels so luxurious.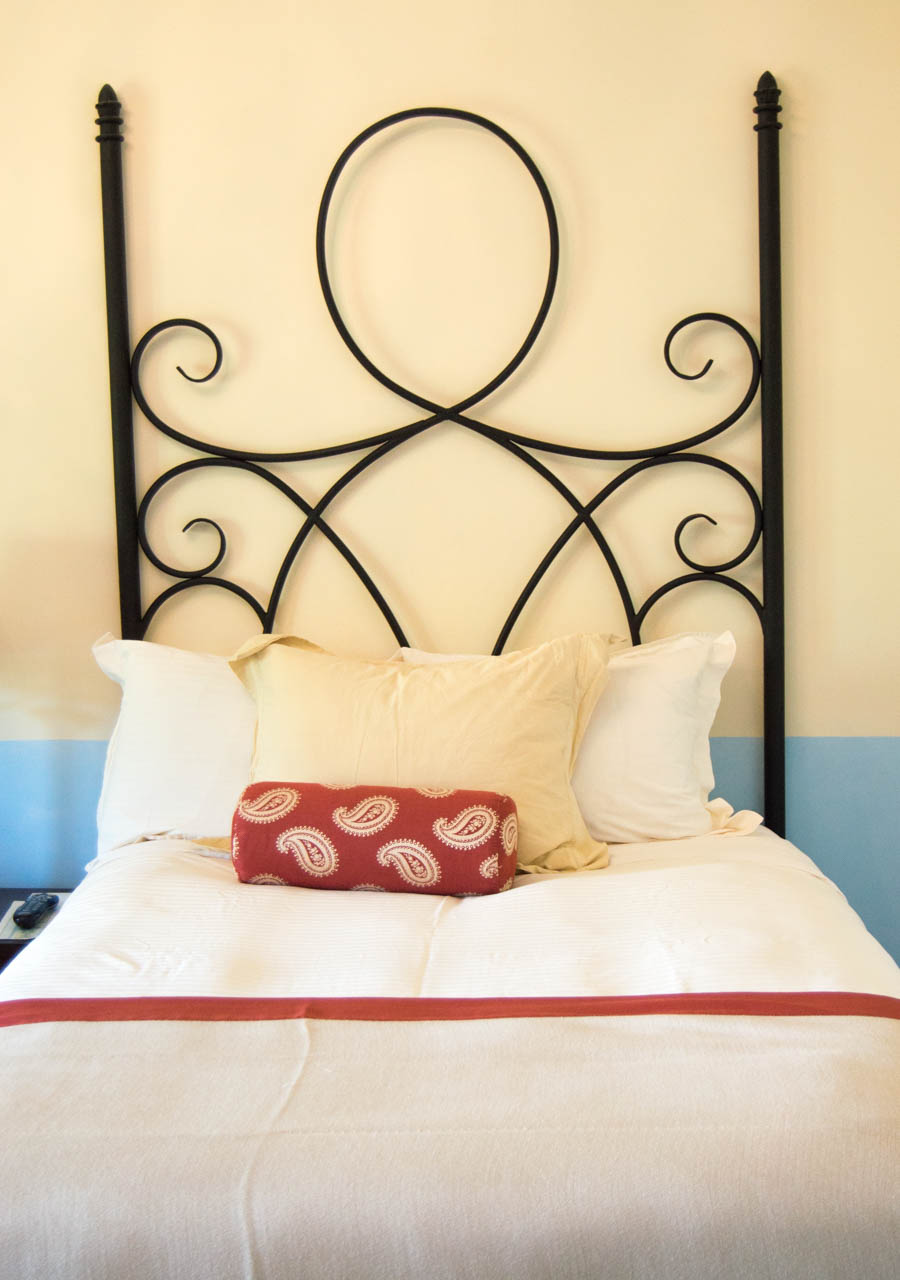 Hotel El Convento offers a daily manager's reception, serving wine and cheese at La Veranda Terrace. This was the perfect way to enjoy an evening in San Juan. The views of the Plaza de la Cathedral and the ambiance were perfect. Coffee is available in La Veranda Terrace in the morning, making it the perfect spot to start and end your day in Old San Juan.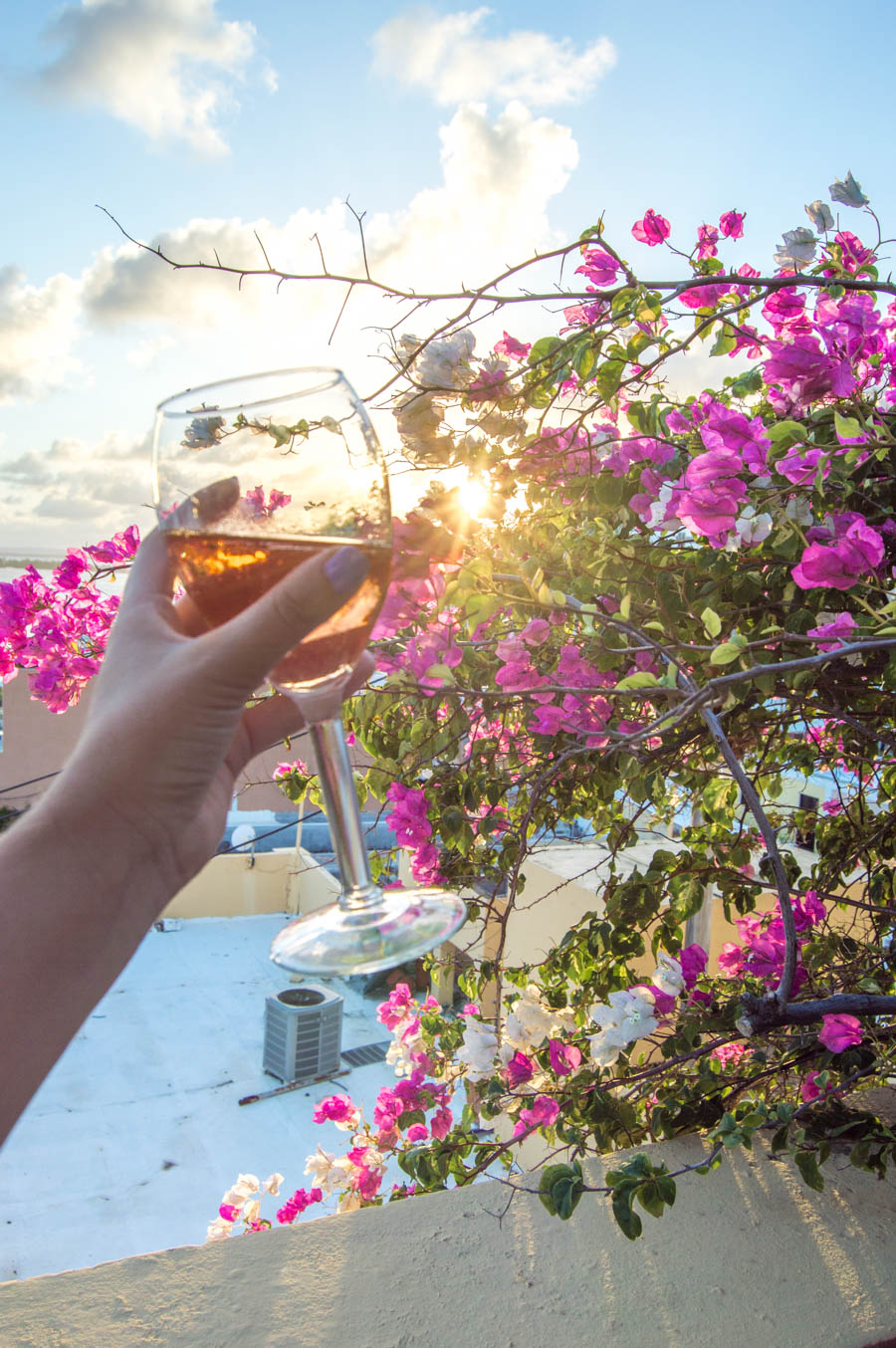 My favorite part of Hotel El Convento is the rooftop plunge pool and hot tub. I spent a fair amount of time on this rooftop; relaxing on the lounge chairs, swimming during the day, and dipping in the hot tub in the evening. What sets the rooftop pool apart is the incredible views of Old San Juan. I was able to enjoy the atmosphere and views of Old San Juan while relaxing poolside.
San Juan is easily accessible by foot, yet if you'd prefer to bike, there are complimentary bicycles available for all guests!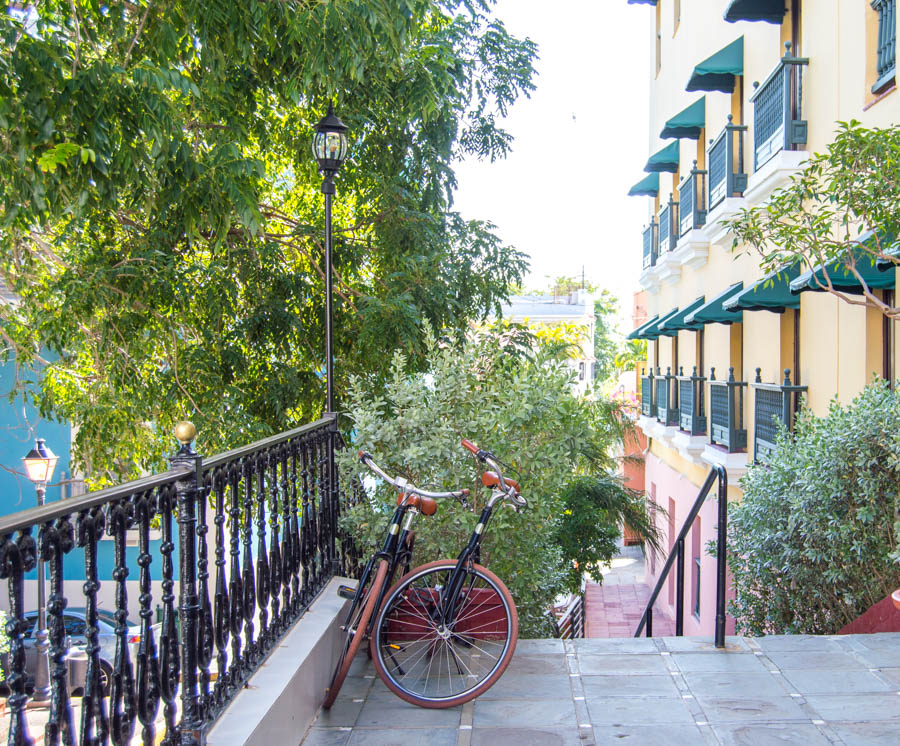 If you're after more pool/beach time, Hotel El Convento Beach Club allows guests to use the pool/beach at their sister properties including Renaissance La Concha and Marriott Stellaris Resort & Casino. Both these properties are located in Condado, a short car ride away.
---
Read More: Checking In: La Concha Resort in Condado
---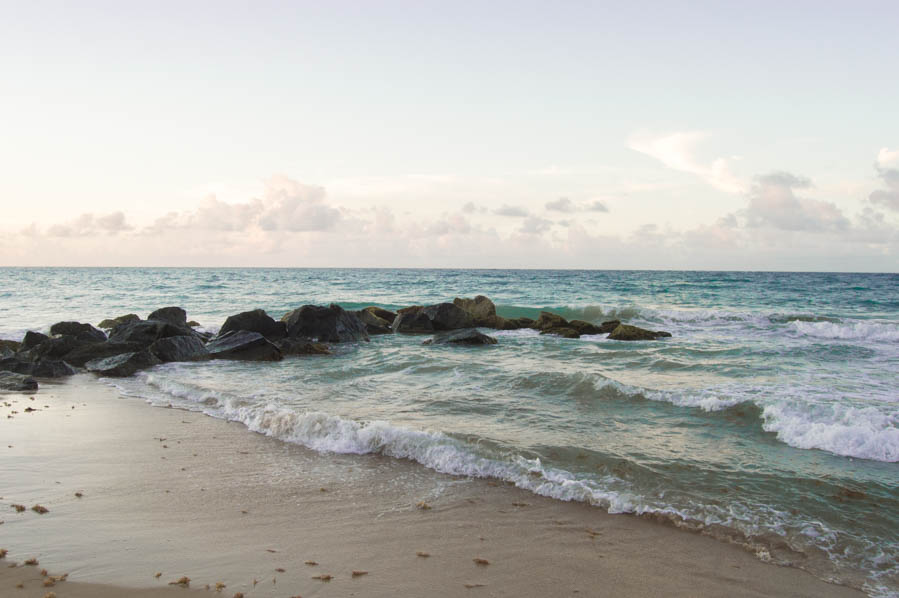 Liked this post? Pin Now, Read Later!
Come Join My Journey was welcomed to the Hotel El Convento and Patio del Nispero  as a guest, however, my opinion is as always my own.