Hands down, one of the coolest experiences I've had in New York is swimming in Enfield Falls at Robert H. Treman State Park. Enfield Falls is one of the best swimming holes in New York State. At this park, you can swim in a deep pool under a waterfall. It is an exhilarating and refreshing way to spend a summer day. This is an experience that you need to add to your New York bucket list! While there are plenty of waterfalls in New York and others you can splash and "swim" under, none are quite like this.
---
You May Also Be Interested In:
The Best Finger Lakes Waterfalls You Must Visit
---

How the Enfield Falls Swimming Hole is Made
The swimming pool at Enfield Falls in Robert H. Treman State Park is a natural waterfall-fed pool. In the summer months, a dam is put up to slow the water from flowing down Enfield Glen. This allows the swimming hole to fill up for swimming.
If you visit during another season than summer, you will see the waterfall with a shallow pool of water at the base. During my first visit, the dam was being prepared for the season. It was interesting to see the difference in water levels before the swimming hole filled up.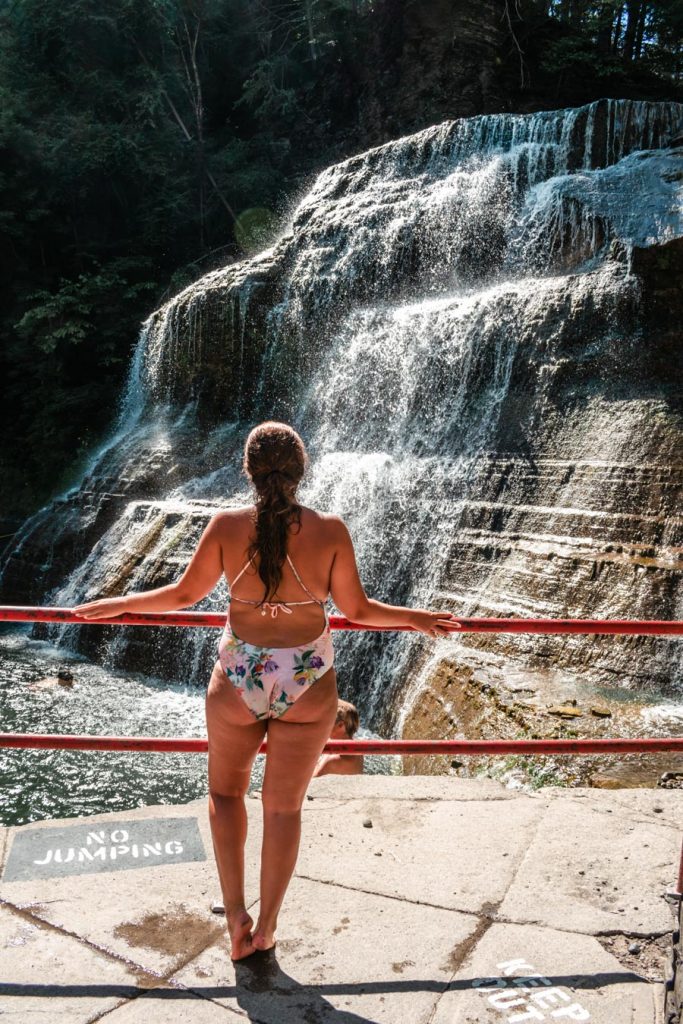 Where is Enfield Falls?
Enfield Falls is the lower waterfall at Robert H. Treman State Park in Ithaca, New York. This is a New York State Park in the Finger Lakes region of New York.
To get to Enfield Falls, head to the main parking lot at Robert H. Treman State Park. From the parking lot, it is a short and easy walk to Enfield Falls.
When to Visit
While the park is open year-round, the swimming hole at Enfield Falls is only open from 11:00 a.m. to 7:00 p.m. in the summer. 
Weather conditions can cause the swimming area to be closed. Be sure to check the weather and call ahead to make sure you are able to swim. The most updated information can usually be found on Robert H. Treman State Park's Facebook page.
Currently, this swimming hole is only operating at 50% capacity. I would suggest visiting during the weekdays, as Enfield Falls didn't even get near 50% capacity while I visited on a weekday.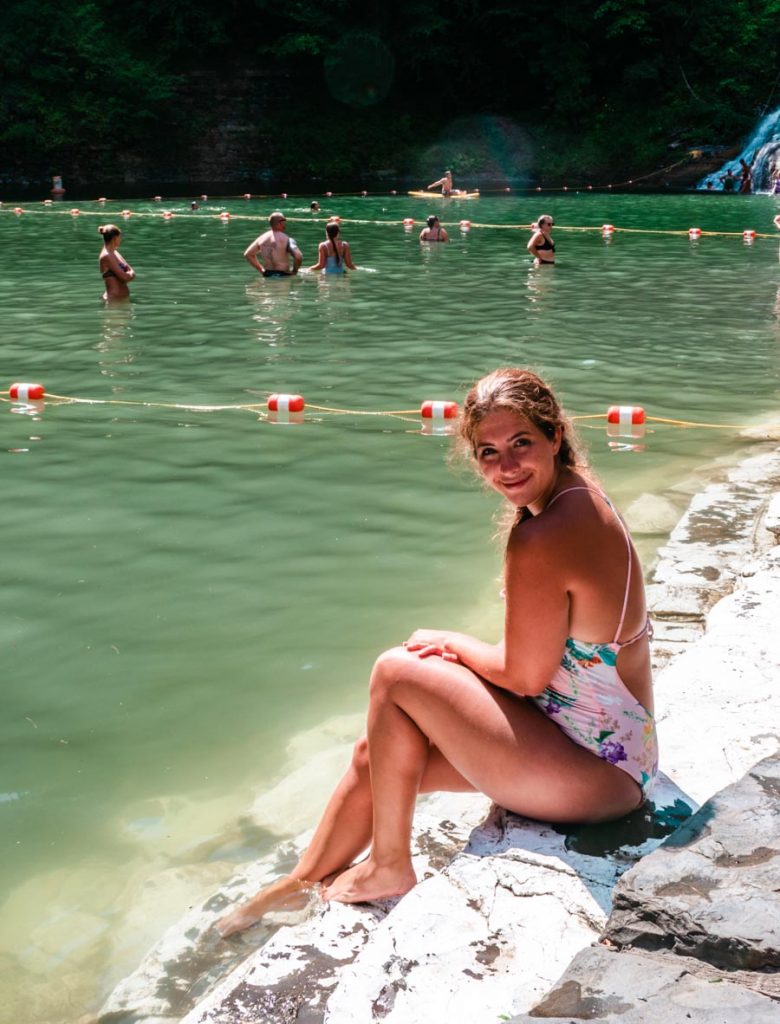 Swimming Facilities
While this is a natural-fed swimming hole, Enfield Falls is set up to feel like an actual pool. There are lifeguards, roped-off areas based on the depth of water, and built-in steps for entering the swimming hole. In the deep end, which is approximately 20 feet deep, there is even a diving board and ladders to climb up. Other facilities are available on-site including a picnic area and bathrooms/ changing area.
Swimming in Enfield Falls in Ithaca 
The swimming hole of Enfield Falls is such a unique experience in the Finger Lakes. Here you have the chance to float around in a pool fed by an actual waterfall. It is a fun way to experience one of the many waterfalls in this region.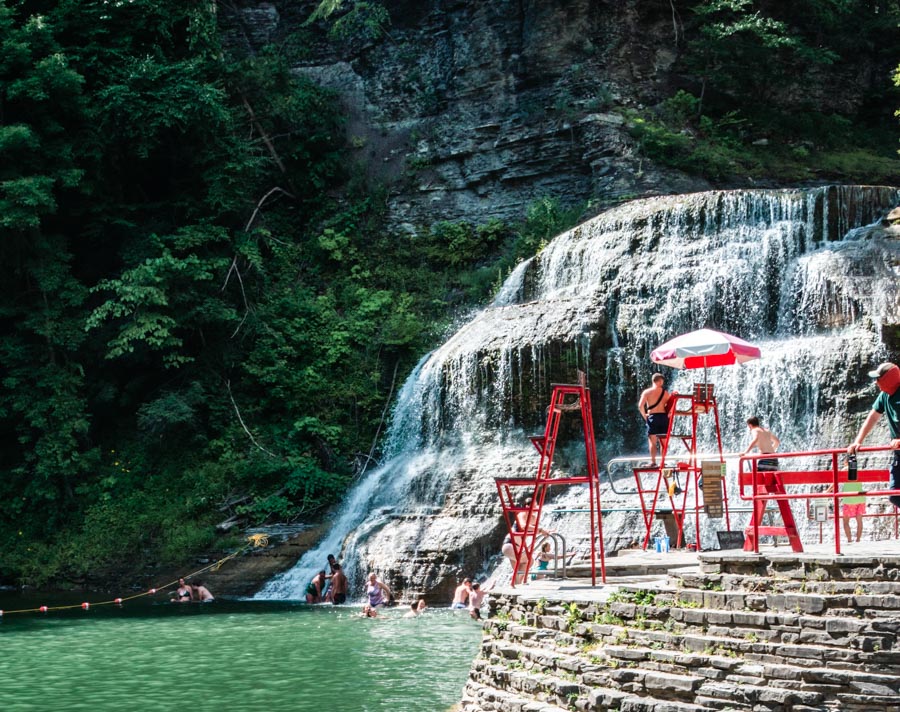 Water Clarity
Don't let the water colorful fool you. While it has a green hue, the water at Enfield Falls is clean, clear, and swimmable. However, sometimes this New York swimming hole may be closed after a rainstorm, as the rain can leave the water too cloudy for swimming. If you're coming for a day trip, call ahead to ensure the water is open for swimming.
Water Temperature
The water is cool and refreshing. During my visit, in mid-July, the water temperatures hovered at under 65 degrees. This is quite cool compared to other swimming spots in New York at this time of the year. But, it actually felt amazing! This crisp water is very refreshing on a hot day. It is even more refreshing swimming under the cool cascades of Enfield Falls. 
It's Not Crowded
While Enfield Falls is a popular swimming hole, it never felt overly crowded or busy. The swimming area is very large, so you never feel like you're on top of other swimmers. Additionally, the sound of the rushing water mutes the noise of other people which makes the experience relaxing.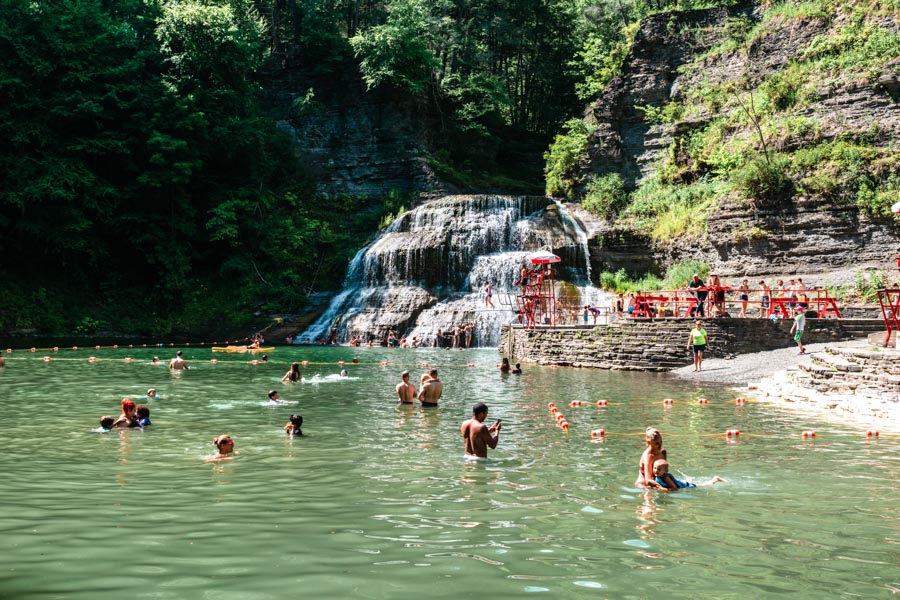 Swimming Hole Depth
The swimming hole ranges in depth from around 2 feet to 20 feet. And there are even shallow steps that you can sit if you don't feel like swimming. This means there are swimming opportunities for all levels. I spent most of my time in the deeper areas, where there were fewer people.
Swimming Under Enfield Falls
For the ultimate waterfall swimming experience, you need to head to the deep end. The deep end is where the water from Enfield Falls cascades into the swimming hole. You can only swim in this area if you are able to swim on your own. Keep in mind that there are no floatation devices allowed in the roped-off deep end. The lifeguards are not messing around here. Whenever they saw someone getting assisted to swim, they blew their whistles to make the person get out. If you are not a strong swimmer, I would advise against spending much time in this area. Due to the pressure of the waterfall, you need to use a bit more energy to stay afloat than in a typical swimming pool.
Swimming under the waterfall was my favorite part of this swimming hole. The cool water cascaded smoothly down into the water. Standing underneath the waterfall feels like soft jets hitting you. It is a very relaxing, almost spa-like experience. Except that the water coming from the waterfall is very cold and keeps you equally alert as you are relaxed.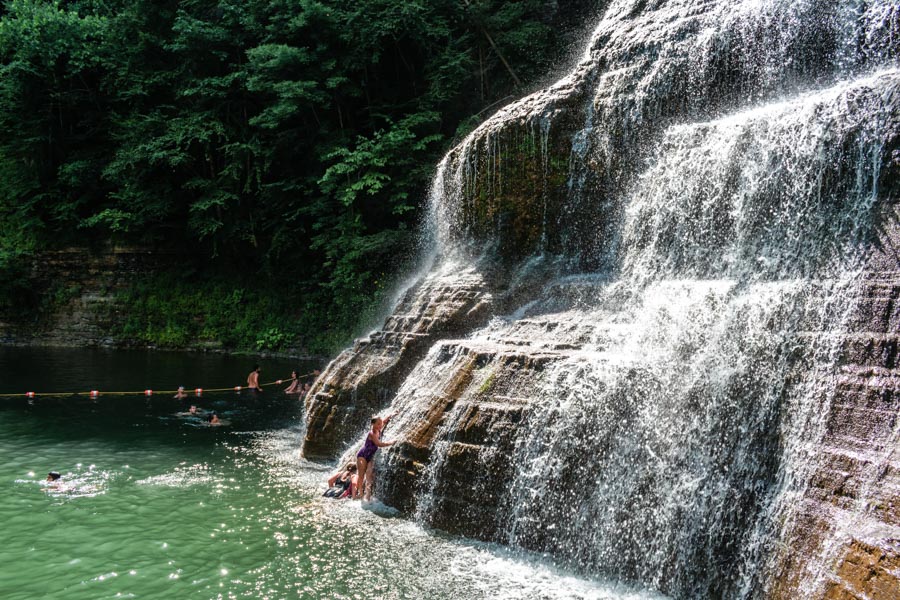 Diving Board
To make this Enfield Falls even better, there is a diving board in the deep end near the waterfall. Not only is it a fun addition to this swimming hole, but it is also a great way to force yourself to get under the cold water. When the water temperatures in the 60s, you have to just jump in! I jumped from this diving board various times and it was so much fun!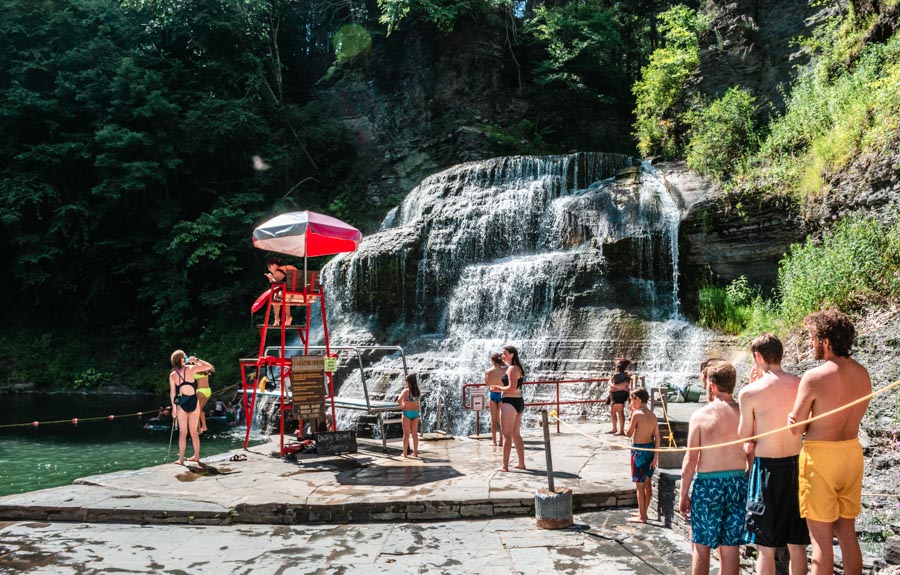 Where to Stay near Enfield Falls
If you are planning to spend the night after spending a wonderful day of waterfall swimming, you'll want to book a stay in Ithaca. There are plenty of hotels in Ithaca, but these are my recommendations from recent stays.
La Tourell Resort and Spa
La Tourelle Resort and Spa served as the perfect retreat after hiking and swimming in waterfalls in Ithaca. This boutique hotel in Ithaca allows you to enjoy the natural surrounding while experiencing the luxuries of this property. Plus enjoying the spa after a day full of hiking is perhaps the most rewarding experience ever!
Read all about my stay at La Tourell Resort and Spa here!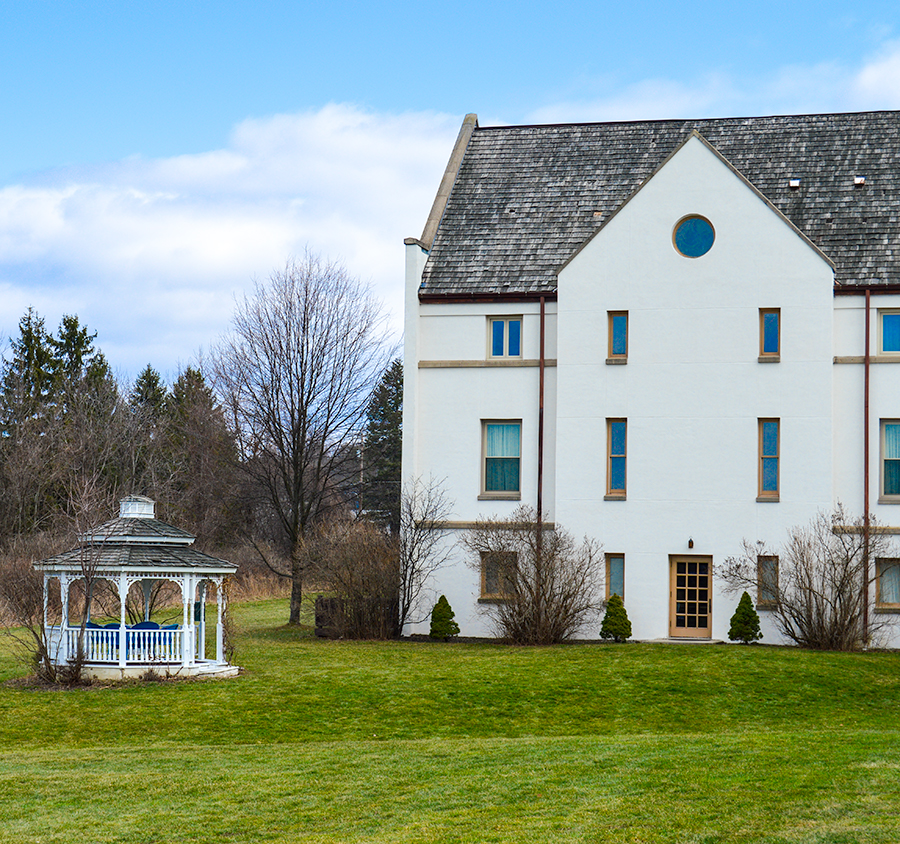 Holiday Inn Express & Suites Ithaca
I stayed at the Holiday Inn Express & Suites on my most recent trip to the Finger Lakes. This was a nice budget-friendly hotel that was perfect for a full itinerary of waterfall hopping. The best part about this hotel is their quick buffet breakfast, which helped me get my day exploring started faster. It's located nearby Robert H Treman State Park and Enfield Falls.
Liked this post? Pin now, read later!