While exploring the Baltic port city of Gdansk, you may be looking to get a closer look at the sea. You're in luck as Gdansk is part of the tri-cities along with neighboring Sopot and Gydinia. Sopot is very close to Gdansk and makes an easy day trip from the city. In fact, Sopot is so easily accessible, that you don't even need to plan a full day trip. Whether you want to spend a few hours or a full day in the resort city of Sopot, this guide will ensure that you are traveling from Gdansk to Sopot with ease. Additionally, included are the best things to do in Sopot to ensure that you have the perfect Baltic Sea day trip.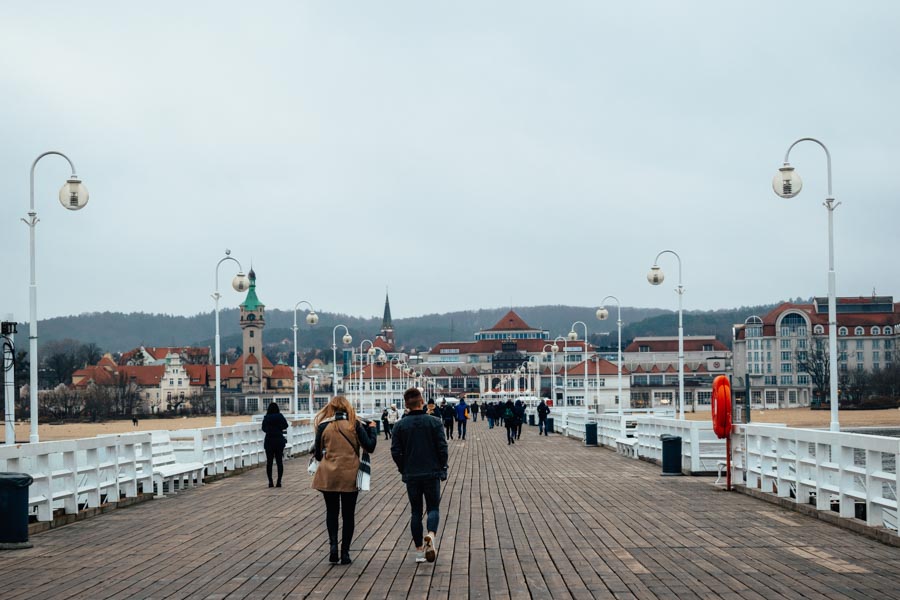 How Far is Gdansk to Sopot?
You may be wondering, how far is Gdansk to Sopot. These two cities are actually quite close, the distance is roughly 7 miles, or 11 kilometers apart. This makes traveling between the two cities very easy.
How to Get from Gdansk to Sopot?
Traveling between Gdansk to Sopot is incredibly quick and easy. This is perhaps one of the easiest day trips I have ever done. It is such a quick trip, that spending an entire day in Sopot isn't even necessary. As I visited in the Winter, I only spent a couple of hours in Sopot and felt that the trip was well worth it. (You can only spend so much time in a resort city on a freezing day). There are several ways to get fro Gdansk to Sopot, yet I would only recommend going by train or by boat.
Gdansk to Sopot Train
The easiest and cheapest way to get to Sopot is by train. Gdansk to Sopot train tickets cost 4,20 PLN each way. Trains depart from Gdansk every 15 minutes and the journey only takes 20 minutes to get to Sopot. You don't need to worry about purchasing train tickets ahead of time. Simply stop at one of the ticket machines and purchase an SKM train ticket for Gdansk to Sopot. The train station in Sopot is conveniently located in the city. Upon exiting the train station, you are immediately in the resort city of Sopot.
Gdansk to Sopot Boat
If you are visiting Gdansk in the Summer months (April and the beginning of September), another great option to travel to Sopot is by boat. Gdansk to Sopot by boat is a leisurely way to start your day trip. Boats depart daily in July-August, and on weekends in April-June and September from Gdansk's Main Town and arrive at the Sopot pier. While this is more of a time consuming and expensive option, the boat rides take one hour and tickets costing roughly 40 PLN, this is a great way to experience the Baltic Sea. If you decide to take a boat ride, be sure to purchase tickets in advance during the high season. Tip: If you choose to take the boat tram to Sopot, alternatively take the train back from Sopot to Gdansk to cut costs.
Best Things to do in Sopot
Now that you know how to get to Sopot, you may be wondering what are the things to do in Sopot. Sopot is a resort town near Gdansk. Most of the top things to do here revolve around the seaside. This is an especially popular day trip in the Summer months, however, visiting Sopot is worthwhile year-round. While there are a few sites to see in Sopot, this is the type of place more about the atmosphere. Spend time walking around the town, stopping to check out the quirky Crooked House and the Garrison Church of St. George. Not to miss sites include the Sopot Pier and beach. You can spend some much needed R&R time in Sopot, leisurely enjoying the seaside. Additionally, there are plenty of seaside restaurants and bars around town where you can indulge.