Letchworth State Park is a beautiful park in New York State with a striking canyon and waterfalls. Often referred to as the Grand Canyon of the East, Letchworth State Park is well worth a visit while in New York. The best part is, this park is open year-round and each season has something special to offer. While Winter may not seem like the ideal time to go chasing waterfalls, seeing Letchworth State park snow-covered was one of my favorite visits to this state park. If you are considering visiting Letchworth State Park in Winter, you will not regret it. It was a true winter wonderland! Keep reading for everything you need to know about visiting Letchworth in Winter in order to have the best visit to the park.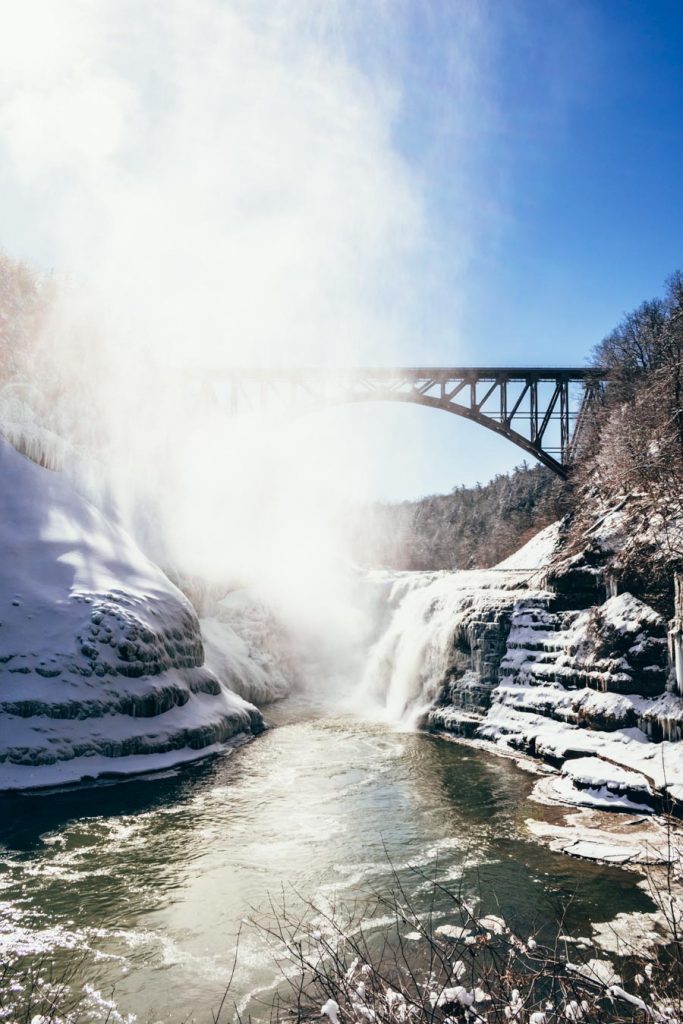 Things to Know Before Visiting Letchworth State Park in Winter
Park Entrance
Entrance to Letchworth State Park is free in the Winter, which is such a bonus. However, not all the park entrances are open in the Winter. You will want to go to the Castile entrance to enter the park. The Castile entrance is the entrance closest to the Visitors Center and should always be open. The other entrances may be closed due to weather conditions. However, if the other entrances are closed, they have clear signage posted directing you to the open entrance. 
Road Closures
Keep in mind that many roads in Letchworth State Park are closed during Winter. Some roads are closed all season and others are closed due to weather conditions. Call ahead to check the conditions for your visit. 
Closed for the Winter Season
Main Park Rd. between Perry and Castile Entrances

Main Park Rd. from the Glen Iris Inn to the Portageville Park Entrance

Lower Falls Rd.
Temporarily Closed in Poor Weather Conditions
Middle/Upper Falls Rd.

East Park Rd to the Parade Grounds
Will it Snow in Letchworth State Park?
While it typically snows quite a bit in this part of New York, having a snowy day in Letchworth is not guaranteed in the Winter. If you want to see Letchworth State Park covered in snow, be sure to check the weather for your stay. If you live within driving distance, the best way to ensure you experience this state park as a Winter wonderland is to plan a trip last minute. Check the weekly and daily weather forecasts for Letchworth State Park and Castile, NY. If you are in the area and have never seen Letchworth, it is worth visiting in the winter weather it is snowing or not. However, the views may be grey and the trees dead-looking without any snow coverage during Winter.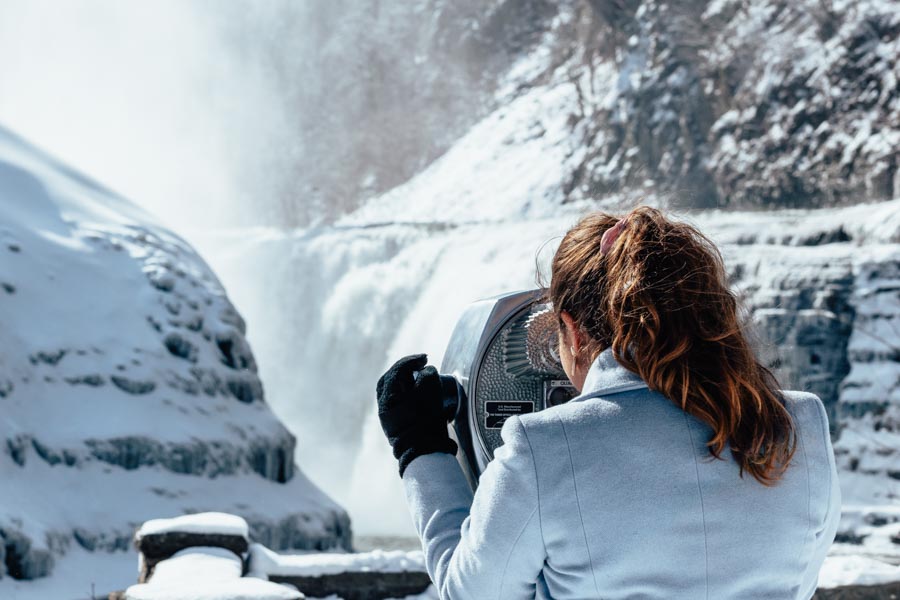 Seeing the Letchworth Waterfalls in Winter
Letchworth State Park is a great park to experience this beautiful landscape without having to hike to see the views. This is a drivable park, where all the major viewpoints are accessible. After parking at each viewpoint, the incredible waterfall views are merely steps away from your car. This is especially beneficial in the Winter as New York State can have very cold Winters. Even without hiking, there can be quite a bit of snow to trudge through to get to the viewpoints. These are some great winter boots for women to check out.
The only potential problem about visiting Letchworth State Park in Winter is that you may not be able to see the waterfalls if the conditions are too bad. During extreme winter weather, Middle and Upper Falls Rd. may be closed. This road is where you will find two of the best views of the waterfalls in Letchworth. Be sure to call ahead of time to ensure that Middle and Upper Falls Rd. are open on the day you plan to go, to ensure you can make the most of your visit. If this road is closed, the Inspiration Point lookout should still be open all Winter. Inspiration Point offers an incredible view of both the Middle and Upper Falls from a distance.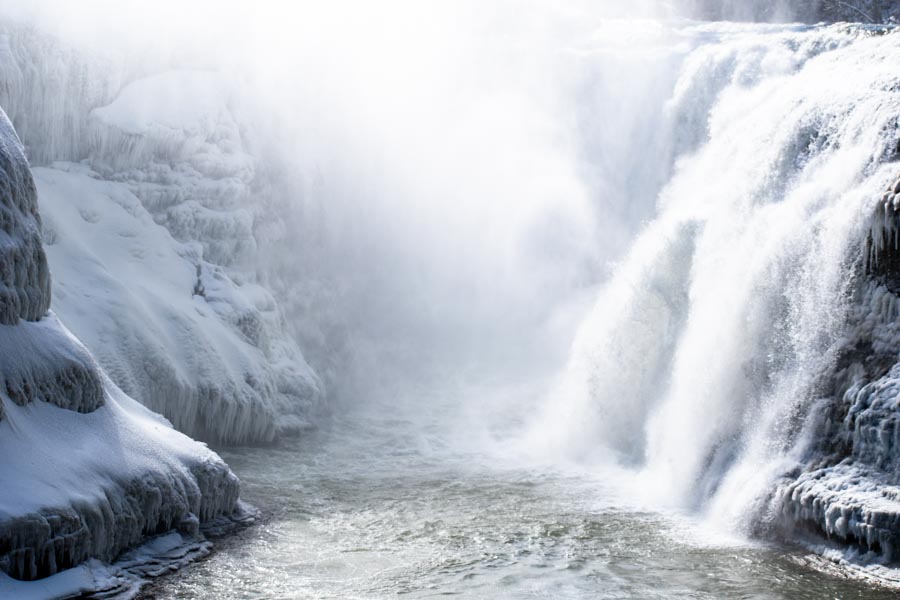 Letchworth State Park Winter Drive
Starting at the Castile Entrance, we began our drive through Letchworth State Park. As the road to the left was covered in over a foot of snow, our only option was to drive right, towards the waterfalls. This was our intended destination, yet it made navigating the park even easier as there was only one direction to drive. If this is your first visit to Letchworth State Park, the Visitors Center is open during the Winter. Stop in to grab a map or ask any questions about visiting Letchworth State Park in Winter before continuing on towards the waterfalls. 
Inspiration Point 
Inspiration Point is one of my favorite viewpoints in Letchworth State Park. From Inspiration Point, you get an epic view of Middle Falls and Upper Falls. This viewpoint looked extra beautiful in the Winter, with the trees covered in a dusting of snow. No matter the conditions, Inspiration Point should be accessible year-round, even if the other roads in the park are closed. The pathway to get to Inspiration Point is pathed. While this means that the path is shoveled, it can also be extremely icy. Walk carefully as you approach the viewpoint to ensure you don't slip on the icy cement.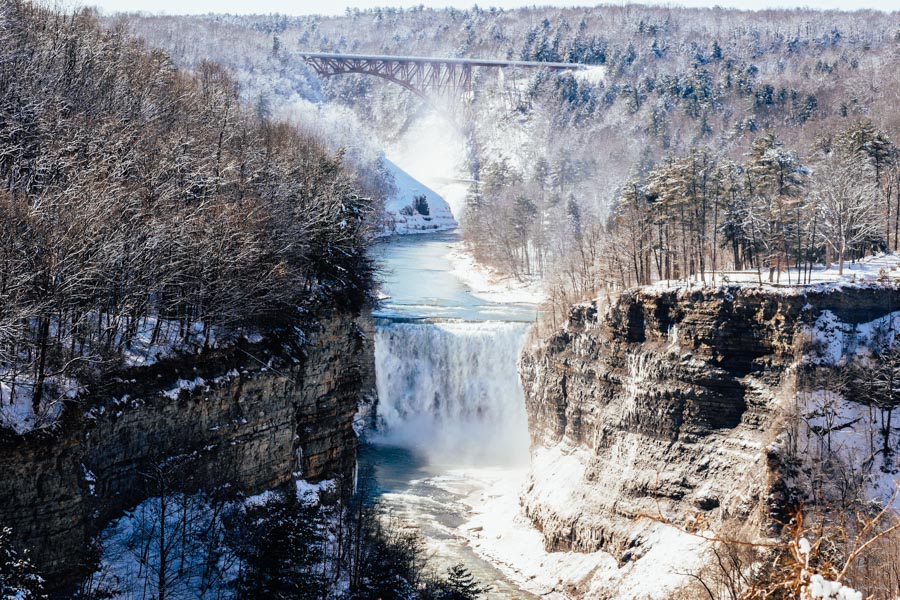 Glen Iris Inn 'Ice Volcano' 
Outside of Glen Iris Inn is a  gravity-fed fountain that flows year-round. When the weather conditions are right, aka when it is cold enough, the fountain is transformed into an 'Ice Volcano'. Some years, this 'Ice Volcano' has been between 30-50 feet high. It is an incredible phenomenon that is well worth visiting. While the fountain was not completely frozen during my visit, it was still incredible to see. The lower part of the fountain was frozen over, as the fountain shoot ice shards in all directions.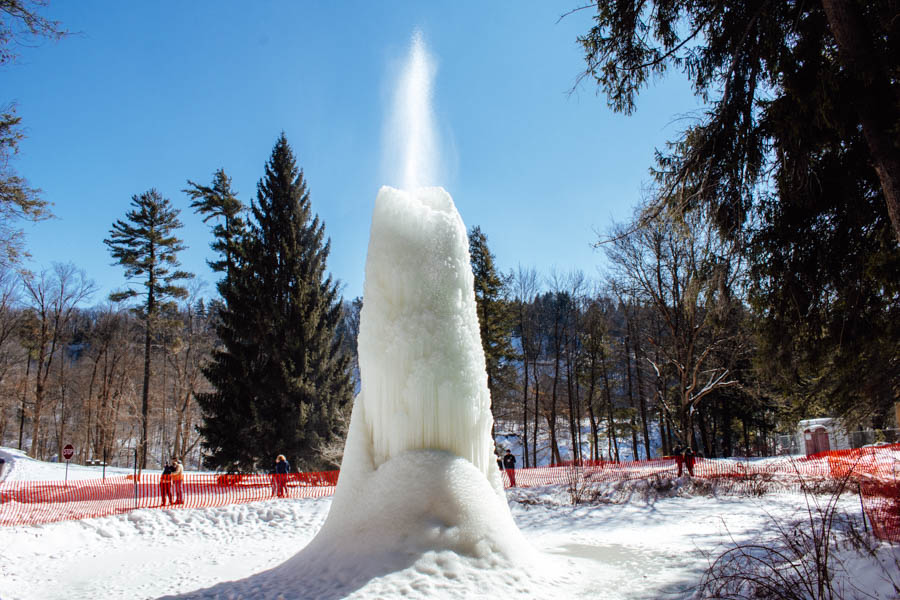 Read More: Ice Volcano at Letchworth State Park
Upper Falls
Visiting Upper Falls is the most amount of walking you will have to do if you are driving through the park. Yet, the quick walk through the snow will bring you to the enchanting views of Upper Falls. This was one of my favorite viewpoints during Winter. As it is off from the main roads, Upper Falls felt like a secluded Winter wonderland.  Trudging through snow is always worth it for beautiful waterfall views.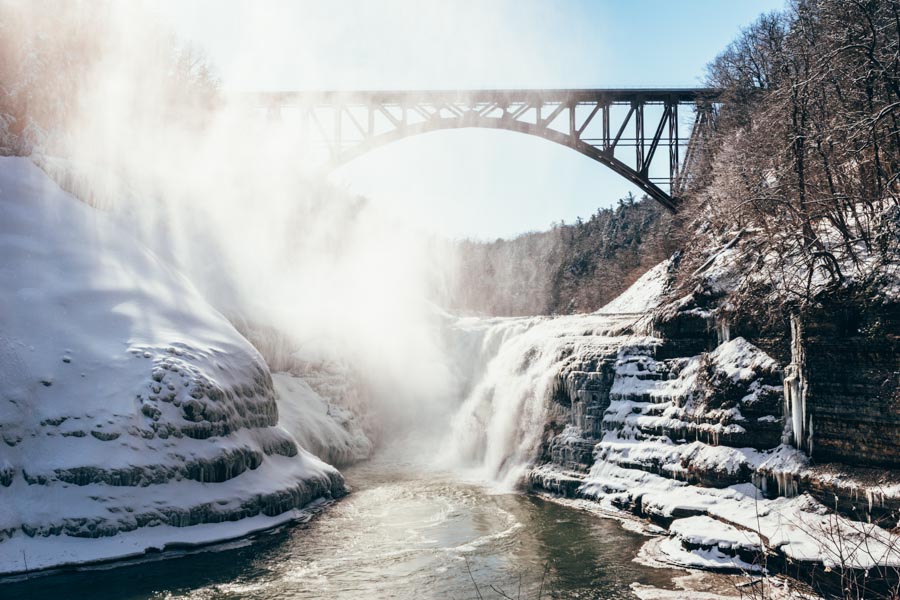 Lower Falls
Lower Falls is an intense, jaw-dropping waterfall. Here you can see the sheer effect of Winter, as the sides of the canyon and surrounding areas are covered in icicles. During winter, you can look down at the waterfalls and from the side. The walkway to the main viewpoint of the direct view of Lower Falls was closed when I visited and for good reasons. Mist from the waterfall typically blows in that direction, meaning the walkway to the viewpoint is extremely icy in the Winter.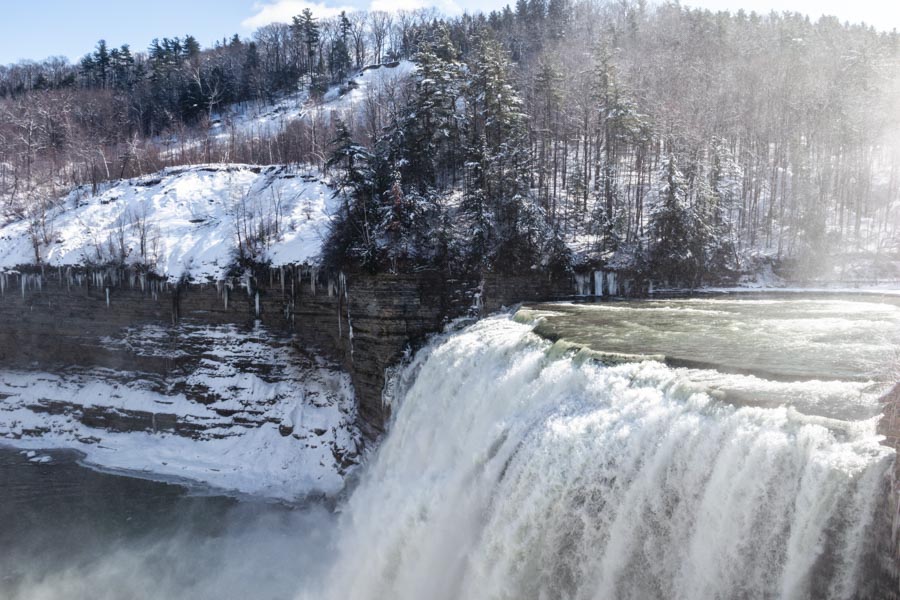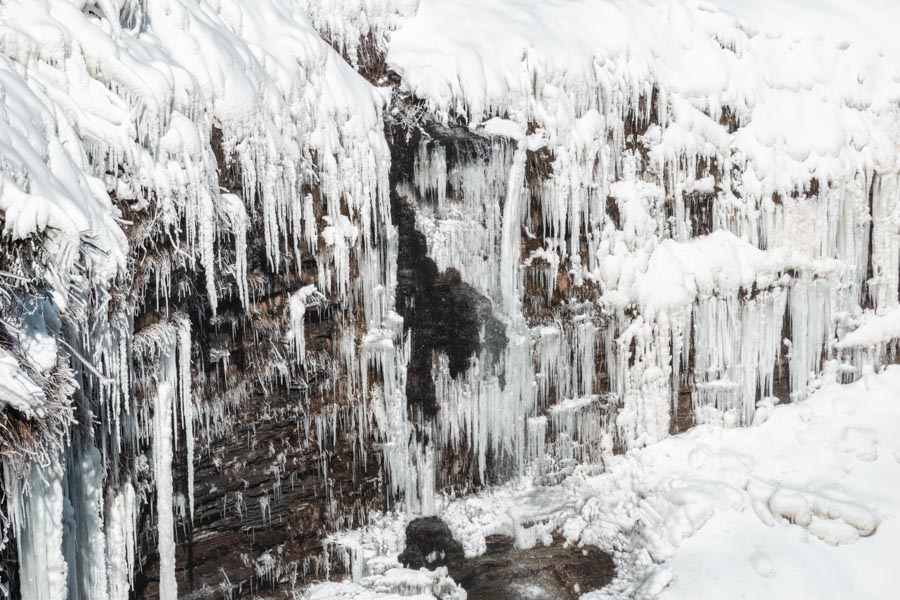 Looking for more Winter trips in New York State? Check out Ice Biking in Buffalo.