On a recent trip to Italy, I had a chance to visit Milan for the first time. As a first time visitor, I wanted to hit all the major tourist attractions in Milan. We spent a day and a half in Milan, which gave us ample time to see the sites at a relaxing pace. However, one day in Milan will give you enough time to leisurely see the major sites. This Milan itinerary will allow you to see the top things in Milan in one day.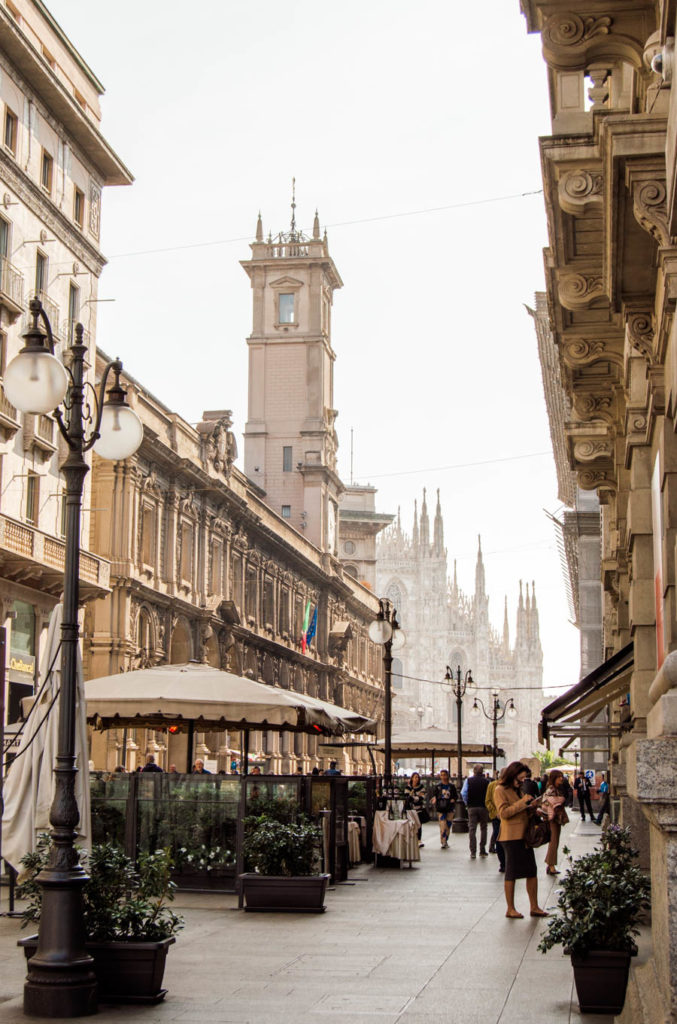 Begin the Day in Milan at the Duomo
The first thing you will want to see upon arrival in Milan is the Duomo di Milano. The Duomo di Milano is a must-see on any Milan itinerary. It is the second largest cathedral in Italy and the top tourist attraction in Milan. This grand cathedral captures an ethereal light at sunrise that shouldn't be missed. If you're a photographer, you'd want to stop my the Duomo at sunrise for the best lighting and smaller crowds.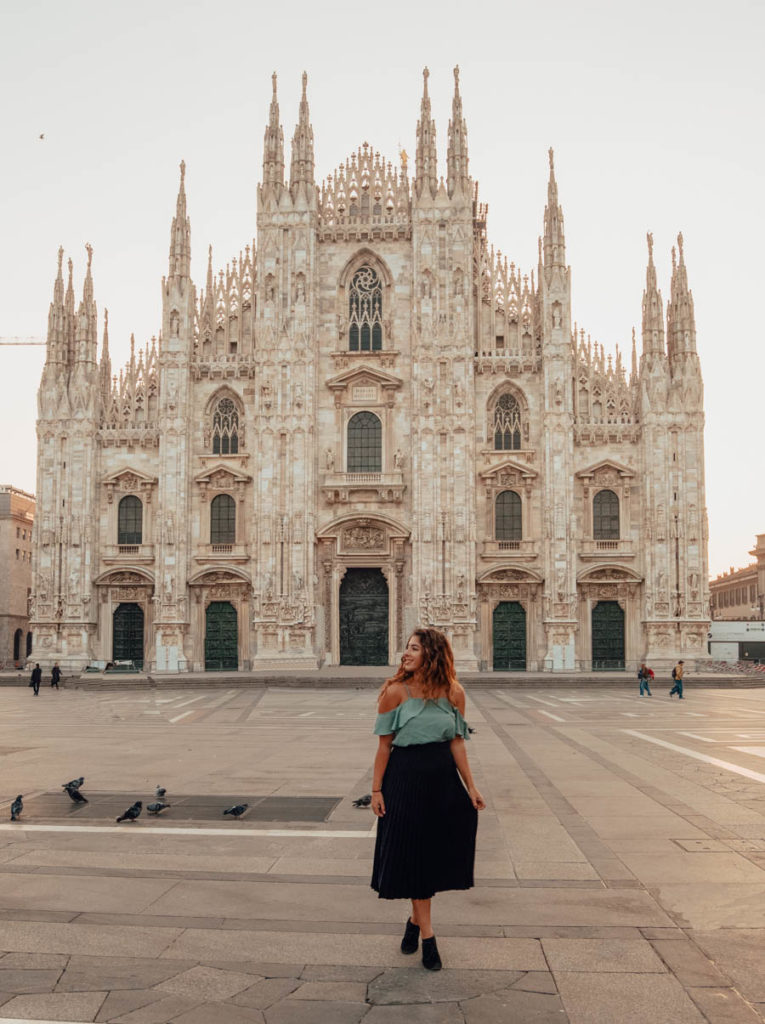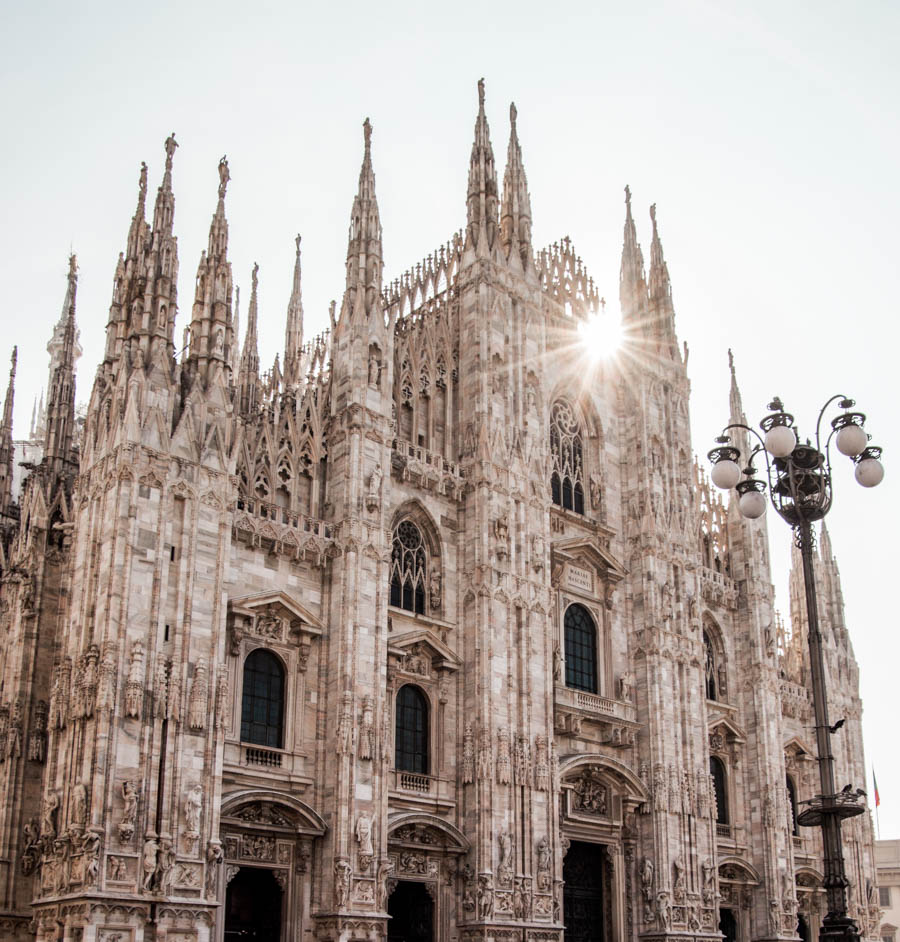 Breakfast at cafe
After getting a first look at the Duomo di Milano, find a cafe for breakfast. There are ample cafes to choose from in Milan.  We choose Panini Durini, a cafe located close to the Duomo. There is an array of Italian coffee and delicious pastries. If you stop by for lunch, you can grab a panini. Panini Durini is especially notable for it's vibrant interior.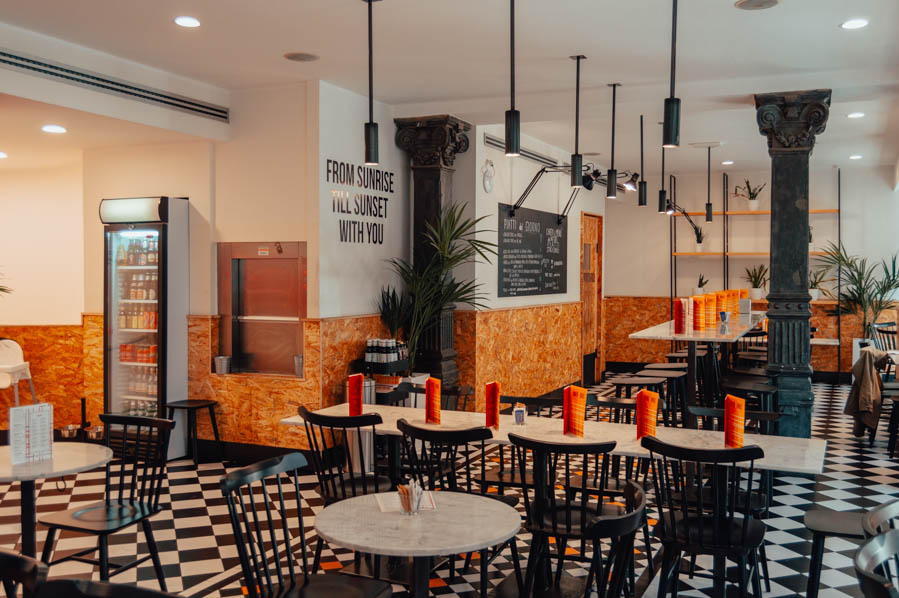 Duomo Terraces
One of the top activities not to miss in Milan is visiting the Duomo Terraces.  The Duomo Terraces offer some of the best views in Milan. From here, you can see 360 degree views of the entire city. Visiting the Terraces also allows you to see the impressive details of the Milan Duomo up-close. In order to visit the Duomo Terraces, you can climb or take an elevator to the top. Don't waste time in line, get your tickets for the Duomo now!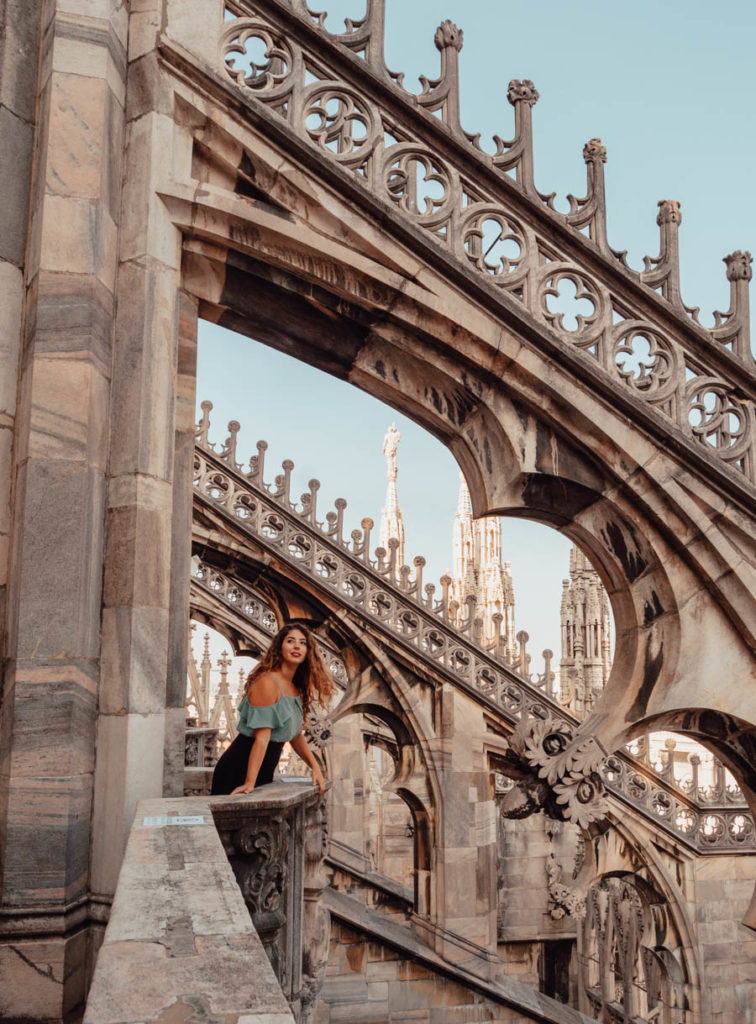 Galleria Vittorio Emmanuele II
Step inside one of the most impressive shopping malls in the world, the Galleria Vittorio Emmanuele II. This shopping mall is located steps away from the Milan Duomo, making it the perfect next stop on your tour of Milan. This opened aired shopping mall was built in the late 19th century and is designed with elegant double arcades. Enjoy some upscale shopping or simply marvel at the beautiful architecture.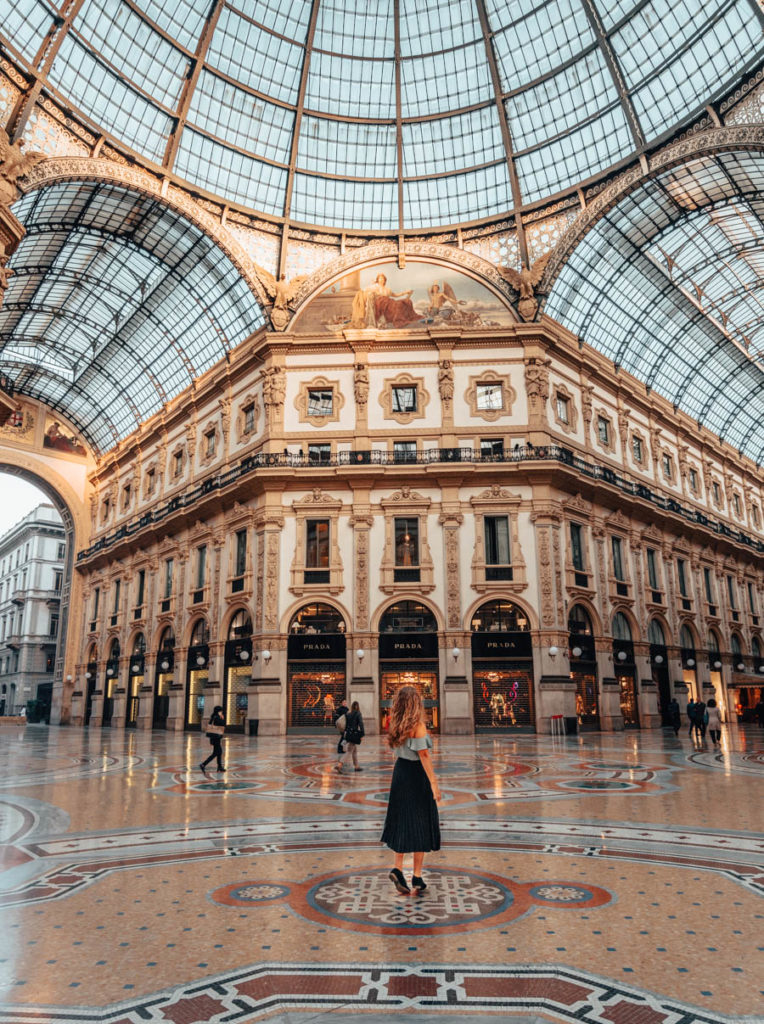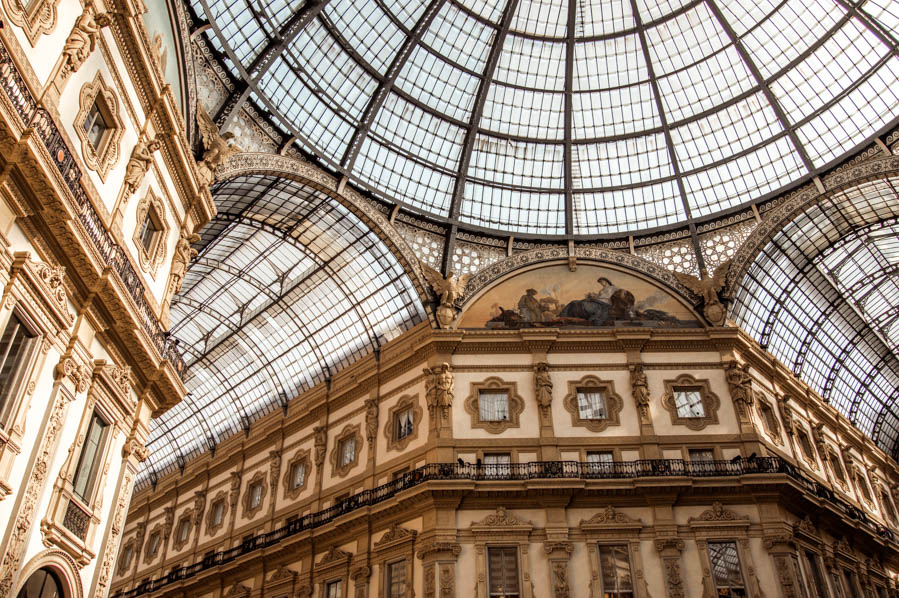 Lunch Break
Make time for a lunch break after your busy morning exploring Milan. There are so many great restaurants to choose from in Milan. I opted for Granaio Caffé e Cucina which has a great outdoor patio for people watching.
If you'd prefer a more budget-friendly lunch, grab a panini to eat at Sempione Park. Sempione park is a large city park in Milan with plenty of sites to see including Sforza Castle and Arco della Pace.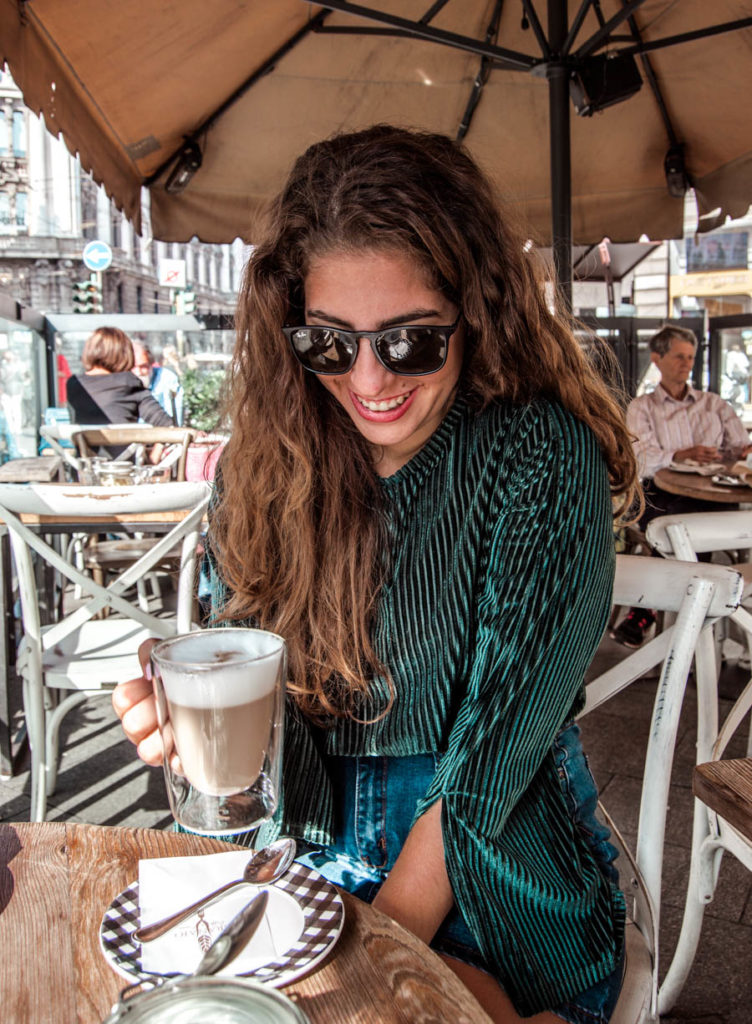 Sforza Castle
Sfroza Castle is a 15th century castle located in central Milan. This beautiful mote-lined castle has an elaborate history in Milan. If you would like to learn more about the history, be sure to take a guided tour of the castle. However, visiting the courtyards of Sforza Castle is completely free!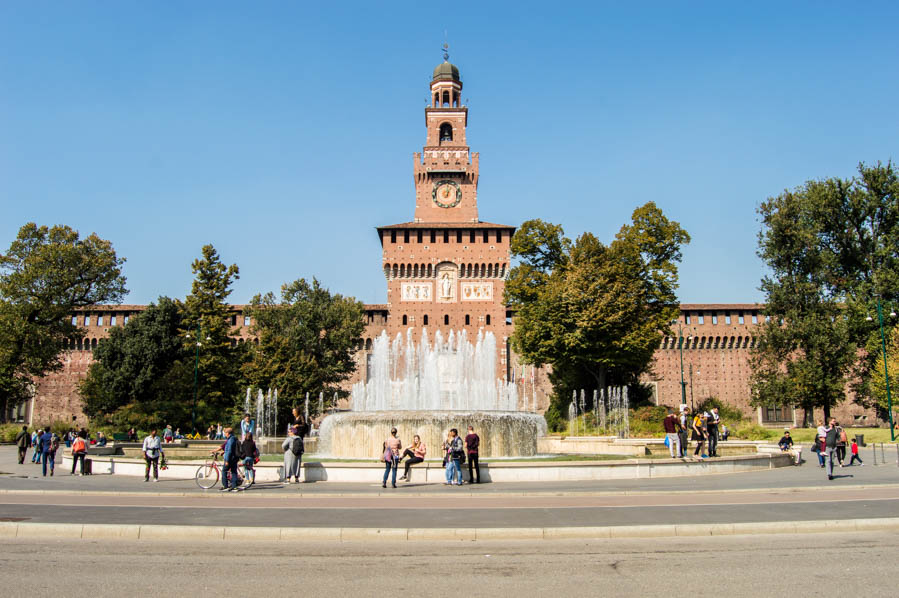 Arco della Pace
Stroll through Sempione Park from Sfroza Castle to the Arco della Pace. Arco della Pace is a landmark arch, marking the Porta Sempione, Milan's city gate.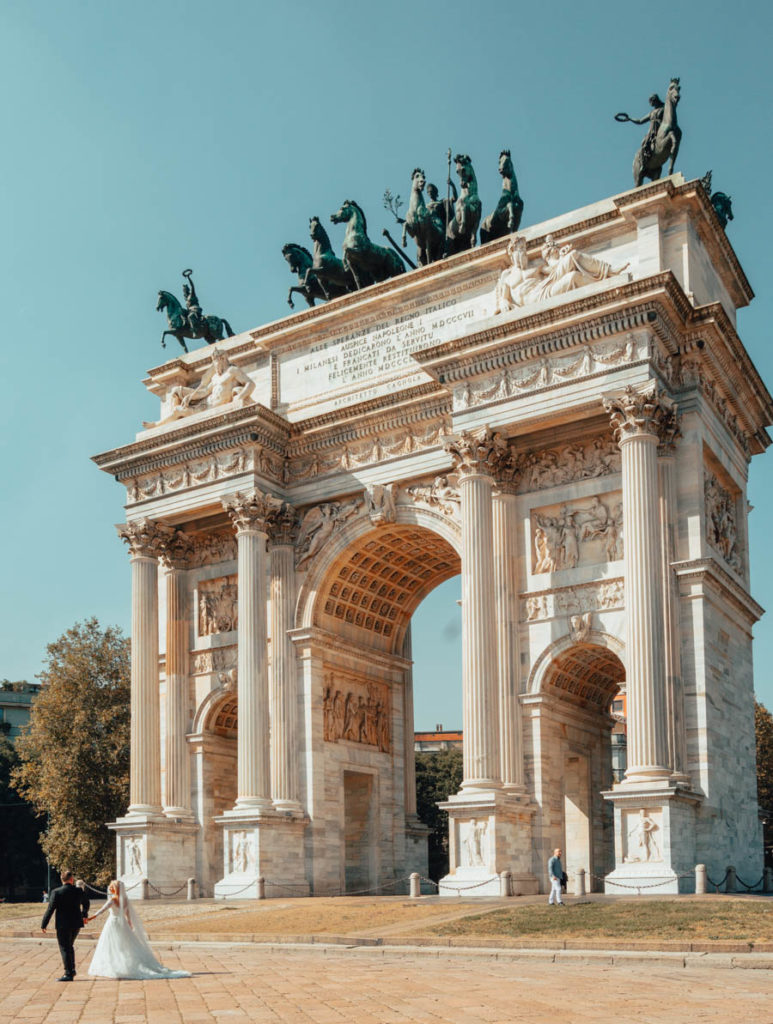 Navilgli
Navilgli is located in the Southwestern quadrant of the city and is known for its' canal system. This area between Naviglio Grande and the Naviglio Pavese has a lively atmosphere and is an especially scenic area of Milan. I suggest making your way to Navilgli in the evening. Enjoy wandering the canals and having a gelato, apprevito or dinner in the area. Be sure to stay for sunset. Navilgli is one of the best spots to watch the sunset in the city and the best way to end your perfect one day in Milan.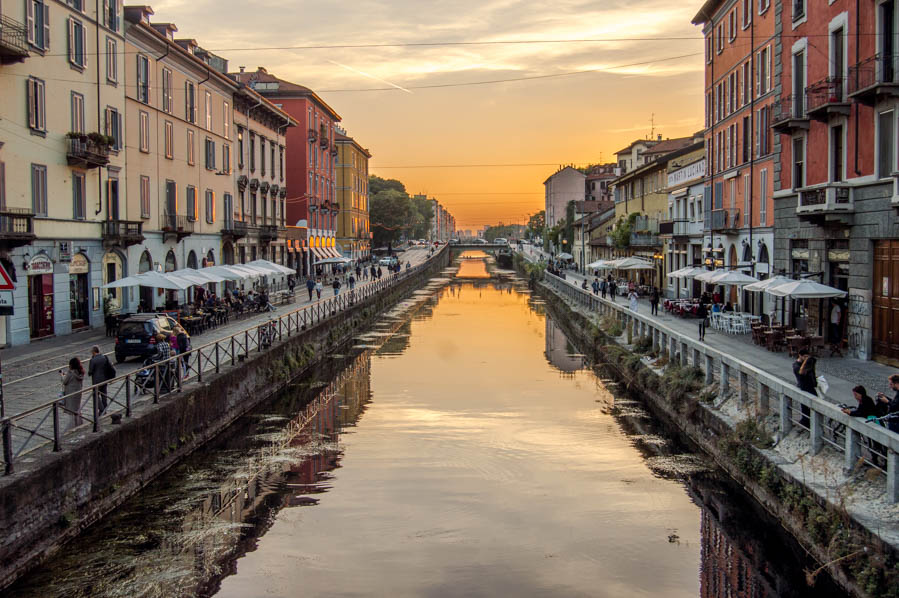 Where to stay in Milan
Are you looking for where to stay in Milan? If you are spending one day in Milan, you may need to book a hotel for the night. Depending on whether you are looking for a budget hotel or luxury hotel in Milan, I have the best places to stay in Milan covered!  
Palazzo Matteotti, from the Marriott Autograph Collection is the typical hotel I would stay at when traveling. This hotel is luxurious yet doesn't have an overwhelmingly high price tag. I tend be a  brand loyalist when traveling so I would have loved to stay at this Marriott hotel when traveling to Milan. The Palazzo Matteotti is a great place to stay if you are using points or are looking for a luxury hotel in Milan. Click here to book now! Not ready to book? Check out the Trip Advisor Reviews! 
For five-star luxury in the heart of Milan, there is no better place to stay than the Park Hyatt Milan! This hotel is within steps of the Duomo and all the other main attractions in Milan. The Park Hyatt Milan is the type of place I would stay if I was looking to experience the glitz and glam of this fashion capital. There are various luxury hotels in Milan to choose from if you're looking to splurge! Click here to book now!
Santa Marta Suites is the ideal place to stay if you are spending an extended time in Milan or prefer the comfort of a suite style hotel. This boutique hotel has received a Certificate of Excellence from Trip Advisor. It is an excellent, moderately priced place to stay in central Milan. On my next stay in Milan, I will most likely check into the Santa Marta Suites. Check out all the mid-range hotels in Milan! Click here to book now! 
I stayed at the Mec Hotel while in Milan. This is a budget friendly hotel on the outskirts on Milan. While it is not in the tourist center, the Mec Hotel is still on the tram line. One tram will bring you directly into the center of the city! This hotel had everything I needed for my one day in Milan. Mec Hotel is clean, comfortable and the ideal price when all you're doing is sleeping in your hotel. Check out the other budget hotels in Milan! Click here to book now! 
Still not sure where to stay in Milan? Click here to see all of the best places to stay in Milan!