Travel inspiration comes from a variety of sources. At times, I am inspired to travel for architecture, food or history. And sometimes my wanderlust is inspired by fairytales. A fairytale brought me to France, to the little town of Riquewihr in the French region of Alsace. Yet, this is not just any fairytale that inspired a trip to France; it is Beauty and the Beast. It's a tale as old as time… where a girl crosses the world for her fairytale moment in Alsace.
Staying in Colmar? Click here to book your tour to Riquewihr and other Beauty and the Beast towns in Alsace!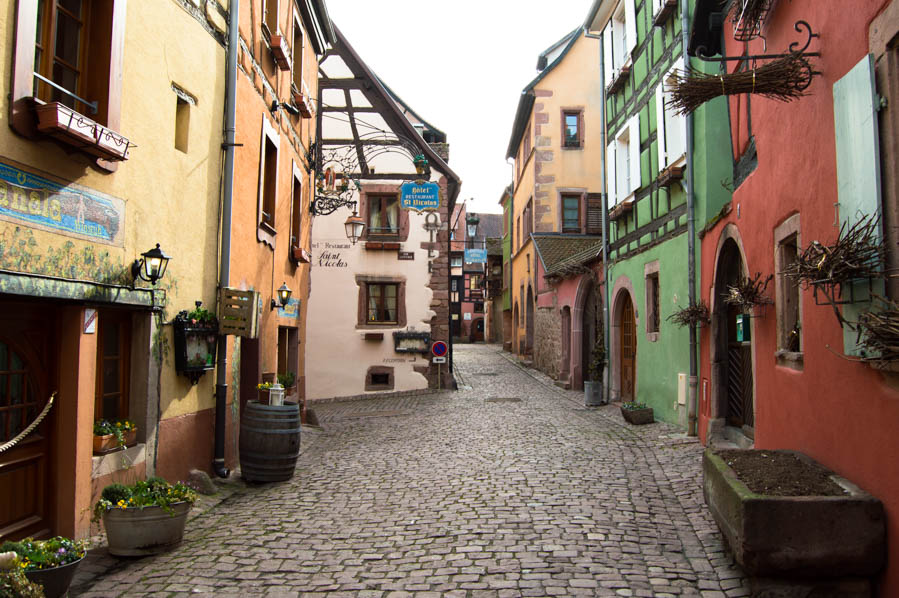 Riquewihr is a small village located in the Alsace region of France, near the German border. The Alsace region has its' share of cities and towns full of charming architecture. While the entire region is picturesque, the villages of Alsace hold the most charm. I could have spent a week discovering each village, seeing every cobblestone road and colorful facade. Yet, I had less than a day and could only visit one village. Narrowing down my choices was easy, it would either be Riquewihr or Ribeauvillé.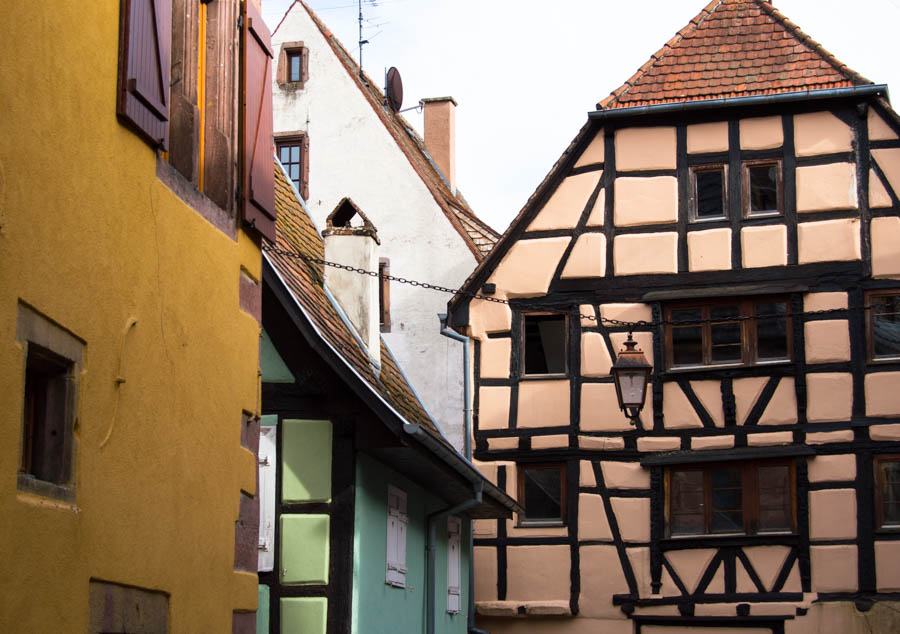 The villages of Riquewihr and Ribeauvillé are said to be the inspiration behind the town from Beauty and the Beast. Standing at the bus terminal in Colmar, it was time to determine which little town we would be visiting while in Alsace. The decision wasn't finalized until be were weaving through vineyards on the bus route Houte-Alsace 106.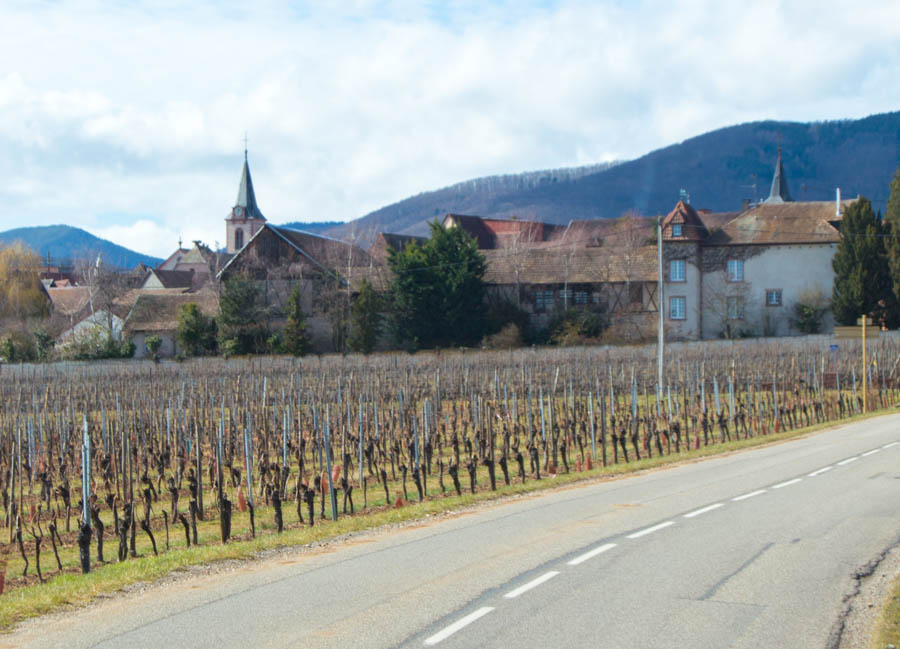 As the bus slowed down at Riquewihr, we promptly decided that would be our stop. Upon exiting the bus, a local man showed us his bus schedule and tried to explain it to us in broken English. We blissfully excepted his schedule and entered the town through the archway of the Hotel de Ville without a second thought to the little old man with the bus schedule.
The village was more charming than I expected and felt like I was in fact walking through Beauty and the Beast. I couldn't help but break out in song as I walked through the streets of Riquewihr. "Little town, its' a quiet village", have never been more descriptive. Yet, I wouldn't call this village provincial in a negative way. This small village was bursting with people with many shops and restaurants catered to tourism.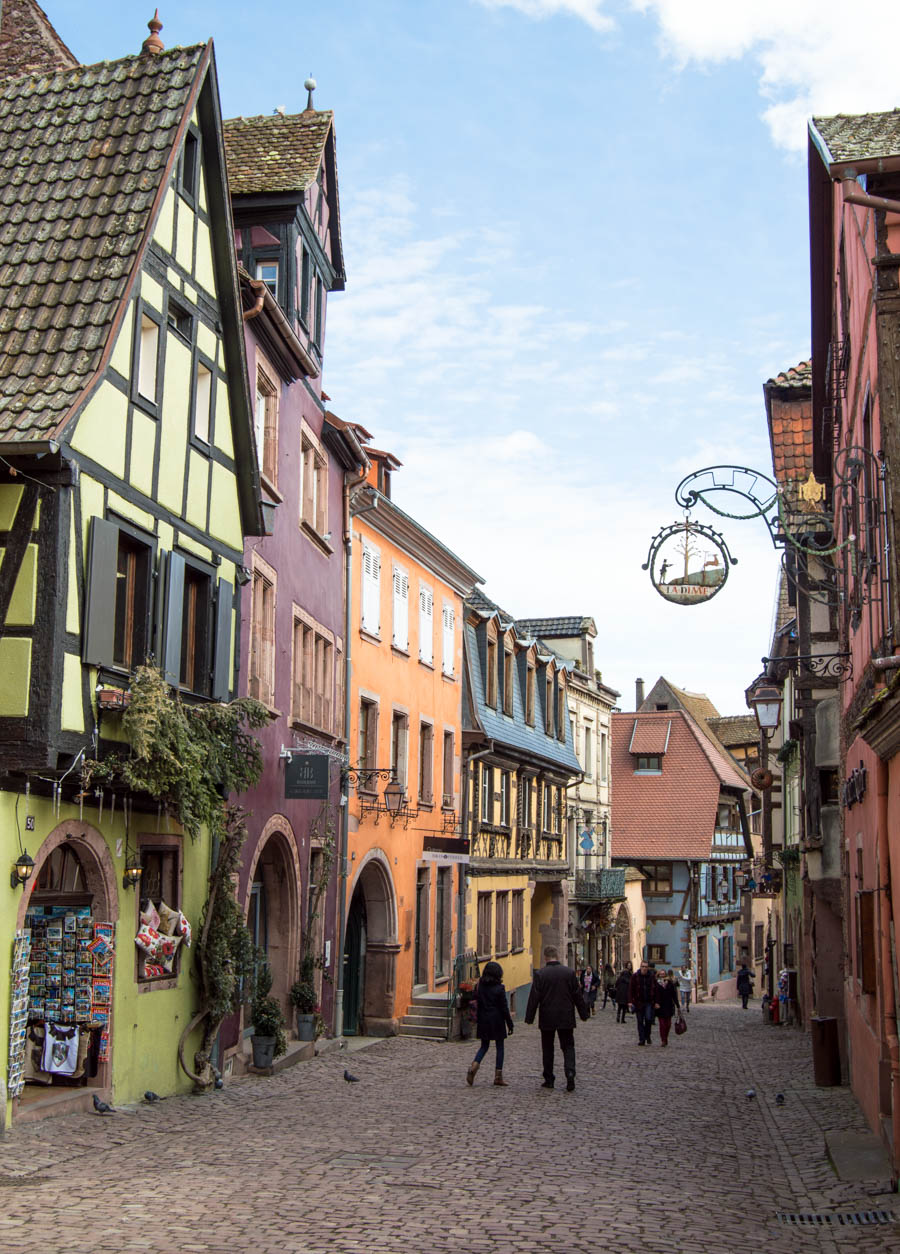 The half timbered houses stood out in their various vibrant hues. Riquewihr is all about the attention to details, from its' flower planters to its' multiple water wells. I followed the cobblestone street into town as I looked upon the various storefronts with their delicately elaborate signs.
At the end of the main road (one of the only roads) is the Dolder, a 13th century defensive gate. Walking toward this gate, past the cheerfully colored houses, it is easy to see why this town inspired the village from Beauty and the Beast. Riquewihr, as well as the rest of the Alsace region, is one of those places that doesn't seem real. Riquewihr felt like a fairytale.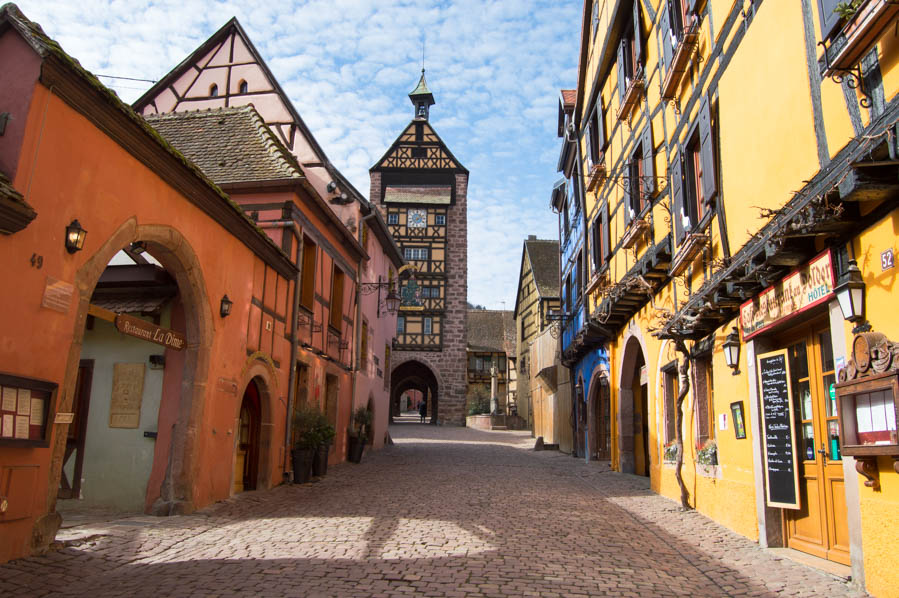 For lunch we popped into La Fringale, a small restaurant serving traditional Alsatian cuisine. The cool day called for a creamy Tarte Flambee, which is essentially a thin wood-fired pizza covered in Fromage blanc, onions and lardons. This dish was surprisingly light and delicious.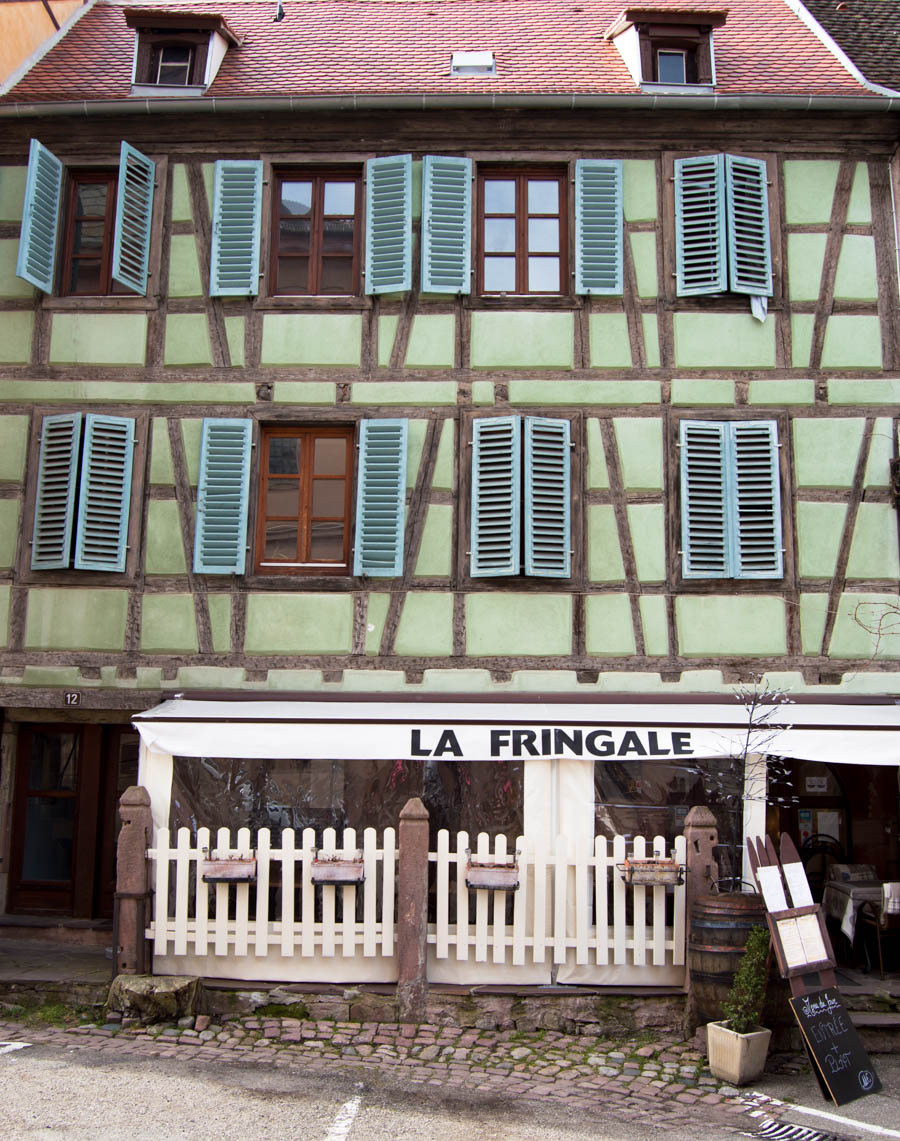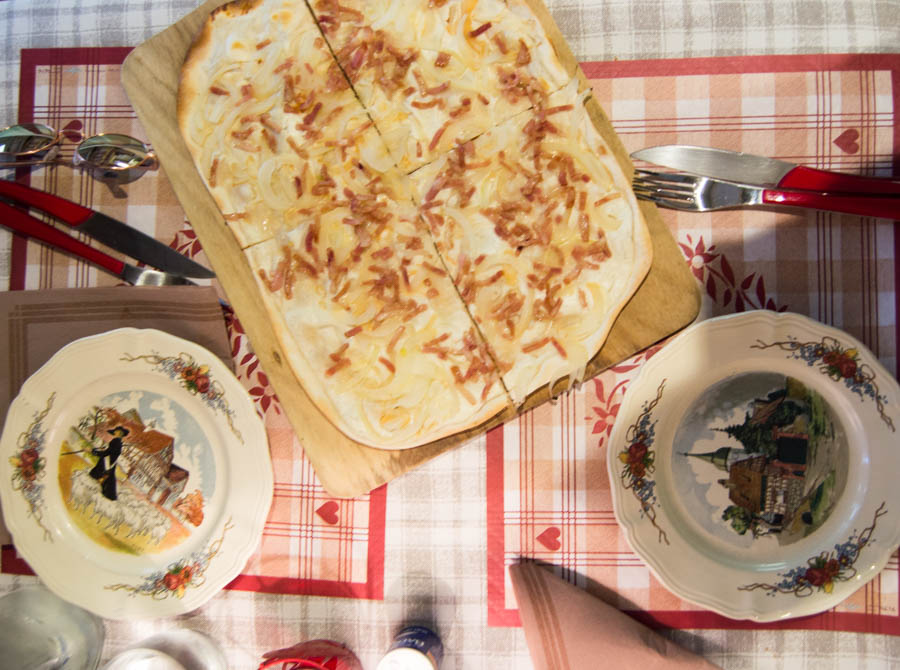 After lunch, we headed to Feerie de Noel, a Christmas shop currently decorated for Easter. Christmas is huge in Alsace and this shop exemplifies it. The interior of Feerie de Noel emulates the streets of Riquewihr as a winter wonderful.
Alas, our time in Riquewihr was coming to an end. This afternoon felt like a fairytale. We waited at the bus stop to head back to reality. Yet the bus never came. At that time, I remembered the little old man with the bus schedule. Now it was apparent. He was explaining to us that it wasn't a school day and no more busses would come.
That is when I remembered that life is not a fairytale. We barged into bakeries and shops trying to find a way out if this "provincial life". I felt like my Beauty and the Beast sequence was coming full circle. I never thought that I would be searching for a way out of this town. Finally, we stopped into the tourism office to get assistance. The tourism official called the taxi for us. Apparently there is only one taxi in Riquewihr. Luckily he it was available to take us back to Colmar. I starred out the window of our €30 taxi all the way back to Colmar, thinking about the quiet fairytale village I was leaving behind.
Don't want to worry about almost getting stuck in Riquewihr like I did? Book your Alsace Villages Half Day Tour Here!