Paris is full of pretty cafes, each one more charming and quintessentially Parisian than the next. Part of the allure of Paris is its cafe scene. There is something so romantic about sipping an espresso on the patio of a Parisian cafe watching the city pass by. Cafe culture is romanticized so much that it has not only become part of everyday life, it is a Parisian fantasy one wants to live while visiting Paris. For a moment, situated on a patio nestled in a cozy corner of one of the prettiest cafes in Paris, suddenly you feel Parisian. Is there anything more Parisian than eating a croissant and drinking an espresso? I think not.
While there are endless pretty cafes in Paris, there are some that should not be missed. Not only are these Paris cafes the perfect spot to enjoy the Parisian cafe culture, but they are also extremely photo-worthy. These Instagrammable cafes in Paris will make your Instagram feed a Parisian dream. Whether you are sipping on a latte or admiring these cafes from the sidewalk, these are the prettiest cafes in Paris.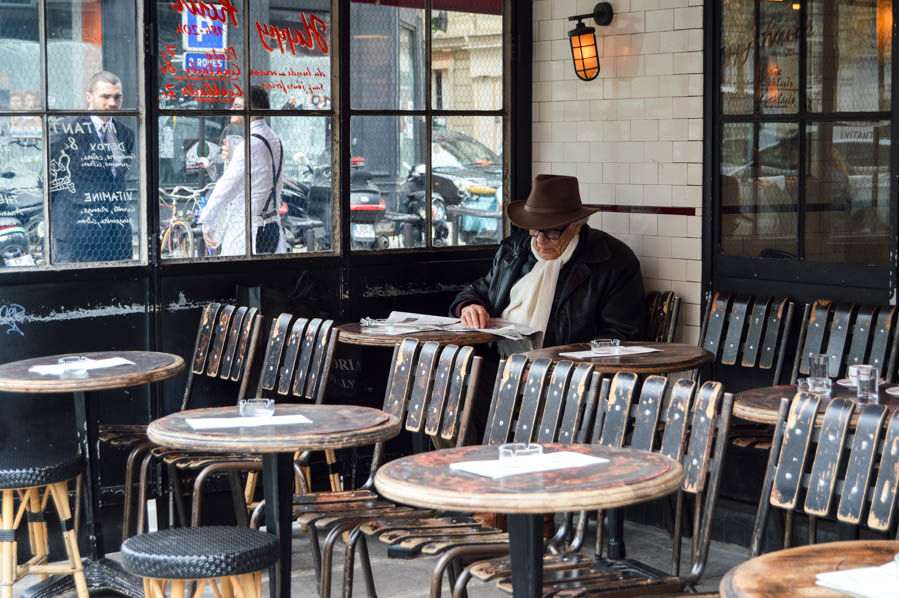 The Prettiest Cafes in Paris
La Maison Rose
La Maison Rose is the perfect place for those who are thinking pink. This pretty cafe in Paris has a pink facade and green shutters and is located on a cobblestone street. This iconic cafe in Montmarte is beautiful year-round, yet is especially pretty In the spring and summer when the building behind the cafe is covered in vines. This cute cafe in Paris is also one of the most Instagrammable spots in Paris.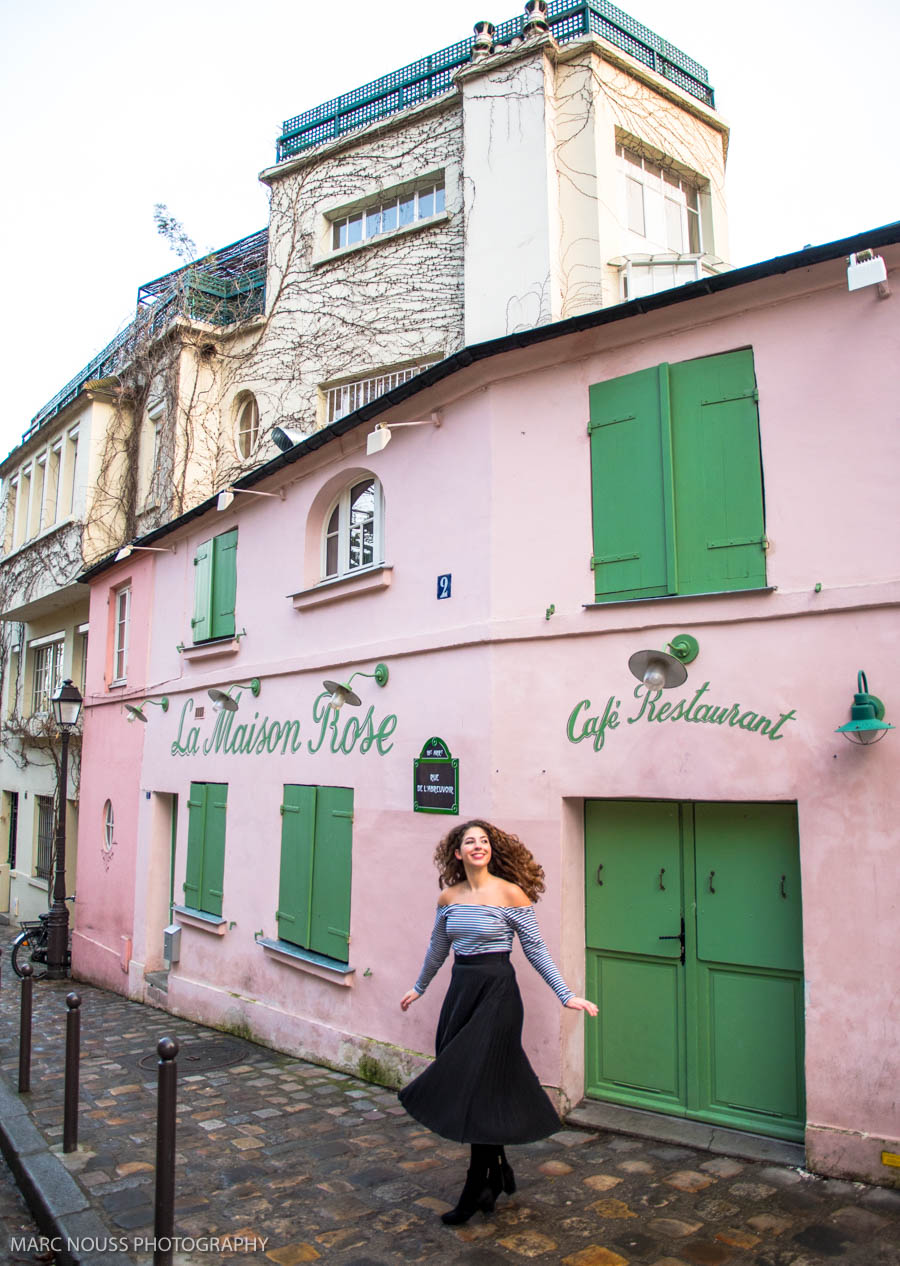 2 Rue de l'Abreuvoir, 75018 Paris, France
Le Consulat
Le Consulat is one of the prettiest cafes in Paris and is a Montmartre staple. This pretty cafe in Paris is also one of the busiest. This area becomes highly trafficked by the afternoon due to its proximity to Sacre Coeur. The streets in Montmartre are very narrow, making this area congested with tourists. Le Consulat is best experienced in the morning when there are only a handful of people lingering in the streets. Yet if you can snag a table during the afternoon, its central location makes Le Consulat the perfect place to people watch once the crowds arrive. (Or to take an impromptu photoshoot…).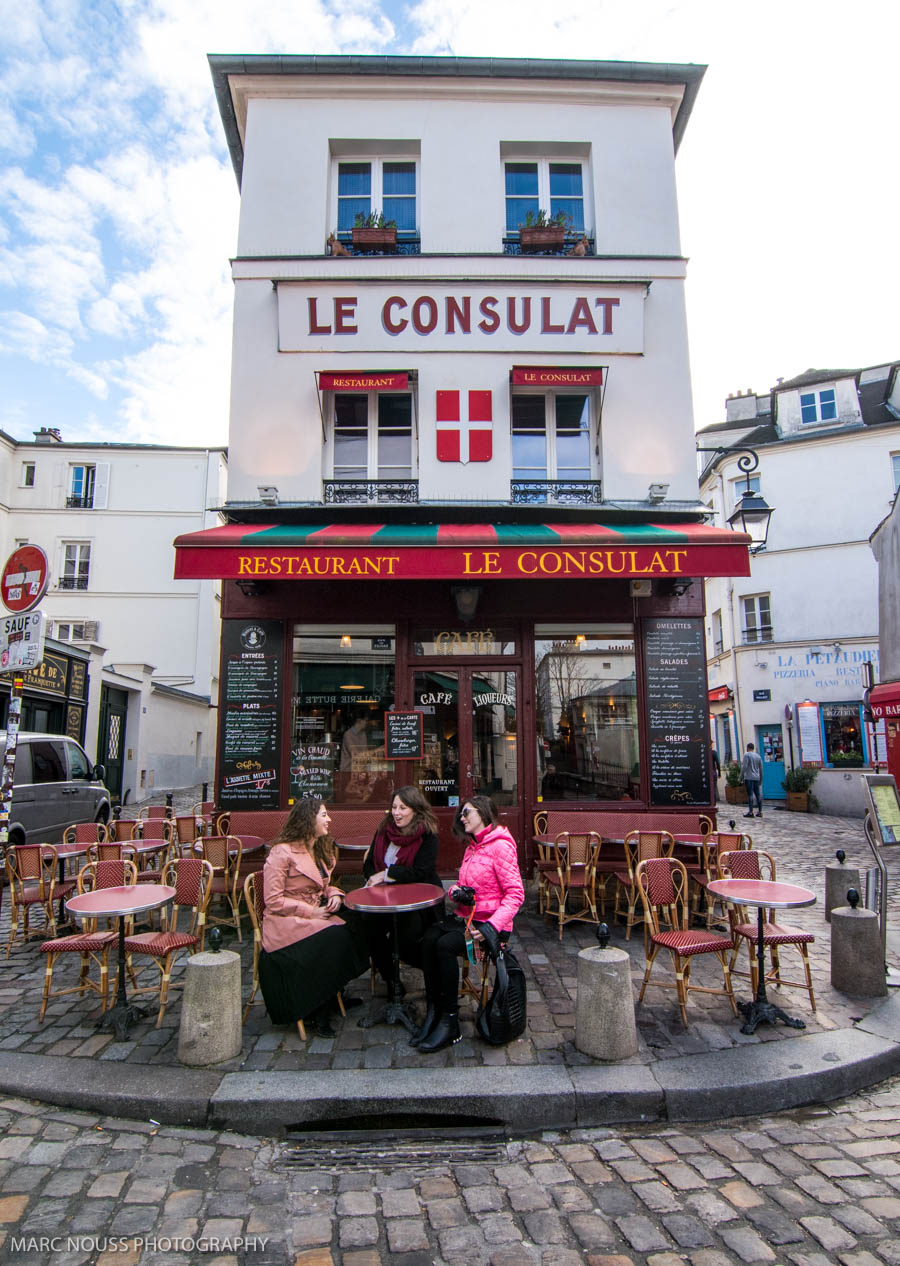 18 Rue Norvins, 75018 Paris, France
Chez Eugene
The blue, white, and red color scheme gives this Montmartre cafe a very French look. Chez Eugene is located in the Place du Tertre, the famous square where artists gather in Paris. This is one of the most romantic of all of the Paris cafes: sipping on a cafe au lait, perched on one of these patriotic chairs as artists beg to paint you… that's the dream, right?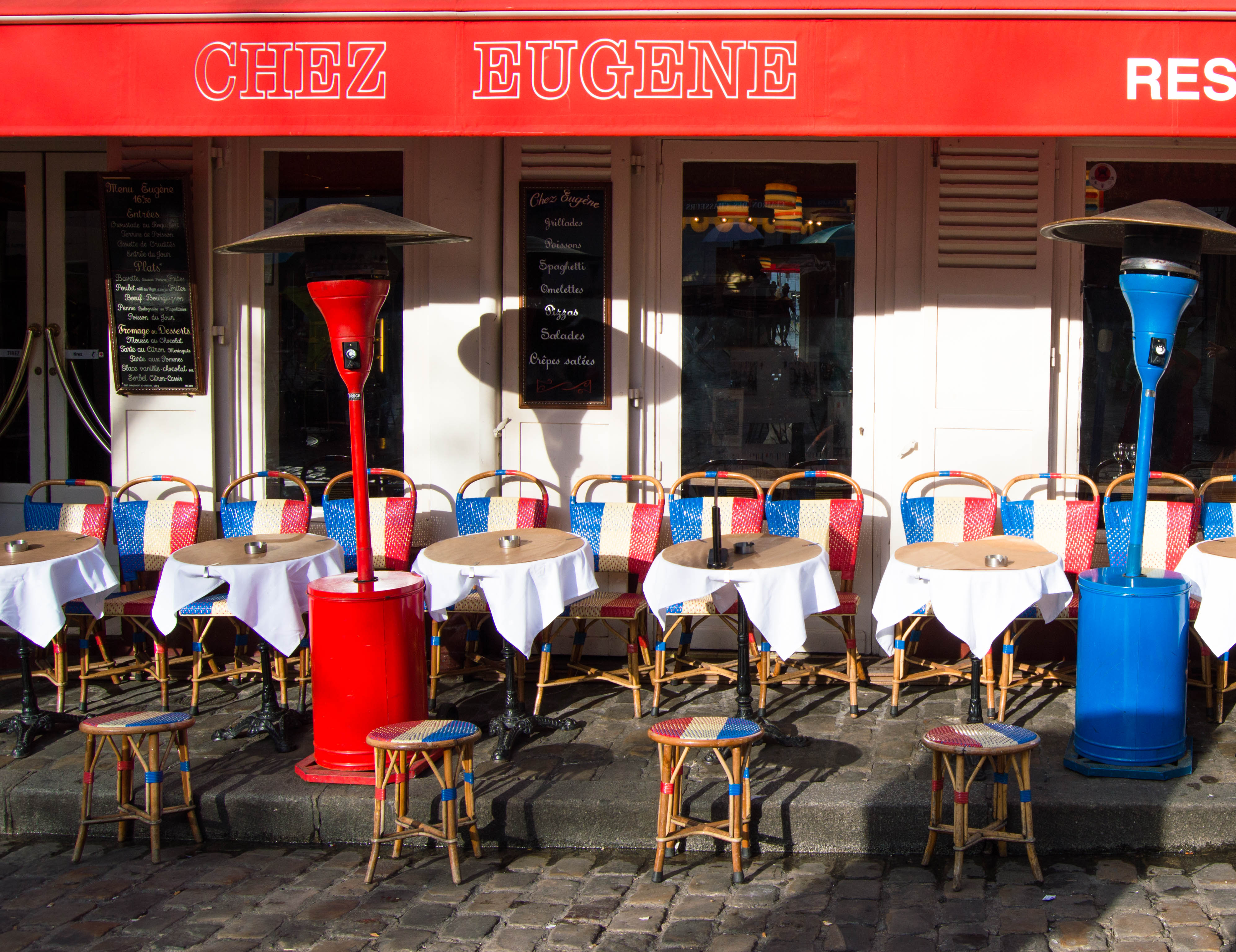 17 Place du Tertre, 75018 Paris, France
Hardware Société
The exterior of Hardware Société is modest in comparison to its bright and earthy interior. We secured a spot next to the window, where the natural light was pouring in. This cafe fills up quickly. To ensure you get a table, arrive at opening, 9:00 a.m. 
Hardware Société has one of the best breakfasts I have ever had; there are savory and sweet options as well as a classic French breakfast. The menu constantly changes yet I had the delight of trying both the Fried Brioche French Toast and the Bruschetta. The flavors were decadent yet not too overwhelming.
10 Rue Lamarck, 75018 Paris, France
Odette
Odette is the type of place that feels like a hidden treasure. Located on the West Bank of the Seine, across from Notre-Dame Cathedral, Odette is anything but hidden. Yet this Paris cafe is quite the treasure. Odette seems both out of place while being completely in tune with the Parisian aesthetic. This architecturally beautiful building seems to be sandwiched between larger more modern buildings. This cafe and pastry shop is the perfect spot to stop for a cream puff and a photo of the cafe.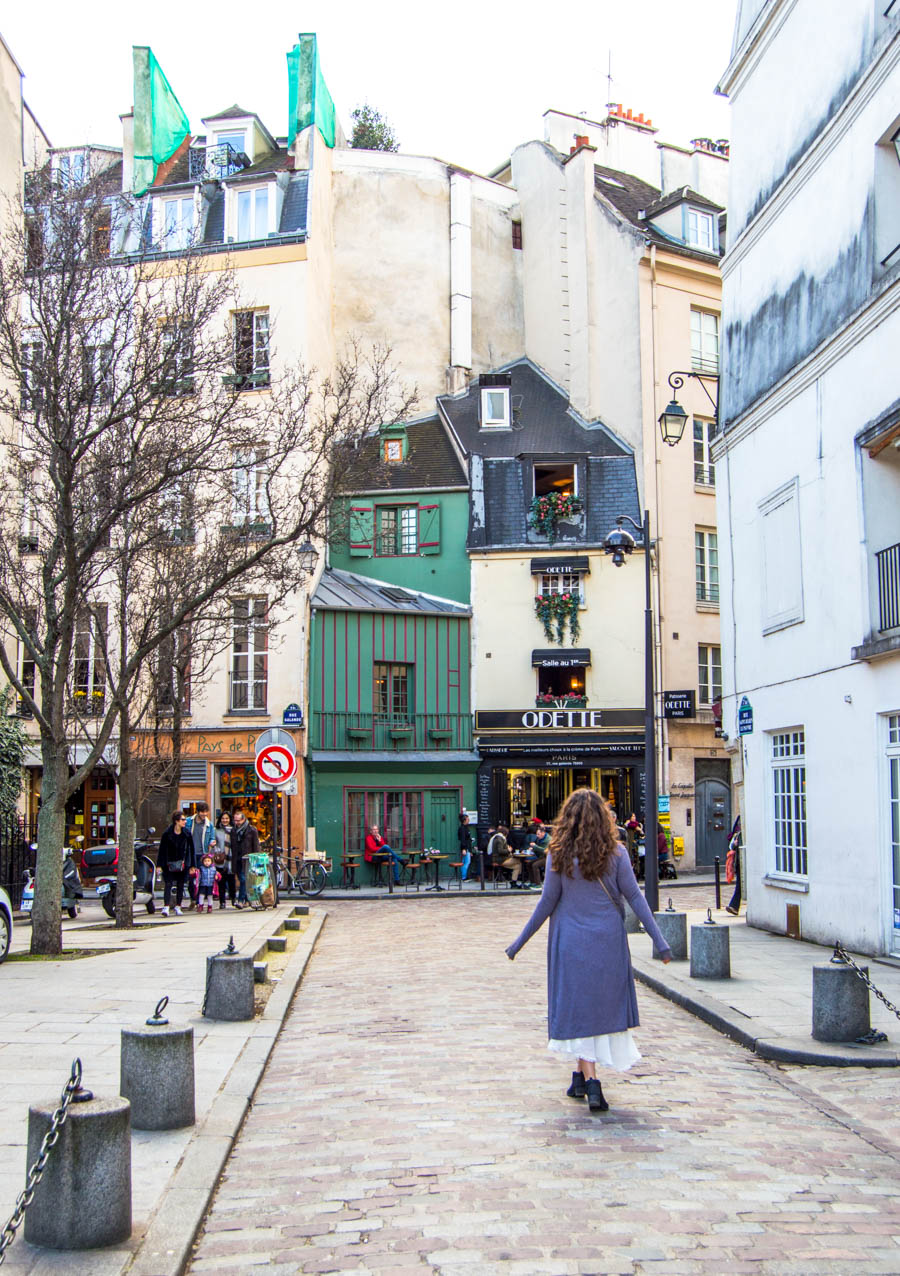 77 Rue Galande, 75005 Paris, France
Shakespeare and Company
Shakespeare and Company is perhaps the most well-known cafe on this list. This famous cafe in Paris melds together coffee and literature as it is both a cafe and a book shop. The name Shakespeare and Company came from two independent English bookstores located in Paris' left bank. The original bookstore closed down during WWII and never reopened. However, the second bookstore still stands and is what we know today as Shakespeare and Company. Nothing makes book browsing better than a cup of coffee.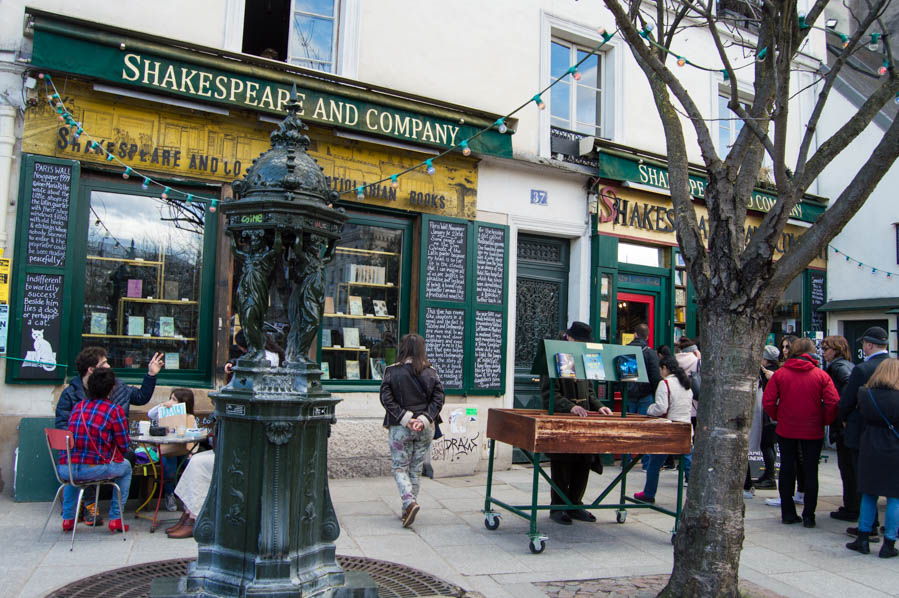 37 Rue de la Bûcherie, 75005 Paris, France
L'Esmeralda
When a cafe competes for attention with the Notre-Dame Cathedral, you know it is something special. Cafe L'Esmeralda adds a pop of color to this corner with its' mint awnings and chairs. With views of both the Notre-Dame Cathedral and the Seine River, L'Esmeralda is a peaceful spot to unwind while enjoying the lively atmosphere surrounding this area. This is hands down one of the prettiest cafes in Paris.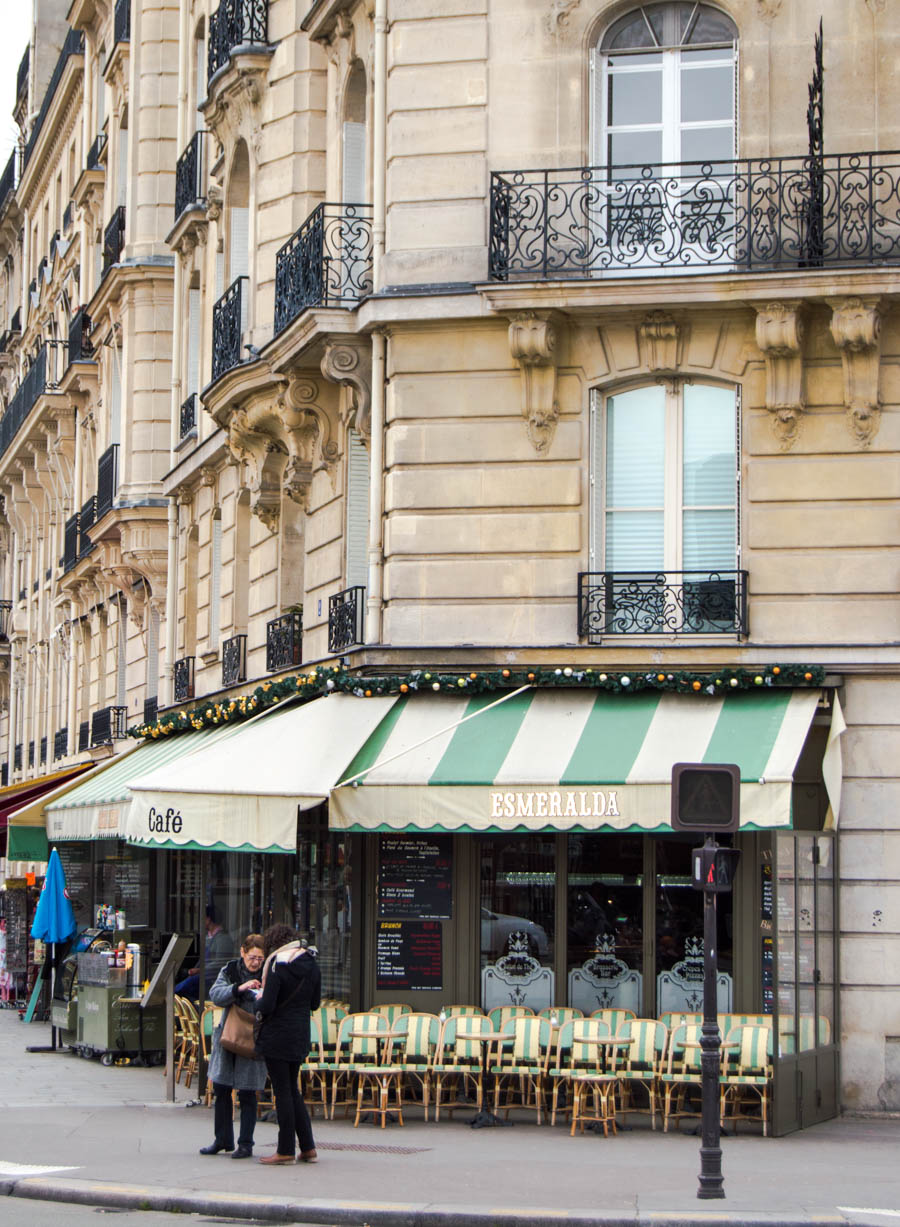 1 Quai aux Fleurs, 75004 Paris, France
Cafe Louis Philippe
This cafe has a charming appeal that is irresistible. Cafe Louis Philippe is exactly what I would envision from a Paris cafe with its delicate awnings and decorative window flower boxes. Additionally, this cafe is seen on the series Gossip Girl as a favorite spot for an afternoon aperitif by Serena and Blair. If this Paris cafe was good enough for Blair Waldorf, you know it is worth a visit.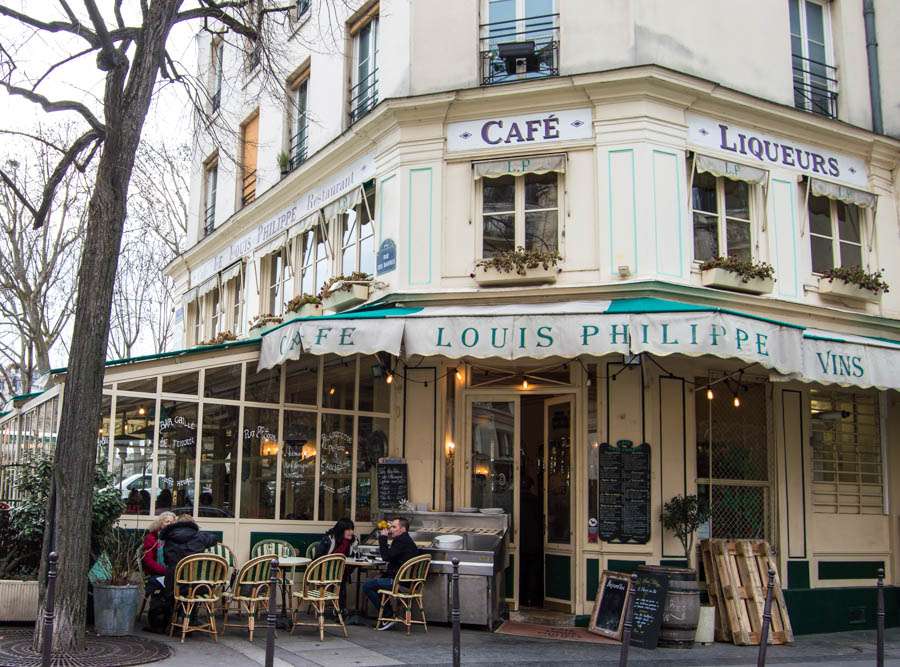 66 Quai de l'Hôtel de ville, 75004 Paris, France
Cafe Gustave
Cafe Gustave is notable for its' location and its' atmosphere. This cafe is located steps away from the Eiffel Tower and Champ de Mars, making it the ideal spot to stop after sightseeing. I especially loved Cafe Gustave for its atmosphere. This is the type of cafe I had always envisioned in my daydreams of Paris. Call me a romantic, but something about that red awning, those small bistro tables, and the aroma of freshly pulled espresso sent me overboard.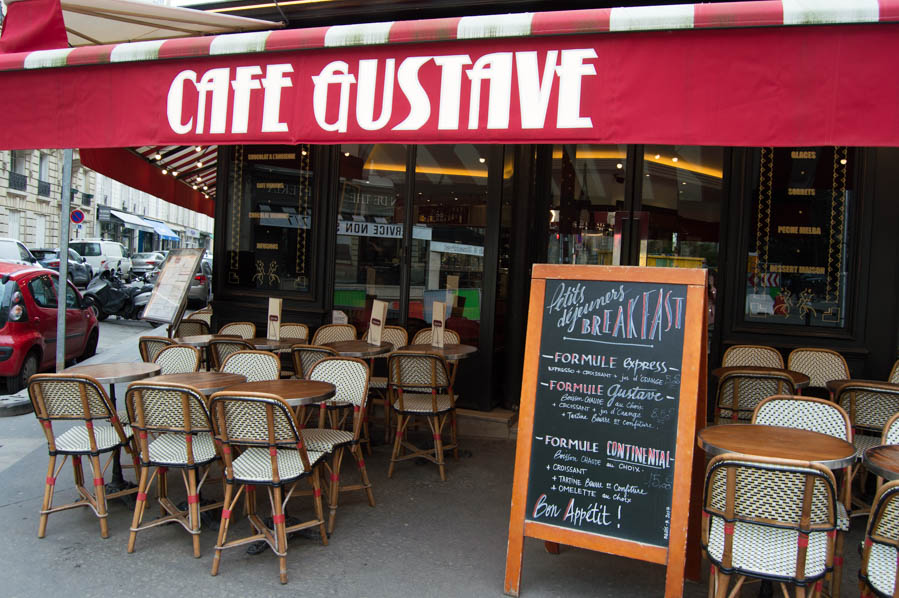 23 Avenue de la Bourdonnais, 75007 Paris, France
Le Recrutement Café
Last but certainly not least is Le Recrutement Café, the location of one of the most iconic views in Paris. While walking down this street, the Eiffel Tower seems to be out of sight, until you near this cafe. Suddenly, standing outside of Le Recrutement Café,  the Eiffel Tower is a perfect view. The red awning adds a nice touch as well. A cafe with a view of the Eiffel Tower certainly earns Le Recrutement a spot on the list of the prettiest cafes in Paris.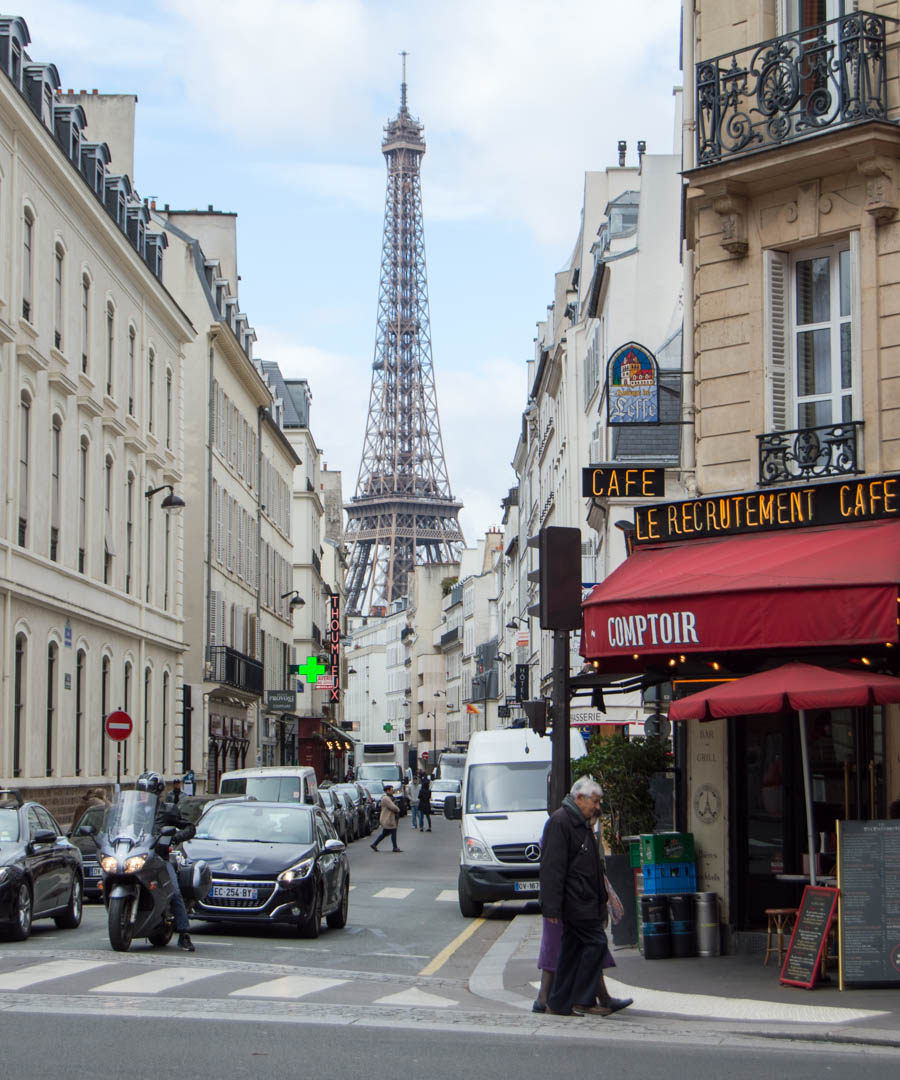 36 Boulevard de la Tour-Maubourg, 75007 Paris, France
Check out the Map of these Cute Cafes in Paris
---
Pretty Cafes in Paris Wrap Up
This wraps up the guide to the prettiest cafes in Paris. While you won't be able to drink coffee at all these spots in one trip, you can certainly see all these beautiful cafes in Paris. Most of these cafes are found near the top attractions in Paris, so you will be able to check them out during your visit.
Save This Post For Later On Pinterest


---
I hope you enjoyed this list and are ready for a caffeinated trip to Paris. Have you been to these Paris cafes? What are other great Paris Cafes not on this list?