When it comes to Tulum, nothing beats staying in a beach bungalow. These beach bungalows in Tulum are the perfect retreat while visiting.
Nestled along the Caribbean coast, amid the jungles of Parque Nacional Tulum, these bungalows offer a unique travel experience. These Tulum bungalows have easy beach access, wonderful amenities and are the epitome of Tulum boho chic. Not only are these beach bungalows a great spot to stay in Tulum, but this will also be the type of experience you will remember for years to come. After staying at Diamante K, a stunning and affordable beach bungalow, on my trip to Tulum, I think everyone needs to have this experience staying at a beach bungalow in Tulum.  
The best part about these beach bungalows in Tulum is that there are mid-range and luxury options available. So while all of these bungalows offer a luxurious and unforgettable experience, you don't have to have a large budget to be able to stay at one of these bungalows in Tulum.
Here is a look at the best beach bungalows in Tulum.
Compare the Best Tulum Bungalows
If you're interested in staying at one of these beach bungalows, I would recommend
reserving your room on Booking.com
. Many of these bungalows in Tulum are boutique properties with limited rooms and they sell out fast! Booking.com is great because you don't have to pay upfront and you can cancel without a fee.
The Best Beach Bungalows in Tulum
Diamante K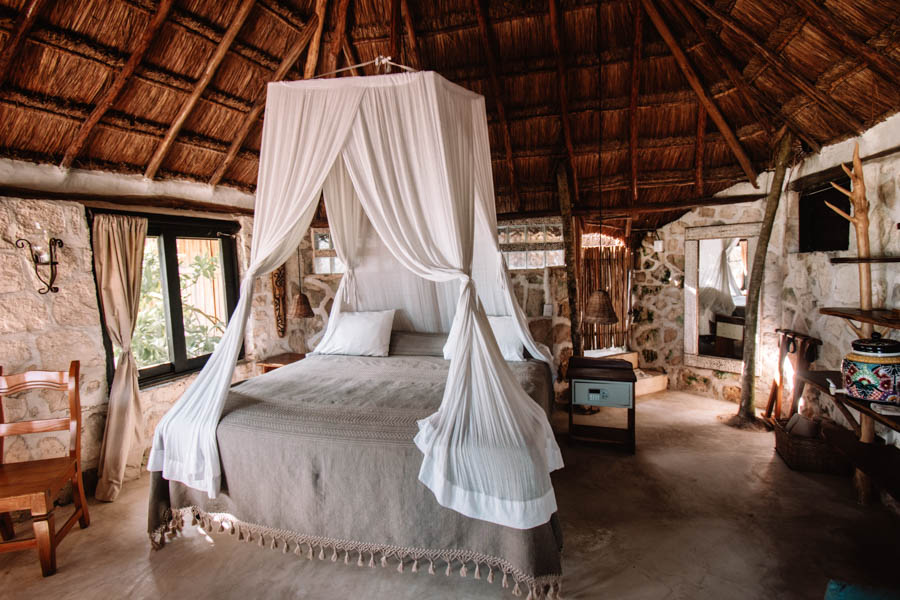 When it comes to the value for your money, Diamante K is definitely your best option. Diamante K has a collection of spacious beach bungalows at a relatively low cost. Some of the bungalows do use a shared bathroom, yet most have a private bathroom in the bungalow. There is also a small private beach, which gives this property a secluded jungle vibe.
I stayed at Diamante K and highly recommend staying here, especially if you have a mid-range budget. I had such a wonderful experience staying at a beach bungalow in Tulum. It was truly a bucket list experience.  Read my full review of Diamante K here.
Papaya Playa Project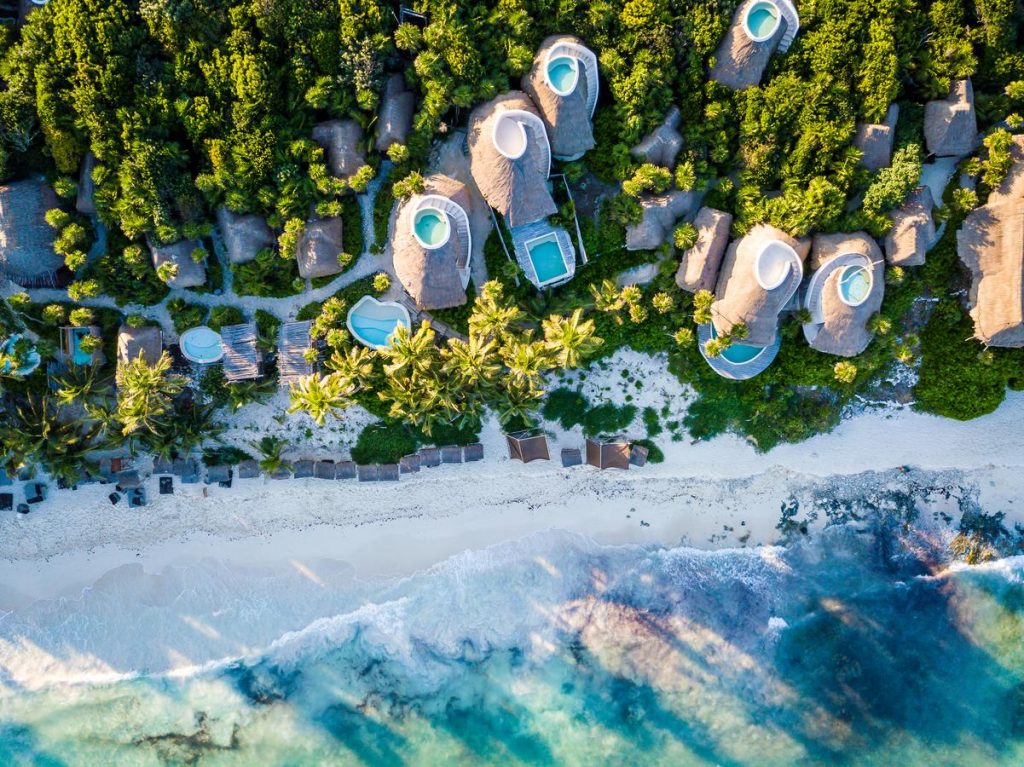 Photo credit: Booking.com
This iconic design hotel in Tulum has an array of types of accommodations including their cabañas, which are beach bungalows dotted along the beach and nestled within the jungle. These bungalows are steps away from the private, pristine white sand beach of Papaya Playa Project and have luxurious amenities such as air conditioning.
Azulik Tulum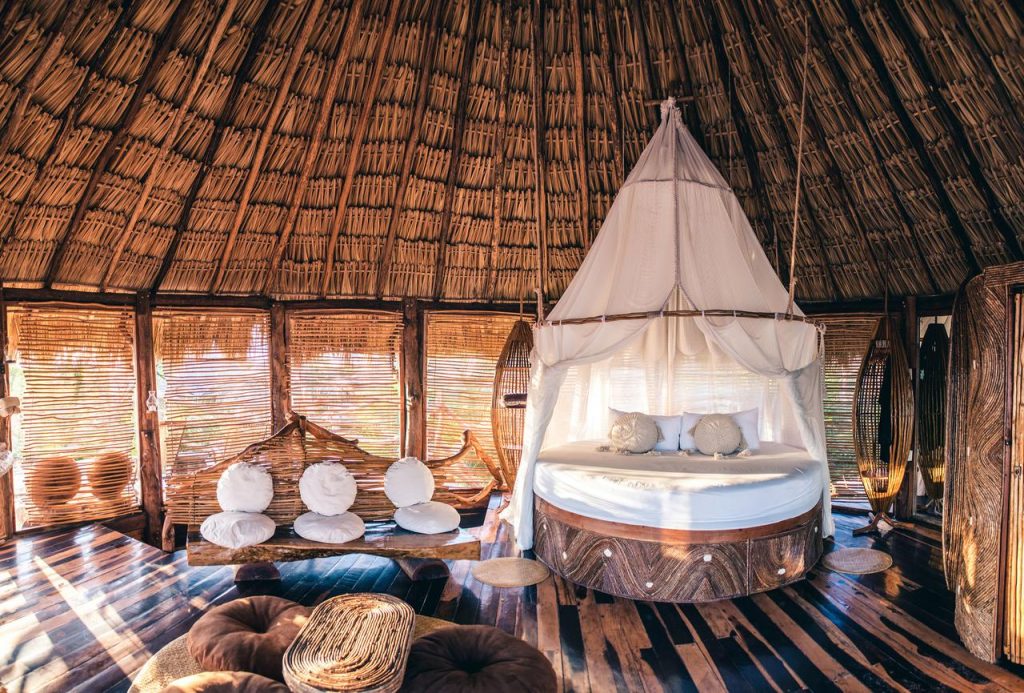 Photo credit: Booking.com
The accommodations at Azulik Tulum are more luxurious villas than charming beach bungalows, yet they do offer that boho beach aesthetic that we're all craving, albeit escalated Tulum boho chic. Staying at Azulik Tulum is well worth the splurge. Each villa is unique and an absolute work of art. You will only be tempted to leave your room for a dip in the Caribbean Sea, a visit to on-site SFER IK Museion, or to browse at the ZAK IK boutique.
Maya Tulum Retreat & Spa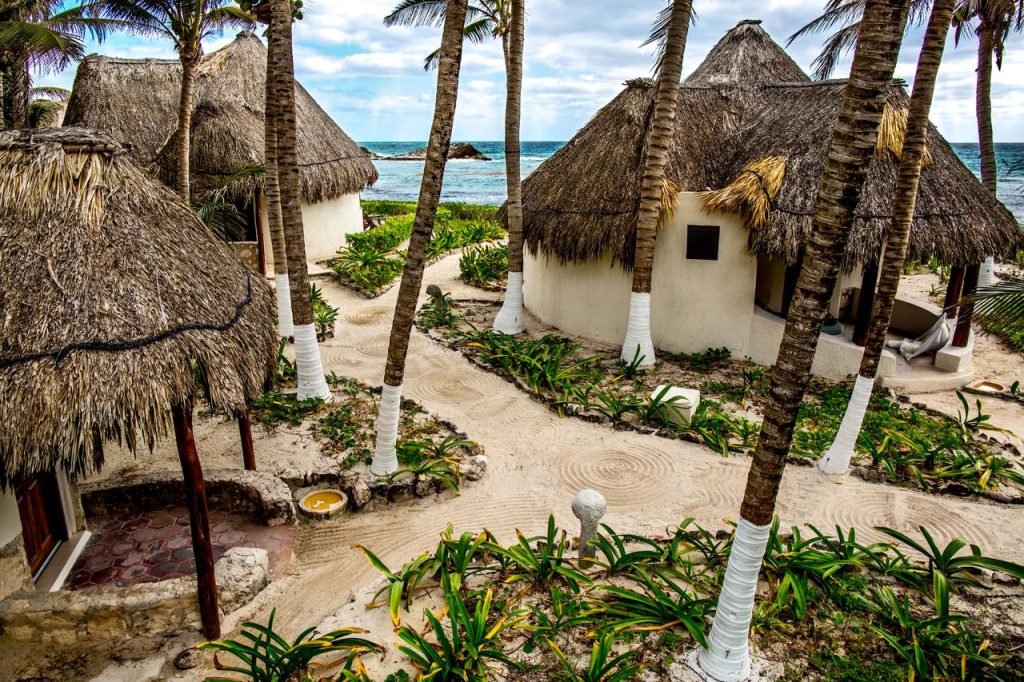 Photo credit: Booking.com
Maya Tulum is the perfect place to stay for a wellness and spa retreat in Tulum. Here you can sign up for daily yoga, spend time meditating in the meditation labyrinth and heal your body and soul with specialty Mayan treatments. Each of the luxury cabanas has no television, phone, or alarm clock to ensure you are able to truly relax.
La Valise Tulum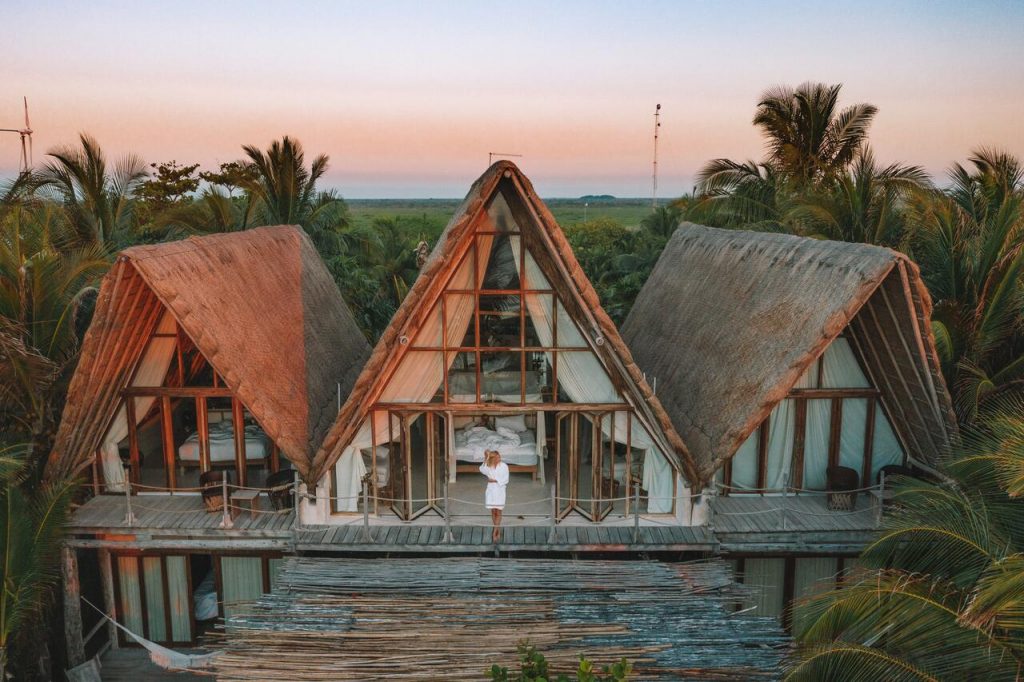 Photo credit: Booking.com
La Valise is a 9 room hotel just north of Sian Kaan natural Biosphere that has a private beachfront villa and bungalows. One of the distinguishing features of the bungalows at La Valise is the large floor-to-ceiling windows overlooking the Caribbean Sea. You can watch the sunrise over the sea from the comforts of your bungalow in Tulum.
Nest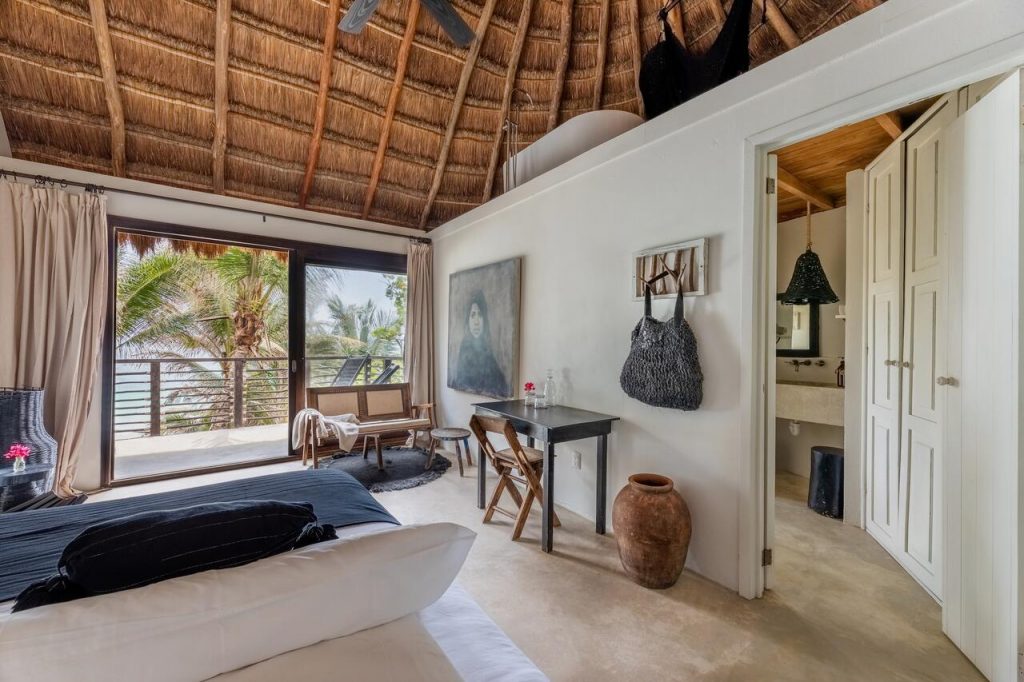 Photo credit: Booking.com
The Ocean View rooms at Nest give the vibe of being a beach bungalow, without actually being a bungalow. They have high thatched ceilings, yet are not a secluded bungalow. With only twelve guest rooms and a private villa at this boutique property, staying in one of the Ocean View rooms will still feel like a retreat. This is a great option for someone who wants to have the Tulum beach bungalow aesthetic with the comforts of staying in a more traditional hotel.
Save This Post For Later On Pinterest