The Warsaw Christmas Market is perhaps the most underrated in Poland. Yet, it is unequivocally charming and utterly magical. It has a quiet Christmas magic and is not quite as in your face as some other Christmas Markets. It may be hard to believe that the largest city in Poland is home to such a quaint Christmas Market, yet Warsaw's Old Town is relatively small. Thus, the Christmas Market that's located within the Old Town is small as well. At the Warsaw Christmas Market, you will find elegant decor, twinkling lights, and various stands for ornaments. There is also an ice skating rink with small stalls selling hot cocoa and mulled wine. While small in scale, you will not be underwhelmed by the Warsaw Christmas Market. Additionally, Warsaw has various light displays and incredible things to do during Christmas time.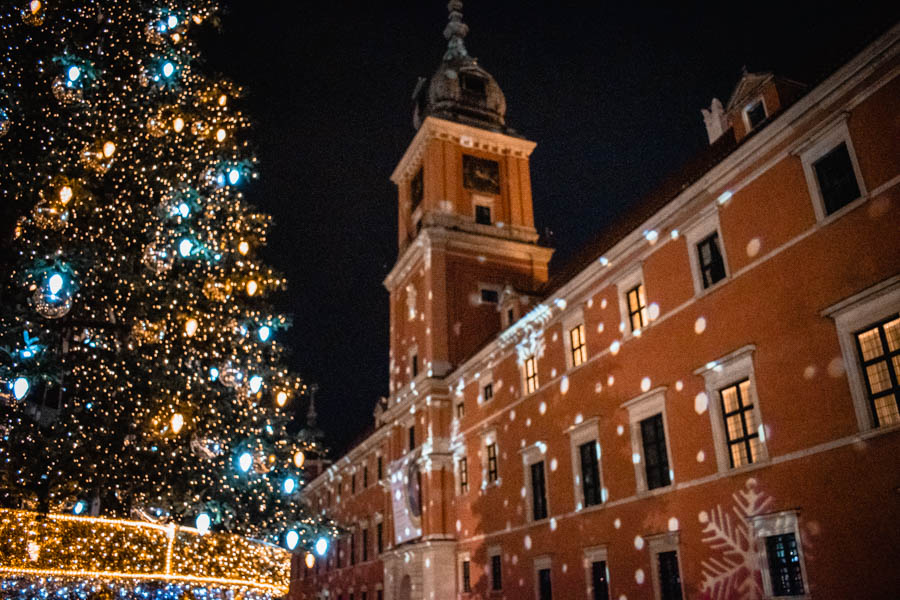 Warsaw Christmas Market Overview
How to Get to Warsaw 
Getting to Warsaw is so simple; it is perhaps the most accessible city to visit in Poland. The Warsaw Chopin Airport is well connected, with direct flights coming from many east coast US and Canadian cities. It also has direct flights from almost every major city in Europe. Chances are, if you are visiting Poland by air, you will have to connect through Warsaw.
If you are traveling within Poland, the best way to get to Warsaw is by train. Compare train tickets directly on the PKP Intercity website. Make sure to pay attention to the duration of the trains. Unless you are on a tight budget, you will want to get the express train.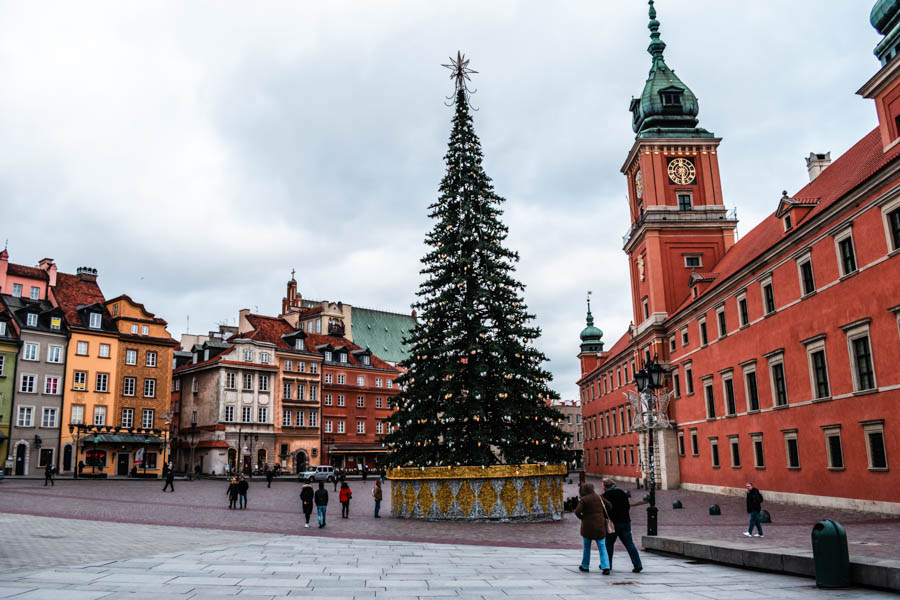 Where to Stay When Visiting Warsaw's Christmas Market
Warsaw is a large city with accommodations spread out throughout the city. The best place to stay is near the Old Town, Stare Maestro, to visit the Christmas Market.
Find More Great Hotels Near the Warsaw Christmas Market
Check out this Booking.com map to see what hotels are available during your visit. Keep in mind that Christmas is a busy time to visit Warsaw, so be sure to secure your hotel by booking now.
 
Warsaw Christmas Markets 203 Dates
The official Krakow Christmas markets 2023 dates are from November 25th– January 6th, 2024. (From December 27th as the New Year's Market).
Keep in mind that while the Christmas Market in Warsaw starts in November, the illuminations are not lit until the first weekend of December. So if you want to experience this Christmas Market in its full glory, I would wait to visit until December 1st or 2nd, when there are illuminations in the Old Town.
Warsaw Christmas Market Hours
10 am – 10 pm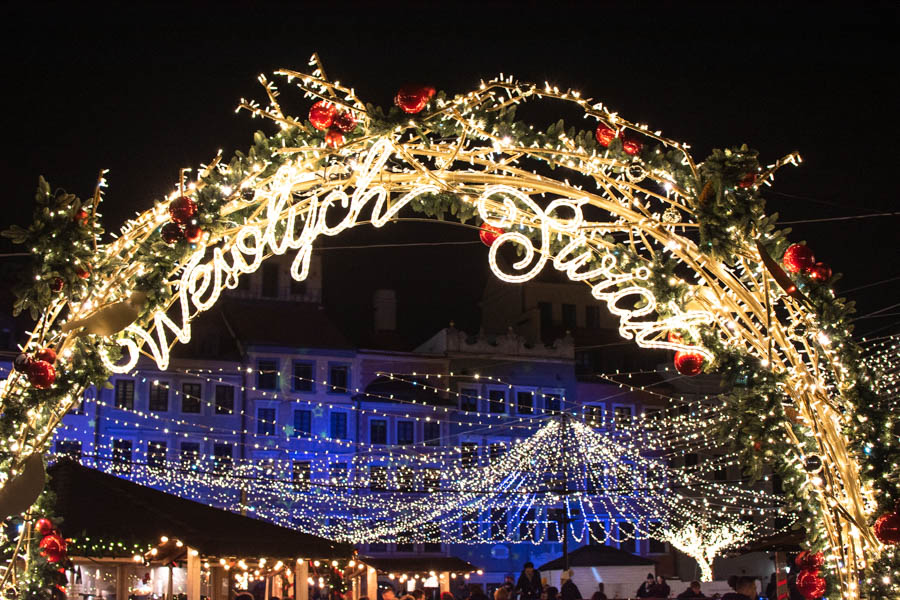 Warsaw Christmas Market Vlog
Before delving into the full, detailed guide for the Warsaw Christmas Market, check out my vlog from my visit for inspiration.
Warsaw Christmas Market Locations
While there are some smaller markets scattered around Warsaw, we're focusing on the Christmas Markets in Warsaw's Old Town in this guide. The Old Town hosts the traditional Christmas Market in Warsaw, and it is the most magical and quintessentially European. The Christmas Market stalls in two locations in the Old Town, along the Barbican Walls, and in the Old Town Market Square.
Barbican Walls
The Christmas Market stalls line the Barbican Walls, the defensive walls of Warsaw's Old Town. This is a unique setup for a Christmas Market as it encourages strolling through the market stalls. Here you will find stalls selling snacks, including food, hot chocolates, and mulled wine. There are also stalls selling various Christmas decor, featuring plenty of Polish-made Christmas ornaments.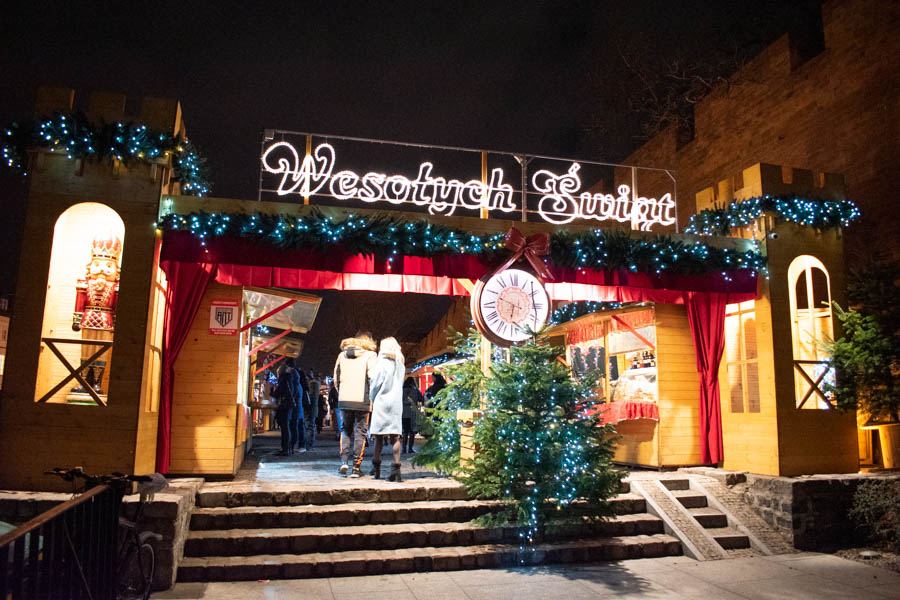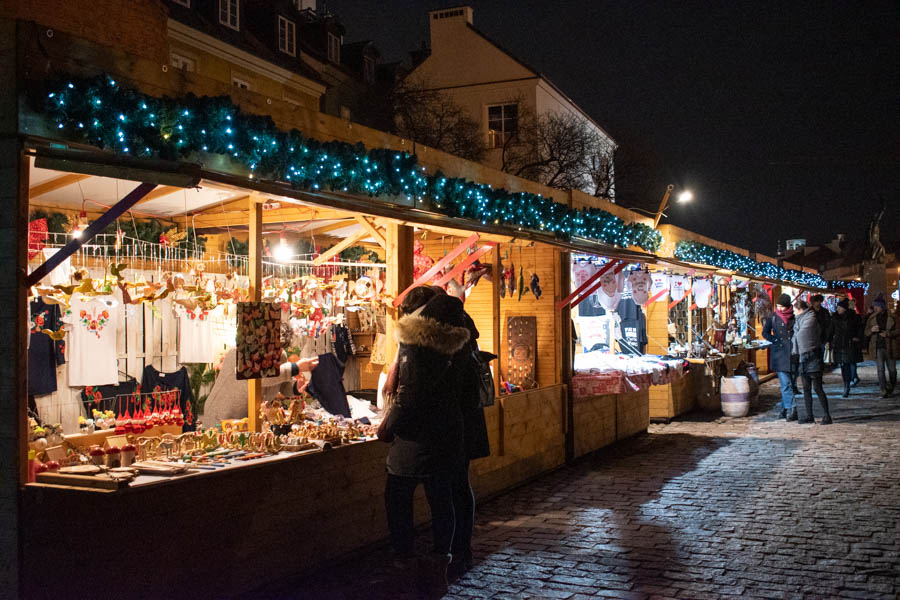 The coziness factor along the Barbican Walls is unparalleled to anything else you will find at the Poland Christmas Markets. While wandering through this Christmas Market, it is easy to forget that you are in the metropolis of Warsaw.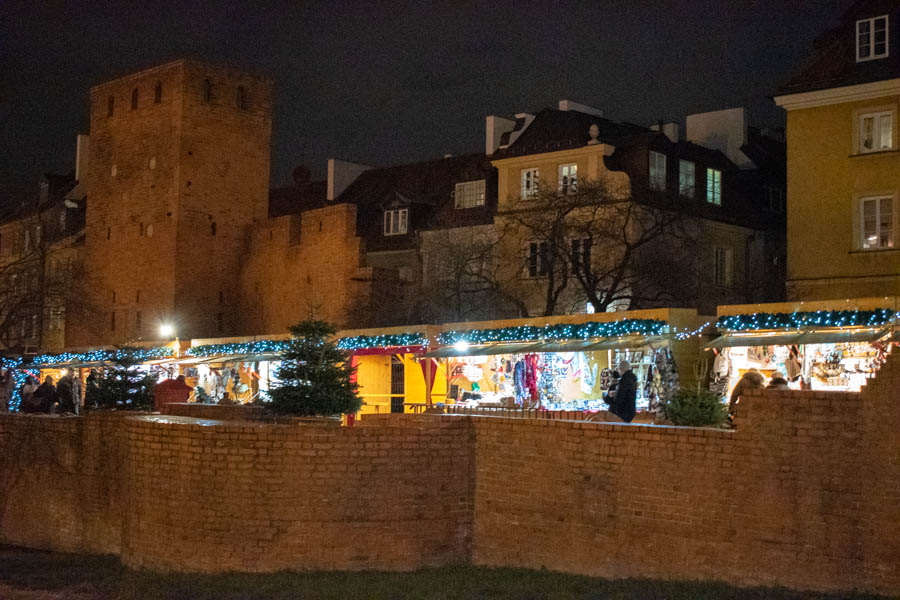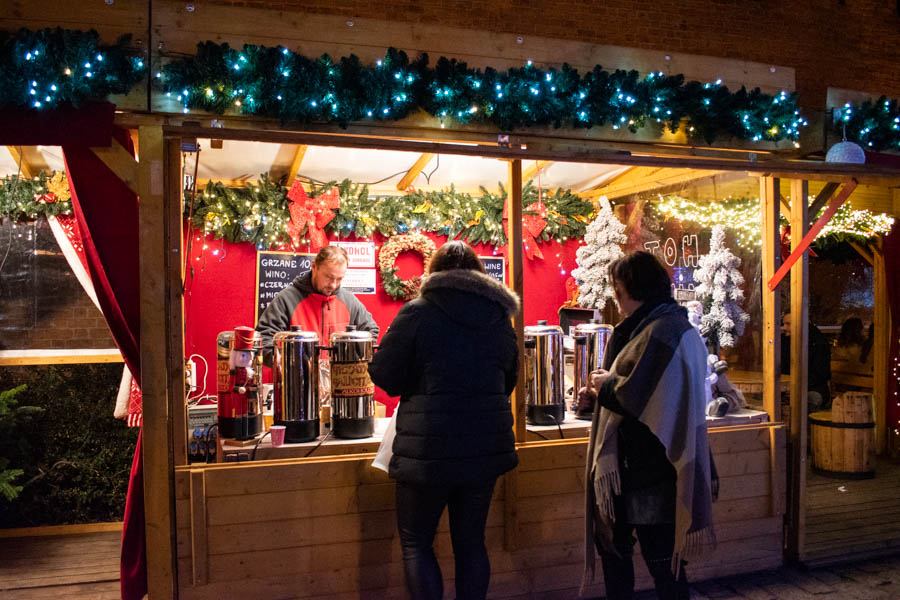 The decor is simple yet very Christmassy. The wooden stalls are decorated with garland, and real Christmas trees line the walkway along the Barbican walls. These Christmas trees are strung with simple twinkling lights. It is understated yet very cozy. It's perfect for this location in Warsaw, as these Christmas Market stalls pair perfectly with the defensive walls.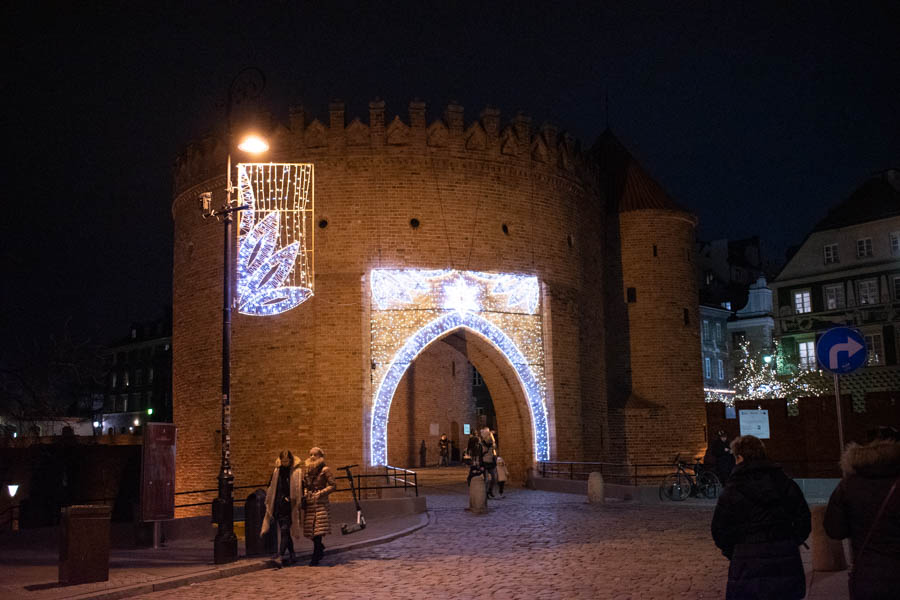 Tucked away amid the stalls are wooden stalls with benches and seating, where you can stop to rest and enjoy your food and drink purchases. There are also wooden toys to play with, including a mini carousel and a seesaw.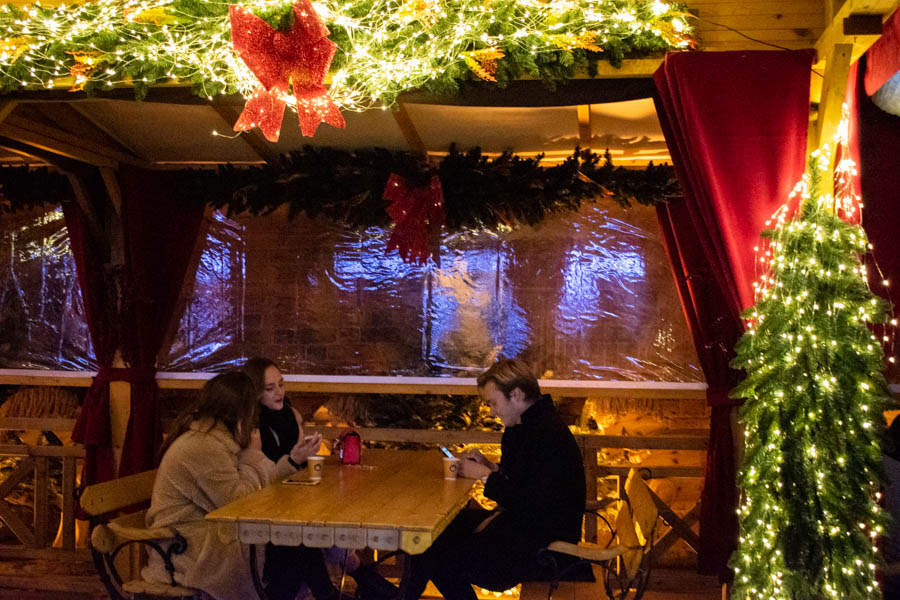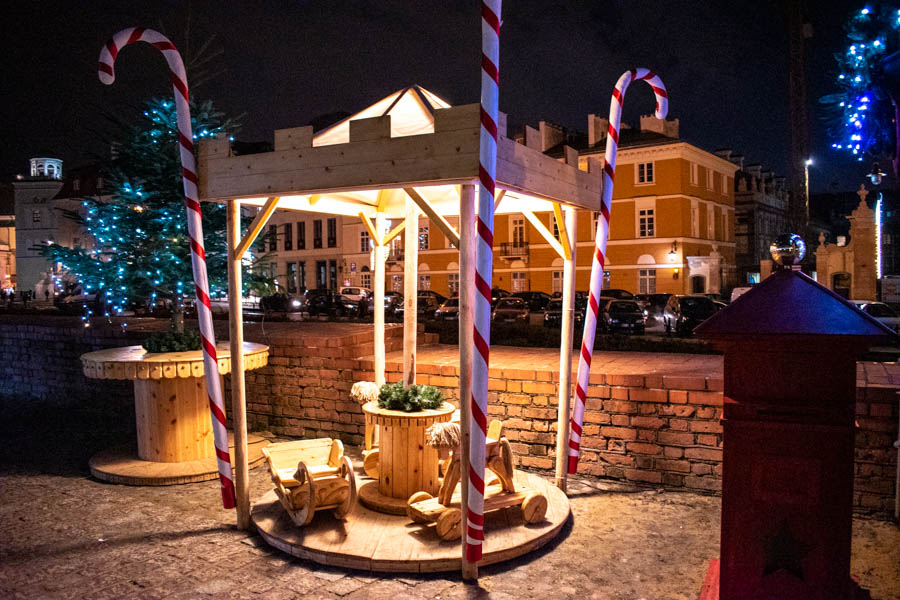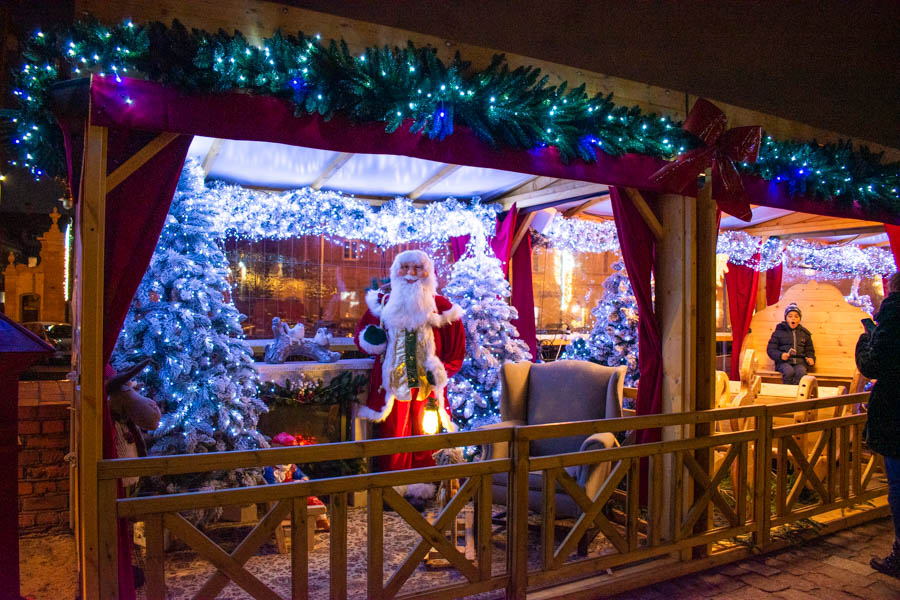 Old Town Market Square
The Market Square in Warsaw's Old Town transforms with the most dazzling, classy Christmas decor. The Market Square in Warsaw is smaller in scale but perfect for this intimate Christmas Market. Here you will find an ice skating rink and stalls selling mulled wine and hot cocoa.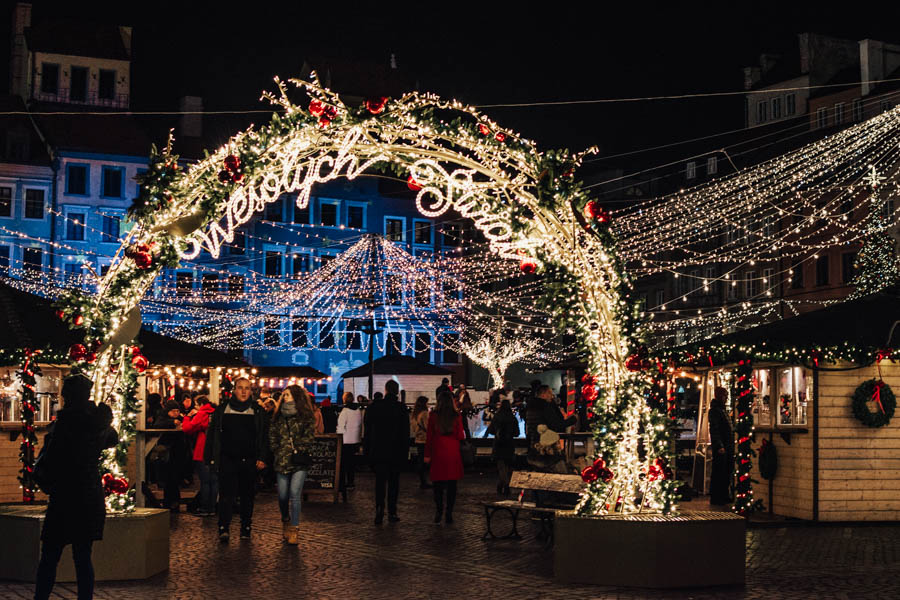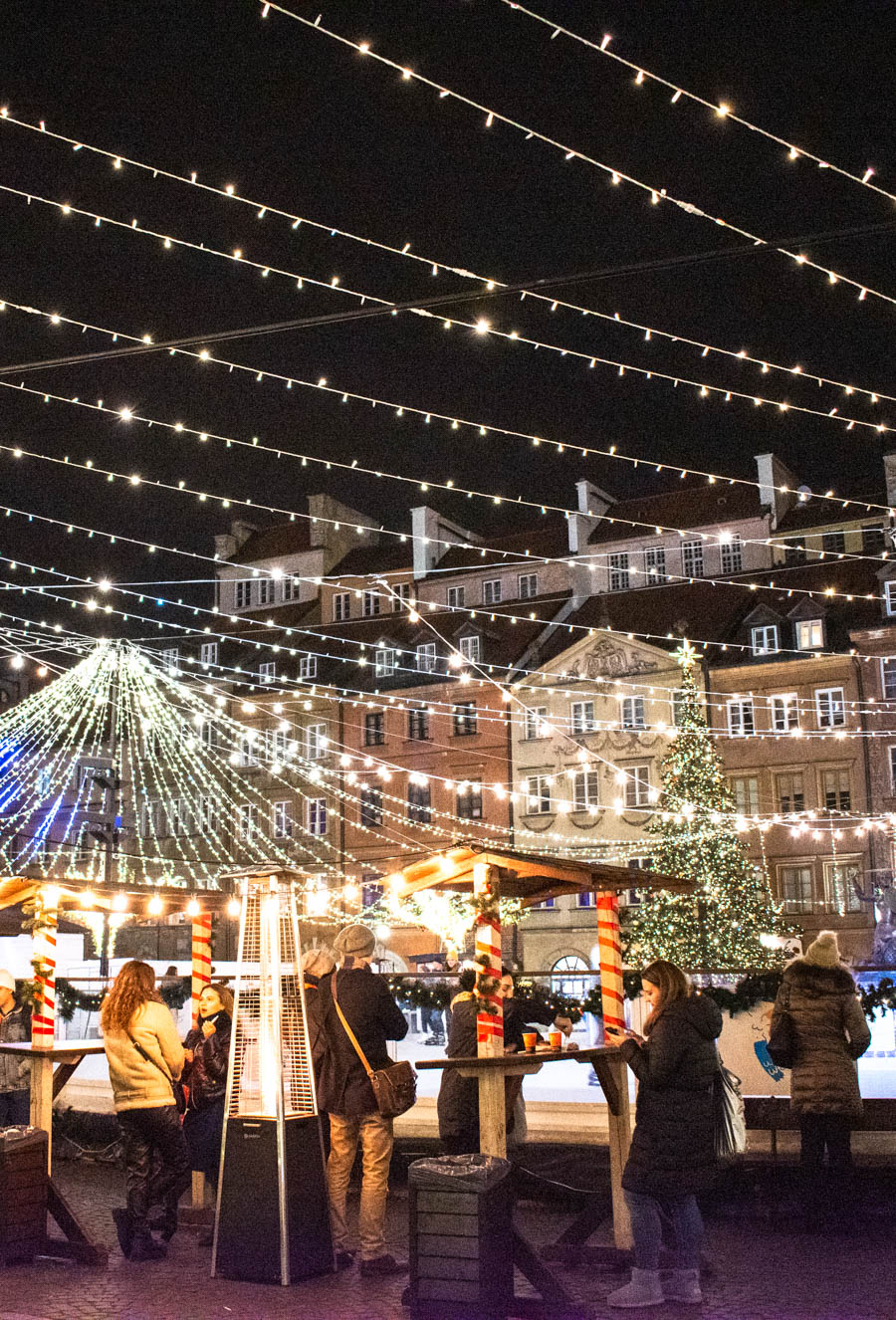 In the center of Market Square is a small ice skating rink where you can skate around the mermaid statue. Skating underneath the canopy of twinkling lights with the stunning facades of the buildings that line this Market Square is incredible.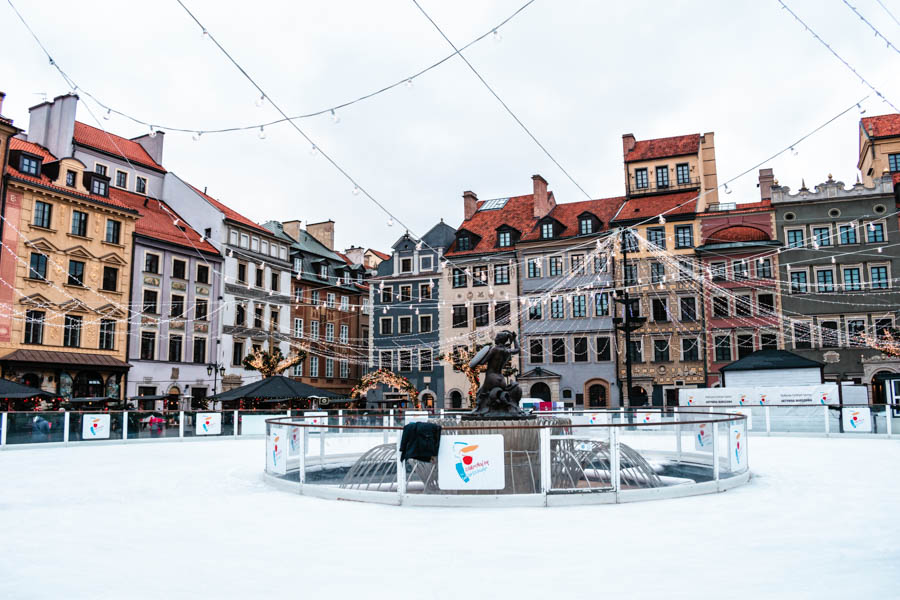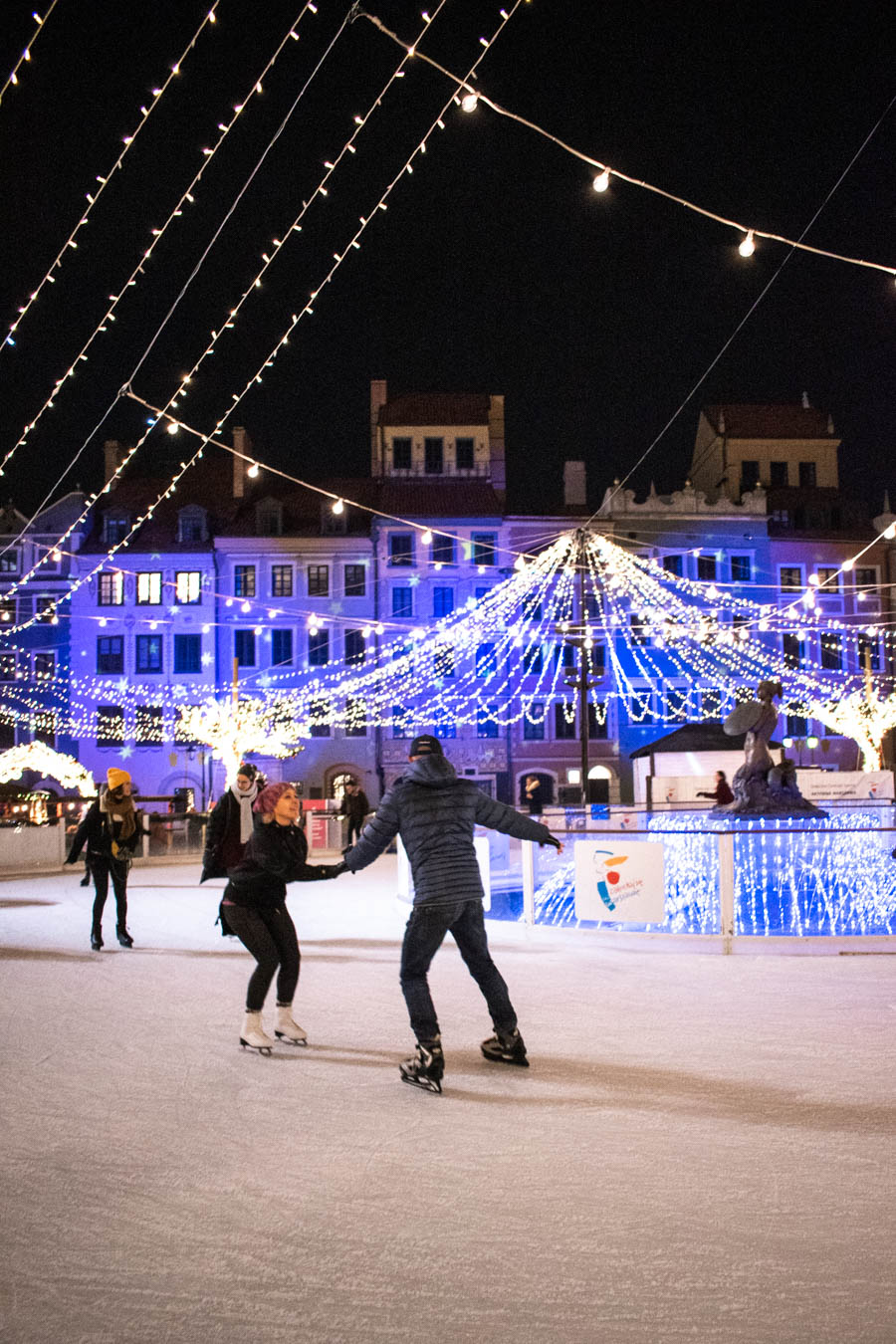 There is a gorgeous Christmas tree next to the ice rink, which adds to an even more dazzling effect with the canopy of lights. And in the evenings, Christmas stars are illuminated on the facades of the buildings surrounding Old Town Square.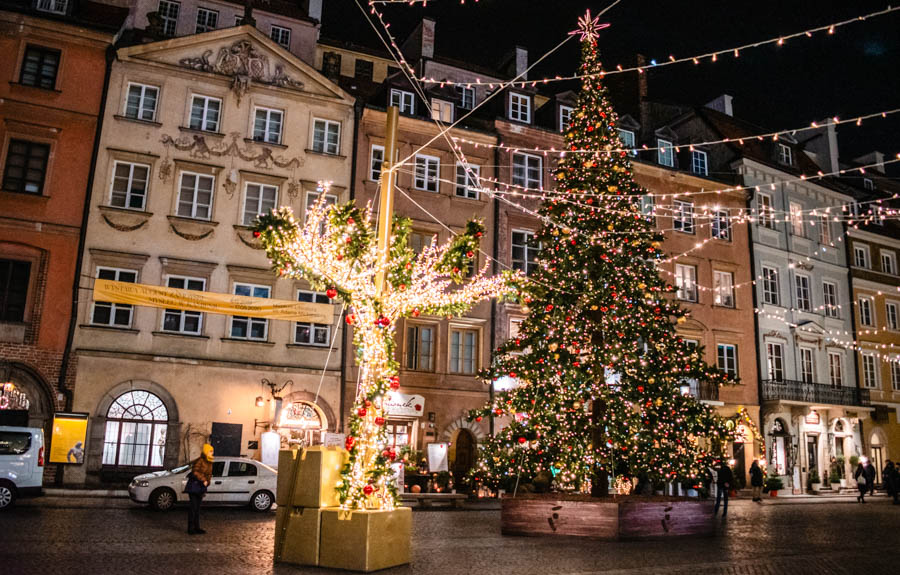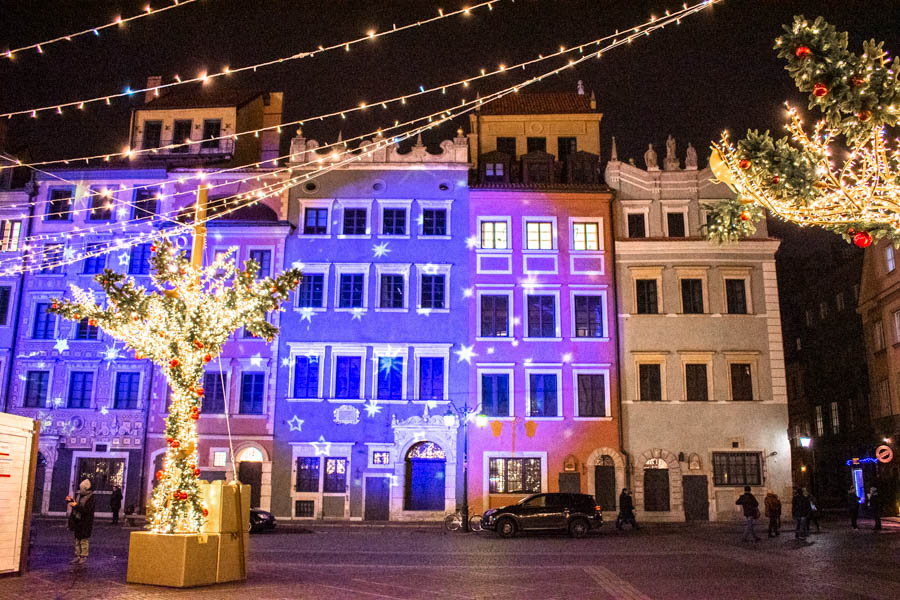 There is nothing as festive as sipping on a hot chocolate (perhaps spiked with vodka! This is Poland.) or drinking mulled wine by one of the heat lamps in Market Square at Christmas. With Christmas lights illuminating the square, skaters circling the rink, and festive cheer, it is hard to compete with this quaint and utterly magical setting.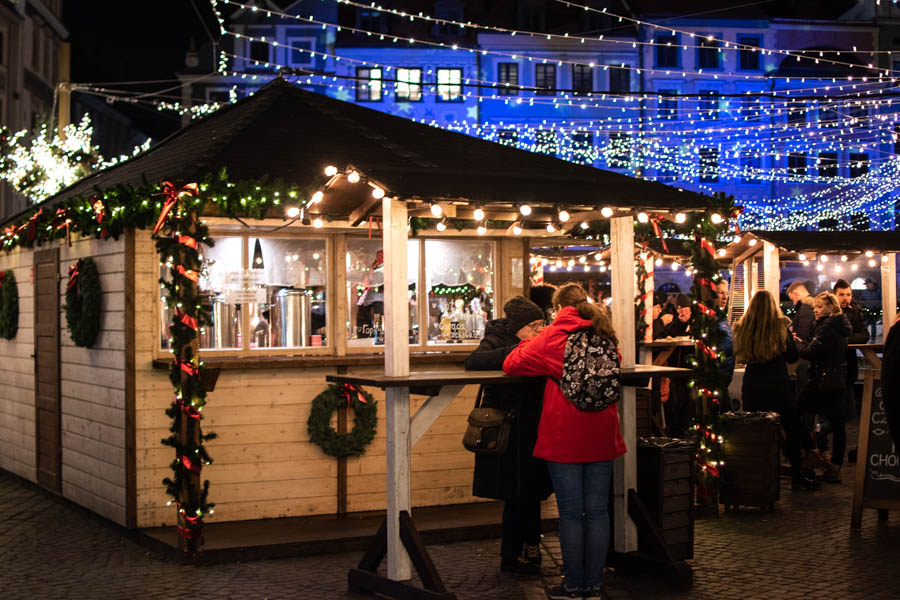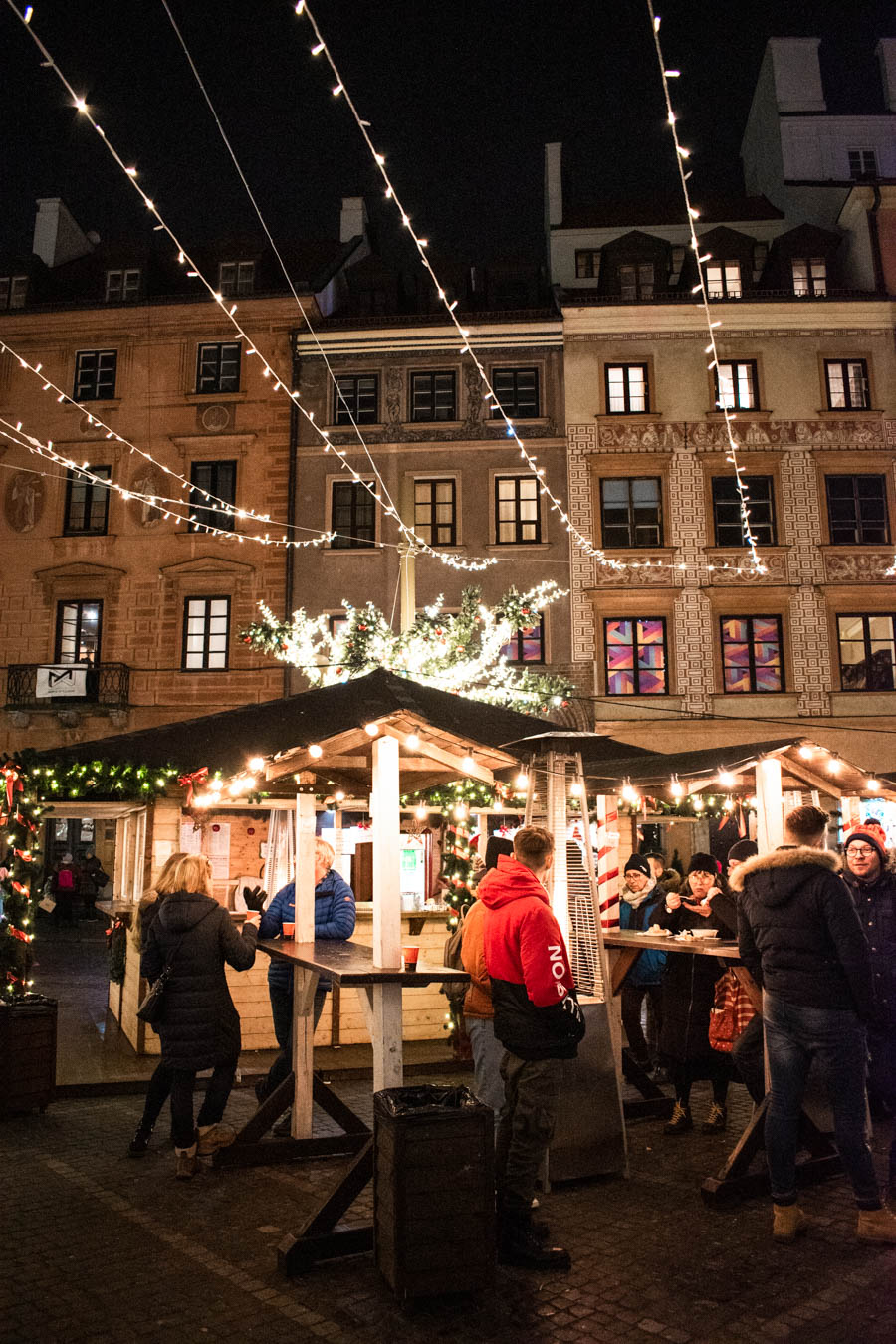 You will only find food and drink stalls in Market Square, this part of the Warsaw Christmas Market isn't about shopping; it's more so an area to relax and enjoy the environment. One thing to note, while there are hot drinks available, they are served in disposable cups, not in festive Christmas Market mugs.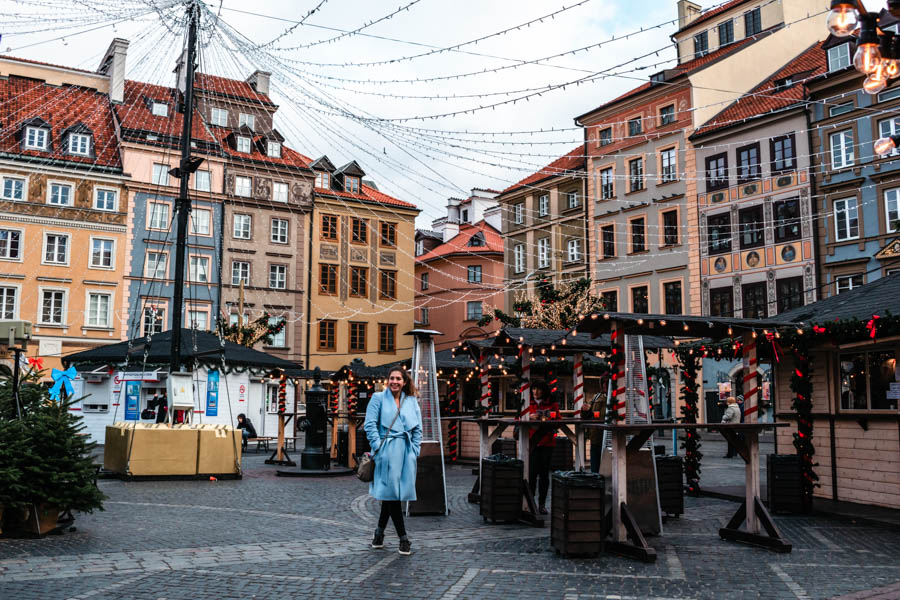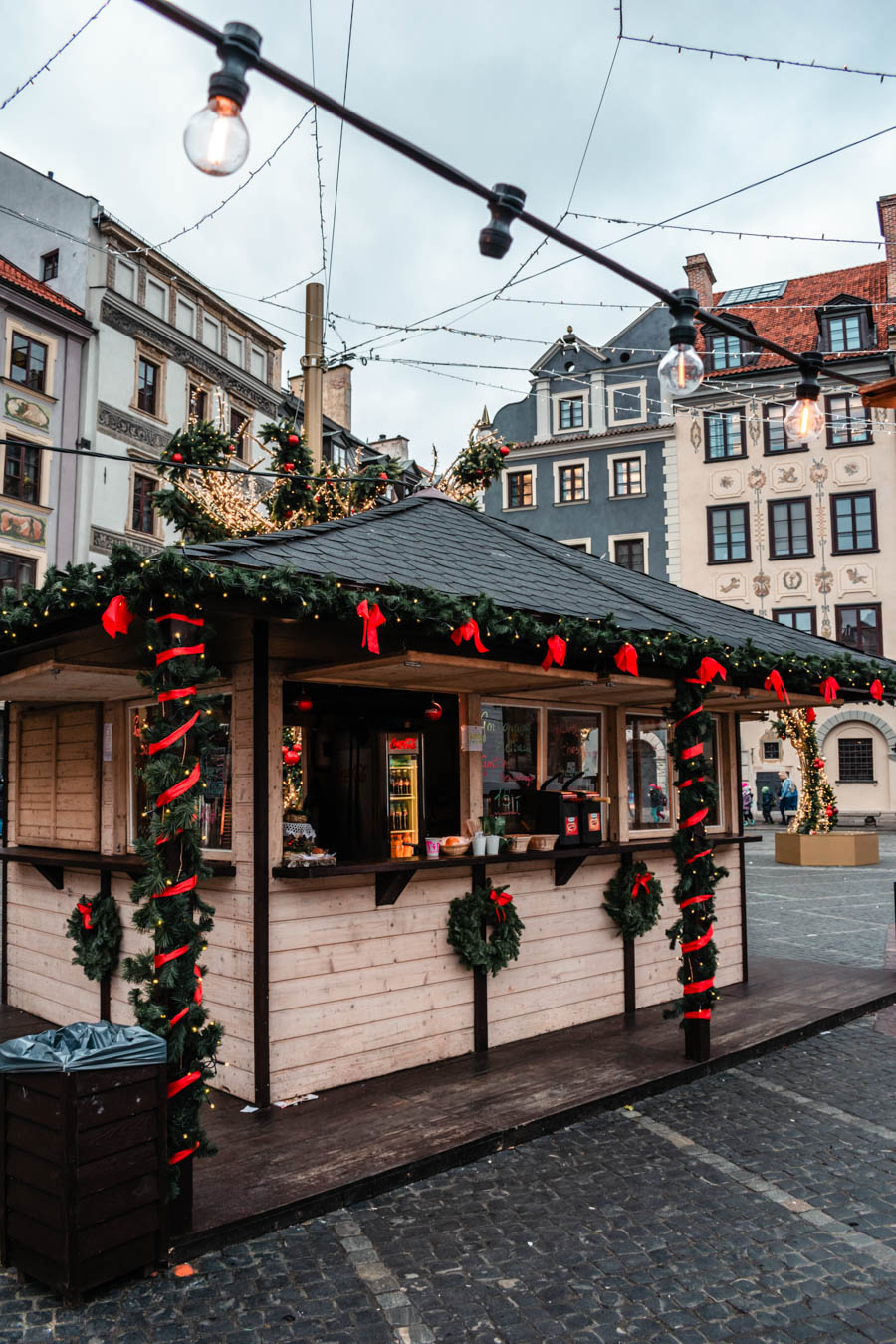 What to Eat and Drink at the Warsaw Christmas Market
As for food and drinks, the number one thing to get at the Warsaw Christmas Market is hot beverages. Specifically, mulled wine and spiked hot chocolate. The hot chocolate is delicious, and you will be asked if you want vodka in it. They are typically sweet vodkas, like raspberry, that add a nice little spike to the beverage. While these hot beverages don't come in Christmas ceramic mugs, they are still well worth getting to warm up at the Warsaw Christmas Market.
Other stalls sell traditional Polish fares such as soups, pierogi, and sausages.
What to Buy at the Christmas Market in Warsaw
Ornaments
One of the main items you will notice while browsing the stalls at the Barbican Walls is Christmas Ornaments. Poland is known for its fantastic Christmas ornaments, and the Warsaw Christmas Market is an ideal place to go shopping for a new ornament for your Christmas tree.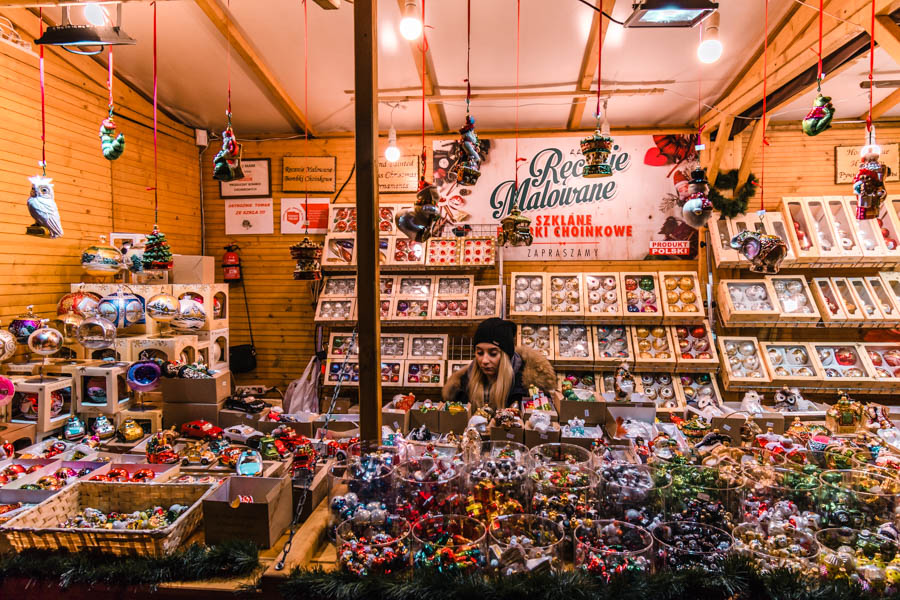 Wreaths
There are a few stalls selling wreaths made of pine. They are quite beautiful, smell amazing, and are adorned with different decor. However, a natural pine wreath would not travel well across continents, so I only recommend buying one if you are traveling within Europe.
Other Things to do in Warsaw During Christmas 
Warsaw is one of the best places to visit at Christmas; it is truly one of Europe's most atmospheric Christmas destinations. In addition to the cozy Warsaw Christmas Market, there are plenty of things to do in Warsaw during Christmas.
Explore the Old Town
In addition to the Christmas Market in the Old Town, the streets are decorated with string lights, making the Old Town perfect for strolling during Christmas. Allow yourself to wander around to the top spots in Warsaw's Old Town, and you will be sure to see the beautiful decor.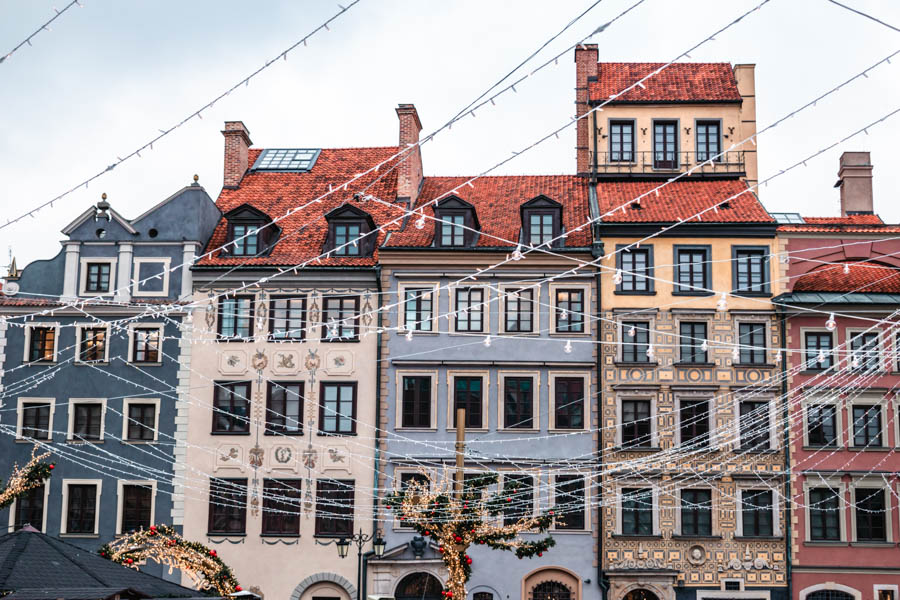 Don't miss a stop in Rynek Nowego Miasta in New Town, where you will find this incredible carousel! It even spins, making it both festive and fun.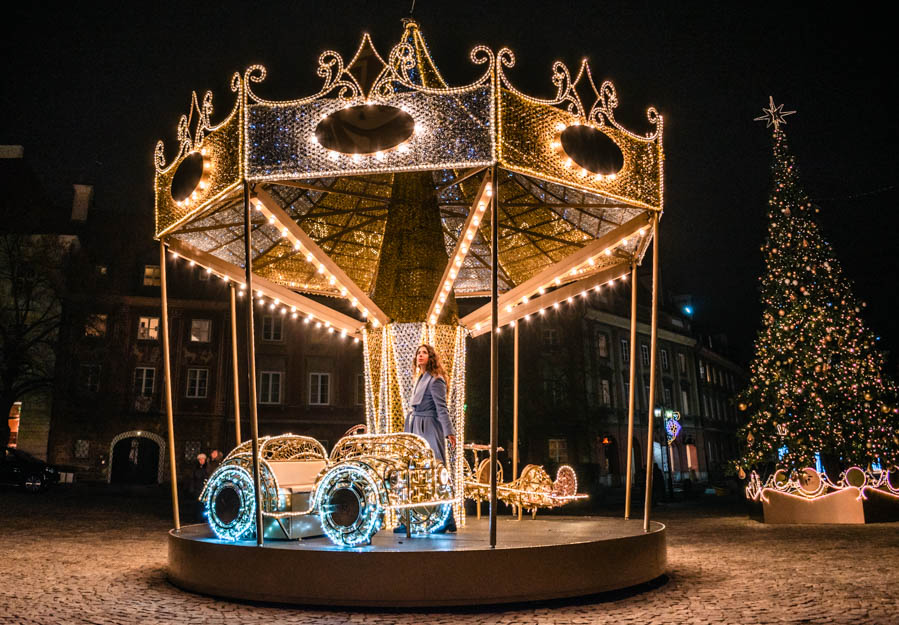 See the Light Display on the Royal Castle
In the evenings, there is a light display projected on the Royal Castle of Warsaw. This display creates a magical environment in the Royal Castle Square and an excellent backdrop for the Christmas tree in the square.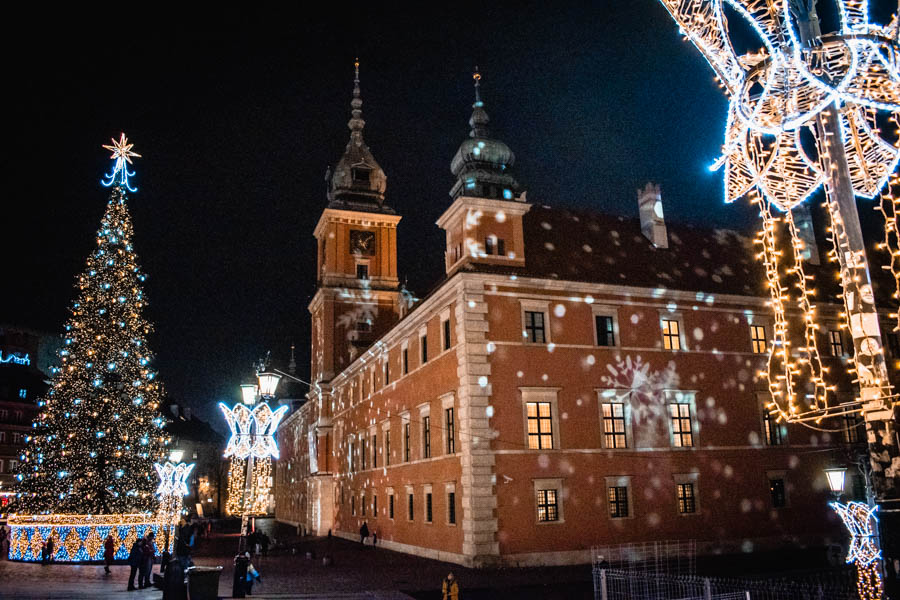 Be Dazzled by the Illuminations along the Royal Route
The Royal Route of Warsaw is where you will find some of the most spectacular illuminations in the city. Starting from the Royal Castle square, the entire street is lined with light displays.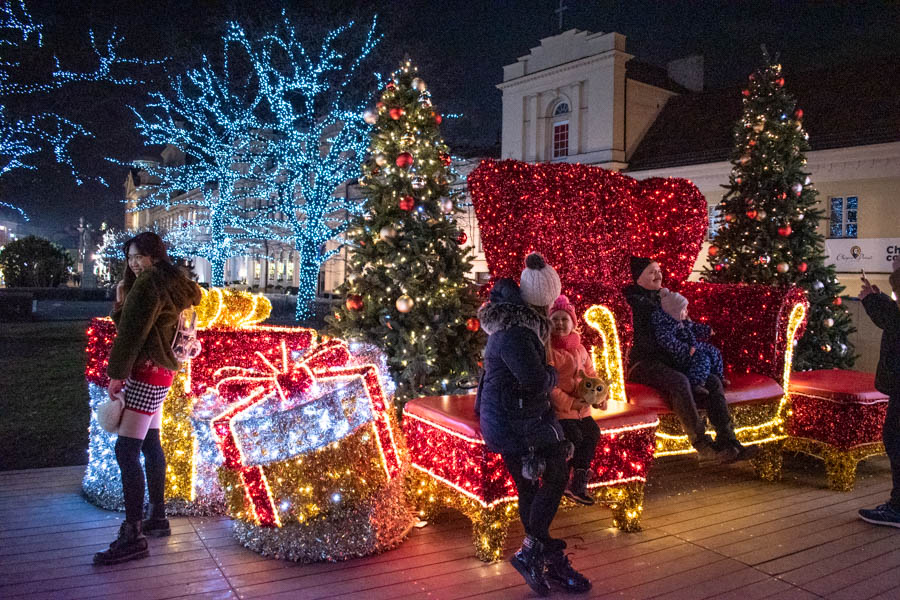 Wilanow Palace Royal Garden of Lights
Wilanow Palace hosts a light festival during the holiday season. At the Royal Garden of Lights, you can experience the incredible light displays in the gardens of Wilanow Palace.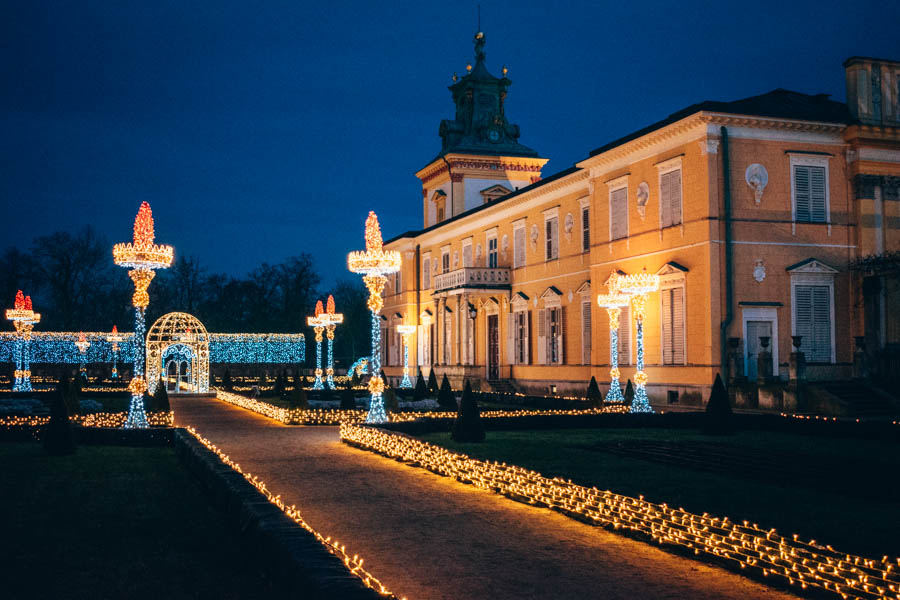 Warsaw Christmas Market: Wrap-up
This wraps up the guide to visiting the Christmas Market in Warsaw, Poland. While the market itself is one of the smaller Christmas markets in Poland, I think it is one of the best. There is something so charming and magical about the Warsaw Christmas Market. I would highly recommend visiting this market while checking out other Christmas markets in Poland. Warsaw is additionally one of the most effortless city breaks in Poland as you can get direct flights from most major cities in Europe.