One of the best parts about Winter in Europe is the Christmas markets and Poland is no exception. While Poland may be relatively off the radar as a European Christmas market destination, this Central European country has some of the most incredible Christmas markets. Poland is a great alternative to Christmas Markets in Germany or Austria. The Christmas markets in Poland are bursting with holiday cheer, without the overwhelming crowds that other destinations attract. While some of the markets are perhaps more attractive than others, each of the Christmas markets in Poland is unique and worth visiting. This guide showcases the best Christmas Markets in Poland!
The Best Christmas Markets in Poland
Wroclaw Christmas Market
The Wroclaw Christmas Market is, in my opinion, the best Christmas Market in Poland. This Christmas market is massive, covering Market Square as well as several streets and other small squares in Wroclaw. Not only are there tons of stalls to check out, but this market is also beautifully themed and decorated. The theme of the Wroclaw Christmas Market is a fairytale theme, which is evident in many decorations and activities at the market. This includes the fairytale forest, gnomes, and much more. Additionally, there are tons of activities and events to partake in, such as Christmas-themed rides and parades. If you only have time to add one Polish Christmas Market to your European Christmas Market itinerary, I would suggest Wroclaw due to its proximity to nearby Germany and Czechia.
Wroclaw Christmas Market Dates
November 24th, 2023 – January 7, 2024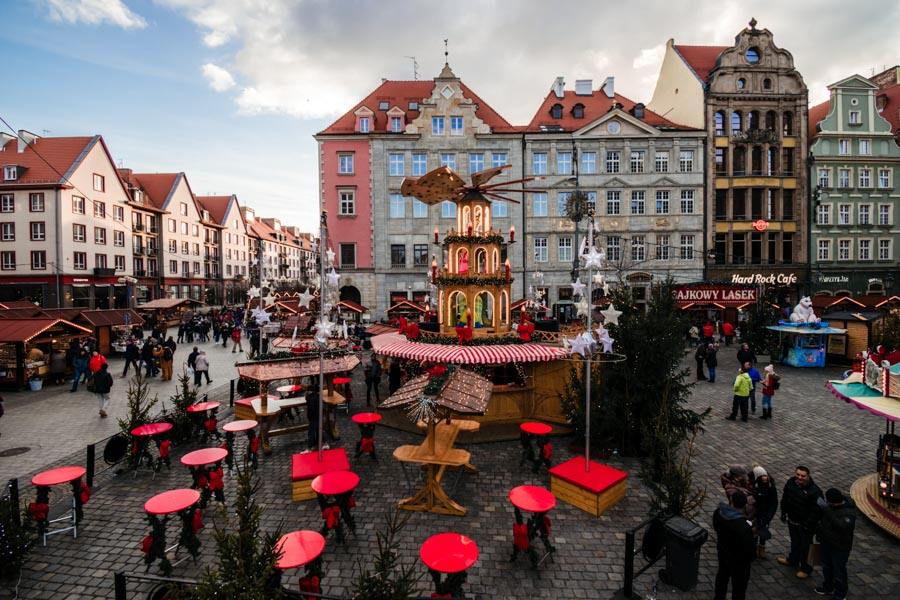 Krakow Christmas Market
Krakow is the top-visited city in Poland, which is no surprise due to its incredible history and beautiful city center.  Due to its popularity, Krakow hosts one of the most visited Polish Christmas markets. No matter when you are visiting Poland, you must add Krakow to your itinerary. Krakow is especially worth visiting during Christmas. Krakow's market square, Rynek Glowny, is actually the largest square in Europe. This square is transformed into a huge Christmas Market with stalls, decorations, and entertainment. At the Krakow Christmas Market, you can find everything from traditional Polish food and gifts and listen to some Polish Christmas carols.
Krakow Christmas Market Dates
November 25, 2023 – January 1, 2024
Warsaw Christmas Market
The Christmas Market in Warsaw is rather intimate compared to the other markets in Poland. While there are several markets held on specific days and weekends throughout December, the main Christmas market is located in Warsaw's Old Town. Stalls are scattered along the Barbican Walls and in the Market Square, allowing visitors to meander through the Old Town while enjoying the Christmas Market. The best part about visiting Warsaw during Christmas is the incredible illuminations around the Old Town. While the market stalls are open before the official illumination, it is best to visit in December when the Old Town and Royal Route are decorated with beautiful twinkling lights. While small and uniquely set up, the Warsaw Christmas Market was one of my favorites. It had the most intimate and relaxing atmosphere of all the Christmas Markets in Poland.
Warsaw Christmas Market Dates
November 25, 2023 – January 6, 2024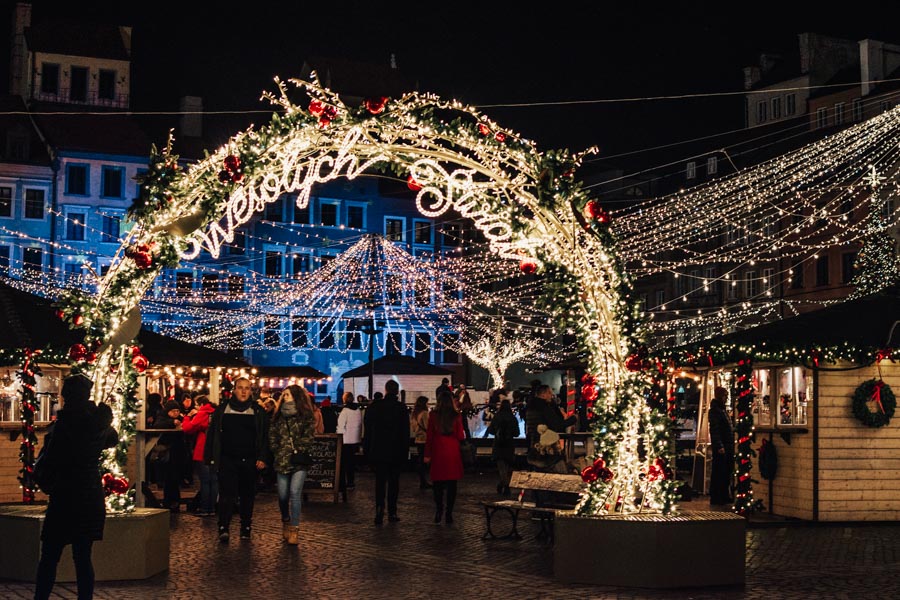 Gdansk Christmas Market
The Baltic port city of Gdansk is arguably the most beautiful city in Poland. The colorful and ornate buildings make for a wonderful backdrop for this Christmas market.  The Christmas Market is held at Targ Węglowy, the Coal Market. Here you will find delicious mulled wine and beer as well as Polish and international cuisine. There are plenty of events that take place throughout December, including an elves parade. The Gdansk Christmas Market has unique photo spots and entertainment, including a life-sized blow-up snow globe and a Santa's Sleigh ride simulator. 
Gdansk Christmas Market Dates
November 17, 2023 – December 23, 2023
Poznan Christmas Market
While Poznan's Old Town is fairly small, I found that the city has an incredible Christmas Market. The attractions of the Christmas Market in Poznan are in two locations, the Old Market Square and Plac Wolności. The market offers various activities such as Christmas-themed carnival games and rides, a Ferris wheel, and market stalls selling Christmassy treats. The most unique part of the Poznan Christmas Market is the International Ice Festival which is held in the Old Market Square. This Ice Festival features ice sculptors from around the world who compete during a weekend of the Christmas Market. 
Poznan Christmas Market Dates
November 18, 2023 – January 7, 2024
Poznan Ice Festival Dates
December 8, 2023 – December 10, 2023