The Krakow Christmas Market is the most well-established in the country and is located in the biggest market square in Europe, Rynek Glowny. When planning a trip to Poland in the Winter, be sure to add Krakow to your itinerary. Krakow is one of the most visited cities in Poland and is worth checking out whatever time of the year you visit. Yet, Christmas is an especially great time to visit Krakow. Aside from the grand Market Square, Krakow has some unique elements that make this Christmas Market special.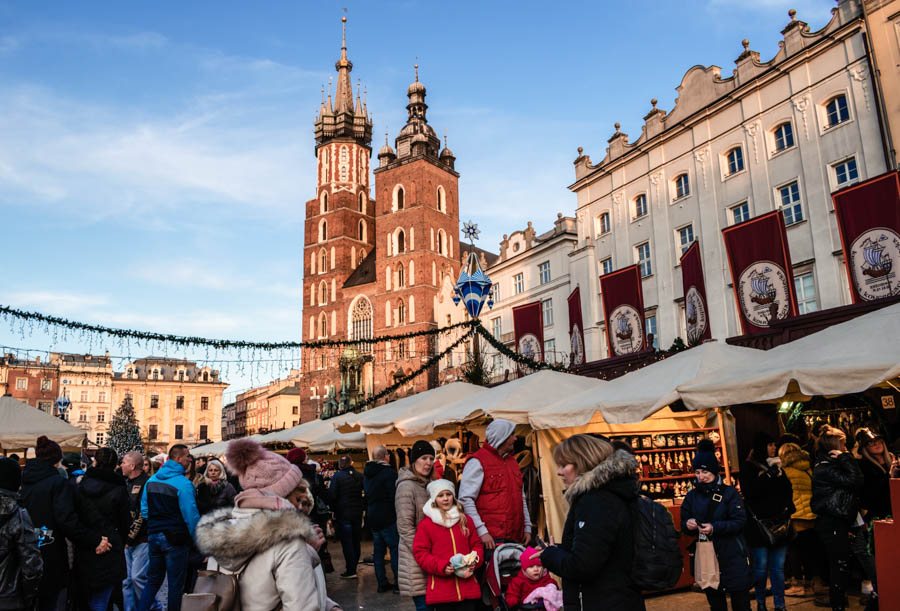 Krakow Christmas Market Overview
How to Get to Krakow
Krakow is one of the most popular tourists destinations in Poland so it is easy to get to from almost any other European city and for international travelers as well. Most flights however do connect through Warsaw. If you have time to visit both cities, I recommend flying to Warsaw to check out their Christmas Markets first and then taking the train to Krakow. However, if you only have time for a city break to Krakow, then fly straight to the John Paul II International Airport in Krakow. 
If you are traveling within Poland, the best way to get to Krakow is by train. Compare train tickets directly on the PKP Intercity website. Make sure to pay attention to the duration of the trains. Unless you are on a tight budget, you will want to get the express train. An express train from Warsaw to Krakow takes approximately 2.5 hours, while the intercity trains can take anywhere from 5 to 8 hours because of the various stops along the way.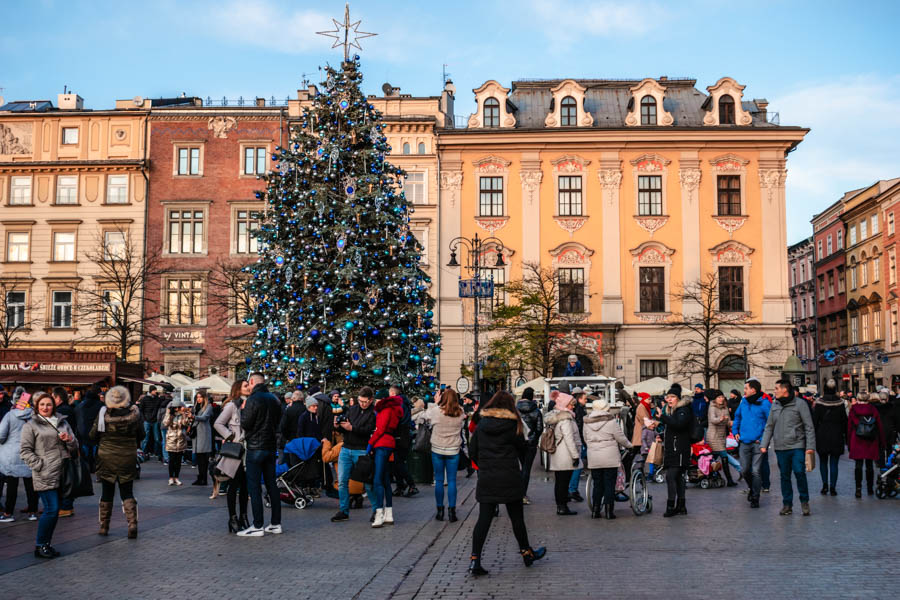 Where to Stay When Visiting Krakow's Christmas Market
As the Krakow Christmas Market is located in Rynek Glowny, the Market Square, the best place to stay is in Stare Miasto. Stare Miasto is Krakow's Old Town. Staying here will allow you to be in close walking distance to the Christmas Market. 
Bonerowski Palace
Bonerowski Palace is my top recommendation for where to stay in Krakow. It is located just steps away from Krakow's Market Square, making it the perfect place to stay when visiting the Christmas Market in Krakow. This hotel has opulent rooms, excellent reviews and will certainly elevate your visit to Krakow. Especially with the cold nights in Krakow, it's great to have a hotel you can easily stop at various times throughout the evening. This is a boutique property, so rooms tend to sell out quickly.
Amber Design Residence
This hotel is an incredible value, it's priced reasonably, nearby to the Christmas Market, and has beautifully designed rooms. While priced moderately, it will feel like a luxury to relax in the modern rooms at Amber Design Residence after a day full of exploring.
Bachleda Luxury Hotel Krakow MGallery by Sofitel
This stunning property is located a bit further from the Krakow Christmas Market, yet it is still within walking distance. It takes less than 10 minutes to walk from Bachleda Luxury Hotel Krakow MGallery By Sofitel to the Market Square. This is a great option if you want to escape the commotion of the Christmas Market in the evenings. This property is pure luxury at a very affordable price. 
Krakow Christmas Market 2021 Dates
The official Krakow Christmas markets 2021 dates are from November 26th– January 2nd, 2021. (From December 27th as the New Year's Market).
Krakow Christmas Market Hours
10 am – 10 pm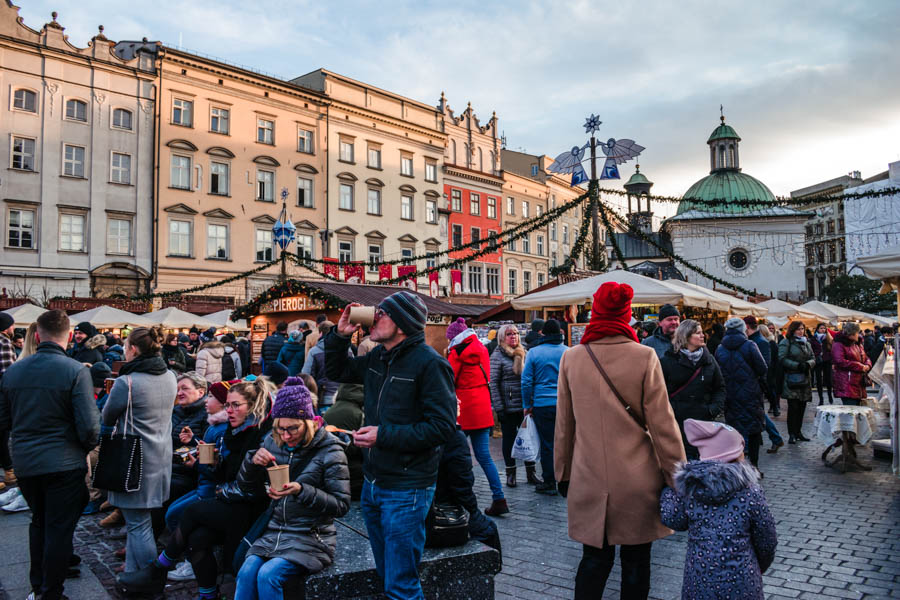 Krakow Christmas Market Location
Rynek Glowny- Market Square
The Krakow Christmas Market is located in Rynek Glowny, Krakow's Market Square. Market Square in Krakow is the biggest of its kind in Europe, and the sheer size of this square makes it an incredible location for the Christmas Market. Rynek Glowny is an excellent location for the Krakow Christmas Market, as there is ample space for market stalls and entertainment.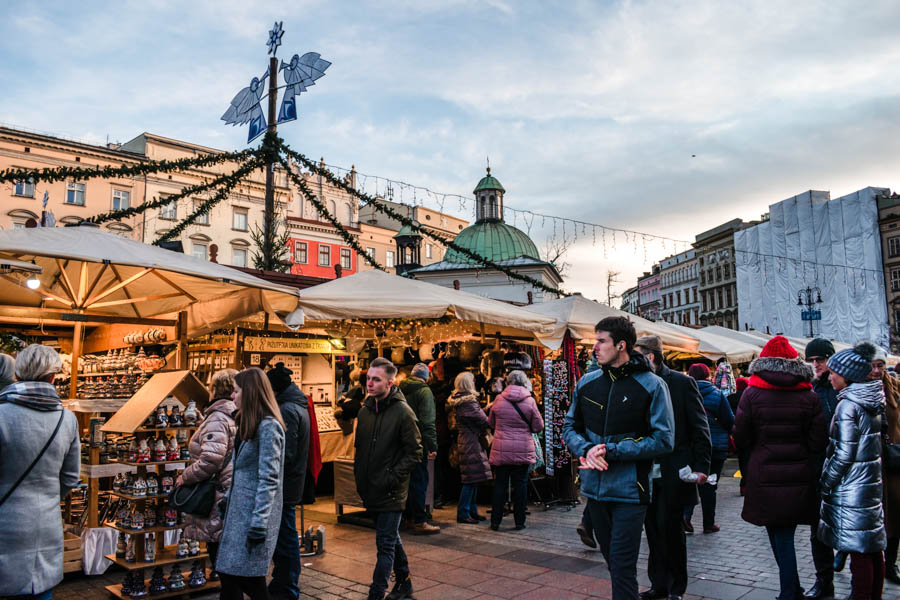 Additionally, you will also find some of the top sights in Krakow, including the Renaissance Cloth Hall and St. Mary's Basilica, which towers over the Christmas Market.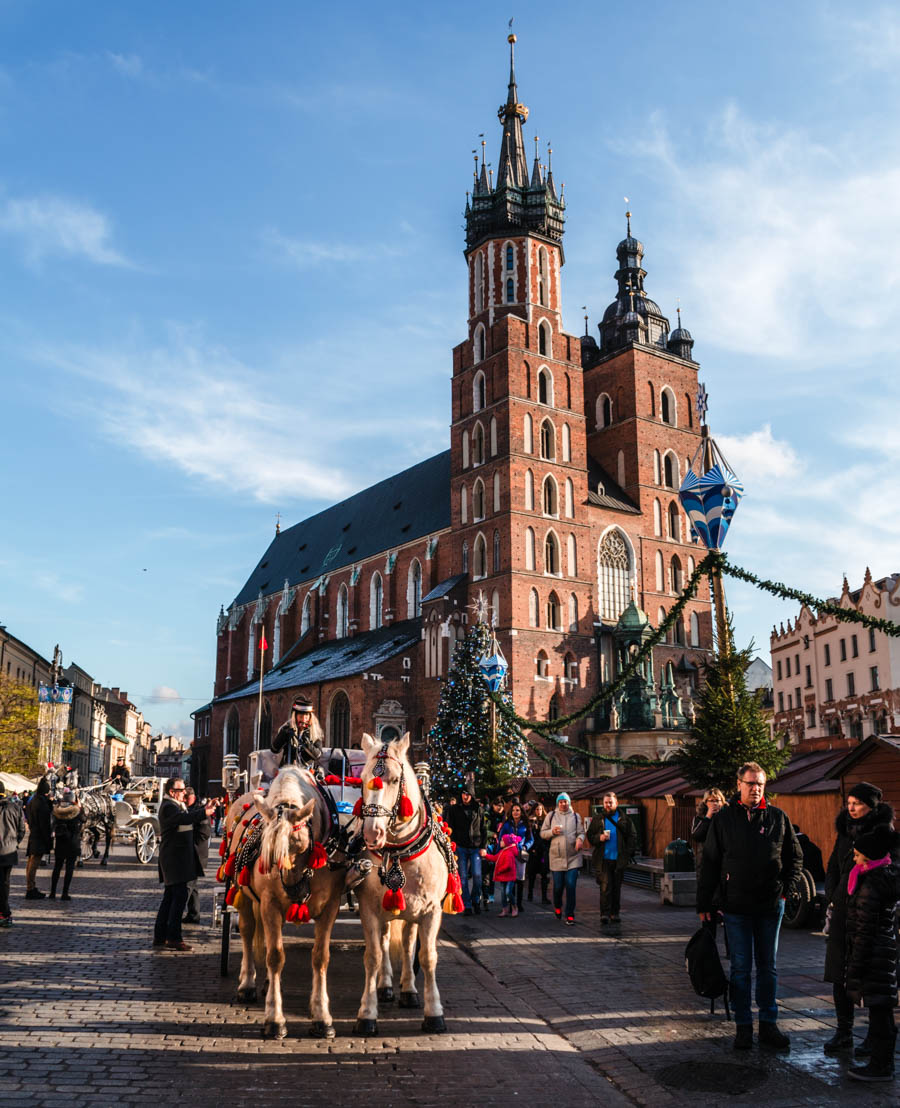 Lining the Market Square are plenty of cozy cafes and restaurants serving hearty Polish dishes, perfect for warming up while at the Christmas Market. You will also find an E. Wedel located in Market Square, the oldest Chocolate Shop in Poland, and the perfect spot to grab a hot chocolate in Krakow during the Winter.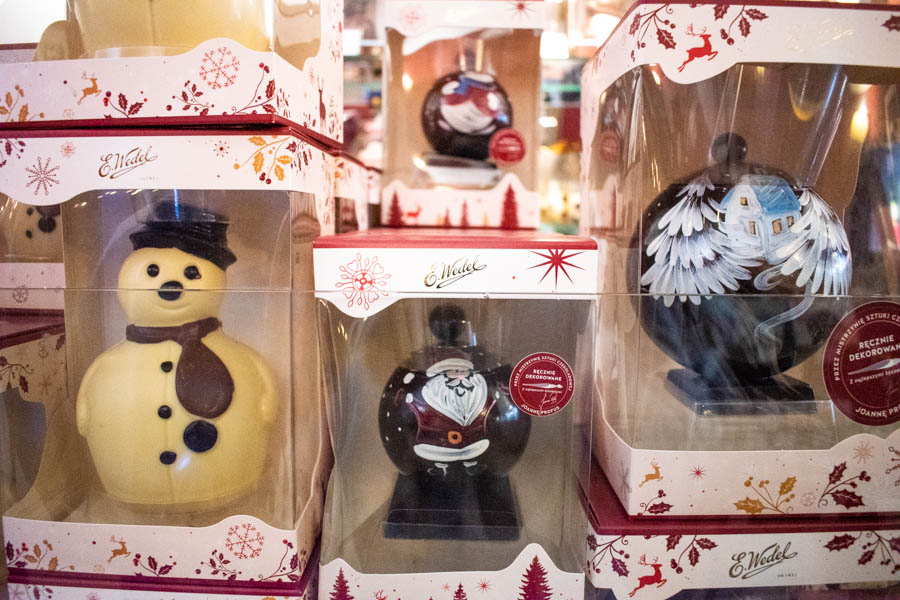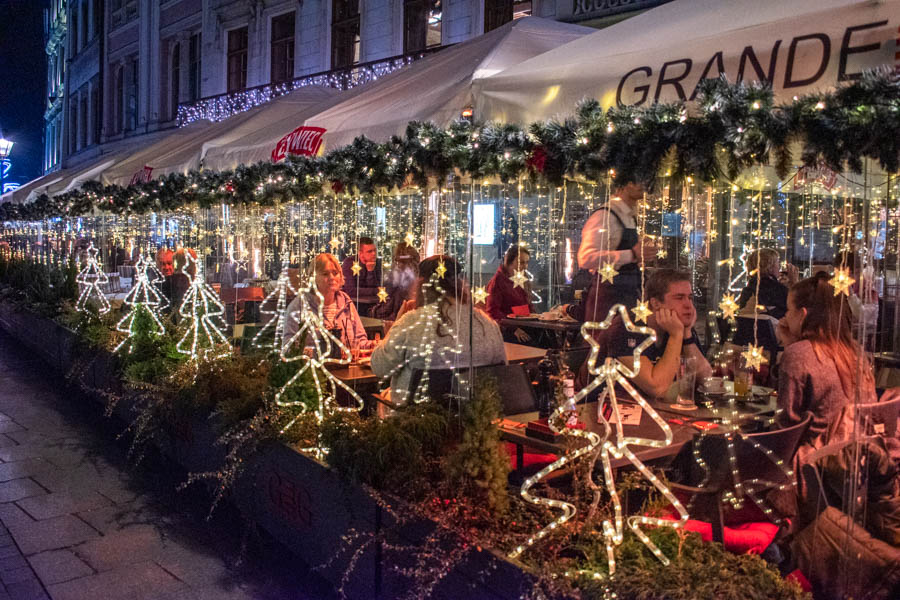 The decor at the Krakow Christmas Market is elegant and straightforward, from a large, beautifully decorated tree in the square and swag lights throughout the Old Town. The decorations don't compete or take away from the Market Square, so you will be able to appreciate both while visiting.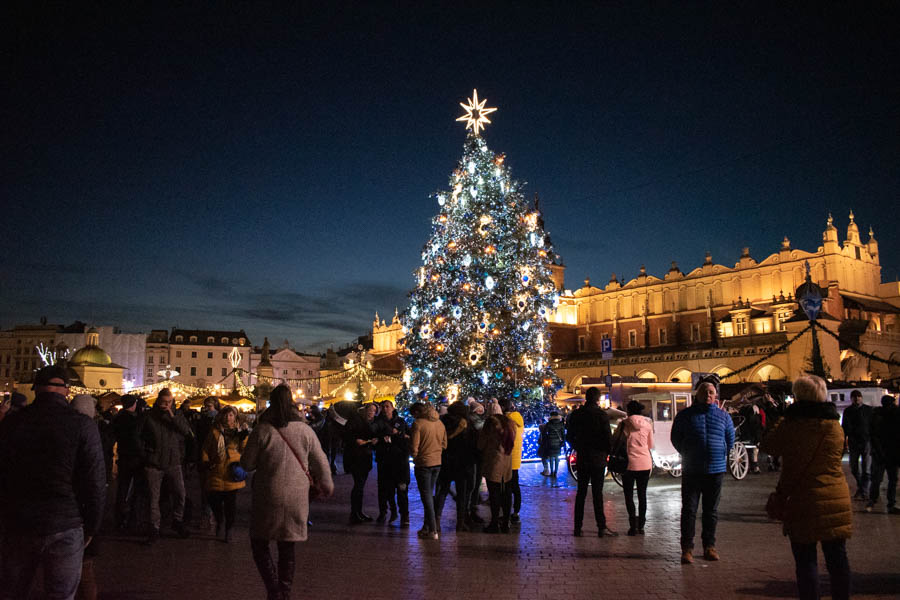 The best way to appreciate this Christmas Market is to weave around, check out the market stalls throughout the square, and try various Polish treats and food.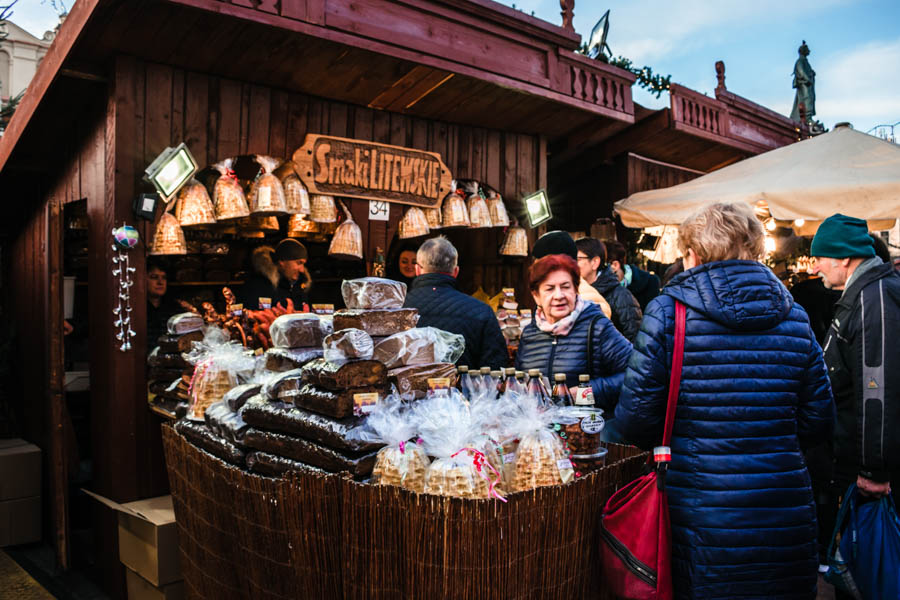 Krakow Christmas Market Events
There is a stage set up in Rynek Glowny where you can watch various Christmas carol performances. The carolers bring such a festive element to the Christmas Market.
There are horse-drawn carriages available in Market Square that will take you around the Old Town. While not these aren't unique to the Christmas market, it's a great way to see the Christmas decorations around the historic area of Krakow.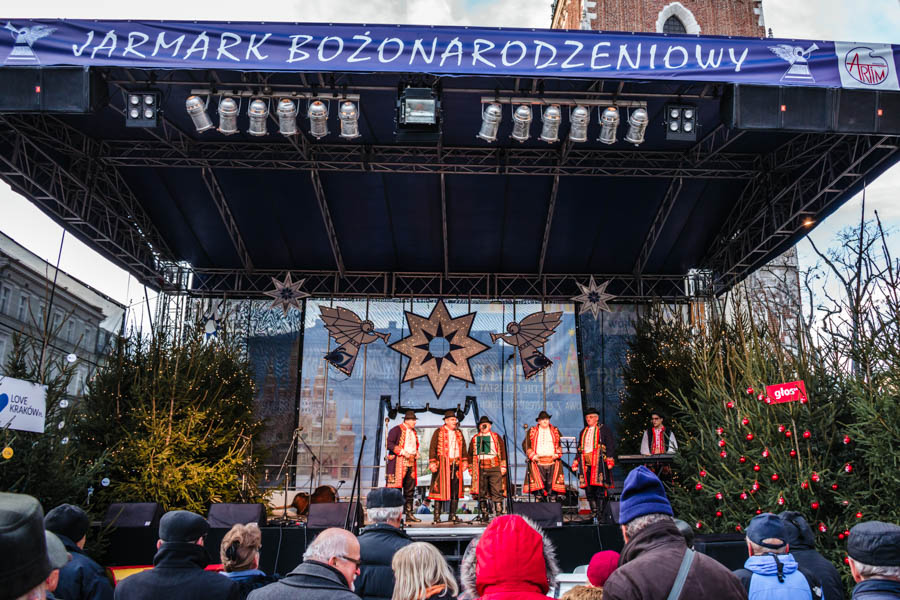 What to Eat and Drink at the Krakow Christmas Market
Grzaniec Galicyjski
You won't find any over-the-top mulled wine stands with fun reusable Christmas mugs here, yet there is still mulled wine. The mulled wine is sold at stands that are shaped like wine barrels. There are some tables you can stand by to enjoy your mulled wine, or you can walk around the market with it. The mulled wine will keep you nice and warm while walking around.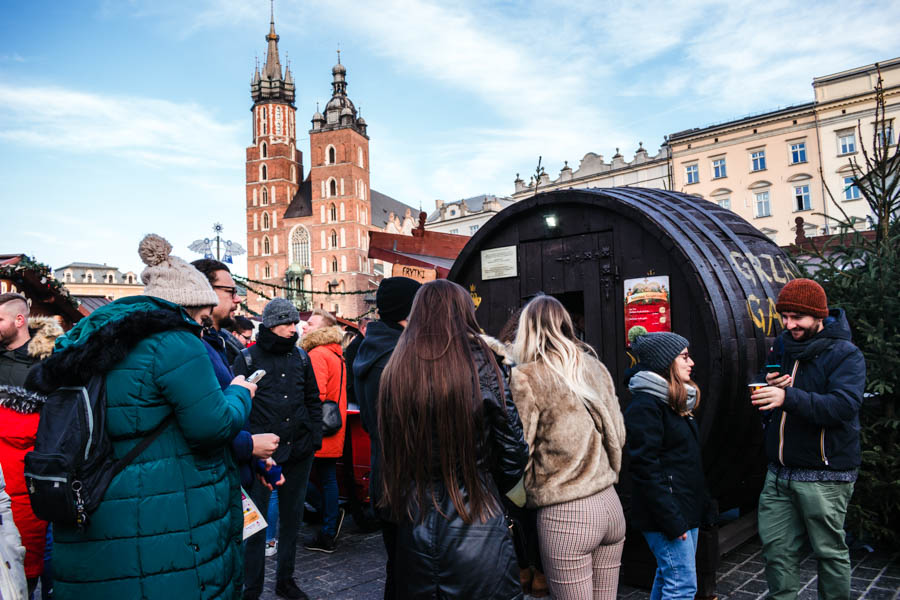 Oscypek (Grilled Cheese)
While you will find this Polish dish at other Christmas Markets in Poland, there were many stands selling Oscypek in Krakow. Oscypek is essentially a smoked sheep cheese grilled and usually topped with cranberry sauce. Admittedly, I didn't care for this dish. I love cheese, so I thought I would like Oscypek; however, the cheese was a bit too strong and salty for my palate. As an American, we don't have the best cheese here compared to Europe, so I'm sure it was pretty delicious, just not a taste I was used to.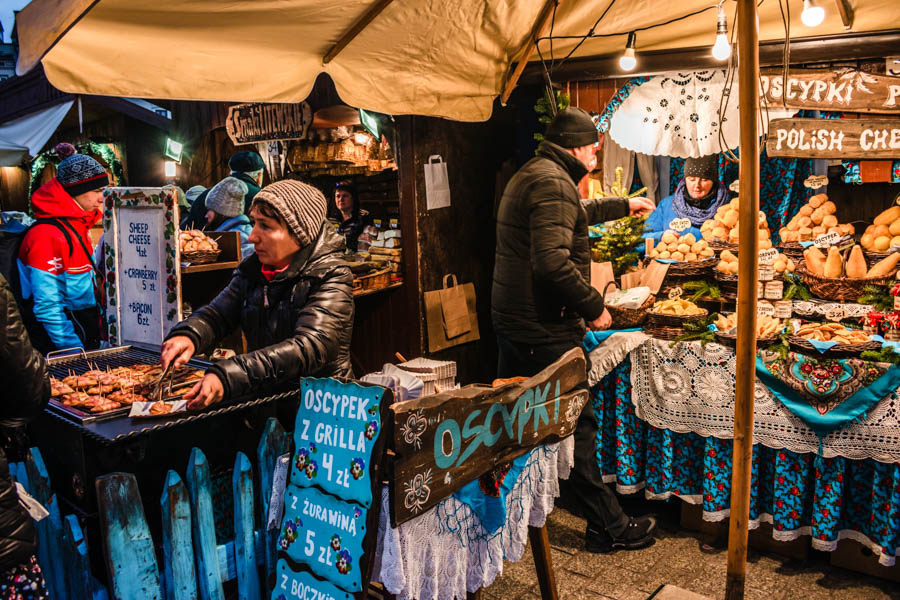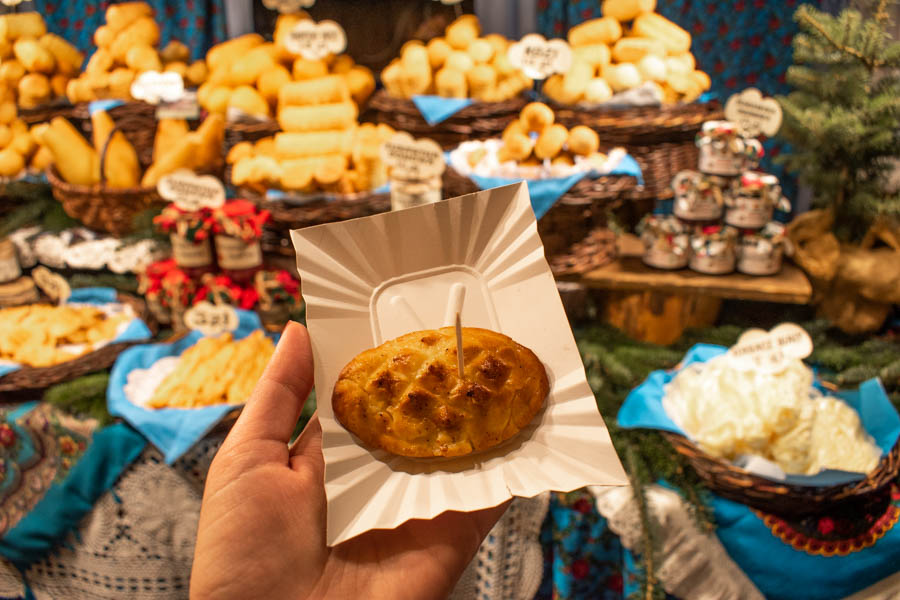 All the Polish Food
The Krakow Christmas Market is one of the few markets where I didn't see tons of international stands. Most of the stalls seemed to be selling very traditional Polish food. There were stands selling perogies, soups, and all the grilled meats you could imagine. Everything looked so delicious and hearty. You will want to come to the Krakow Christmas Market hungry so you can get a sampling of some of the food sold here.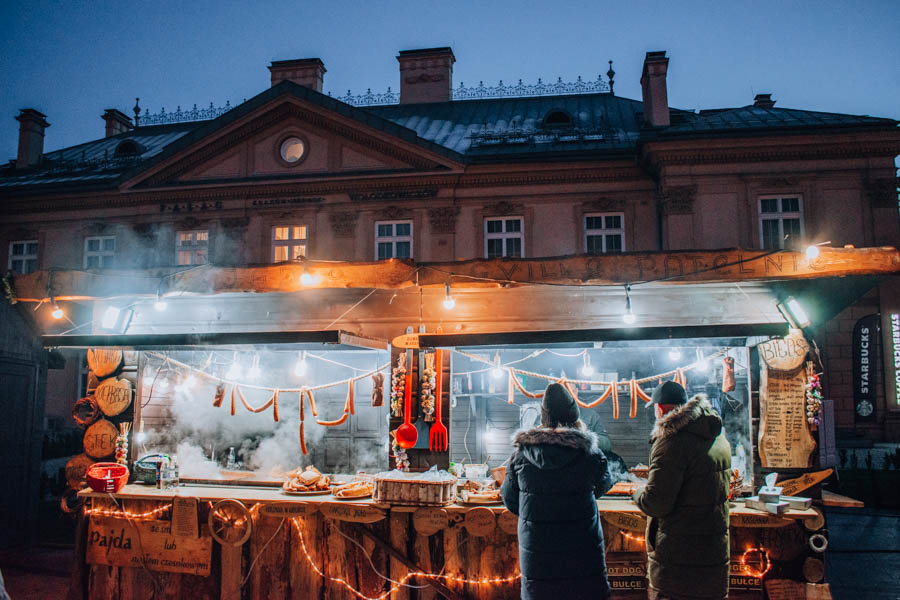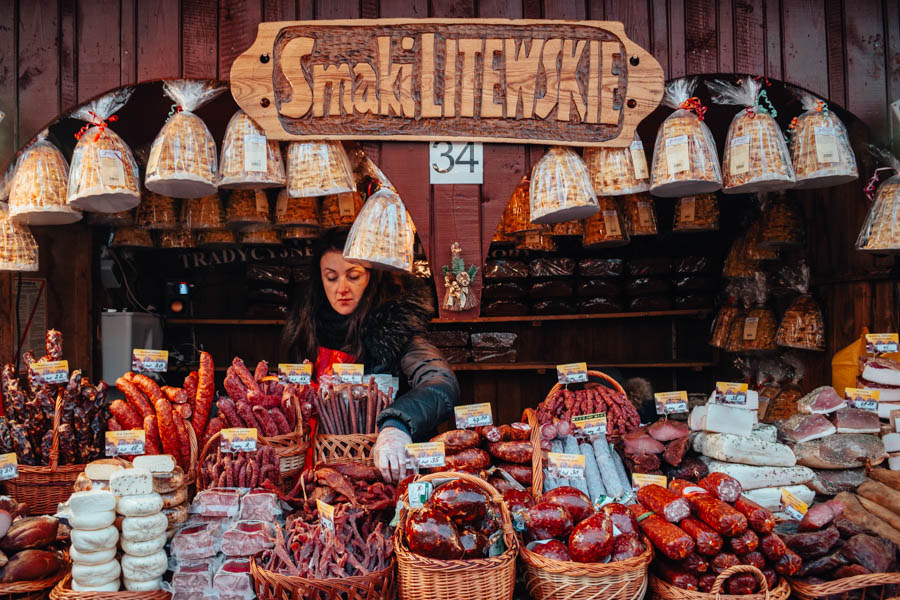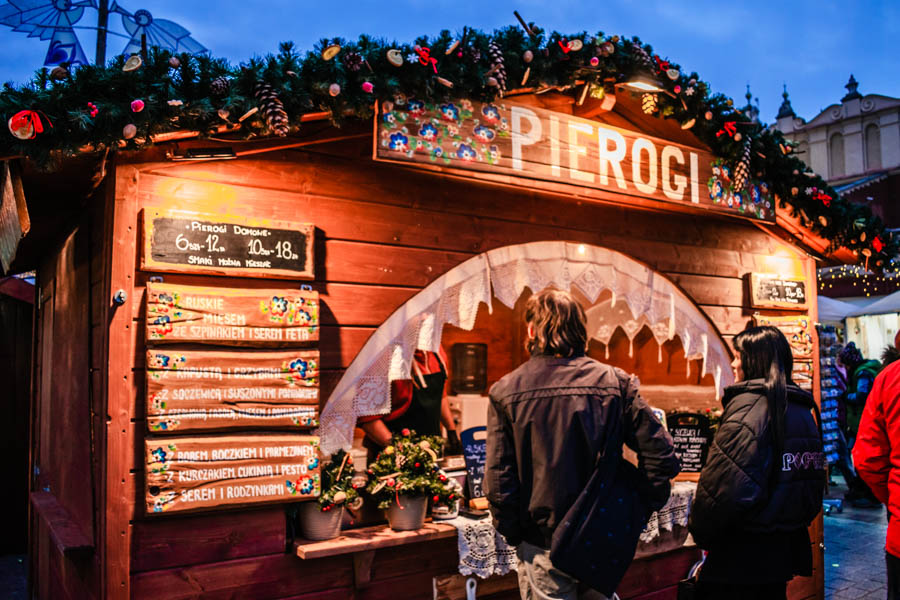 What to Buy at the Christmas Market in Krakow
Of course, at every Christmas Market, there are ornaments and decorations to purchase. Yet, these are some things that particularly stood out to buy at the Krakow Christmas Market.
Chocolates
Chocolate stands at the Krakow Christmas Market focus on chocolate in various shapes. You will find plenty of chocolates in the form of tools and other things, and these make a great gift, especially if you find a chocolate shape that resonates with the person you are gifting.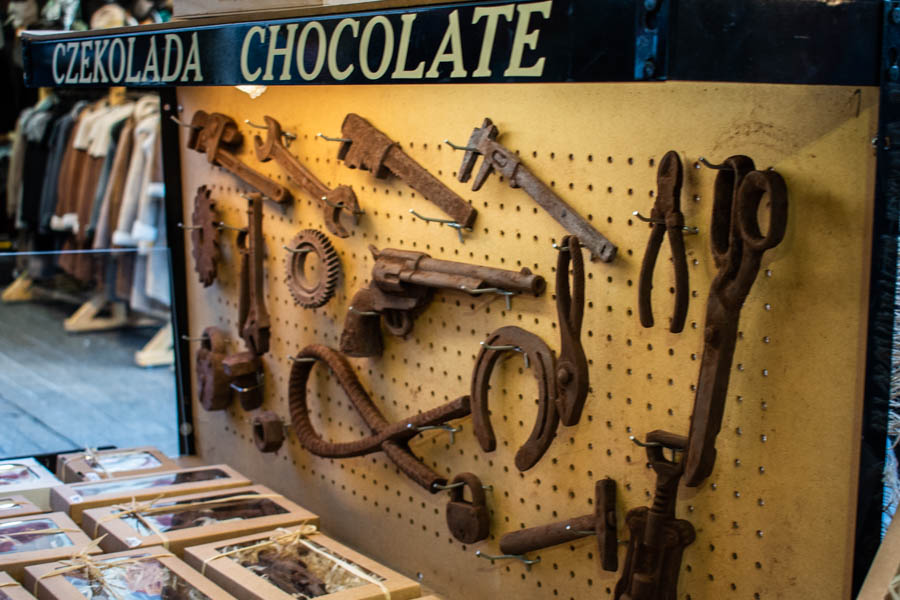 Woolen Clothing
One thing I took notice of in Krakow is all the stalls selling woolen clothing. You can find everything here, including woolen socks, slippers, hats, scarves, sweaters, and gloves! It gets frigid in Krakow in the Winter, so these items may come in handy if you are searching for some warm layers.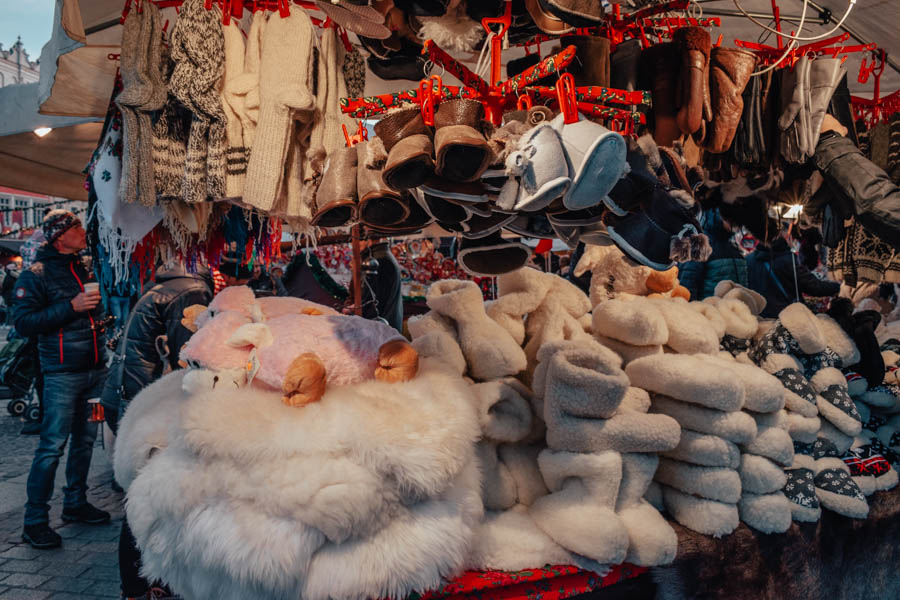 Dried Fruit Decor
There are stalls dedicated to selling Christmas decorations made from dried fruit. While dried fruit is created into various types of decor, the most prevalent is the garland and wreaths. The wreaths are so beautiful and colorful.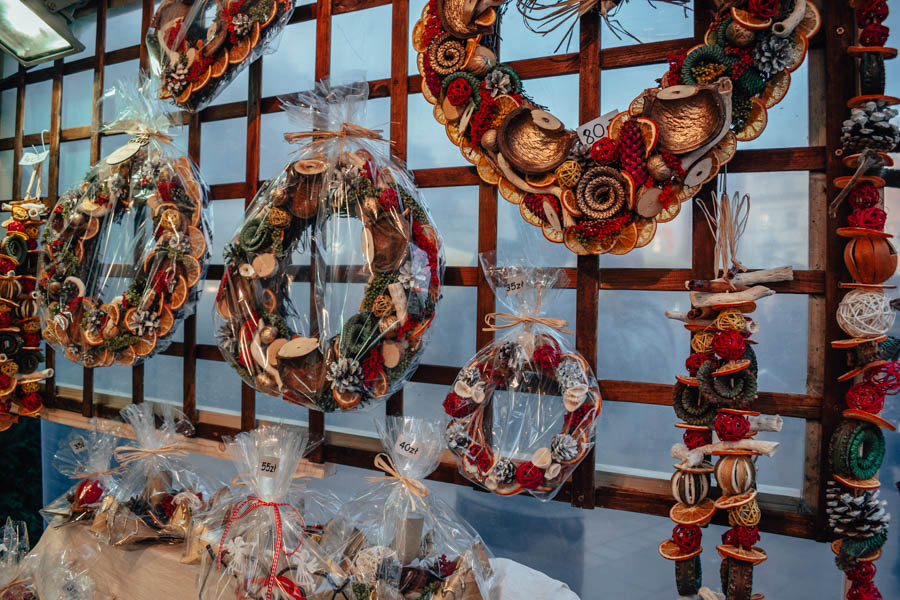 Wooden Cooking Utensils
Wooden cooking utensils are prevalent across the Polish Christmas Markets. One item that stands out is the Christmas-themed embossed rolling pins. There are some gorgeous designs that would make creating decorative Christmas cookies a breeze.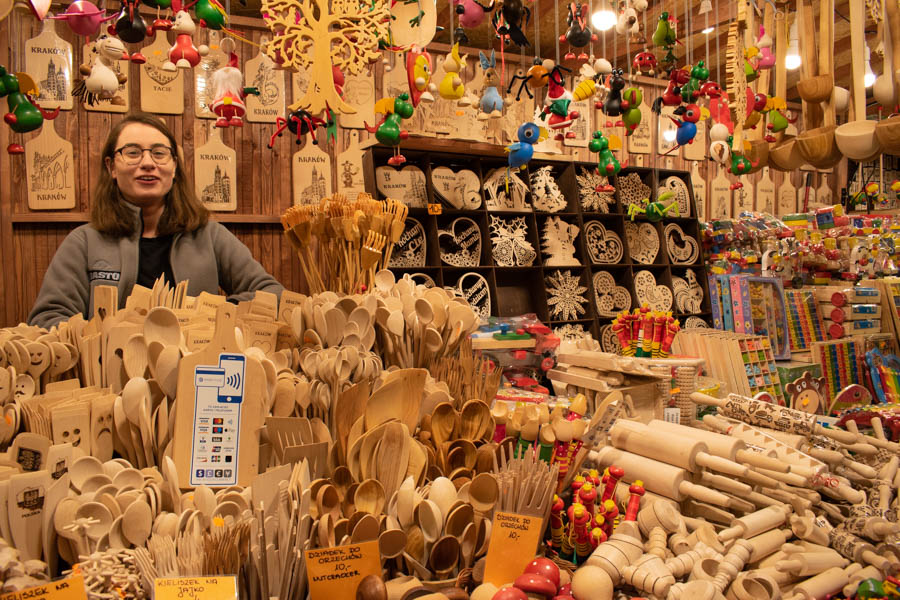 Szopki
There are miniature Szopki available to purchase at the Krakow Christmas Market. This is such an incredible moment to bring home because it perfectly commemorates the Krakow Christmas Market. This is something you can only get in Krakow and makes a beautiful decoration.
Other Things to do in Krakow During Christmas
Calik Ornament Shop
Calik is an ornament shop located in Krakow's main square and is a great spot to visit during Christmas in Krakow. This shop has an expansive collection of ornaments and even exports
their signature ornaments. Not only is Calik a perfect spot to shop for ornaments, but it also allows you to enjoy some Christmas cheer indoors.
See the Szopki
The szopki are nativity scenes from Krakow. These nativity scenes are unique, as they use historic buildings in Krakow as the setting for the nativity. They are quite elaborate and large and displayed throughout Krakow's Old Town during Christmas.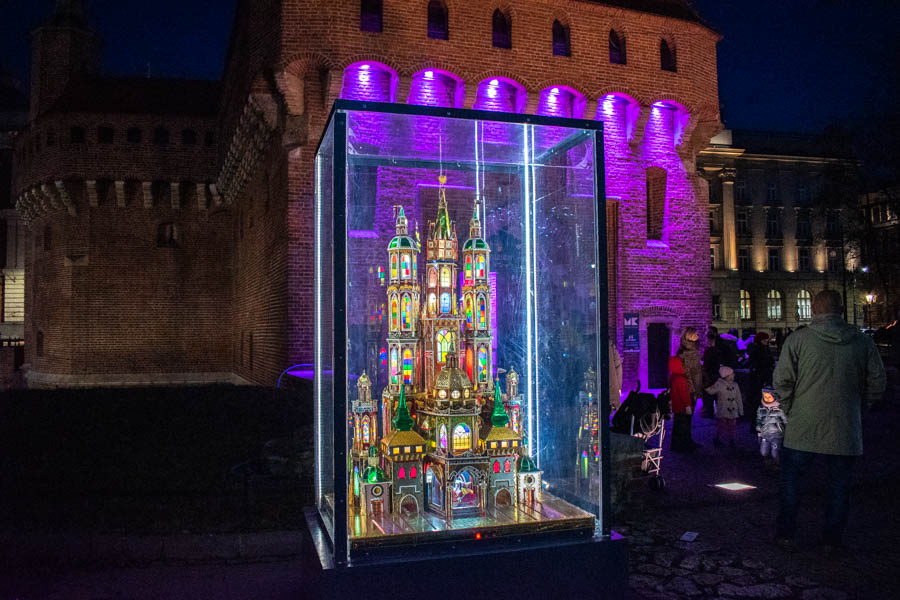 View the Christmas Decor
Krakow is decorated beautifully during Christmas. You can find Christmas decor all across the city, in addition to the Christmas Market. The decor throughout the city isn't over-the-top, however. There are lights illuminating the shopping streets and these unique angel decorations.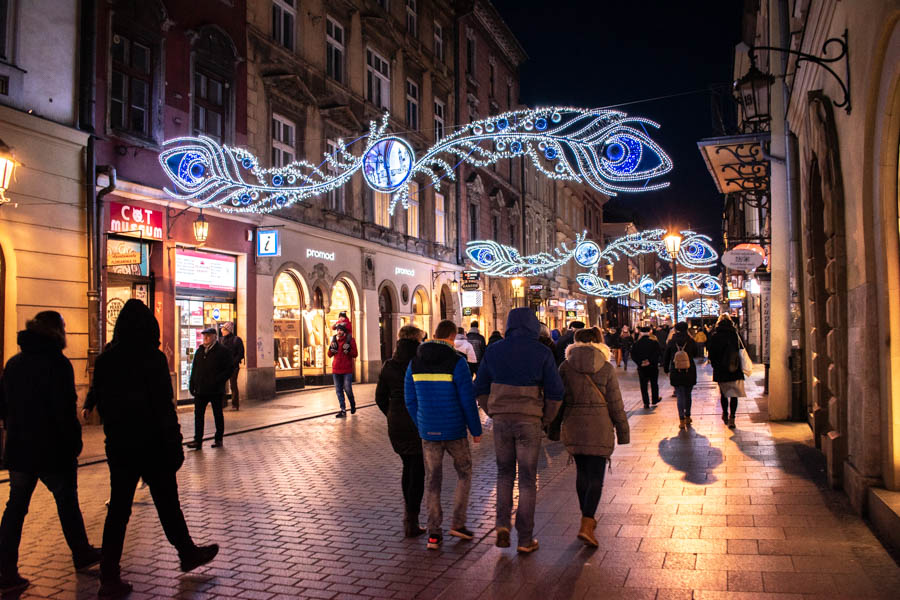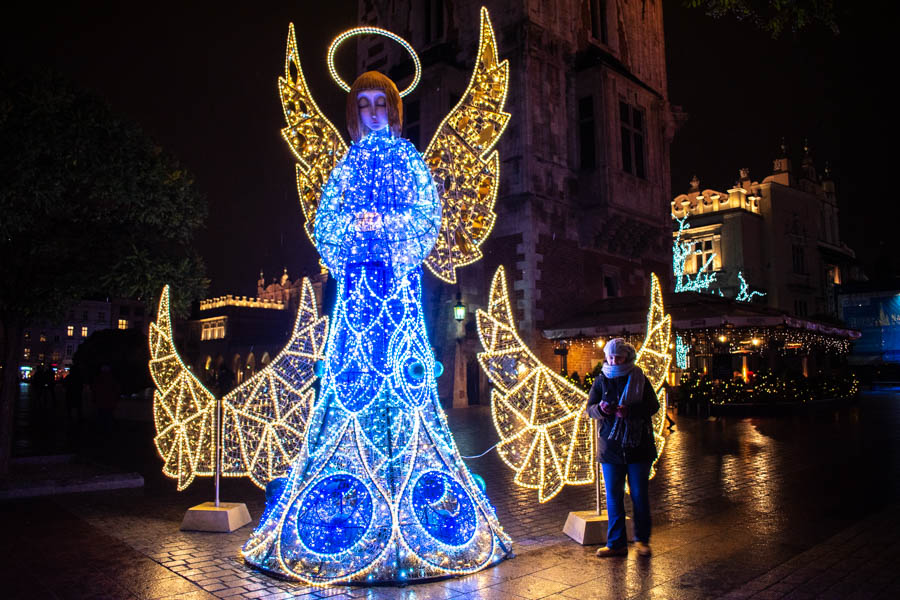 Take a Horse Drawn Carriage Ride
While horse-drawn carriage rides are available year-round, these rides are a great way to experience Krakow during Christmas. The rides start from the Christmas Market and weave throughout the old town, keeping you cozy while checking out the Christmas decorations.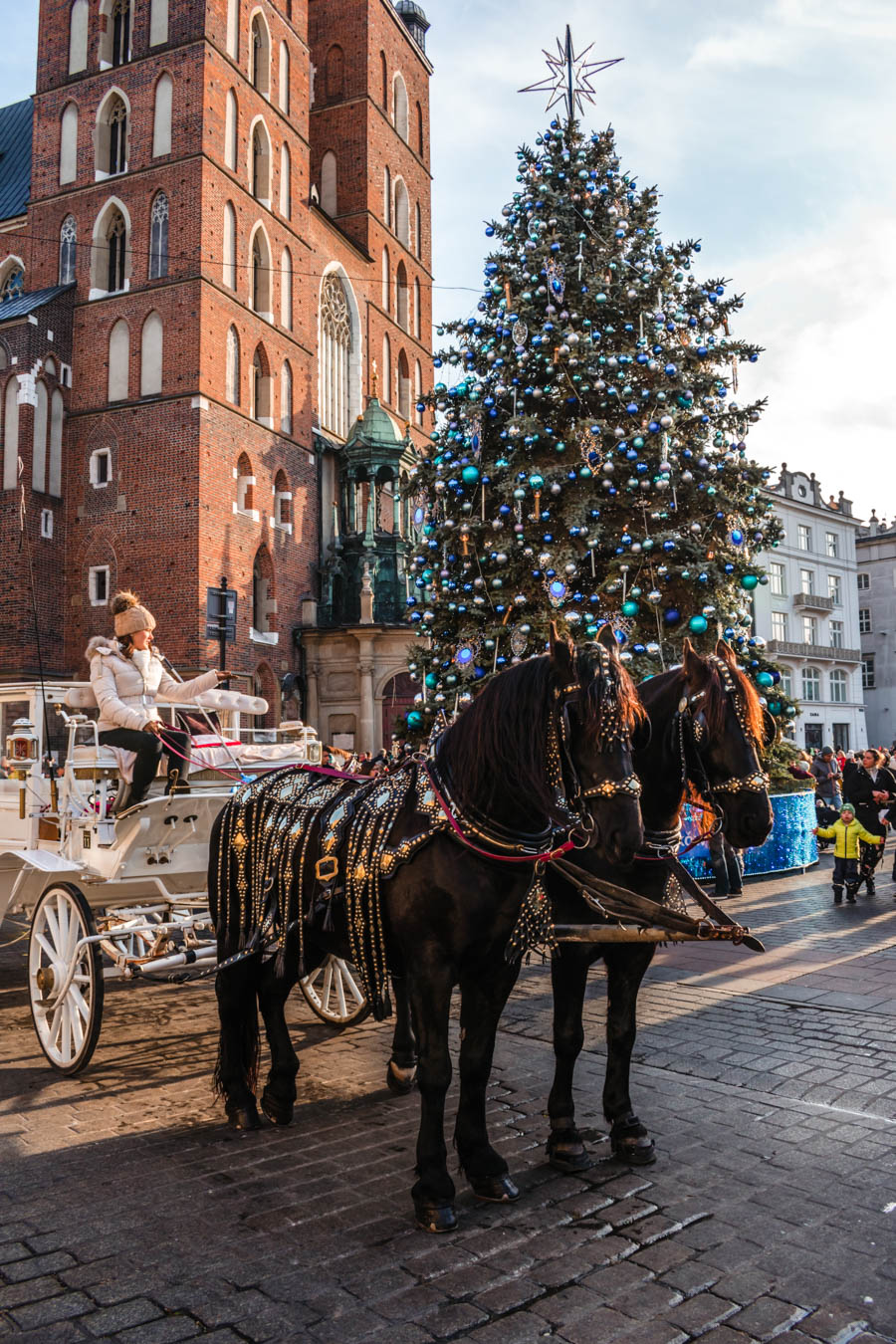 Christmas Market in Krakow: Wrap-up
This wraps up the guide to visiting the Christmas Market in Krakow. Visiting this Christmas market is one of the best things to do in Krakow at Christmas. Krakow is one of the top cities to visit in Poland and its' Christmas Market attracts plenty of visitors during Christmas. While in Poland, you should check out the other incredible Christmas Markets in Poland!