There is nothing like traipsing the globe; hopping from Milan to NYC to Sao Paulo in mere minutes. No, I'm not talking about teleporting. I'm talking about armchair travel. I have been armchair traveling for years and I didn't even know it. If you are a travel addict like me, chances are you have been armchair traveling too. We just didn't know there was a name for it. No need to pack your bags for this trip. We are delving deep into how you can experience travel without leaving your home.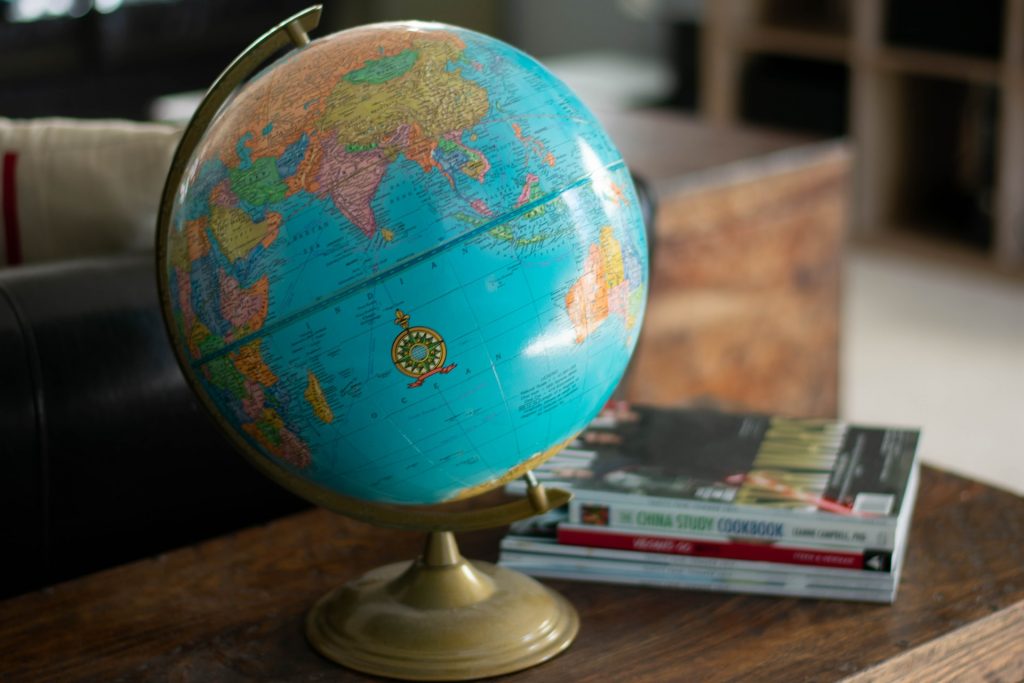 Armchair Travel Meaning
At this point, you may be wondering what exacting is the meaning of armchair travel? Armchair traveling is experiencing a destination without actually traveling there. This can be done through various virtual travel experiences such as virtual reality, travel books, and movies.
Why Should You Consider Armchair Traveling?
There doesn't necessarily need to be a choice between actual travel and armchair traveling. If you have the opportunity and are able to travel, by all means, go see the world! But oftentimes, we can't travel as much as we would like, whether it is for financial issues, time off or a global pandemic. These restrictions don't mean that you shouldn't be able to experience travel. If you love to travel, you should be able to experience it as much as you would like.
Personally, I wish to be engrossed in travel 365 days a year. But realistically, I can't actually be traveling that frequently. So, I turned to armchair travel. I spend time learning about different countries and cultures. I virtually tour cities and tourist destinations. And I am always gathering inspiration for my next trip, knowing full well that there is no possible way I could travel to the thousands of destinations I have virtually experienced. But it's nice to dream and to learn about other destinations.
Armchair travel is also a great way to plan for future trips. Before visiting a destination, I like to learn as much about it as I can. I delve through the internet searching for blog posts and videos about the destination. I create virtual "vision boards" on Instagram of photo spots I want to see. And I always make sure to pick up my favorite travel guide. This helps me feel prepared and fully knowledgeable about the destination, so I can truly appreciate everything I am seeing.
Interested in travel at home? Check out this guide to the perfect staycation!

Ways to Travel From Home – Armchair Travel
Travel Blogs and Guides
Guide Books
A tried and true way to experience travel from home is by reading travel blogs and guides. One of the most exciting parts about travel (aside from actually being in the destination) is the planning phase. I love planning trips. Scouring through travel guides and blogs builds up the anticipation for visiting a destination. Reading travel guides typically helps outline the best places to see in a destination.
But you don't have to be going on a trip to enjoy reading about a destination. If you're like me, you may already have a shelf of travel guides at home. I have a collection of Eyewitness travel guides for destinations I've never visited and regions I love. But there is something about reading these guides that fuels me with so much wanderlust. If you don't already have a collection of guide books, pick one up for a destination you're curious about. Maybe it will inspire you to visit one day or fill you with more knowledge about the destination.
One of my favorite things to do when I'm not traveling is to grab a handful of books from the travel section at Barnes and Noble and compare the different guide books. Be sure to grab a coffee and allow yourself to get lost in the pages.
Travel Blogs
I may be biased, but I love researching travel online. There are so many resources and incredible travel blogs. If there is a particular destination you're interested in, simply enter your query into Google and you will find endless blog posts about the destination. Or check out the destinations your favorite blogger has written about and use that as the base for your armchair travel destination. (Pssst check out the destinations I've written about for armchair traveling)!
If you're looking for armchair travel on a particular country or destination, there are plenty of blogs with a focus on specific places. For instance, you can find ample inspiration about Chile on Gringa Journeys and tons of posts about Madrid from Lauren on Location.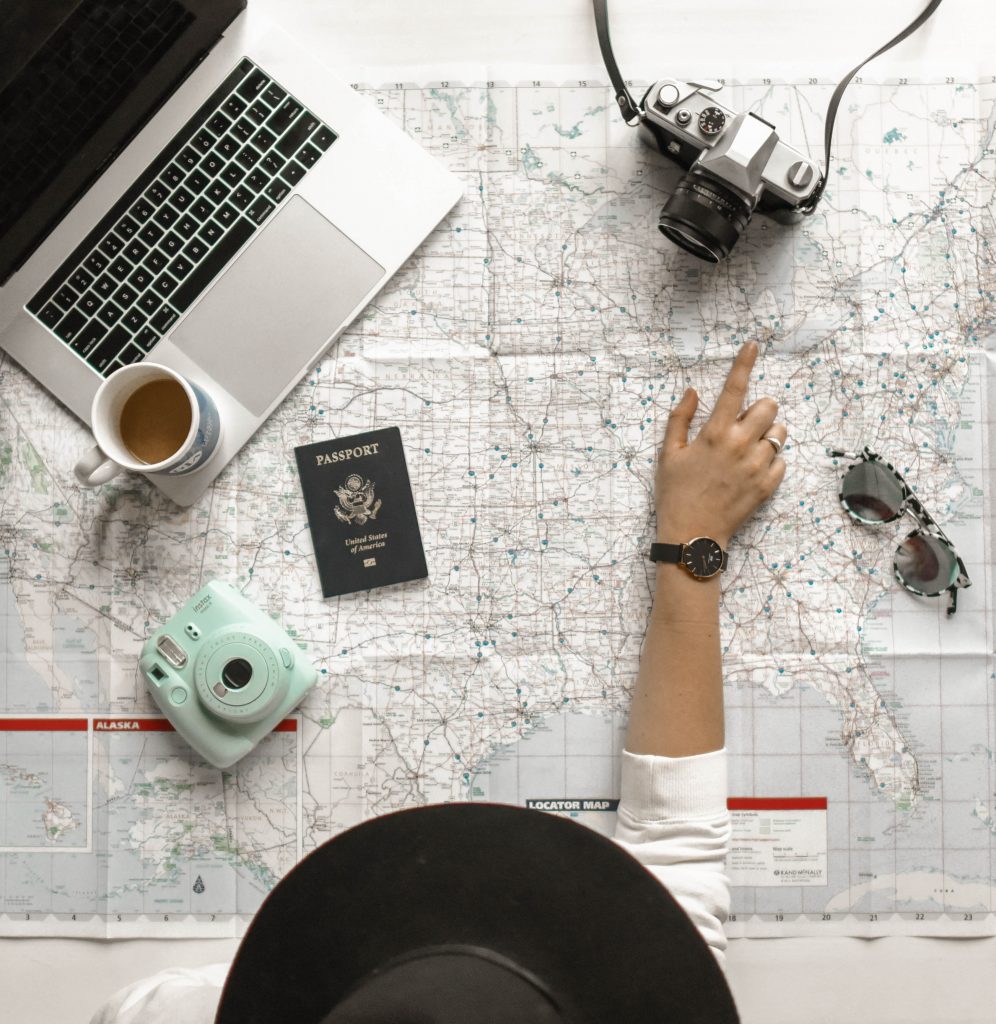 Youtube Videos
Youtube is a great source for experiencing travel at home. When I want to know what a place is really like, I head to Youtube. While reading about destinations is a great source of information (for us who like to be very informed), Youtube is on another level for experiencing travel at home. Seeing a destination through video allows you to sit back and enjoy the experience. The best part is, watching Youtube is completely free. Simply enter the destination in the Youtube search tab that you wish to virtually escape. There are various videos to watch from uncut clips that allow you to get a true glimpse of the destination, beautiful inspiration type of videos and entertaining travel vlogs. Some of these videos are on par with travel shows and documentaries on major networks.
After being so inspired by armchair traveling with my favorite Youtube videos, I decided to start a travel vlog. Check out my Youtube channel here! I will be adding tons of travel videos and armchair travel ideas.
If you are looking for some Youtube travel channels to get started with, check out some of my favorites. These are the channels I find myself looking forward to watching their new videos because they allow me to virtually experience the destination.
Check out these channels:
Sandy Makes Sense: Sandy is a bubbly host, who's videos always leave me smiling. While she doesn't always travel with friends, her videos make you feel like you're experiencing the ultimate girlfriends getaway.
Happy to Wander: The host of this channel is a hilarious Canadian expat living in Europe. The videos on this channel are more travel guides than vlogs yet she manages to do so in an entertaining yet informative way.
De Ja Shu: The videos on Shu's Channel are cinematically beautiful and she is a very charming host. Be prepared, after watching her videos you will leave hungry as she is quite the foodie.
The Life of Jord: Jordan's videos will bring you to far-flung destinations you may never have considered visiting (perfect for armchair traveling)! His videos will leave you curious about places you've never heard of before.
Backpacking Bananas: The host of this channel, Christianne, is high energy and relatable. Her videos mostly focus on her backpacking trips around the world. Great for entertaining videos to fuel your wanderlust from home.
Come Join My Journey: If you haven't checked it out already, I actually have a travel vlog that I started recently to further share my travels!
Webcams
A unique and amazing way to enjoy armchair traveling is via webcams. There are webcams all over the world, where you can watch a live stream of a destination. When it comes to truly experiencing a destination via armchair travel, they are a game-changer! These webcams allow you to get a glimpse of what is really happening at that very moment in the destination. Webcams verge on feeling like you're spying, but they are typically scenic webcams so you're not getting an up-close showing the people walking around.
Search Webcams
It's astonishing how many webcams you can watch online. If there is a specific location you wish to visit during your armchair travels, simply search "Destination webcam" and plenty of options will come up. (PS never do anything you wouldn't want someone to see when you're traveling because evidently there are webcams everywhere!)
Not sure where you want to go? Browse through some of the top webcams on these websites:
Destination Specific Webcams
There are plenty of destination-specific webcams. After a trip to Ocean City, Maryland, we revised the ocean and pier at home with their various webcams. While we couldn't feel the sand or the salty air, viewing those live cameras from our couch felt like those we were there for just a moment.
Wildlife Webcams
If you're an animal lover, some of the best aquariums, zoos and wildlife conservatories even have their own webcams that you can watch. There is nothing quite like being immersed in watching animals to feel as though you are no longer sitting at home.
Google Earth & Street View
One of my all-time favorite forms of armchair travel is browsing Google Street View. I have been pretty obsessed with Google Street View since the introduction of Google Earth. (Yes, I have always been travel obsessed). Google Street View on Google Earth is one of the best ways to get a visual of a destination. You are able to click and virtually "walk-around" the destination, getting 360 degrees of streets and squares in the world. To use Google Street View, simply drop your icon on one of the blue lines in the destination you are searching on Google Earth.
Additionally, there are little blue dots that you can drop your icon on. These are photospheres, which will show you 360-degree snapshots from around a destination. These are especially useful when you are searching for a particular tourist spot that may not be on a street.
Google Earth even pulls an excerpt from Wikipedia for each destination you search for. This helps to learn a bit about the destination as you are getting virtually lost in its streets.
If you're not sure where you want to virtually explore, there is a "Feeling Lucky" feature on Google Earth, which pulls up a random location on the map for you to check out. I've noticed that this feature tends to pull up locations I have never heard of, many of which don't actually have street view information. But that just means you're "traveling" to a place that many people don't go to. Take the opportunity to research this destination and try to pull up videos and blog posts.
Secret Door
Similar to the "Feeling Lucky" feature of Google Earth, there is this very cheesy and amazing website called Secret Door. This website is slightly more satisfying than the "Feeling Lucky" feature on Google Earth because it brings you directly to a random spot on Google Street View.
The website is a little slow, however, it is so worth the wait! Each click through the door brings you to a unique spot on Google Street View. On one click I was inside of the White House and on the next, I was in Shackleton's Hut in Antarctica. It is so fun to try and guess where you ended up!
Virtually Visit Museums
If you are a museum buff when you travel, there is the perfect app for visiting museums worldwide from the comfort of your home. Via the Google Arts and Culture app, you can visit over 2000 museums across the world. I have spent more hours than I care to admit on this app. For someone who doesn't typically have a long attention span for museums, this app has been a game-changer for me. Each museum on the Google Arts and Culture app has online exhibits. These online exhibits give a background of what the exhibits are about as well as various photos showcasing the collection. These exhibits provide the perfect amount of information, they are informative yet not overwhelming.
To start off your armchair travels at the museum, I would suggest picking a city to start exploring and prepare yourself for a long day at the museums. Spend time reading about the exhibits, walking around the museums with street view and even virtually hanging art on your walls at home. Yes, you can virtually hang masterpieces on your walls! It's fun, a bit cheesy and a great way to see the art up close. If you have a Google Cardboard or other VR headset, you can even take virtual tours of museums and cultural sites on Google Arts and Culture.
Virtual Reality
Getting a Virtual Reality Headsets
Virtual Reality is by far one of the most realistic and immersive ways to experience armchair travel. All you need is a virtual reality headset. The best part is, you don't have to spend an arm and a leg for a VR headset. You can get an entry-level VR headset for a reasonable price. I went with the Google Cardboard model as I didn't want to overly invest in a headset. However, the actual Google Cardboard model was sold out. So I opted for this model. And it really works! I bought a virtual reality headset for under $8 and it works so well! Honestly, if you are using virtual reality for the first time, all you need is a cardboard model to start out.
If you have children or are planning to use virtual reality often, I would consider investing in something more durable. If you prefer a more durable model, consider getting an entry-level model such as this one by BNEXT.



Virtual Reality Videos
There are countless virtual reality videos and still images you can find online for free. After scouring the internet and apps, I have discovered endless places to visit in VR. With new virtual content being added daily, you will have no shortage of adventures during your armchair travels. Throw on your cardboard VR viewer and headphones and get ready for an adventure of a lifetime…from your couch.
Some of my favorite apps for travel virtual reality are the Google's Arts and Cultures app, where you can virtually tour museums and cultural sites around the world and the Google Expedition app, where there are over 900 expeditions to choose from, including national parks and palaces.
A fantastic source of virtual reality videos is Youtube. Youtube has tons of high-quality virtual reality videos that are readily available. In order to use your VR headsets with Youtube videos, make sure you have the Youtube app downloaded and click on the "VR headset icon" on the corner of a virtual reality video. Some of my favorite channels for virtual reality travel videos include National Geographic and VR Gorilla. If you are looking for a particular destination, search for "destination virtual reality" on Youtube.
Travel Books
One of my favorite genres of books to read is travel books. These books tend to suck me into the destination the book is based on and fuel me with so much wanderlust. I find myself inspired by the author's story and travels. A good travel writer will make you feel like you have stepped into the destination they are describing.
I love a good travel memoir! Some of my favorites are classics such as "Eat, Pray, Love" and "Wild". The newest memoir on my virtual travel bookshelf is "Around the World in 80 Trains". I use an e-reader for when I travel, so I'm not lugging around tons of books. You can also virtually check books out of your local libraries to use on your e-readers with the apps Overdrive and Libby.
There is nothing quite like having a good coffee table book. I have a few travel coffee table books that I often flick through for travel inspiration. One of my all-time favorites is "1000 Places to See Before you Die", which is full of classic bucket-list destinations across the world. If you're looking for a beautiful and inspiring hardcover coffee table book, add "Dame Traveler: Live the Spirit of Adventure" to your collection. This book is full of gorgeous photos and tips from female travelers. (PS I'm featured in the Dame Traveler book! I may be biased, but this is a great book!)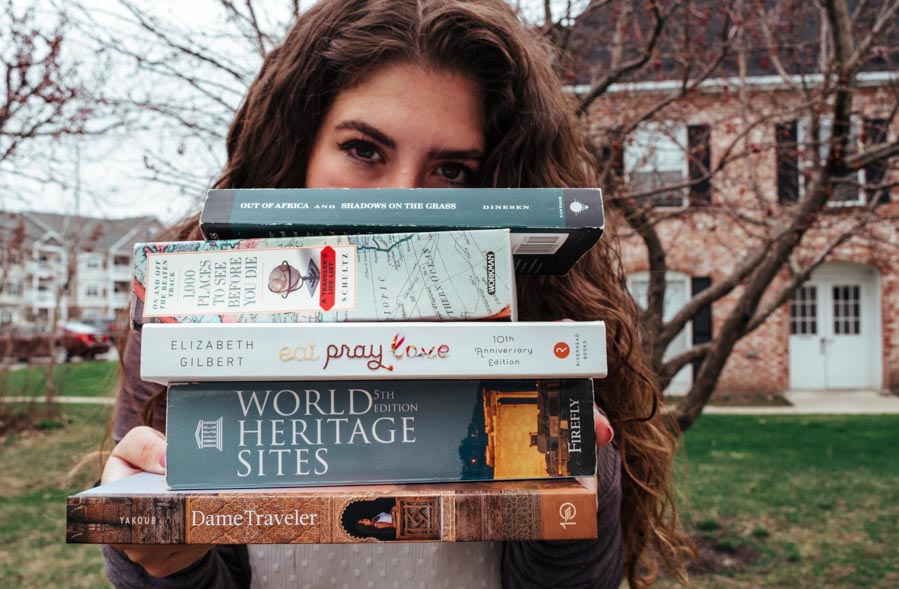 Subscribe to Travel Magazines
Similar to travel books, but the destinations you are visiting are a total surprise each month. There is something so special about holding a glossy travel magazine in your hands and flipping through the pages to discover a new destination the writers have covered each month. Travel magazines tend to be the beginning of my armchair travel binging. After reading a short article about a destination in one of my favorite magazines, Travel and Leisure or CN Traveler, I find myself scouring the internet to learn everything possible about the destination.  One of the best parts of travel magazines is that the stories are typically accompanied by beautiful imagery from the destination.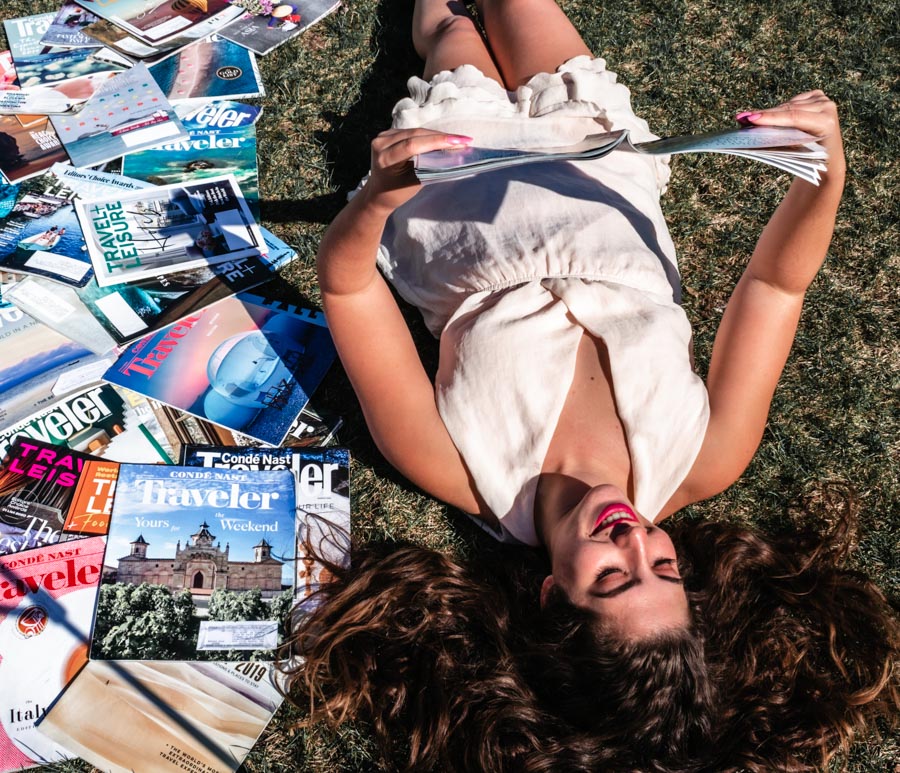 Travel Movies and TV Shows
One of my first inspirations for travel was watching movies travel TV shows. I lived for the Travel Channel growing up, watching my favorite series by Anthony Bourdain and Samantha Brown. Each episode of these shows brought a new destination with entertaining hosts. Now there are various travel shows on networks, streaming services and online. Some of my favorite travel shows include:
Check out the best travel movies here!
Anthony Bourdain: Parts Unknown: Who doesn't love Anthony Bourdain? I have seen perhaps every one of his travel series, my favorite being "Anthony Bourdain: Parts Unknown". You can stream this on Amazon, or you can watch "Anthony Bourdain: No Reservations" on Hulu!
Samantha Brown's Places to Love: Samantha Brown is adorable and lively and showcases highlights of a destination from places to see to history. You watch all the episodes of Places to Love on PBS!
Get Lost in Travel Photos on Instagram
My Instagram feed is flooded with inspirational travel accounts. These accounts allow me to experience a destination through someone's perspective.  I love following people who travel frequently or live somewhere interesting. Instagram is an especially great place to do this because it feels more personal and in the moment than other media. While Instagram feeds can still be quite curated, I love seeing how Instagrammers showcase a destination.
One of my favorite features of Instagram is Instagram Stories. It is interesting to see the more candid moments these travelers share on Instagram Stories, which often go along with the photos they are sharing on their feeds. After following some travel accounts for years, it feels as though I truly know the person and I'm excited to see where they go next.  I use my Instagram @comejoinmyjourney_ to document my travels, sharing curated travel photos with captions talking about my experience or thoughts about a destination. My IG stories tend to be more behind the scenes documentation of my travels.
There are so many talented photographers and Instagrammers on Instagram, that scrolling through your feed can feel like you are looking at a beautiful gallery of travel photos. Be sure to follow specific accounts of individuals whose travels inspire you as well as some feature accounts. Feature accounts allow you to discover new destinations and accounts daily. Some of my all-time favorite feature accounts include  @dametraveler , feature female travelers and @italy.vacations , which showcases different destinations in Italy.
 

 

 

View this post on Instagram

 

 
Create a Vision Board on Pinterest
Pinterest is such a great way to find travel inspiration and to organize it. Pinterest is a great took to use for armchair travel. Think of Pinterest as a visual search engine. So it makes searching for travel information fun! After searching for a destination on Pinterest, you will find tons of beautiful photos and blog posts. I love using Pinterest because it is so visual. If you are drawn to the image, you can click on it to be redirected to a blog post or webpage to find out more information.
When I am browsing Pinterest, either for research for upcoming trips or travel inspiration, I organize these pins into destination boards. These destination boards serve as a vision board for the specific city, region or country. Once I save and organize these pins, I can go back and read all the posts I saved or look back at the photos for inspiration.
Cook Regional Dishes
If you are a foodie, a huge part of travel is trying different dishes from around the world. Trying local dishes allows you to further experience a destination. Yet, just because you can't travel does not mean you can't try food from around the world. Pick up a cookbook from a particular destination or look up your favorite dish you've had abroad and get cooking. While it may not be authentically made, trying food from different places that you don't typically eat is a great way to experience armchair travel.
Not only is cooking different types of dishes a great way to escape your everyday routine, but it also helps you appreciate those local delicacies. Here are some great cookbooks to try:
"Made in Mexico" by Danny Mena: For those who love Mexican food!
"Vietnamese Food Any Day" by Andrea Nguyen: For delicious Vietnamese dishes!
"Everyday Italian: 125 Simple and Delicious Recipes" by Giada De Laurentiis: Because everyone needs Italian food in their lives!
Research History
While I have always enjoyed history, travel fueled my love for it. Visiting a destination that you have learned about makes it feel so much more real. I tend to find myself in a research frenzy about the historical significance of a place that I visit. Learning about the history of a destination makes me feel like I have a great understanding of it. Learning about history is such a great way to enjoy armchair travel.
There are various ways to learn about the history of a travel destination you are visiting. Many travel shows and blogs have a historical element. You can go on a Wikipedia binge about the destination you are visiting from home. Or you can pick up a history book about the destination you are visiting.
Practice Language Skills
Language is such a beautiful part of travel. I yearn for foreign tongues; languages and words that I have never heard before. There is something so rewarding about learning a new language, even if it is just bits and pieces of it. Before I visit a destination, I am sure to learn a few key phrases and words of the language spoken in the destination. And I feel so rewarded when I start picking up on the language while traveling.
Just because you are at home, does not mean you can't learn language skills. Spend some time practicing your language skills with phrasebooks and language apps. Duolingo is a great app to use to learn a language for free! I use this app before traveling and when I'm at home. There are various languages you can learn on Duolingo. However, if you truly want to learn a new language, you may want to consider investing in Rosetta Stone.
If there is a language that you already know or enjoy listening to, put on a movie or tv show in that language. Even if it is just background noise, you will feel like you are in that destination.
Have a Destination Theme Night
Now that you have tons of ideas for different ways to enjoy armchair travel, you can bring them all together to have a destination theme night. This is one of my favorite ways to delve into travel at home. This allows you to truly immerse yourself in the destination. After picking a destination, do as many things as you can from this list of ideas for traveling from home. Do some research on the destination you want to virtually travel to, just as you would do for an actual trip. Then delve into the destination, making your favorite dish from the destination and enjoying an evening of watching Youtube videos and movies about the destination or enjoying a good travel book.
Some Travel Theme Night Ideas:
Paris Theme Night: Grab a glass of wine and a cheese tray and tune into "Midnight in Paris". If you have a beret, throw it on to feel like you are in the City of Lights.
Las Vegas Theme Night: If you have a poker set, have a poker night. Start drinking whatever and whenever you want (because it's Vegas, right?) and finish the night watching "The Hangover".
Singapore Theme Night: Get a Singapore street food cookbook and create some delicious dishes. Then throw on your most extravagant outfit and watch "Crazy Rich Asians".
Travel Photos
Who better to live vicariously through than yourself. Yeah, you! Chances are you have been on some pretty fabulous trips before. So, if you are unable to travel at the moment, might as well take this time to relive your past trips. I love having a chance to go through my old travel photos. This gives me a chance to remember the moment I took the photo and share the stories about my past trips with others. A few ways you can experience armchair travel through old travel photos include:
Show the photos to family/friends: Tell them all about your experiences.
Post your travel photos on social media: Now is a great time to make that inspirational travel account on Instagram!
Create a scrapbook: Making scrapbooks is a great way to showcase your travel photos and mementos in one place.
I made this virtual collage of my travel photos from Poland!
Write a Travel Bucket List
While armchair travel alleviates my need to travel right now, it still leaves me wanting to visit the destinations I have virtually traveled to. I have a mental list of places I want to visit that is constantly growing. A great way to continue dreaming about these destinations is to create a travel bucket list. While you may be stuck at home right now, there is no reason you can't dream of visiting these places one day. By writing these destinations down on an organized travel bucket list or even pinpointing places you want to go on Google Maps, you may be able to plan a trip when you can travel.