New York City is one of the greatest cities in the world. Yet, even the greatest places still have their fair share of bad weather. When visiting NYC, you may face uncooperative weather, from rain to downright bitter cold days. While you can embrace the inclement weather to sightsee, there are plenty of things to do in NYC when it rains. This guide showcases what to do on a rainy day in NYC that will add value to your trip and not take away from any valuable sightseeing time.
It's Raining during my Trip! What to do on a Rainy Day in NYC?
First of all, don't panic! NYC is a mecca of culture, entertainment, and endless things to do, even when it's raining. I'm sure a lot of planning went into your trip, and you weren't necessarily expecting rain, but your trip is not ruined! Breath, read these tips and this list of best things to do in NYC when it rain, buy an "I Love NY" poncho, and enjoy your trip to NYC. Rain or shine, you will undoubtedly have a great time. And trust me, after one visit to New York City, you will want to plan a return trip anyway.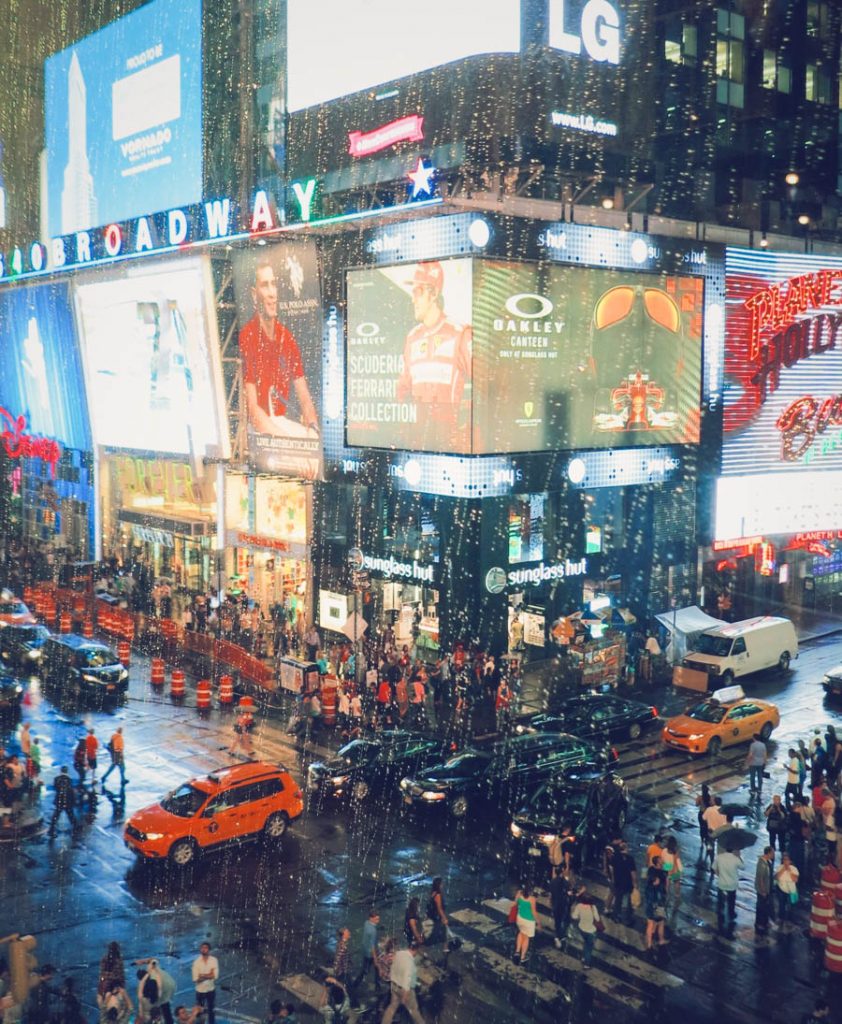 Tips for What to do in NYC When it Rains
Embrace the Rain
Before we deep dive into great rainy day activities in NYC, first, you must embrace the rain. Don't allow the weather to spoil your trip to New York City. Grab an umbrella and rain jacket (or a parka if it's cold) and enjoy your time exploring NYC. Even if you have to look very touristy and rock a rain poncho, it will be worth it to see the top sites on your NYC bucket list.
Pack for the Weather
If there is rain in the forecast, make sure to pack appropriate clothing for the rain. Bring a rain jacket, umbrella, waterproof boots, and extra clothing in case things become wet. I find it especially useful to have extra gloves and socks in case they get wet. If it is cold and rainy, you do not want to walk around in damp gloves.
Buy Rain Gear
If you're already in New York and the inclement weather came unexpectedly, buy an umbrella and poncho. Even in the slightest of rain, you will find people selling umbrellas along every corner of the city. The umbrella twirl is real, not just a scene from Seinfeld. An umbrella and rain jacket/or poncho will make a huge difference. These will keep you dry and allow you to visit the top attractions in NYC in the rain.
Find Indoor Activities in NYC
If this is your first trip to NYC, you will want to brave the weather to see the iconic sites in the city, but there are also plenty of indoor activities in NYC for a rainy day.
Get a New York CityPass
If you're planning on visiting a lot of the paid indoor attractions on this list, you may want to consider getting a New York CityPass. This pass includes entry to 6 attractions in New York City. It may seem pricey, yet once you consider the cost for the various attractions, it will actually save you a lot of money. You may want to pay to enjoy some fun indoor activities in New York City when it's raining. Yet, there are various free activities listed below if this isn't within budget.
Things to do in NYC When it Rains
There are endless things to do in NYC when it rains. Yet, this guide is highlighting the things you can only do in New York City. These are quintessential New York City sites and attractions that could be on your NYC itinerary rain or shine. Yet, these are especially worthwhile if it is a rainy, cold, or dreary day in NYC and you just need to be inside for a little while. If you are looking for additional things to do in New York when it rains, you can visit cafes and restaurants or do other indoor activities.
Visit Grand Central Terminal
Grand Central Terminal is an architectural marvel and world-famous landmark in midtown Manhattan. This is an operating commuter rail terminal that is bustling with activity all day. The attention to detail is what makes Grand Central Terminal such a feast for the eyes. The Main Concourse is full of globe-shaped chandeliers and fine details. Yet the main draw is the ceiling, adorned with an elaborate painting of constellations.
If you want to learn more about the history and architecture, there are audio tours of Grand Central Terminal available. Or you can grand a coffee and pastry at the bakery in the Main Concourse.
Tour the New York Public Library
The New York Public Library is a great spot to visit on a rainy day in NYC. It is free to visit and an ideal spot for any book lover. Officially the Stephen A. Schwarzman Building, but commonly referred to as the New York Public Library; this library is in the Beaux-Arts style of architecture and has been opened to the public since 1911. Typically there are exhibits to visit and various rooms within the library to roam. Yet, don't miss a visit to the Rose Main Reading Room which is the most iconic spot in the library. Visiting the New York Public Library is one of the best free things to do in NYC.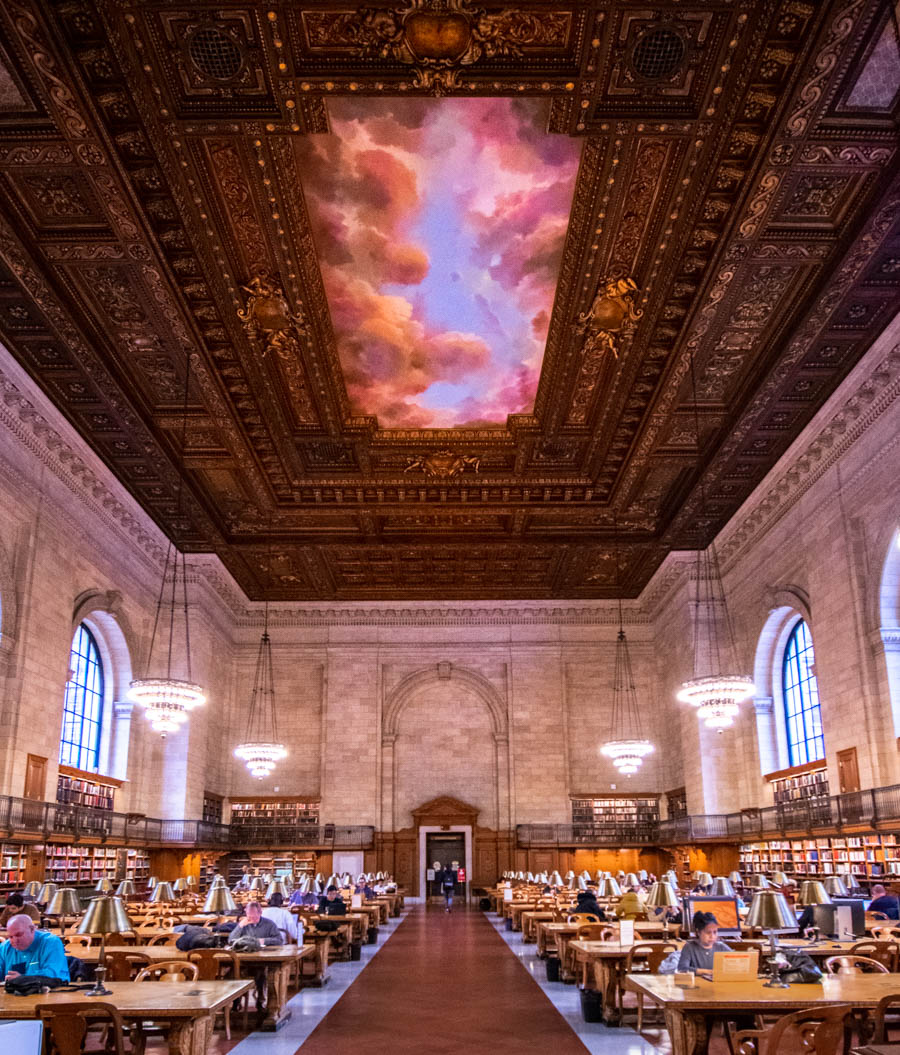 Visit a Museum
When considering what to do on a rainy day in NYC, look no further than visiting some of the top museums in the city. There are endless museums to discover in NYC, so you will have no shortage of cultural experiences if you are faced with rain during your trip. While there are museums for almost every interest across the city, my favorite being The Museum at FIT, don't miss a visit to the world-class museums along Museum Mile. Museum Mile spans along Fifth Avenue, between 110th and 82nd streets. You can find some of the most iconic museums in the city, including the Metropolitan Museum of Art and Solomon R. Guggenheim Museum.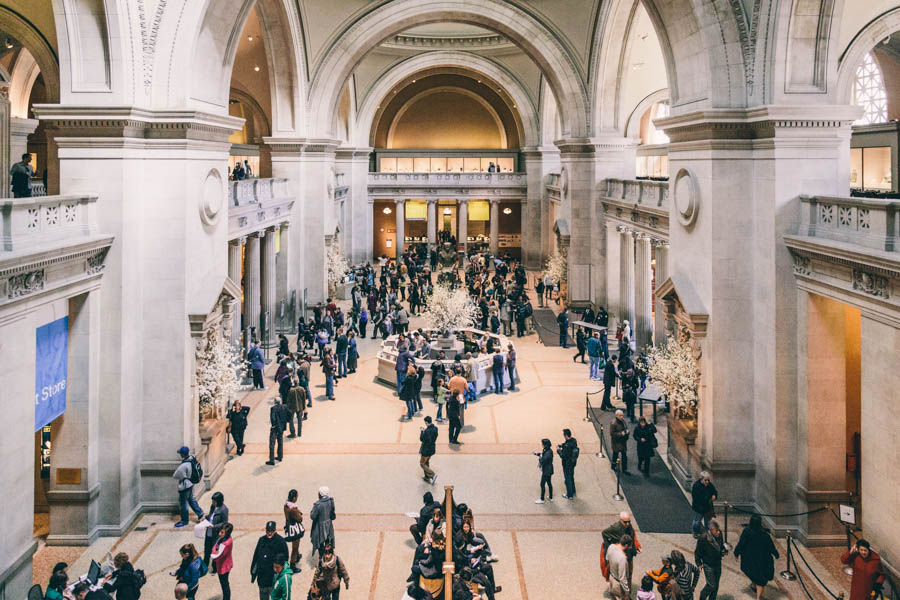 Awe at St. Patrick's Cathedral
Visiting a cathedral is such a great way to get relief from bad weather. And St. Patrick's Cathedral is the ideal spot for this in NYC. This neo-gothic Catholic cathedral welcomes visitors no matter their denomination. If you are religious, feel free to take a moment to pray or light a candle at St. Patrick's Cathedral. Or simply stop by, to take in the beautiful architecture of the cathedral.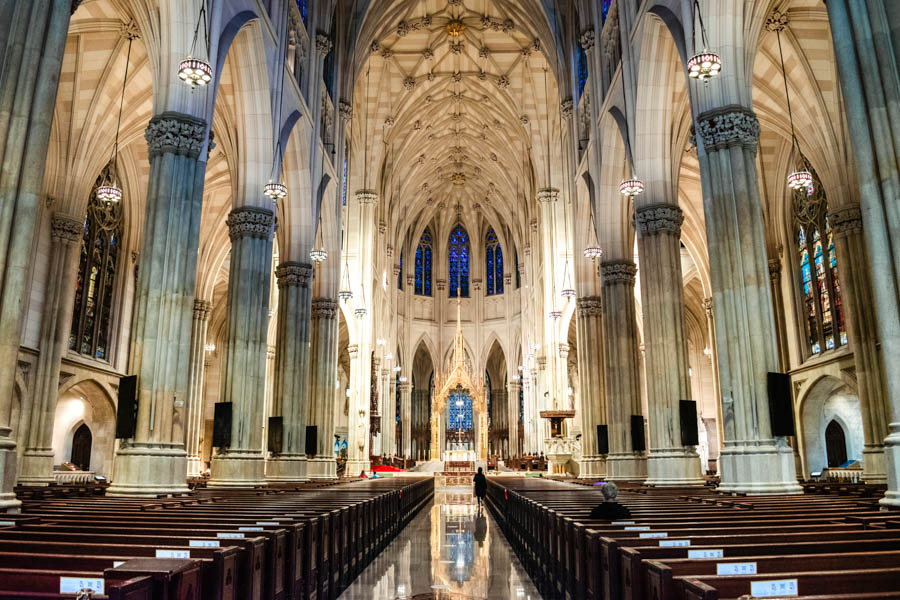 Check Out The Oculus
The Oculus, now known as the World Trade Center Transportation Hub is a transportation hub and shopping center within the World Trade Center complex. Its' modern sleek design makes visiting The Oculus worthwhile. It is worth a visit alone for its unique architecture. Additionally, the design allows plenty of light to flood through the building, making even the dreariest day, a little brighter. While you may be trying to escape the rain, do be sure to walk outside to see the exterior of this building. The best part about the Oculus is you can get here via the subway. Follow these tips to learn how to use the NYC subway.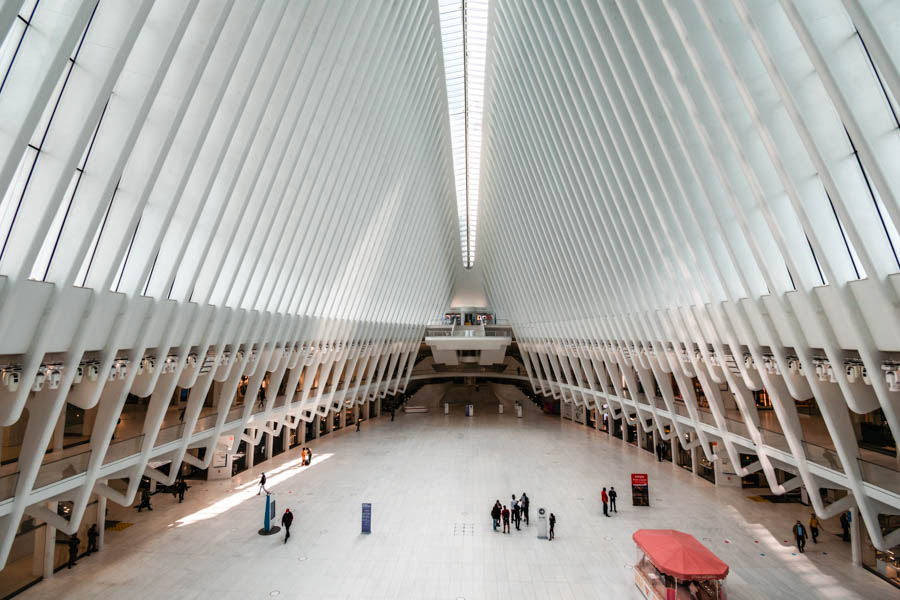 Take in the View From an Observation Deck
Use your judgment for this activity. Of course, if it is a downpour or foggy out, visiting one of the observation decks in New York City may be a waste of your money and time as you may not be able to see much. Yet if it is cold or lightly raining, visiting an observation deck is a great thing to do. While there are plenty of observation decks in the city, I would skip the ones with an outside terrace. This includes the Top of the Rock and the Edge. Instead, visit the Empire State Building or the One World Observatory. These observation decks will offer a birds-eye view of NYC while also providing a warm, dry area to enjoy the view.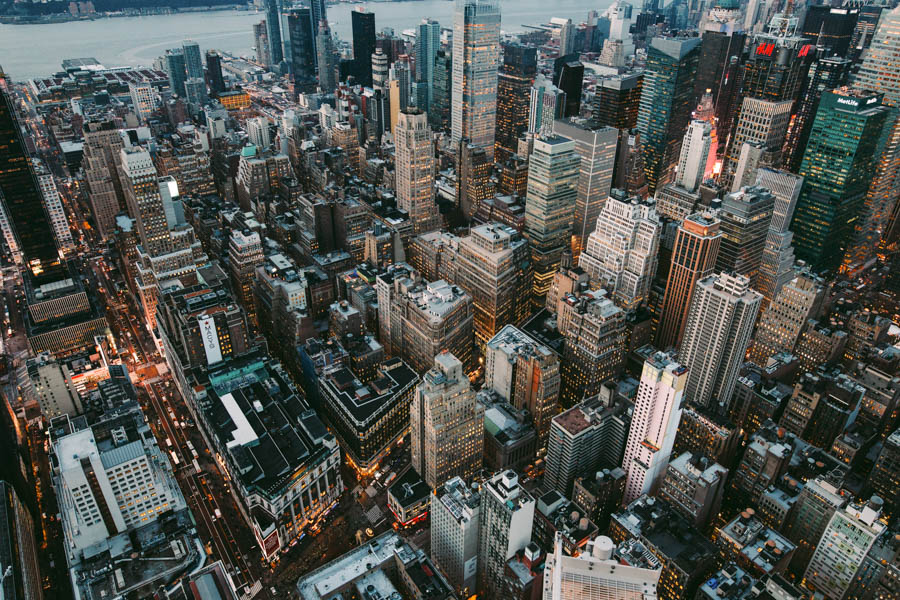 Go Shopping
You can not go wrong with a bit of shopping in New York City. Go on a shopping spree or enjoy some window shopping at the iconic department stores in the city such as Macy's Herald Square and Saks Fifth Avenue. Stroll down a shopping street in Soho, ogle at the designer garments on 5th Avenue, or visit the shopping mall at Hudson Yards. And for the kids and kids at heart, check out FAO Schwarz.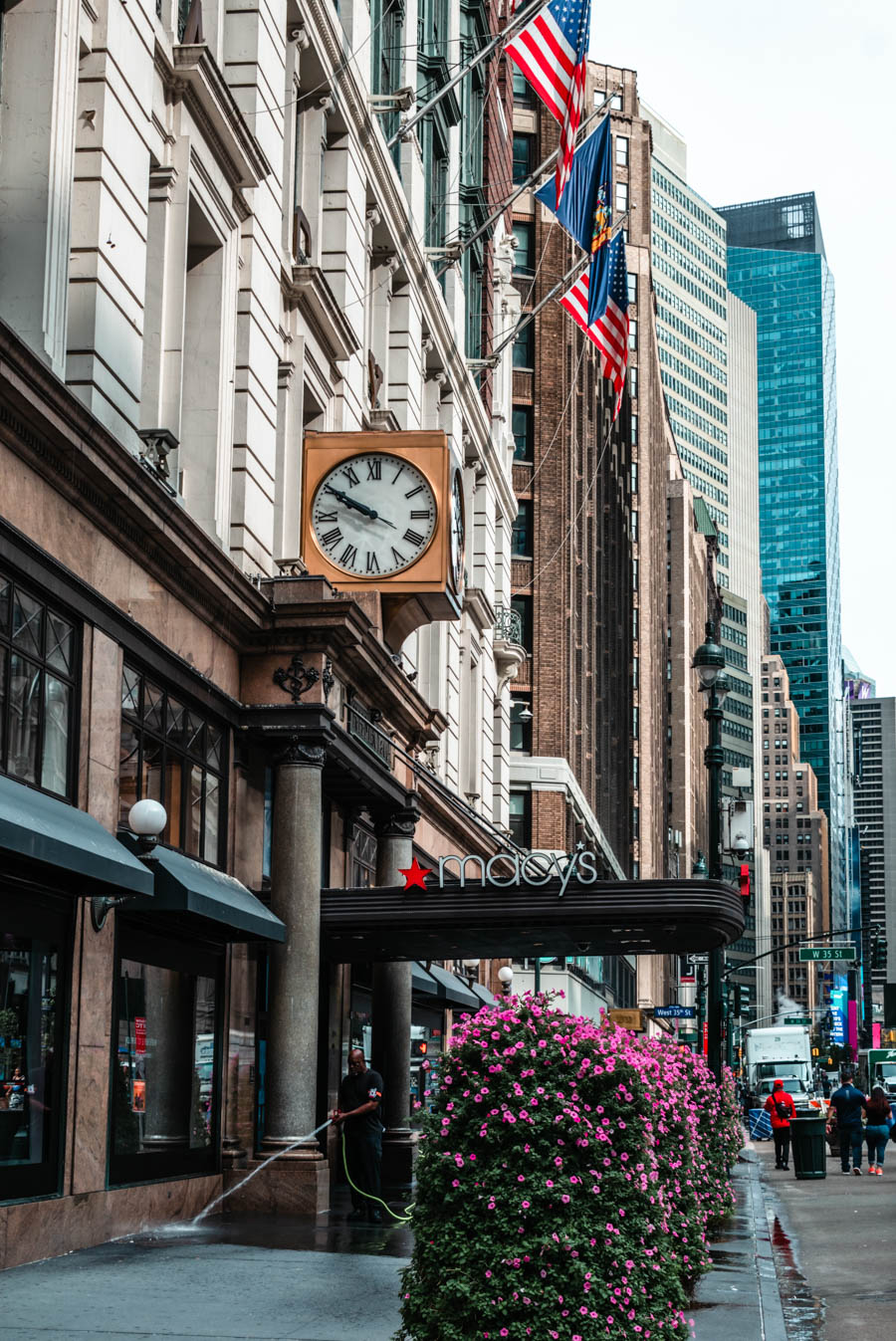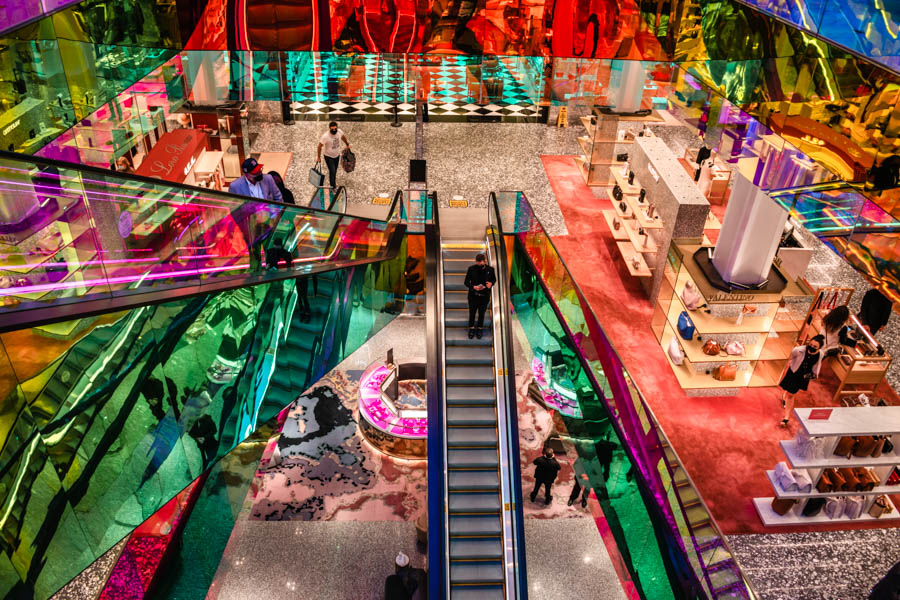 See a Show
Home to Broadway, New York City is one of the best cities in the world for theatre. Get tickets for a Broadway or off-Broadway show for a bit of culture and entertainment on a rainy day in NYC. If the theatre isn't your cup of tea, there are also music performances and comedy clubs. On a cold visit to NYC, I saw the Radio City Rockettes, which ended up being a highlight of my trip.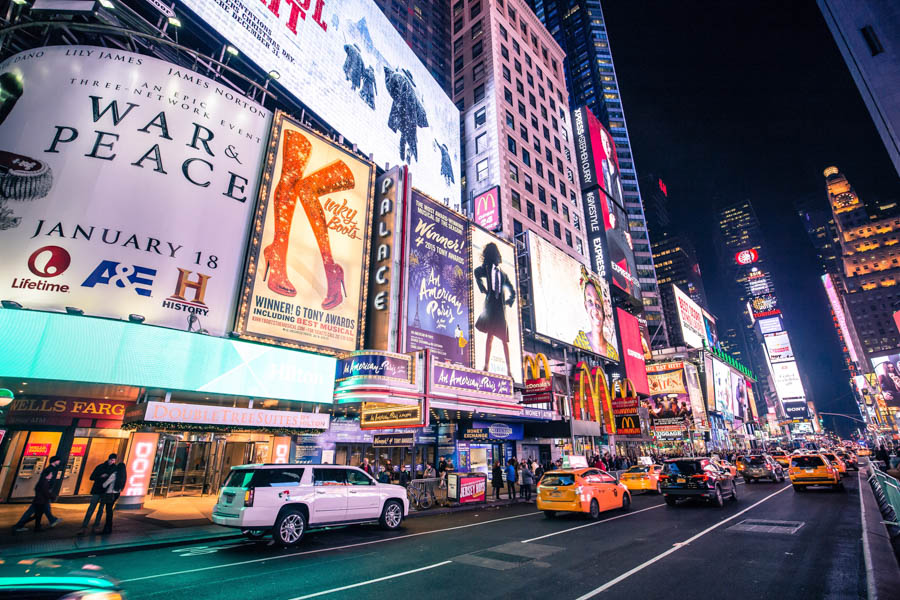 Ride the Staten Island Ferry
Hop on the Staten Island Ferry for a skyline view of Manhattan and a close-up look at the Statue of Liberty. The Staten Island Ferry is free to ride and has both inside and outside seating. Even the outside seating is covered, so if it's just a bit rainy in New York City, you can still stay dry while checking out these incredible views.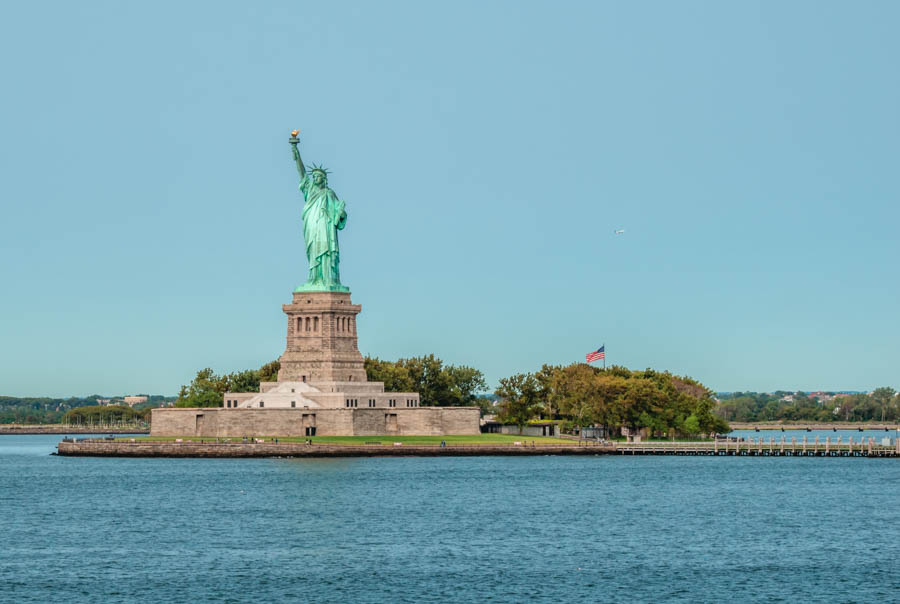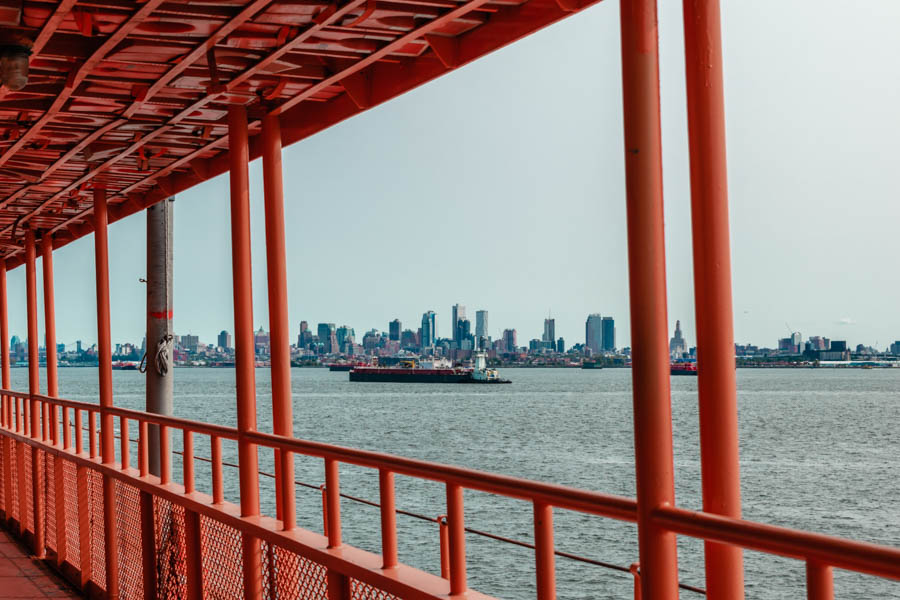 See NYC From a Hop-on Hop-off Tour
Hop-on hop-off tours are a great way to see many sites in a city, especially if your time is limited or the sites are spread out. And if you're looking for what to do in NYC when it rains, hop-on hop-off tours are a great option. They are fantastic on a rainy day since you don't have to walk around in the rain to see the major sites.
Have a Magical Experience at the Harry Potter Store
Visiting the Harry Potter Store in NYC is a great thing to do on a rainy day. While this store is quite popular, you will most likely have to wait to get in, yet the line is virtual. While waiting in the virtual queue, you can stay dry by grabbing a cup of coffee or browsing nearby shops. Visiting the Harry Potter Store is an incredible experience. There is plenty of Wizarding World merchandise to check out. Additionally, you can sip on butterbeer and partake in virtual experiences.
Crawl the Food Markets and Halls
New York City has some of the most incredible food markets and halls. These indoor markets have a plethora of dining and shopping options, where you can choose from all different types of fare. Browzing these food markets are a great way to spend a rainy day in New York City. One of the most popular food markets in the city is the Chelsea Market, a great spot to visit rain or shine. Another great option is to check out Eataly. The marketplace at Eataly is excellent to walk around to see all the Italian goods. Check out this complete guide to food markets in NYC for more options.
Drink a Frozen Hot Chocolate at Serendipity 3
An iconic thing to do in NYC is to get a frozen hot chocolate from Serendipity 3. This makes a great activity to do when it rains in NYC, as you get to hide away from the rain while enjoying the cute interior of Serendipity 3. The frozen hot chocolates are massive, so you'll be able to spend some time enjoying your treat while waiting for the rain to subside.
Browse for Books at an Iconic NYC Bookstore 
Have you ever heard of the Strand Bookstore? It is one of the most iconic bookstores in NYC and often featured on TV and movies. If you love books and lingering in bookstores, definitely plan to stop at the Strand if it is raining in NYC. Other bookstores to consider visiting include Albertine and Rizolli Bookstore.
The Friends Experience NYC
The Friends Experience allows fans to step inside the world of Friends through set recreations and seeing the original props of the show. The Friends Experience is a great indoor activity in NYC as it allows you to experience the behind the scene of a show set in the city. If you're a fan of Friends, you must check out this experience!
What to do on a Rainy Day in NYC Wrap-up
There are so many incredible things to do in NYC that a little rain will not ruin your trip. As long as you have a good attitude going into your trip, you are bound to have a great time on your trip and you'll stay dry by doing the rainy day in NYC activities in this guide.
Did you enjoy this NYC on a rainy day guide? If so, save this pin below!