A trip to Curacao is not complete without visiting its' vibrant capital city, Willemstad. Adorned with colorful and unique architecture, Willemstad has been named a UNESCO World Heritage Site for its' unique architectural influence. The historical center has both Dutch colonial and Caribbean influence. These opposing architectural influences melded together to create an architectural style only found in this Caribbean capital city. Aside from drooling over the unique architecture, there are plenty of things to do in Willemstad, Curacao.
---
You may also be interested in:
5 Reasons to Plan a Curacao Beach Vacation
Most Photo Worthy Spots in Willemstad
---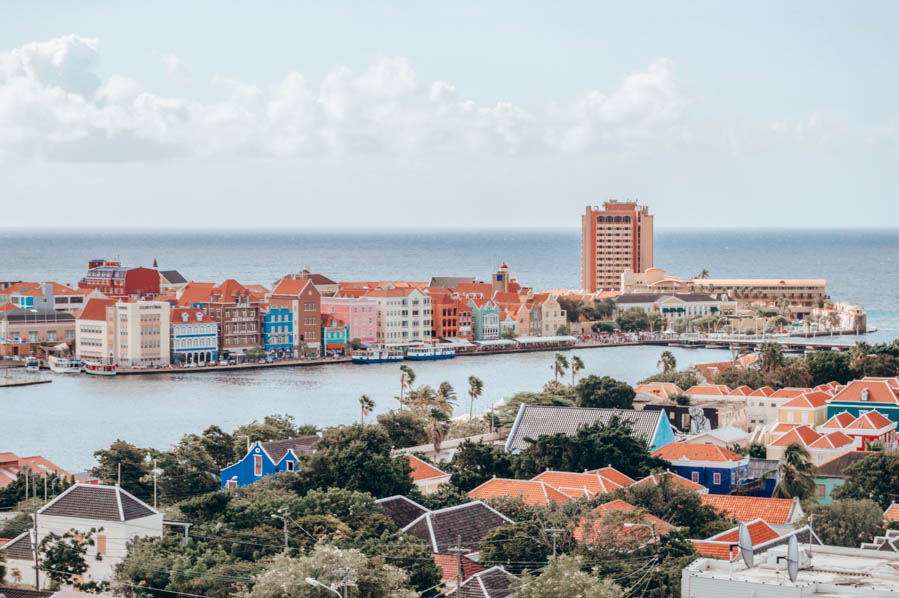 Things To Do In Willemstad, Curacao
Queen Emma Bridge
One of the top things to do in Willemstad, Curacao is to admire Queen Emma Bridge. Queen Emma Bridge is a pontoon bridge across St. Anna Bay in Curacao, connecting the districts of Punda and Otrobanda. This pontoon bridge moves to allow ships to pass through the bay. The cool thing about Queen Emma Bridge is that you can stay on the bridge while it is moving. You can feel the slight movement of the bridge floating as it moves through the bay to allow boats to pass through.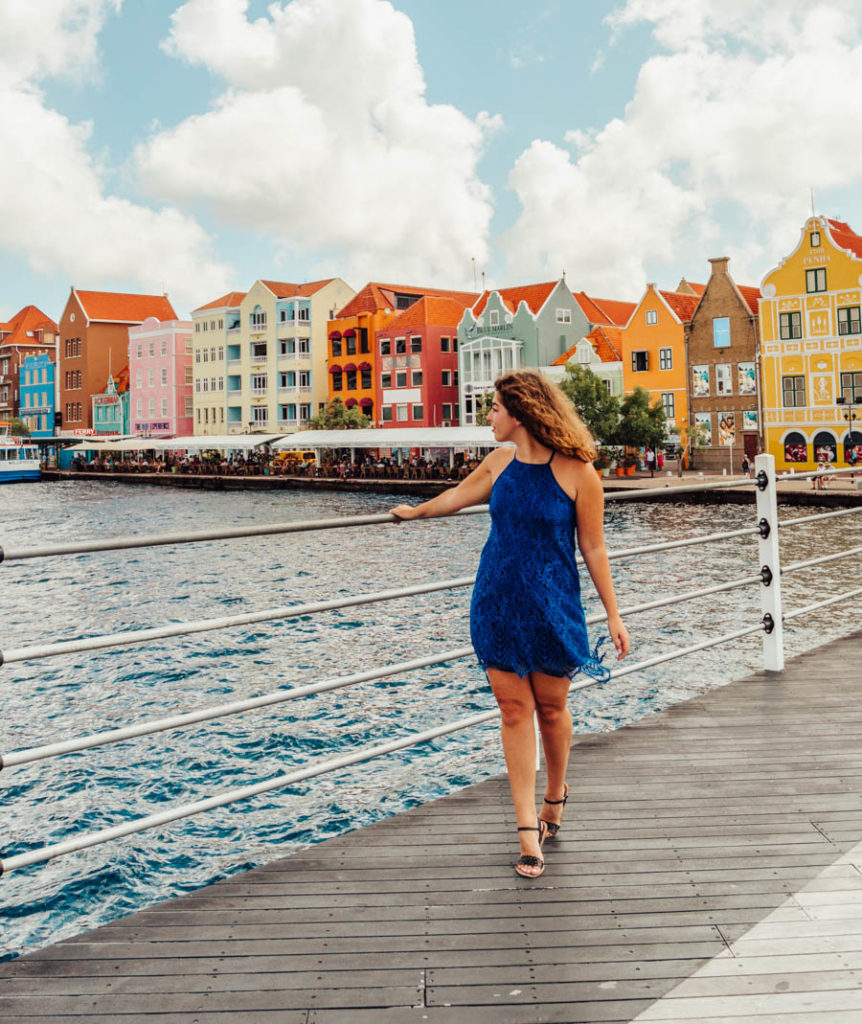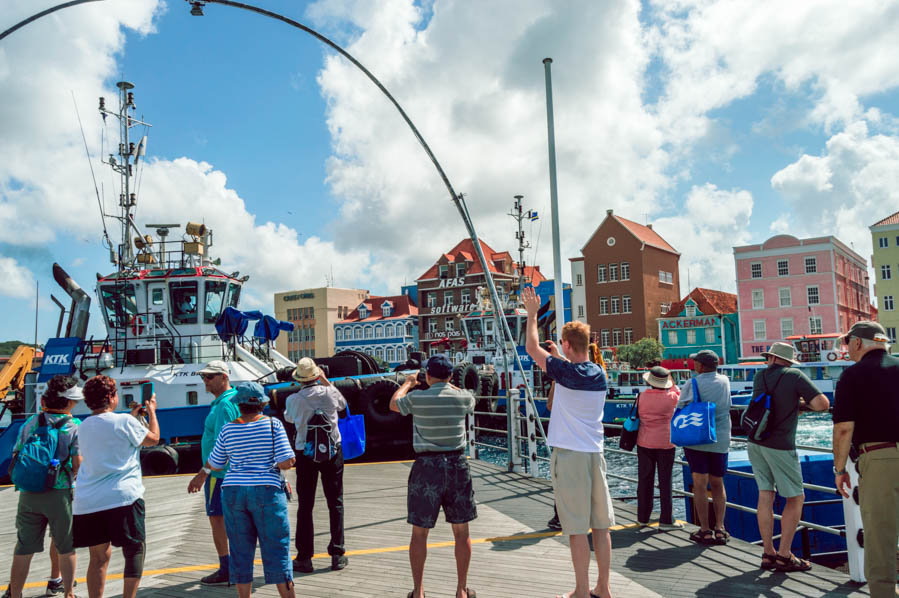 Handelskade
Walk across the Queen Emma Bridge to Otrobanda for the most iconic view in Willemstad, the view of Punda's colorful waterfront, Handelskade. Handelskade is the best spot to see the infamous architecture in Willemstad. This strip is lined with brightly colored 18th-century buildings that are reminiscent of the buildings found along Amsterdam canals. However, these buildings are coated in vibrant paint colors. Handelskade is a popular street for tourists to meander, souvenir shop, and relax at waterfront restaurants.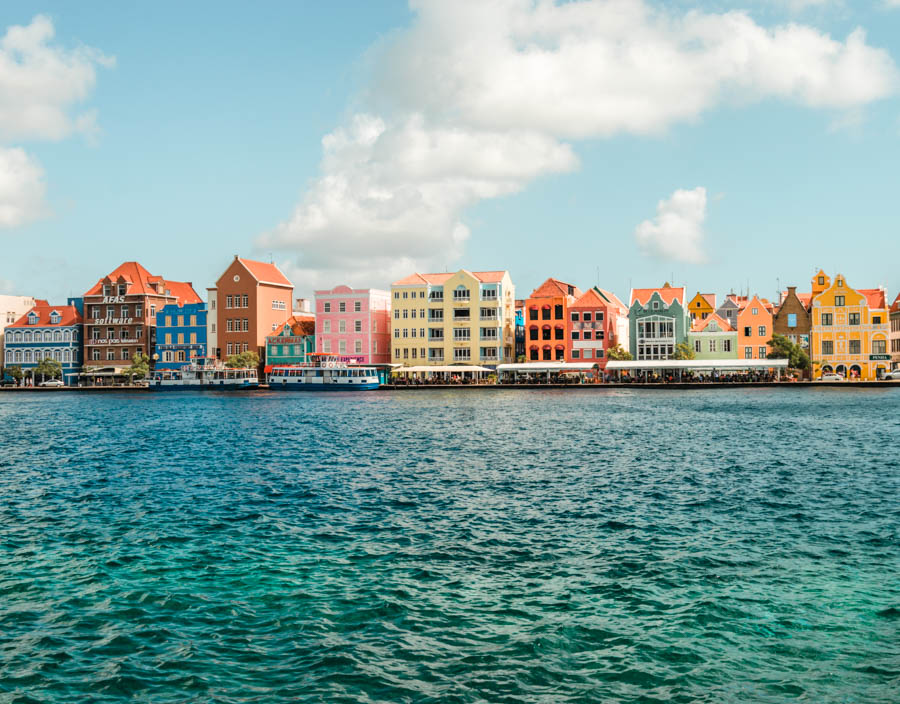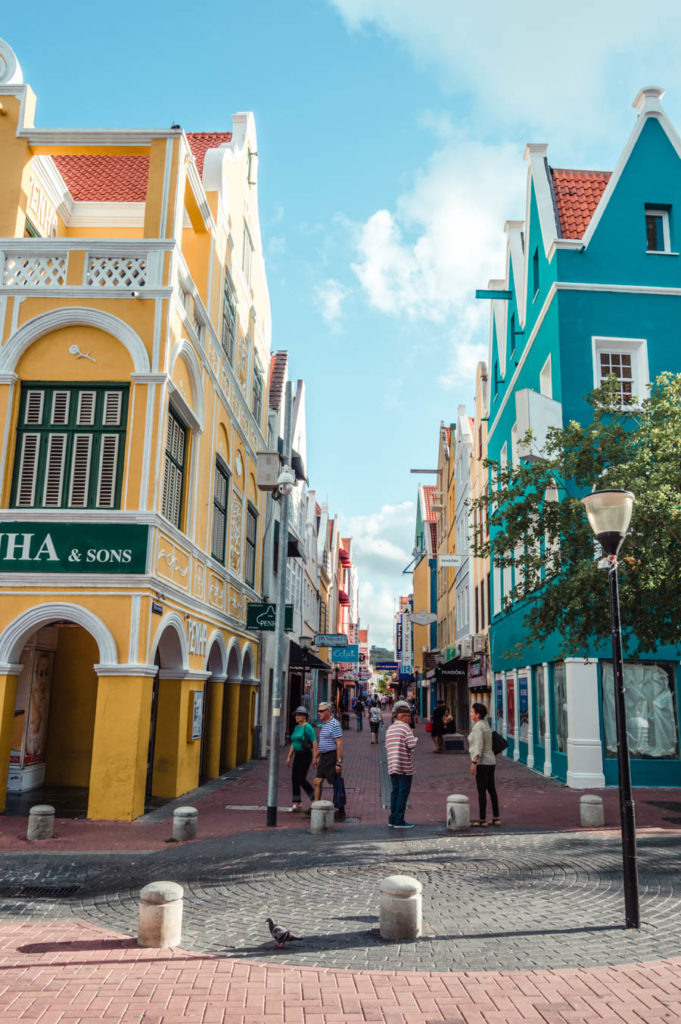 Penha Building
The Penha building is one of the most photographed buildings in Willemstad and it is easy to see why. Located directly across Queen Emma Bridge is this bright yellow building at the corner of Handelskade is adorned with curved Dutch gables. The Penha Building has various elements that Willemstad's architectural style is known for and is one of the best examples of this unique style. Not only is the Penha Building a great spot to stop for a photo opt, but it is also now home to a duty-free shop.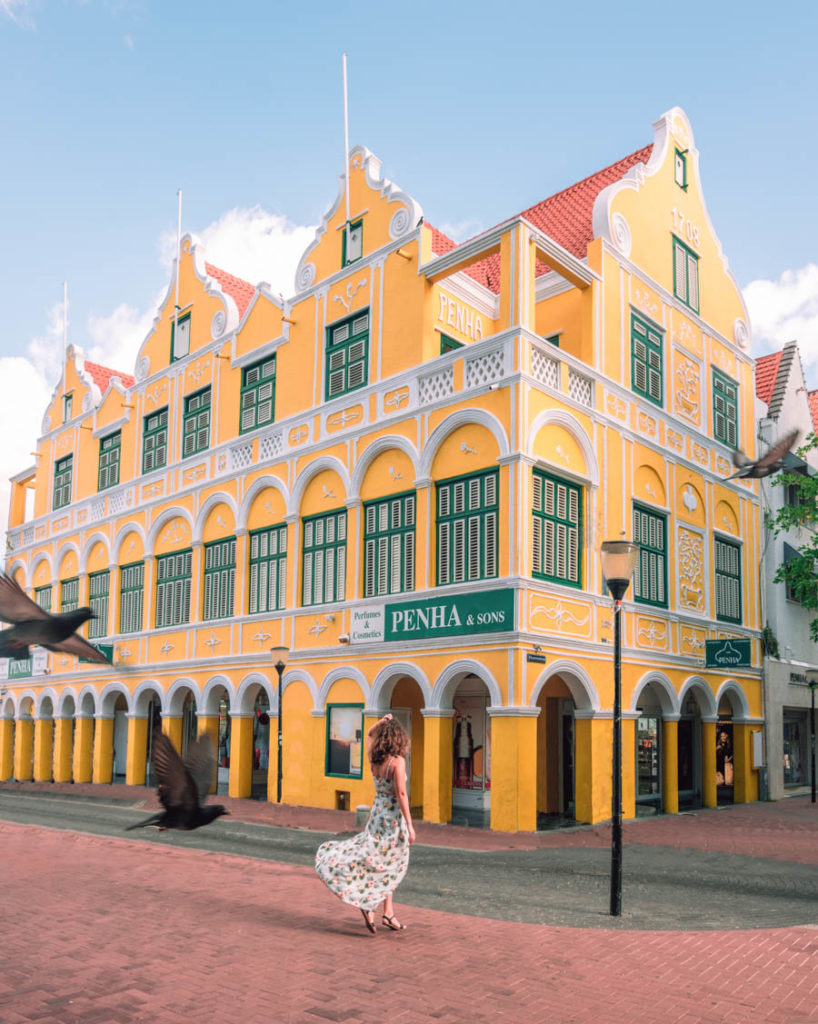 Fort Amsterdam 
Fort Amsterdam is a brightly painted fort in Willemstad that was built in 1634. This former fort now serves as the government headquarters in Curacao. Fort Amsterdam can be viewed from the outside. However, the best views are found in the courtyard.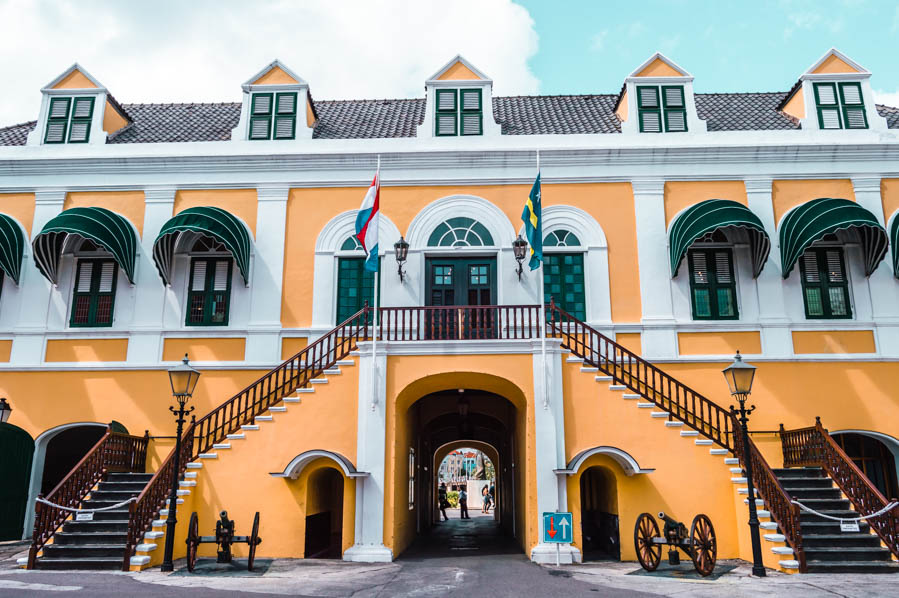 Floating Market
The Floating Market is one of the top things to do in Willemstad. The Floating Market encompasses a group of wooden boats from Venezuela that dock alongside the canal. These Venezuelan vendors sell a variety of fruit, vegetables, and fish at stands along the canal.
Be sure to arrive early in the morning for the best selection of fruit and vegetables. The stands open at 6:30 a.m. every morning. However, the stands are open all day, meaning there is no bad time to visit. Even if you don't plan on buying anything, the Floating Market is a must-see spot in Willemstad. The merchants don't mind people browsing. While browsing through the market, one of the merchants even let me sample some local fruit.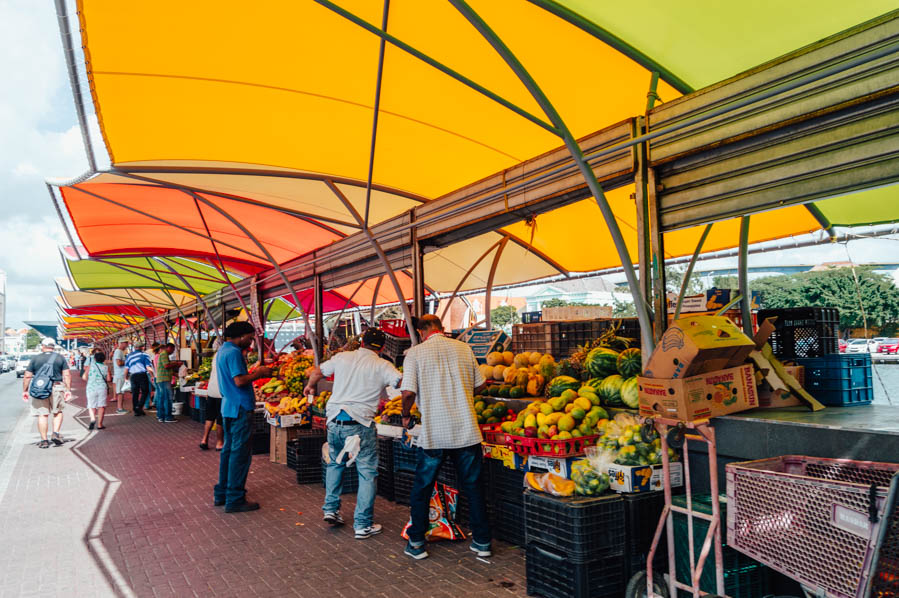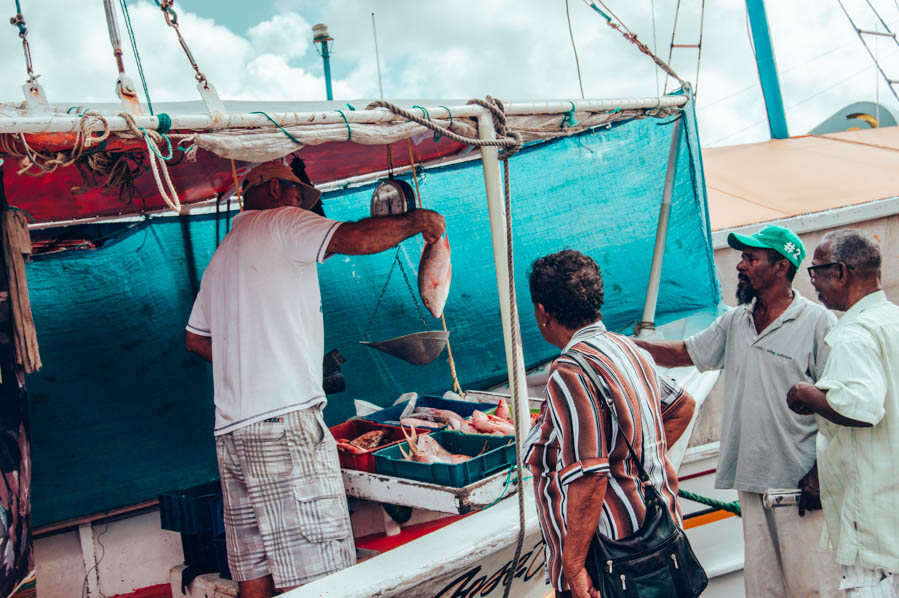 Scharloo Neighborhood
The Scharloo Neighborhood in Willemstad is best known for baroque mansions once inhabited by the island's wealthiest merchants. This is where you will find the Wedding Cake House, named for its' unique architecture, which in-fact resembles a wedding cake.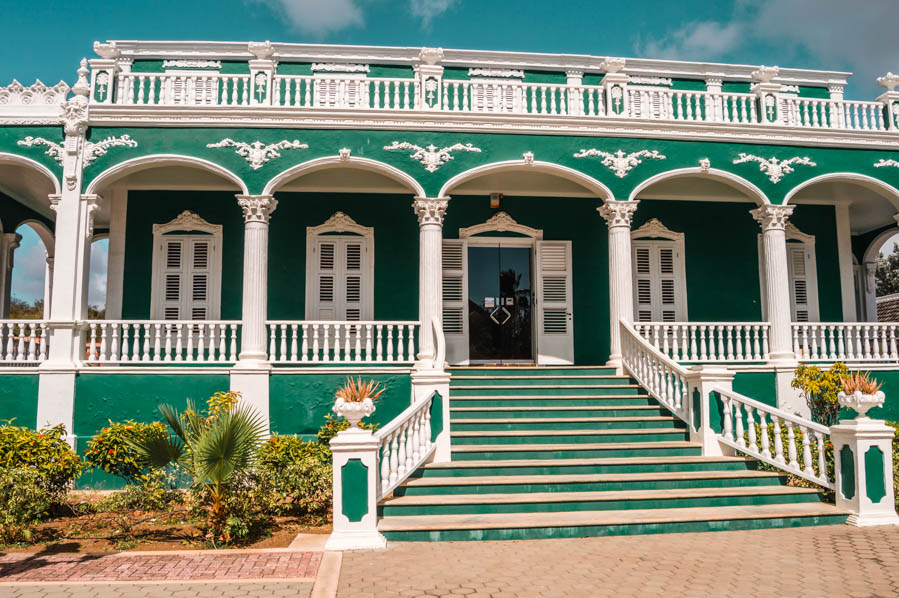 There are plenty of other mansions you will stumble upon in the Scharloo Neighborhood. However, few of these homes are still private residences. Some have been converted into businesses, while others have been abandoned.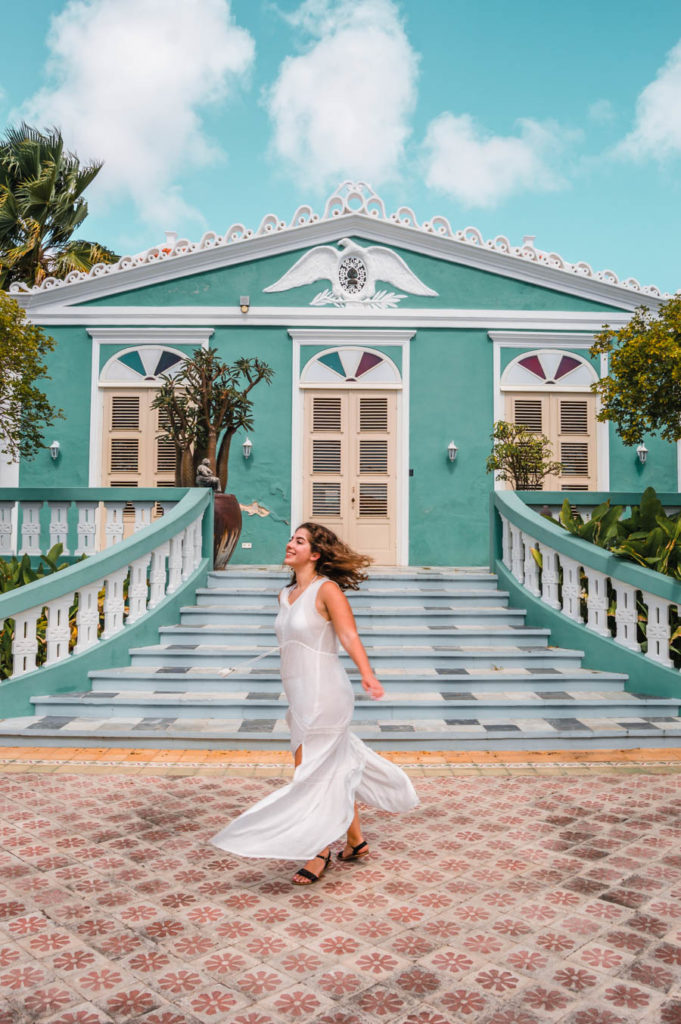 Thanks to a street art movement, the Scharloo neighborhood has had a revival in the past few years. These buildings that were once in a state of disarray have been repurposed by Street Art Skálo, a group of local artists. These once forgotten buildings are now painted with large murals, breathing life back into this neighborhood. One of the most popular is 'Three O'Clock Romance', a vibrant mural covering the entire side of an abandoned building. There is also a parking lot nearby full of colorful murals.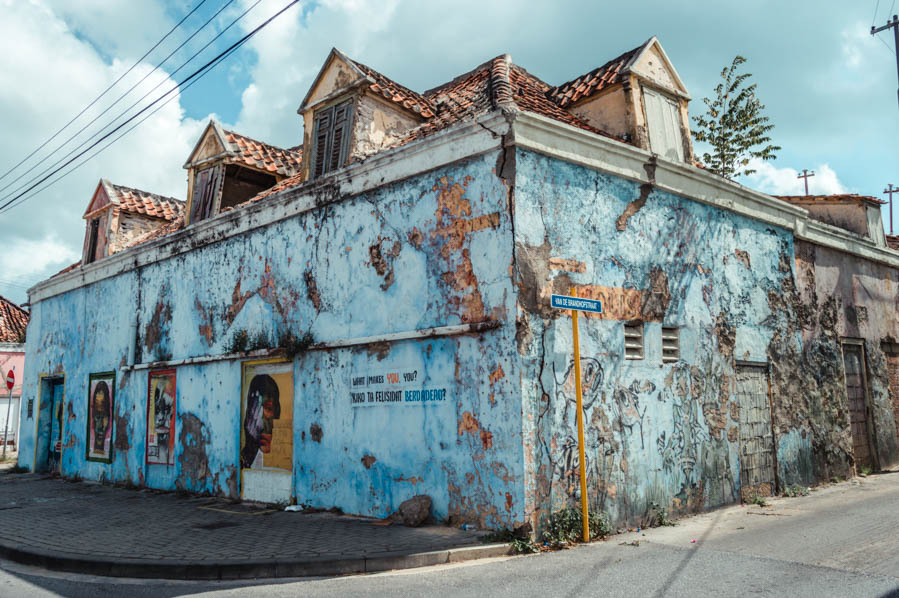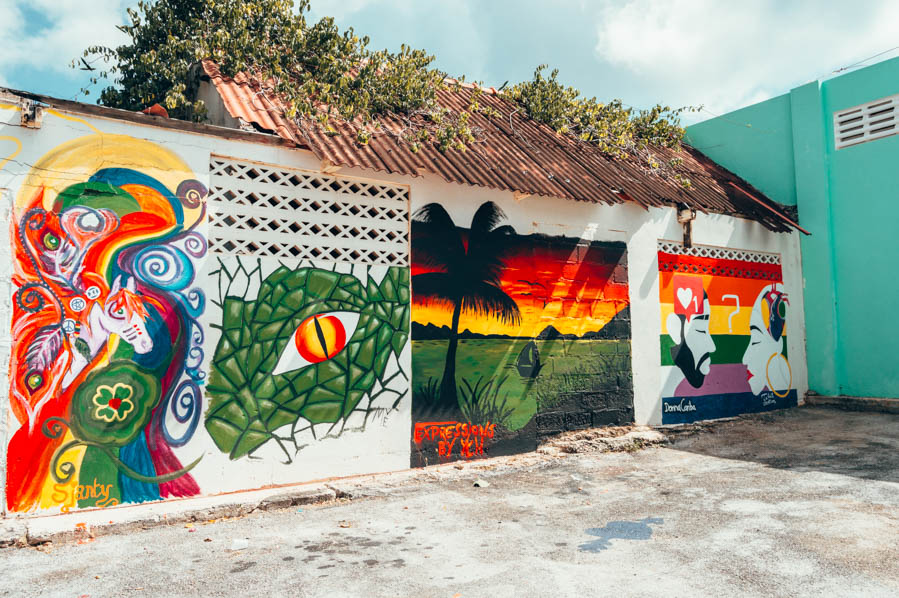 Pietermaai District
The Pietermaai District was originally a residential neighborhood during the 18th century.
However, in the late 20th century, Pietermaai was slowly taken over by drug peddlers, Today, most of the neighborhood has been restored. The Pietermaii District is now a vibrant hub of shops and restaurants. This is a popular part of town to find nightlife. Additionally, the Pietermaai District is very colorful and one of the most photo-worthy spots in Willemstad.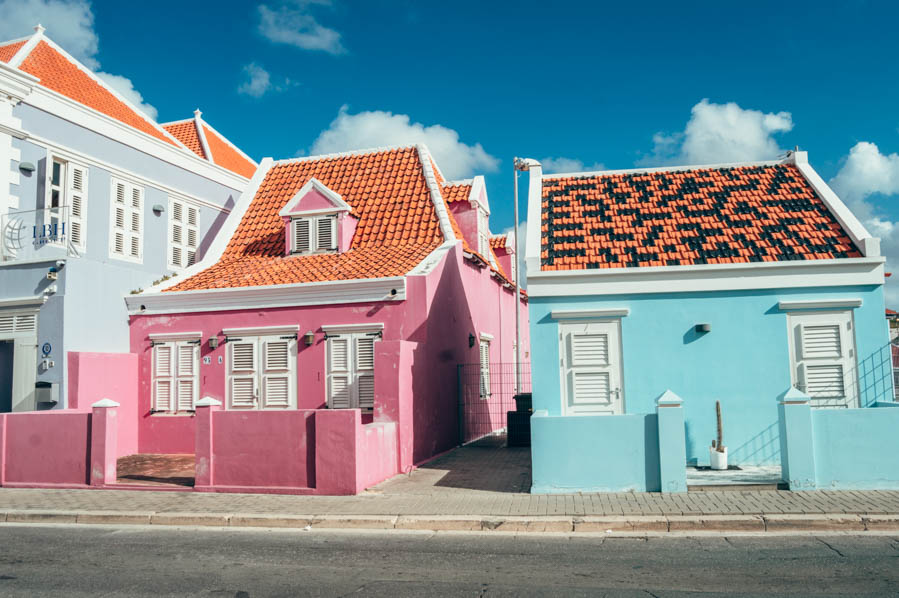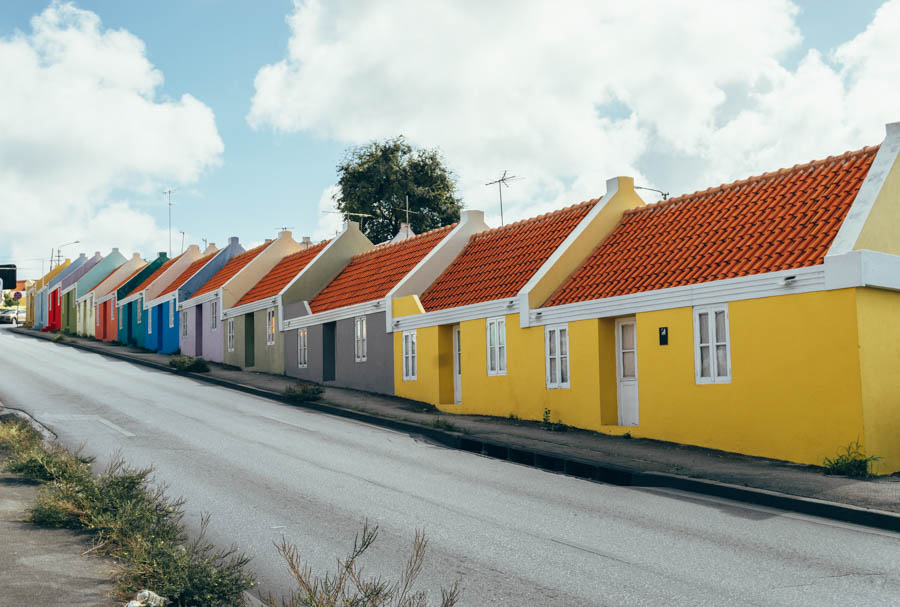 Where To Stay In Willemstad 
If you're looking for where to stay in Curacao, we have you covered! There are some great options if you are looking for a hotel in Willemstad or if you prefer something outside of the city.
Renaissance Curaçao Resort and Casino 
The Renaissance Curaçao Resort and Casino is an ideal hotel in Willemstad if you are looking for a luxury accommodation. This hotel has a resort atmosphere, including a small beach. This hotel is within walking distance of all the major sites in Willemstad, making it a great choice. 
Scuba Lodge & Ocean Suites
The Scuba Lodge and Ocean Suites is a boutique oceanfront hotel in Willemstad. This hotel is located in one of the trendiest neighborhoods in Willemstad, the Pietermaai District. The Scuba Lodge and Ocean Suites has an infinity pool overlooking the ocean when you need a break from exploring this vibrant city.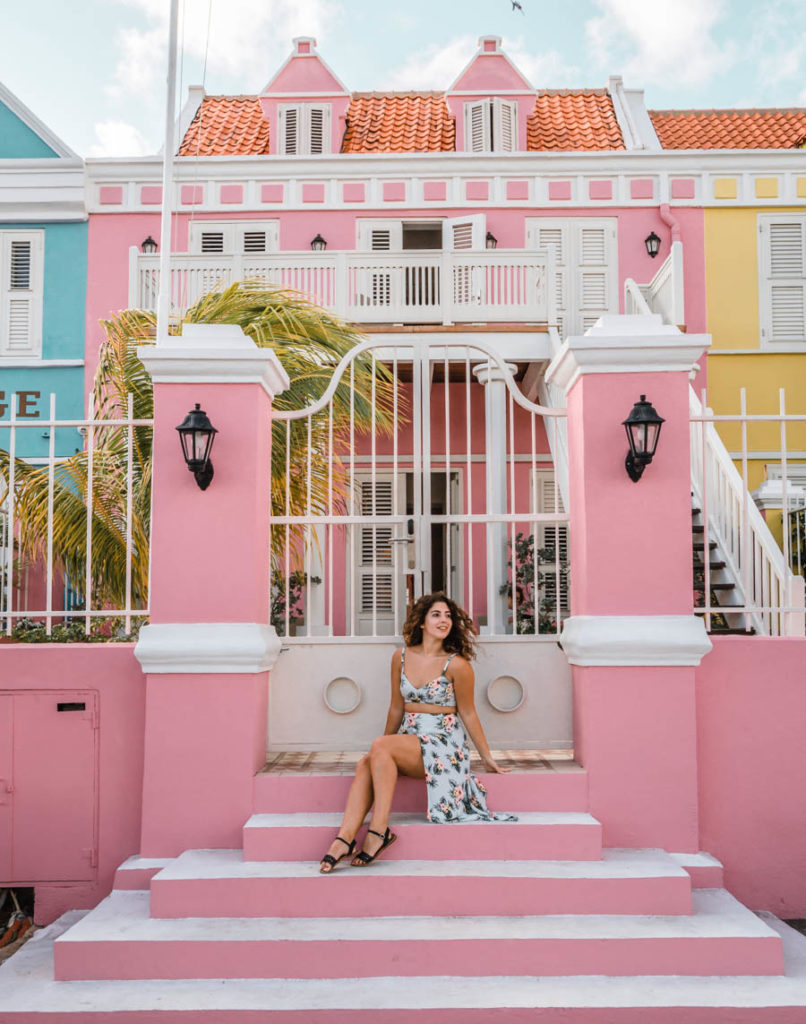 Bed and Bike Curacao
Bed and Bike Curacao is a hotel/hostel geared toward the budget traveling staying in Willemstad. This is one of the best budget hotels in Willemstad. It is located in the Pietermaai District, is modern and extremely affordable. This hotel/hostel offers both shared and private rooms. 
Hilton Curacao
I personally stayed at the Hilton Curacao as I wanted a hotel in Curacao that had beach access. This was the perfect hotel for a Curacao beach vacation. It is nearby Willemstad, offering a daily shuttle to the city.  The best part about this hotel is that it's beachfront! 
---
Read More: Check out my review of the Hilton Curacao for more information!
---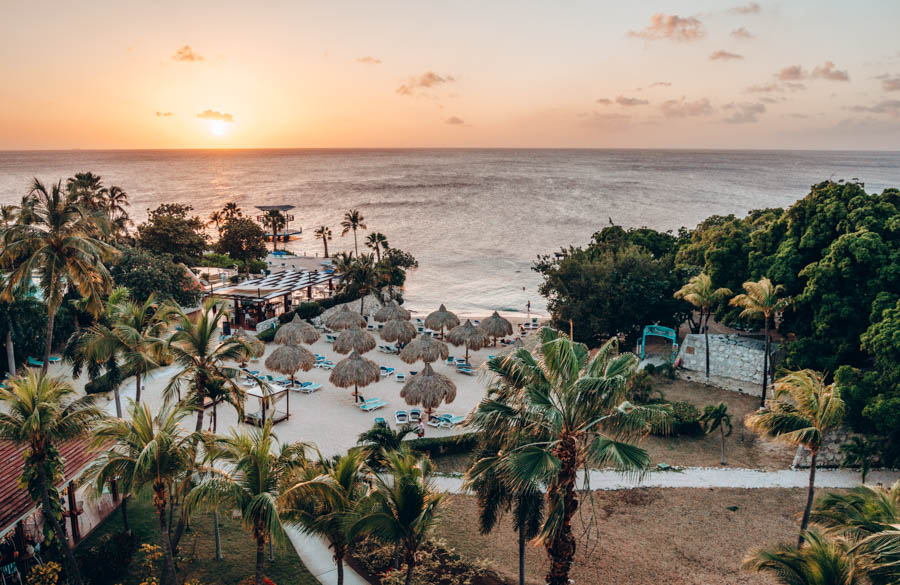 Willemstad Restaurants
Iguana Cafe
Iguana Cafe is located Handelskade, Punda's colorful waterfront. While this is quite a touristy spot, it is for good reason. Iguana cafe faces the Queen Emma Bridge, allowing you to watch boats pass through the pontoon bridge while you eat. We had frozen coffee, cocktails, and some small snacks at Iguana Cafe. This was one of my favorite Willemstad Restaurants in terms of location. Even if you don't eat here, the Iguana Cafe is a great spot to come for a drink, the frozen coffee was delicious and they had excellent piña coladas.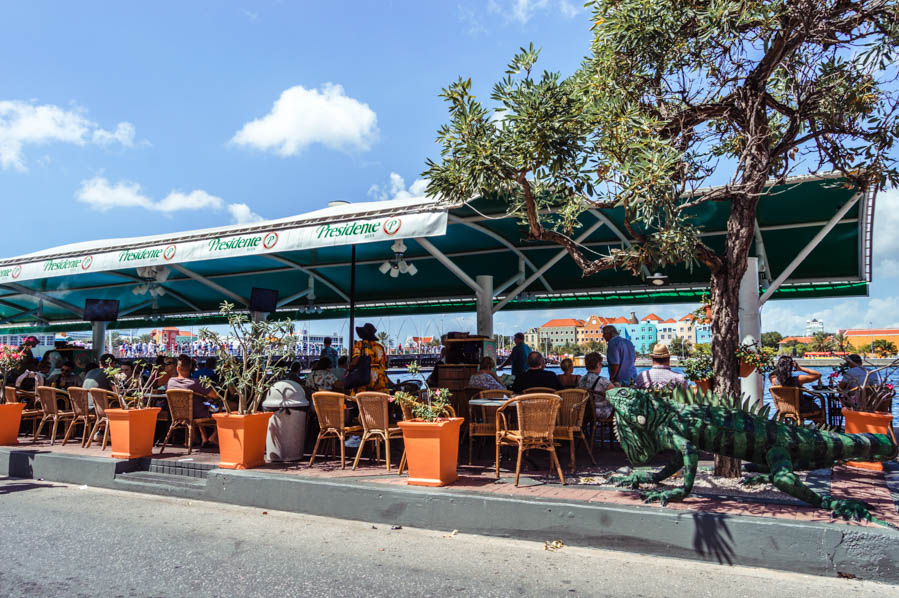 Kome Restaurant
Kome Restaurant is one of the best Willemstad restaurants. I was delighted to have a chance to eat at Kome for lunch. The interior was modern yet warm, the service was spectacular and the food was delicious. It is truly a culinary experience in Willemstad. If you are a foodie, you have to make a reservation for Kome Restaurant during your stay in Curacao. I had the Frito Misto, which is Prosecco battered seafood. It was the perfect small plate for lunch. After, I followed with a latte and a decadent coconut brownie.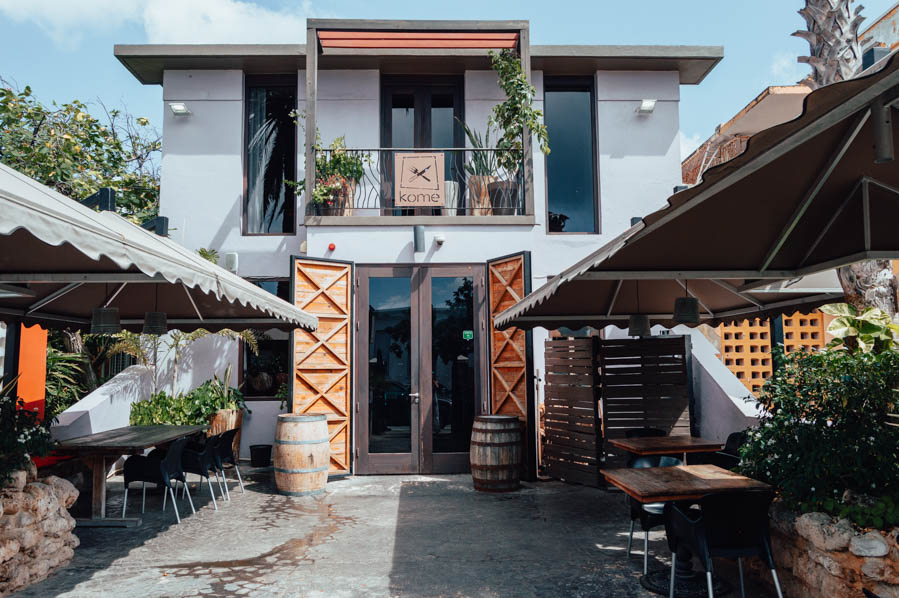 Fort Nassau 
I didn't have a chance to dine at Fort Nassau, however, I wish I did. Fort Nassau is an old fort turned restaurant in Willemstad. Fort Nassau is set on a hill, giving 360-degree views of Willemstad below. I stopped here briefly to take in the view. I could tell this would be a wonderful place for a unique dining experience in Curacao.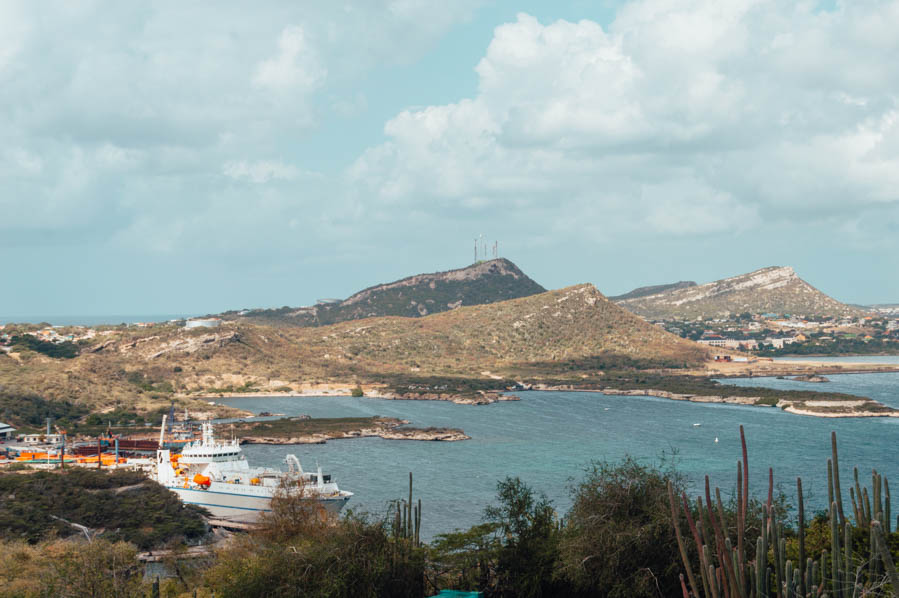 Weather in Willemstad, Curacao 
The weather in Willemstad, Curacao tends to stay consistent year-round. Due to the size of the island, the weather in Willemstad is the same as all of Curacao. Curacao's average temperature rests in the mid-80s all year. Due to its' location below the hurricane belt, the island sees little rainfall. If rain does occur, it tends to be short showers.