Located in the Bastille neighborhood is one of the most charming streets in Paris, Rue Crémieux. This pretty pastel street has gained an abundance of attention in the past couple years due to its' newfound Instagram fame. Even with its growing attention, this street still has the feel of being a "hidden gem" in Paris. This pastel colored street is a breath of fresh air compared to the neutral color scheme in the rest of Paris.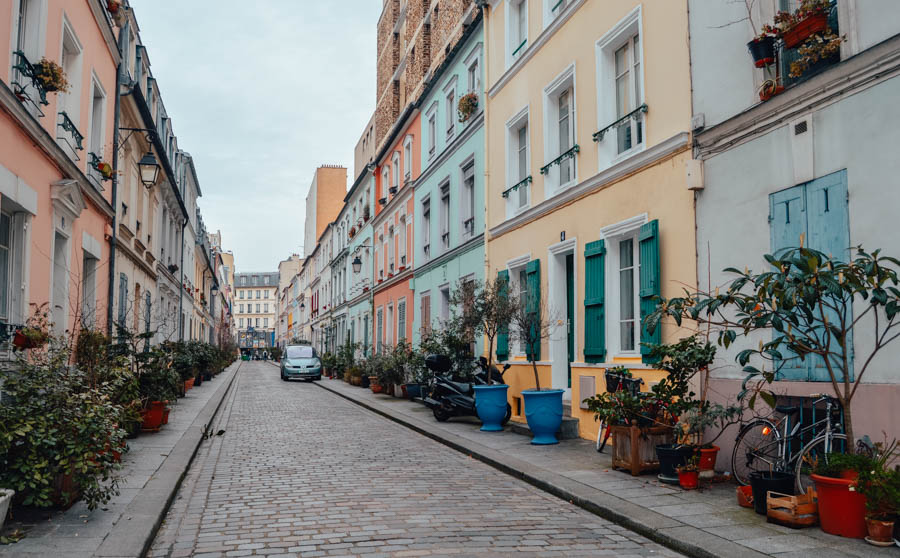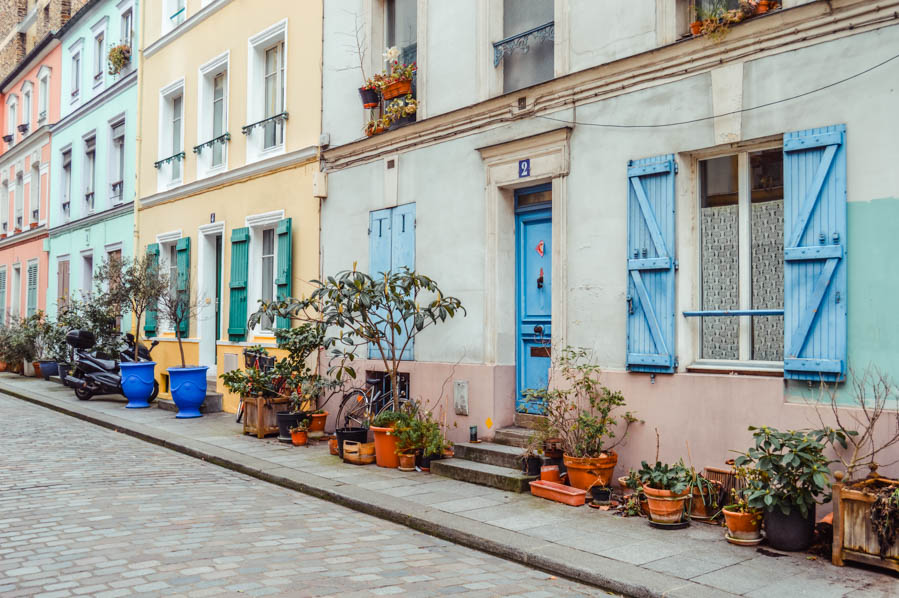 Rue Crémieux
This charming cobblestone street is quite different than the rest of Paris. Rue Crémieux is lined with colorful cottage-like houses. This is a pedestrian street, so you will not find many cars, which makes it that much more idyllic.  Wandering down this street will take less than five minutes. Yet, take your time to appreciate the juxtaposition of the quaint buildings in comparison to the architecture in the rest of Paris.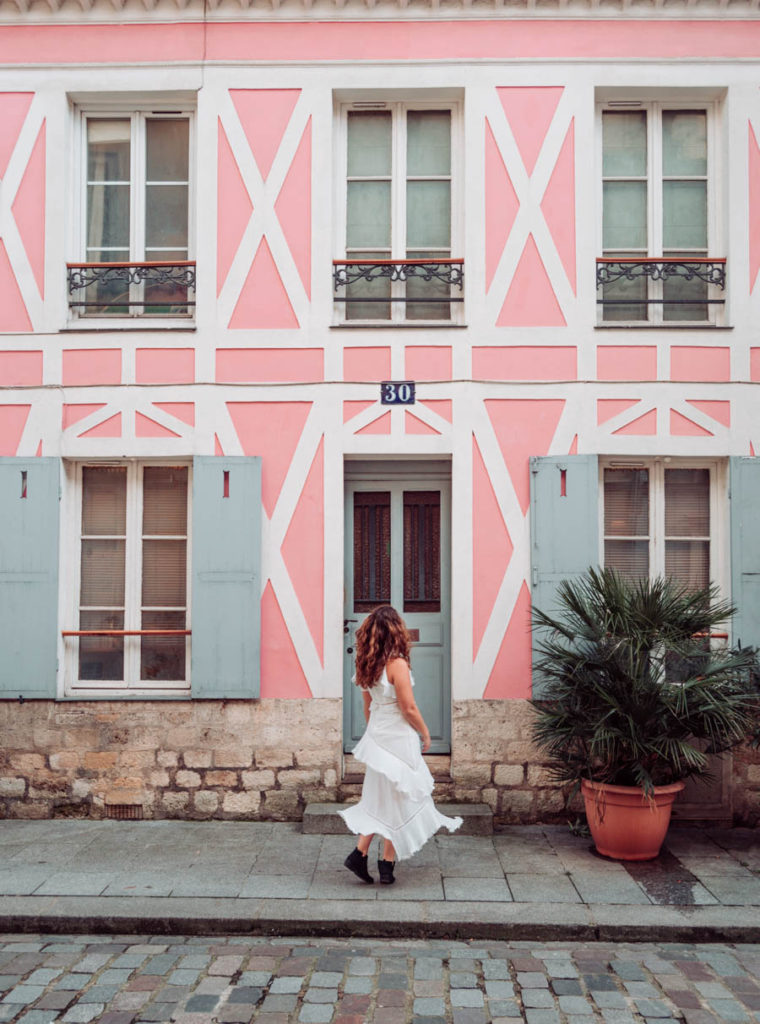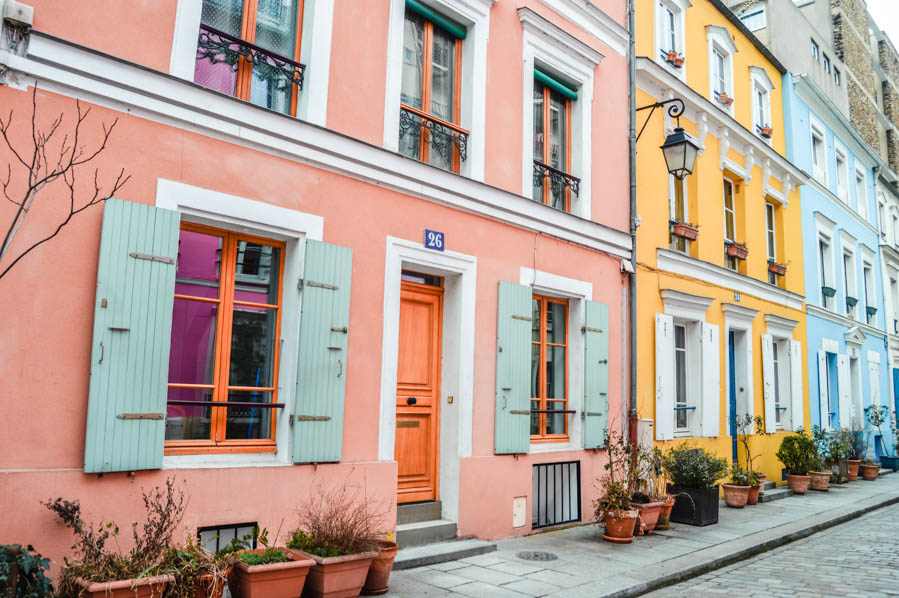 Rue Crémieux feels more like a rural storybook-like setting, rather than a street in the heart of Paris. Potted plants decorate the sidewalk and some of the houses are painted with whimsical designs. It is no surprise that this has become such a photo worthy spots in Paris. (Check out the most Instagrammable cafes in Paris for more photo worthy spots!)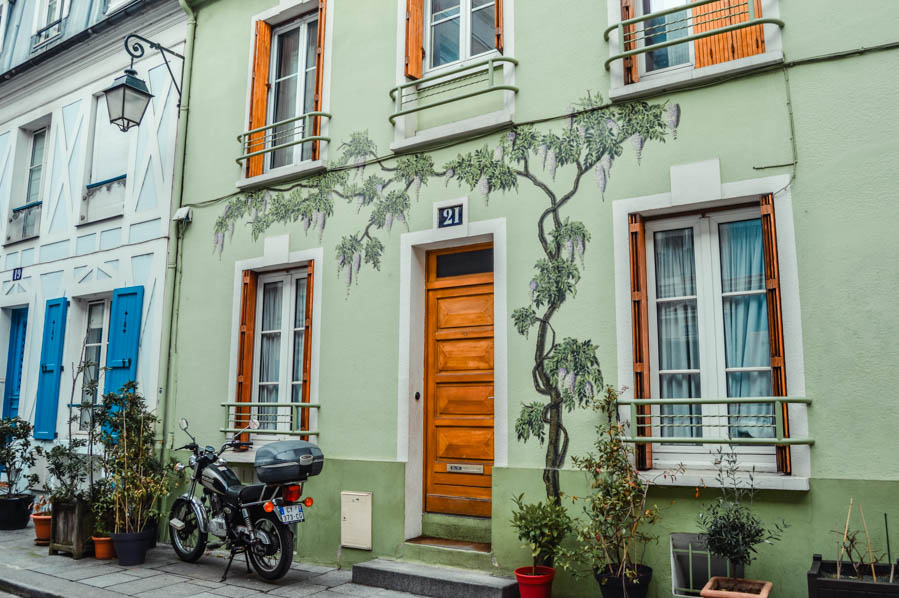 Location
Rue Crémieux is located in the Bastille neighborhood of Paris. Bastille is in the 12th arrondissement of the city, which is not the most touristy area of the city. If you have limited time in Paris, I wouldn't necessarily recommend visiting Rue Crémieux. While this pastel street is absolutely adorable, it is out of the way of the major attractions in Paris.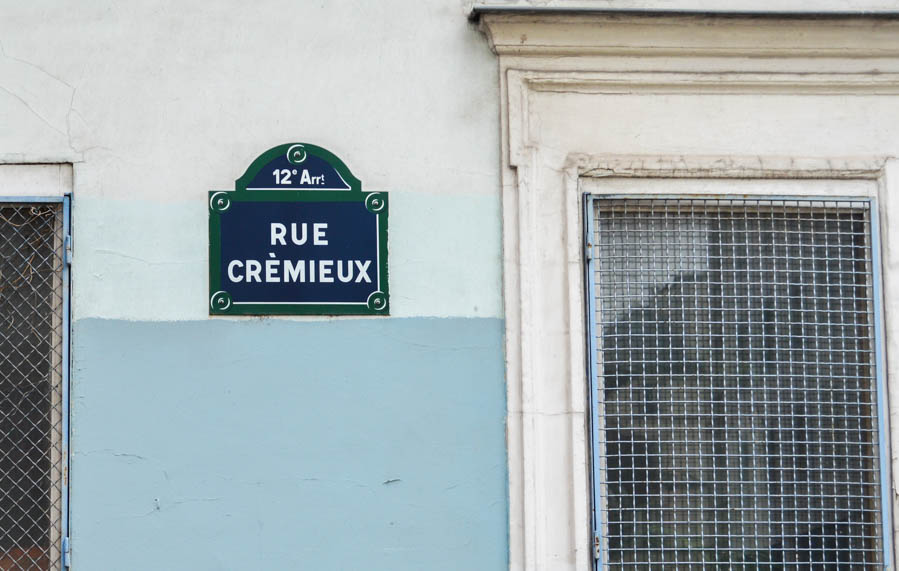 However, if you have some spare time or just really love colorful streets, then make your way to Bastille. I actually ended up visiting Rue Crémieux twice on my recent trip to Paris because I loved it so much! There is  If you do have some spare time, the Bastille neighborhood is quite charming and allows you to experience the less touristy side of Paris.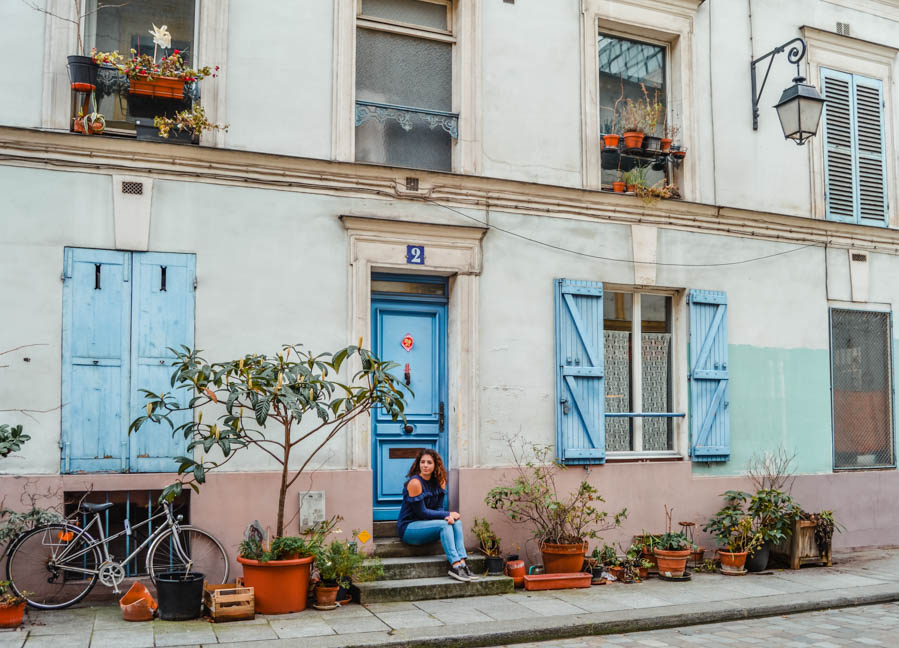 Rue
Crémieux Metro
The best Rue Crémieux Metro stations are Quai de la Rapée (line 5) and Gare de Lyon (line 1 and 14, RER A and D). 
Walking to Rue
Crémieux
For reference of the location, it is about a 30 minute walk from the Notre-Dame Cathedral. Within the Bastille neighborhood, this street is a 10 minute walk to Place De la Bastille and the Canal Saint-Martin.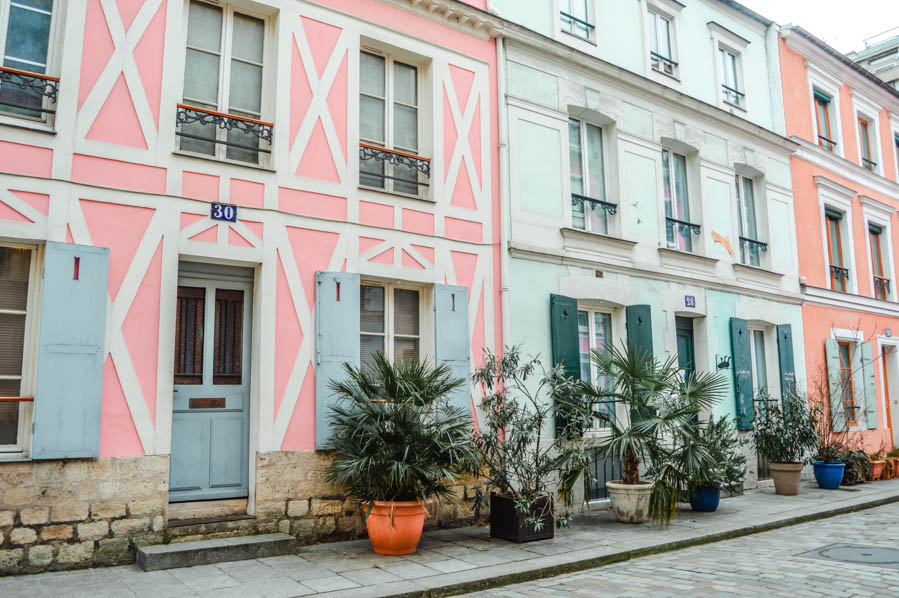 Tips for Visiting 
Arrive Early in the Morning
The earlier you get to Rue Crémieux, the better. Arriving early in the morning allows you to experience this charming street without many tourists. I visited on two instances during my trip to Paris, early in the morning and mid-afternoon. The difference in crowds and lighting were drastic. If you arrive before 10 a.m., this street should be relatively quiet. Additionally, the lighting on the street was perfect in the morning. When I visited in the afternoon, half of the street had extremely harsh sunlight. Even though there were more people in the afternoon, it still wasn't crowded.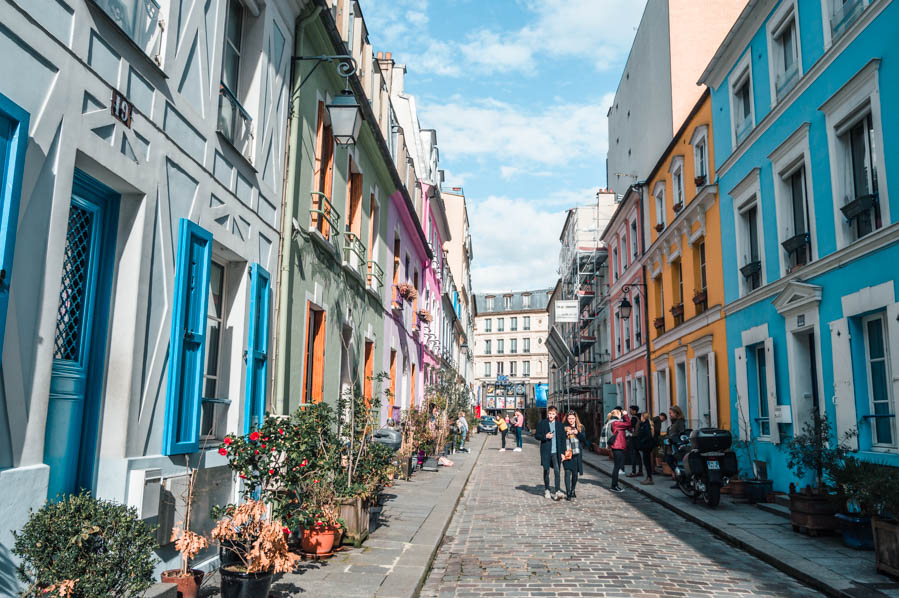 Be Respectful
Walking down this charming street, it is easy to forget that this is a residential neighborhood. Be respectful of peoples privacy and property. Make sure to be as quiet as possible so you do not disrupt the residents. Additionally, many people have signs up saying "no photography".  In my opinion, if you feel so inclined to take a photo of these homes, you do have a right to as long as you are shooting from the street. However, I choose to photograph the homes without these signs to respect the homeowners wishes. From my experience, it seemed like a lot of the residents didn't mind the street photographers around.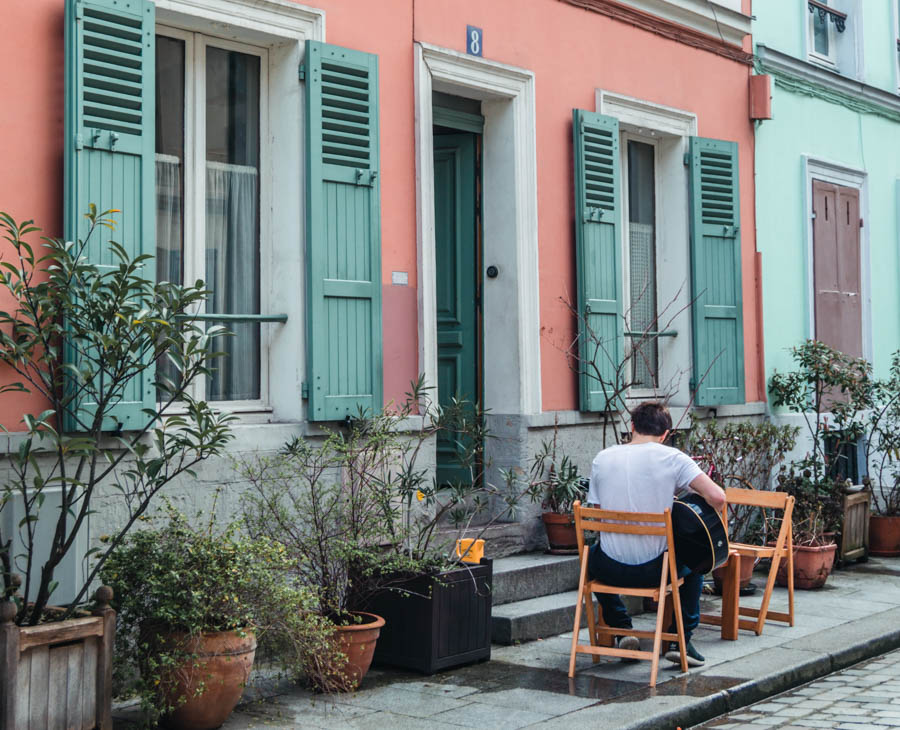 Hotels Near Rue Crémieux
Are you obsessing over this pastel color street in Paris? Perhaps you are looking to stay in the Bastille neighborhood.
I stayed at the Holiday Inn Paris – Gare de Lyon Bastille for two nights during my stay in Paris. I did not choose this hotel knowing that is was so close to Rue Crémieux. It's amazing location to this charming street was an added bonus. This Holiday Inn is located within walking distance of the Gare de Lyon train station, which made it an ideal spot to stay. An added benefit is that my hotel  had a view of Rue Crémieux from above. Book now if you want a hotel near Rue Crémieux.